Preorder for AMD Ryzen R7 CPUs Starts Today
AMD today at the San Francisco Editor's Day releases critical information about their upcoming Ryzen R7 CPUs. That includes the pricing, release date, benchmarks and the official technical specifications. AMD also popped up pre-orders for the CPUs as well.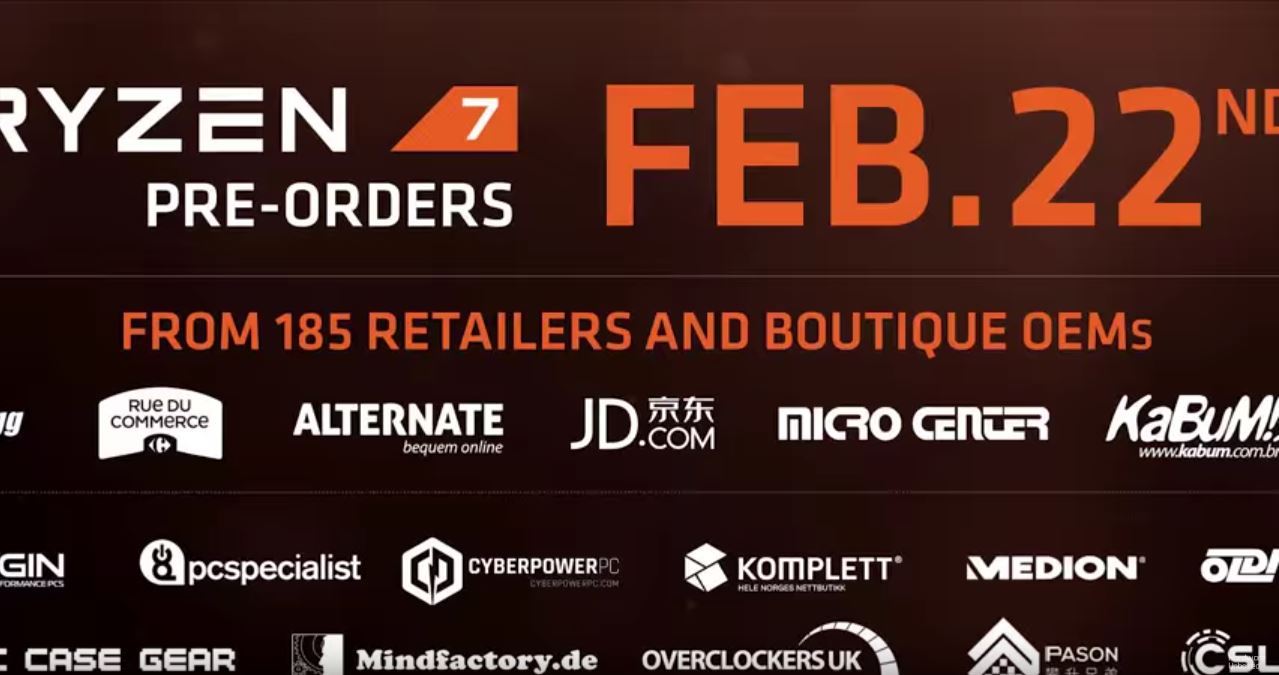 Now what we are talking about here are the top-end AMD Ryzen R7 SKUs. They are the Ryzen R7 1700, Ryzen R7 1700X, and the Ryzen R7 1800X. All 8 core / 16 thread CPUs with varying TDP and frequencies. 
AMD Ryzen R7 1700, R7 1700X, & R7 1800XSpecifications:
| | | | |
| --- | --- | --- | --- |
| | Ryzen R7 1700 + Wraith Spire | Ryzen R7 1700X | Ryzen R7 1800X |
| Cores/Threads | 8C/16T | 8C/16T | 8C/16T |
| Base / Boost | 3.0GHz / 3.7GHz | 3.4GHz / 3.8GHz | 3.6GHz / 4.0GHz |
| TDP | 65W | 95W | 95W |
| Price | 330 USD | 400 USD | 500 USD |
 Source: GamersNexus
The AMD Ryzen R7 1700 is directly in-line with the i7-7700K when it comes to current pricing and probable performance – with a 65W TDP backing it up for better efficiency. The R7 1700X and R7 1800X on the other hand should compete with the Intel HEDT Core i7 6800K and 6900K CPUs with a change to spare as far as official pricing goes.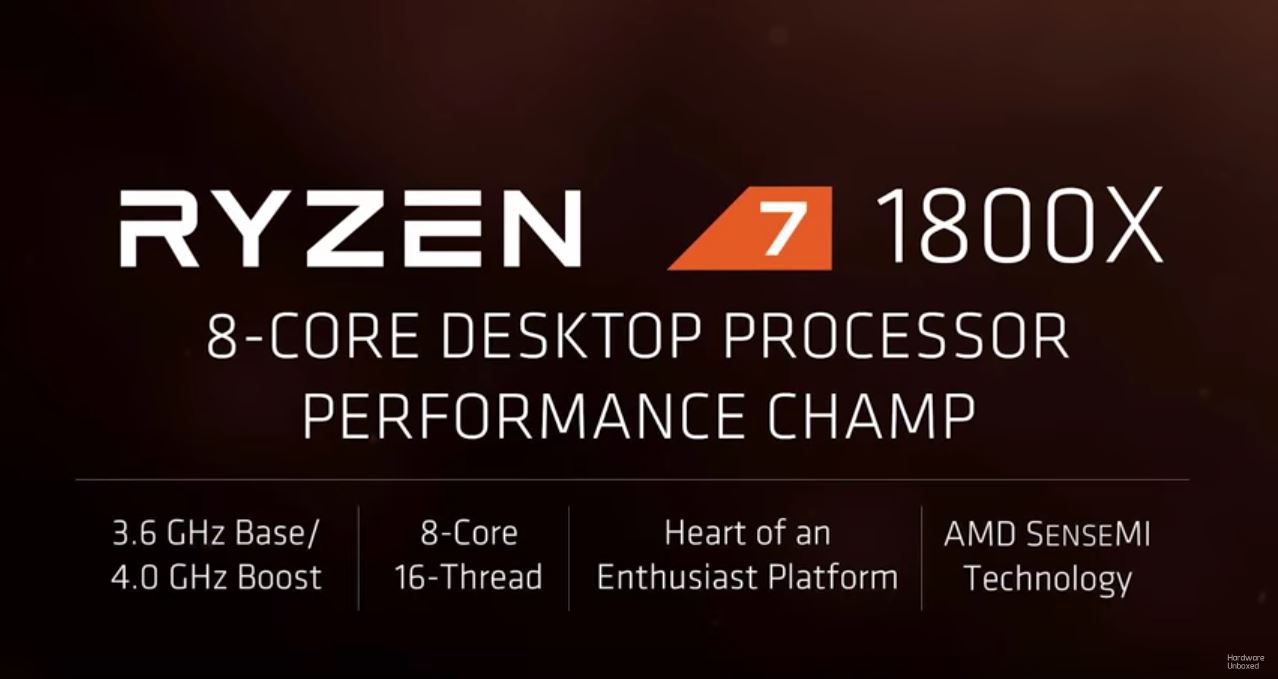 AMD pitted the Ryzen R7 1700X vs the Core i7 6900K at Maxon's Cinebench R15 CPU benchmark scoring a 1537 cb over the Intel CPU's 1474 cb. The Ryzen R7 1700 vs the Core i7 7700K on the other hand featured 1410 cb points over the Intel CPU's 967 cb which is a total win for the AMD chip at the Cinebench R15's multi-threaded CPU benchmark. As for the Ryzen R7 1800X, it scored 1620 cb with a corresponding 160 cb result at the single core benchmark.
| | | | | | |
| --- | --- | --- | --- | --- | --- |
|  CINEBENCH CPU Benchmark |  Intel Core i7 7700K | Intel Core i7 6900K | Ryzen R7 1700 | Ryzen R7 1700X | Ryzen R7 1800X |
| cb = Higher is better |  967 |  1474 |  1410 |  1537 | 1620 |
Take these benchmarks with caution, as we have no information about the current specifications of the hardwares used by AMD. Still, these are pretty good outputs from AMD's top-end 8 core chips.
AMD also appears that they will ship the Ryzen R7 1800X without a cooler – which is highly usual for top-end CPUs these days. The box pictured above is just too narrow to fit a capable cooler, but it is safe to assume that we sill see boxed cooler bundled variants. Update: The box cooler is identified as the Wraith Max.
As far as architecture goes, the Ryzen CPUs shifts to One Floating Point Unit per core design – dropping the shared core approach of excavator and bulldozer CPUs.  This shift should assist in Floating Point intensive tasks and that includes gaming in general.
The AMD San Francisco Editor's Day Event allowed us to see a glimpse of what the AMD Ryzen family of CPUs has to offer – at least at the high-end level. Gamers wanting to take a look at the more budget friendly side of things should wait though, as details about the Ryzen R5 parts have yet to surface. Learn more from AMD's official Youtube channel for more details.