AMD's Strongest Attempt Yet   
If you haven't paying attention yet, AMD is on the roll both in graphics and CPU related news these past few weeks.  At the GPU side of things, AMD just rolled out their Radeon Crimson ReLive drivers, and their RX 400 Series graphics are performing better than ever thanks to the consistent driver updates and fixes. Now at the CPU side of things, the company had just unveiled the Ryzen CPU at the New Horizon event, featuring benchmarks against the competition, new information about the chip, and the AM4 chipset.
The AMD Ryzen is an 8 core CPU with 16 threads operating at a 3.4GHz base clock featuring 20MB of combined L2 and L3 cache. The Ryzen CPU code named "Summit Ridge" and known as ZEN before the reveal will launch this Q1 of 2017. Possibly around January or just before April.
Thr Ryzen CPU compatible with the next generation AMD AM4 socket based chipsets, and will feature native PCI-E 3.0, USB 3.1, NVME, SATA Express, and DDR4 support. The board at the top is most probably a design from MSI.
The top end AMD Ryzen CPU will directly compete with the Intel Core i7 6900K for the X99 system – at least that's how the benchmark shows. For example, the Ryzen is able to finish a Blender render time at roughly 35.57 seconds, while the Intel Core i7 6900K finishes it at 36.01 seconds. That's with the Intel CPU's Turbo Boost enabled, and without the Ryzen CPU's boost capabilities.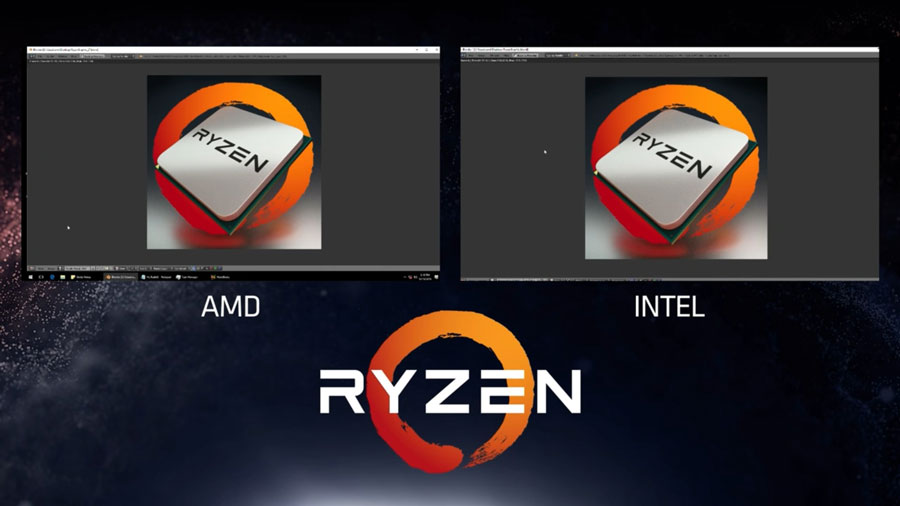 At handbrake, a personal favorite of mine for video conversion and benchmarking puroses, the AMD Ryzen featured a 54 second conversion time. The Intel chip on the other hand finishes last at 59 seconds. Pretty nice gains from the AMD CPU I must say. Again, the Ryzen is at its base clock here, while the Intel has Turbo Boost enabled.
Games were tested too, but we can't see the performance figures from both CPUs based on the live stream. Now as for streaming, this one has been tested using DOTA 2 while streaming and it definitely features better performance over the Intel counter part with both game and stream at work.
AMD is expected to debut Ryzen around Q1 of 2017 with a possible CES 2017 launch together with the AM4 platform. For more information, you can watch the recorded live stream above.
[button link="https://wccftech.com/amd-ryzen-zen-cpu-benchmarks-official/"] WCCFTECH[/button]