INTRODUCTION:
It is undeniable that power banks are starting to become a necessity nowadays. It also copes up well with the progression of the smart phones and other portable devices out there. In fact, it copes up well with the smartphone's progression that some power banks comes in a slim and premium build and some even comes with 3-in-1 functions! So, most of our frustration when it comes to charging our phone in our walls almost everyday and the deprived opportunity for us to charge our worn out batteries anywhere is almost gone.
Good thing, one of the emerging local brands, Capella Philippines is bringing audio, power and even storage solutions to light here in our country for a much more affordable price! Giving everyone a chance to own a premium product without spending too much. One of their products lined-up is the Andromedia M6 6600mAh Power Bank. Enough with the introduction and let's check this out.
FEATURES AND SPECIFICATIONS: CLICK HERE
Features: 
Overheat protection
4 battery level LED indicators
Flashlight
SPECIFICATIONS
| | |
| --- | --- |
| Battery Type: | Lithium-Ion |
| Rated Input: | DC 5V, 1000mA |
| Rated Output: | DC 5V. Max 2100mA |
| Capacity: | 6,600mAh |
| Charging Time: | 0-6 Hours |
| Lifespan: | Charge to 100% up to 500 times |
UNBOXING:
Just like the typical power banks, the Andromedia M6 comes in a box with a clear panel located at the front side to boast its physical appearance. The white box is complimented with a hazard line surrounding the clear panel. Pretty cool, actually.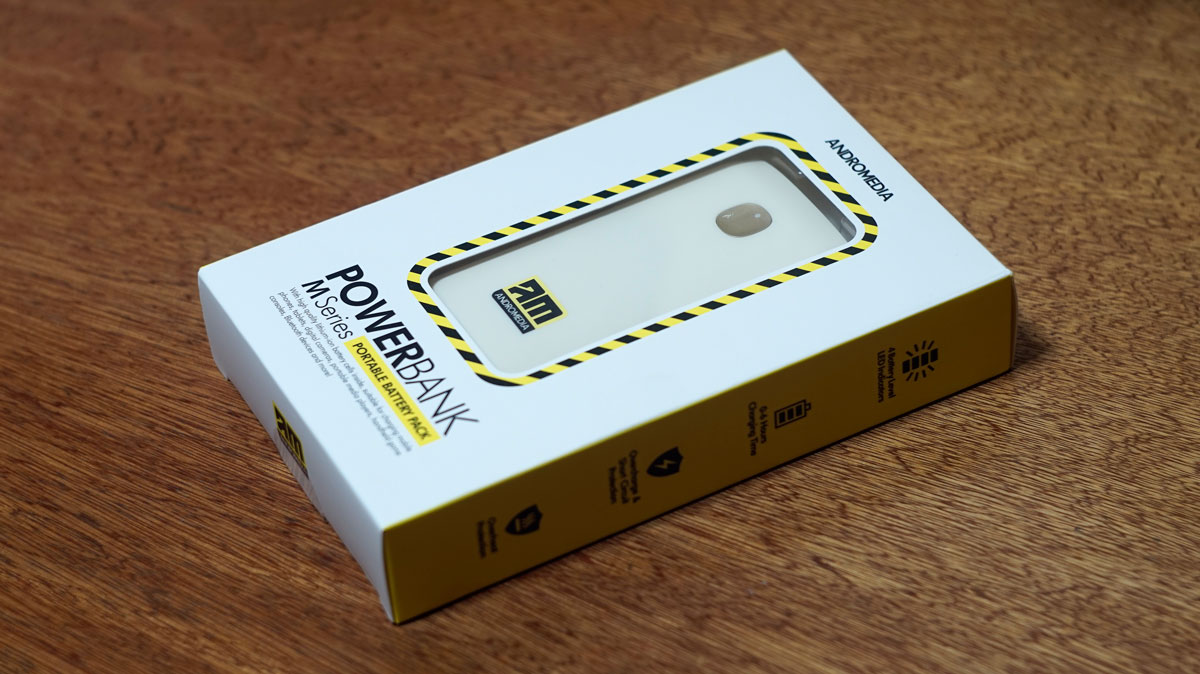 The back side shows the specification of the power bank and the devices the product is compatible with. Nothing much here.
The packaging also includes a user manual and a micro USB to USB charging cable.
THE POWER BANK:
Just looking at the M6 makes me think that I'm reviewing a soap and not a power bank. Without the logo and the button at the front side, it definitely looks like a soap. Especially with its curvy and fluffy rectangular shape. The build of the power bank is undeniably great. There's this feel of assurance the power bank is giving just by holding it. Assurance that it will not break easily or explode or something. However, the M6 is a bit heavy and a bit too fat to fit in your skinny jeans' pockets. So basically, that's less portability.
The back side shows a few product info and warnings in a golden text. Nothing much here as well.
The top side of the power bank shows the LED indicator, input and output ports. This power bank is emergency friendly as well because its LED indicator can serve as an emergency source of light. Yappie! You can use this power bank as a flashlight as well! For a 6600 mAh power bank, I think that it should have 2 output ports since it has enough juice to fully charge a typical phone with 2000+ mAh of battery. But it is understandable since most smartphones and devices nowadays are sporting higher battery power. The Andromedia M6 is chargeable through a wall socket, both 2.0 and 3.0 USB ports of your notebooks and PC.
USER EXPERIENCE AND CONCLUSION:
With only one output available, the tests that we need to conduct are simple. First, we need to check how fast it will charge my phone and my colleague's phone. Second is how fast it will charge itself through wall socket, USB 2.0 and  USB 3.0.
I tested the Andromedia M6 first with my Asus Zenfone 5 that is powered by a 2110mAh battery. It charged much longer than anticipated. It charged my phone from 0% to 100% for 3 hours. Unlike the Luxa2 EnerG Slim that charged my phone for only 2.5 hours. After testing with my phone, I asked my colleague who owns a Samsung Galaxy S5 that is powered by 2800mAh battery to use the Andromedia M6 for charging his phone from 0% to 100%. Naturally, it took longer and charged my colleague's phone for 3.5 hours. That's quite long. And please do note that I did the test multiple times and it just produced the same results.
 The next is charging the power bank itself. I charged the power bank through USB 2.0, USB 3.0 and through the wall socket. Charging the power bank surprisingly took longer than expected. It took 9.0 hours to charge through the wall socket and USB 3.0 and it took 9.5 hours to charge through the USB 2.0. Again, I did the test multiple times but produced the same results.
The Andromedia M6 is good with its great build and huge amount of power. However, aside from the long charging time, the power bank is not capable of shutting down automatically after charging a phone. So aside from wasting its own juice by charging a fully charged device, it is also taking the device at risk of being overcharged. Another con is, the power bank is quite heavy and bulky so it's quite the space consumer for your purse and pockets. There are other power banks out there with the same capacity but comes with a slimmer and lighter design. Good thing, this power bank is priced at only P990 and currently on sale at Lazada for only P880! GET IT HERE
ANDROMEDIA / CAPELLA M6 6600MAH POWER BANK
PROS:
PLAUSIBLE PRICE POINT

GREAT BUILD QUALITY

LENGHTY USB CABLE

PRECISE LED INDICATORS

EASY TO USE

FLASHLIGHT MODE
CONS:
TAKES A LONG TIME TO CHARGE ITSELF

NOT CAPABLE OF SHUTTING DOWN AUTOMATICALLY

BULKY