RGB Motherboard Done Right
The much awaited ASUS ROG Maximus VIII Formula gets a release date, and it's coming ashore this February 2016 with a price at around PHP 21, 520 according to ASUS. That's a hefty sum for a Z170 motherboard? Yes & No, depending on the areas you're looking at.
For starters, you'll get an incredible build quality, an EKWB CrossChill hybrid cooling block for the VRM, ROG Armor reinforcement, Gaming oriented features and many more which includes overclocking support and next generation connectivity. To learn more about the board, read the PR below:
Manila, Philippines (13th January, 2016) — ASUS Republic of Gamers (ROG) today announced Maximus VIII Formula, a Z170 Express chipset-based ATX gaming motherboard with exclusive CrossChill EK cooling, epic aesthetics and strength with Aura RGB lighting and ROG Armor, and 5-Way Optimization, Intel® Gigabit Ethernet and LANGuard to deliver game-conquering performance.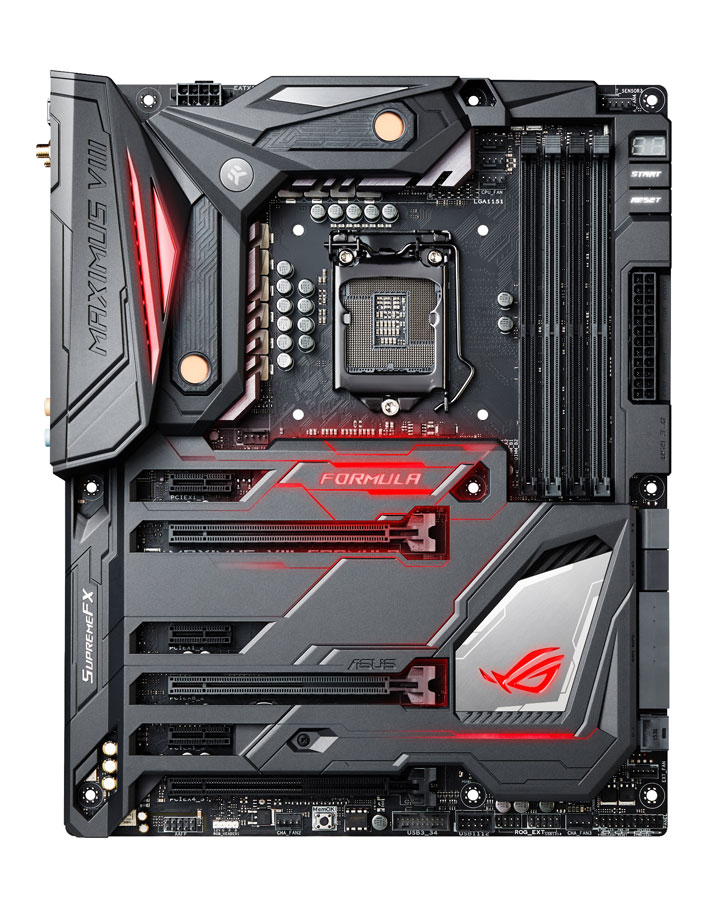 Equipped with an LGA1151 socket and optimized to unleash the maximum performance of 6th-generation Intel Core™ ('Skylake') processors and DDR4 memory, Maximus VIII Formula is also engineered with champion-level SupremeFX 2015 audio technology to elevate even the smallest in-game sound details — making every battle arena sound as real as life.
The new board is also kitted out with the newest and fastest connectivity, with NVM Express™ (NVMe) U.2 and M.2 for up to 32Gbps transfers, USB 3.1 Type-A and reversible Type-C for the best compatibility and any-way-up convenience, and latest 2×2 802.11ac Wi-Fi with multi-user MIMO (MU-MIMO) wireless connections.
Best-in-class cooling: Exclusive CrossChill EK hybrid cooling with air or liquid
To create gaming cooling that's the best in its class ROG teamed up with the cooling masters at EK Water Blocks to develop CrossChill EK — exclusive to Maximus VIII Formula. This extreme-performance cooling block has a high-conductivity copper channel that's ready for either air or liquid, and is literally the coolest choice available for custom-chilled builds, ensuring quieter, cooler gaming rigs.
CrossChill EK gets to work right away with air, requiring no specialist knowledge or equipment to reduce temperatures across the board. The exclusive block is also equipped with standard G1/4in-thread fittings, so it's compatible with many existing liquid-cooling setups. For those that like to chill with liquid, CrossChill EK shrinks MOSFET temperatures by up to 23˚C.
Epic aesthetics and strength: Aura RGB header and controls, plus ROG Armor reinforcement
Maximus VIII Formula is the gaming motherboard that delivers style, strength, and cooling in one, with all-new Aura RGB LED illumination and tough ROG Armor. The style begins with high-precision laser-engraving technology, which our engineers employ to carve beautifully intricate patterns across the ROG Armor that enrobes Maximus VIII Formula, allowing the radiant RGB light of 28 integrated LEDs to shine through and illuminate key parts of the board — including the MOSFET heatsink cover, PCI Express® area and the striking ROG logo on the PCH cover.
Maximus VIII Formula also eliminates the hassle of using external RGB controllers to create striking illumination. With an integrated Aura RGB-strip header and included extension cable, it's quick and easy to cast brilliant colors across any gaming rig or light up LAN parties. A standard 12V RGB strip simply slides onto the Maximus VIII Formula's integrated 4-pin Aura RGB-strip header, enabling gamers to weave lighting any way they please.
To control the illumination, Maximus VIII Formula includes the Aura lighting-control utility. This allows users to manage the motherboard's powerful built-in RGB LEDs or an attached RGB strip, or both — and in perfect synchronization. Aura provides rig-builders with the creative freedom to experiment with six different lighting schemes, including static, strobing and pulsating effects. The Aura utility also offers the ability to change LED colors in time with music, or have them indicate CPU temperature.
ROG Armor is Maximus VIII Formula's high-style thermal protection that blocks heat from graphics cards, ensuring lower system temperatures for better performance — and all with sleek looks. In addition, a steel, electro-galvanized, cold-rolled coil (SECC) backplate that strengthens Maximus VIII Formula to prevent bending, employing thermal pads to efficiently conduct heat away from crucial components.
Game-conquering performance: 5-Way Optimization, SupremeFX 2015, Intel LAN and LANGuard
Maximus VIII Formula extends ROG's boundary-busting heritage to stretch performance further than ever before, with the best overclocking (OC) design, friendly and multi-award-winning UEFI BIOS and intuitive control utility for exceptional gaming experiences — and unmatched overclocking opportunities.
No-one needs to be an expert to max out gaming performance with Maximus VIII Formula, because 5-Way Optimization sorts all the complex settings for instant, highly-controllable performance boosts. This exclusive technology dynamically optimizes essential aspects of Maximus VIII Formula systems based on real-time use, maximizing CPU performance and minimizing energy use. With ultra-stable digital power ASUS ROG Digi+, cool and quiet fans and even networking and audio settings that are tailored for the apps being using, 5-Way Optimization ensures that the PC is perfect for gaming, entertainment, productivity or anything else — and all with a single click.
Maximus VIII Formula is also engineered with crystal-clear gaming audio, in the shape of SupremeFX 2015. This brings together the best gaming-audio inputs and outputs, special shielded designs, and a collection of carefully selected professional-grade audio components, including an ESS® ES9023P digital-to-analog converter (DAC) with Hyperstream™ technology, ultra-low-jitter clock, Nichicon capacitors and 2VRMS headphone amp. Sonic SenseAmp is incorporated to automatically detect and optimize any headset (32-600 ohms) for purest sound quality.
SupremeFX 2015 also features intuitive the Sonic Studio II suite for the quick application of the best audio effects for different listening scenarios, plus Perfect Voice noise-cancellation technology for team conversations with total clarity.
For faster online gaming with greater throughput and minimized lag, Maximus VIII Formula has the very latest Intel® Ethernet (I219-V) Gigabit LAN. This has the serious double advantage of reducing CPU overhead and offering exceptionally high TCP and UDP throughput, so there's more power for gaming and gameplay. The port is protected by exclusive LANGuard technology for safer, more reliable connections, employing advanced signal-coupling technology and premium surface-mounting processes both to protect Maximus VIII Formula and deliver pumped-up throughput.
Next-gen connectivity: NVM Express U.2 and M.2, USB 3.1 Type-A/C, and 802.11ac Wi-Fi
Maximus VIII Formula enables gamers to join the NVMe revolution and unlock the full potential of the latest solid-state drives (SSDs), with both U.2 and M.2 connectors on board for data-transfer speeds of up to 32Gbps — and all with plug-and-play ease. With both USB 3.1 Type-A and reversible USB 3.1 Type-C built in, Maximus VIII Formula also offers the speed and convenience of both variants of the latest USB standard. ASUS-exclusive USB 3.1 Boost technology automatically accelerates USB 3.1 performance even further.
For the very fastest wireless connections, Maximus VIII Formula has 802.11ac Wi-Fi integrated, with an external 2×2 (2 transmit, 2 receive) dual-band 2.4/5GHz antenna included.
[button type="big" color="red"]