Alpha and Omega offer two distinct ROG paths to HEDT perfection
ASUS today is excited to reveal the Republic of Gamers (ROG) Zenith Extreme Alpha and Rampage VI Extreme Omega motherboards. The AMD X399 and Intel X299 chipsets harness the copious cores and bandwidth available in high-end desktop processors to provide next-level performance to power users, content creators, and prosumers who want the very best in their builds. Both were refreshed around the same time to add faster Threadripper and Core X-series processors. ROG redesigned the motherboards to not only keep up with the new processors but also make it possible to extract every bit of performance from them.
Although these platforms are derived from workstation-grade silicon with professional pedigree, ASUS has deployed them on a pair of ROG motherboards aimed at the most discerning gamers, enthusiasts, and overclockers. The AMD-based Zenith Extreme Alpha and Intel-based Rampage VI Extreme Omega are two sides of the same coin, bringing the same cutting-edge features and distinctive aesthetics to competing platforms.
Bringing more power to the people
High-end desktop processors have greater power requirements due to the extra cores, memory channels, and PCI Express lanes under the hood. The latest additions to the Threadripper and Core X-series families are particularly demanding, making intelligent VRM design and quality components more vital, especially for overclocked processors that live closer to the edge of stability. To keep these chips satiated, the Alpha and Omega both feature 16 power stages spread over eight phases. Each phase acts like a double-barreled shotgun that delivers twice the current instantaneously. Pumping out more current per phase improves transient response, which helps the motherboard keep up with sudden changes in processor power demand that are common with desktop PCs. The VRM uses premium chokes, capacitors, and IR3555 PowIRstage ICs to ensure pristine power delivery even under heavy loads.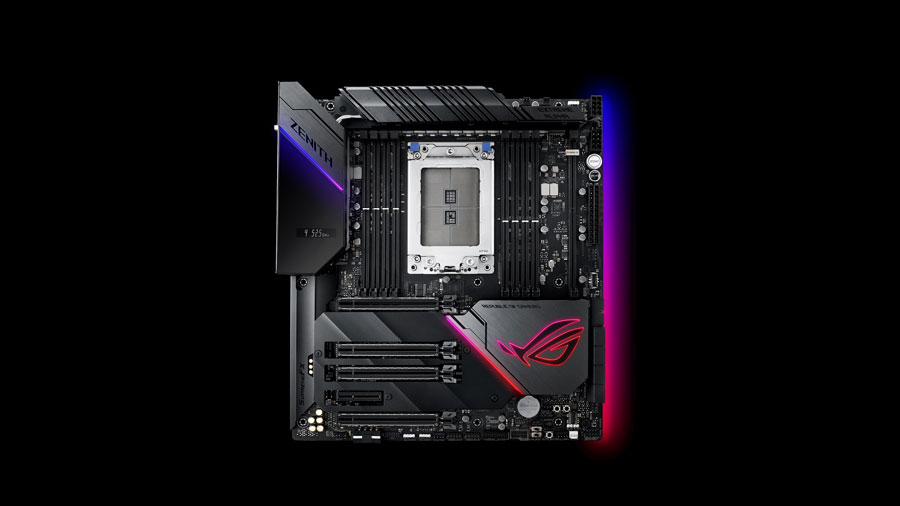 Precious power reaches the processor through dual auxiliary 12V connectors with eight pins apiece. These ProCool jacks feature solid pins instead of the hollow ones found in conventional connectors, allowing them to carry more current. The amount of metal in power pins might seem like a small detail, but all the little details need to be nailed in order to achieve the best performance. These boards are primed for truly extreme overclocking; they include LN2 and slow-mode switches for operation at sub-zero temperatures, high-amperage fan headers for blowing away billowing vapor, and ProbeIt points for tracking key voltages directly with a multimeter.
Hand-pouring liquid nitrogen may not be practical for real-world builds, but it helps ROG learn about the limits of the hardware so that it can improve the experience for everyday overclockers. ROG's critically acclaimed UEFI and AI Suite tuning utility offer an accessible range of manual tweaking options for experts who want maximum control over their hardware. 5-Way Optimization, a highly configurable auto-tuner that finds the optimal overclock of each unique system, does so by methodically increasing the frequency and testing stability like a seasoned veteran would.
AVAILABILITY & PRICING
The ROG Zenith Extreme Alpha retails at PHP 35,790 and the Rampage VI Extreme Omega at PHP 43,400. End-users wanting to get the units will have to order it from retailers by the end of January.
PRESS RELEASE