BIOSTAR has expanded their portfolio into the storage segment with the release of the G300 SSD. This is their first attempt at breaking the storage market, so we are interested to see what they could offer to the consumers. It is important for BIOSTAR to make it right the first time around.
Now the BIOSTAR G300 SSD is available in 3 variants with the 120GB, 240GB and 480GB models readily available to choose from. The G300 SSD we got here from BIOSTAR is actually the 240GB model, which is currently the capacity sweet spot at the market right now. Specification wise, we are looking at an SSD with 550 MB/s maximum read and 480 MB/s maximum write performance, all under a 240GB capacity storage device within a 6.8mm 2.5 inch form factor. MORE INFO
| | | | |
| --- | --- | --- | --- |
| Capacity | 120GB | 240GB | 480GB |
| Interface | SATA3 | SATA3 | SATA3 |
| Cache | 128MB | 256MB | 512MB |
| Form Factor | 2.5″ | 2.5″ | 2.5″ |
| Thickness | 6.8mm | 6.8mm | 6.8mm |
| Weight(up to) | 50g | 53g | 56g |
| Max. Read | 550MB/s | 550MB/s | 550MB/s |
| Max. Write | 470MB/s | 480MB/s | 480MB/s |
| Operating Temperature | 0~70°C | 0~70°C | 0~70°C |
| Operation Systems | Windows/Linux/Mac | Windows/Linux/Mac | Windows/Linux/Mac |
PACKAGING AND BUNDLED ACCESSORIES:
BIOSTAR kept the drive safe within a 2 part packaging, consisting of a color box, and a harder plastic internal packaging. This is more than enough to keep the drive safe from harm, and it also works really well as a promotional material for consumers.
The back of the packaging rounds up the specifications of the drive, together with its features. This product is proudly made in Taiwan I must add.
Accessories are basic. You'll get a quick installation guide, an anti static wrap, and that's just it. No spacers here so if you have a notebook with a 9mm 2.5 inch drive bay, you have to sort it out yourself.
THE BIOSTAR G300 SSD:
The 2.5 inch drive cage is made out of metal, with a matte black finish accentuating the BIOSTAR logo. It isn't the flashiest, but we do appreciate BIOSTAR's safe aesthetics. Surely, they do not want to make mistakes with this one.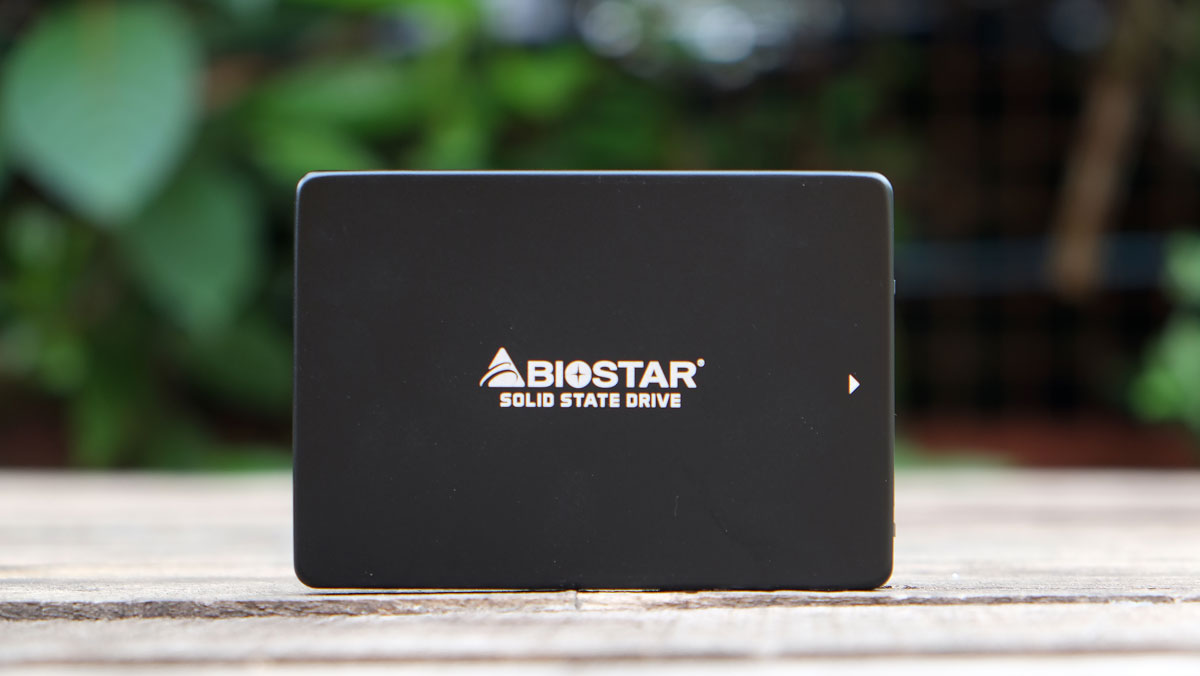 Underneath the G300 lies its certifications, and serials of the drive for documentation. There are also four screw holes located on this area should you wish to mount the SSD on any chassis supporting such mounting holes.
The internals of the BIOSTAR G300 SSD specifically its PCB, is actually shorter than the 2.5 inch drive cage itself. A look at its 6 layer PCB exposes the Silicon Motion SM2256K SSD Controller which is made to work with 16nm TLC NAND flashes. The flash memory config is 32GB x 8, with the other four situated at the other side of the PCB together with the 256MB DRAM cache. This is a 256GB capacity SSD, with 16GB cleaved off for over provisioning.
TEST SYSTEM & PROCEDURES:
Our storage device reviews revolves around the use of various storage benchmark tools and real world benchmarks. Our setup fills up the test drive to at least 50% of its capacity. This is done so to negate the FOB (Fresh Out the Box) performance of the drive – ensuring that we are testing the drive according to its real world usage. All tests should be done with the drive attached to the native ports found on our motherboard to ensure that the system is on its optimal storage testing state.
The BIOSTAR G300 SSD comes with approximately 240 Billion Bytes of usable capacity, roughly translating to 223 GB of available space to play with. It supports DevSLP, NCQ, TRIM, and SMART. The SSD has 256MB of DDR3 DRAM cache.
TEST SYSTEM SPECIFICATIONS

CPU
INTEL CORE I5 6600K
MOTHERBOARD
ASUS Z170-A
CPU COOLER
NOCTUA NH L12
MEMORY
CRUCIAL BALLISTIX TACTICAL 16GB
GRAPHICS CARD
ASUS GTX 1060 STRIX OC 6GB
INT. STORAGE
PLEXTOR M6E BLACK EDITION 256GB
PSU
CORSAIR RM850X 850W
DISPLAY
27″ DELL U2715H WQHD IPS PANEL
OS
MICROSOFT WINDOWS 10 PRO
SYNTHETIC STORAGE PERFORMANCE:
The ATTO Disk Benchmark is an industry standard storage benchmark tool aimed to measure the maximum theoretical speed of a drive. It is usually the driving metric where storage companies base their drive's specified performance.
Crystal Disk Mark is a storage benchmarking software widely used through the industry. It features four synthetic tests for both read and write.
AS SSD is a well-known synthetic storage benchmarking tool in the industry, offering 6 synthetic tests, and 3 copy performance tests.
AS SSD's copy test should provide us a quick look at how the SSD behaves with certain files and applications. Basically, AS SSD will take two 500 MB files and then copy it to another folder on the same drive, gauging both the storage's read and write speed at the same time.
REAL WORLD STORAGE PERFORMANCE:
Our real world performance test is courtesy of 24 GB uncompressed files consisting of images, PSDs, and various file formats within a single folder. Accompnying it is another file copy test consisting of 12 GB compressed files. The last one will be a mixture of both, pushing the drive to its limits. The files are copied within the drive, and performance is measured by TeraCopy.
PERFORMANCE ANALYSIS & CONCLUSION:
The BIOSTAR G300 SSD with 240GB of capacity is an interesting specimen, featuring a competitive performance output for both read and write. At ATTO's Disk Benchmark for example, the drive went past through its designated specifications – reaching a maximum of 562 MB/s for the read and 511 MB/s for the write speed. The same goes for the SSD's Crystal Disk Mark performance, where it reached 561 MB/s and 505 MB/s for both read and write based on the Sequential Queue Depth 32 tests. Granted, QD32 based benchmarks are not directly comparable to the real world performance of a drive, but they truly test the Native Command Queuing capabilities and the quality of the NAND storage overall.
AS SSD is a little more punishing than Crystal Disk Mark, and here we could see the drive performing 17 MB/s  less for the sequential read benchmark found within the suite if compared side by side. Write speed seems unaffected, but these sequential tests shows that the drive actually is slower than the claimed specifications. 4K read and write performance isn't stellar but it's nothing to be mad at.
Being marketed as a gamer's SSD, we checked out the access speed of the G300 SSD. Access times averages around 0.052ms for the read, and 0.043ms for the write which is great and is actually a by-product of the SSD's DRAM cache. Make no mistake though as SSDs in general are gamer's best friends when it comes to application load times, and there's basically no need for BIOSTAR to market this one as such. It's already given, to be perfectly blunt.
Real world performance is good with just around 3 minutes of time taken to copy a 12GB compressed file, while it took the drive almost 8 minutes to copy a total of 24GB uncompressed files. It took the drive considerably longer time to copy both simultaneously though.
Pricing based on BIOSTAR suggests a 66 USD MSRP which should equate to around 3, 200 PHP. That is not bad, considering that the drive features a DRAM cache, a capable NAND controller, and a performance that is well above decency for the price. Look for this drive once it hits the shelves.
BIOSTAR G300 240GB SSD
PERFORMANCE -

8/10

BUILD QUALITY -

8/10

AESTHETICS -

8/10

VALUE -

8/10
Summary
The BIOSTAR G300 SSD in 240GB of capacity is an ideal 66 USD storage drive. Built with a DRAM cache, this SSD excels with M.2 SSD level seek times – an important factor for gamers who wants a faster game load times.