It's been a while since we reviewed cases here, so when BitFenix decided to bless us with a case to check out, we instantly jumped with joy. You see, pricey case or not, we try to check out how these enclosures impact a PC gamer's life, especially if it's a gamer's first foray into the world of proper cases that meets today's standards.
One such case is the one we got here from BitFenix, the budget friendly NEOS which is available in many  colorful combinations. The BitFenix NEOS is a case designed with simplicity in mind, while still taking feature set and affordability into account. That includes  the fully meshed front panel, plenty of expandability, tool-less installation, USB 3.0 compliance, and many more. This 2, 450 to 2, 950 Peso chassis aims to be the gem of the price bracket, but will it shine over the competition? Let us find out!
FEATURES & SPECIFICATIONS:
| | |
| --- | --- |
| Materials | Steel, Plastic |
| Color (Int/Ext) | Black/Black, White/White |
| Dimensions (WxHxD) | 185 x 429 x 470 |
| Motherboard Sizes | Mini-ITX, mATX, ATX |
| 5.25″ Drive Bays | 2 |
| 3.5″ Drive Bays | 3 |
| 2.5″ Drive Bays | 3 |
| Cooling Front | 2 x 120mm (optional) |
| Cooling Rear | 1 x 120mm (included) |
| PCI Slots | 7 |
| I/O | 1 x USB3.0, 1 x USB2.0, HD Audio |
| Power Supply | PS2 ATX (bottom, multi direction) |
| Extras / Features | Front Dust Filter, PSU Dust Filter, Tool-Free Drive Locking |
UNBOXING THE NEOS:
The NEOS is cladded in a simple and eco-friendly packaging we used to love from BitFenix. Upfront, there is a huge BitFenix logo, along with a huge model designation space directly below it. The information about the case's specifications are at the right side of the packaging.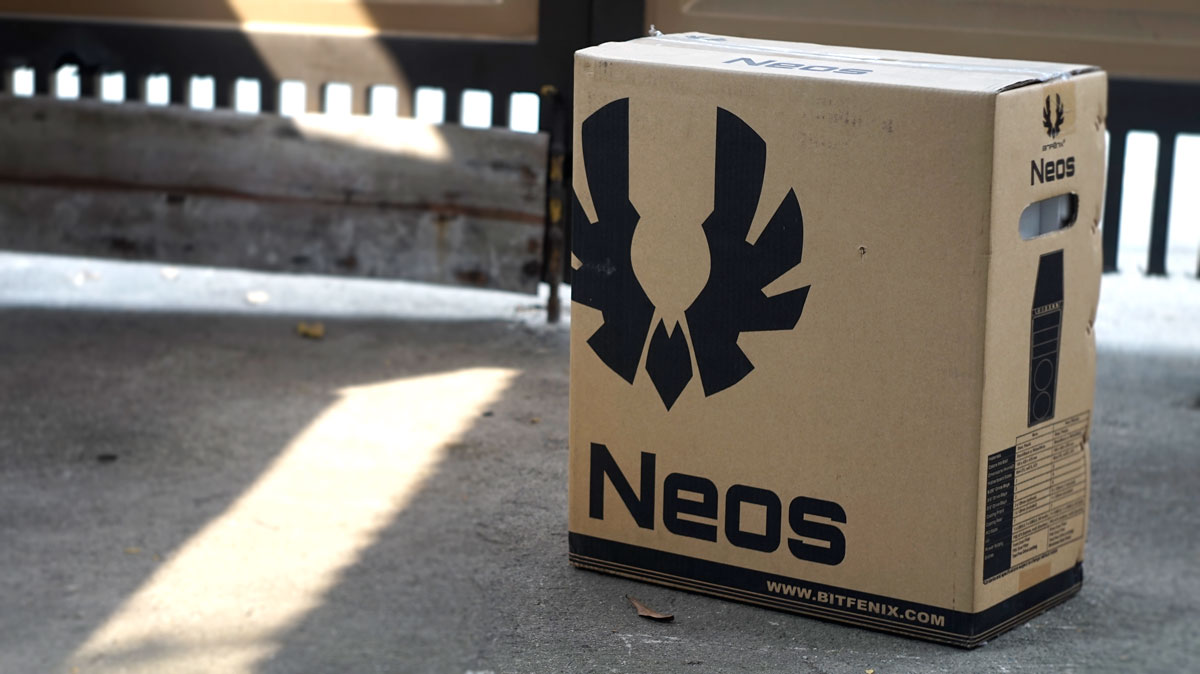 The other side features the NEOS' external and internal schematics, as well as the indication of the exact model whether it is a windowed or a non windowed version.
BitFenix had the NEOS packed with basic stuffs that should keep you started with the build. That includes the quick installation manual, zip ties to keep those cables at bay, a single removable PCI bracket with perforation, and sets of black screws of different thread sizes.
THE BITFENIX NEOS:
The NEOS is available in many color combinations, but if you're looking for the immaculate combination, then you'll love the White & Purple one we got. Looks alone, it's magestic – as f**k. Seriously, the White soft-metallic paint blends well with the Purple mesh and the same toned plastic front bezel. In short, accurate.
The windowed version's panel looks simple and classy – not too small, not too huge. The clamping mechanism for the acrylic window is hidden at the back, so it's pretty clean if you're viewing it outside. The other panel is just a plain site but since it's immaculate white, it's still refreshing to see at least.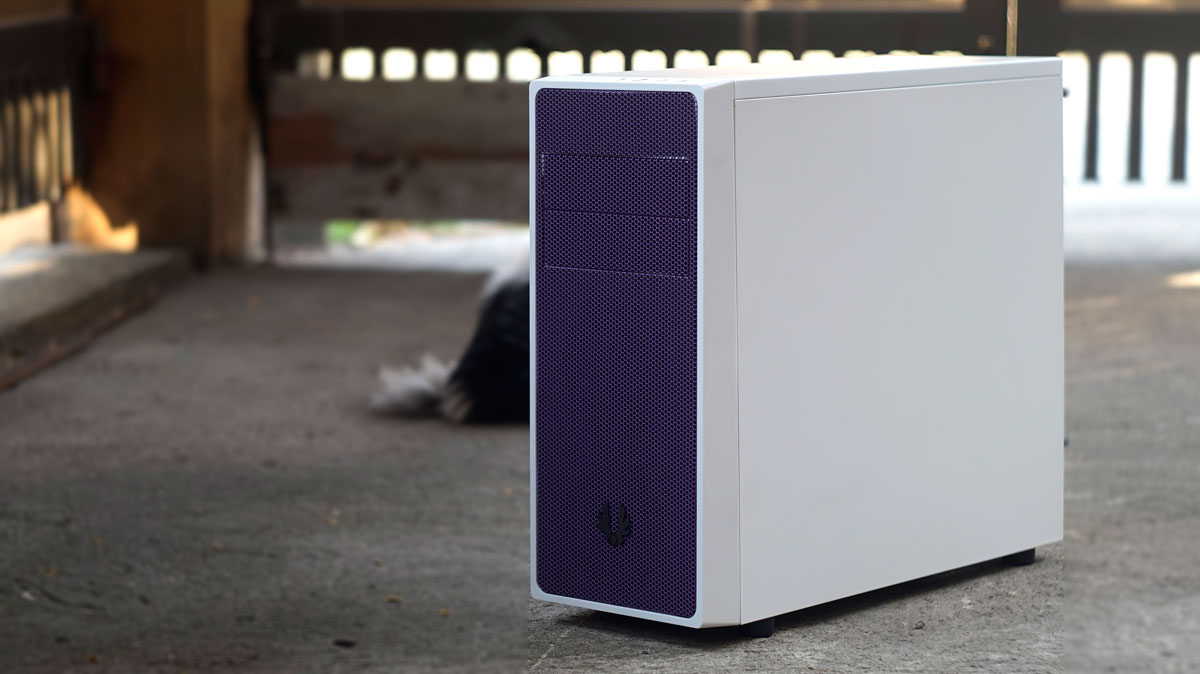 The back features 7 standard PCI slots, which means it is a mid tower case able to support ATX motherboards. At this angle, you could notice the slim profile of the case which is really slim at 185mm.
The BitFenix  NEOS utilizes an SECC steel chassis, with around 0.7mm – 0.8mm of thickness. Such measurements are normal for "inexpensive" cases, however, we find it a little odd for BitFenix to slim down the case even more, knowing that they already saved some bucks in the materials selection process.
The PCI area isn't tool-less by design, but it is perforated for better airflow and has a plastic clamp to hide the screw holes. The problem is, the slot brackets are disposable except for an extra one included but that's just it.
Another thing worth noting is how flat the back panel is compared to other cases which might be  a problem on certain system configurations which we will dig more about later.  The bottom of the case features a filter for the PSU, along with Four rubber footings.
Goinf back at the front fascia, we could see that BitFenix had the NEOS equipped not only with a mesh, but also a 100% thin foam coverage in Black. The foam is added not only for the looks, but also to prevent dust from penetrating easily. The foam isn't  implemented smoothly though, as you could that some parts of the bezel are not really covered properly. You could easily fix it though.
Although it's a budget case, BitFenix still added USB 3.0 port, a standard USB 2.0 port, audio in & out ports, as well as a  reset button to accompany the power button. Power and HDD activity LEDs could also be found here.
There is a subtle BitFenix logo located at the lower part of the front fascia, which looks cool when the front 120mm fan with LED lights up in White.
Taking a look inside reveals that BitFenix decided to go with a basic approach to things as we've got a total of 3x 5.25″ bays, 3x 2.5″ bays, and 3x 3.5″ bays inside. There isn't much space here, even for an after market CPU cooler  that has 150mm + height. BitFenix already provided a cutout for the CPU cooler, allowing us to install aftermarket coolers easily given if they will fall under the 150mm height limitation. BitFenix also appears to use a pre-applied "embossed" motherboard standoffs as opposed to the regular stand-offs which we will talk about later. Graphics card clearance seems to be good, as you could fit GFX cards inside  with up to 11″ in length.
Looking at the back, we could see that BitFenix utilizes 5 PSU cable routing holes. They don't have rubber grommets, and it's a tight fit for a 24-pin PSU connector. Since there is hardly any room at the back, BitFenix had to curve-in the main PSU routing holes for clearance. The extra one at the top right side doesn't appeal much as it will be blocked by a motherboard anyway.
The NOES came with Two 120mm fans, and one of those Two is installed at the back of the case. Since the NEOS features a flat back-end, the fan might pose compatibility issues with some motherboards that had the RAM slots at the top.
The PSU is bottom mounted, and the NEOS features the necessary filter to keep dust at bay. Nothing much to talk about here but you should be aware that installing a long PSU will deprive airflow due to the intake's standard position.
The front panel is easy to remove, and there's a tool-less fan bay for dual 120mm fans for easy maintenance. Ours came pre-applied with a LED lit 120mm BitFenix fan that looks great when powered on.
Headers consists of a USB 3.0 header, a SUB 2.0 header, Front Panel Audio header, 2x fan headers (back + front), and the usual front panel headers for the power, HDD, reset, and activity LEDs. They are all covered in black rubberized cabling material so they will look uniform inside the case.
FINISHED BUILD & THERMAL PERFORMANCE:
Building a system inside the BitFenix NEOS isn't exactly what I would call easy, but certainly not that hard either. Perhaps it's because of the stand-off which are actually harder to work with compared to the traditional brass ones. These type of stand-offs are also susceptible to loss their threads. Luckily, your standard  6-32 motherboard screws will just fit in, but you have to use some force just like using self-tapping screws.
Since our motherboard had its memory slots located at the top, we have to relocate the exhaust fan outside which is something you have to be aware of. There isn't much space to work with at the back, so cables are going to look like a small mess with this case if you're using a small motherboard with headers and connectors scattered everywhere.
The windowed panel stretches to the bottom of the case which is cool if you want to show off that glorious PSU of yours.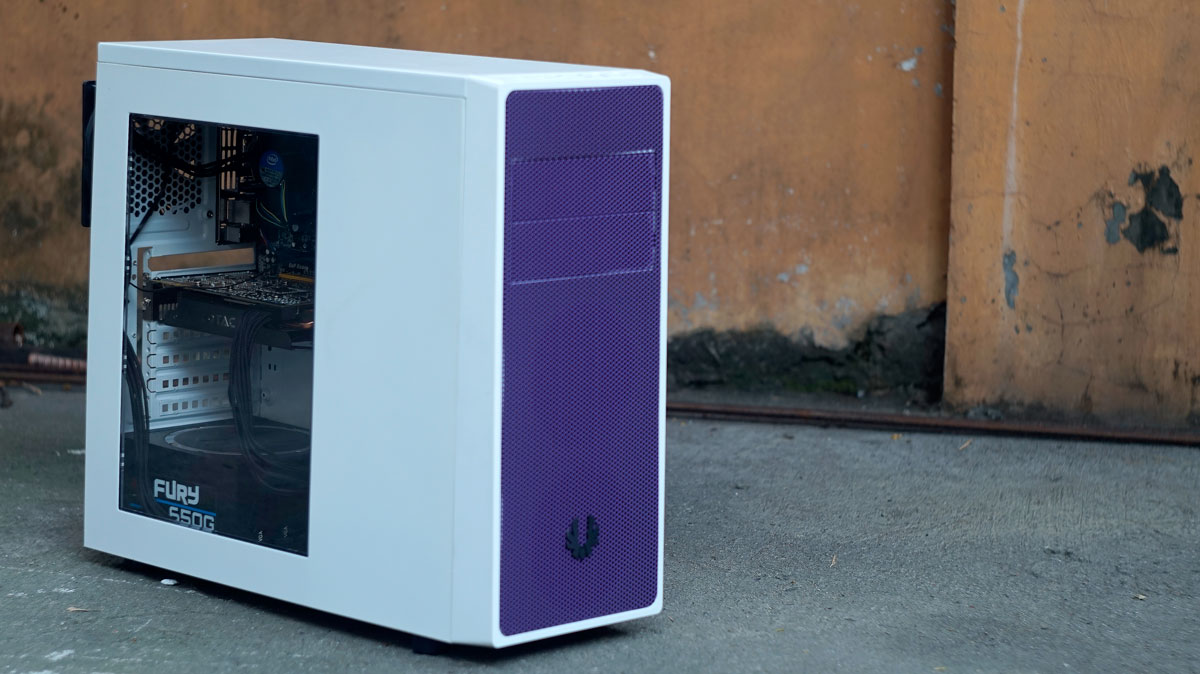 We usually shy away from testing cases since we do not have a test system build specifically for testing cases, but since we have accumulated enough parts for a secondary test system, we decided to check out the thermal capabilities of the NEOS. Basically, we will check out the idle and load thermal performance of the enclosure using AIDA64's stability test and Hardware Monitor. For the idle temperature test, we will let the system idle for 15 minutes, while the Hardware Monitor is logging temperature results. As for the load temperature test, we will let AIDA64 do its magic by stressing our components for 30 minutes and then we will take the results from Hardware Monitor. Our system's total consumed power excluding the display consumes around 200W of power.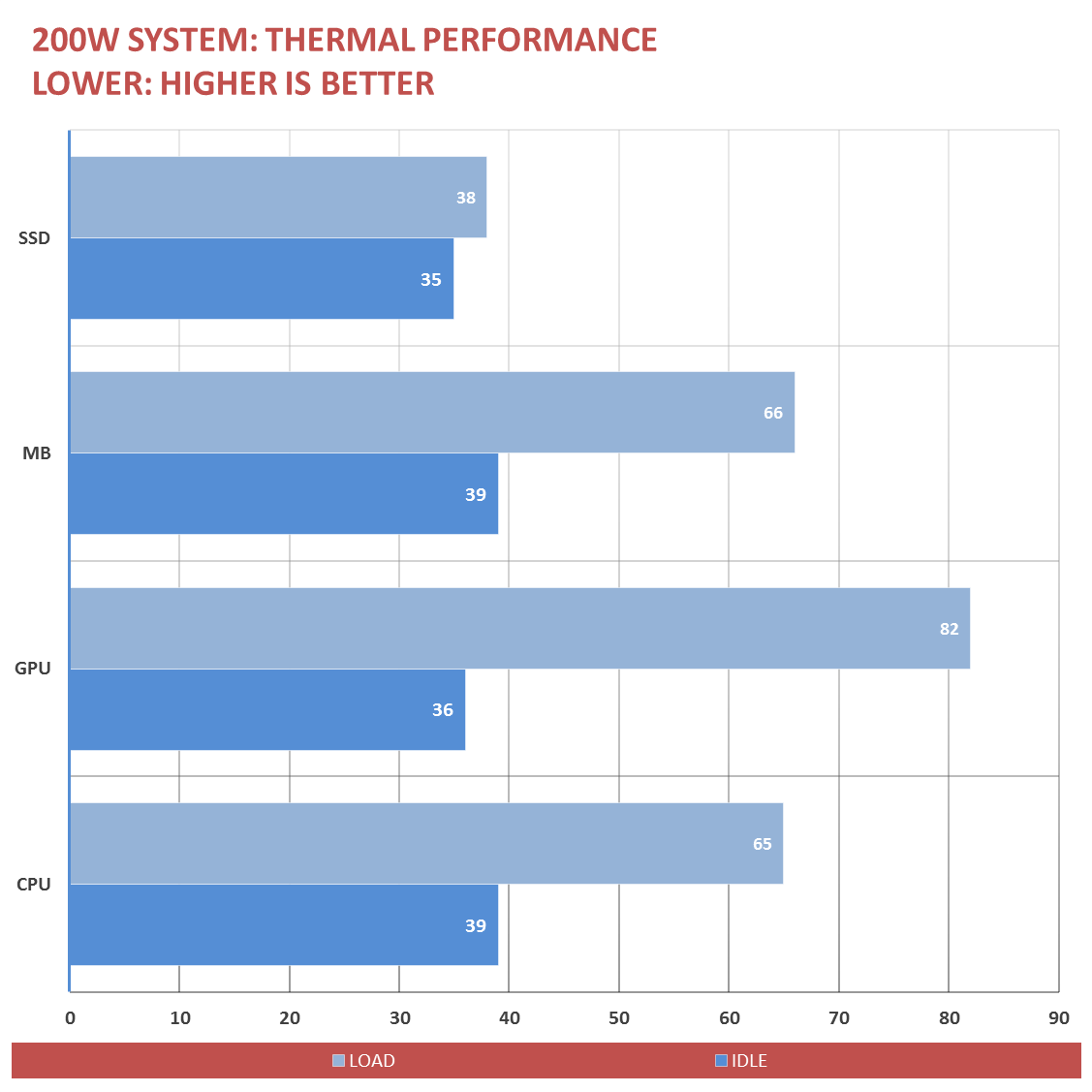 VALUE & CONCLUSION:
The BitFenix NEOS is a case designed around the philosophy, "Your Color, Your Style" and it certainly met the criteria. But what about the core concept of having a sturdy and dependable chassis? Well, it's a hit and miss with the NEOS. The NEOS hits its mark by providing its consumers the options to choose. If you love White & Purple, there is one for you, and if you like a more masculine Red & Black combination, BitFenix took care of that too. Like windows? Then this is the version for you.
Cooling wasn't extraordinary, nor mediocre so to speak, as we never experienced any major issues with its thermal performance. If you happen to get the non-windowed version, then problems might arise, as that version only comes with a single fan as exhaust. Cable management is also standard with the NEOS, as it requires more attention than other cases we have played with especially if you will choose the white version with all of the Black cables standing out.
And then there's the price. For 2, 950 Pesos (Windowed), we expected the NEOS to feature better cooling, a slightly spacious motherboard tray area, or even non-disposable expansion slot covers. Any of those could be found on some of the competition's cases with a similar price so we're wondering why the NEOS doesn't feature any.
I'd love to recommend the NEOS, especially it is one of the few cases from BitFenix that is geared towards budget consumers. But, it missed its mark by providing less than what it should. Hopefully, in the next release or revision of the case, BitFenix will sort out what's out with the NEOS.
THE VERDICT
PROS:
MULTIPLE COLOR / STYLE OPTIONS
SIMPLE & SLEEK LOOKING
TOOL-LESS BAYS
CONS:
DISPOSABLE SLOT COVERS
NARROW TRAY AREA
CPU COOLER COMPATIBILITY
BitFenix NEOS Window
PERFORMANCE -

8/10

BUILD QUALITY -

8/10

FEATURES -

7/10

AESTHETICS -

8/10

VALUE -

9/10
Summary
The BitFenix NEOS Windowed Version retails for around 2, 950 Pesos while the standard version retails for about 2, 450 Pesos. Both are now available locally in the Philippines.