Liquid coolers seems to dominate the market nowadays with their simplified application and performance. Truth be told, most of my friends who've transitioned to liquid cooling solutions never intended to go back to our roots, but this is not the case this side of 2016, as CPU tower coolers are now returning with a vengeance.
Enter the CRYORIG H5 Ultimate, a medium sized CPU tower cooler with aesthetics made to inspire awe and performance at a relatively good price point of 2, 500 PHP. That's half a buck, and is within the range of the current budget oriented 120mm liquid coolers. Now what sets this cooler apart from the current offerings found at the market are the combination of aesthetics and its defining features as a unique CPU tower cooler.
The H5 Ultimate houses CRYORIG's signature features including the Hive Fin design, and the Heatpipe Convex-Align technology. It's also a part of the H5 series – with the H5 Universal featuring a slimmer 140mm fan for better compatibility at the expense of a lower TDP.
CRYORIG H5 ULTIMATE SPECIFICATIONS
| | |
| --- | --- |
| Dimension (with fan) | L110.9 x W143 x H160 ~ 168.3mm (Fan position adjustable) |
| Weight ( with fan ) | 920 g |
| Weight (without fan) | 764 g |
| Heat pipes | 6mm heatpipe x 4 units |
| Fin | T = 0.4 mm ; Gap = 2.8 mm |
| Fin Pcs | 38 pcs |
| Copper Base | C1100 Pure copper nickel plated |
| RAM Height Limit | 30 ~ 35 mm (Fan position adjustable) |
| TDP | 180 W |
CRYORIG XF140 SPECIFICATIONS
| | |
| --- | --- |
| Dimension | L140 mm x W140 mm x H25.4 mm |
| Weight | 156 g |
| Rated Speed | 700 ~ 1300 RPM ±10 % |
| Noise Level | 19 ~ 23 dBA |
| Air Flow | 76 CFM |
| Air Pressure | 1.44 mmH2O |
| Ampere | 0.16 A |
PACKAGING & ACCESSORIES:
CRYORIG had the H5 Ultimate packed in a pronounced packaging – which is definitely befitting of CRYORIG's aggressive stance at the market. Information about the cooler has been laid out nicely, and there's basically nothing else more to say.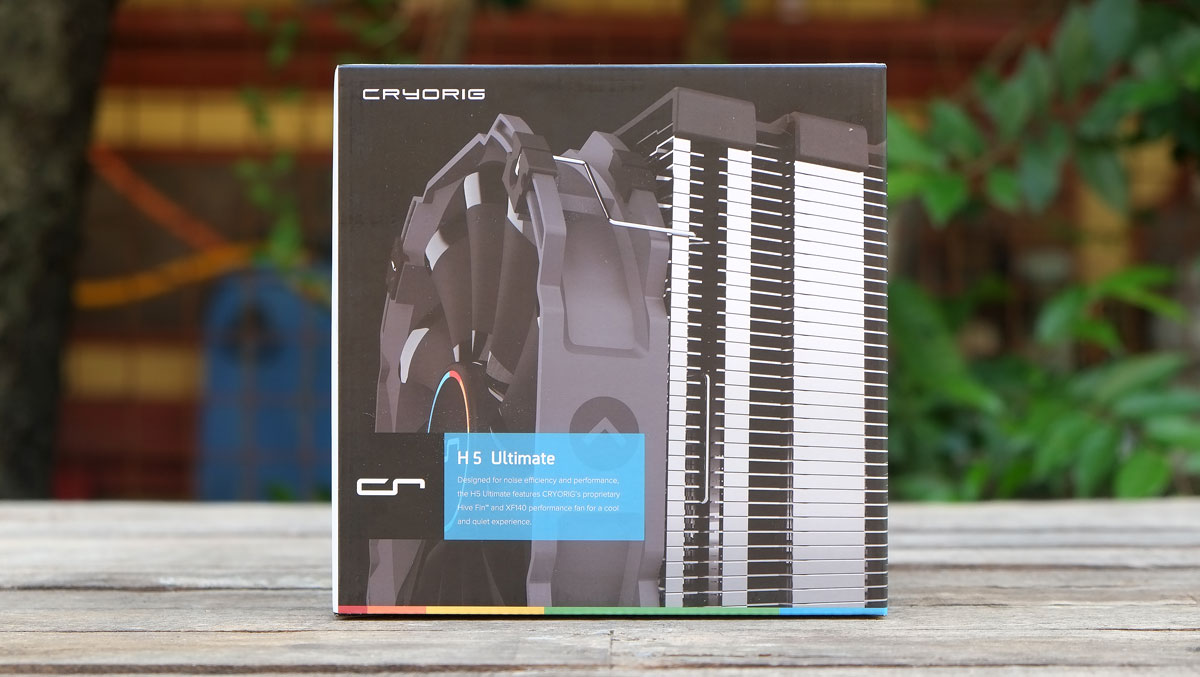 Inside, you'll find sections of the inner packaging containing the installation tools and accessories you need to get started. The left section has the AMD mounting inside, while the right has the Intel mounting kit prepared.
The H5 Ultimate, together with the mounting kits for both Intel and AMD, also comes with an extra fan clip along with a syringe of CRYORIG's own C7 Thermal Interface Material. A quick installation guide is also included.
THE CRYORIG H5 ULTIMATE:
Aggressive isn't exactly the best word to describe the H5 Ultimate – it's more of a blend between it and simplicity which is what I really like the most. It stands tall at 160mm, has a width of 143mm, and is 111mm in length without the fan attached.
The H5 Ultimate is rather lengthy with the fan attached, and could pose compatibility issues with some cases if you wish to extend the fan's height to alleviate the issue with memory kits. It's a give and take situation really, but you can also try and mount the fan at the back of the cooler if that suits your setup well.
The 0.4mm thick cooling fins of the H5 numbers to about 38 units, and are stacked within 2.8mm of each other – creating a dense package. The H5 Ultimate's surface area is actually within 90% of the R1 Ultimate – CRYORIG's best performing tower CPU cooler yet.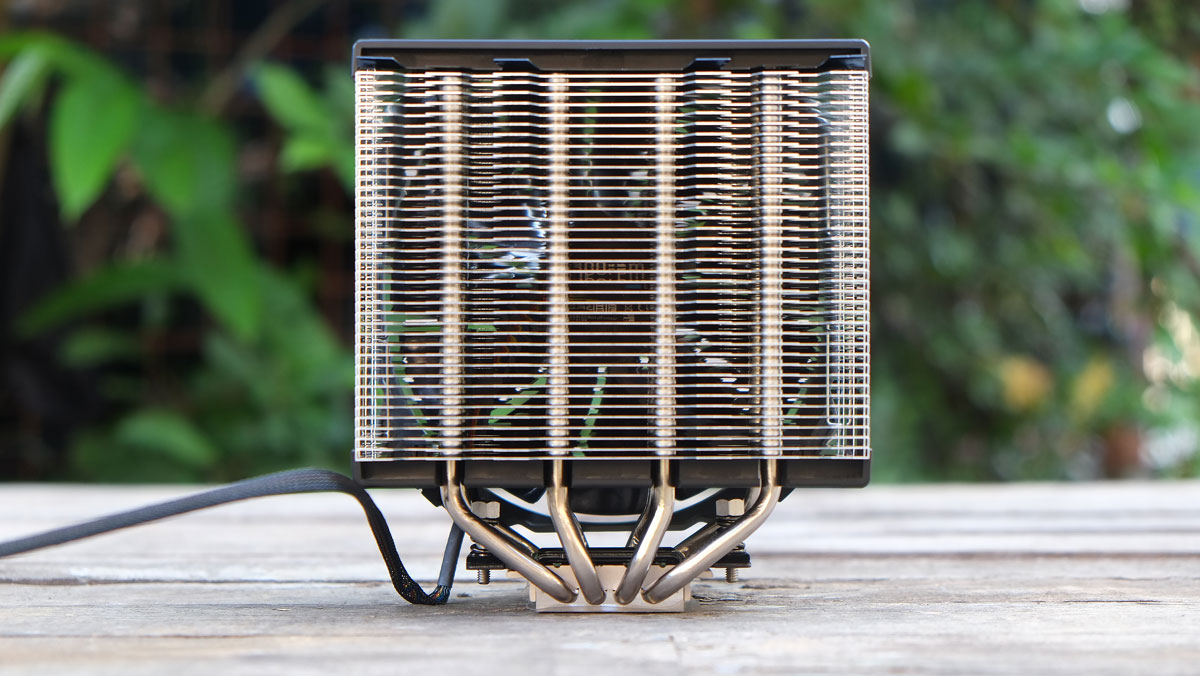 There are four units of 6mm thick heatpipes connected to the nickel plated copper base. It's not a mirror finish, but it's smooth and definitely free of visible surface imperfections. Notice that the H5 also has a plastic shroud beneath the cooler.
The CRYORIG XF140 PWM fan is one of the defining differences between the H5 Ultimate and the H5 Universal together with the color scheme of the shroud. It's a thicker rubber padded 140mm fan at 25mm, featuring a 1.44mm/H20 of air pressure. Noise levels are 19-23 dBA and has a rated speed of 700 – 1300 RPM. This fan is responsible for the additional 20W TDP performance of the H5 Ultimate over the Universal.
INSTALLING THE CRYORIG H5 ULTIMATE:
The H5 Ultimate is simple and straight forward to install, featuring mounts for either Intel and AMD. Since we are using an Intel setup, we are going with the Intel mounting kits. The kit consists of thumb screws, a universal Intel back plate, brackets, and that's just about it. The less components we need to use, the better.
The Multi-Seg back plate is easy enough to install, featuring screws that you could easily slide for different socket mounting requirements. Once the back plate is in place, you can now slot-in the brackets for the CPU cooler.
Finally, we get to take a look at how the cooler influenced the aesthetics of our system. I actually like how CRYORIG designed this one with simplicity and a brush of little aggressiveness in mind.

TEST SETUP & METHODOLOGY:
Coolers are far from being the most difficult components to test, but it doesn't mean they are easy enough to deal with as there are multiple factors to take into account. That includes the ambient noise, ambient temperature, the enclosure, and the test system's overall cooling performance. That said, keeping all those things checked should be paramount to provide the readers an objective and precise result.
| | | |
| --- | --- | --- |
| AMBIENT TEMPERATURE | 27 DEGREE CELCIUS | ± 0.5 DEGREE CELCIUS |
| AMBIENT NOISE | 37 DBA | ± 1 DBA |
| CHASSIS FAN SPEED | 850 RPM | ± 20 RPM |
| TIM APPLICATION | LINE DOWN | SPREAD IF NEEDED |
For our tests, we used the SilverStone FT02 chassis – which is one of best enclosures I personally own due to its motherboard tray orientation and natural air convection aided design. It is certainly not a perfect case, since it doesn't officially support closed loop liquid coolers with sizes above the 120mm mark. With that said, we are restricted with 120mm coolers, tower coolers, and down draft air coolers.
TEST SYSTEM SPECIFICATIONS

CPU
INTEL CORE I5 6600K
MOTHERBOARD
ASUS Z170-A
CPU COOLER
CRYORIG H5 ULTIMATE
MEMORY
CRUCIAL BALLISTIX TACTICAL 16GB
GRAPHICS CARD
GALAX GTX 1060 6GB
INT. STORAGE
PLEXTOR M6E BLACK EDITION 256GB
PSU
CORSAIR RM850X 850W
DISPLAY
27″ DELL U2715H WQHD IPS PANEL
OS
MICROSOFT WINDOWS 10 PRO
The AIDA64 Extreme Edition System Stability Test is used to stress our Intel Core i5 6600K. We specifically selected the CPU, FPU, Cache, and Memory at the stability test's options. AIDA64 has been chosen due to its inclusion of AVX, AVX2 and FMA – 3 important instructions that will help us push our CPU to its limits. AIDA64 has an intensive compatibility with sensors too which is a plus.
| | | |
| --- | --- | --- |
| PROFILE | CLOCK SPEED | VOLTAGE |
| STOCK CLOCKS | 3.5 – 3.9 GHZ | 0.72V – 1.12V |
| CONSERVATIVE OVERCLOCK | 4.0 GHZ | 1.08V |
| MILD OVERCLOCK | 4.4 GHZ | 1.23V |
CRYORIG H5 ULTIMATE FAN SPEED & DBA LEVELS:
We tested the XF140 fan included on the H5 Ultimate on a variety of fan duty cycles available thru our ASUS Z170-A motherboard, with the lowest attainable speed of 700 RPM via the UEFI. Using the ASUS Fan Xpert, we could go as low as 500 RPM and could go up as high as 1377 RPM.
Noise levels are great – reaching a 38.9 dBA at 500 RPM and 41 dBA at 1300 RPM. I never expected the XF140 to actually show an excellent performance on this area.
COOLING PERFORMANCE & CONCLUSION:
The CRYORIG H5 with its included XF140 fan manages to cool my Intel Core i5 6600K CPU across all profiles really well. Temperature at its lowest is 28c, while hitting a maximum of 56c at 4.4GHz. It's worth noting that our maximum fan speed recorded with these results are actually around 1132 RPM.
Update from the latest test system
At the 100% fan speed, the CRYORIG H5 Ultimate manages to hit an almost identical performance compared to the results from our default fan setting – with the exception of the 4.4GHz OC at a slightly lower 55c result. This means that with mild overclocking, you are not really required to spend extra time configuring the fan speed settings. You are already good with what has been provided out of the box. That is of course, if you're using the same board with the Q-Fan PWM settings enabled.
Update from the latest test system
The CRYORIG H5 Ultimate truly is a solid performer, but there are things that you should note about it before purchasing. That includes case clearance issues should you require to adjust the XF140 fan to a height of 168mm. My case for example, only supports a cooler with 165mm of height, so I really had no choice but to let the XF140 to physically create contact with my memory kits. Clearance for the first PCI slot is also an issue for cards with a back plate attached. This means that the H5 is a no-no for motherboards with a full sized PCI-E device located at the first slot. ITX board owner? Well you gotta make sure your graphics card isn't featuring any shiny metal at its back.
The CRYORIG H5 Ultimate retails for around 2, 500 PHP, with an astounding 6 year warranty should you register the product at CRYORIG. While there are many options around this price point, this still makes the H5 Ultimate an affordable and value oriented piece of cooling solution with aesthetics and performance to back it up.
CRYORIG H5 ULTIMATE REVIEW
PERFORMANCE

BUILD QUALITY

AESTHETICS

VALUE
THE VERDICT
The CRYORIG H5 Ultimate is a great choice for system builders requiring a package of performance, value, and aesthetics at around 2, 500 PHP.