The word "cryptocurrency" has firmly entered the lexicon in less than a year. Not so long ago, it was associated with pyramid schemes. Now even older people know what bitcoins are. In an era where almost everyone has cryptocurrency, it couldn't be otherwise.
Many use cryptocurrencies for trading, be it for money or other public blockchain platforms to invest with. Solana (SOL) and PancakeSwap (CAKE) are among the most popular blockchains in this category right now and for good reasons. Solana's blockchain model enables low gas costs and faster transaction speeds while Pancakeswap has lower fees and is more liquid than its rivals. This begs the question, what are the three most popular ways to exchange SOL to CAKE?
Exchanges
Some people think that the best way to swap sol to cake  is on exchanges. But this option won't work for everyone. The problem is that some exchanges are awkward and not easy to use. You have to look for an exchange that supports the currency pairs SOL to CAKE, which is consuming at times. But the adventure does not end there: you also risk running into fraudsters when you find a profitable exchange rate. There's just too many of them.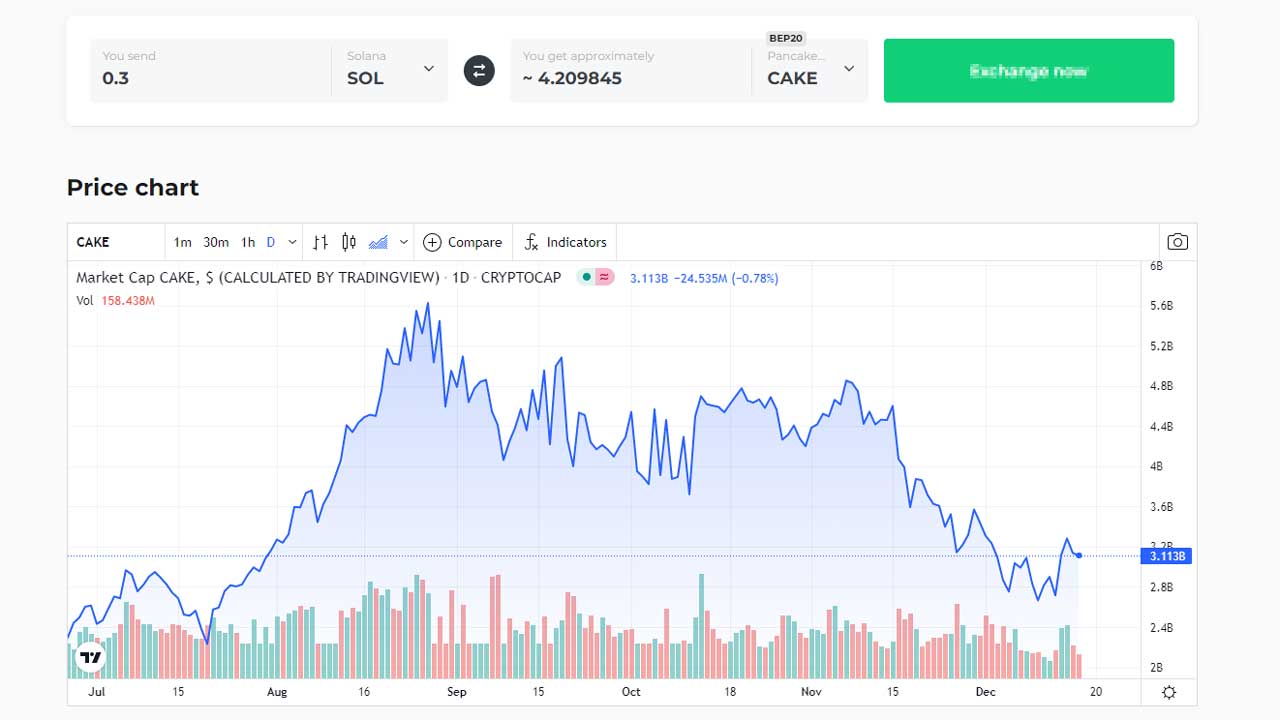 If you are lucky enough to find a decent exchange, then get ready for the fact that you will not be able to withdraw money immediately. After refilling the purse or account, you must put the SOL to trade at a rate that you find acceptable. If the rate is appropriate and the currency is in demand, there will be a buyer. The deal will be done, and the CAKE will appear in the account. But that's only if you're lucky enough to find a buyer quickly.
And do not forget that there is a commission for all this. It's not big, but some exchanges take it twice: at the moment of transaction with a cryptocurrency buyer and in the process of withdrawal.
Individuals
Withdrawing cryptocurrency through individuals is even more insecure. On the one hand, it allows you to sell cryptocurrency at a favorable rate and arrange to transfer money through a conventional bank or payment system so that the final cash-out fee is minimal.
The exchange rate usually suits both parties, and if you're lucky, you won't be charged a commission. But the keyword in this whole gamble is fortunate because there is no guarantee that the seller is decent and not just another sneaky crook who will leave you without money, without a good mood, and with a lesser faith in humanity.
Again, finding a buyer is not an easy task, and the conditions in which each owner of cryptocurrencies is in different ways – legal, geographical, and many others.
Exchange Aggregators
It is more honest and convenient to make transactions through an exchange aggregator. The variety of their working conditions is for the most part better compared to the usual exchanges: the rates, commission, speed of operation and usage experience. Unlike the usual exchange platforms, a crypto exchange aggregator do not store your crypto assets, private keys and even personal information. A good example of this would be the Alligat0r cryptocurrency aggregator. Places such as this one usually has the following steps to fulfill an exchange:
Step 1: Choose a coin pair
Step 2: Choose the best offer
Step 3: Provide the details
Step 4: Send the deposit and get the coins
With ease of use in a few simple steps, exchange aggregators still has downsides. For example, some exchange aggregators may not have the necessary stock of CAKE, SOL or other coin pairs. The exchange rate might be excellent, the commission could be small, but stocks are inherently not due to the nature of some blockchains.
Withdrawal of funds may also take a minute to several days. Thus, more time will have to be spent finding the right exchanger. We advise you paying attention to the various exchange services still, be it the common, individual or aggregator based ones. Finally, we hope this helped which will allow you to better find a capable exchange for SOL to CAKE.