Tech innovator GELID Solutions unveils the latest ultimate-performance CPU Cooler for AMD™ and Intel™ CPU. The GLACIER RGB is a product of GELID Solutions GAMER product line.
The newly designed twin-tower heatsink – a core part of the GLACIER RGB – comes with the powerful set of 6 U-Stacked heat pipes to deliver the most efficient heat distribution through the heatsink elements.
Twin-tower build
The twin-tower build of the GLACIER RGB also provides enlarged dissipation area to drain heat out and helps reduce air flow resistance. Additionally, the new heatsink introduces the Enhanced Heatpipe Direct Contact (EHDC) Technology to guarantee perfect thermal contact and facilitate heat transfer between CPU and the heat pipes. As the result, the GLACIER RGB supports TDP over 220W and makes itself a super-hero CPU Cooler for avid gamers and performance enthusiasts.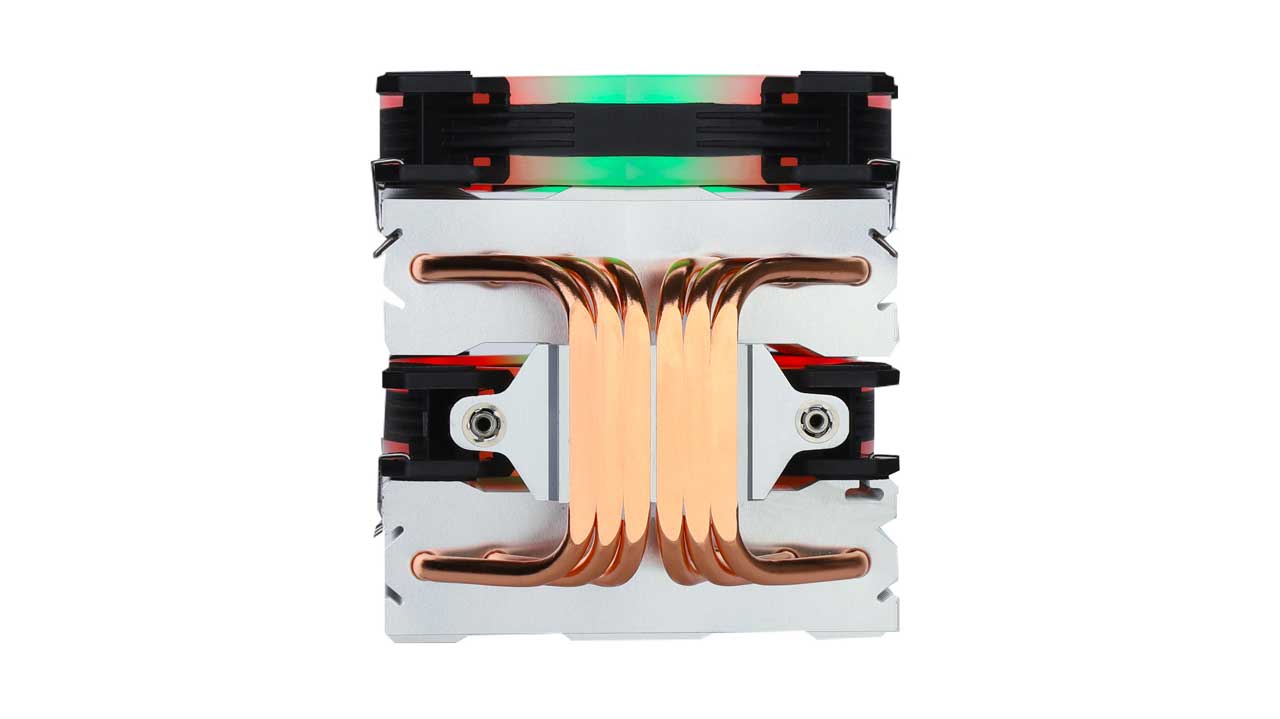 STELLA ARGB Fans
A matched pair of the multi-award winning STELLA ARGB Fans compliments the heatsink. Each fan carries 24 ultra-bright and independently controllable ARGB LEDs on board to illuminate stylish Dual Ring Lighting and create spectacular RGB effects. The fans also boast Double Ball Bearing which ensures durable functioning, and integrate the optimized impeller to boost airflow. The intelligent GELID PWM (Pulse Width Module) constantly keeps the fans silent but accelerates speed whenever additional cooling is needed.
3 sets of fan mounts
With the 3 sets of fan mounts, a third optional fan can be installed to raise performance even further. The extreme-grade GC-Extreme thermal compound is also included in the package. The all-in-one mounting kit for multiple AMD™ CPU sockets AM2, AM2+, AM3, AM3+, AM4, FM1, FM2 and for Intel™ CPU LGA 775, 1366, 2011, 1155, 1156, 1150, 1151, 1200 sockets, as well as the universal backplate for AMD™ and Intel™ mainboards and the CPU protection bracket for AMD™ AM4 are all included too.
The cooler is RoHS and WEEE conform and carries a 5 year warranty. "GLACIER RGB ensures you get the most out of a CPU cooling solution. It perfectly fits the essentials every gamer needs – ultimate performance, easy setup, improved reliability – and makes your gaming rig cool and shiny with spectacular RGB lighting", said Gebhard Scherrer, Sales Director of GELID Solutions Ltd.
Pricing and Availability
The GLACIER RGB is available now and has a MSRP of USD 59.99 or Euro 49.99. If you are interested in reviewing this product please email your inquiry. For further product information please visit www.gelidsolutions.com
Press Release