Regardless of the Mac you own, you can now easily fax from it. You only need to make sure your Mac has access to the internet. Thanks to online fax services, it is possible to send and receive fax from your Mac.
Multiple online fax services exist. However, CocoFax is one of the most trusted online fax services. This online fax service is designed to work well with your Mac.
The new technology is revolutionizing everything and fax has not been left behind. Here, we show you how to fax from your Mac using CocoFax. The adoption of new technology makes sending fax easy and convenient.
CocoFax – Transforms your Mac into a high-end fax machine
CocoFax is popular online fax service with over a million users across the world. With CocoFax's online fax service, you can send and receive both local and international faxes.
CocoFax operations and reliability have attracted media outlets such as the New York Times. The online fax software for mac from CocoFax lets you use your browser to fax.
Besides macs, CocoFax supports other devices running on different platforms such as Windows, macOS, Android and iOS.
1.1 The cool CocoFax features and capabilities
This online fax service comes with various features which make it valuable fax service.  Below are some of the perks you get with this online fax service.
Lifetime storage
Unlike other online fax services that archive only the last 200 faxes, CocoFax does not limit you. With CocoFax, it archives everything as long as you use the service to send and receive faxes.
The online archive gives you a neat way of accessing your faxes on your mac. All the sent and received faxes are in their respective folders. Also, draft faxes are in their folder.
What's more, you can access the archive online from anywhere.
Fast and reliable
CocoFax provides a faster way of faxing from your mac as opposed to using a traditional fax machine. With CocoFax, you no longer have to wait. The online fax service sends your fax instantly online.
The reputation of this service is made solid by its notifications. For every sent and received fax, CocoFax sends you a notification. This way, you will always know when your Fax is delivered or when you get reply fax.
The notifications eliminate the likelihood of doubting if your fax was delivered or not. The online fax service fast service lets you know immediately if your fax is delivered or not.
Safe and secure
CocoFax uses the best security measures to ensure your fax is completely safe. So, there's no need to worry about another person besides the recipient seeing your data. All your communications are safe with CocoFax.
The app achieves this by automatically encrypting all your faxes to ensure they are safe online.
Free fax number
After signing up for the service, CocoFax lets you choose your custom fax number free of charge. A fax number is important for both sending and receiving faxes on your mac.
Besides, you also get to enjoy 30 days of a free trial. After the 30 days, you will be charged a reasonable fee each month to use the service.
1.2 How to fax from Mac using CocoFax
Faxing from your Mac is an easy process using CocoFax. Below are the steps involved:
Step 1: On your Mac, open your browser to sign up for CocoFax account on its website. You will get to 30 days of free trial and a free custom fax number.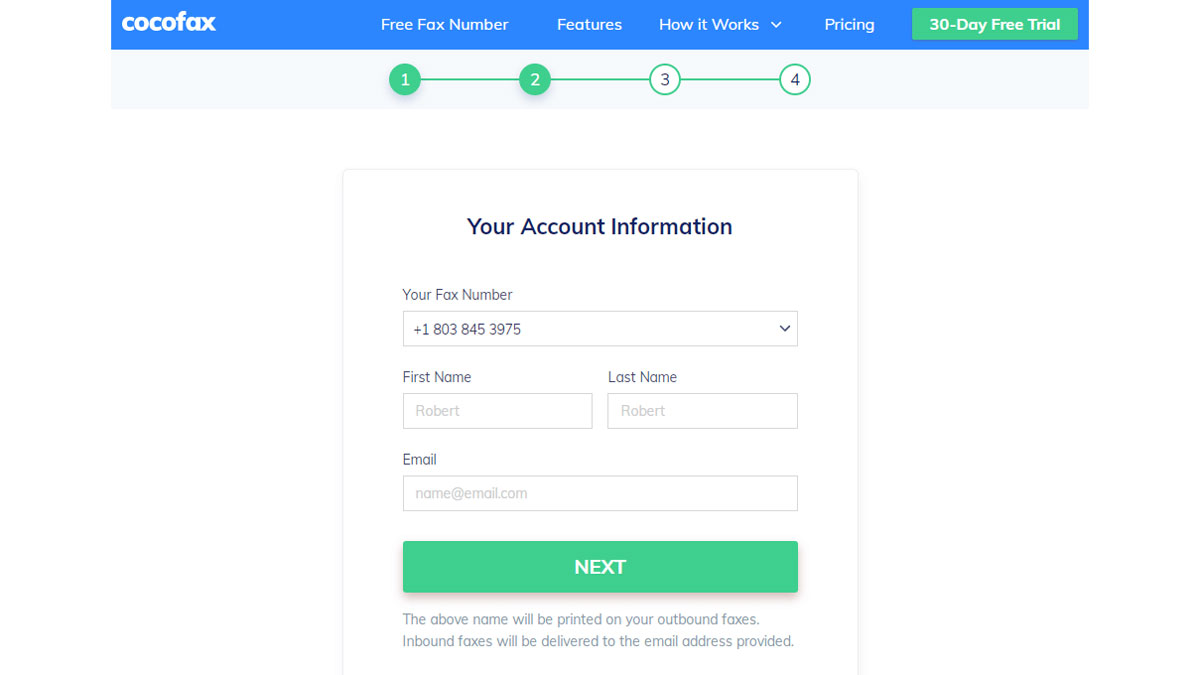 Step 2: After successfully registering for your account, CocoFax will take you to your dashboard. Here, CocoFax gives you access to received, sent and draft faxes.
Step 3: In your dashboard, click the 'New Fax' button at the top of the dashboard. A pop-up window will appear. Use it to compose and send your fax.
Fill in the respective fields accordingly. First, provide the destination fax number in the 'To' field. The 'Subject' and the 'Cover Page' are optional. However, fill in the 'Subject' field with whatever you want to appear at the top.
In the body section, fill in what you want to appear as the cover page of your fax. Next, attach the document that you want to fax to your recipient. You can attach files from your internal storage or from cloud storage.
CocoFax lets you attach files such as pdf, png, jpg, xls and doc. You can attach multiple files they will be merged on the receiver's end and printed as one document.
Step 4: Once you are satisfied that you captured everything you wanted in the fax, click the 'Send' button. CocoFax will instantly send the fax to your recipient.
You will get a confirmation notification shortly.
Conclusion
Technology is transforming how faxing is done. You no longer need a fax machine and a landline. You only need your mac, internet access and online fax service.
CocoFax is a reliable online fax service. To use if to fax from your Mac, follow the steps above.