Because ya all need card readers in life
Card readers weren't the most popular in the ICT industry, but they are equally important as your memory card especially if you're a budding photographer who values time and performance. Card readers comes in many shapes, features, and prices, but not all of them features the same performance and others are simply not quite up to task to deliver the goods.
Now this drove us to Kingston's MobileLite Series – particularly the MobileLite G4 USB 3.0 card reader. This card reader features USB 3.0 performance, while keeping form factor and aesthetics into account via its metallic shell housing. With official UHS-I & UHS-II class support, it should be blazing fast with the right SD card that supports the said class. Thus, we could assume that it's meant for personal and professional use. But is it the case? Let us find out!
Kingston's MobileLite G4 is a multi-function card reader with a small metallic form factor that's roughly 20 per cent smaller than the previous generation and no bigger than a large paper clip, so it easily fits into a pocket, wallet or camera bag and is ideal for personal or professional use. This versatile device reads SD, SDHC, SDXC, UHS-II and microSD/SDHC/SDXC, UHS-I and supports the latest card speeds.
TECHNICAL SPECIFICATIONS:
Nothing much has been said about this product, apart from the things we saw from Kingston's website. Rest assured it is compatible with the recent operating systems, along with tons of SD & MicroSD classes.
Multi-function card reader ideal for personal or professional use
USB 3.0 performance
Small metallic form factor
Reads SD, SDHC, SDXC, UHS-II and microSD/SDHC/SDXC, UHS-I and supports the latest card speeds
Guaranteed – 2-year warranty, free technical support
Dimensions: 52mm x 33mm x 9mm
Operating Temperature: 0°C to 60°C
Storage Temperature: -20°C to 70°C
Compatible with:
Windows® 8.1, Windows 8, Windows 8 RT, Windows 7 (SP1), Windows Vista® (SP1, SP2), Mac OS X v.10.6.x+, Linux v.2.6.x+
THE KINGSTON MOBILELITE G4:
The Kingston MobileLite G4 comes encased in a classic blister pack packaging that showcases the G4 right away. It seems sturdy, provided that you wont provided excess force to it so it's all good. The Kingston Class 10 UHS-I SDXC (SDA10) card is also pictured as well. We'll use it to benchmark the performance of the card reader, as well as review it later so do watch out.
The back of the packaging features the card reader's specifications. That includes the wide compatibility list of SD cards with varying performance standards.
The MobileLite G4 has extensively evolved compared to it predecessors as far as looks and appeal goes. Gone are the days of bulky G Series card readers, as this one sports a sleek, minimalist metallic design that inspires awe and affection – so to speak.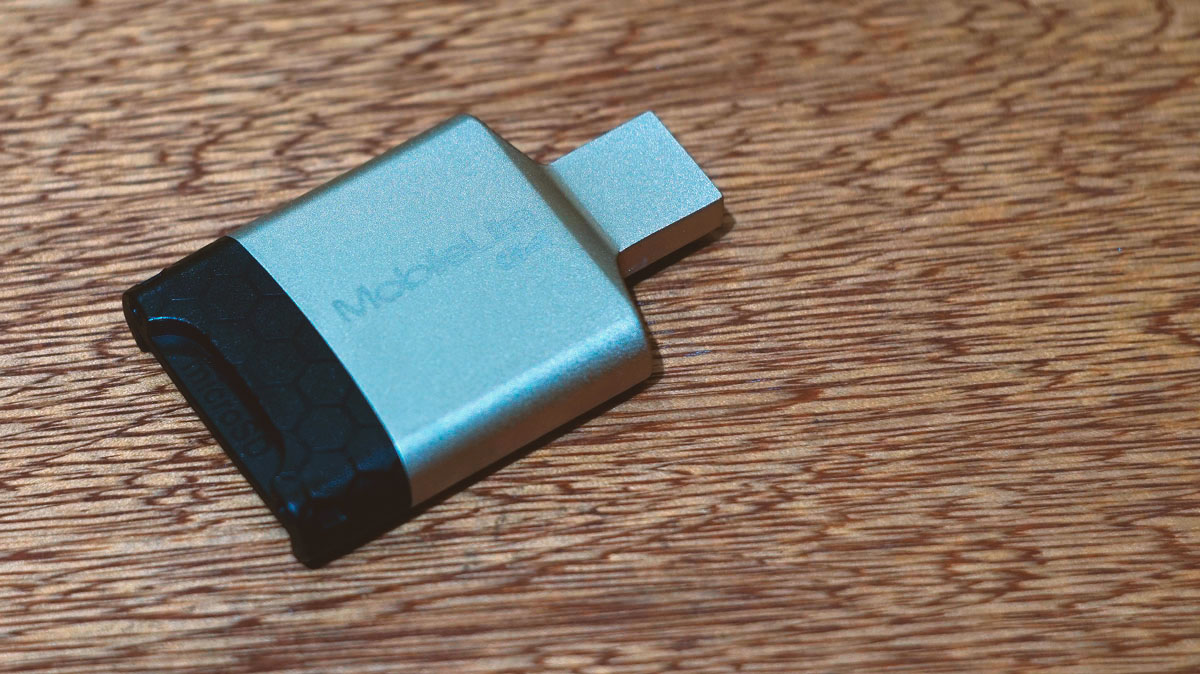 Encased in a hard metallic shell, which is glittering when the light shines on it, the MobileLite G4 is indeed beautiful and uniform everywhere you look at it. We specially liked the fact that the USB 3.0 male port is a part of the metallic body. The card reader also features Two mounting holes on each side of the SD / MicroSD card slots for a key-chain insert or something familiar.
There are actually Two card ports at the back of the MobileLite G4. One is for the full sized SD cards and the other is for the MicroSD cards. They support SD, SDHC, SDXC, microSD, (micro)SDHC, and (micro)SDXC standards so you're pretty much covered whatever your personal or professional need is.
The Kingston MobileLite G4 is slim at 8mm, but could pose potential usability issues at the backplate I/O port of any PC if there are other USB ports above or beneath it. Thus, it is suggested to use it on a PC's front panel with USB 3.0 support or on a notebook / laptop with USB 3.0 port where there could be no adjacent ports next to it.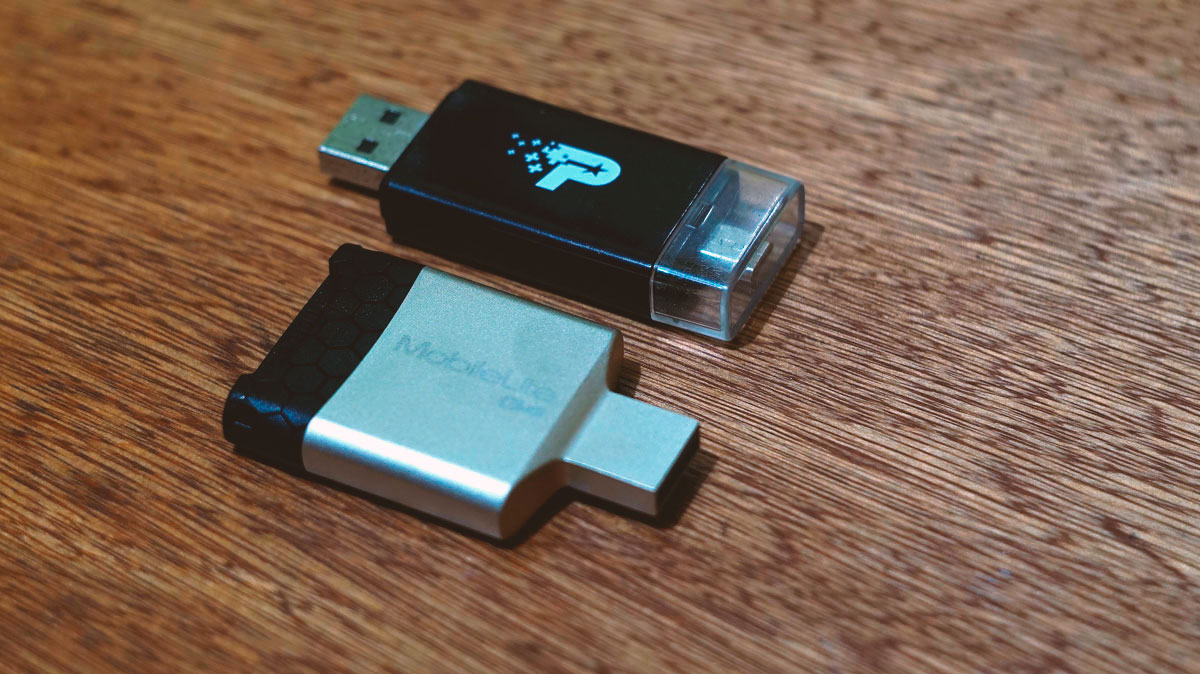 The card reader is around 50mm in length from tip to back, 30mm from side to side, and is +8mm thick. There are no activity LEDs present by the way.
PERFORMANCE AND FINAL THOUGHTS:
Crystal Disk Mark is a great benchmark to test a card reader's performance, as it could asses a storage device, and a card reader's performance using a series of tests for both read & write. In addition, CDM features uncompressed data to test storage devices which is particularly the case with RAW video and image formats. Below is the test system's specifications.
| | |
| --- | --- |
| CPU | Intel Core i5 4670K |
| MOTHERBOARD | ASUS Z97-PRO WiFi AC |
| CPU COOLER | Cooler Master Seidon 120XL |
| MEMORY | ADATA XPG V2 @2400MHz 16GB |
| GRAPHICS CARD | ASUS GTX 960 STRIX 2GB |
| INT. STORAGE | Kingston HyperX Fury SSD 240GB |
| PSU | Cooler Master Silent Pro Hybrid 1300W |
| DISPLAY | 23″ DELL S2340L IPS |
| OS | Microsoft Windows 7 Ultimate x64 SP1 (Updated) |
| SOUND CARD | Realtek ALC1150 |
| EXT. STORAGE | 2TB Western Digital My Passport |
| CARD READER | Kingston MobileLite G4 |
We have added USB 2.0  and a 16GB SDHC UHS-1 SD card from SONY as additional  figures on the charts to go together with the benchmarks from the 256GB Kingston UHS-I SDXC card. This is to ensure that performance is consistent among the class levels.
The SONY card is rated at 40 MB/s read  minimum while the Kingston SDXC card is rated at 95 MB/s read. That means that the MobileLite G4 is able to break the minimum read performance output of both cards which is nice, and is a testament of the card reader's performance.
Write speeds were also good, as both SDHC & SDXC cards went past their rated minimum. Take note that the 512K, 4K, & 4K QD32 performance weren't that good, but we could dismiss them as these cards weren't designed to be bootable devices in anyway.
The Kingston MobileLite G4 is a chick, and stylish card reader that enables anyone, professional or not, to maximize their SD card's potential. It's not the most feature rich card reader out there, but it sure does its work in style and with performance to back it up.
At 9.95 USD, or around 495 Pesos, there is a great value in the MobileLite G4 card reader from Kingston, especially when a full 2 year manufacturer warranty is added for peace of mind. If you're a professional, or just someone who wants to take advantage of the latest SD specifications and USB 3.0 support, then there's hardly any reason not to consider the MobileLite G4. The Kingston MobileLite G4 Retails for Around 9.95 USD and is Backed by a 2 year Kingston Warranty.
THE VERDICT
PROS:
MAXIMIZES SD CARD POTENTIAL
FANTASTIC LOOKS & BUILD QUALITY
2 YEAR WARRANTY
SUPPORTS UHS-I & UHS-II STANDARDS
GREAT VALUE FOR MONEY
CONS: