When it comes to gaming monitors, Lenovo isn't exactly the brand that I picture in my mind. Don't get me wrong, it is just as fierce as the competition, with my review of the Lenovo Legion Y44W serving as a testament to the brand's eagerness to please gamers – and they did.
Now as the title card suggested, we are here to virtually scrutinize the latest offering from Lenovo, the G25-10 – a $199 value gaming monitor that packs a 24.5 inch 144Hz TN panel with a Full HD display along with some niceties. Is this something you have to consider this side of the year? Well, hear us out so you could decide.
TN is not exactly dead and the G25-10 could prove it
While everyone is merry with the advancement of In-Plane Switching (IPS) and VA panels, TN is still the king when it comes to GtG response time over its counterparts – with of course the exception of the legendary CRT displays and recently released high-end IPS panels.
I don't have beef with other panel types but where I do is how brands market most of them nowadays with MPRT alone at the spec sheet. Just so you guys know, most gaming monitors with ultra-fast MPRT use backlit strobing (ULMB, ELMB, Lightboost, etc.) just to achieve that number.
GtG = Pixel transition time
MPRT = Pixel visibility time
One could say a monitor has a 1ms MPRT but has a 5ms GtG and vice versa. This is why we use a pursuit camera on our reviews since MPRT values don't exactly paint the whole picture.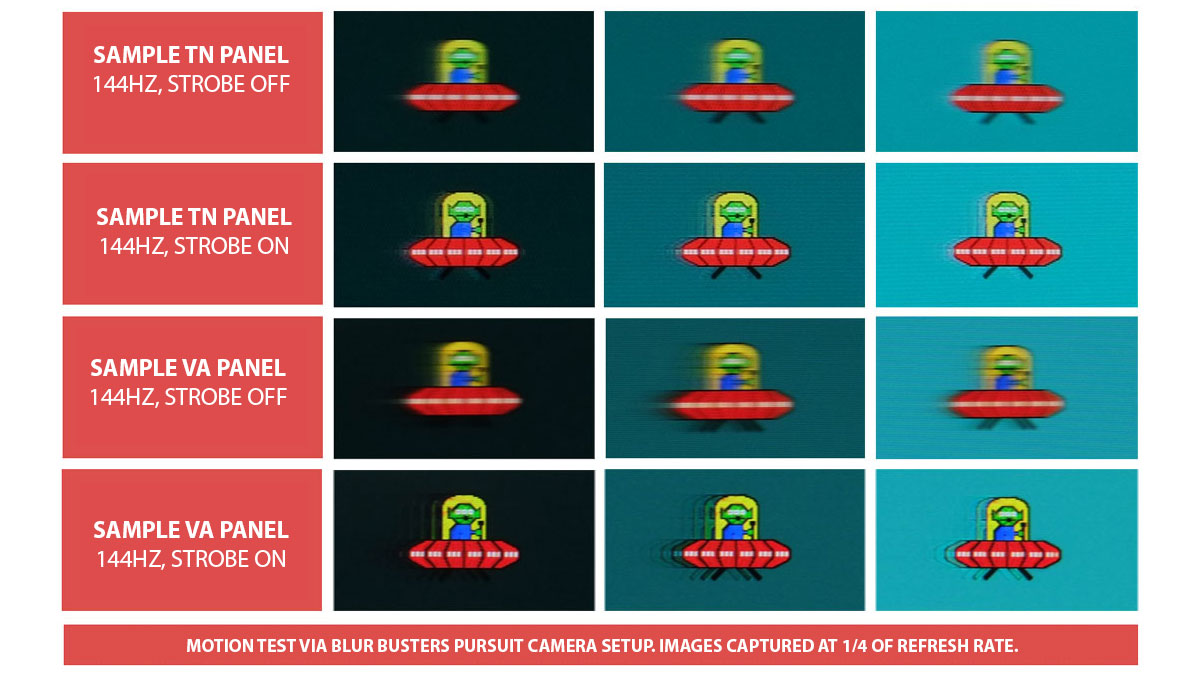 Now this is where the Lenovo G25-10 comes in with its 1ms GtG response time. Lenovo quoted the model to feature 5ms GtG in normal mode while 1ms is achievable with overdrive. This doesn't mean the G25-10 has a better motion clarity but it has a much more reliable and consistent response time offering over some displays.
Why consistency? Well for backlight strobing (sometimes called as MPRT mode) to work at its fullest, the system needs to output a consistent amount of frames per second (FPS) which is taxing on some systems. Another issue is the lower luminance output when strobing is turned on. Adaptive sync or VRR is also disabled when strobing is turned on for the majority of displays, plus some gamers are just sensitive to strobing because it is essentially a flicker technology.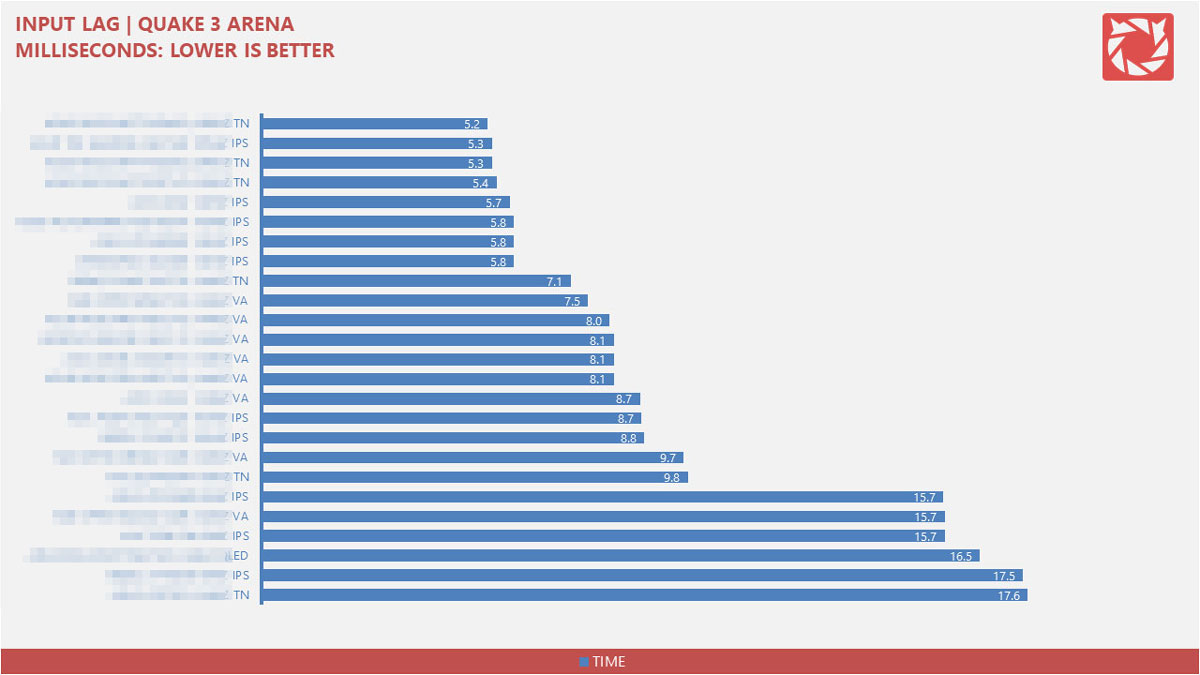 Now some IPS panels have already breached the 1ms GtG barrier at a cost – or fortune rather, which points us to the major benefit of TN panels. They are cheap and with naturally faster GtG transitions, they will do great for fast paced gaming most of the time – just like the Lenovo G25-10.
GtG as a standard has its own problems but my personal preference when shopping for a gaming monitor would be a faster GtG first then MPRT and strobing functionality second. Reliably outputting GtG would be much better especially if you're going to use VRR technologies such as AMD's FreeSync or NVIDIA's G-Sync, which points us out to the next important feature of the Lenovo G25-10.
The G25-10 has VRR and it should do well
Variable refresh rate is nothing new but for a TN panel to support such feature is just a prerequisite by today's standards – more so for gaming-oriented TN panels due to their nature.
You see, VA panels usually have narrower VRR range compared to the competition. They are also more susceptible to ghosting compared to TN and IPS options.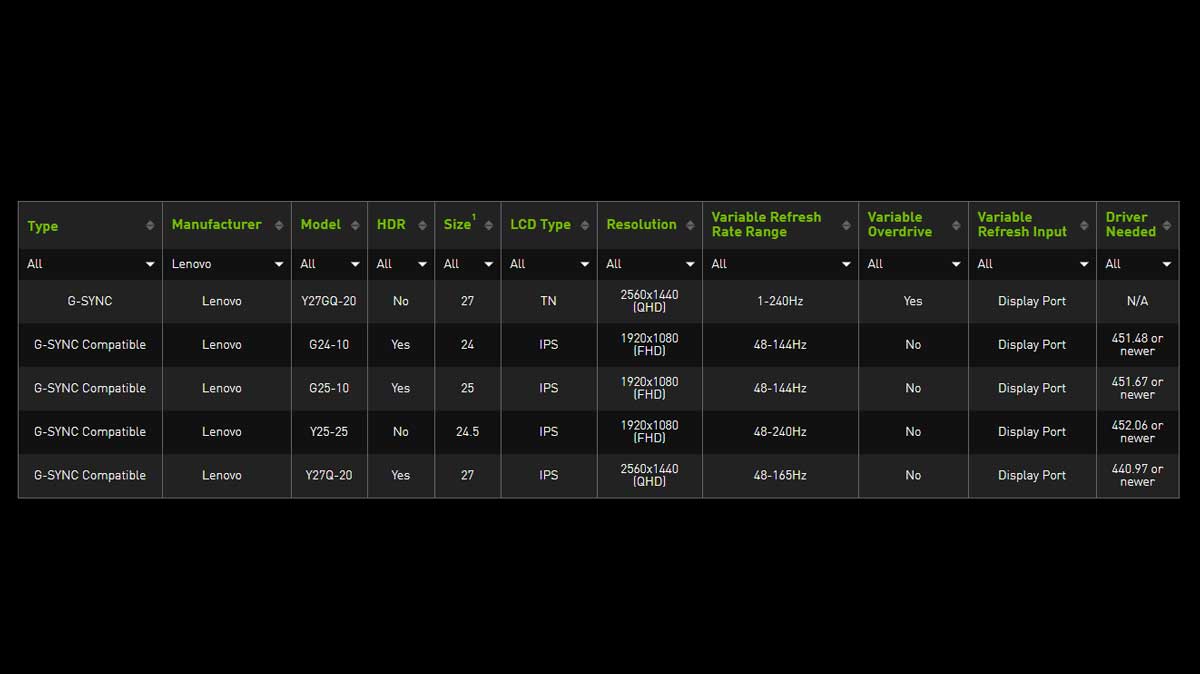 The G25-10 supports VRR in the form of NVIDIA G-Sync Compatible technology, a fancy word for something without an actual G-Sync chip within it which means it should also support AMD FreeSync with a minimum range of 48-144Hz. There's more to it though since getting certified for G-Sync means that it shouldn't have any issues with G-Sync compatible NVIDIA GPUs.
For gaming with VRR as your requirement, consider a TN panel such as the G25-10 as a starting point.
It is designed for eSports
According to ProSettings.Net, majority of professional gamers are now equipped with 240Hz to even 360Hz TN gaming monitors, yet nothing changed much to their minimum requirements of 144Hz refresh rate and the need for ergonomic stands and a 25-inch screen space to keep their focus right into the game.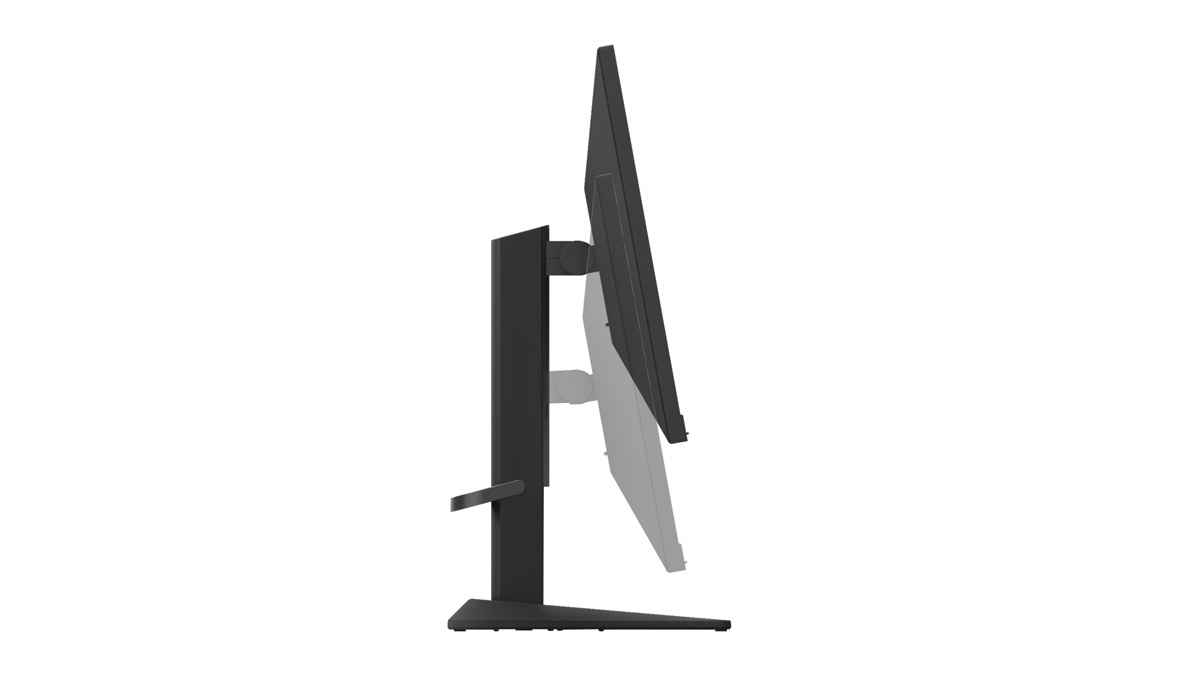 This is where the Lenovo G25-10 comes in with its 144Hz refresh rate, ultra-fast GtG transitions and a tilt-lift capable stand. It also comes with eye-care technology and an anti-glare coating on top of its typical 320cd/m² brightness which is something you'd want for a well-lit room like maybe a LAN party or even a stage if you will. Point is, it has all the bare minimum to grant itself a title among the competitive gaming models.
If you want more and I mean more oomph for serious business, the Lenovo Legion G25-25 is a great option for an extra 5,000 Pesos.
That NearEdgeless bezel is lit
With a measured 2mm bezel, the G25-10 is almost a seamless display. This makes it a good multi-monitor candidate if positioned well enough to alleviate the color shifting nature of TN panels.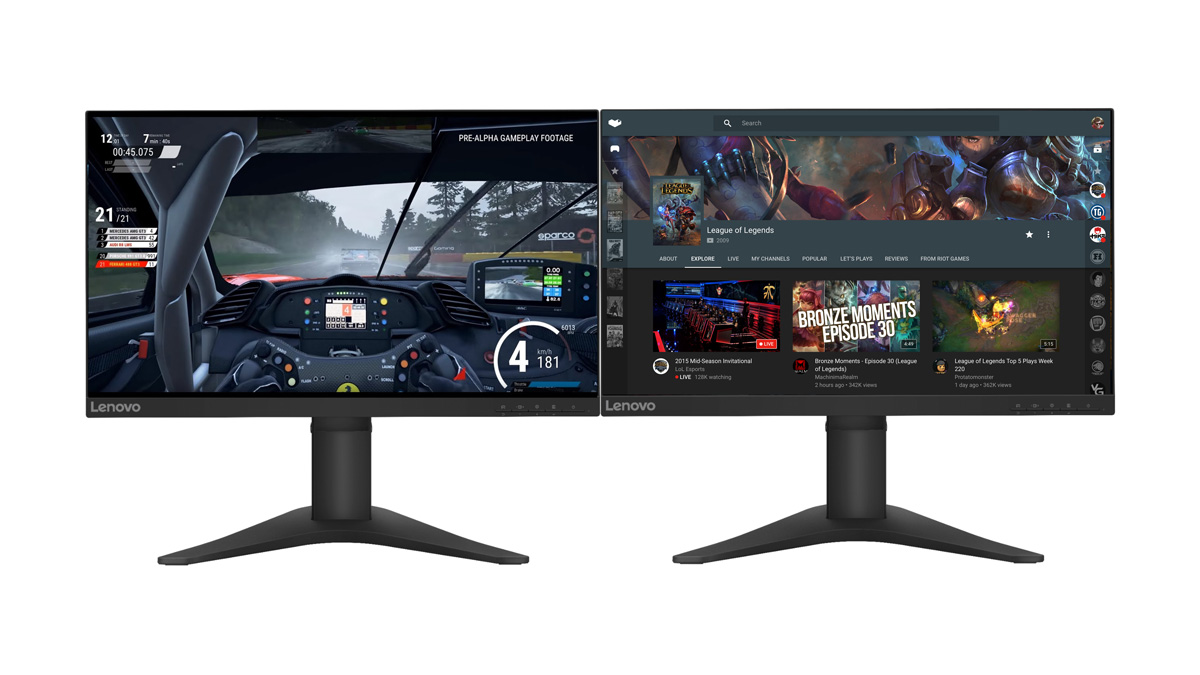 Another benefit of a thin bezel design is that it is stealthy. That means there's less distraction to see which also means you could concentrate more towards your game.
The ThinkVision Heritage is real
Color me traditional but I appreciate Lenovo's styling when it comes to the G25-10. It looks more like a classic ThinkVision device but with an eSports pedigree inside.
This might not appeal to some gamers but for someone who appreciates classic-looking designs that could blend well with its surroundings, this should be a plus.
Power efficiency is also at its core
With a typical 28W power consumption, the Lenovo G25-10 has been awarded as one of the most efficient TN gaming monitors of 2020. That is according to ENERGY STAR – the owner of the most iconic boot-up logos in the history of computing since CRTs.
Do note also that the Lenovo G25-10 Gaming monitor is bundled with a 3-year Carry-in Service warranty that offers comprehensive software and hardware support. With its Smarter Technology for All promise, I'm sure Lenovo will continue to innovate in the gaming monitors front not only to sustain its leading position across smart devices and software/services, but also to create the future technologies that will shape tomorrow.
Closing thoughts
The Lenovo G25-10 is surely something you should consider by specifications alone, painting a more positive view as to why TN panels are still relevant to this day and age of IPS and VA panels. After all, each and every one of them got their own highs and lows to exploit and the G25-10 is no different. You just have to make a list of the most important things you'd like to see on a gaming monitor and work on finding a suitable model based on it. Lucky for you, Lenovo got tons of models to choose from.
With all those things said, it is high time for the G25-10 gaming monitor to walk the talk. We will update this once we published the full review.
Contact any Lenovo authorized retailer to get your hands on a Lenovo G25-10: http://lenovoph.com/authorizedresellers