Lian Li at COMPUTEX 2018
Lian Li is thankful to everyone that visited and helped made Lian Li's presence this year in COMPUTEX a memorable one. Lian Li's booth at COMPUTEX 2018 was headlined with the best that Lian Li's has to offer and show off what they have in store for the upcoming months for everyone.
Gamers, enthusiasts and industry professionals were treated to exciting new products and concepts from Lian Li including the Lancool One and PC-O11 Air chassis, as well as the innovative Strimer cable LED. Lian Li also unveiled its collaboration with gaming brand Razer, the PC-O11 Dynamic Razer Edition featuring unique touches by the Razer Team. Also making its worldwide debut is Lian Li's first AIO liquid cooler.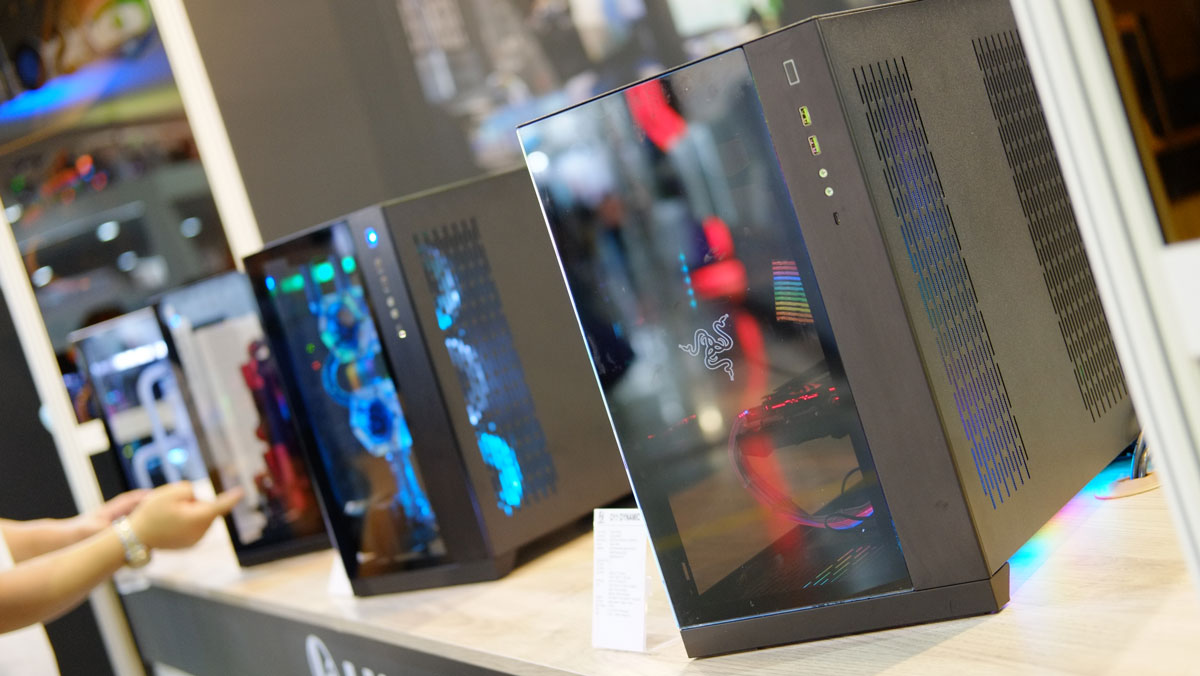 Evolution of a Classic
The Lancool One is a callback to the glory days of aluminum monolith chassis and the Lancool One was a testament to Lian Li's dedication in providing original yet modern designs for its chassis. Many long-time enthusiasts remarked the idea of Lian Li remaining true to their roots and the Lancool One was a certified eye-catcher during COMPUTEX with its brushed aluminum finish, accented by a touch of RGB lighting.
The PC-O11 Air also made a statement, stepping up side-by-side with its more contemporary brother the PC-O11 Dynamic, showcasing Lian Li's daring approach to chassis design. With its high-airflow design, the PC-O11 Air provides a chassis that is tuned more for the high-performance cooling crowd, promising plenty of airflow allowing for a much more flexible chassis that can please those that require high-level of cooling in a more stylish chassis.
World's First Power Supply LED Cable
The Lian Li Strimer LED cable made its debut during COMPUTEX 2018 ushering in a new trend in PC accessories by introducing illuminated cables for your power supply which improves build aesthetics than traditional flat cables and braided ones. With the RGB lighting from the Lian Li Strimer, you can add a touch of bling to your dull PSU cable and light up your rig with a bright array of colors.
The Lian Li Strimer is capable of syncing with modern motherboards with RGB support as well as working by itself with a built-in mode selector. The Strimer features 10 lighting effects so users have a wide range of selection on how they want their LED cable to look.
Availability
The O11-Air and O11-Air RGB will be available for pre-order starting at the end of June. The O11-Air will have an MSRP of $129 while the O11-Air RGB will be at $149.
The Lancool One will have an MSRP of $89 and the Lancool One Digital will be set at $99. Both will be available by the end of July.
The Lian Li Strimer Cable 24-pin will have an estimated MSRP of $45 and expected to be available by mid-July.
The O11-Dynamic Designed by Razer will be available during the last quarter of 2018. Price is TBD.
The Lian Li DK-06 desk chassis will be available in Q4 2018 and will have an MSRP of $999.
Like and follow Lian Li's Facebook page to stay updated: https://www.facebook.com/LianLiHQ/
PRESS RELEASE