If you're in B2B sales, you know that LinkedIn is a goldmine for finding and engaging your target audience.
Regardless of whether you're a startup or established business, LinkedIn is the channel to drive in new B2B customers. It has 810 mln users, 65 mln decision makers among them. With the right sales strategy, you can easily generate hundreds of leads from it.
All you need to do is to send as many relevant messages as possible to the relevant audience. If you have defined your ideal customer profile, you can reach out to your leads at the right time with the right message and hook them in communication. LinkedIn will become your low-hanging fruit for lead generation. You can then talk to your leads and sell your product, following whichever strategy you have.
The only question is how to automate your lead generation on LinkedIn? Is there a way to put all leadgen activities on autopilot?
Thankfully there is. Let me introduce LinkedIn automation tools to you – the driving force in today's B2B sales world.
What is a LinkedIn automation tool?
It's simply a bot that will send messages to LinkedIn users instead of you. It can include other functionalities too. But at its core, it's a bot.
Above you can see the picture of how such a tool usually looks like. It can be a cloud-based system, like in the picture or Chrome extension.
The concept
LinkedIn automation tools do manual lead generation work instead of people. Just take a look at how much time does the average sales specialist spend on:
Finding the right people to reach out to;
Collecting their LinkedIn profile URLs and putting those profiles in a CSV file;
Opening profiles from the file in a new tab and sending connection requests, altering name and other personal information for each new recipient in a message;
Noting the progress of outreach activities in a CSV file.
It's a whole scope of manual work that eats up time that can be used to complete other tasks: for instance, communicate with leads and sell more!
In the world of automation, automating lead generation is the first thing that can be done to enhance workflow and improve productivity.
Here is a table that shows how many hours an average sales specialist spends on manual lead generation efforts. 3,44 hours daily on average – on tasks that can easily be done by a tool.
LinkedIn automation tools are the time-savers for B2B salespeople who use LinkedIn for lead generation.
But that's not it.
LinkedIn automation tools improve your workflow
A LinkedIn automation tool not only automates the sending of messages itself. It can also enhance your workflow in various other ways.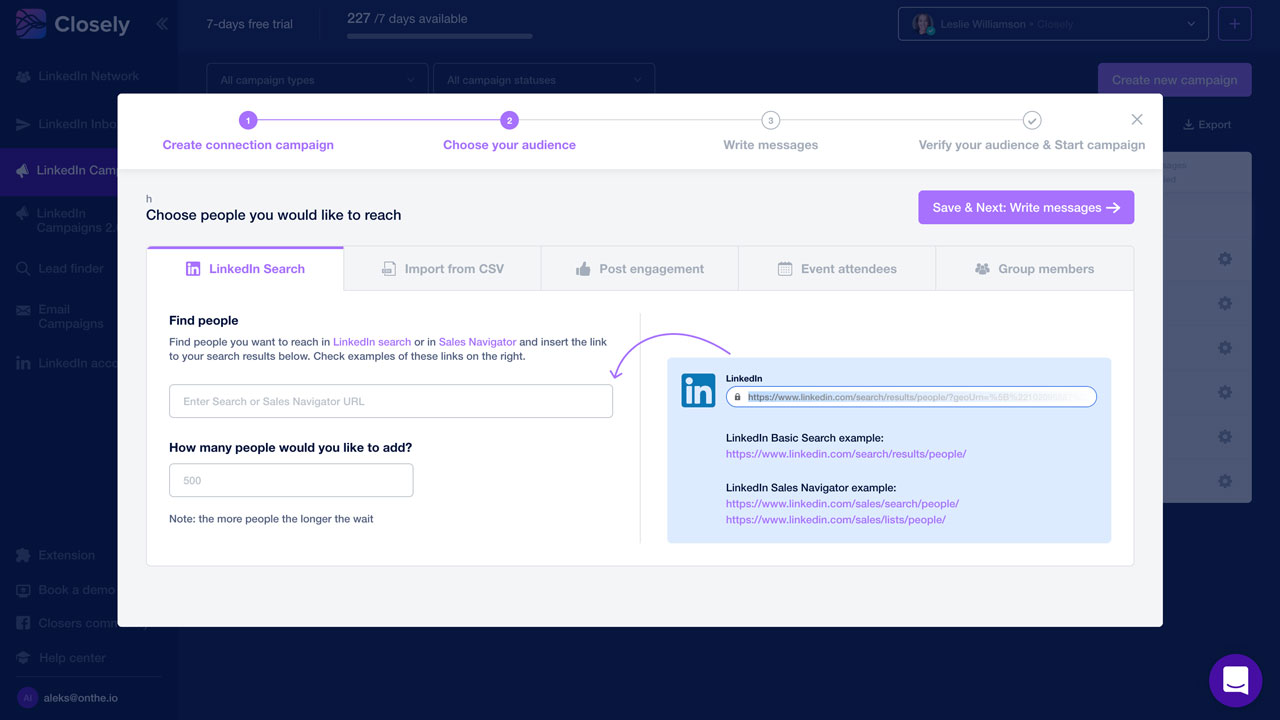 LinkedIn automation tool can improve targeting to increase efficiency of outreach efforts. You can filter people on LinkedIn in different ways and paste links to LinkedIn or Sales Navigator search results in an automation tool.
You can also paste links to LinkedIn events, groups or posts, and the tool will scrape (collect) audiences from there.
Once you've done that, you simply write a message sequence, consisting of connection request messages and follow-ups. You can consider adding a sales pitch or content in your follow-ups to engage your prospects.
You can experiment with different messages for different audiences and run multiple message campaigns simultaneously.
This is how Closely — LinkedIn lead intelligence platform helps you to fully automate your LinkedIn outreach efforts and drive in leads on autopilot. It simply sends messages automatically (Automate Linkedin Messages) until lead replies to any of the messages. When it happens, the automated process stops and you can jump into Inbox to communicate with leads.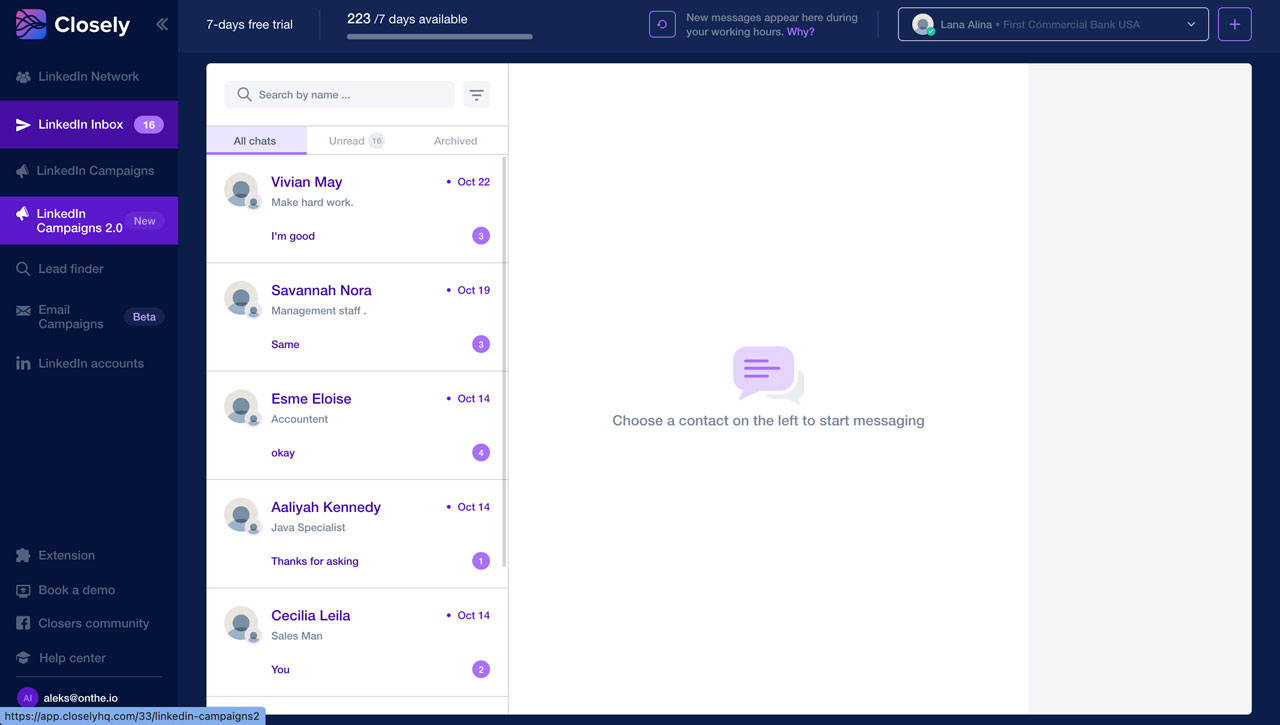 Closely is one of the most comprehensive LinkedIn automation. However, you can opt for other well-known tools such as Expandi or Dux Soup. All of them are worth trying, however, I recommend opting for cloud-based solutions as they minimize the chance of getting banned by LinkedIn. Extensions are easily detected. Closely and Expandi are cloud-based solutions.
All in all, automation tools are a huge time-saver and already a must-have for a modern B2B sales specialist. If you use LinkedIn for lead generation – consider trying them. Most of such tools offer a free trial.
Is there more to it?
Some LinkedIn automation tools offer additional features that can greatly improve your sales efforts.
For instance, Closely has a free extension — Closely Surfer — that downloads the results of LinkedIn search in CSV files. If you have it running in the background, there will be buttons in the LinkedIn interface that will help you minimize routine actions like collecting profiles manually in a file.
In this way, you can upload search results in one click. See the purple button?
Closely also functions as a LinkedIn CRM.
It syncs your LinkedIn network and lets you manage LinkedIn connections as in CRM. Having everything in order is key. The more comprehensive and ordered your workflow is, the more efficient you become. Tag people, add notes, and maintain consistency. Order up connections and become more efficient.
Conclusion
LinkedIn automation tools are savers. They can help fully automate the daily routine of sales people and achieve more impressive sustainable results over time. In one word, they help sell easier and faster. They reduce manual work and also offer new methods of engaging your target people.