NVIDIA DLSS now accelerates performance with uncompromised image quality in 200 games and applications, with Loopmancer to be added to the list later month. In addition, during the Nacon Connect streaming event, it was announced that the highly-anticipated The Lord of the Rings: GollumTM and Steelrising will be adding DLSS and ray tracing in those titles.
With 200 games and applications out now for gamers to play and the undeniable advantage of machine learning to maintain uncompromised image quality, NVIDIA DLSS continues to set the standard for super resolution technologies.
DLSS and the AI Advantage
AI is one of the hottest trends in the tech world and an undeniable advantage for DLSS. NVIDIA DLSS is the only AI-powered super resolution technology, and that advantage translates to game performance boosts of up to 2X. And it's also the only available scaling technology that taps into the power of a deep learning neural network to ensure image quality is comparable to native resolution. Scaling images without the power of AI-enabled temporal scaling techniques introduces unsightly artifacts such as motion artifacts, shimmering patterns, and muted, blurry textures.
AI technologies and ray tracing are revolutionizing the way we play and create, and at the forefront of this game-changing movement is NVIDIA RTX, the fastest and most advanced platform for bleeding-edge applications and games.
The Lord of the Rings: Gollum
The Lord of the Rings: Gollum™ is a highly-anticipated, story-driven stealth adventure game based on the books by J.R.R. Tolkien. When The Lord of the Rings: Gollum™ launches this September, GeForce RTX gamers can explore the game's varied locations with immersive ray-traced reflections and shadows accelerated by NVIDIA DLSS.
Steelrising
Spiders, developer of Greedfall, is launching a new action-RPG this September called Steelrising. Steelrising will boast immersive ray-traced reflections, and its performance will be accelerated by AI-powered NVIDIA DLSS.
Loopmancer
eBrain Studio's Loopmancer launches July 13 with NVIDIA DLSS and ray-traced reflections, giving GeForce RTX gamers the best possible experience in Loopmancer. In fact, when NVIDIA DLSS is enabled, performance leaps by over 2X, so GeForce Gamers with a GeForce 3070 or above GPU can enjoy Loopmancer at over 60 fps when the game is maxed out at 4K with ray tracing enabled.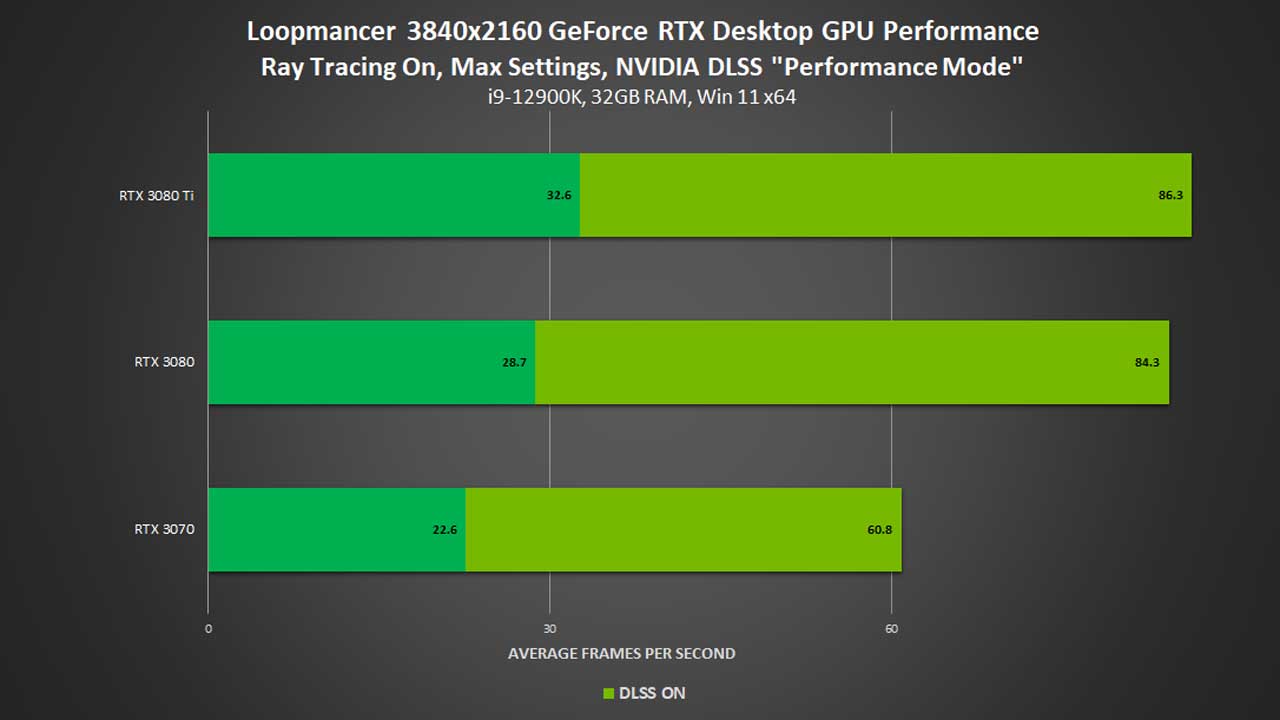 Hell Pie, Lumote: The Mastermote Chronicles, and More
Other games going RTX On in July include:
 Hell Pie, an indie-game that will be adding ray tracing and NVIDIA DLSS that launches on July 21.
 Lumote: The Mastermote Chronicles, an indie-game that added NVIDIA DLAA, AI-based anti-aliasing mode for users who have spare GPU headroom and want higher levels of image quality.
DLSS is NVIDIA's critically-acclaimed, AI-powered tech that boosts performance without compromising image quality. NVIDIA DLSS is used in 200 games and applications where it accelerates performance by up to 2X.
Press Release