Pricey' audiophile grade headphones and even your treasured gaming headsets aren't suited to just be lying on your desk, as a proper headset or a headphone stand is still appropriate. It's not a big deal however not to invest on a stand but on a professional, and hardware caring opinion of mine, I'd rather have them towering on my desk rather than to see them lie around and eat dust in a dishonoring way.
Leaving the drama aside, what we have here is an interesting proposal from LUXA2,  the E-One Premium Aluminium Headset Holder. It is, as the name suggested, is a premium cradle for your prized head gear with its all aluminum construction and diamond-cut finish – perfect for those who wants to showcase their gears that actually deserves the attention of their owners, and visitors a like.
UNBOXING THE E-ONE:
The E-One is encased in a rather normal sized box in an old LUXA2 fashion. It explains what the E-Once actually is, and why you should buy it because… that's what marketing materials are for, right?
As a premium product, LUXA2 spared a good amount of time into the safety of the E-One. It is cradled by Two molded foam, which is exemplary good at protecting the E-One from  bumps and bruises while shipping.
Other than the E-one itself and the protective foams, no other accessories accompanied the said gear. There's no need for a manual actually, and based on the website, a LUXA2 Product Catalogue  should be added for retail purchase. Nothing to complain here.
THE LUXA2 E-ONE IN FLESH:
The LUXA2 E-One is an all aluminum stand, with a half kilogram mass. It is available in Silver (HO-HDP-ALE1SI-00), but the one we got is the Black version (HO-HDP-ALE1BK-00). For those who have head gears that better suits a Black stand, then this unit is the way to go.
The E-One is strikingly simple and elegant. There's no nonsense design cues added which in turn adds a bit of an extra elegant touch. The E-one measure at 310mm in height, or around 12 inches, so there's plenty of room for any head gears even with their extended headband clearance.
The band portion of the E-one is rubberized so the bands of any head gear would be generally unscathed during their resting period at the E-One. The quality is really solid on this part part of the stem, as it managed to support a 1.5 kilogram weight without bending. With that amount of support, LUXA2 could just up the ante' and extend the band to accommodate another headphone. We hope that in the near future, LUXA2 could bundle an attachment to this part for extra gear accommodation.
The thick, and accented base makes up most of the stand's mass that is just appropriate if you're going to put your trust on the E-One. It features a small LUXA2 branding, and has a stunning chrome finished edges (diamond cut finish).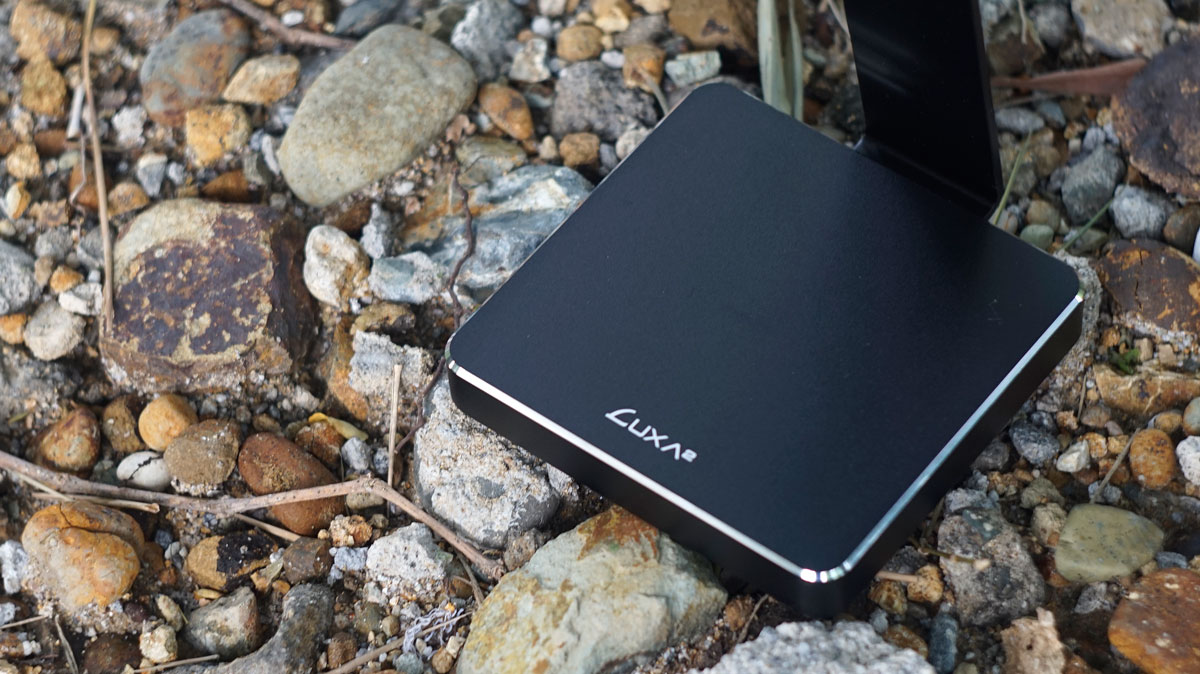 The base is covered by a non-slip material and manages to do its job very well. This non-slip material is similar to the Smart Clip's suction base material which already proved itself useful.
VALUE & CONCLUSION:
When I am looking for a head gear stand, there are multiple criteria(s) that I follow. Those are the price, my desk space, and the functionality. So how does the E-One fared?  To be completely honest, the E-One served its purpose very well and is a great complement to your gear due to its subtle yet striking appearance. Build quality is top notch, as the all aluminum material will most likely outlast your gear and should continue to serve thru the test of time. Stability is another factor, yet the E-One managed to come victorious over a significant amount of force by refusing to budge or toppling over.
The E-One's function as a stand is impeccable, supporting even the largest head gear I could find without both looking ridiculous. The Black E-One is a great compliment for Black head gears, while the Silver version is more of a good contrast for brightly colored gears. Although there are no means to adjust the height, the E-One manages to triumph. If there's something I'm going to nitpick, it is the lack of a cable management feature, and the support for a single head gear (could be remedied by an attachment). That's just about it really, as you could always wind up your cable.
Price-wise, we are looking at Two variants. The Black one that we have features a 30 USD tag, and the Silver one is at 31.70 USD. Both are well priced especially if your gears are really precious… like HiFiMAN precious. For the average consumers, you might want to look at something else cheaper, but if you have the gears to comply, then this stand should be on your list. You get what you pay for with the LUXA2 E-One, that's for sure.
THE VERDICT
PROS:
LOOKS REALLY GREAT
ALL ALUMINUM CONSTRUCTION
NO ASSEMBLY REQUIRED
2 YEAR WARRANTY
COMES IN TWO FLAVORS
CONS:
LUXA2 E-One Premium Aluminium Headset Holder
PERFORMANCE -

9/10

BUILD QUALITY -

9/10

FEATURES -

7/10

AESTHETICS -

8/10

VALUE -

7/10
Summary
Price-wise, we are looking at Two LUXA2 E-One variants. The Black one that we have features a 30 USD tag, and the Silver one is at 31.70 USD. Both are well priced especially if your gears are really precious… like HiFiMAN precious.