Wireless speakers are definitely among the most sought after products of the yesteryear. This is due to key factors such as compatibility with smart devices, portability, ease of use, and they're just widely available in many shapes, and sizes. Not to mention there are models that caters to various mode of usage.
LUXA2 at this moment have released 6 Wireless Bluetooth enabled speakers, and we reviewed quite a good amount of them in the past. They also cater to wide range of audiences, and LUXA2 believes that there's always a Bluetooth speaker for every price bracket. Now what we have here is a new member of the wireless family, the GroovyA Wireless Stereo Speaker – which differs itself from the other Groovy Series of products by providing Bluetooth CSR v4.0 support, adjustable design, easy access controls, convenient 2200mAh battery capacity, and dual 3.5W speakers under an industrial-like look and feel chassis.
FEATURES & SPECIFICATIONS: CLICK HERE
Product Name
GroovyA Wireless Stereo Speaker
Dimension

Length: 220mm

Width: 65mm

Height: 88mm

P/N
AD-SPK-ALGABK-00
Bluetooth
v4.0 CSR
Wireless range
10m (33ft)
Capacity
2200mAh lithium ion
Input
DC 5V/500mA, Micro USB
Audio output
3.5W + 3.5W
Playing time
up to 15 hours
Charging time
5 hours (0-100%)
LED indicator
Left:
Flashing blue (quickly) : Bluetooth pairing/unconnected
Flashing blue (slow) : Bluetooth is connected
Solid red : Aux-in mode connectedRight:
Solid red : charging
LED off : fully charged
Material
Aluminum, Plastic
Weight
580g
UNBOXING THE LUXA2 GROOVYA WIRELESS:
The GroovyA comes nicely sealed inside a well designed packaging which displays the GroovyA  and its features in an old fashion way. You'll see multi-lingual introduction about the product on the visible side, while the content of the packaging is illustrated on the other side.
The back houses the little bits of info about the speaker's I/O in a multi-lingual way. Nothing extravagant here but it works otherwise.
Finally, there's the bundled accessories which comprises of the quick start guide, a USB to micro USB cable, and a lengthy 3.5mm jack. There's also a faux leather carrying bag for the speaker unit as well which is always a LUXA2 commodity.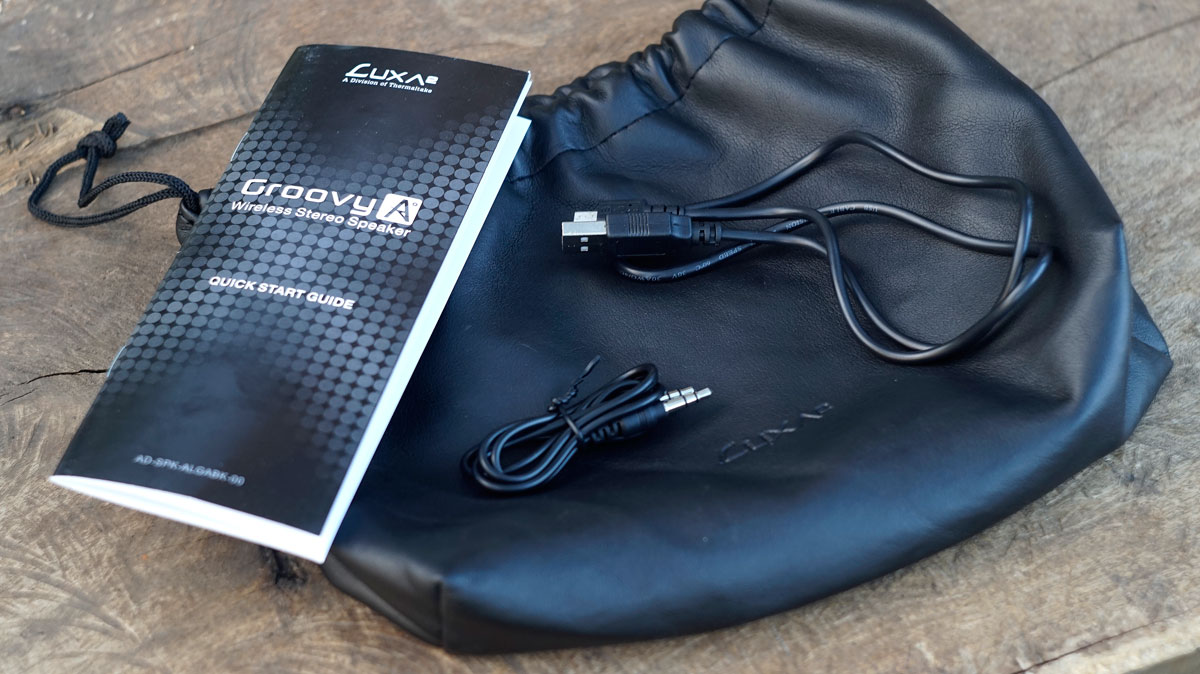 THE LUXA2 GROOVYA WIRELESS:
The LUXA2 GroovyA is a simple yet a stylish looking product. It feature a black outer shell, with a silver speaker grill. At 8.6 Inches long, 2.5 Inches wide and 3.5 Inches tall, the GroovyA stays within the medium sized Bluetooth speaker mark which is portable enough for those who have the the boot space to start.
The GroovyA is made out of plastic and aluminum, with the aluminum part acting as the base and swiveling mechanism. It is a sturdy brushed aluminum that wont budge no matter what we do to it. Perfect for outdoor use.
The GroovyA actually took its name based on its adjustable design. You could tilt it in 15 and 30 degree angle which is plausible for many modes of use especially outdoors where there's any any waist high structures a speaker could be placed. In addition, the base could also act as a hook if there's a branch.
Ease of access is the tune of the GroovyA, as the four major buttons were practically huge, and situated at the forgiving corner. Depending on your input (brief press & long press), the previous and next buttons could be used as secondary volume controls, while the play and pause button could serve as a call answer button. The pairing button on the other hand features a nicely lit status LED next to it. The GroovyA also features a mic, so you could actually use it to answer calls. Do note that it might be daunting at first, but the idea works and could be grasped easily.
The back is almost a blank canvass, with only a number of I/O and a sticker with serial, & power I/O rating plus an On & Off Switch. There's also an auxillary 3.5mm jack insert here and the Micro USB charging port. I like the fact that I could actually switch off the device via a flick of err… switch. The GroovyA is just around 580 Grams by the way, which is a perfect weight for its size.
BATTERY LIFE, RANGE, & EASE OF USE:
The LUXA2 GroovyA is an easy to use, no frills wireless speaker. You could use it wired, which only requires a push to the switch, plus an audio cable, and when it comes to wireless, there's hardly any need to read the manual. Just  make sure to push the BT pairing button if you wanted to pair the GroovyA to a new device. Easy peasy.
The GroovyA is rated to operate with a paired wireless device up to 10 Meters, which is adequate enough for indoor and outdoor use. I find it has a better range overall though compared to the original Groovy Wireless, where it could penetrate walls better. CSR 4.0 has nothing to do with this, but battery life has dramatically improved compared to the latter due to the 2200mAh capacity which should put the device playing for a day continuously, or at around 14.5 hours of non stop full volume playback which is damn near to the specifications. Charging time is around 6 hours though, which is alright, but is an hour slower than the advertised charging speed.
Gone are the days of the annoying Groovy status audio cues, as the GroovyA simply employed dual status LEDs to let you know what's up. For an instance, a quick flashing blue means that the Bluetooth is currently pairing or unconnected, while a slow flashing blue means that it is connected. If the right LED shows a solid red, then it means that it is currently charging, while it will turn itself off if the battery is full. A solid red means that it is also connected via the auxiliary jack.
TEST SYSTEM & PROCEDURES:
Audio stuffs such as speakers, headsets, headphones, earphones, IEMs, and pretty much whatever they are as long as they produce audio output, are very subjective to be tested. That is true, in a sense that no pair of ears are the same, and there is a lot happening between you, and the headset for example. That said, your experience will most likely differ from ours.
We start the testing after we burn-in or wear-in the drivers. Usually, 48-72 Hours of continuous burn-in will do for most. This is to ensure that the audio solution is already delivering what an end user would actually experience in the long run. Wireless setup is a courtesy of our ASUS Z97-PRO WiFi AC motherboard with a buit-in Bluetooth connectivity. As for the wired audio setup, we are going to use the on-board solution found on the said Z97 motherboard. It is an amplified Realtek® ALC1150, far from the ideal solution we wish we had but it is capable nonetheless. Rest assured, there's no equalizing done, so everything is tested as flat as possible. Sampling Rate is maintained at 24-bit, 48000Hz.  Below is the test system's specifications. Our board is also equipped with a Bluetooth radio for Bluetooth audio devices.
| | |
| --- | --- |
| CPU | Intel Core i5 4670K |
| MOTHERBOARD | ASUS Z97-PRO WiFi AC |
| CPU COOLER | Cooler Master Seidon 120XL |
| MEMORY | ADATA XPG V2 @2400MHz 16GB |
| GRAPHICS CARD | ZOTAC GTX 970 4GB |
| INT. STORAGE | Kingston HyperX Fury 240GB SSD |
| PSU | Cooler Master Silent PRO Hybrid 1300W |
| DISPLAY | LG S2340L AH-IPS |
| OS | Microsoft Windows 7 Ultimate x64 SP1 (Updated) |
| SOUND CARD | On-board Amplified (Realtek ALC1150) |
| EXT. STORAGE | 2TB Western Digital My Passport |
SOUND QUALITY: MUSIC PLAYBACK
The bass is strong with this one, far better in quantity compared to the Groovy Wireless of the yesteryear, with a thumping yet satisfying low-end. Bass heavy tracks should sound enticing with this particular speaker which is good for indoor and outdoor parties. However as we dive deeper to the boundaries of the GroovyA's low-end, we find that the driver quality within the 40 Hz frequency ranges could be improved, as there is a noticeable rattling noise on both drivers while we sweep through that range. It's a small issue, but it's something you have to take into consideration.
The mid-range is a bit rolled off, which is why the bass is so dominant. Vocals were clean though, and we find no particular issues within this part. Now as for the top-end, it's clear, hiss free, and sounds really good even with full volume and extra amplification from our playback devices. The GroovyA is best used with well… groovy music. But then again, the rattling noise is something you need to consider and we are hoping that it is an isolated issue on our sample. Stereo imaging is quite good with the Groovy, as there is a difference between left, right, and center (both) channels. Localization on the other hand is decent for a wireless stereo speaker.
SOUND QUALITY: MIC INPUT
It's always hard to use the built-in mic of wireless speakers, as they could pickup the audio coming from the speaker itself. As for the GroovyA's microphone input, it stays within the bounds of a decent mic for speaker phone functionality.
VALUE & CONCLUSION:
The GroovyA is a solidly built, high output wireless speaker that saw huge improvement compared to its predecessor as far as output quantity goes. We might have heard better solutions but those are high-end gears so it's safe to say that I'm utterly impressed with this 7W jewel. It really pounds, and it packs a good amount of punch for its size. The multi-angle functionality also works quite well by noticeably improving stereo imaging if the device is situated to a lower or ground-like position. However, there things that needs consideration with the GroovyA, and those were the 6 hours of charging time, and the rattling 40 Hz frequency range. It could be remedied via equalization but for the purpose of reviewing this product, we thought you need to know. Also, it should have 100 Hz – 22 KHz of freqeuncy range based on specifications but the bass goes as low as 30 Hz.
Built for the outdoors, the build quality of the GroovyA is astounding for plastic and aluminum fused speaker. It could take a beating, and I will happily choose this as a get to go speaker whenever the family needs it, or the friends needs a good sounding speaker that could set the mood outdoors. With its true 7W output, there really is a need to use it in the open, except when it's raining of course.
As for the pricing, LUXA2 competitively sets its MSRP to 89.99 USD. That's highly competitive, and with this much audio quantity from a handy rectangular box, there is a great deal of value to be had with the GroovyA.
THE VERDICT
PROS:
7W OF GOOD AUDIO PERFORMANCE
RELATIVELY EASY TO USE
LONG LASTING BATTERY LIFE
BUILD QUALITY FOR OUTDOORS
WIRELESS RANGE
CONS:
RATTLING ISSUE AROUND 40 HZ
NOT SO FAST CHARGING TIME
LUXA2 GroovyA
PERFORMANCE -

7/10

BUILD QUALITY -

8/10

FEATURES -

8/10

AESTHETICS -

8/10

VALUE -

8/10
THE VERDICT
Built for the outdoors, the build quality of the GroovyA is astounding for plastic and aluminum fused speaker. It could take a beating, and I will happily choose this as a get to go speaker whenever the family needs it, or the friends needs a good sounding speaker that could set the mood outdoors.