When it comes to audio solutions, LUXA2 appears to be taking careful yet precise steps by offering consumers what they need, and when they need to. We've seen power solutions, speakers, and even headsets, but this time LUXA2 is preparing to take the fitness crowd with the Lavi O Wireless Bluetooth Earphone.
Although aimed at the active music lovers, the Lavi O is also an In-Ear that everyone should be looking out for due to its native features – similar to a gaming PC in a sense. The features we are talking about are its wireless Bluetooth connectivity, and the fancy anti drop ear-hook design which is extremely essential to the on-the-go active users, but is also useful for just about anyone else especially to those who rides their bike to work, or for those who require a good wireless ear-set that wont budge while you're inside the metro during rush hours.
FEATURES & SPECIFICATIONS: CLICK HERE
Product Name
Lavi O In-Ear Wireless Headphone
P/N
AD-HDP-PCLOBK-00
Battery type
80mAh Li-Polymer
Charging time
40mins (micro USB input)
Driver
8mm / 16Ohms
Bluetooth
CSR v4.0 8635
Wireless range
10m
Playing time
Up to 5 hrs
LED indicator
Low power: Red (flashing)
Charging: Red (solid), Power full: Blue (solid)
Pairing: Blue & Red (flashing)
Bluetooth connected: Blue (slow flash)
Bluetooth unpaired: Blue (rapid flash)
Others
Profile: A2DP, AVRCP, HSP, HFP
Frequency: 2402MHz-2480MHz
Frequency response: 20Hz~20KHz
Sound press level: 110dB±3dB
Microphone: Φ4.0*1.5mm, -42±3dB
Dimension
550x30x14mm (included cable)
Weight
 15g
UNBOXING THE LAVI O:
The Lavi O comes in a standard LUXA2 windowed packaging with a new color scheme in Black and accent in Yellow. Up front, there is a nicely laid out feature-set as well as the Lavi O itself seen on the cut-out.
The back focuses more on the features yet again, with the full specifications running along the side. LUXA2 kept things simple and neat here.
Once unboxed, you'll notice that the Lavi O is accompanied by a user's manual, a micro-USB cable for charging, a nice carrying pouch, a cable clip to hold the cable in place, plus a cord keeper to keep the cable neat and organized. 2 extra interchangeable earbuds with their own sizes are also included.
DESIGN & COMFORT:
The Lavi O from LUXA2 is made out of plastic for most part, yet it feels solid and shouldn't break up easily due to its seamless construct. The stress relief for the cables for an instance, is a part of the housing so it is quite a relief compared to conventional rubber ones.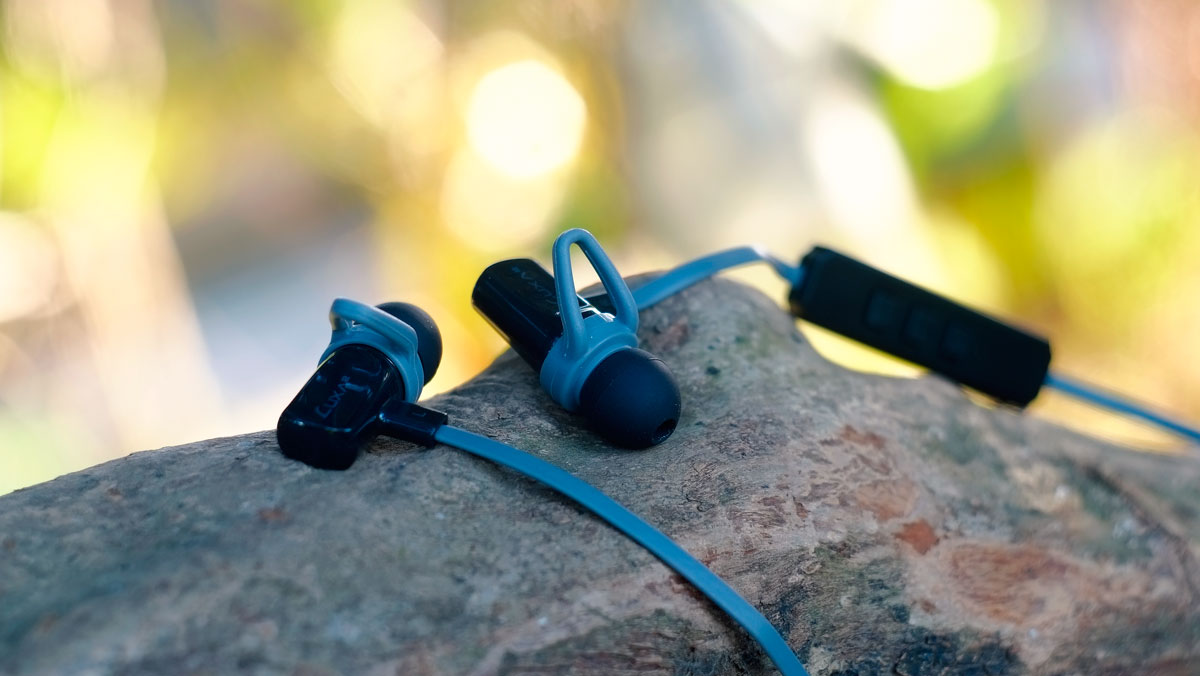 The looks of the housing actually reminds me of HALO's floating drones due to the ear-hook design which is kinda cool for a gamer's perspective. Speaking, the ear-hook fits just fine to my somewhat small ears (Pinna). They will be a little awkward firsthand, and that's alright as you will get used to them in no time especially if you're already doing some intensive work.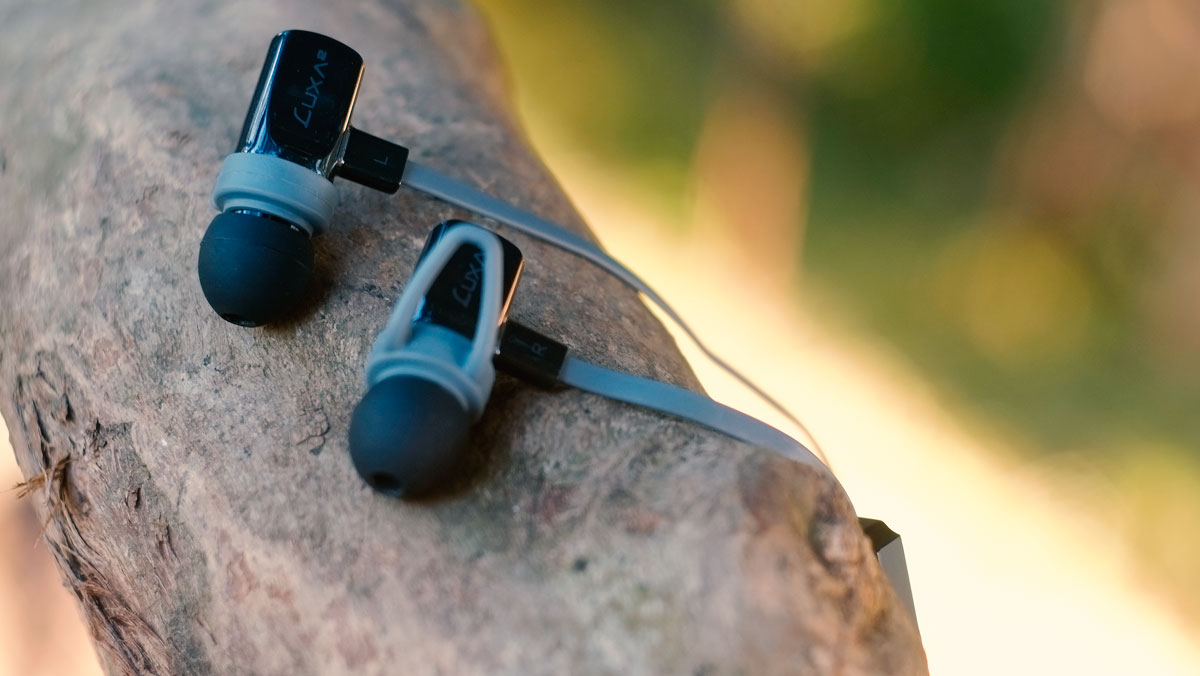 The 50 cm cable is flat and Grey, which means that it wont get dirty easily, sweat proof, and is not prone to tangling. The Lavi O's cable is meant to be worn from the back, hence the mic-input's location at the back of the control box. Speaking, the control box features 3 buttons – Volume Up & Down, plus a Play Button that is used to play, pair, and turn the device on & off. A status LED is also located here as well as the shielded Micro USB port which should be used to charge the 80mAh battery.
The nozzle is of standard size, which means you could use standard single flange tips. LUXA2 included 3 sized rubber tips (they smell rubber at least) and we chose the smallest out of the Three. Single flange tips features an average isolation, and putting them on in a slight variation makes an audible difference in the sound signature.
The set weighs about 15 Grams – Which means the Lavi O is totally unnoticeable when it comes to the weight with of course, an exception for the ear-hooks especially when you're still getting used to them. As far as general comfort is concerned, I've got nothing against the Lavi O. It's easy to hook, far from being irritating, and lightweight which is more than enough to seal the deal to get an approval on this department. Whether you're running or just bobbing your head waiting for the earpieces to fall off, a neck strain might come first before the thing falls off. Noise Isolation is also important, and the buds served their purpose well with a rather pleasing result able to keep your tunes just for yourself without worrying about excessive sound leakage.
OVERALL PERFORMANCE & VERDICT:
The Lavi O is LUXA2's daily driver for the sporty individual with good comfort levels and design. But, how does it fair when it comes to everything else including acoustics? Well let us start off with the ease of use. The Lavi O works like your usual BT audio solution – just hold-press its play button for 7 seconds and you're ready for pairing. The same button is used to turn the product on, and answering calls.
Battery life isn't shabby at all with a 4 1/2 hour maximum usage time at moderate volume levels. For a Bluetooth enabled head gear with a 80mAh battery capacity this is already good, and with a 52 minute maximum tested charging time, things are even better. Mic quality is so-so, just your average in-line mic but its all good for a 25 USD product especially with a maximum of 15 feet usable range indoors or outdoors.
Acoustic performance is somewhat alright, but nothing is surprising. Bass is there but it's not that all too engaging, and the mid range is just alright being sibilant to a certain extent. Speaking, the higher ranges also exhibits sibilance. It's quite "sizzly" if explained on our terms but a better description would be an unnatural reproduction of instruments such as cymbals. Now down get me wrong. This is already a solid product for its price-point, and it delivered its promises. It's not the best for EDMs or bass heavy titles, but it's a nice pair to listen to when it comes to vocal centric tunes. You wont be going picky while exercising or focusing on your workout anyway.
The LUXA2 Lavi O might not be perfect, but it sure is a solid product for its purpose. If you are looking for a wireless Bluetooth in-ear that is built to stand the test of sweat and muscle, then this one is for you.
THE VERDICT
PROS:
BUDGET FRIENDLY WIRELESS IN-EARS
STAYS IN PLACE NO MATTER WHAT
FAST CHARGING & 5 HOUR BATTERY LIFE
GOOD BUILD QUALITY & ISOLATION
CONS:
LUXA2 Lavi O
PERFORMANCE -

6/10

BUILD QUALITY -

8/10

FEATURES -

7/10

AESTHETICS -

8/10

VALUE -

9/10
Summary
The LUXA2 Lavi O might not be perfect, but it sure is a solid product for its purpose. If you are looking for a wireless Bluetooth in-ear that is built to stand the test of sweat and muscle, then this one is for you.