MSI recently unveiled their Intel 13th Gen and NVDIA RTX 40 equipped laptop models in a local event. Also present were representatives from the biggest dealers and distributors of these laptops in the country.
Among the special guests were MSI Partners from Intel, Nvidia and Microsoft, cosplayers Roxanne Kho and Zackt, and streamer/influencer Patricia Reyes. The event was hosted by Earl Manga and singer Ming Torayno provided the night's entertainment.
The event started out with a short message from Frank Hsu, MSI HQ Sales and Marketing Notebooks Director, who came all the way from Taiwan to officially start the event. Next on stage were representatives from Intel and Nvidia. Both talked about their latest product innovations that are now components of the latest line of MSI Laptops.
Intel talked about their newest 13th Generation HX Processors with 24 cores and up to 5.6 GHz of processing speed. These powerhouse processors will take you to the top not only in terms of gaming performance, but also in creative applications and design programs. With big jumps in features between generations, Intel guarantees peak performance in all the MSI laptops equipped with their latest chips.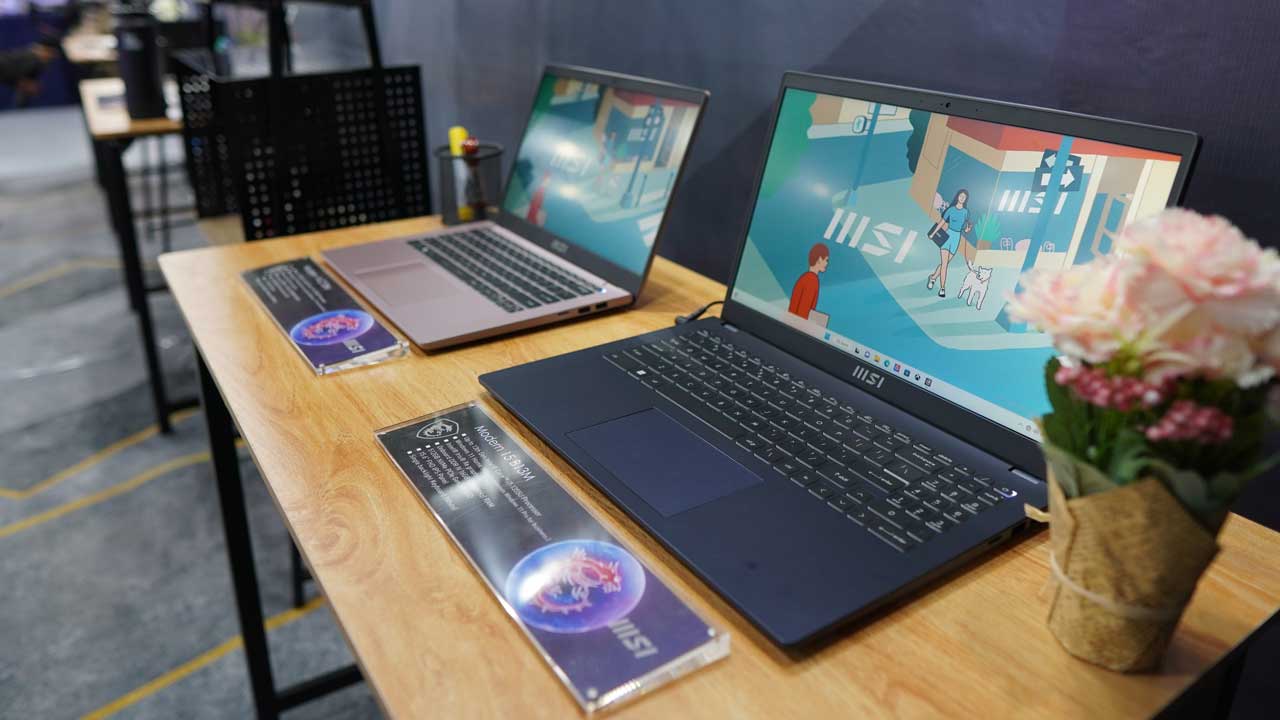 On Nvidia's side, they discussed the RTX 40 series cards, which they tout as the biggest generational leap so far. The new DLSS3 brings AI-powered graphics to your screen for one third the power of the previous generation. Being up to 3x more power efficient and featuring the new Ada Lovelace architecture, these GPUs will literally take gaming to the next level.
Finally, things settled down for the main event. On stage to talk about the newest laptops hitting the market was MSI HQ's Product Marketing, Andy Chu.
Andy left no detail undiscussed as he presented these powerful and innovative laptops. Every new feature was presented clearly for everyone to enjoy. Consumers will be happy to know that these upgrades will affect all MSI lineups: Gaming, Content Creation, and Business & Productivity.
After the presentation, actual units of the laptops were presented on a fashion show-style runway. Attendees got a sneak peek at the latest laptops and their features with their own eyes.
A product demo by Ronan Espinueva, Founder of Digital Entertainment and Gaming Arts School (DEGAS), and Arthur Tselishchev, Creative Director, Artist, and Model, also took place afterwards to showcase the power of the thin and light laptops. They showcased the advantages of having a portable workstation and used the laptops to render beautiful 3D images and create designs on the go.
The attendees were finally able to get a hands-on experience with the laptops during dinner time. The laptops were featured in their own experience areas, each with a fitting application being displayed. The Gaming laptops proved their power by running the latest AAA games which the guests could play with. Meanwhile, the Content Creation models utilized the Adobe Creative Suite for their demos.
The night ended with MSI raffling away a gaming laptop. A Stealth 15M was given away to one lucky attendee as well as door prizes consisting of P5,000 Gift Certificates. There were also some surprise giveaways from MSI Partner, Microsoft.
It was a fun and festive event for everyone present. All the laptops unveiled will be hitting the markets soon and MSI is sweetening the deal with their Super Early Bird program.For those that already have their new divide with the latest RTX 40 series GPUs, get another special gift from MSI with their Shout Out for MSI program. Check out the details here.
With all the innovations in the laptop space, and MSI paving the way, there will surely be more of these events in the future. Don't forget to join MSI's communities to keep yourself updated.
Press Release