What's inside the Founders Edition box? Awesome of course!
Nvidia today lifted the embargo of the GeForce GTX 1080 TI – and by embargo, we mean the unboxing embargo. Not the actual review yet. That said, we got a Philippine exclusive first look at the card itself in all of its Founders Edition glory.
For the uninitiated, the GeForce GTX 1080 TI is the latest graphics card Nvidia has to offer, bearing the GP102 processing unit inside. The Titan X Pascal also features the GP102 inside, but it is worth $1200. The Titan X Pascal is the fastest single card yet from Nvidia but its MSRP is not really up to the task to reach the hearts of the majority. With the GTX 1080 TI inbound at $699 – equivalent to the GTX 1080's MSRP at launch – Nvidia wants to secure the higher end market before AMD launches their VEGA GPUs.
GTX 1080 Ti
NVIDIA Titan X (Pascal)
GTX 1080
CUDA Cores
3584
3584
2560
Texture Units
224
224
160
ROPs
88
96
64
Core Clock
N/A
1417MHz
1607MHz
Boost Clock
1582MHz
1531MHz
1733MHz
TFLOPs (FMA)
11.5 TFLOPs
11 TFLOPs
9 TFLOPs
Memory Clock
11Gbps GDDR5X
10Gbps GDDR5X
10Gbps GDDR5X
Memory Bus Width
352-bit
384-bit
256-bit
VRAM
11GB
12GB
8GB
Launch Price
$699
$1200
MSRP: $599
Founders $699
The card is of course gimped a bit to make way for that tasty MSRP. Instead of featuring 12 memory controllers, Nvidia decided to disable one allowing for a total of 11. Each memory controller has 1GB of GDDR5X VRAM allocated, so this is why the card features 11GB of memory. The bust width has been also affected.
WHAT'S INSIDE THE BOX:
The GeForce GTX 1080 TI is housed in a familiar packaging. All Founders Edition cards from Nvidia are packed this way and compared to AIB partner packagings, this one is more compact but has a hefty weight to it.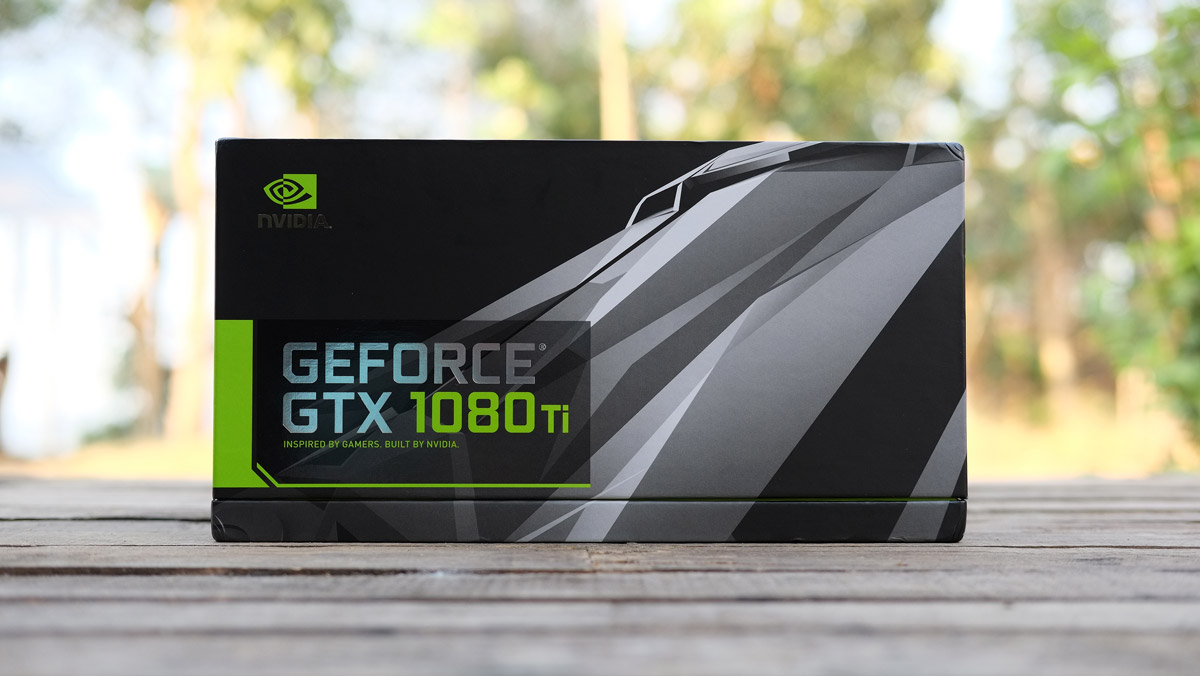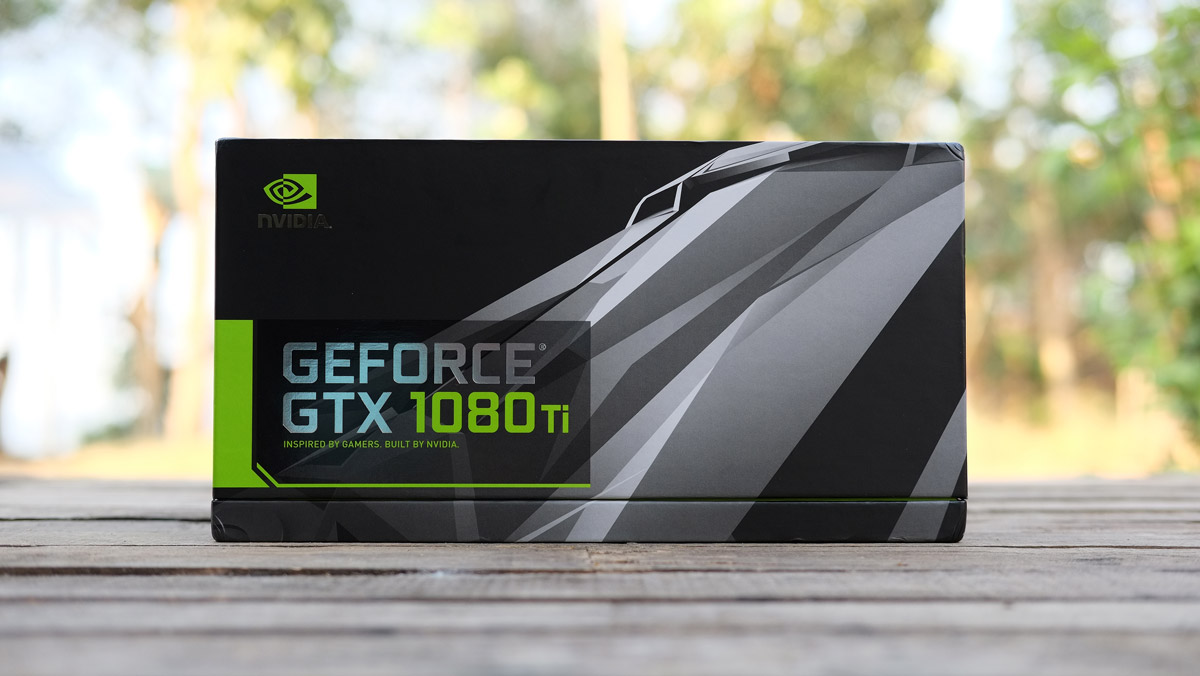 Slide it up, and you'll see the card inside. Packaging is simple by design but the lavish padding, and presentation should add up to the premium feel of owning one.
Inside, you'll get the card, a quick start guide, a support guide, a special premium edition badge, and a DisplayPort to DVI adapter. These are good bundles alright!
I'd like to point out that together with the DP to DVI adapter, the Special Edition Premium Badge is not included on the last iteration of the Founders Edition cards. That is of course by experience since my GTX 1080 FE never came with those accessories in the first place.
BEHOLD THE NVIDIA GEFORCE GTX 1080 TI FOUNDERS EDITION:
The GeForce GTX 1080 TI is physically identical to the GTX 1080 FE both in design, weight, and dimensions with minute differences here and there. With that said, it is still savage to look at with edgy yet industrial design that should struck awe into the hearts of gamers.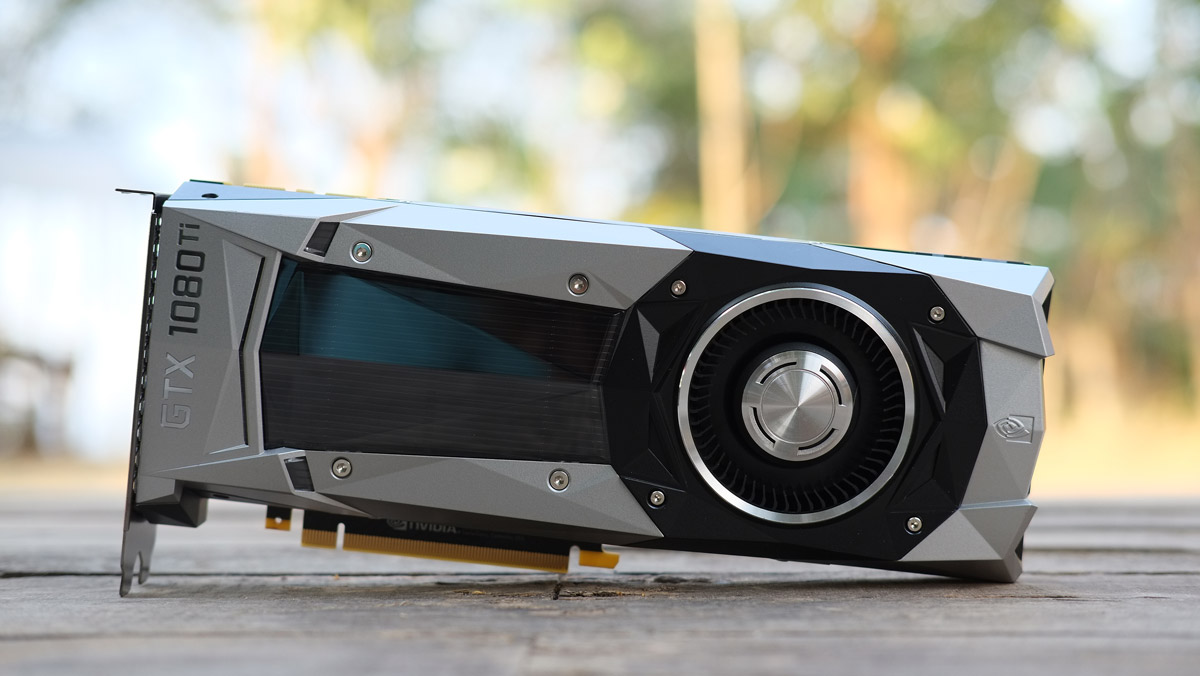 The back features the same backplate design utilized by the GTX 1080 FE which is a nice contrast to the shroud. Weight is at 1043 grams if you're wondering. Not bad for an alloy laden card.
The GTX 1080 TI is powered by 6+8 pin PEG power connectors as opposed to the GTX 1080's single 8-pin configuration. This is a 250W TDP card as dictated by specifications so it is just proper. 300W is the maximum this card could pull based on the pictures alone.
Another difference is the display port configuration. Here we could see that instead of going with 5 outputs, Nvidia decided to arm the 1080 TI with 4. That said, they removed the DVI port to make way for a better ventilation area. This is good since the Founders Edition card is a blower type card with an impeller fan blowing into the vapor chamber expelling air at the back.
Temperature and power figures will be tested and compared with the non Ti GTX 1080. This is a good chance for us to receive reference like figures in order to gauge any non reference GTX 1080 TI cards from Nvidia's various AIB partners.
PERFORMANCE? WE'LL GET TO KNOW SOON
I just received this card earlier and I must say that I have yet to slap it into my test system. Don't fret though, since we are going to compare it with the GTX 1080, GTX 1070, and the GTX 1060.  I'm particularly interested on how this card will fair against the GTX 1080 Founders Edition though since Nvidia is expected this one to feature 35% performance gains over the said card. For just an additional 100 USD (current price difference of the two), that should be pretty sweet if proven true.
Nvidia provided us an insight about this card's performance already but we shall test it using our own methods and have our review ready by the time Nvidia lifted the NDA. The release date is nigh and it is going to be a lengthy day here at Tech Porn.