The GeForce GTX 770 is an update from Nvidia's year old Kepler architecture, namely the GK104, and is essentially a GTX 680 under a new hood, bearing a faster core clock, memory clock, higher bandwidth overall, and the GPU Boost 2.0 feature.
Now what we actually have here folks, is the Palit GTX 770 JetStream graphics card. A factory overclocked GTX 770, with an 1150Mhz base clock, and a 1202Mhz boost clock, based on its specifications. Whilst the memory clock speed is still the same with the reference one, what Palit actually did here is that they've added a massive chunk of cooler to keep the card cool and quiet. Bearing those things in mind, this card should be able to take a beating, and slice through our benchmarks like a hot knife through butter! Well what are we waiting for? Lets check it out!
| | | | | | | | |
| --- | --- | --- | --- | --- | --- | --- | --- |
| | CUDA Cores | Base Clock (MHz) | Boost Clock (MHz) | Memory Speed | Memory Amount | Memory Width | Max Power (W) |
| Nvidia GeForce GTX 680 | 1536 | 1006 | 1058 | 6.0 Gbps | 2048 | 256-bit GDDR5 | 195 |
| Nvidia GeForce GTX 770 | 1536 | 1046 | 1085 | 7.0 Gbps | 2048 | 256-bit GDDR5 | 230 |
| Palit GTX 770 JetStream | 1536 | 1150 | 1202 | 7.0 GBps | 2048 | 256-bit GDDR5 | 230 |
FEATURES/SPECIFICATIONS: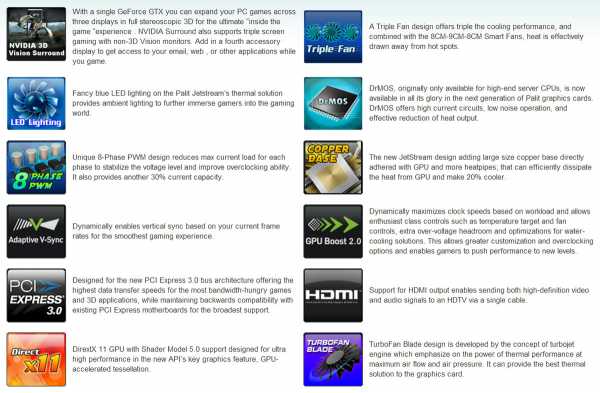 PACKAGING/CONTENTS:
The Palit GTX 770 JetStream is packed in a similar packaging we used to see from its older sibling, the GTX 660 Ti JetStream. Nothing special to see here, unless you decided to open it up, of course.
Opening the front flaps will reveal the card encases in a hard shell inner packaging, which should help it to survive from almost any moderate beating. The flaps had a graphical representation of the card's features, along with Palit's ThunderMaster overclocking software.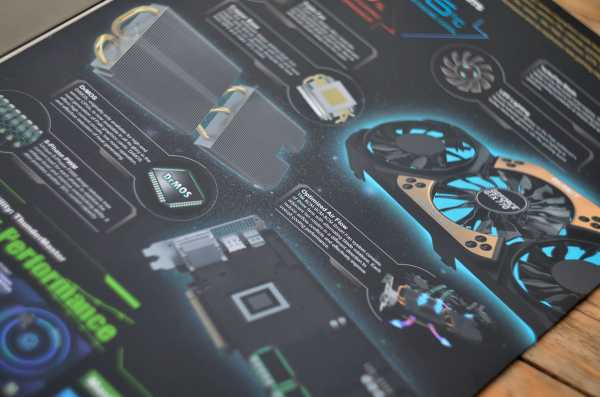 The back of the packaging houses the multilingual specifications of the card. Nothing special here.
Palit had their GTX 770 JetStream bundled with things that should get you started with. These includes the driver disc, a 6-pin to 8+6-pin power adapter, DVI to VGA adapter, an HDMI to DVI adapter, a quick installation guide, an a sticker with the JetStream Kanji on it. No SLI bridge present here, folks.
GPU LAYOUT/CLOSER LOOK:
Out of the box, the Palit GTX 770 JetStream looks undoubtedly a refresh from the old JetStream cooler. The new JetStream has blunt corners, and a more industrialized look overall, as opposed to its older former self with an edgy, and futuristic appearance. Personally, this design is much better than the last generation of JetStream coolers, since it should blend well with most hardware combinations.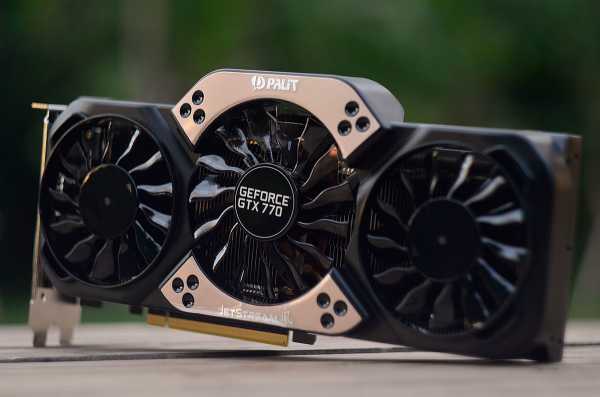 While it may look a new design, Palit stayed true to the JetStream formula with a massive cooler, sandwiched between 3 fans. As usual, the middle one is a 92mm fan, whilst the remaining two are of the 80mm standard. It's a 10 incher too, so you might want to check out your case first, if it supports cards as long as this one.
With a 3 slot stature, the Palit GTX 770 JetStream is absolutely massive, and would need users an adequate amount of planning if you wish to revolve your build around this card. You should be aware of that extra bulge too for chassis clearance.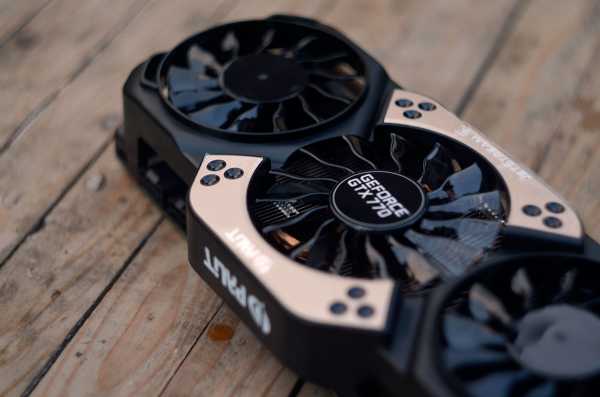 The card is powered through a combination of an 8-pin, and a 6-pin power connector. This had me thinking that it'll consume more power than my HD 7950. Palit's website states that this card will consume a maximum of 229 Watts, though.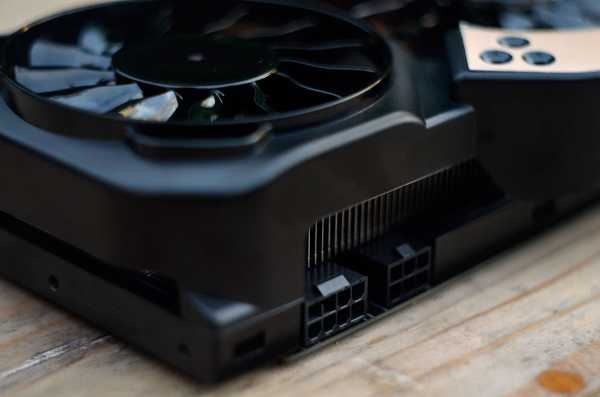 It's no surprise that the Palit GTX 770 JetStream didn't came with its own back plate, since it doesn't have a memory chip to cool on this side of the card. We would love to see one here though to mask that fugly brown PCB, and to ensure that the card wont be stressed from bending.
The Palit GTX 770 JetStream supports multi-GPU scaling with 2 SLI connectors. We just wished that Palit included one SLI bridge. Really.
Palit stuffed the GTX 770 JetStream with plenty of display ports to get you started. We've got a DVI-I, a DVI-D, a Display Port, and an HDMI port on this side of the card.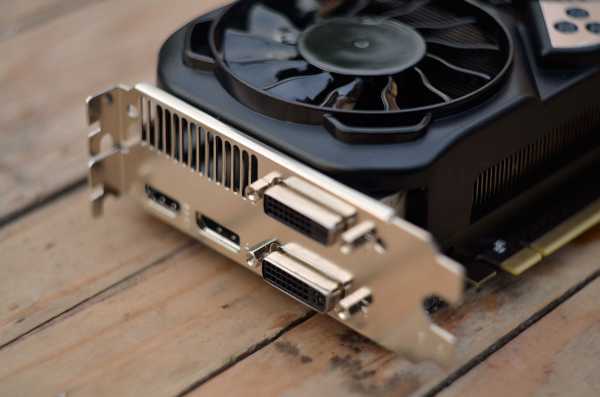 TEST SYSTEM/PROCEDURES:
To provide precise test results, the test systems will run on an updated copy of Windows 7 Ultimate x64 SP1. BIOS, Chipset, and Video Card drivers will be updated too, as much as possible. No other silly forms of softwares should be running while the benchmarks are on going, unless it is stated. As for the gaming benchies alone, tests should include 720P, and 1080p resolution results if permitted by the games, and benchmarking tools, or if necessary. Games without benchmarking tools of their own will have the FPS recorded with FRAPS. Below are the test system's specifications:
| | |
| --- | --- |
| CPU | Intel Core i5 3570K |
| MOTHERBOARD | GIGABYTE Z77X-UD5H-WB |
| CPU COOLER | Corsair H100i |
| MEMORY | AVEXIR Core Series @2133MHz 16GB |
| GRAPHICS CARD | Palit GeForce GTX 770 JetStream 2GB |
| INT. STORAGE | Kingston SSDNow V+200 128GB |
| PSU | Cooler Master Silent PRO Gold 800W |
| DISPLAY | LG FLATRON E2290 22″ LED |
| OS | Microsoft Windows 7 Ultimate x64 SP1 (Updated) |
| SOUND CARD | CREATIVE Sound Blaster RECON3D |
| EXT. STORAGE | 2TB Western Digital My Passport |
PERFORMANCE (SYNTHETIC/GPU COMPUTE):
Heaven Benchmark is a DirectX 11 GPU benchmark based on advanced UNIGINE™ engine. It reveals the enchanting magic of floating islands with a tiny village hidden in the cloudy skies. This benchmarking tool heavily relies on tessellation, and that's what we're after.
Valley Benchmark is a GPU stress-testing tool from the developers of the very popular and highly acclaimed Heaven Benchmark. This non-synthetic benchmark powered by the state-of-the art UNIGINE Engine showcases a comprehensive set of cutting-edge graphics technologies with a dynamic environment and fully interactive modes available to the end user.
CINEBENCH R11.5 is a real-world cross-platform test suite that evaluates the computer's performance capabilities. CINEBENCH is based on MAXON's award-winning animation software CINEMA 4D, which is used extensively by studios and production houses worldwide for 3D content creation.
3DMARK (2013) is a multi-platform benchmarking tool from FUTUREMARK, consisting of comprehensive tests that aims to gauge your gaming hardware; be it a smartphone, a tablet, a laptop, or a desktop PC.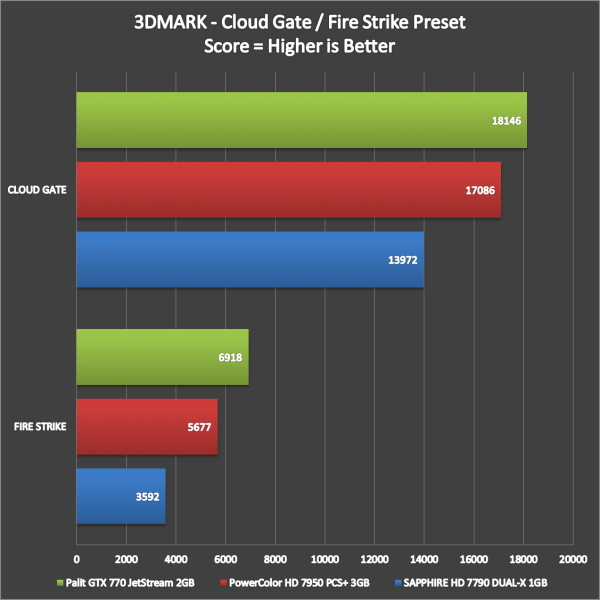 RESULTS: Right off the bat, the Palit GTX 770 JetStream showed us a pretty nice result, beating the HD7950 by yards on most benchmarking tools that we have used. The Unigine Heavens Extreme presets doesn't like the card though, crashing and displaying low scores whenever the application finishes benchmarking. The CINEBENCH score on the other hand, shows that Nvidia cards are still slower than AMD when it comes to Maxon's OpenGL benchmarks.
PERFORMANCE (REAL WORLD):
Far Cry 3 is an open world first-person shooter video game developed by Ubisoft Montreal in conjunction with Ubisoft Massive, Ubisoft Red Storm, Ubisoft Reflections, and Ubisoft Shanghai and published by Ubisoft for Microsoft Windows.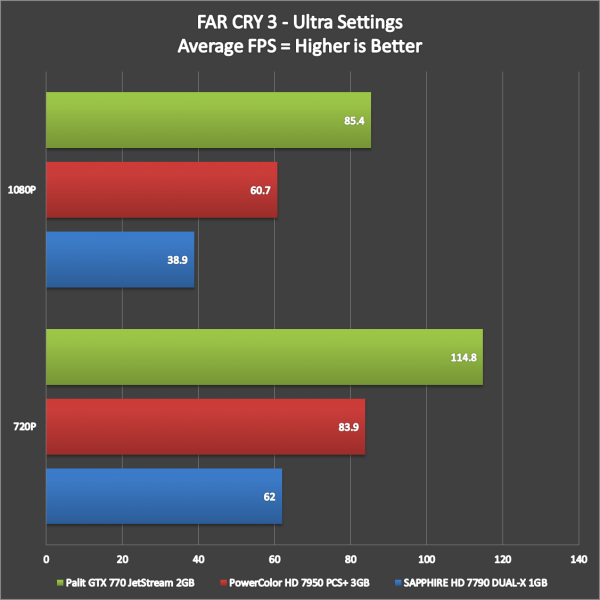 Resident Evil 6, is a survival horror video game developed and published by CAPCOM. It's one of my favorite PC games, mainly because I'm a fan of the series. It also has a built-in benchmarking tool to measure your PC's performance. It's only DirectX 9.0 compatible at the moment, though.
Tomb Raider (2013) is the fifth game, and the reboot of the Tomb Raider series. It is developed by Crystal Dynamics, and published by Square-Enix. We disabled Tress FX for this benchmark.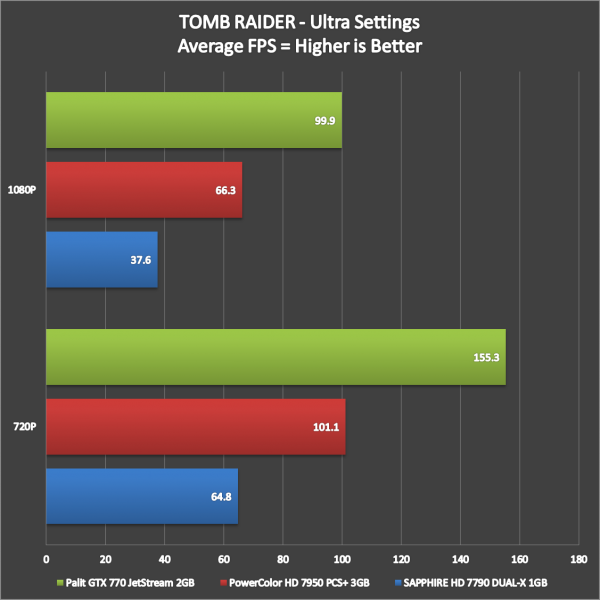 Crysis 3 is a first-person shooter video game developed by Crytek and is published by Electronic Arts. It is the third main installment of the Crysis series, and runs on the CryEngine 3 game engine.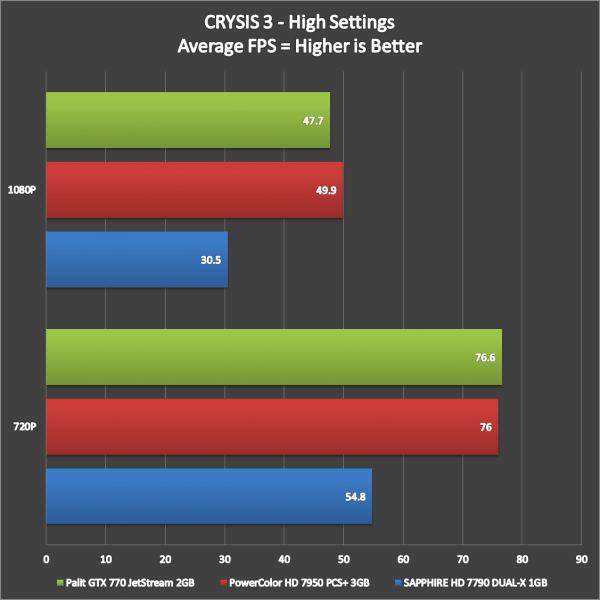 Sleeping Dogs is anopen world action-adventure video game developed by United Front Games in conjunction with, and published by Square Enix for Microsoft Windows, PlayStation 3, and Xbox 360. Sleeping Dogs takes place in Hong Kong and focuses on an undercover operation to infiltrate the Triads.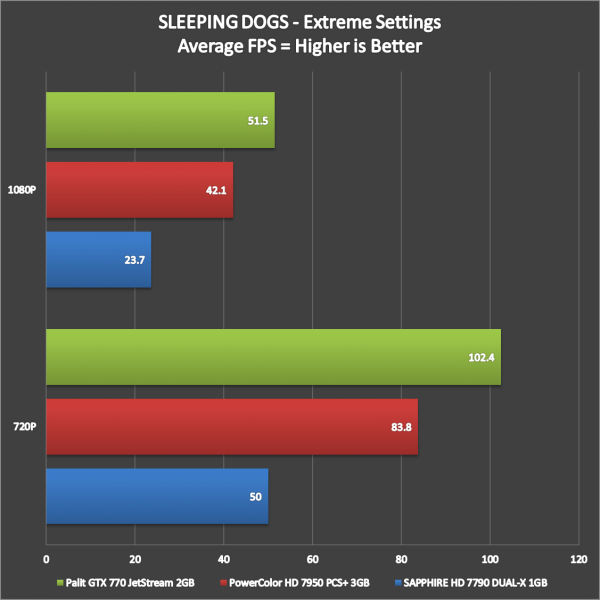 RESULTS: Gaming performance wise, the Palit GTX 770 JetStream never failed to show us great results when it comes to gaming performance. It's the fastest card that we have tested to date, as far as our updated benchmarking practices are concerned. The card didn't performed too well with Crysis 3 though, as seen on its head to head comparison with our HD 7950. Overall the card did great on our gaming benchmarks. Impressive performance.
PERFORMANCE (OVERCLOCKING):
Overclocking a GTX 700 series is no different from the GTX 600, mainly because both series disables core voltage adjustments. This leaves us with only the power limit to play with, along with our core clock, and memory clock friends. With that said, the GTX 770 will probably give us a small margin of adjustment to tinker with. – And we sure did.
The Palit GTX 770 JetStream is already an overclocked card, but we still managed to squeeze more performance out of it. With an additional 25Mhz core clock speed, and 200Mhz of additional memory clock speed, we hit a maximum of 1175Mhz  / 1853Mhz overclock. We also set the Power Limiter to maximum just to make sure that it will be stable for long term use. That's the smallest core clock speed gain that we've got so far with any of the cards that we've tested.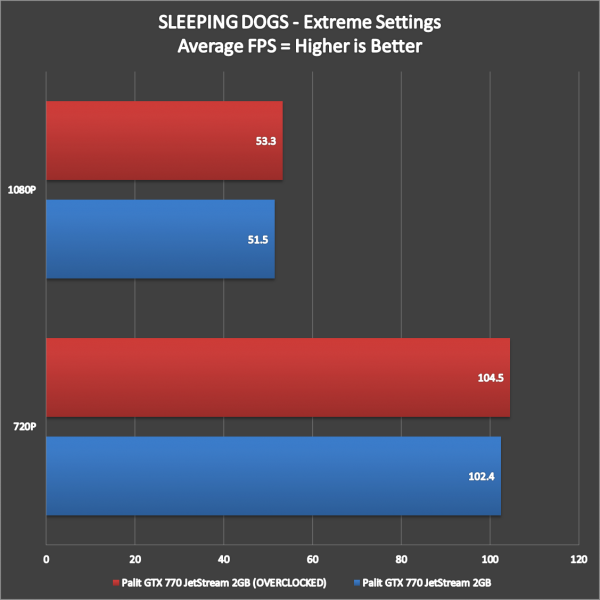 RESULTS: Overclocking the already overclocked Palit GTX 770 JetStream just gave us a small difference in gaming performance, and actually didn't helped the card to perform better, as seen on our not so intensive DirectX9.0 title: Resident Evil 6. You're better off with its factory overclocked settings.
TEMPERATURE/POWER CONSUMPTION:
FurMark is a very intensive OpenGL benchmark that uses fur rendering algorithms to measure the performance of the graphics card. To record the GPU's maximum temperatures, I will run Furmark's Fur Rendering Burn-in Test, and let it run for 30 Minutes. As always, we try to keep the results consistent by keeping the ambient temperature checked at 27ºC. If not then we'll post the results in Delta T instead. We also check to see how GPUs impacts power consumption. The system is left to idle for 30 minutes before readings are taken, and load data is taken 30 minutes while FurMark is running. Power readings are taken for the entire system from the socket.
RESULTS: The Palit GTX 770 JetStream's temperature results were good, with an all time low of 32°C when idled. The load however, reached 77°C which is not bad, considering that the cooling fans keep themselves quiet under full load. Power consumption wise, the card bested our HD 7950 when it comes to idle power consumption, but ridiculously showed 301W of power consumption at full load.
VALUE & CONCLUSION:
The Palit GTX 770 JetStream pretty much showed us what the improved GK104 GPU architechture could do, but is it enough to satisfy us? Yes, since we were impressed with its stellar performance. The presentation along with a very low noise level is a good deal too, as both would make this card a viable solution to those gamers who wants a quiet, and a good looking card for their PCs. Our only gripes about it is the extra power consumption that is just hard to neglect, along with a not so good overclocking potential. As if Palit already overclocked the chip to its limits. Also please do note that this card is a 3 slot behemoth, and that needs to be kept in mind if you're looking forward to purchase this card and pair it with another one. – If you're the rich kid on the block type.
With a street price of around 19,500 Pesos, the Palit GTX 770 JetStream is already pleasing enough for its price, and should be a great upgrade path if you're still gaming below the GK104's territory, or anything that is inferior to its performance. You should be wary though that even with a great factory overclocked performance out of the box, you have to consider its caveats as stated above. Nonetheless, it deserves our performance award.
PROS:
Out of the box performance
Cooling performance
Presentation
Noise levels
CONS:
Overclocking performance
 Triple slot design
Power consumption
Palit GTX 770 JetStream
PERFORMANCE -

8/10

BUILD QUALITY -

8/10

FEATURES -

8/10

AESTHETICS -

7/10

VALUE -

8/10
Summary
With a street price of around 19,500 Pesos, the Palit GTX 770 JetStream is already pleasing enough for its price, and should be a great upgrade path if you're still gaming below the GK104's territory, or anything that is inferior to its performance. You should be wary though that even with a great factory overclocked performance out of the box, you have to consider its caveats as stated above. Nonetheless, it deserves our performance award.