PNY is a brand that has been in the industry for almost 30 years, and their appearance on a certain local tech magazine more than ten years ago is a testament of their company's success. Over the past years, the company has broaden its portfolio – now ranging from graphics cards, consumer storage, to even automotive solutions.
Now what we've got here is the latest SSD offering from PNY – the CS1311 120GB SSD. It is designed as an easy and cost-effective HDD replacement for your existing PC system, without having to sacrifice performance. The CS1311 is available in four variants: The 120GB, 240GB, 480GB, and 960GB. All sharing the same maximum read & write performance specifications at 550 MB/s & 520 MB/s respectively – with the exception of the 120GB variant we got here with only a 510 MB/s maximum write speed. Current retail price is 39 USD. Learn more about it HERE.
PACKAGING AND ACCESSORIES:
PNY had the CS1311 packed in a 3 part packaging – consisting of a thin color box, a harder cardboard box, and an internal plastic shell. It gets the job done so we are not complaining. It's more than enough, really.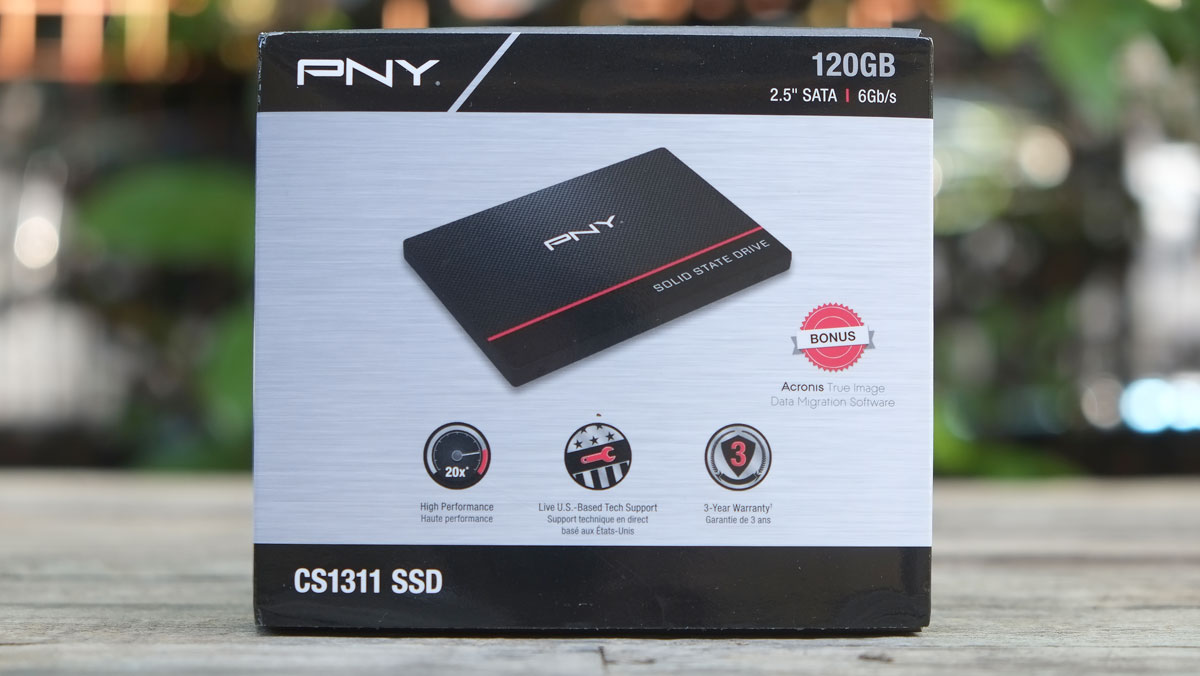 Accessories are pretty basic. You'll get a a guide with an Acronis True Image key inside, a spacer for notebooks with 9.5mm drive bay z-height and that's just it.
THE PNY CS1311 SSD:
PNY had the CS1311 cloaked in an all black casing, with a prominent display of the company logo and an SSD wide carbon fiber themed sticker. It doesn't look bad, and it made the 2.5 inch drive a little more interesting.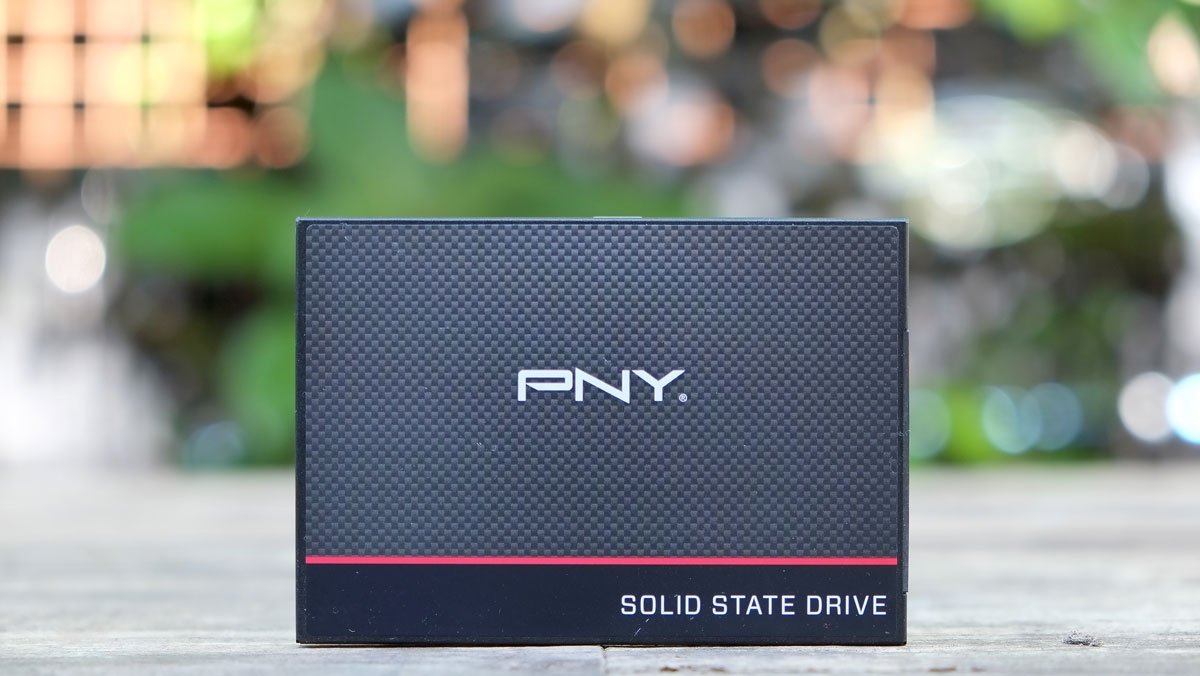 Underneath the CS1311 lies the certifications, and serials of the drive for the end user's documentation. There are also four screw holes located on this area should you wish to mount the SSD on any chassis supporting such mounting holes.
The internals of the PNY CS1311 SSD specifically its PCB, is actually shorter than the 2.5 inch drive cage itself. It is what most lesser capacity SSD looks like in reality, so there's no surprise about this one. A quick glimpse at its exposes PCB tells us that it utilizes the Phison PS3110 which is a quad core touting flash controller. supporting both MLC and TLC NAND flashes. The read and write speeds are up to 550 MB/s by 530 MB/s for sequential performance and 100K/90K for Random IOPS based on this controller's specifications.
The flash memory config is 32GB x 4 with the part number "TT58G5PARA". I've seen this part number before and it's safe to say that the CS1311 is indeed a TLC NAND based SSD. This is a 128GB capacity storage device, with 8GB cleaved off for over provisioning. This one has a 128MB DRAM cache courtesy of NANYA.
TEST SYSTEM & PROCEDURES:
Our storage device reviews revolves around the use of various storage benchmark tools and real world benchmarks. Our setup fills up the test drive to at least 50% of its capacity. This is done so to negate the FOB (Fresh Out the Box) performance of the drive – ensuring that we are testing the drive according to its real world usage. All tests should be done with the drive attached to the native ports found on our motherboard to ensure that the system is on its optimal storage testing state.
The PNY CS1311 SSD comes with approximately 120 Billion Bytes of usable capacity, roughly translating to 111 GB of available space to play with. It supports APM, NCQ, TRIM, and SMART.
TEST SYSTEM SPECIFICATIONS

CPU
INTEL CORE I5 6600K
MOTHERBOARD
ASUS Z170-A
CPU COOLER
NOCTUA NH L12
MEMORY
CRUCIAL BALLISTIX TACTICAL 16GB
GRAPHICS CARD
ASUS GTX 1060 STRIX OC 6GB
INT. STORAGE
PLEXTOR M6E BLACK EDITION 256GB
PSU
CORSAIR RM850X 850W
DISPLAY
27″ DELL U2715H WQHD IPS PANEL
OS

MICROSOFT WINDOWS 10 PRO
SYNTHETIC STORAGE PERFORMANCE:
The ATTO Disk Benchmark is an industry standard storage benchmark tool aimed to measure the maximum theoretical speed of a drive. It is usually the driving metric where storage companies base their drive's specified performance.
Crystal Disk Mark is a storage benchmarking software widely used through the industry. It features four synthetic tests for both read and write.
AS SSD is a well-known synthetic storage benchmarking tool in the industry, offering 6 synthetic tests, and 3 copy performance tests.
AS SSD's copy test should provide us a quick look at how the SSD behaves with certain files and applications. Basically, AS SSD will take two 500 MB files and then copy it to another folder on the same drive, gauging both the storage's read and write speed at the same time.
REAL WORLD STORAGE PERFORMANCE:
Our real world performance test is courtesy of 24 GB uncompressed files consisting of images, PSDs, and various file formats within a single folder. Accompnying it is another file copy test consisting of 12 GB compressed files. The last one will be a mixture of both, pushing the drive to its limits. The files are copied within the drive, and performance is measured by TeraCopy.
PERFORMANCE ANALYSIS & CONCLUSION:
The CS1311 SSD is a decent proposal from PNY, able to break its designated read and write performance ratings. At our ATTO benchmark results for example – the drive achieved a maximum of 565 MB/s read and 516 MB/s write. Similar performance levels has been attained with Crystal Disk Mark.
AS SSD is a little more punishing than Crystal Disk Mark and ATTO, where we could see the drive performing less for both read and write. The PNY CS1311 also showed us a decent amount of performance when it comes to 4K read and write benchmarks – although it's nothing to be proud of especially with its 4K QD32 results. Latency isn't bad either – with a maximum of 0.165 ms read and 0.081 ms write access times. Real world performance is good with just around 3 minutes of time taken to copy a 12GB compressed file, while it took the drive 7 minutes to copy a total of 24GB uncompressed files. It took the drive considerably longer time to copy both (24GB+12GB) test files at 11 minutes.
As a budget SSD, the drive should suit systems that has yet to see the light of day with SSDs. That includes notebooks and gaming PCs with mechanical drives as their primary storage devices. With an included Acronis True Image software, users could easily migrate their data onto the SSD without exerting much effort.
Marketed as a budget consumer SSD, the PNY CS1311 offers the performance of what you should expect from it. It's not a bad drive, and is just good for its manufacturer specified pricing of 39 USD. That's around 2, 000 Pesos at this side of the world and is well suited for the reason why this drive exist.
PNY CS1311 120GB
PERFORMANCE -

8/10

BUILD QUALITY -

7/10

AESTHETICS -

7/10

VALUE -

9/10
Summary
The PNY CS1311 120GB is a basic SSD with a basic price point and a good performance to back it up. It's not the fastest, but it does hold its ground at 44 USD.