Ready to lead in the midrange smartphone segment, realme Philippines introduces the latest addition to its lineup, the realme 3 Pro. Packed with outstanding smartphone essentials such as optimal system performance, superior cameras and long battery life, the #RealGamingPro is a champion designed to elevate the midrange experience.
In order to give the fans and audience a first-hand look and experience of the gaming capabilities of the device, a Mobile Legends tournament was held after the reveal of the realme 3 Pro, making it the first smartphone launch in the Philippines that hosted a mobile gaming tournament.
The realme 3 Pro runs on a powerful Snapdragon 710 processor that can significantly accelerate the performance of AI-based applications and ensure smart power efficiency for a bug-free and optimized smartphone experience. The impressive processor is supported by RAM and storage huge for this price segment — 4GB RAM+64GB storage and 6GB RAM+128GB storage — guaranteed to rev up the device for full gaming speed. To further embody the promise of gaming power and speed, the phone's aesthetic combines a good mix of racing elements and Le Mans track.
Raising the bar even higher for midrange smartphones is the realme 3 Pro's imaging features. The phone has a combination of 16MP+5MP rear shooter camera supported by a Sony IMX 519 image sensors. Its selfie camera supports 25MP. It also packs the two unique camera features of the realme 3 — Chroma Boost mode, which optimizes photos and produces richer color presentation, and the upgraded Super Nightscape, which smartly adjusts the exposure of images taken with extremely dim lighting.
The realme 3 Pro ensures many hours of use with its 4045mAh large-capacity battery, the biggest capacity in its price range. It also carries the brand-new VOOC 3.0 technology with a 20W (5V4A) charging power for efficient power transformation and charging speed.
"We see how mobile gaming continues to gain traction here in the Philippines and want to support the goal of a growing number of Filipinos to become gaming legends. With the realme 3 Pro, we know we have just the right device to help them be the gaming pros that they truly are. The realme 3 Pro is finally here in the Philippines, ready to slay in any battlefield with you with its powerful features that won't cost you diamonds. Be the champs you aspire to be with our #RealGamingPro," shares Jacky Chen, realme Philippines Chief Operating Officer.
Greater gaming power
The realme 3 Pro is supported by a 10nm process-manufactured Snapdragon 710 processor and Kyro eight-core architecture to achieve a clock speed up to 2.22GHz. It is also equipped with an Adreno 616 GPU to guarantee real visual sense and more efficient and advanced 3D image rendering compatible with the latest graphics APIs.
The smartphone is also engineered with the brand new 14-bit Qualcomm Spectra 250 ISP to support still image capture of up to 32MP and video capture up to Ultra HD 4K, along with zero shutter lag, motion compensated temporal filtering and accelerated electronic image stabilization.
The Qualcomm multicolor AI engine in the realme 3 Pro is two times more powerful than previous AI engine. With the Snapdragon X15 modem, mobile applications will be downloaded much faster and the Wi-Fi coverage will get an apparent boost.
The realme 3 Pro boasts a 4045mAh large-capacity battery, allowing users to enjoy many hours of gaming fun without having to worry about running out of juice. Further boosting the phone's power is the brand-new VOOC 3.0 flash technology, which charges the phone to 50 percent in just 30 minutes and 100 percent in 80 minutes. The built-in 10nm silicon reduces the risk of overheating while handling heavy-duty tasks.
Design enhancing gaming and visual experience
Complementing the phone's speed and performance and to offer users better sensory experience, the realme 3 Pro's design features elements from the Le Mans track and racing. It has a light grating effect and an oblique gradient colorway that comes with an irregular S-shaped pattern and unique rhythm as its back cover design.
To give customers a better grip and visual experience, the realme 3 Pro features double waistlines in the middle similar to those in cars to create a sense of rhythm and speed. Its 3D plastic shell makes for a more streamlined and lightweight body but with a better touch.
The #RealGamingPro features a dewdrop design that aligns the front camera and light and distance sensors. It has a 90.8 percent screen-to-body ratio with its 6.3-inch water drop screen top and 1.55-meter-wide bezel, delivering super wide view for even greater visual immersion perfect for slaying enemies in any mobile game.
Camera features for high-grade photography
The realme 3 Pro has 16MP+5MP rear dual cameras supported by Sony IMX 519 image sensors. Its 25MP selfie camera delivers high-quality color presentation, detail restoration and exposure. The camera can recognize 16 independent scenes and 100 scene combinations to automatically select the best exposure strategy for better dynamic range and contrast ratio. The realme 3 Pro further has a 960fps/720P slow-motion video capability for capturing all those wonderful moments.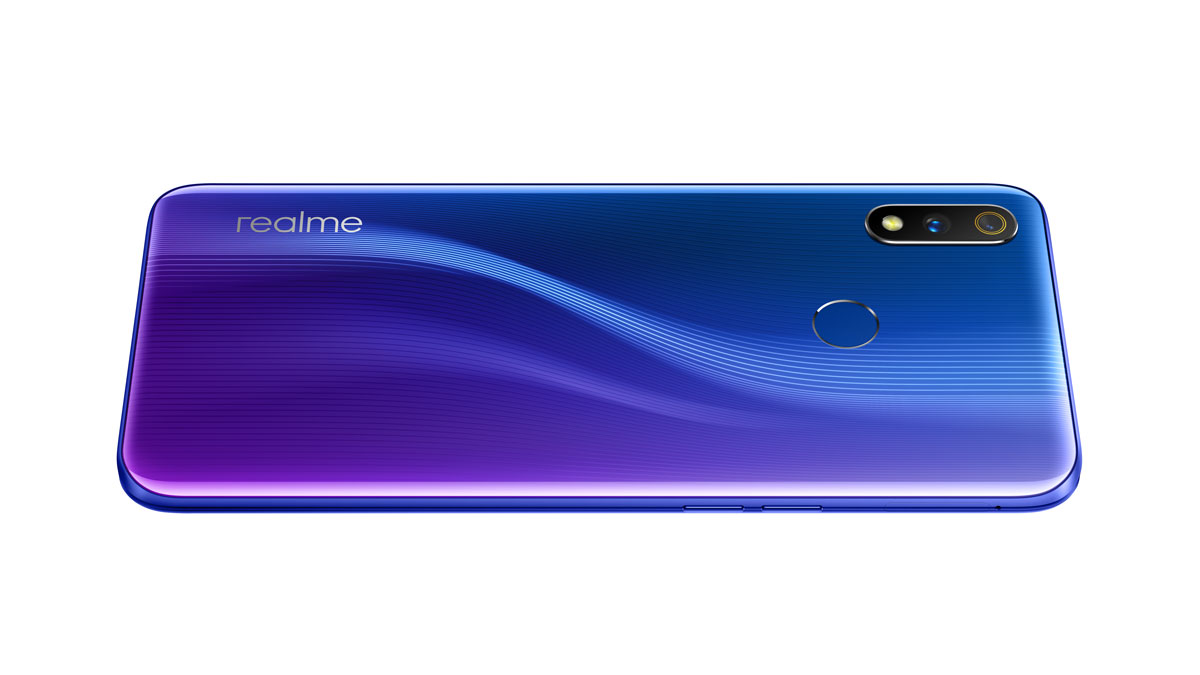 The two unique features found in its predecessor realme 3 have been upgraded in the realme 3 Pro – the Chroma Boost and the Super Nightscape modes. The Chroma Boost feature uses AI technology to identify and optimize scenes and reveal richer details and highlights and shadows. The Super Nightscape mode, superior to other night photography smartphone features, provides definite exposure in extremely dim lighting and keeps noise under control to make photos much clearer.
Intensifying the user's photography game is the Ultra HD mode that produces high-quality photos with high-pixel image sensors through multiframe synthesis technology.
Pricing and availability
Offering real midrange champion value, the realme 3 Pro is available in 4GB+64GB and 6GB+128GB storage variants for Php12,990 and Php14,990, respectively. It will be available exclusively in all realme kiosks and partner stores nationwide such as MemoXpress, PC Express and Fonestyle.
"In response to growing interest in our products and the robust smartphone market, we are diversifying and opening more channels to make the purchasing of realme products more convenient for our customers and users. This is why the realme 3 Pro will be offered exclusively offline for us to promote our kiosks, which are also expanding in number alongside our expansion as a brand," shares Eason de Guzman, realme Philippines Marketing Lead.
The realme 3 Pro is anticipated to set new records as it meets the needs of smartphone users. The #RealGamingPro will be available in three color variants, namely Nitro Blue and Lightning Purple, both of which have an oblique gradient colorway, and Carbon Gray, which comes with an optical coating that increases refraction and reduces reflection.
Pre-ordered realme 3 Pro smartphones can be redeemed beginning May 25. Realme fans can be the first ones to get their own realme 3 Pro through Home Credit's 6-month installment with 0% interest.
To celebrate the gaming champ's arrival in the Philippines, a parade of diamonds is in order. Ranked Mobile Legends Players can score diamonds when they purchase a realme 3 Pro anytime from May 25 to May 26. Grand master rank players get 100 free diamonds, epic rank players get 300 free diamonds, legend rank players get 500 free diamonds and mythic rank players get 1,000 free diamonds.
Customers are encouraged to follow the realme official Facebook, Twitter and Instagram accounts. Purchasers of the realme 3 Pro are also welcome to join the realme community on Facebook to see the latest news and discussions about the brand. Members also get exclusive invites to gatherings, special offers and many more.
PRESS RELEASE