No need for a fancy introduction folks, as what we got here is another cooler from CRYORIG! This time, we're going to check out the CRYORIG C1 Top Flow CPU Cooler directly from the shelves of PCHub. This cooler is directly aimed at the slim form factor loving enthusiasts, with a height of 74mm, and dense array of heat fins connected by 6 heat-pipes for maximum cooling satisfaction.
The CRYORIG C1's features are as unique as its looks. First off, it houses CRYORIG's patented DirectCompress Soldering Technology. Basically, that means each of the 6 heat-pipes has 10% more contact surface than the norm. Along with it comes the U-Type heat-pipe design which is traditionally found on tower coolers, but with a twist of dual stacked fin arrays – a huge one at the top, and a smaller one beneath it. Last but not the least, we've got a CRYORIG XT140 slim fan bundled with the cooler which is on its own retails for around 850 PHP.
TECHNICAL SPECIFICATIONS:
Cooler
Socket Compatibility
Intel LGA 2066, 2011-0, 2011-3, 1156, 1155, 1151, 1150 / AMD AM2, AM3, FM1, AM4
Height
74mm
Width
144.5mm
Depth
140mm
Weight
539g
Heatsink Material
Copper, Nickel, Aluminum
TDP
140W
Fan Compatibility
120mm mount fan
Fan
Model
CRYORIG XT140 PWM
Speed
700-1300RPM
Noise
20-24dBA
Airflow
65CFM
PACKAGING AND ACCESSORIES:
Packaging is where CRYORIG usually hits the spot perfectly and the C1's own is no exception. It definitely looks premium, and is full of graphical representation of the cooler's features. Shelf worthy on its own I must say.
Inside, you'll get a more rewarding amount of accessories and presentation apt for the cooler's price point. You'll never see a presentation like this every time you unbox a PC component. Now as for the bundle, you'll get the Multi-Seg universal mounting kit for Intel and a simple one for the AMD setups. A CRYORIG CP7 TIM, your own L-shaped screw driver, an installation guide, and even a sachet of alcohol pad to clean off your CPU are also included.
DESIGN, LAYOUT AND BUILD QUALITY:
The CRYORIG C1 features a 140mm body with a 4.5mm extension via the additional measurements from the heat-pipes. The top down cooler design revolves around the White frame – which could be easily painted or modified to suite your needs. We've seen the C1 in many colors since its inception back at COMPUTEX 2014 so there's that as a starting point.
With and without the XT140 fan, the C1 stands at 74mm and 61mm respectively. RAM slot clearance is at 42mm, so standard memory kits and even extended ones up to that 42mm restriction will fit perfectly underneath the C1.
The 100% pure copper base plate is definitely not mirror finished, but it is nickel plated. This plating is most likely for function,  providing corrosion resistance, and wear resistance over time.
There are 6 nickel plated heat pipes perfectly distributed at the heat-sinks. These are the U shaped pipes we've introduced earlier, and four of them actually goes into the denser secondary heat-sink assembly for extra cooling performance and rigidity.
CRYORIG had the XT140 PWM fan bundled with the C1 Top Flow, and it's a no brainer why. It's silent, slim enough at 13mm to fit the bill, and has enough performance at 65 CFM to draw in cool air. I wish this one has a higher static pressure but we'll see soon enough how it performs.
CLEARANCE AND INSTALLATION:
The CRYORIG C1 comes with the MultiSeg mounting kit, and that means it's just as easy to install as the H5 Ultimate. There's basically nothing to keep in check here, with the exception of the fan screws that comes in two variants. What you'd want to use is the shorter one for the XT140 fan.
The installation kit comes with an alcohol pad to get that old TIM out of the equation. Applying a new one is a breeze, and installing the brackets are just as easy.
The L-type screw driver is only required to install the cooler on the bracket. With 4 mounting options, you can choose any of those that perfectly fits your kind of build.
TEST SETUP AND METHODOLOGY:
Coolers are far from the hardest components to test, but it doesn't mean they are easy enough to deal with since there are multiple factors to take into account while benchmarking. Factors includes the ambient noise, ambient temperature, the enclosure, and the test system's overall configuration.
TEST SYSTEM SPECIFICATIONS
PROCESSOR
Intel Core i5-6600K
MOTHERBOARD
ASUS Z170-A
CPU COOLER
Cryorig C1 Top Flow
MEMORY KIT
Crucial Ballistix Tactical @ 2666MHz 4x4GB Kit
GRAPHICS CARD
ASUS GTX 1060 STRIX OC 6GB
INTERNAL STORAGE 
Crucial BX200 480GB
POWER SUPPLY
CORSAIR RM850X 850W
DISPLAY
27″ DELL U2715H + LG 43UF680T 4K UHD TV
OPERATING SYSTEM
Microsoft Windows 10 Pro
The AIDA64 Extreme Edition System Stability Test is used to stress our Intel Core i5 6600K. The CPU, FPU, Cache and Memory are selected at the options. AIDA64 has been chosen due to its inclusion of AVX, AVX2 and FMA – 3 important instructions that will help us push our CPU to its limits.
Ambient Temperature – 27°C (±1°C)
Ambient Sound Level – 34dBA (±1dBA)
Stock Profile – 3.9GHz (1.088v)
Overclocked Profile – 4.4GHz (1.248v)
NOISE LEVEL:
Noise levels are tested on a variety of fan duty cycle settings available thru our motherboard. To measure the levels, a sound level meter is secured on a tripod with a foot of distance away from the cooler.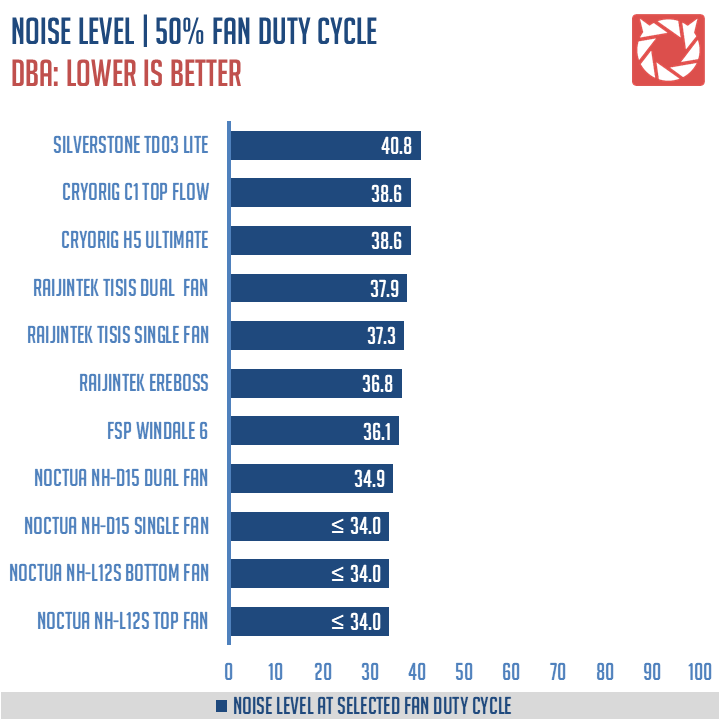 The CRYORIG C1 Top Flow is good enough to meet our  acoustic standards. It's up there with the other coolers both at 50% and 100% fan duty cycles.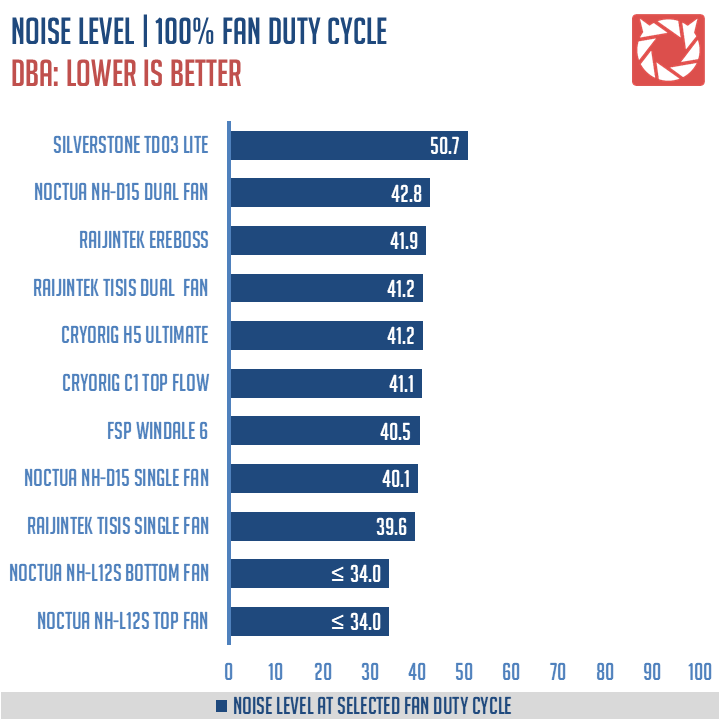 TEMPERATURE:
Temperatures are tested with attainable CPU clock speed configurations that should resemble common systems. To measure the cooler's capabilities, the CPU temperature is logged with HWiNFO64 and is cross referenced with AIDA64.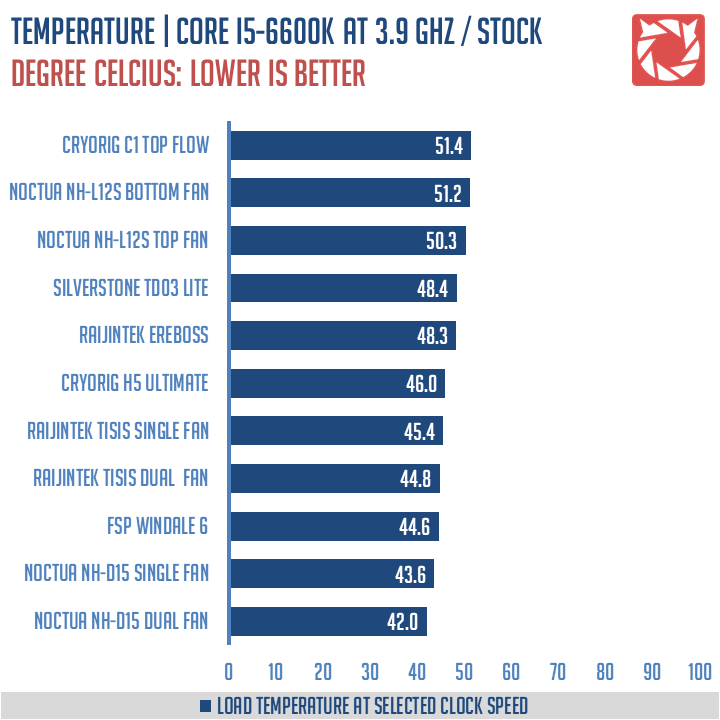 The CRYORIG C1 Top Flow is good enough so far on our tests; delivering decent marks on our stock and overclocked settings at full load.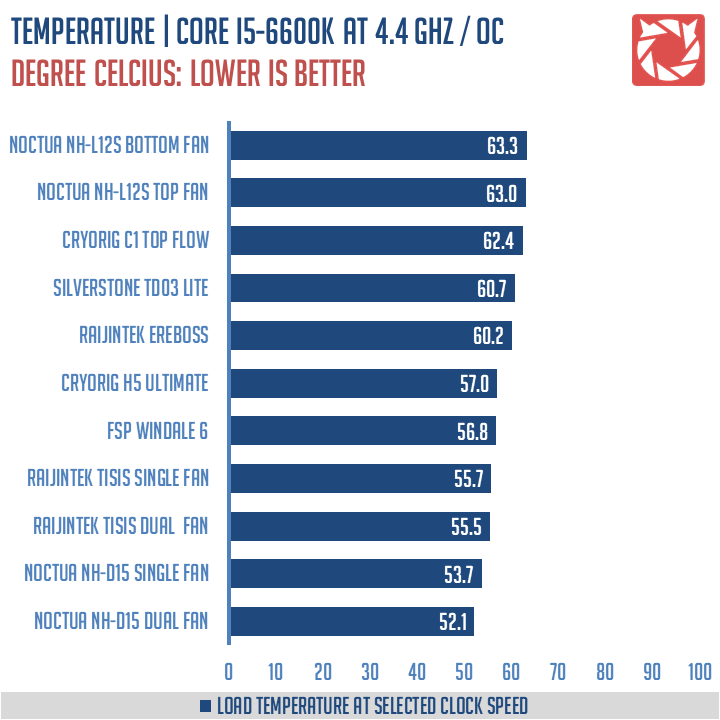 FINAL THOUGHTS:
The CRYORIG C1 is an interesting specimen featuring a well thought out design for slim form factor environments. We often see brands achieving the same feat, but at the cost of a slightly lower performance. With CRYORIG and the C1 Top Flow's design, performance is still comparable to the tower coolers – with added benefits to cool off the surrounding components due to the nature of its design.
Aesthetics and build quality are top notch and I can easily say it is at the same ball park where NOCTUA currently strides at. Take it as a compliment, especially when there's only a few on the list. Presentation is also superb – with a bundle of useful accessories at your disposal. At these areas, there's hardly anything to complain.
Installation is also an aspect of CRYORIG's design that I applaud the most. The MultiSeg mounting kit is just easy to work with, not really requiring extra effort at the user's end. After sales is yet to be tested, but that 3 year warranty topped off with another 3 year warranty should you register the product is a value added extra. That's 6 years of total warranty for a cooler if you hate simple math.
Now 3, 530 PHP seems a little over the top for this cooler, especially if that's just a few bucks close to CRYORIG's own R1 Ultimate and Universal. With that in mind, do not forget that this cooler is aimed at the slim form factor market without compromising performance. A niche segment where performance and compatibility are paramount, I must say.
Overall, we felt that the CRYORIG C1 Top Flow deserves a praise for its overall value as a slim performance oriented SFF cooler. It might be catered specifically for smaller systems, but do not make fun of its slim design. A high performance oriented cooler with a size to match.
PERFORMANCE
AESTHETICS
PRESENTATION
INSTALLATION
WARRANTY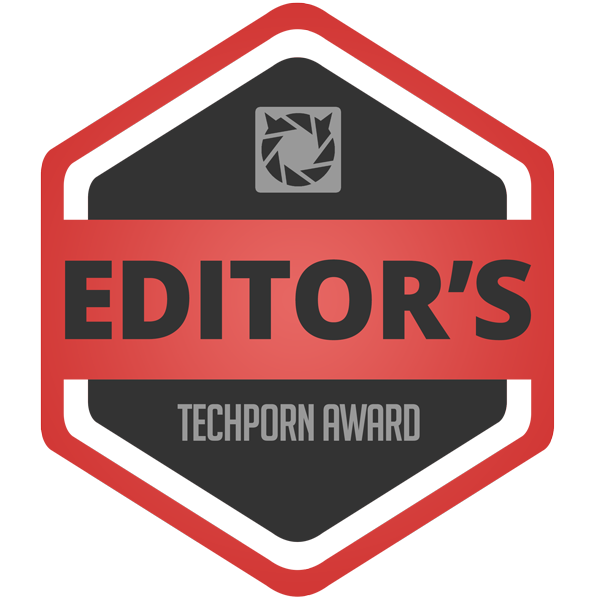 CRYORIG C1 Top Flow CPU Cooler
PERFORMANCE -

9/10

BUILD QUALITY -

9/10

FEATURES -

9/10

AESTHETICS -

8/10

VALUE -

9/10
Summary
Overall, we felt that the CRYORIG C1 Top Flow deserves a praise for its overall value as a slim performance oriented SFF cooler. It might be catered specifically for smaller systems, but do not make fun of its slim design. A high performance oriented cooler with a size to match.