We are taking an in-depth review at the OMEGA Sapphire RGB Designer Case. It is the second OMEGA branded case we have tested, retailing at around 4000 Pesos. Just a thousand less compared to the OMEGA X6 TITAN.
The OMEGA Sapphire RGB has a lot going on for its mid tower stature. For an instance, this is the first case I've seen with bundled PSU cable kits; and a sleeved one at that. The Sapphire also comes with a NOVA fan and a RGB LED strip on top of its tempered glass design. A pretty good bundle of features right off the bat I must say.
TECHNICAL SPECIFICATIONS:
OMEGA SAPPHIRE RGB DESIGNER CASE

Dimensions
198 x 450 x 452 mm
Net Weight
5kg
M/B Type
ATX, mATX, Mini-ITX
5.25″ Drive Bays
1
3.5″ Drive Bays
2
2.5″ Drive Bays
3 (+2)
I/O Panel
1x USB 3.0, 1x USB 2.0, Audio In + Out
Expansion Slots
7
Cooling Support
Front
3x 120 mm
Rear
1x 120 mm (120 mm OMEGA NOVA RGB Fan Included)
Top
1x 120 mm
Radiator Support
Front
120 mm, 240 mm
Rear
120mm
Top
120 mm
Miscellaneous
Sleeved PSU Extensions (24 Pin, 4+4 Pin EPS, 8 Pin)
Power Supply
Bottom Mount, ATX PS2 (230 mm)
Compatibility (Maximum)
VGA
370 mm
CPU
159 mm
PACKAGING AND ACCESSORIES:
Pardon us for not showing the packaging, so just imagine a simple environmental friendly box. That out of the way, what we've got are bountiful. We have sleeved kits of dual 8-pins and dual 6-pins for the GPU; Plus, a 24-pin cable and a 4+4-pin cable for the motherboard and CPU power. These are basically majority of the cable from the PCHub Sleeved PSU Extension Kit we reviewed. Easily a 1500 Peso value bundled right here.
Rest of the accessories are not shabby too. We have a remote (with battery) for the fan and LED controller, an RGB LED strip a cloth to clean the glasses and zip ties. Let us not forget the usual accessories too.
CASE EXTERNALS:
The OMEGA Sapphire is an interesting combination of steel, glass and plastic. It is though without a doubt, a mid tower chassis with a not so heavy 5kg footprint. Its front glass is less translucent, while side is more transparent to showcase your build and that accented PSU shroud.
The OMEGA Sapphire features removable PCI slot covers with a 120mm OMEGA Nova RGB fan inside. PSU is located at the bottom and it clearly shows that the case is made in China. In other news, water is wet.
The front panel IO is clean yet features a good amount of connectivity options. We have a dual USB 2.0 ports here next to a single USB 3.0 ports; while audio in and out are next to them. They are covered in rubber plugs to keep the dust away. Power and reset buttons are situated at the top.
The other side of the case is not as pretty as the showcase area with a bulging side panel design. Can't complain that much since back panel area is not as roomy as I expected.
Material thickness is kinda what you should expect from a normal ATX chassis beyond a thousand pesos but construction isn't that bad so this will definitely pass my book as far as quality goes.
CASE INTERNALS:
The OMEGA Sapphire supports motherboards up to the ATX form factor. The main area is roomy and clean enough to build without prejudice. Though, I expected grommets are in place.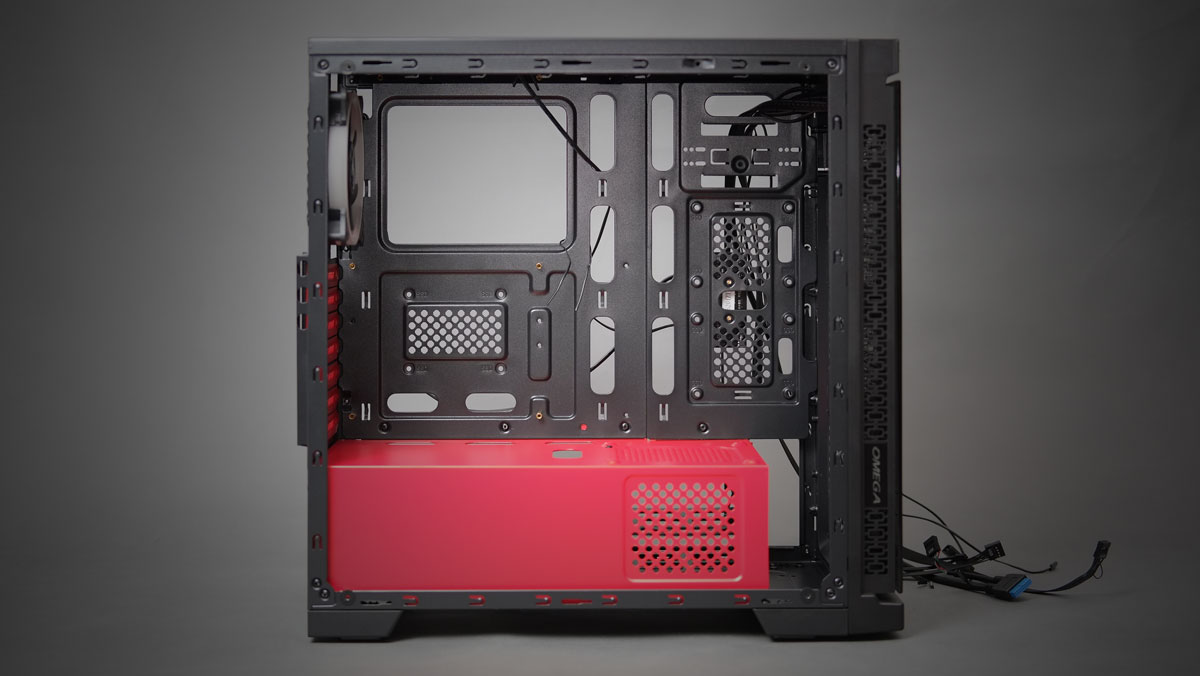 The front supports 3x 120mm fans while the area next to it could house a reservoir or dual 2.5 inch SSDs. There is an option to put a 5.25″ bay here but you can't really use it as in ODD bay.
The back is just as clean as a the main compartment. We could see the vertical 2.5″ drive bays here together with the pair of tool free 3.5″ bays while the fan controller is nicely mounted at the top left side of the tray.
The motherboard tray side has an ample clearance for a cooler's cutout. Area is not that roomy though with just a fourth of an inch of play space for the fan and cables.
The other side of the case shows off the hidden storage area and the PSU bay along with the additional 2.5 inch bay. It isn't roomy I have to say, so the side panel's not so pretty bulge is welcome to stay.
The fan and LED controller is powered by a 4-pin Molex. It has 8 RGB fan headers and dual LED strip headers. As far as lighting and cooling goes, you are covered. Best buy an OMEGA Halo or Nova RGB though keep things looking sharp and organized.
With the exception of the grommet-less design, back panel and top panel clearance, the case is rather good to go.
ASSEMBLY AND FINISHED BUILD:
The OMEGA Sapphire RGB is a pleasing and rather easy case to build with. It's roomy, looks clean with those included sleeves and clearance for most part is not an issue. For most, since there are areas where it slightly went down.
While the inclusion of the RGB LED strip and the Nova fan are excellent, the small clearance at the top of the case is a bit disappointing. Yes, you could still route cables there but make sure to plan it before inserting the motherboard. In our case, we had the 4+4-pin cable routed at the main cable management holes.
The back isn't the cleanest we've done but it's a good job nonetheless. This case works best with modular PSUs as seen below. While you can insert an extended PSU here, I advice going with standard PSUs. I've had my Corsair RM850X wiggled in tightly and the drive cage is just stressing its cables.
Overall, I still like our build with the Sapphire RGB. Issues are there but they aren't that huge to omit the case's strong points.
FINAL THOUGHTS:
The OMEGA Sapphire RGB is a well-rounded case for about 4000 Pesos. This is a feature rich case with sleeved PSU cables that actually retails for about 1500 Pesos on their own. The inclusion of the Nova RGB fan and an RGB LED strip also enables the tempered glass case to provide a satisfying showcase of your build.
As far as looks goes, OMEGA is capitalizing on a simple yet elegant looking design which is definitely the same approach they did with the X6 Titan. The OMEGA X6 Titan though has thicker panels which the Sapphire lacks. This one lacks rubber grommets too which is a shame. Clearance is also one of the issue we faced with the case, but seasoned system builders should be able to easily overcome these challenges.
The OMEGA Sapphire RGB is a case built for those who considered aesthetics and performance into one solution. At 4000 Pesos, it's hard to find something of similar value with the aforementioned features. Easily one of the best value oriented case you could get this side of 2017.
ELEGANT TEMPERED GLASS DESIGN
GOOD THERMALS AND NOISE
RGB LED STRIP + RGB NOVA FAN
SLEEVED PSU CABLE KIT
GOOD BUILD QUALITY
FAN / LED CONTROLLER

SMALL CLEARANCE ISSUES
THIN STEEL PANELS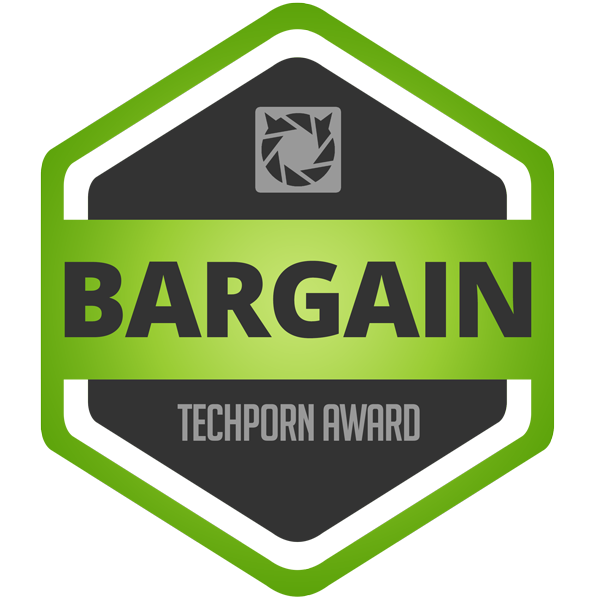 OMEGA Sapphire RGB Tempered Glass Case Review
PERFORMANCE -

8/10

BUILD QUALITY -

7/10

FEATURES -

8/10

AESTHETICS -

8/10

VALUE -

8/10
Summary
The OMEGA Sapphire RGB is a case built for those who considered aesthetics and performance into one solution. At 4000 Pesos, it's hard to find something of similar value with the aforementioned features. Easily one of the best value oriented case you could get this side of 2017.