With the Tisis already tested and analyzed, the Raijintek Ereboss follows up our review for the company's top-end tower coolers. This might not be a dual tower by any means but it is still a top-end CPU cooler with a huge dissipation area and a good thermal resistance value to boot.
The Ereboss is by no means your standard cooling solution. It is a huge block of aluminum fins with unique features and a slim fan to go with it. This cooler has been around since 2013 and with that said, this living fossil is begging to be tested with the current PC components at our disposal. Is it still a good cooler? We shall find out!
TECHNICAL SPECIFICATIONS:
Cooler
Socket Compatibility
Intel LGA 2066, 2011-0, 2011-3, 1156, 1155, 1151, 1150 / AMD AM2, AM3, FM1, AM4
Height
140mm
Width
110mm
Depth
160mm
Weight
808g
Heatsink Material
Copper, Nickel, Aluminum
TDP
NA
Fan Compatibility
2x 140mm mount fans
Fan
Model
Aeolus α 140mm
Speed
650-1400RPM
Noise
28dBA
Airflow
44-57CFM
PACKAGING AND ACCESSORIES:
The Raijintek Ereboss comes in a compact packaging with its specifications, and features laid out pretty well across all the visible surfaces. I say Raijintek is not wasting any available areas to showcase this cooler's features.
Inside, you'll get a rewarding amount of accessories to utilize. There are steel mounting kits for both Intel and AMD, plus a variety of extras. That includes a screw driver, a sachet of TIM, and a variety of fan mounting kits. There's a lot of small pieces at the Raijintek Ereboss' loot box so care is definitely required when handling the accessories.
Raijintek included the Aeolus α 140mm fans with the EREBOSS. This is a sleeve bearing fan rated to output 650-1400 RPM, with a 28dBA noise level at maximum load. The fan also features a 0.76~1.24 mmH2O air pressure level, with a corresponding 44.43-56.55 CFM of Air Flow. This is a 13mm slim PWM fan. Possibly the slimmest during its time.
DESIGN, LAYOUT AND BUILD QUALITY:
The Raijintek Ereboss is one huge cooler, towering at 160mm with a width of 140mm. It's just a little shorter than – but still just as wide as the Tisis. Weight is just around 800 grams so it is within the medium weight mark. You can stack 2 fans via the provided rubber inserts, but you can also install them on the slimmer 110mm side via the metal brackets.
The Ereboss is no symmetrical cooler when it comes to design much like the TISIS. The aluminum fins counts to 33 pieces, with around ~0.4mm of space between them. Assembly is made solder-free so I'm curious on how this will perform compared to other soldered solutions.
The Raijintek Ereboss' base plate is not mirror finished but it is nickel plated copper base to start with. This plating will provide corrosion resistance, and wear resistance over time compared to bare copper plates. 32 out of the 33 fins features a number of triangular perforations that should aid cooling. Notice that the base plate is not really at the center of the cooler's mass. That should help the Ereboss to feature better compatibility with memory slots.
The cooler features Six, 6mm diameter heat-pipes. They are configured in a crisscross pattern and that again should aid cooling. Looks quite good too.
CLEARANCE AND INSTALLATION:
Installing the Tisis is tedious, and the Raijintek Ereboss is no different. First off, trying to put this thing together inside a case is a huge no-no, as with any other massive tower coolers out here. There's a lot of small items to take care of, and chances are – one mistake could snowball you into frustration.
The mounting kit is the same with the other RAIJINTEK offerings, thus requiring you to lock the back plate using the plastic fasteners / washers once in place. The back pl;ate will simply fall off easily without these.
The back plate and the brackets for the LGA sockets doesn't feature leads to guide you where to specifically align the screws. That said, you are required to check the positioning of the brackets before slapping in the cooler.
Finished build looks nice and massive even on a full size ATX motherboard.
Now as for compatibility, this cooler should be compatible with expansion cards situated at the first slot of the board. This means that if your board features a top slot mounted graphics card, there wont be any issue – unless your card has a thick back plate installed. Now as for the memory, this will eat up the first slot with the fan attached, so you have to install the fan at the back (push or pull), or have a standard memory kit installed instead of taller none standard ones.
TEST SETUP AND METHODOLOGY:
Coolers are far from the hardest components to test, but it doesn't mean they are easy enough to deal with since there are multiple factors to take into account while benchmarking. Factors includes the ambient noise, ambient temperature, the enclosure, and the test system's overall configuration.
TEST SYSTEM SPECIFICATIONS
PROCESSOR
Intel Core i5-6600K
MOTHERBOARD
ASUS Z170-A
CPU COOLER
Cryorig C1 Top Flow
MEMORY KIT
Crucial Ballistix Tactical @ 2666MHz 4x4GB Kit
GRAPHICS CARD
ASUS GTX 1060 STRIX OC 6GB
INTERNAL STORAGE 
Crucial BX200 480GB
POWER SUPPLY
CORSAIR RM850X 850W
DISPLAY
27″ DELL U2715H + LG 43UF680T 4K UHD TV
OPERATING SYSTEM
Microsoft Windows 10 Pro
The AIDA64 Extreme Edition System Stability Test is used to stress our Intel Core i5 6600K. The CPU, FPU, Cache and Memory are selected at the options. AIDA64 has been chosen due to its inclusion of AVX, AVX2 and FMA – 3 important instructions that will help us push our CPU to its limits.
Ambient Temperature – 27°C (±1°C)
Ambient Sound Level – 34dBA (±1dBA)
Stock Profile – 3.9GHz (1.088v)
Overclocked Profile – 4.4GHz (1.248v)
NOISE LEVEL:
Noise levels are tested on a variety of fan duty cycle settings available thru our motherboard. To measure the levels, a sound level meter is secured on a tripod with a foot of distance away from the cooler.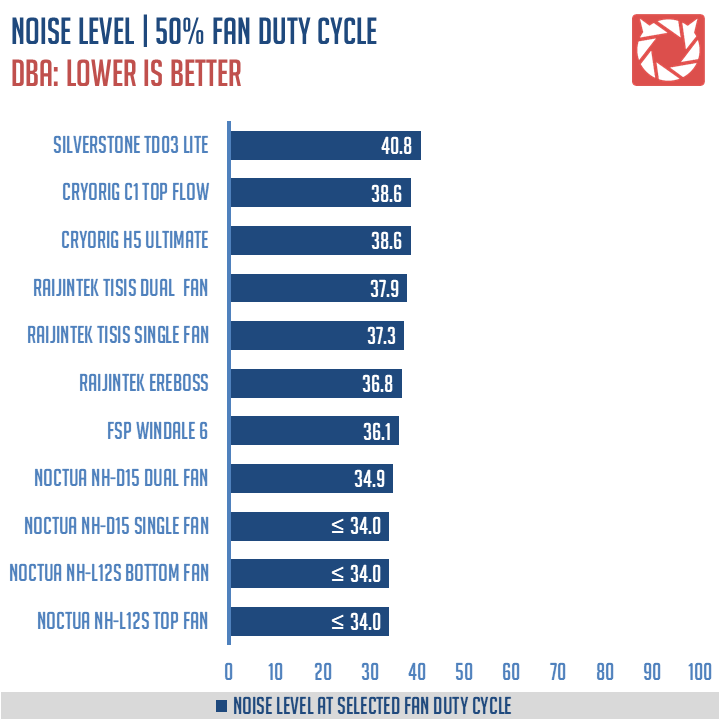 The Raijintek Ereboss is silent enough to meet our standards. It's up there with the other coolers at 100%, while it is the quietest among its peers at 50% fan duty cycle.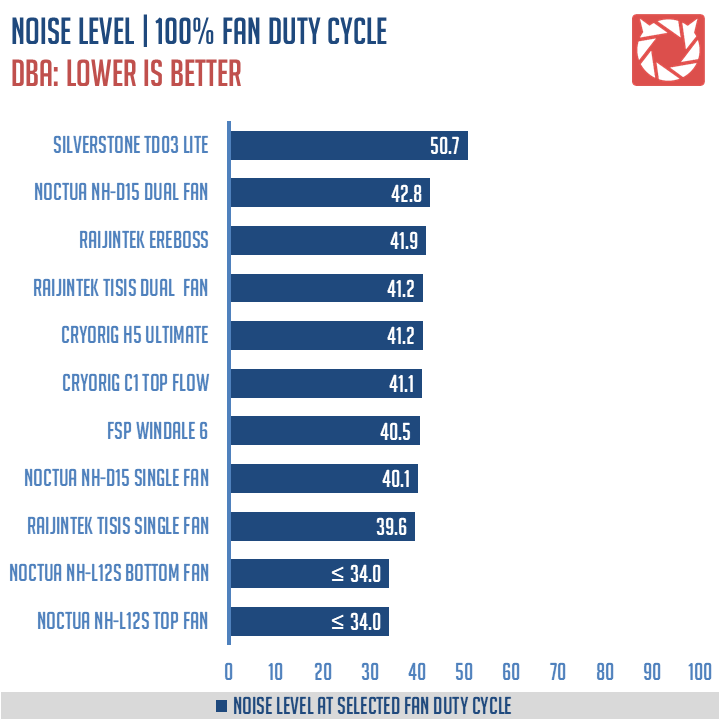 TEMPERATURE:
Temperatures are tested with attainable CPU clock speed configurations that should resemble common systems. To measure the cooler's capabilities, the CPU temperature is logged with HWiNFO64 and is cross referenced with AIDA64.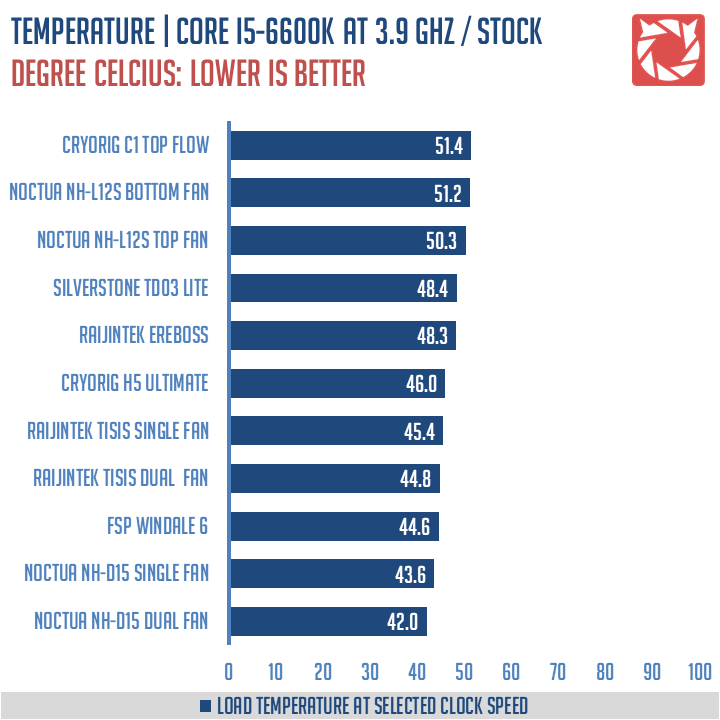 The Raijintek Ereboss is not exactly at the front of the pack but its performance is great enough to warrant its price.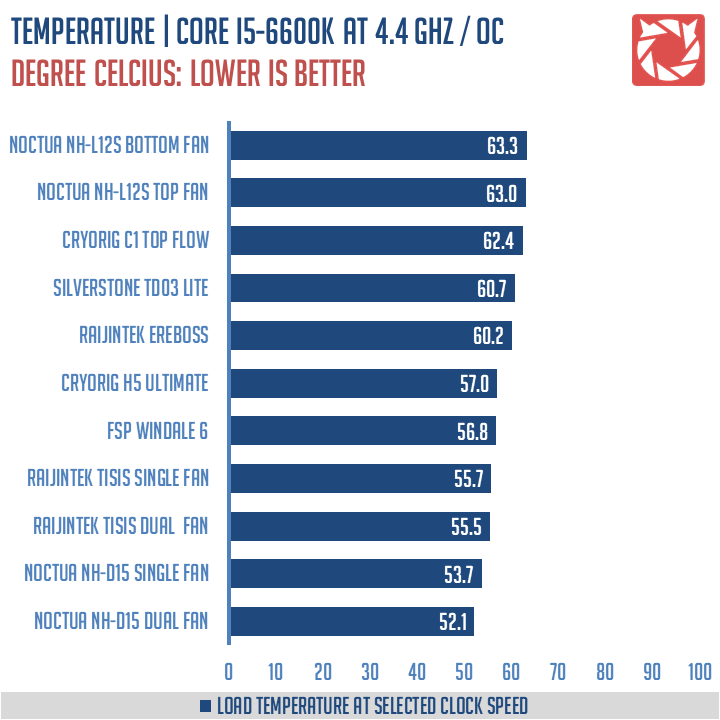 FINAL THOUGHTS:
The Raijintek Ereboss is an interesting CPU cooler, featuring a massive 140mm stack of aluminum fins with extra features added into the mix. Aesthetics and build quality are great, although I must say that the TISIS is a tad better on both fronts. Installation is similar to the TISIS, with the same mounting kit so you should expect a more tedious installation process compared to the other coolers. RAIJINTEK really have to update their mounting kits for a better end-user experience.
Cooling performance is at the lower end of the chart, and perhaps we've expected too much from this old fellow. It's at the back of the pack compared to the other solutions we've tested but performance figures aren't actually that far off from the competition so there's that. As for noise output, the Aeolus 140mm is actually pretty decent, with a maximum of 41.9 dBA at full load.
Now as for the pricing, most online retail stores are asking around 43 – 50 USD for this cooler. Depending on where you're looking at, that's almost 30 bucks less than the Raijintek Tisis. It's a good value for money if all you require is a capable cooler. But, if space and stellar compatibility are your main concerns, look elsewhere – or just get the Tisis.
Overall, the Raijintek Ereboss is a good cooler with a matching price-point. It's actually a dated piece of engineering going way back the year 2013, but it is still a capable one up to this day. It is Raijintek's living legacy, and there's no reason to take it off the shelves any time soon.
THERMALS
ACOUSTICS
BUILD QUALITY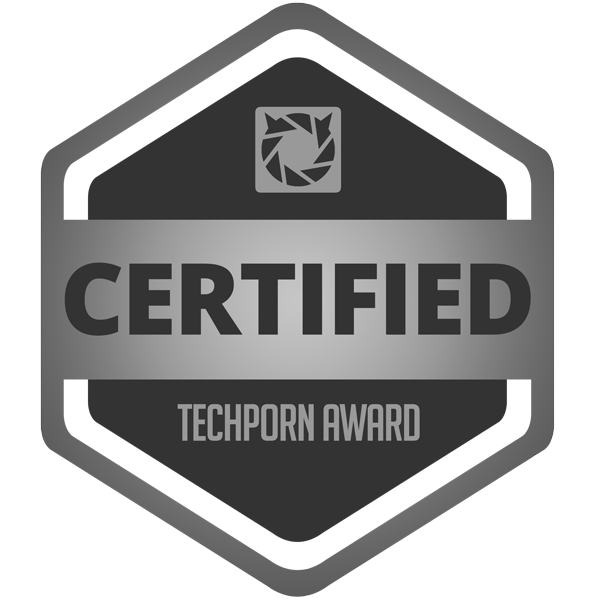 Raijintek Ereboss CPU Cooler
PERFORMANCE -

8/10

BUILD QUALITY -

8/10

AESTHETICS -

7/10

FEATURES -

7/10

VALUE -

7/10
Summary
Overall, the Raijintek Ereboss is a good cooler with a matching price-point. It's actually a dated piece of engineering going way back the year 2013, but it is still a capable one up to this day. It is RAIJINTEK's living legacy, and there's no reason to take it off the shelves any time soon.