The Thermaltake Level 20 RGB is one of the most interesting mechanical keyboards at Computex 2019. It is just an eye candy on the already congested gaming landscape.

Fast forward to this day, we've now got one sample to play with in the form of the Razer Green variant. This is technically my first review of a keyboard with Razer switches inside. Suffice to say, I am curious as to what this iteration has to offer.
Technical Specifications
Keyboard
Size
Full size, Extended
Layout
104 Key
Design
Frameless
Macro
Yes
Profile
Yes
Software
Yes
Interface
USB 2.0
Polling Rate
1000Hz
Lighting
Yes, RGB
Wrist Rest
NA
Pass-through
Yes
Cable Management
NA
Multimedia Keys
Yes
Cable Length
1.8 meters
Switch
Type
Razer Green
Actuation
1.9 mm
Travel
3.7 mm
Lifespan
80 million
Dimensions
Length
482 mm
Width
186 mm
Height
44 mm
Weight
1500 grams
Packaging and Accessories
The Thermaltake Level 20 RGB comes packed inside a huge and well-padded packaging. The product should come with the following items inside:
11x red keycaps
Keycap puller
Warranty guide
Quick installation guide
Design, Layout and Build Quality
The Thermaltake Level 20 RGB is a huge mechnanical keyboard and with a weight to match at 1500 grams. This is also one of the prettiest keyboards I've seen to date this year personally speaking, which is a far cry from the good old TteSports models we've reviewed so far.
The back end of the Level 20 RGB is kinda bland but we've got enough rubber padding here to keep the already heavy keyboard from sliding. The plastic used on this side could be a little better though.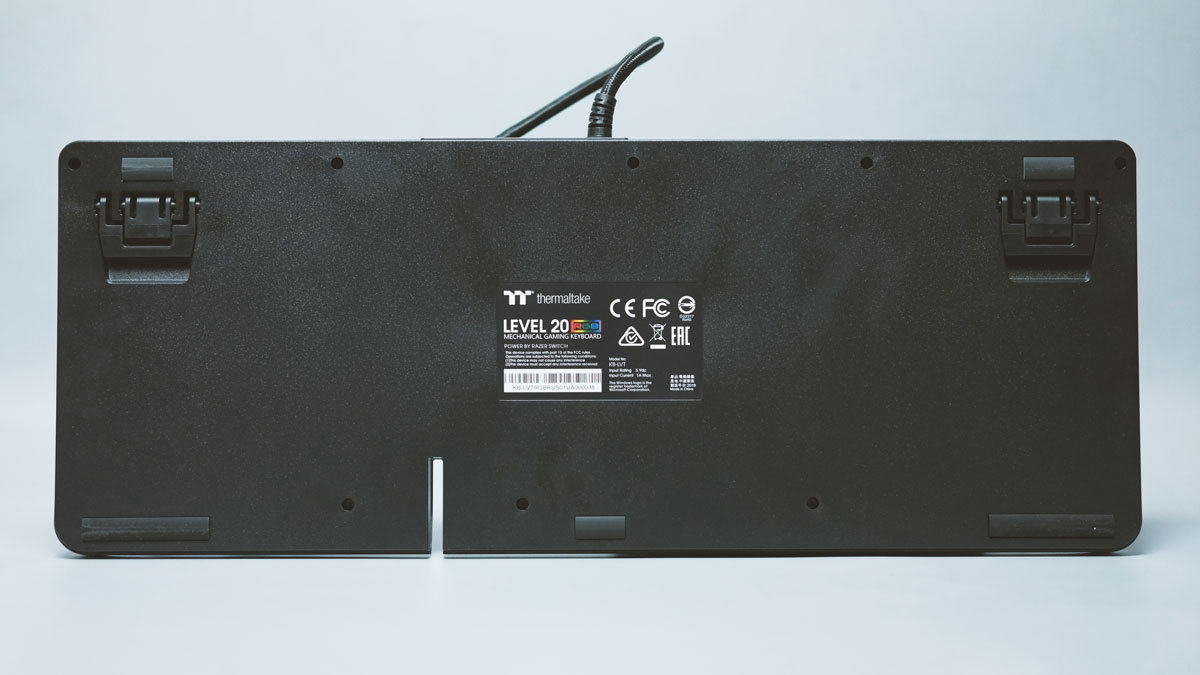 Design is definitely frameless and the light bar surrounding the keyboard made the already good view a spectacle when the lights are turned on. We also appreciated Thermaltake's decision to design a more recessed slope at the bottom.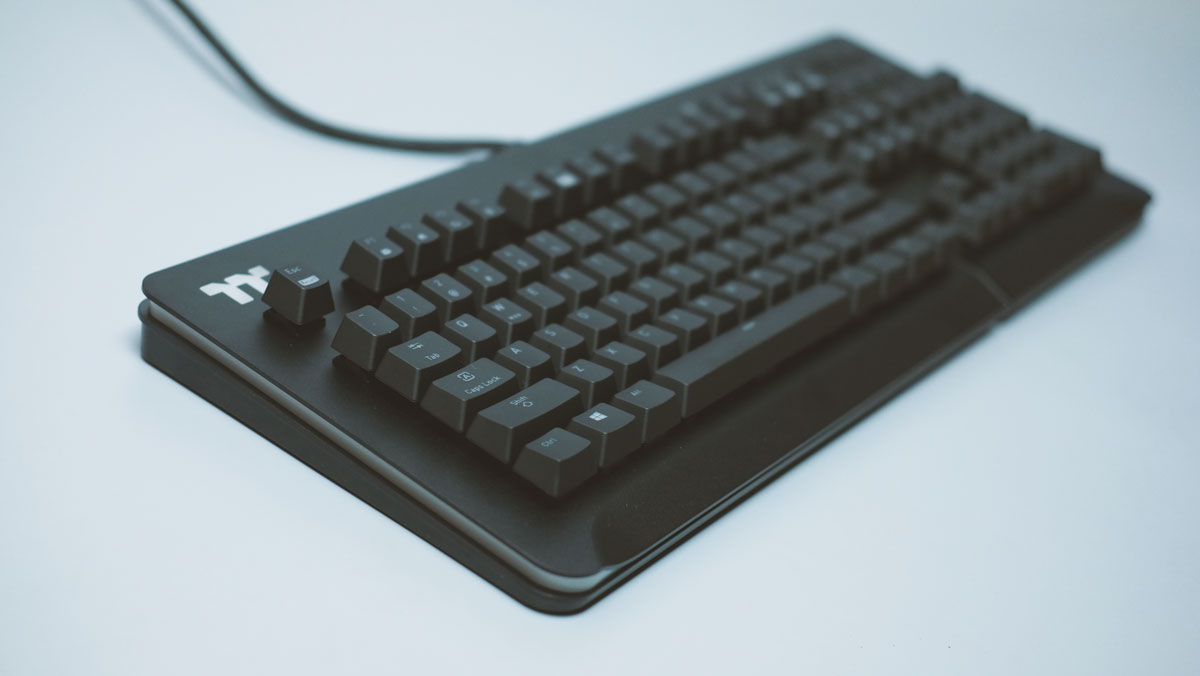 Now connectivity is provided by a thick braided cable. Reason being is to shield the keyboard's own data cable, the pass-through's data cable and the audio. I'm a sucker for easy to manage kink free cables but I get where Thermaltake is coming from with this design decision.
Test Setup and Methodology
Testing a keyboard is not that difficult, but it is mostly subjective; similar to testing head gears in a sense. That said, no keyboard is perfect and the verdict usually depends on personal preferences. With that in mind our methodology is overhauled to follow the key pointers that should matter the most. That includes how good the switches are, the quality of keycap and its profile plus the comfort.
Test Setup
Games
Overwatch, Battlefield 4, DOTA 2
Repeat Rate
Shortest
Repeat Delay
Fastest
Polling Rate
1000Hz, If possible
Software
EliteKeyboards Switch Hitter
Physical Layout, Functionality and Ergonomics
Keyboards are generally categorized in 4 standard sizes or layouts: Full Size, TKL, Compact 75% and 60% layouts. These standard layouts had drastic effects on the functionality and ergonomics of the keyboard. Generally, compact layouts allows for better ergonomics; whereas full layouts offers 100% functionality.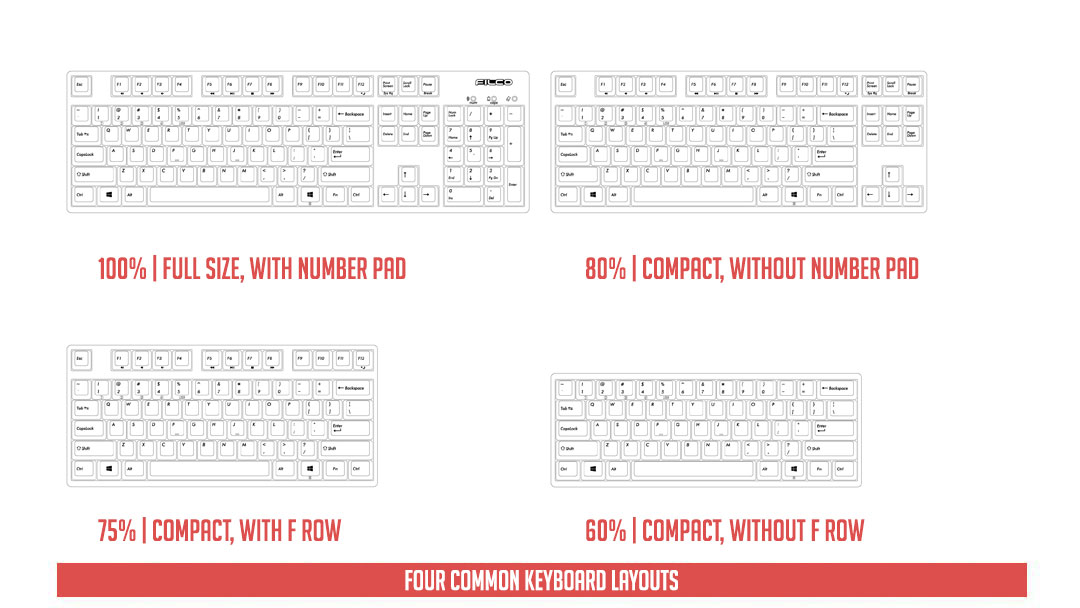 The guys at Thermaltake went extended with the Level 20 RGB. It is extended everywhere, even at both the left and right side. In spite of this, the keyboard remained relatively comfortable due to the recessed lower part of the keyboard. Still, a proper desk space is required for its footprint.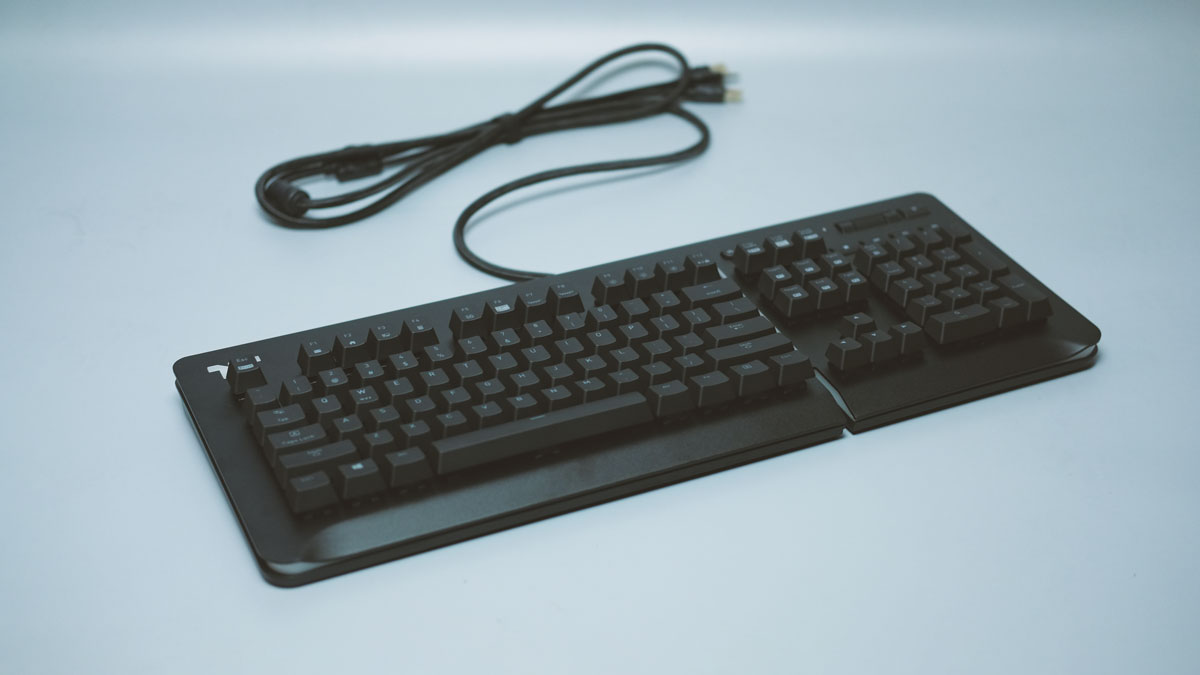 Extra keyboard functions are your usual deal with most of them located at the upper rows.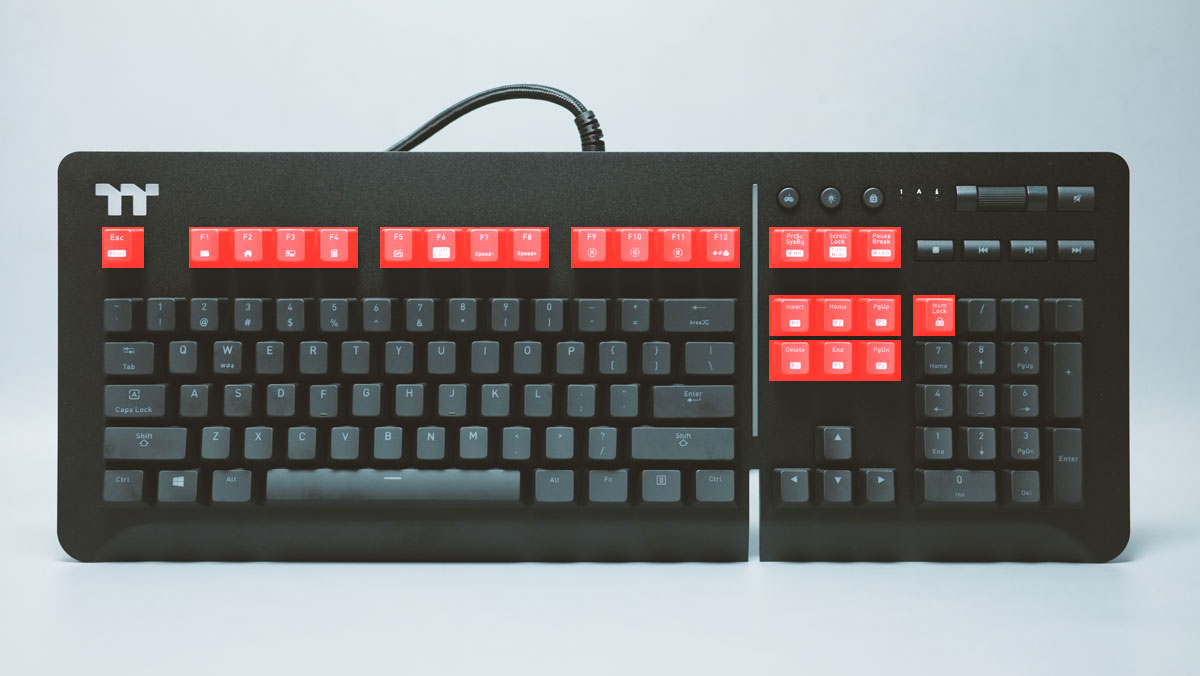 Listed below are the most common key combinations:
Keycap Profile, Printing and Material
The keycap profile is often overlooked when it comes to keyboards. It shouldn't be, considering that the profile usually makes or breaks a portion of keyboard's ergonomic and feel. The DCS family is the most common one here, with Cherry and OEM profile slotted beneath it. On the other hand, profiles such as the DSA and SA profiles are mostly found on higher end mechanical keyboards.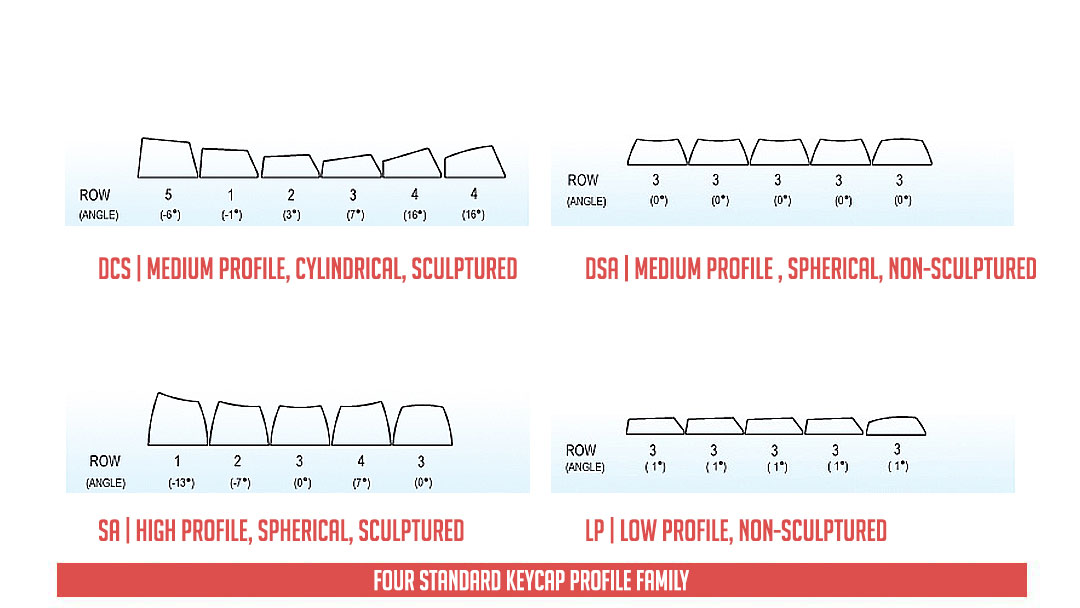 Keycap printing method is also an important aspect we should look into. Pad printing is the most common one here, while dye sublimation and double shot injection being the more premium ones due to their printing quality and durability.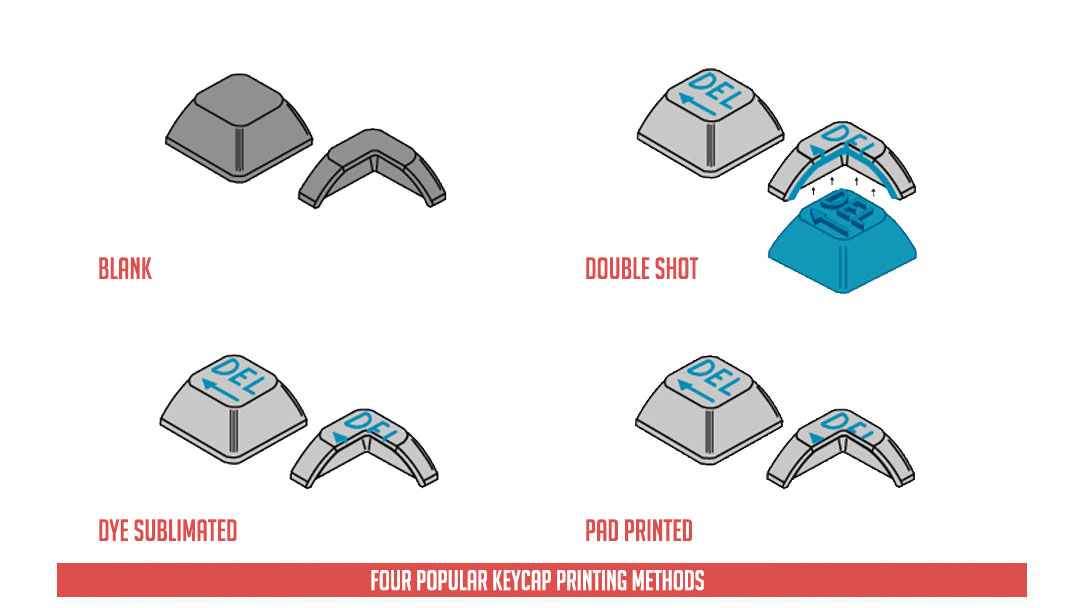 Keycap materials are important too in selecting a mechanical keyboard; though it is common to see keyboards shipped with either ABS and PVC keycaps. These materials do however shine faster than other materials and quality is generally not the best. PBT doesn't shine as fast compared to these keycaps and are highly regarded for their quality and distinct texture. POM on the other hand is also a durable material but they are rarely found as aftermarket options.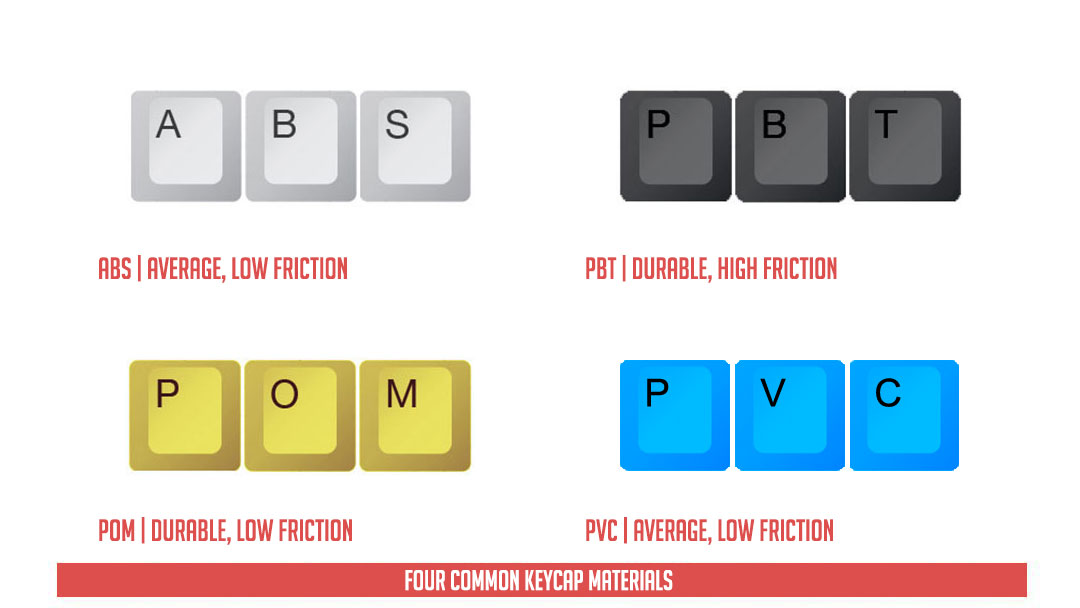 The Level 20 RGB falls under the oh so popular DCS family, more specifically the sculpted medium OEM profile.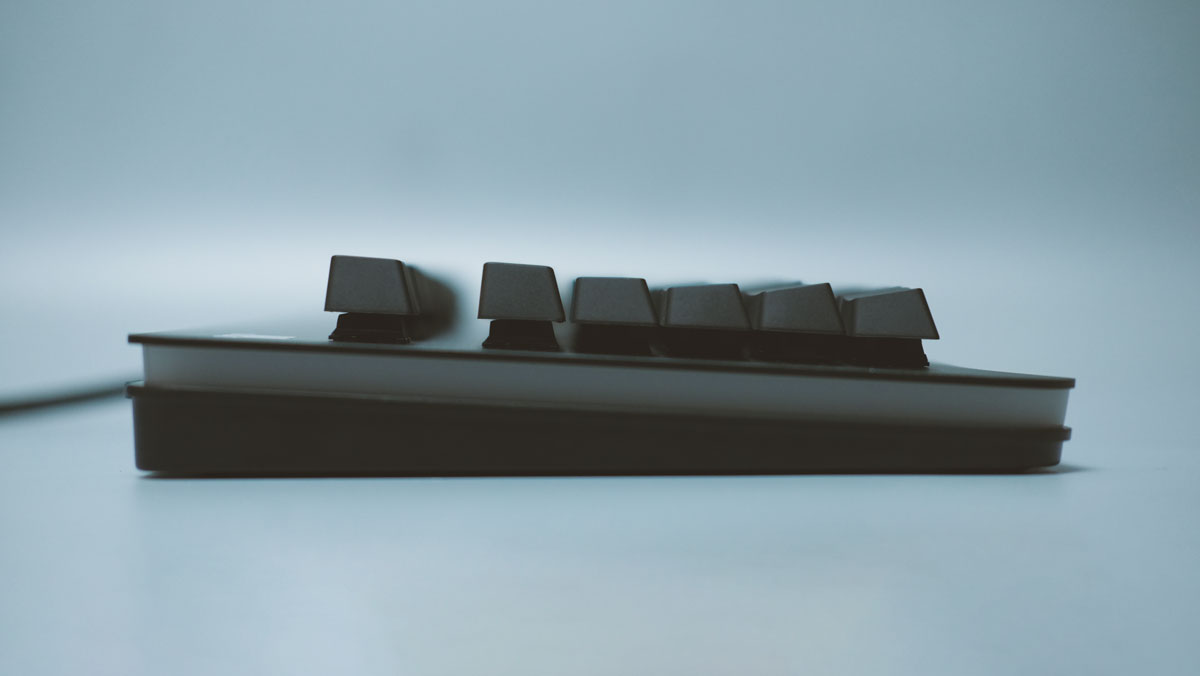 Keycap material used for is ABS plastic. A common type of thermoplastic used on keyboard keycaps. The prints on this one features sans serif fonts and they do look good on the keyboard's elegant facade.
Keycap thickness on the other hand is more than decent with not so obvious nub marks. Stem support seems decent too, minus the coating quality. Could've been better.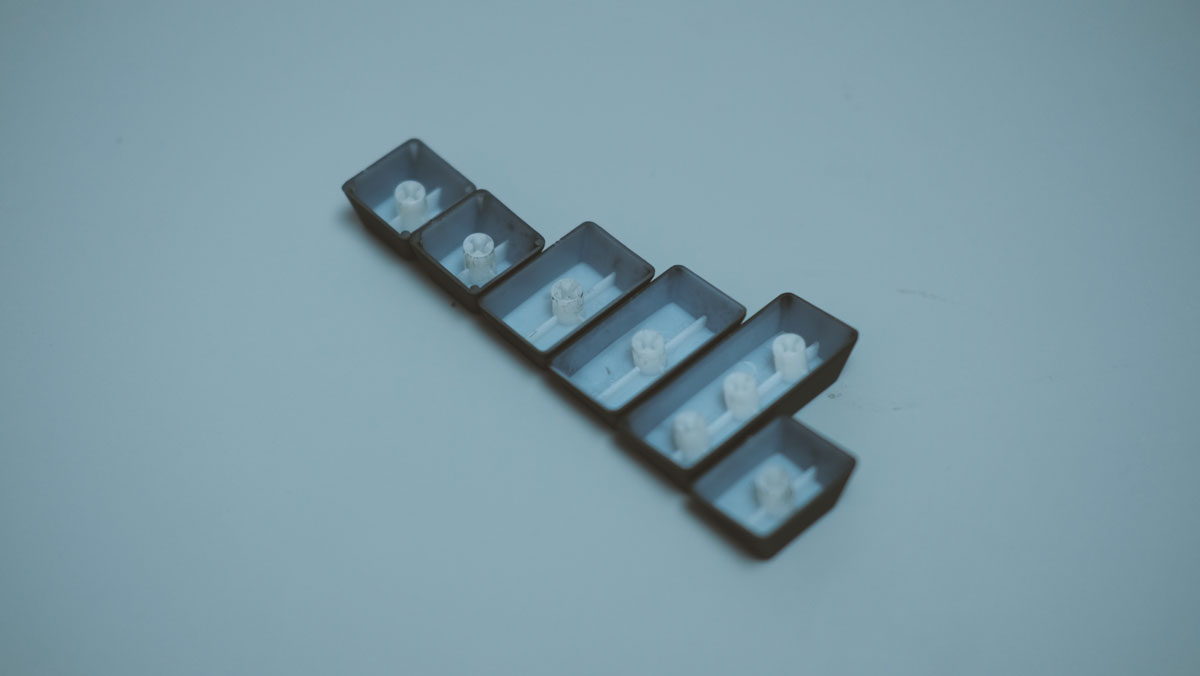 Mechanical Switches and Stabilizers
The mechanical switches makes up the reason why mechanical keyboards are called "mechanical keyboards" in the first place. There are tons of switches out there but Cherry MX switches are the most popular of them all; setting a standard for the rest. They have clicky, linear and bumpy switches; all with their own mixture of actuation forces and actuation points.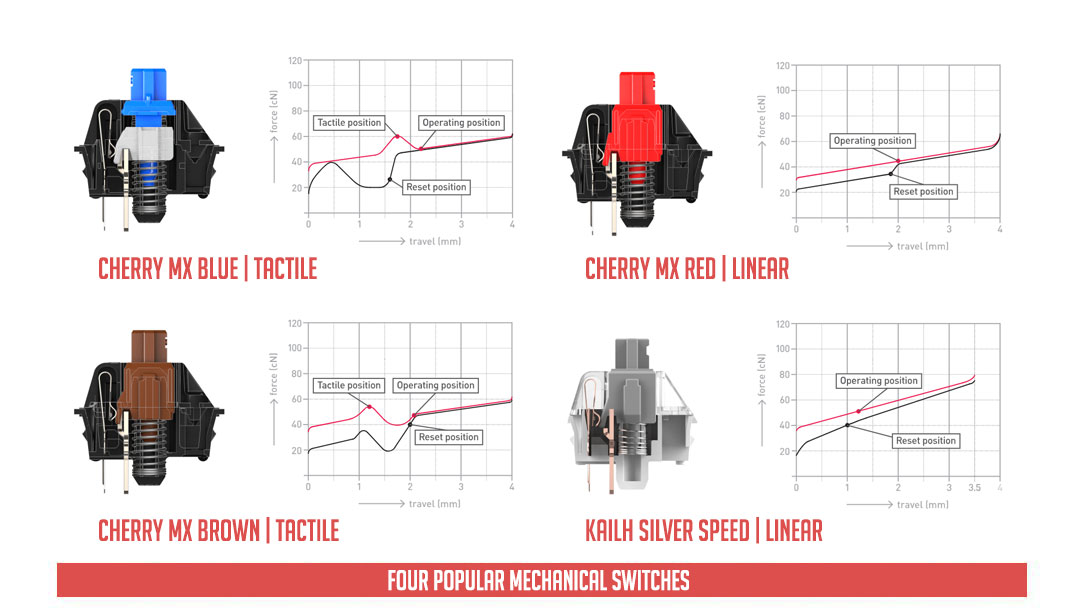 The Thermaltake Level 20 RGB variant we got features the Razer Green switches inside. This is technically their equivalent to Cherry's MX Blue but with a few differences. For an instance, this one features a faster actuation point at 1.9 mm. That is paired with a maximum travel distance of 4.0 mm. This switch requires about 50cN of force to actuate. This is actually more in line with Kailh's Blue switches by experience.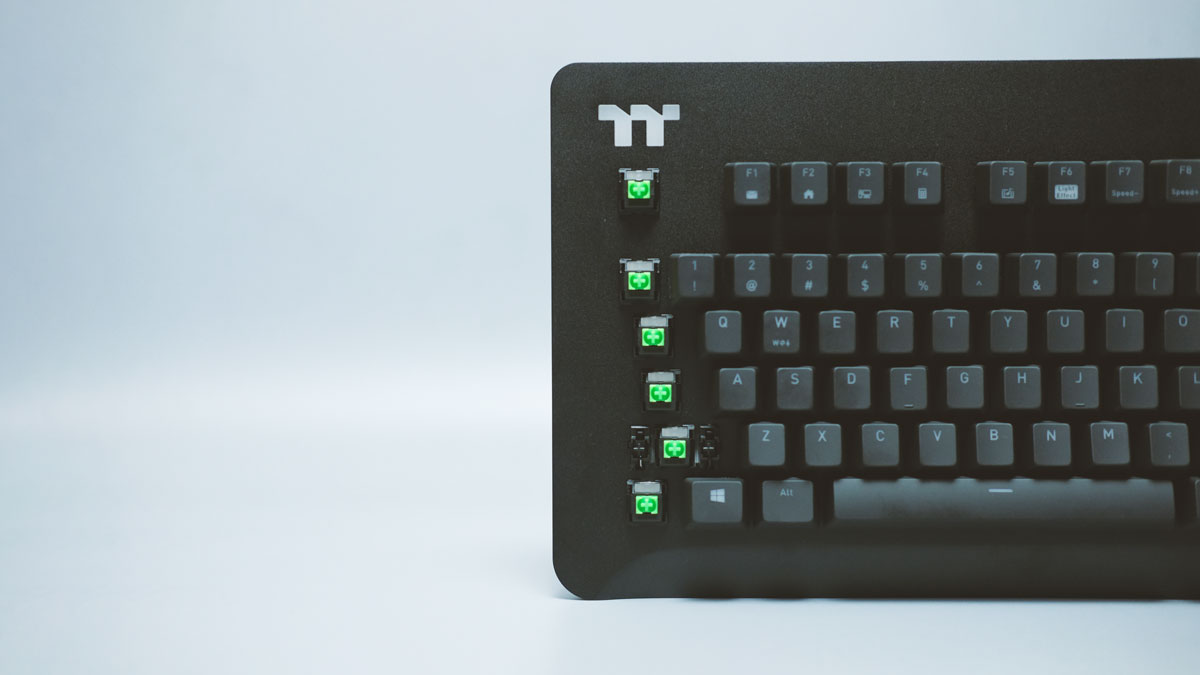 Key stabilizers are on point. They are present on all areas that requires them.
Key Rollover, Chatter and Ghosting
EliteKeyboard's Switch Hitter is an excellent freeware to test key rollover, chatter and ghosting. Key rollover is basically the number of keys the keyboard could register, while chatter is multiple registered inputs with a single press of a key. Ghosting on the other hand is the unwanted input registration when several keys are pressed together.

The Thermaltake Level 20 RGB passed with flying colors on our rollover, chatter and ghosting tests.
Software, Lighting and Special Features
The Level 20 RGB features support for the following: Thermaltake's own TT RGB Plus and TT iTake, Razer's Synapse software and the Amazon Alexa – that includes voice activation, virtual game controller and virtual keyboard functionality. We'll focus more on the TT iTake here – which is also available for smartphones.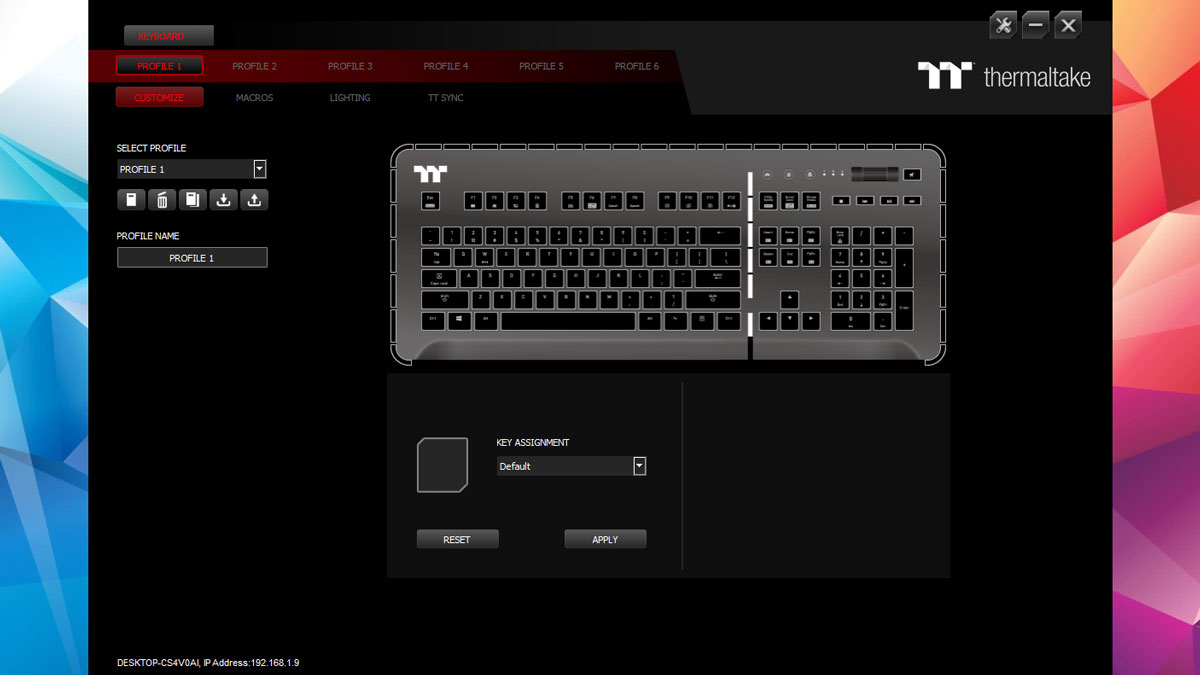 Now as for the TT iTake, there are four main menus here under each and every profiles selected. Cuztomize is where you could set your own key bindings, while macros are well, where you could set your own macro recordings.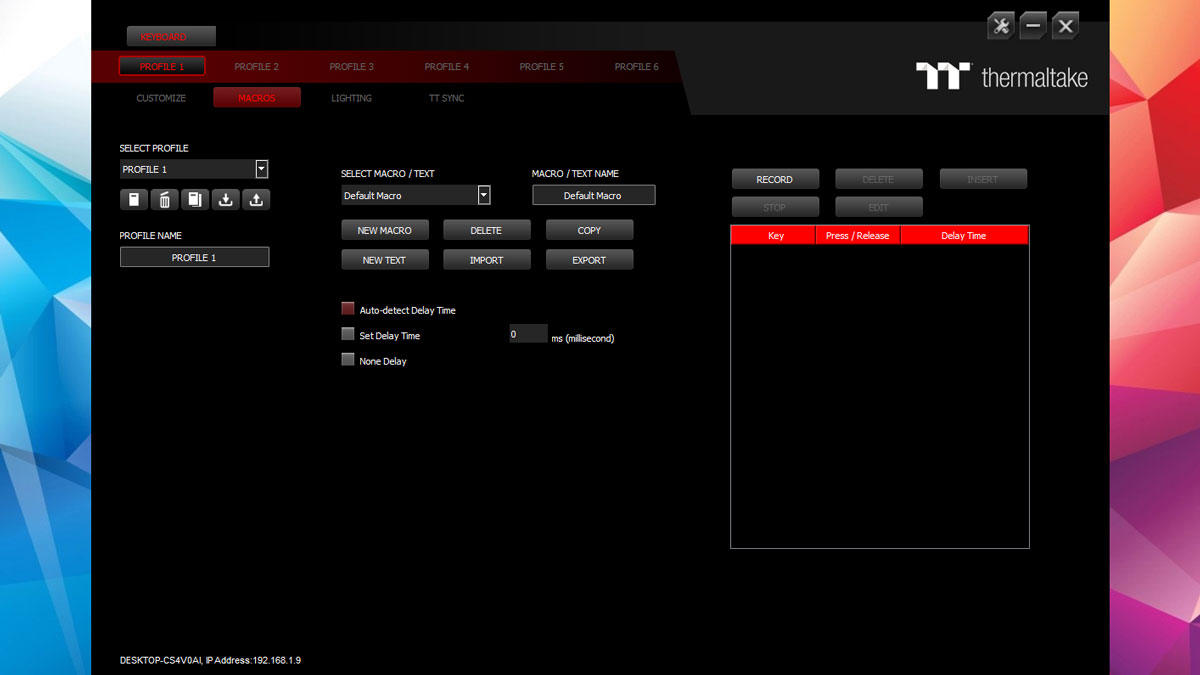 Lighting effects could be configured in three modes: Sound control, system temperature, or you could setup your own customized colors. There are 32 different color zone options here (excluding the keys). Those zones includes the middle light bar as well. That's on top of the multiple lighting effects (13 to 14 depending on the sides) pre-configured within the keyboard.
Now the TT RGB Plus is kinda finicky at best. It requires the fan controller to work (even on the latest build) and to be honest I never liked the UI. It felt disconnected compared to the iTake software. Lucky enough, the Level 20 works with Razer Synapse and Amazon's Alexa.
Now the volume rocker is a nice addition, together with the game mode and other dedicated media keys. While they are not mechanical, they offer good feedback and are accessible enough to get used over some iterations.
I also like the placement of the pass-through and the audio port. These are shielded, which means it's perfectly fine to plug your expensive headphones and or sets here. Yes, it supports TRRS signal.
Now RGB and lighting in general is the Level 20's icing on the cake. It is a therapeutic approach to lighting, as opposed to the usual RGB implementations. That's due to the multiple zone light bars and the soothing lighting effects on the keycaps as well.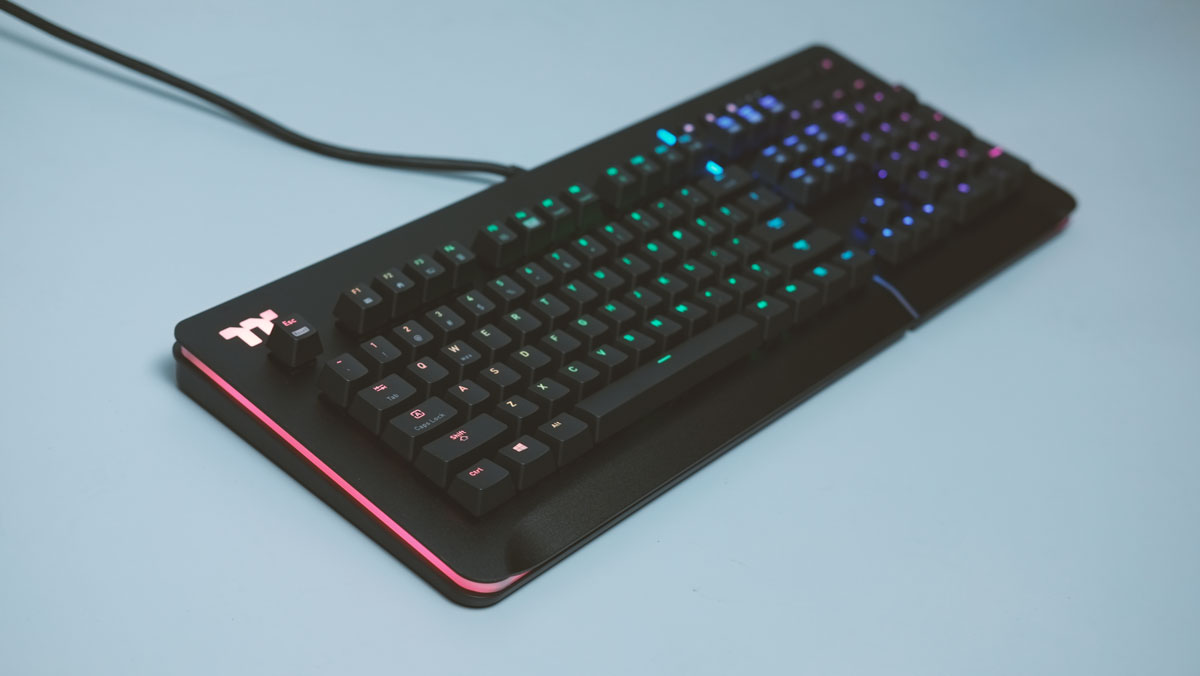 The Level 20 keyboard also comes with 11 extra keycaps in red with a bundled puller. These are nice replacements if you are planning to burn your WASD, QWER and number keys for FPS gaming and MOBA.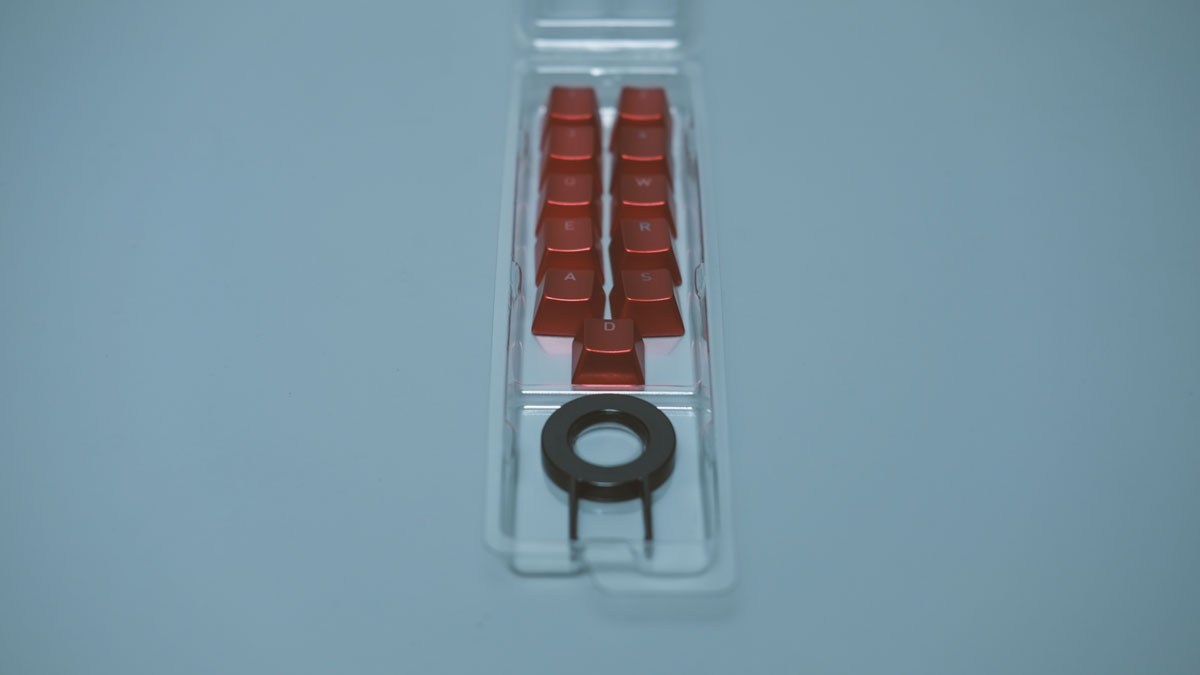 Final Thoughts
The Thermaltake Level 20 RGB with the Razer Green switches is an appealing keyboard under the $150 USD mark. It is by far, one of the best around that price point with its amount of features on top of its beautiful facade.
While this keyboard is also available in Cherry MX switches, we applauded Thermaltake for co-branding it with Razer. This never happened before especially with Razer offering their own mechanical keyboards. This partnership is also vital for both brands by allowing Razer to lower the amount of stigma on their build quality when it comes to their switches. On the other hand, Thermaltake is able to tap into the Razer fandom by offering Razer Synapse compatible hardware.
Like many products, the Level 20 RGB is not perfect. For an instance, the cable is stiff and is prone to kinking. The ABS keycaps could've been presented a little better too with a more uniformed coating at the edges. Lucky enough, most of these are dismissable with the exception of the TT RGB Plus. That software needs some work.
The Level 20 RGB is one of the best Thermaltake mechanical keyboard to date. That's with a competitive price point to match.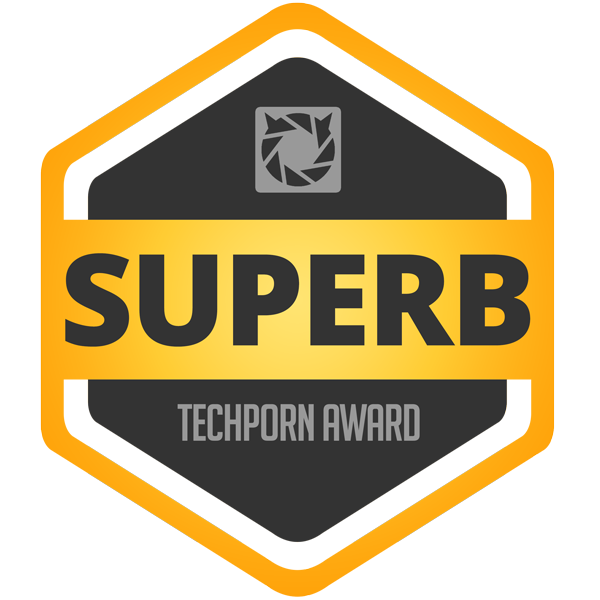 Thermaltake Level 20 RGB Razer Green Keyboard
Performance -

8/10

Build Quality -

8/10

Features -

9/10

Design -

9/10

Value -

8/10
Summary
The Thermaltake Level 20 RGB with the Razer Green switches is an appealing keyboard under the $150 USD mark. It is by far, one of the best around that price point with its amount of features on top of its beautiful facade.