Back in COMPUTEX 2017, we get to witness a prototype of Tt eSport's NEMESIS gaming mouse. It's an interesting mouse, featuring Tt eSport's NEMESIS switch system. Basically, it is a patented revolving switch design with 2 configurable sides that could house a maximum of 8 buttons each.

As for the specifics, this mouse packs in the top of the line PMW-3360 sensor from PIXART with a maximum DPI range of 5000. RGB lighting is also supported with 9 in-house effects from the Tt eSports Command Center Pro software. The mouse also features a 2000Hz report rate which is kinda over the top. What's certain though is the NEMESIS' ability to cherry top an innovative design over a solid foundation of features. Learn more from the official product page and get it at Amazon.
TECHNICAL SPECIFICATIONS:
| | |
| --- | --- |
| Size | Medium |
| Shape | Right-handed |
| Buttons | 16 |
| Scroll | Non-tilt |
| Macro | Yes |
| Profile | Yes |
| Cable length | 1.8m |
| Switches | Omron |
| Weight | 100g, Mouse only |
| Software | N/A |
| Interface | USB 2.0 |
| Lighting | Red LED |
| Footing | Teflon |
The Tt eSports NEMESIS Switch is again, based on the Pixart PMW-3360 sensor.
| | |
| --- | --- |
| Sensor | Pixart PMW-3360 |
| Sensor Type | Optical |
| Resolution | 400, 800, 1600, 3200, 12000 DPI Max |
| Speed | 250 IPS |
| Acceleration | 50G |
| Polling Rate | 1000Hz, 2000Hz |
PACKAGING AND ACCESSORIES:
The Tt eSports NEMESIS Switch comes in a typical Tt eSports packaging. There is also a flap to check out and somewhat feel the mold of the mouse, so that extra is much appreciated.
The mouse comes with a quick start guide, a manual, warranty policy, and a set of Tt eSports stickers. There's also a Velcro strap for cable management.
DESIGN, LAYOUT AND BUILD QUALITY:
The Tt eSports NEMESIS Switch is a medium sized gaming mouse featuring a right-handed design. Quality is excellent, with the same top shell material used on the Ventus X – another quality Tt eSports mouse. While the design reminds me of the Razer Naga, it actually doesn't sport the same ring/pinky support layout.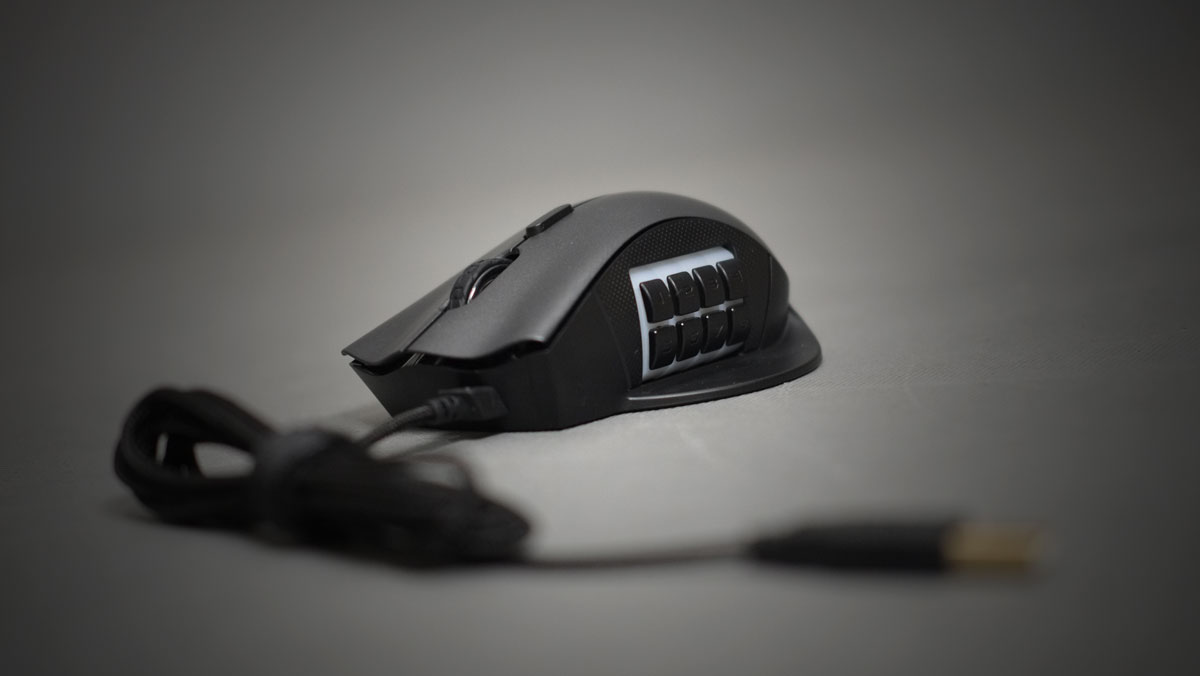 The mouse has a total of 16 buttons but you can only use a maximum of 12 – which is still pretty bad ass. Side profile suggests that the NEMESIS Switch has a bulge towards the edge rather than near the middle. This is an indication of a mouse made for palm grip gamers.
As for the NEMESIS Switch system itself, the buttons are not mechanical. They do however feel nice and are stiff enough to avoid accidental clicks. Since the NEMESIS platform has 4 revolving sides, there are a number of combinations that you could try to suit your needs.
Right side profile features a textured grip along with a ledge for the pinky. The ledge is helpful for palming the mouse, but is not so when claw gripping. The same thing could be said for the thumb rest when clawing the mouse. Perhaps a more subtle ledge would be better.
The top shell construct is a single piece of plastic. Texture is excellent, along with a comfort groove to aid ergonomics. The scroll wheel and DPI button (profile cycle by default) appears to be well built and are easy to access. Nothing to complain here.
The 6 foot long cable is braided and appears to be smooth enough for most surfaces. However, I still prefer a more flexible material – especially with RGB mousepads that tends to feature sticking out control panels.
The skates are large 3 piece proprietary Teflons. They glide very well with most surfaces. The PMW-3360 sensor is offset at the right side of the mouse. This is due to the NEMESIS switch's quick release design.
Overall, the NEMESIS Switch is a well built gaming mouse – although it has small questionable design elements. Refining them is ideal to suite the majority of gamers but they are not that bad of a trade off.
TEST SETUP AND METHODOLOGY:
Testing a gaming mouse is not that difficult, but it is mostly subjective; similar to testing head gears in a sense. That said, no mouse is perfect and the verdict usually depends on personal preferences. With that in mind, we are overhauling our testing methodology by following key pointers that should matter the most; that includes the sensor performance, the size, grip and comfort. To keep our test methodology simple and free of extra variables, please note the following softwares and configurations used below.
| | |
| --- | --- |
| GAMES | Overwatch, Battlefield 4, DOTA 2 |
| MOUSE POINTER SPEED | 6/11 (EPP turned off) |
| REGISTRY HOTFIX | MarkC Windows Mouse Acceleration Fix (If required) |
| DPI/CPI LEVELS | 800/1600/3200  (If possible) |
| POLLING RATE | 1000 Hz (If possible) |
| SURFACE | SteelSeries QcK Mini |
| SOFTWARES | MouseTester V1.5 (dobragab) + Key Response Time |
DPI ACCURACY:
The accuracy of DPI levels are tested with the CPI measurement tool built within the MouseTester V1.5. We rigged the mouse on a camera slider to check the sensor's accuracy at 800, 1600 and 3200 DPI.
Excellent DPI accuracy reports we got here from the NEMESIS Switch RGB at 800 and 1600 DPI levels. A maximum of 2% difference is not bad.
TRACKING PERFORMANCE:
Mouse tracking performance is evaluated with the MouseTester V1.5 with a DPI level of 800 DPI. Our aim is to check out the sensor's performance; and to look for reporting inconsistencies. That includes inconsistencies from sensor ripple or jitter.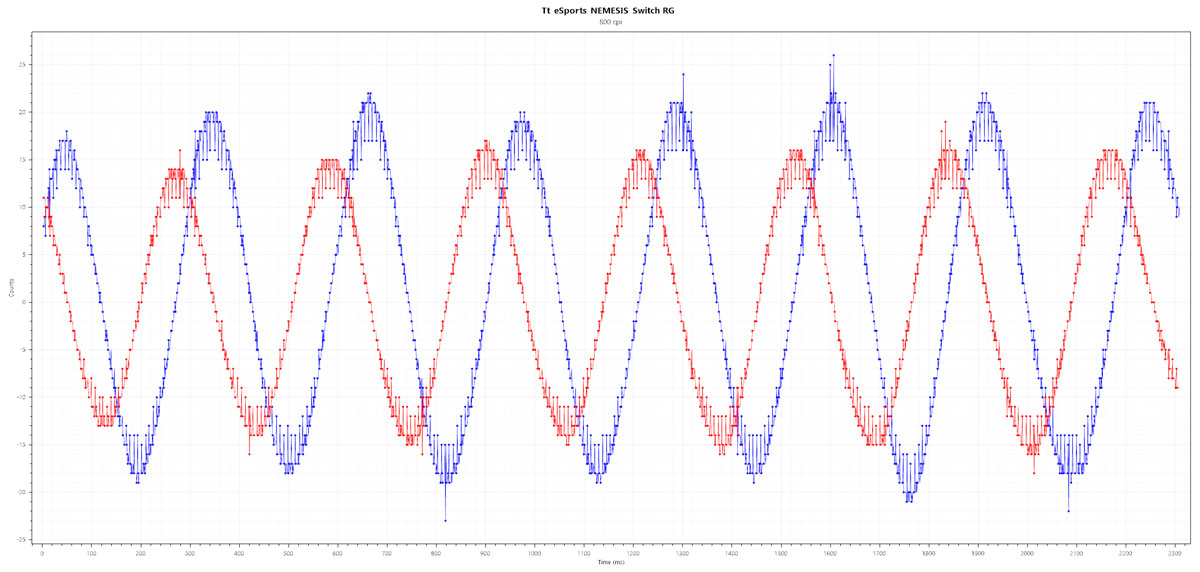 Tracking performance is generally good at the tested DPI level of 800. We have slight spikes at report counts when we flick but it is not troublesome to any extent.
POLLING RATE CONSISTENCY:
The Polling Rate of the device is evaluated with the MouseTester V1.5 at the 800 DPI level. This is to check the consistency of the device's update rate at 1000Hz.
Polling rate is not so consistent. We've seen better, but this is not alarming in any way. Lowest recorded is at 700Hz, while the highest is above 1600Hz even with the mouse configured to use a 1000Hz rate.
PREDICTION, LOD, RATTLE AND ACCELERATION:
Angle snapping, lift off distance, sensor rattle and acceleration are also evaluated. The angle snapping is checked with MS Paint, while lift off distance levels are checked with ~1.2mm optical discs. Acceleration on the other hand is tested with Overwatch at 800 DPI. Sensor rattle is then checked with an electrical tape.
| | |
| --- | --- |
| ANGLE SNAPPING | Zero angle snapping |
| LIFT OFF DISTANCE | Around ~1mm |
| SENSOR RATTLE | None |
| ACCELERATION | None |
Lift off distance is locked at around ~1mm, which is good enough for my requirements. There are no angle snapping, sensor rattle and acceleration, which is expected from the PMW-3360 sensor.
SOUND PROFILE:
No two or three mice sounds the same, even if they feature the same switches. This is due to factors including the switch itself, the housing and the overall construct of the mouse. Listen to the profile below to get an idea of the mouse's sound signature.
SIZE, GRIP AND COMFORT:
Your grip style and hand size will heavily influence what mouse you should buy. So it's better to know both first hand. For an instance, my hands measures at 7 inches x 3.5 inches (length x width). This puts my hands on the small to medium size category. My style is finger-tip grip, so I would generally look for a mouse with a small to medium foot print.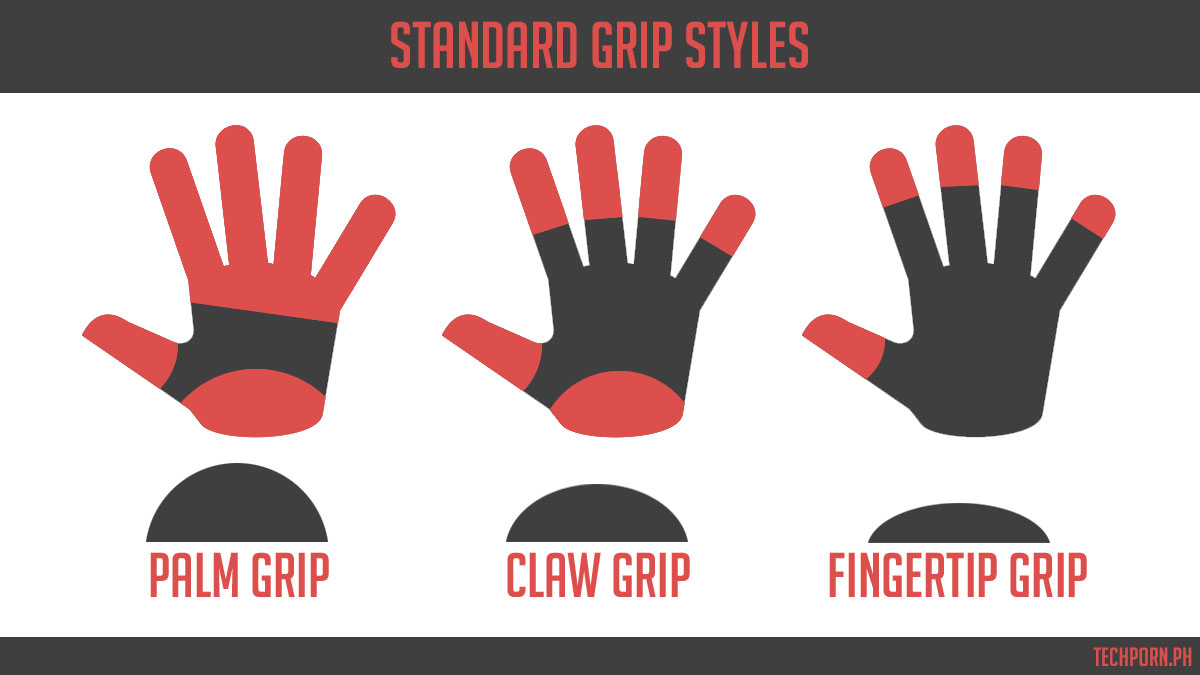 2:1 is considered the best length and width ratio you need to look out for when buying a mouse. That's without accounting for the ledges and the top shell construct. Basically, if you want a generally comfortable mouse with a good grip, you'd want something near those measurements.
The Tt eSports NEMESIS Switch RGB features a 2.25 : 1.25 ratio, with a length at roughly 4.5 inches and a grip area at around 2.5 inches base-to-base. The highest point of the shell is at 1.7 inches with a steep curvature. This makes the mouse ideal for palm grip gamers with small to medium hand sizes.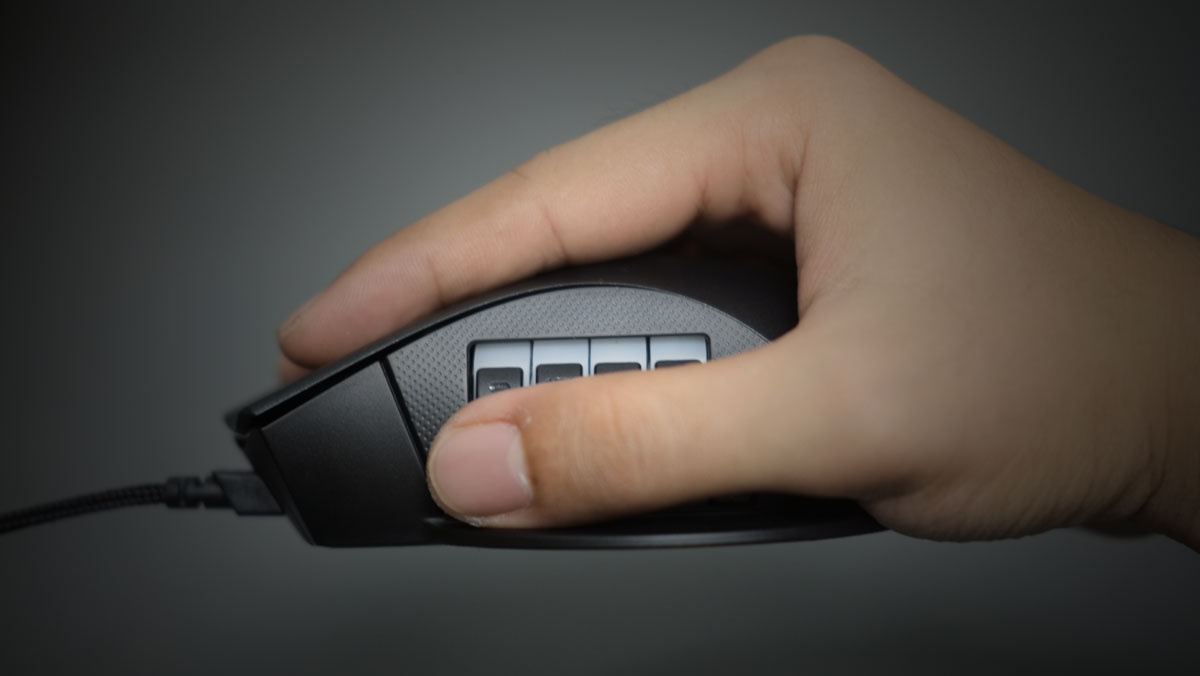 For medium sized hands, the mouse is possible to claw grip with a small issue – the sharp ledge on the lower right of the mouse. For palming, it helps the ring and pinky fingers to be kept in place, but it is slightly on the way of clawing. It's not a huge issue but if Tt eSports wants a more versatile design, they must refine it. A smoother ledge would be better.
Gliding performance on the other hand is excellent with our cloth pad and rubber pad. There's basically no need to calibrate the mouse for cloth and rubber pads but I guess an extra peace of mind wouldn't hurt.
MISCELLANEOUS:
The Tt eSports NEMESIS Switch requires the Command Center Pro software to get the most out of it. It is specifically designed for the latest Tt eSports gaming gears with an updated UI.
Macro bindings and button mappings are configured here. Lighting effects are of course, also configured within the software. Even lighting pattern control is a part of the deal.
Sensor performance settings are also configured on the Command Center Pro. The includes polling rate adjustment, DPI fine tuning, and even button response rate adjustments.
The Command Center Pro is easier to use compared to the older Tt eSports softwares though it is not perfect. For an instance, the DPI button is actually the profile cycle button by default. It's not the problem here, but switching it to the DPI button itself is kinda bummer. You have to flip a lot of drop down menus just to do so. The Sensor Action at the performance menu also does nothing (except for freezing the mouse randomly) so I dunno what it suppose to do. The Sensor Action label is also fixed at "on" even when it is turned off.
What I like about the Command Center Pro though is the majority of it. Lighting options are easy to use and the mapping for the NEMESIS switches are already configured to the numerical keys. This is perfect since most MMOs already got those functions covered. As for the lighting, the NEMESIS Switch looks awesome with a waving RGB pattern. That's form and function in one folks.
WRAPPING IT UP:
The Tt eSports NEMESIS Switch RGB is an excellent mouse with emphasis on functionality and sheer eye candy. It is made for medium hand sizes with palm grip as its intended grip style. Finger tipping it could be called a stretch due to the ledge, but clawing it is possible.
Sensor performance is typically around the Pixart PMW-3360's status. Therefore, if you're used to other devices with the same sensor and you're looking for a mouse to exactly fit your grip requirements, then this is the one to get. That's also especially true if you're the type of gamer that requires more options for your right hand to use.
Over all, the Tt eSports NEMESIS Switch is one excellent and innovative gaming mouse. It's not perfect but what it brought to table is more than enough to vouch for its lesser qualities. That includes a mighty $50 price point for a mouse filled with features. A gold, in my book.
GREAT TRACKING PERFORMANCE
EXCELLENT BUILD QUALITY
INNOVATIVE NEMESIS SWITCH DESIGN
EXCELLENT SOFTWARE
SMOOTH RGB LIGHTING
VALUE FOR MONEY

FEW DESIGN QUIRKS HINDERS VERSATILITY
Tt eSports NEMESIS Switch RGB Gaming Mouse
PERFORMANCE -

8/10

BUILD QUALITY -

8/10

FEATURES -

9/10

AESTHETICS -

8/10

VALUE -

9/10
Summary
Over all, the Tt eSports NEMESIS Switch is one excellent and innovative gaming mouse. It's not perfect but what it brought to table is more than enough to vouch for its lesser qualities. That includes a mighty $50 price point for a mouse filled with features. A gold, in my book.