On this review, we are taking a look at the Tt eSports Ventus X RGB Gaming Mouse. This is the latest in Tt eSport's vented gaming mouse series, featuring RGB lighting and a PIXART PMW-3360 sensor that could go up high as 12000 DPI.
Other features included are the programmable buttons, a medium-large sized body, braided cables and rubberized grips. The Ventus X RGB also comes with removable weights.
TECHNICAL SPECIFICATIONS:
The mouse features 6 buttons, with a maximum number of profiles at 5. It has OMRON switches inside with a 20 million click life cycle. Weight is not listed or so we thought.
| | |
| --- | --- |
| DIMENSION | 128.8 X 71 X 42.6 MM |
| COLOR | BLACK |
| SHAPE | ERGONOMIC DESIGN |
| BUTTONS | 6 |
| MACRO KEYS | 30 |
| GAME PROFILES | 5 |
| USB CABLE LENGTH | 1.8M |
| OMRON SWITCHES | 20 MILLION CLICK LIFECYCLE |
| WEIGHT-IN DESIGN | 4.5G * 3 WEIGHTS (REMOVABLE) |
| GRAPHICAL UI | TT ESPORTS COMMAND CENTER |
| GOLD-PLATED USB | YES |
| LIGHT COLOR | 16.8 MILLION RGB COLORS |
| LIGHTING EFFECT | STATIC , PULSE , SPECTRUM RUNNING |
The sensor is a PIXART PMW-3360 with DPI ranging from 100 to 12000. Polling rates goes from 125Hz to 1000Hz.
| | |
| --- | --- |
| SENSOR NAME | PIXART PMW-3360 |
| SENSOR TYPE | OPTICAL |
| DPI | 12000 DPI |
| DEFAULT DPI | 400, 800, 1600, 3200, 5000 |
| IPS | 250 |
| ACCELERATION | 50G |
| POLLING RATE | 1000HZ, 500HZ, 250HZ, OR 125HZ (1MS, 2MS, 4MS OR 8MS). |
PACKAGING AND BUNDLES:
The Ventus X RGB comes in a standard issued Tt eSports packaging; featuring the RGB mouse at the front together with its main features and specifications.
Inside, you'll get a set of Tt dragon stickers, a warranty policy card and a quick installation guide. There's nothing about the mouse' weight which is a turn off for competitive gamers. Overall, the bundle is nice even though it is not lavish.
DESIGN AND BUILD QUALITY:
The mouse features a matte textured top shell which is in my opinion, a better material over a gloss or a coated shell. The sides however had rubberized grips.
The mouse has a total of 6 buttons with a vented palm area design. A prominent feature from the Ventus line-up. This is no ambidextrous design, so left handed gamers should look somewhere else.
Since Tt eSports never disclosed the actual weight of the Ventus X, we measured it on our own. The mouse weighs in at 145 grams with the cable and the extra weights. Without the cable, it weighs in at 115 grams. With just the mouse itself devoid of the extra weights, it stands at 100 grams. A little heavy for my standards but it is not bad for a medium to large sized mouse.
Cable is braided and it features a gold plated USB port. It keeps corrosion away.
Overall, a nicely built mouse with clicky buttons, good scroll wheel and a safe design. Now we check the software of the Ventus X RGB.
BUNDLED SOFTWARE:
The Ventus X RGB comes with the Tt eSports Command Center which is the general software used throughout the latest Tt eSports gaming mouse line up. There are 5 profile sets here with the splash screen acting as the button configuration menu.
The performance sub menu is where you could change each profile's DPI levels. LOD, angle snapping and polling rate are also located here. The button response time setting is also an extra feature. Dunno why you'd want a higher response time for the inputs though.
Lighting options are self explanatory. Brightness, speed and effects are located here.
The Tt eSports Command Center is almost a no frills software. Almost, since I'd like the DPI button to be a DPI button in the first place. If you do not intend to use the software, then the DPI button defaults as the profile switch. I suggest changing the switch's function right off the bat to prevent confusion. Software looks tacky too.
TEST SETUP AND METHODOLOGY:
Testing a gaming mouse is not that difficult, but it is mostly subjective; similar to testing head gears in a sense. That said, no mouse is perfect and the verdict usually depends on personal preferences. With that in mind, we are overhauling our testing methodology by following key pointers that should matter the most; that includes the sensor performance, the size, grip and comfort. To keep our test methodology simple and free of extra variables, please note the following softwares and configurations used below.
| | |
| --- | --- |
| GAMES | Overwatch, Battlefield 4, DOTA 2 |
| MOUSE POINTER SPEED | 6/11 (EPP turned off) |
| REGISTRY HOTFIX | MarkC Windows Mouse Acceleration Fix (If required) |
| DPI/CPI LEVELS | 800/1600/3200  (If possible) |
| POLLING RATE | 1000 Hz (If possible) |
| SURFACE | SteelSeries QcK Mini |
| SOFTWARES | MouseTester V1.5 (dobragab) + Key Response Time |
DPI ACCURACY:
The accuracy of DPI levels are tested with the CPI measurement tool built within the MouseTester V1.5. We rigged the mouse on a camera slider to check the sensor's accuracy at 800, 1600 and 3200 DPI.
While we are expecting deviance, the Ventus X RGB's DPI levels are on point at 800 and 1600 DPI. At 3200 DPI though, the mouse starts to loose ground with a 31 DPI deviance. That is less 1% from the standard DPI level which is still acceptable.
TRACKING PERFORMANCE:
Mouse tracking performance is evaluated with the MouseTester V1.5 with a DPI level of 800 DPI. Our aim is to check out the sensor's performance; and to look for reporting inconsistencies. That includes inconsistencies from sensor ripple or jitter.
Tracking performance is generally good at the tested DPI level. There are no missing reports, although X and Y axis deviation are expected at swift flicks as seen on the peaks of the graph. Not the smoothest when we flick, but not bad either.
POLLING RATE CONSISTENCY:
The Polling Rate of the device is evaluated with the MouseTester V1.5 at the 800 DPI level. This is to check the consistency of the device's update rate at 1000Hz.
Now polling rate consistency is where this mouse kinda went down the hill. While I appreciated that it actually polls at 1000Hz, it could go as low as the area below 400Hz when the mouse is active. Now a more consistent 1000Hz polling rate could be achieved but you have to rely on the software. It has to start up. Other wise, you'd get an erratic report rate performance. The Graphs below is the polling performance with the Command Center running at the background.
PREDICTION, LOD, RATTLE AND ACCELERATION:
Angle snapping, lift off distance, sensor rattle and acceleration are also evaluated. The angle snapping is checked with MS Paint, while lift off distance levels are checked with ~1.2mm optical discs. Acceleration on the other hand is tested with Overwatch at 800 DPI. Sensor rattle is then checked with an electrical tape.
| | |
| --- | --- |
| ANGLE SNAPPING | Zero angle snapping if the feature is turned off |
| LIFT OFF DISTANCE | Less than 1mm (low), starts at 1.25mm (medium), starts at 2.5mm (highest setting) |
| SENSOR RATTLE | No complaints here |
| ACCELERATION | No complaints here |
Angle snapping can be turned on at the software if that's your thing; and it is truthfully absent with the feature turned off. Lift off distance is adjustable in 3 levels with the lowest able to achieve a > 1mm LOD. Rattling is also no where to be found.
SIZE, GRIP AND COMFORT:
Your grip style and hand size will heavily influence what mouse you should buy. So it's better to know both first hand. For an instance, my hands measures at 7 inches x 3.5 inches (length x width). This puts my hands on the small to medium size category. My style is finger-tip grip, so I would generally look for a mouse with a small to medium foot print.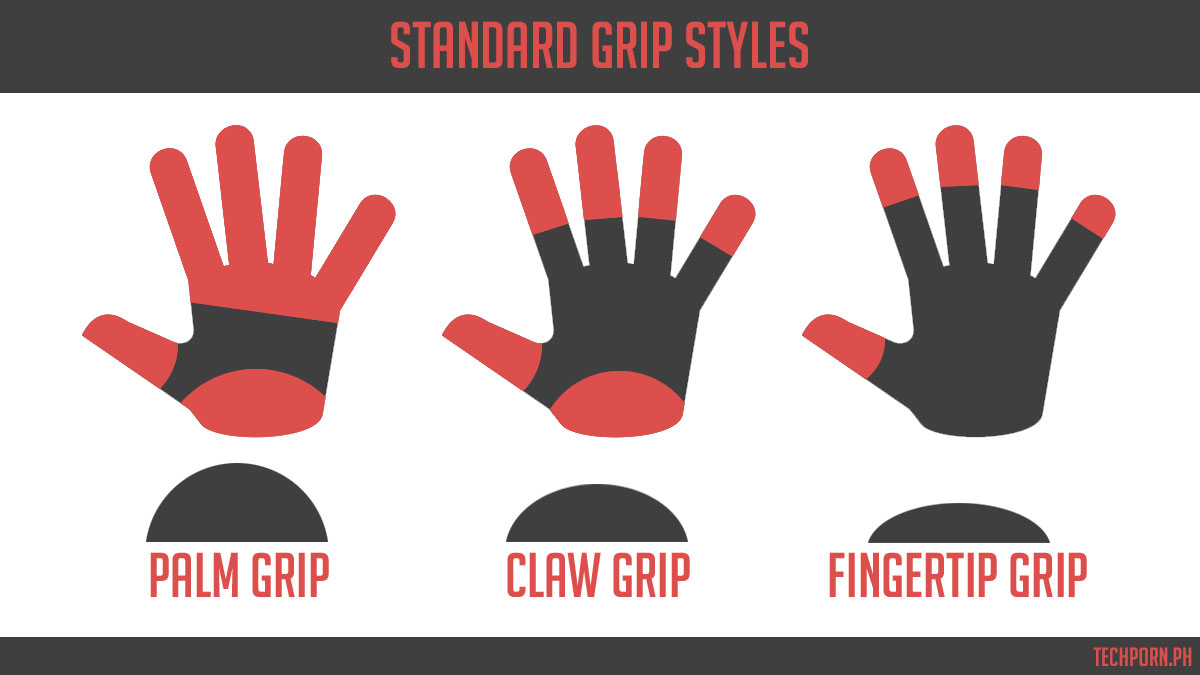 2:1 is considered the best length:width ratio you need to look out for when buying a mouse. Basically, if you want a generally comfortable mouse with a good grip, you'd want something near those measurements.
The Tt eSports Ventus X RGB features a 2:1 ratio, with a length at roughly 5 inches and a grip area at around 2.5 inches. Shape is damn perfect, although not entirely for my hand size and grip style as seen below. The Tt eSports Ventus X RGB is actually made for those with medium to large hands; offering good support for claw and palm type grips.
Gliding performance is also good. Nothing to complain here, really.
WRAPPING IT UP:
The Tt eSports Ventus X RGB is a great gaming mouse for gamers with medium to large hands. It offers excellent ergonomics for the stated hand sizes together with support for both palm and claw grips as well.
Sensor performance is typical of the Pixart PMW-3360's status, although I am skeptical about the polling rate performance**; which could indicate an issue with the firmware or the 32 bit ARM processor without the software in place. I'm slated to get a new 3360 device so I'll update this with the link of that device for verification. It is still one of the fastest mouse I've tested though when it comes to input latency; and is actually a rather good replacement for my aging Zowie ZA13. Had this been a smaller and lighter mouse, it could be perfect for my needs.
Over all, the Tt eSports Ventus X RGB is one fine gaming mouse. It has the performance to back itself up and comes with features expected for its price point of $55. A generally great mouse with a dash of RGB and a Pixart 3360 at that.
EXCELLENT TRACKING PERFORMANCE
EXCELLENT BUILD QUALITY
DESIGN AND COMFORT
ADJUSTABLE WEIGHT
RGB ENHANCED 

SOFTWARE COULD BE BETTER
INCONSISTENT POLLING PERFORMANCE**
Tt eSports Ventus X RGB Gaming Mouse
PERFORMANCE -

8/10

BUILD QUALITY -

8/10

FEATURES -

7/10

AESTHETICS -

8/10

VALUE -

7/10
Summary
Over all, the Tt eSports Ventus X RGB is one fine gaming mouse. It has the performance to back itself up and comes with features expected for its price point of $55. A generally great mouse with a dash of RGB and a Pixart 3360 at that.