SAMSUNG announces the mass production of HBM2 – the fastest DRAM technology to date. HBM2 will feature double the bandwidth at 256 GB/s, compared to HBM1's 128 GB/s. Perfect for high performance computing, HBM is set to power next generation graphics solutions which should aid higher memory requirements of 4K gaming, VR, and beyond. HBM2 can also stack 16 GB of VRAM over the 4 GB limitation of HBM1.
While it's not clear whether AMD or Nvidia will source their HBM2 DRAMs from SAMSUNG, both companies are set to use the said technology for their next generation graphics – with AMD Polaris having more chance with SKHynix while Nvidia's Pascal still has an unknown source for their HBM powered counterpart.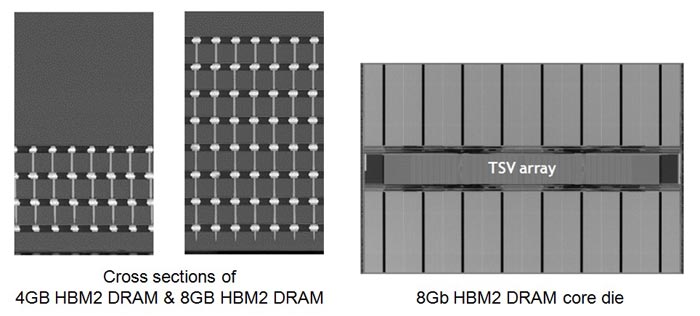 Stacked memory is going to be the preferred technology for the next generation's flagship graphics, but it is also useful in high performance network devices and Field-programmable gate arrays (FPGA) where high memory bandwidth is required. We'll see soon enough if SAMSUNG is willing to be the source for AMD and Nvidia though, and COMPUTEX 2016 might be the best time to guess whose company is going on a date with SAMSUNG.
[button link="https://news.samsung.com/global/samsung-begins-mass-producing-worlds-fastest-dram-based-on-newest-high-bandwidth-memory-hbm-interface" type="big" newwindow="yes"] AWESOME SAUCE[/button]