Silicon Power is a brand usually associated with memory and flash drives. These guys value your data so much, that they actually took the slogan "Memory is Personal" very, very… personal. I have worked with many Silicon Power branded products before, and they have yet to fail me. A testatment to their expertise to the field of the silicon laden field I must say.
Now what we have here ladies and germs is Silicon Power's another take at the data storage side of things, where reliability shouldn't be taken all too lightly. It is a product designed by Silicon Power to help you store your data while at the same time protecting it from threats and keeping everything nice and smooth aesthetically. It is the Silicon Power Armor A80. A simple yet rugged piece of hardware with blazing fast USB 3.0 support. Enough of the cheekiness, let us check it out!
FEATURES & SPECIFICATIONS:
| | |
| --- | --- |
| Capacity |  500GB / 1TB / 2TB |
| Color |  Blue |
| Dimensions (L x W x H) |  139 x 94 x 18.1 mm |
| Weight |  270g |
| Interface | USB 3.0 (backward compatible with USB 2.0) |
| Warranty | 3 years |
UNBOXING & BUNDLED ACCESSORIES:
The Silicon Power Armor A80 came in a nice and purple draped box with all of the the goodies written at the front. There is a cutout so you could see the Armor A80 right away, protected by a hard plastic shell.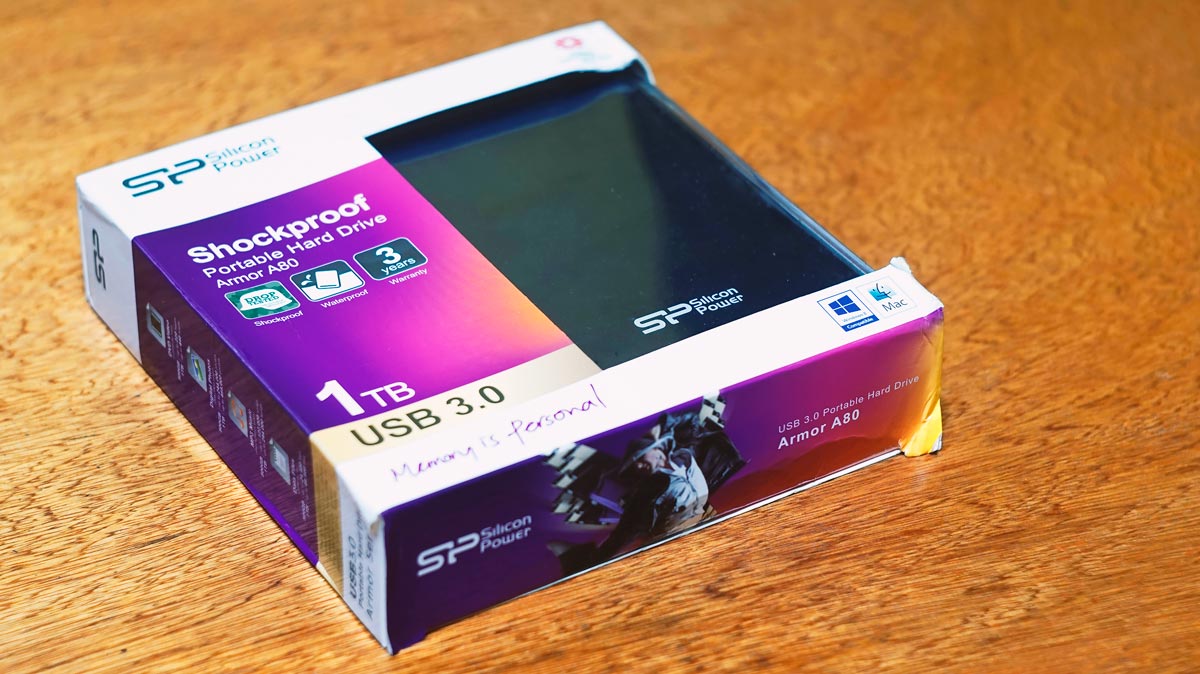 The back is, as usual, full of multilingual features & specification sets. Nothing to worry about here except for the overexposed picture. I used my 16Gb Class 10 Silicon Power SD card here just for the giggles.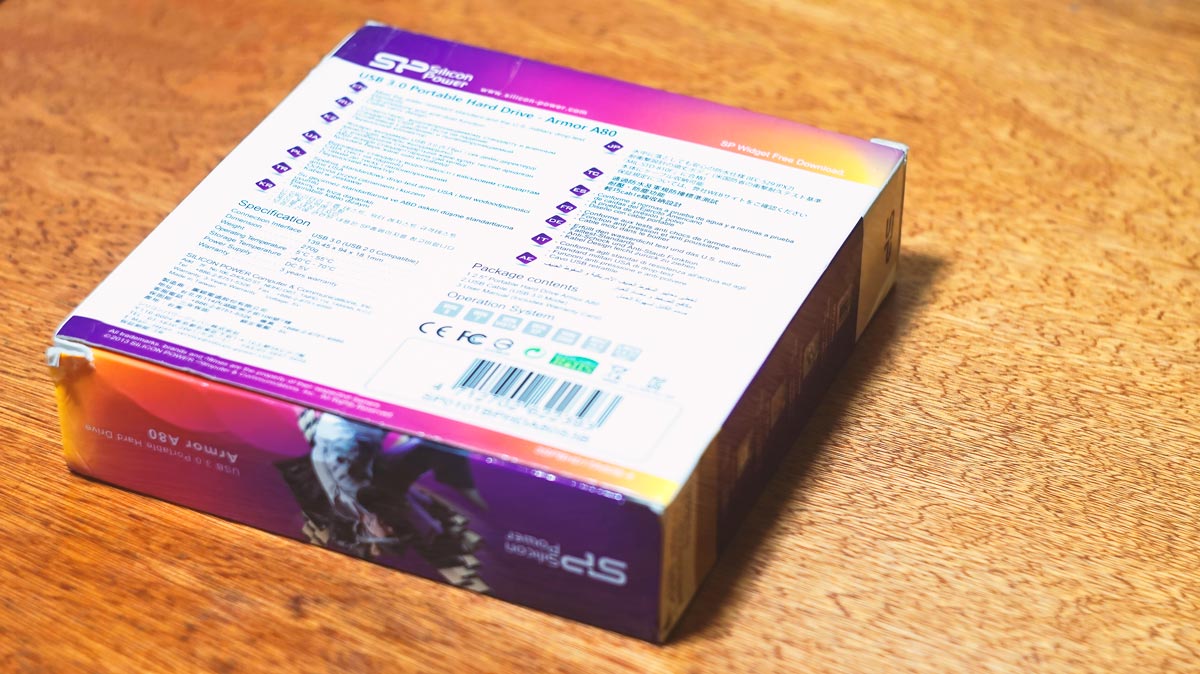 As far as bundled accessories goes, you'll only receive a multi-lingual user's manual, along with 2x USB 3.0 cables with varying lengths. Both cables, end-to-end, terminates in a standard USB 3.0 male port.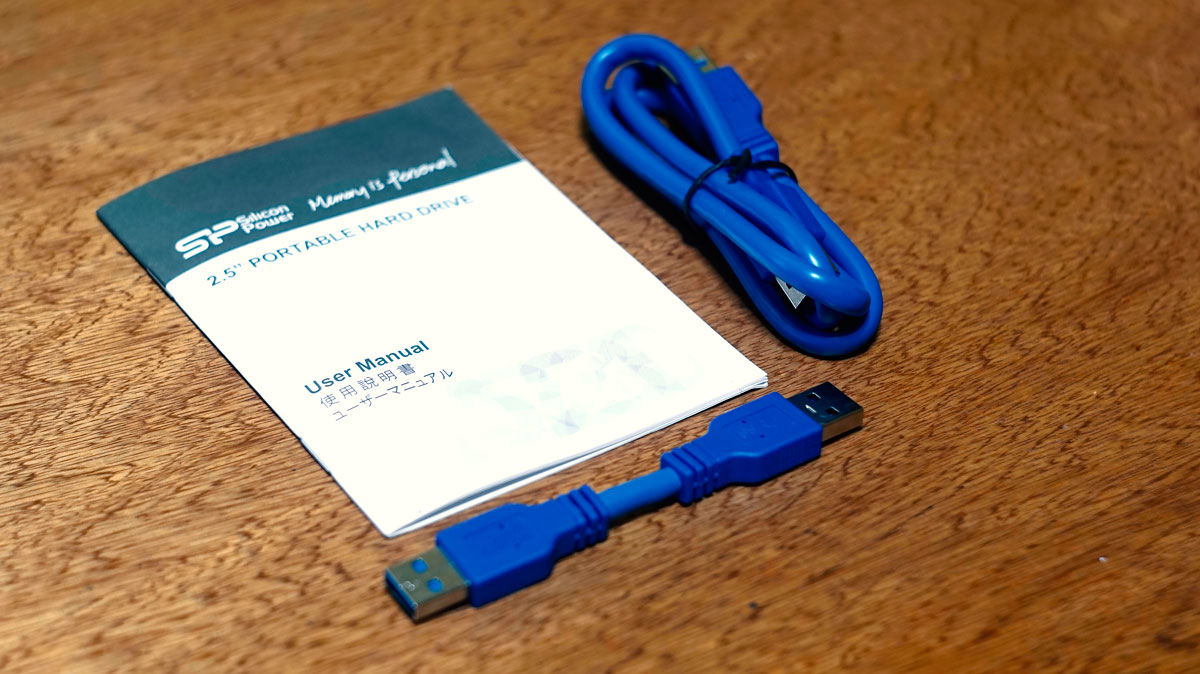 Silicon Power Armor A80:
The Silicon Power Armor A80 is a drive that looks so simple, I could categorize it as a classy one with bits of industrialized approach to its design. Top surface is just flat, with only the Silicon Power logo interfering with the simplicity. The A80 we got here features a glittering metallic Blue surface, and underneath its pretty facade lies a full metal enclosure construction.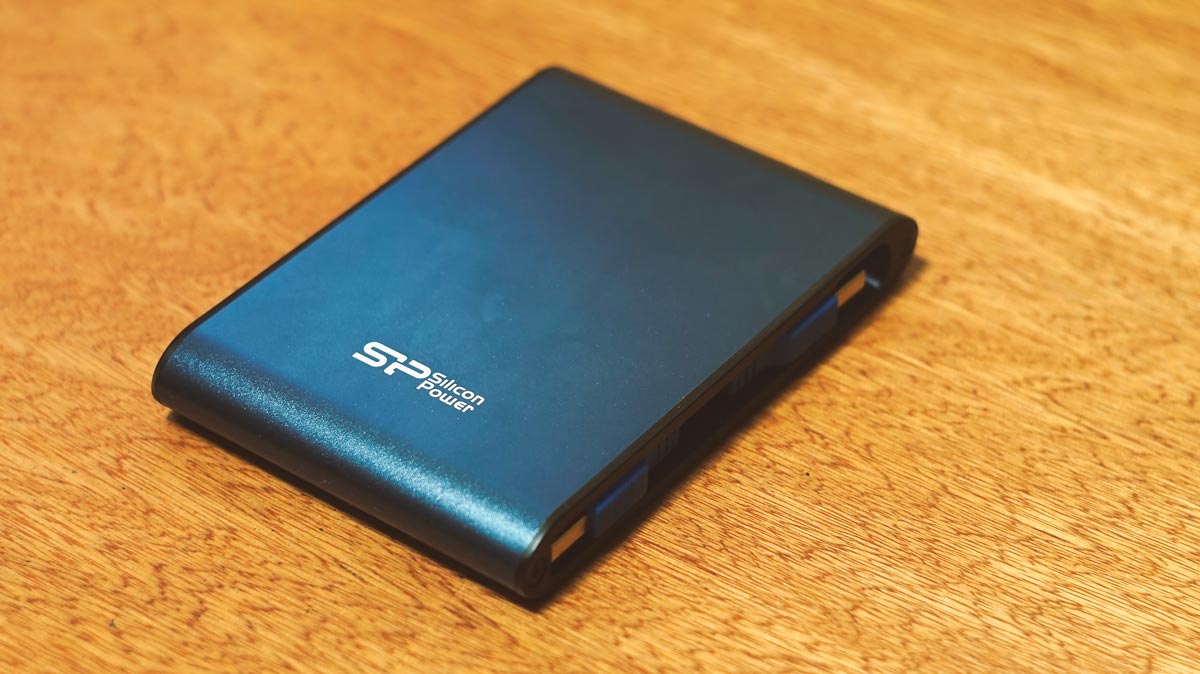 According to Silicon Power, the Armor A80 complies with the IEC529 IPX7 waterproof test for one meter under water for 30 minutes. It also features dust proofing, and pressure proofing. In addition, the drive should withstand falls at 4 feet and below. It's heavy duty and is actually, a bit heavy too compared to other external storage solutions at 270 grams.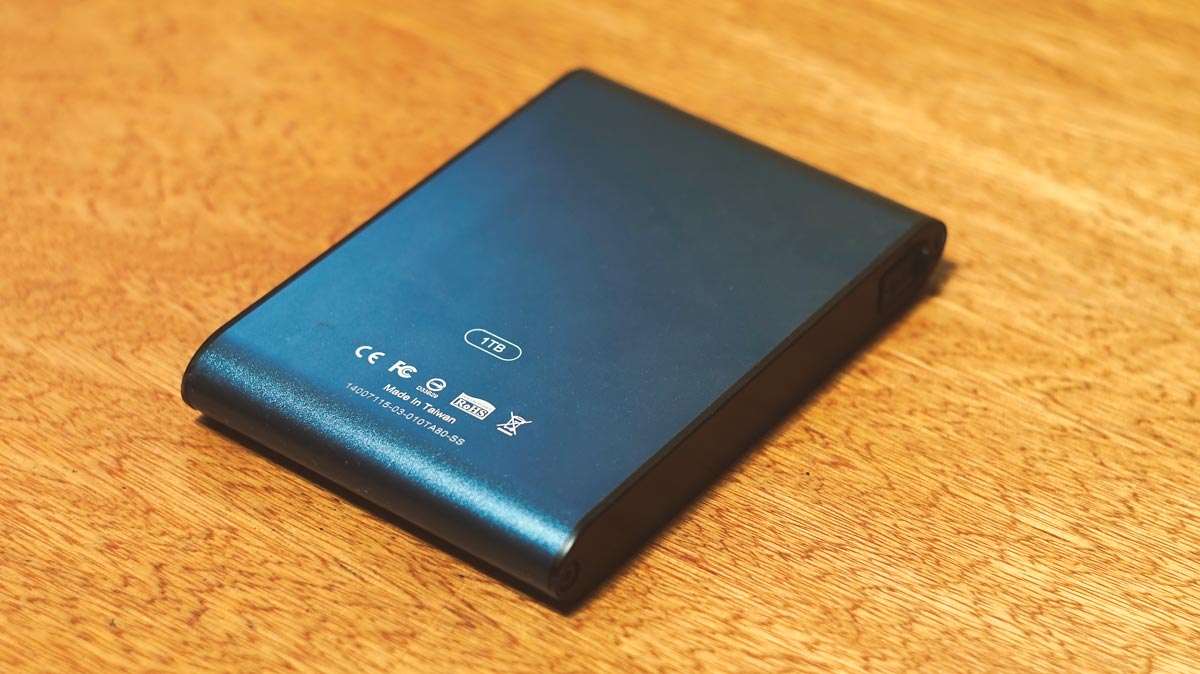 The right side of the drive features a slot for the small USB 3.0 cable. It might come in handy if you prefer to travel with the drive alone keeping things low profile and simple. I find it useless on desktops but for travelers with notebooks, it's a good accessory to bring with.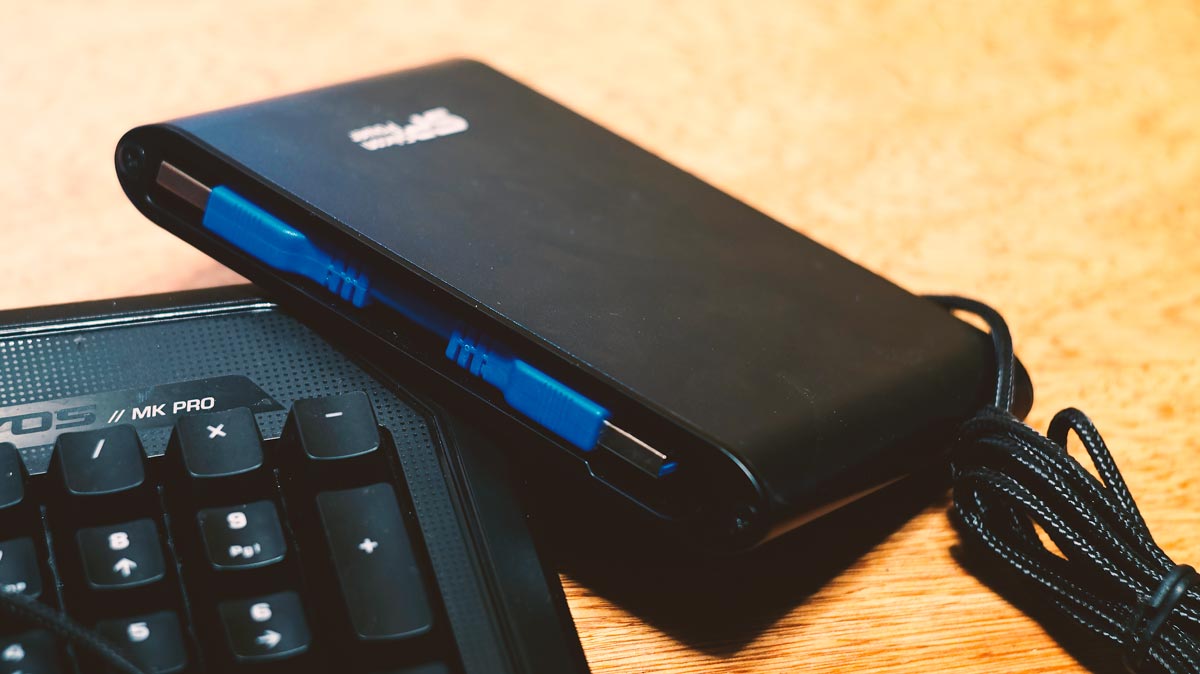 The female USB 3.0 port located on the Armor A80 could be sealed. This is probably to ensure tight seal when you, for example, dumped the drive accidentally in a pool of water. It also keeps the port free from dust which is a plus since dusts could pose serious electrical problems and may damage the contacts.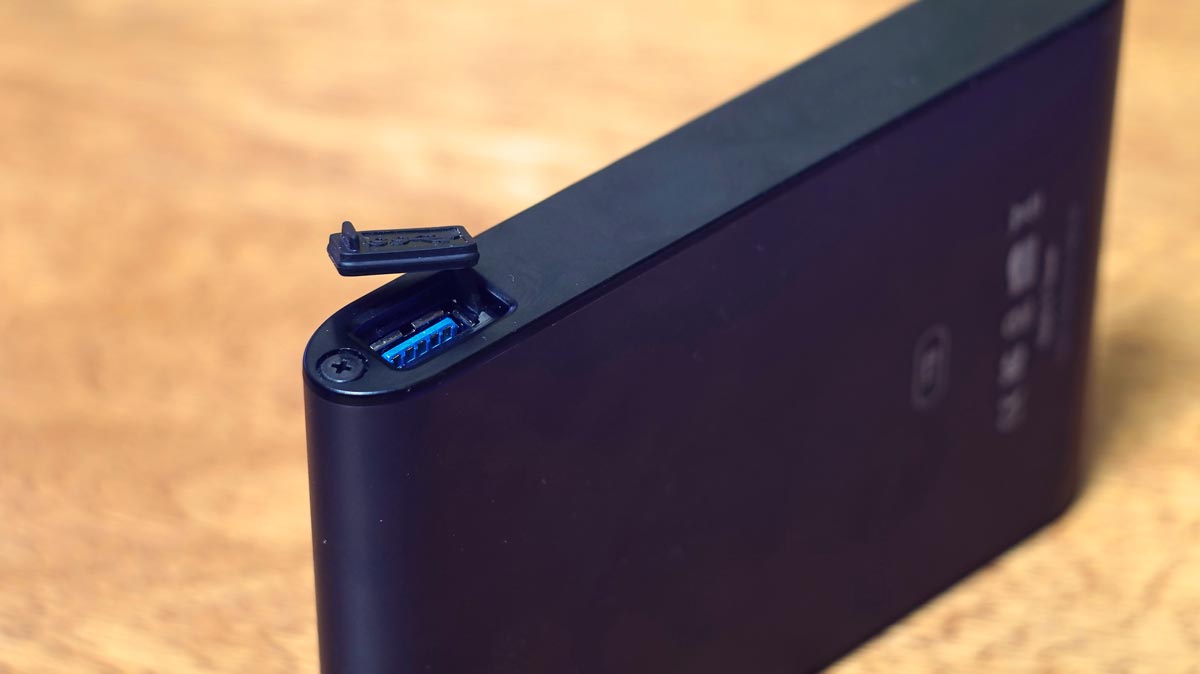 The Armor A80 is not the slimmest and lightest external storage device we've got but it made a hella good comparison with others in its class. Let us head to the testing.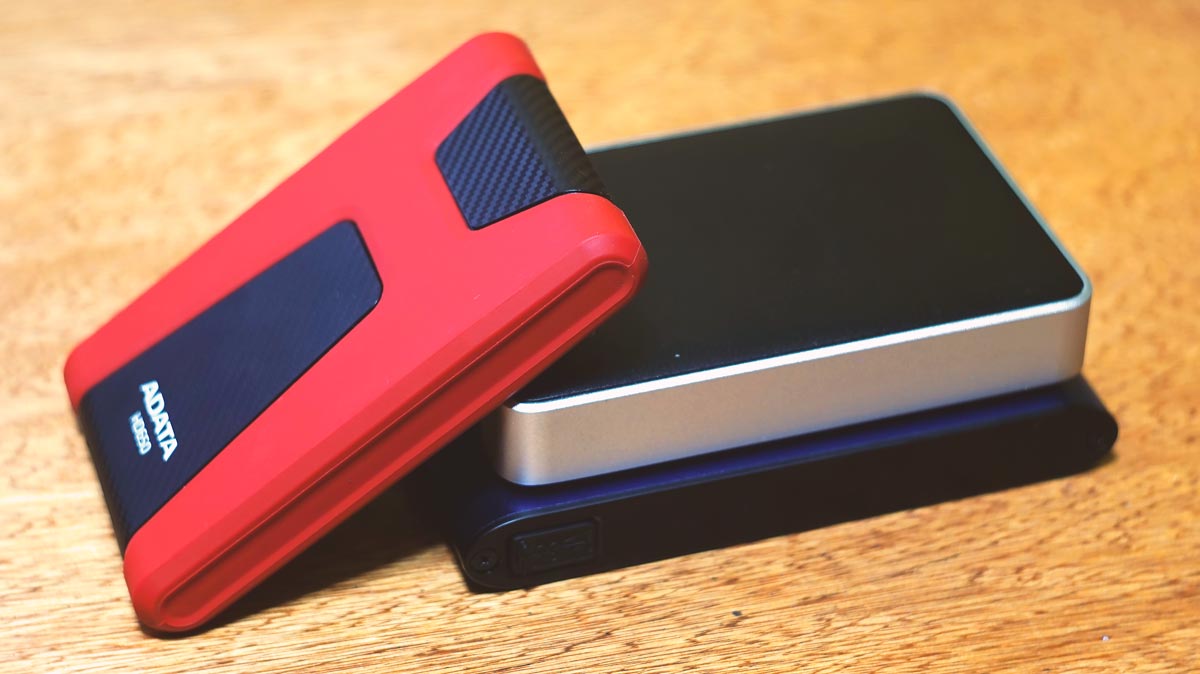 TEST SYSTEM & INSTALLATION:
Storage devices, unlike motherboards, revolves around the use of various storage benchmarking tools to test their performance. We've got loads of them in the past, but we toned down the benchmarking tools to ATTO, and Crystal Disk Mark. AS SSD should make a comeback, but it's for SSDs alone due to the strain that it could put to mechanical drives.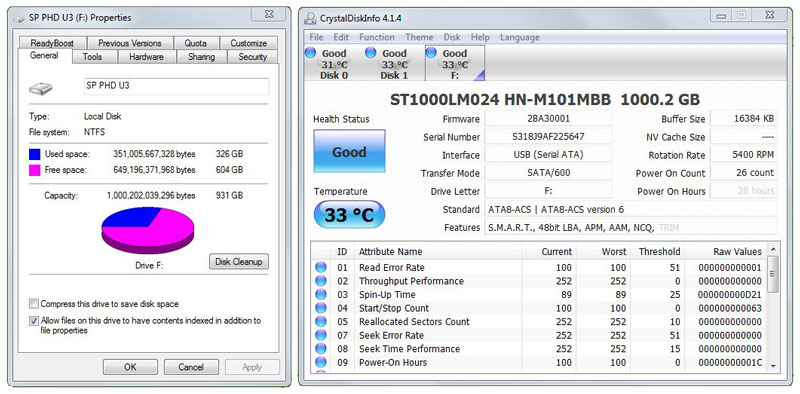 The Silicon Power Armor A80's core is a SAMSUNG Spinpoint M8 with a 5400RPM spinner and a 8MB of solid cache. It has 931GB of available space to play with.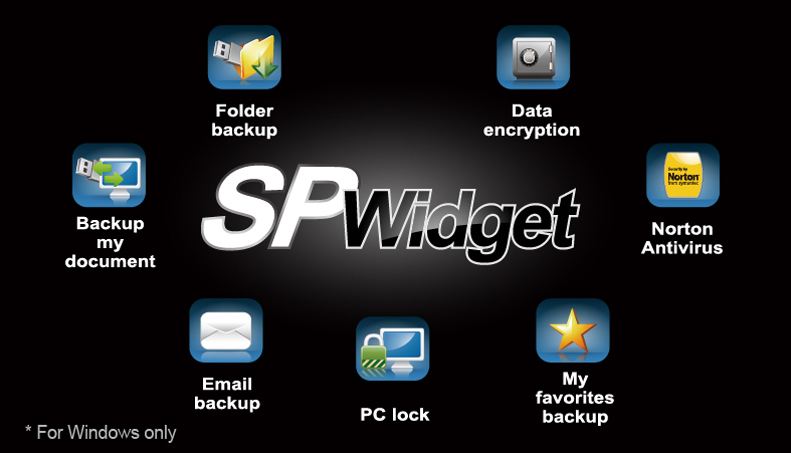 The Armor A80 also comes pre-installed with the Silicon Power "SPWidget". It basically is an app with various backup and security features ready to be utilized upon purchasing the A80.
SYNTHETIC PERFORMANCE:
First up in the benchies is ATTO Tech's Disk Benchmark. It basically measures the system's storage performance with various transfer sizes and test lengths for reads and writes. An industry standard.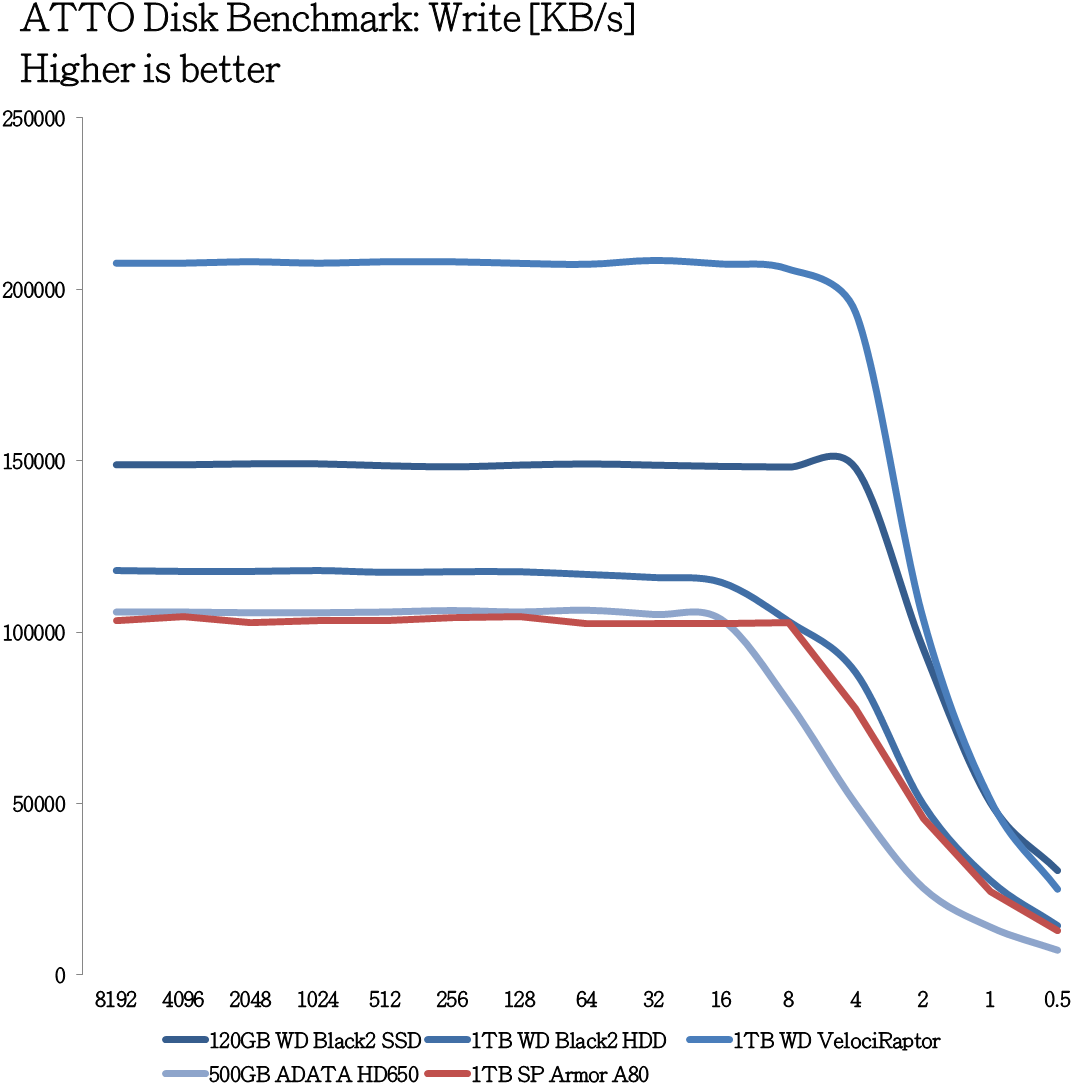 ---
Next up is the venerable Crystal Disk Mark. This storage benchmarking software  aims to measure sequential, and random read/write speeds of storage devices. Check out the author's page HERE.
---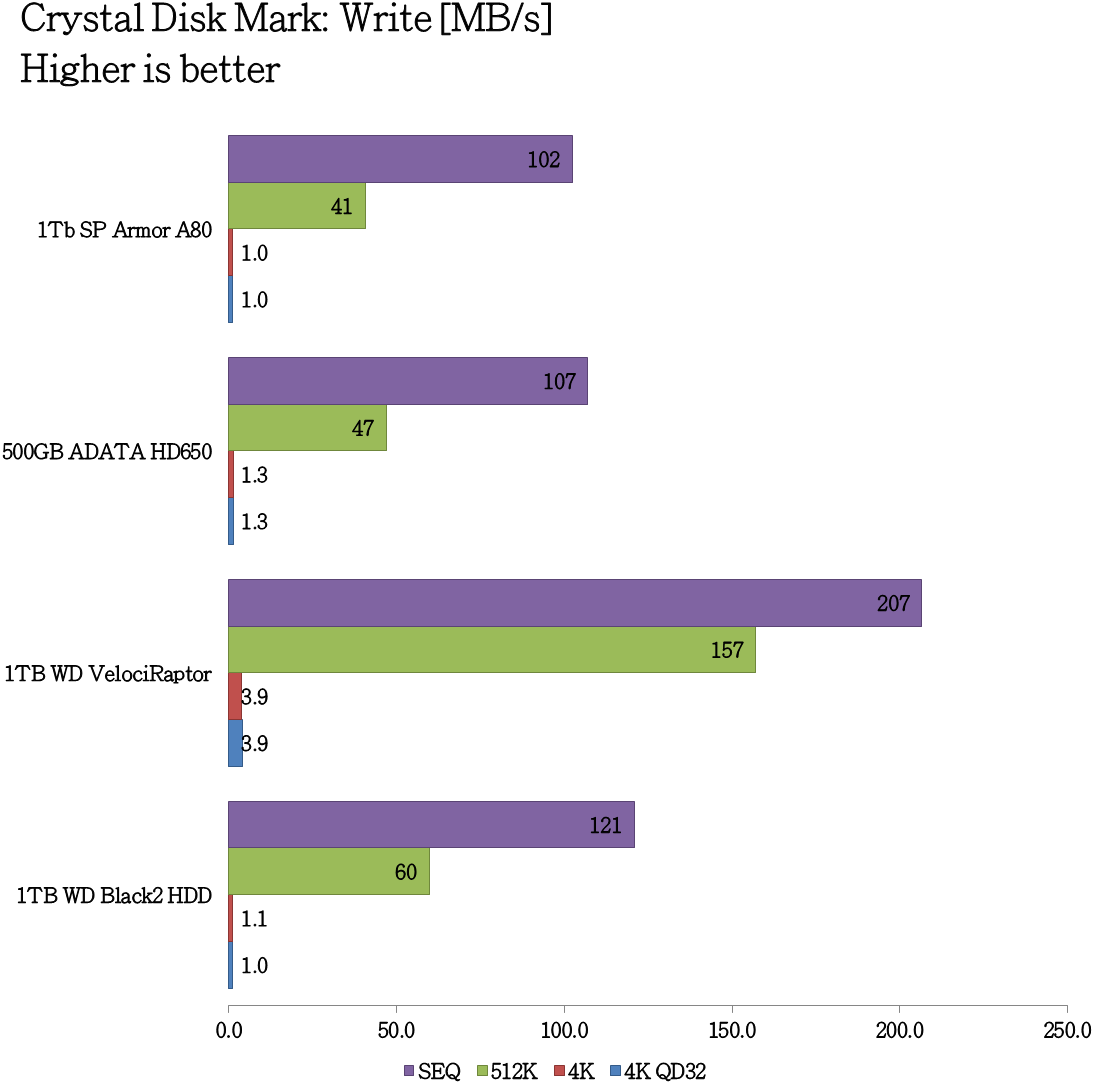 REAL WORLD PERFORMANCE:
Last but not the least, we've got a real world test, to well… check the real world performance of the drive(s). First up in the test is the file copy test which involves copying of Images, Videos, PSD files, DOC, XML, PDFs, etc. you name it, to simulate a real world file copy scenario. Do note that the files are inside a folder, and they're randomly placed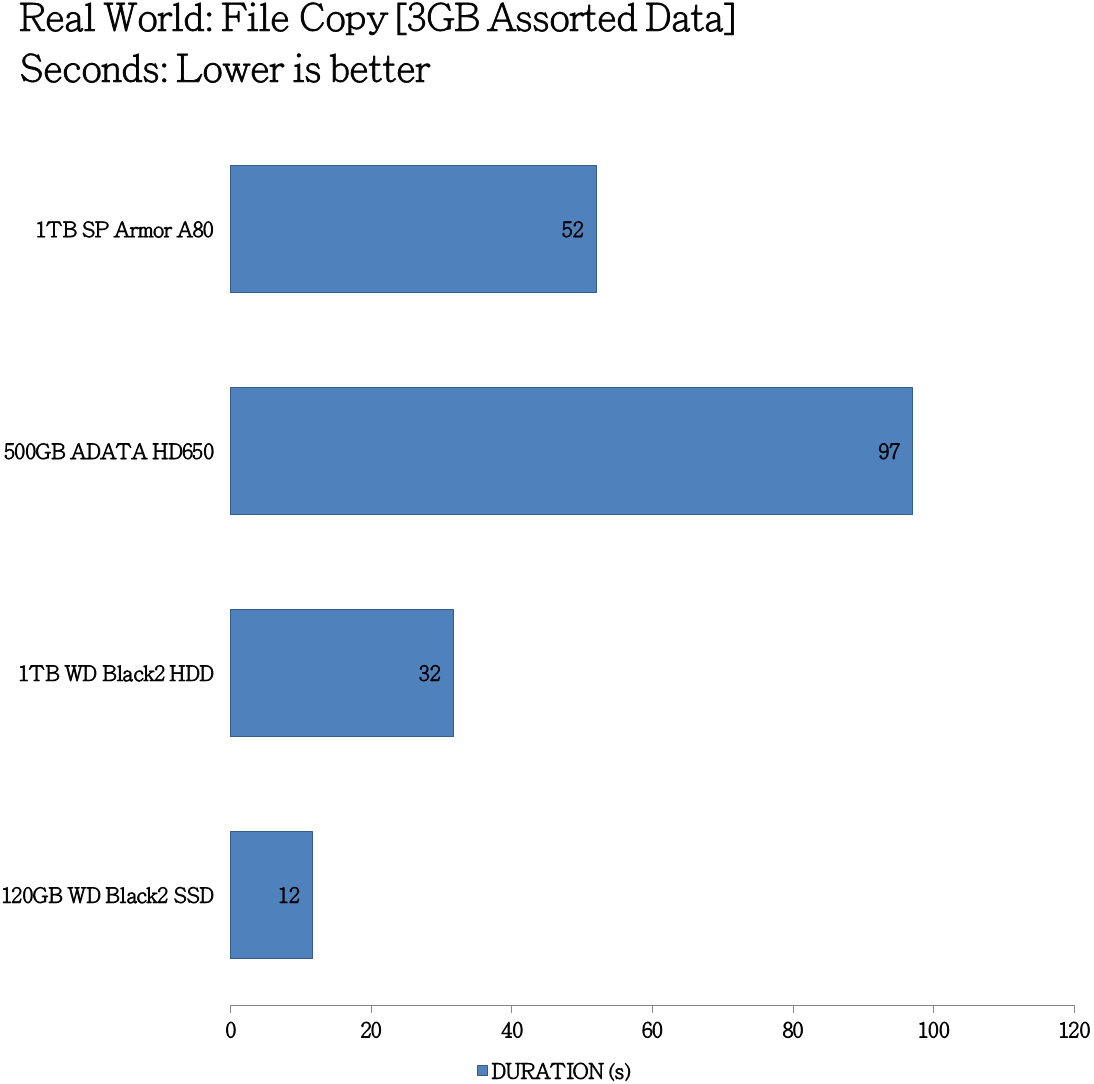 PERFORMANCE ANALYSIS & CONCLUSION:
The Silicon Power Armor A80 is an aptly named storage device. It is rugged, passed military drop tests, dust proof, and could even withstand exposure to liquids for 30 minutes all while taking form into account. By all means the Armor A80 doesn't look like an armored drive at all, and I applaud it for deviating to that old formula alone.
Now when it comes to performance, the Armor A80 wouldn't impress that much, yet it is great nonetheless. Great, in a way that it beats our ADATA HD650 when it comes to reaching the maximum potential speeds at a certain transfer size length (ATTO) faster than the competition. In addition, the Armor A80 bested the HD650 when it comes to real world performance tests, despite losing by a small margin to the said external storage device at Crystal Disk Mark. Seriously, you'll use this drive to store data more than running benches all day with it, right?
Now what's surprising about this drive is that it features  a great price to performance ratio if compared to the drives on the chart above. With that said, you're actually going to pay less per GB with it. In all honesty, I can't find anything wrong with the Armor A80 except for the fact that it comes in Blue color alone with no other options and that it's marginally a larger external drive compared to the competition.
At 82.99 USD by the time this review has been written, or at 3, 500 Pesos locally at Octagon retail stores nationwide, the Silicon Armor A80 is undoubtedly a great drive for the price, both inside and out. Go check it out if you need a spacious drive and if you are seriously taking reliability into account.
THE VERDICT
PROS:
FANTASTIC BUILD QUALITY

BEAUTIFULLY CRAFTED

REAL WORLD PERFORMANCE

GREAT VALUE FOR MONEY

3 YEAR WARRANTY
CONS:
MIGHT BE TOO BULKY FOR SOME
Silicon Armor A80
PERFORMANCE -

7/10

BUILD QUALITY -

8/10

FEATURES -

8/10

AESTHETICS -

7/10

VALUE -

8/10
Summary
The Silicon Armor A80 is undoubtedly a great drive for the price, both inside and out. Go check it out if you need a spacious drive and if you are seriously taking reliability into account.