Thermaltake unveils the TOUGHDESK 350 Smart Gaming Desk, equipped with a series of smart features to provide users with a more customized, flexible, and secure experience. The TOUGHDESK 350 Smart Gaming Desk matches the RGB Desk Mobile App and the iTake Engine Software allowing users to adjust desk height and RGB lighting through their own digital devices. On top of that, anti-collision safety sensors and upgraded dual electric motors enhance the safety and stability of the smart desk's lifting process.
With a TT Smart Control Unit, the TOUGHDESK 350 can be controlled by your phone or PC via WiFi. After connecting to WiFi, through the RGB Desk Mobile App, besides customizing the RGB lighting effects on the peripherals, you can set the desk height from 70 cm to 110 cm (27.5″ ~ 43.3″) or quickly switch to 4 levels of preset heights (70cm, 80cm, 90cm, 100cm). Additionally, with the powerful MCU built into the control unit, the mobile app can track your usage habits to automatically adjust the desk height based on your schedule.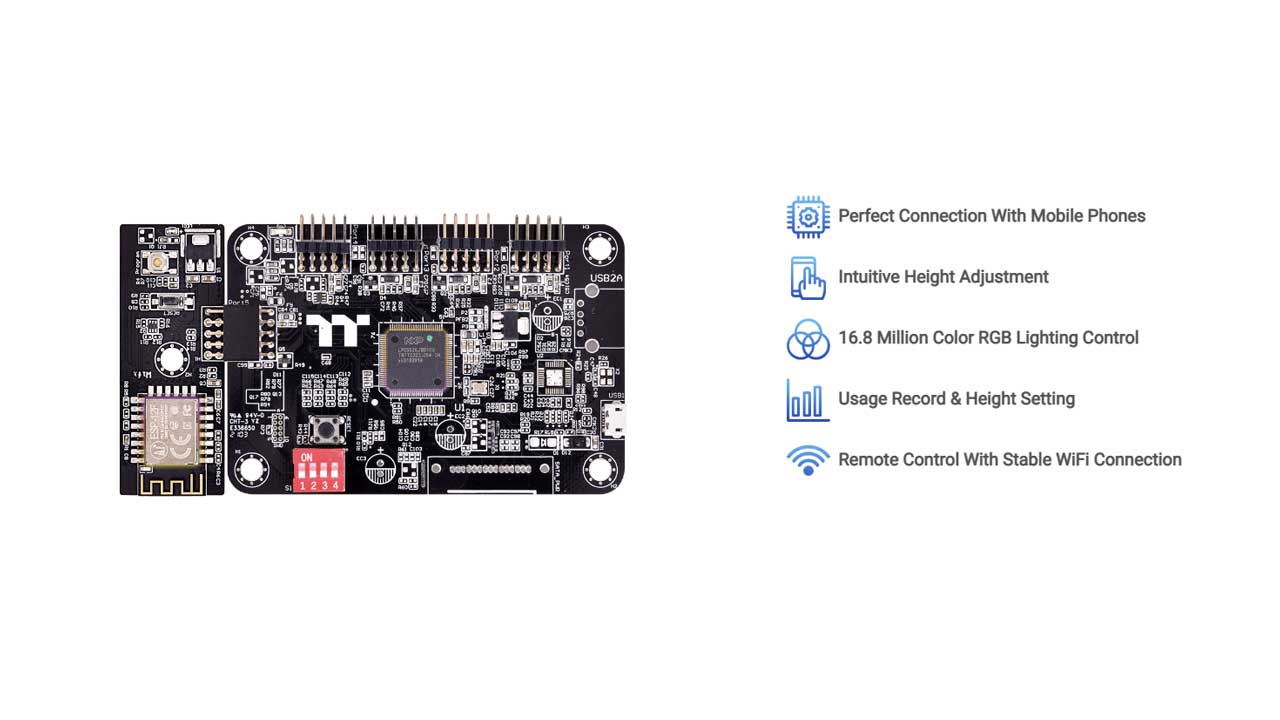 For more control platform options, users also can effortlessly personalize the RGB lighting and desk height through the iTake Engine Software on the PC, or modify desk height and save up to 4 height memory settings through the smart controller panel on the desktop. According to your preference, you can elastically choose the way you like to operate The TOUGHDESK 350 Smart Gaming Desk.
To pursue a safe and stable usage situation, the TOUGHDESK 350 Smart Gaming Desk is installed with anti-collision safety sensors to automatically detect when the desk encounters obstacles while elevating the gaming desk. Furthermore, the double electric motors allow the TOUGHDESK 350 to increase the strength, stability, and quietness of the lifting process. Moreover, the steel-built frame efficiently prevents vibration during height adjustments to support the desk's stability and comfort.
TOUGHDESK 350 is a smart gaming desk that combines functionality and flexibility. The extra-large desktop and a max load of up to 150 kg (330 lb) reduce the limit for users to choose their preferable peripherals.
Last but not least, TOUGHDESK 350 also offers a solution for cable management, and users can organize the wires in the groove under the desk to maintain the workspace clutter-free.