ZOTAC GTX 1080 AMP Extreme & Mobile VR Takes The Show
ZOTAC at COMPUTEX 2016 is brimming with their products – with SSDs, VR Capable Mini PCs, IoT products, and of course the latest GeForce GTX graphic cards. It is not the fanciest out of all the suites at the Nangang Hall, but it sure is friendly enough for the show goers to be easily navigated and to look out for some interesting things inside.
The main attraction of course is the mobile VR backpack, which is basically a ZOTAC MAGNUS EN980 within the backpack. It is powered by a battery cell so everything here is wireless. It's a nice concept, and we can already see the implications of such prototypes in the near future.
SSDs, and Mini PCs are ZOTAC's focused products this 2016, with 4 2.5″ SSDs and one for the PCI-E slot – which is the fastest they've got. As for the ZBOX Mini PCs, they've got 4 models, with 2 of those featuring an HDMI insert. A powerful alternative to Chromecast devices.
Of course, it wouldn't be a proper tour if there's no ZOTAC graphics card inside. We've actually spotted 3 models of Nvidia's latest GeForce GTX 1080 GPU, with the AMP Extreme being the flagship one featuring a triple slot, and triple fan design towering at almost 13 inches. The thing is huge, and is comparable to the GTX 980 Ti AMP Extreme.
The ZOTAC GTX 1080 AMP Edition is a lighter version of the Extreme, with a dual fan configuration and a dual slot design. This should be the get go card of ZOTAC's GTX 1080 family if you're serious about SLI configurations on a mATX system.
ZOTAC also features their own Founders Edition of the card, which is basically Nvidia's design. Since ZOTAC has their own, they could release this with a slightly higher clock compared to the Founder's reference clock speeds.
ZOTAC is gunning it at COMPUTEX 2016, offering the latest in PC gaming and VR. But, if you're interested at IoT, or Internet of Things devices, then ZOTAC got you covered with smart plugs under the COZEE family. Using a gateway, sensors and smart plugs can communicate with each other seamlessly.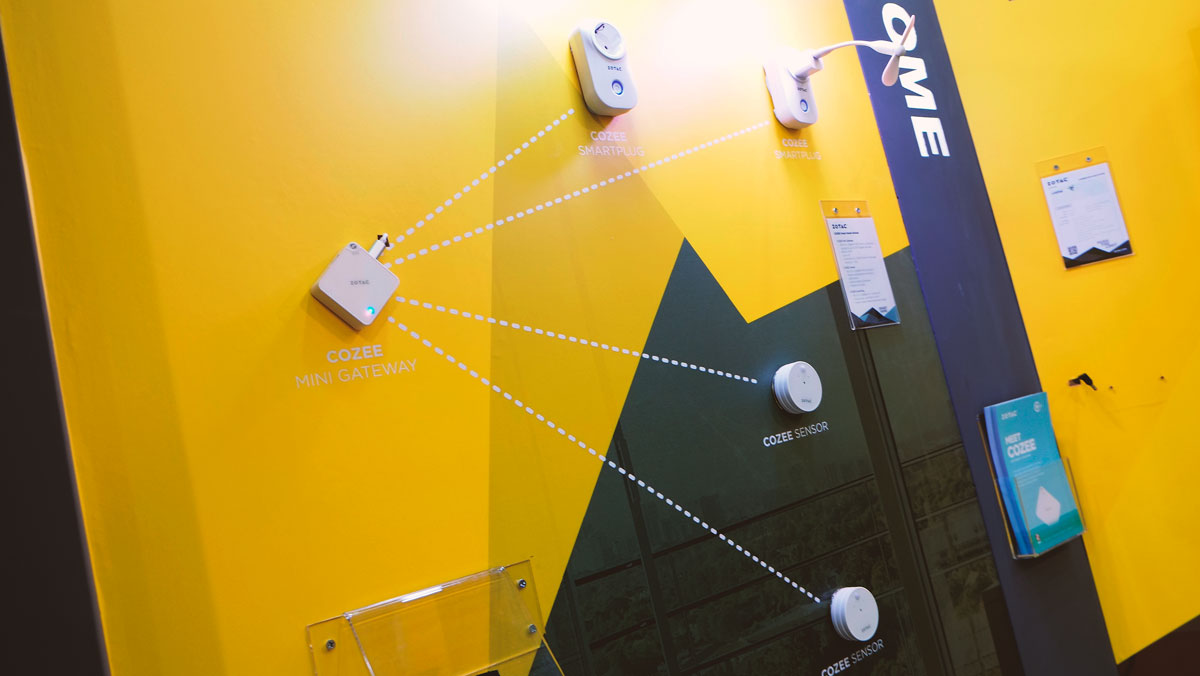 Our visit at COMPUTEX 2016 is provided by our partner, Image Media.