If you're searching for a small and compact soundbar that can fit anywhere near your TV setup, then the Zvox AccuVoice AV200 Soundbar is you've been searching for. What is unique about this particular one is that it comes with a hearing aid system.
Features:
Dimensions: 17×2.9×3.1 inch
Channels: 2.1 channel soundbar
Connections: 6-inch long digital optical cable, 58-inch long RCA cable, AC power adapter
Built-in hearing aid technology
Audio power: 24W
Constructed from aluminum materials
This technology crystal clears dialogues and conversations between people. It is perfect for older people because of its crisp and clear sound effects. Another cool feature is that it can automatically lower down the loud advertisements during movies or any other sound that might seem higher than average.
It is relatively easy to install it since it's meant for older people and can be placed in front of your TV on top of the table. On the display side, you can see the volume range and on the right side are displayed most of the buttons, including the power button. Input/output ports are located on the rear side of the soundbar. It perfectly fits for small apartments and bedrooms.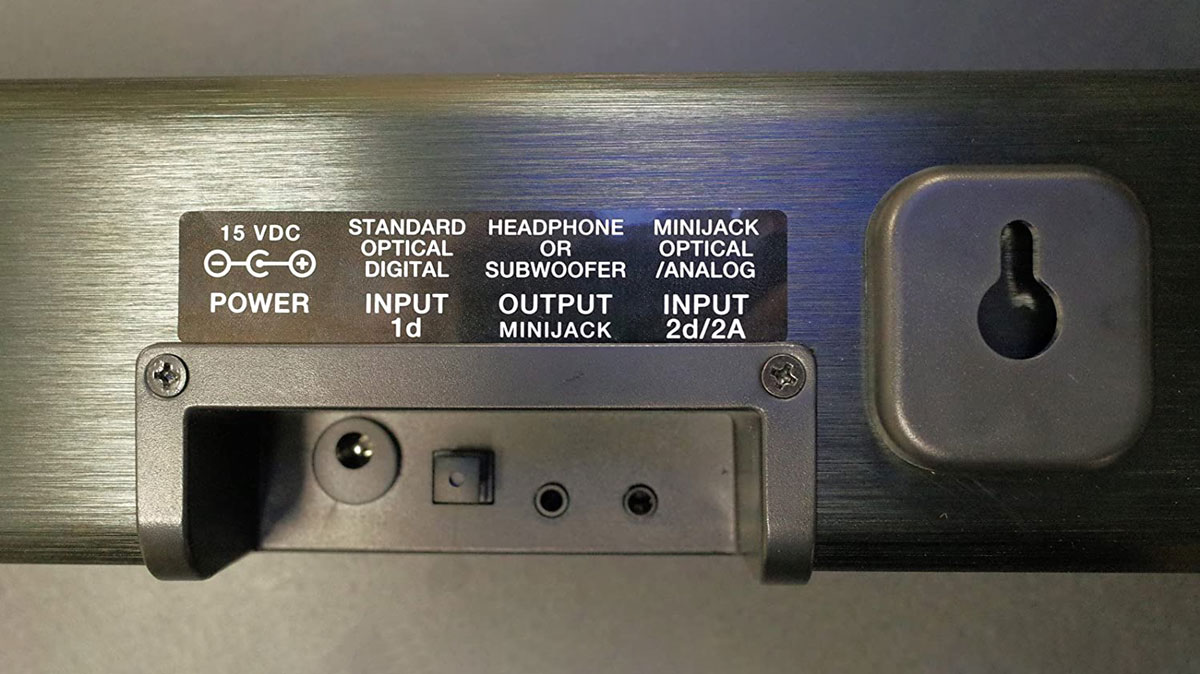 Since it has a built-in hearing aid system, it's appropriate for people who have hearing problems. A downside of this audio device would be that it isn't built for high-quality sound or bass performance. It comes with a convenient remote control that is relatively easy to use.
Pros:
It is made from high-quality materials thus it is expected to last longer.
The built-in hearing aid technology creates super-clear conversation, thus helping older people hear brighter and better.
It is compact and can be placed almost anywhere.
It provides a deep surround sound performance so you can experience every movie scene at its maximum.
Cons:
It might sound good, but it is primarily made for older people who have hearing problems. That is why a hearing aid system is included in this model.
It quiets down some louder scenes, but it can overdo it so it can create a problem for you not hearing well some of the movie moment.
It doesn't have available Bluetooth or Wi-Fi support, and HDMI and USB input ports are also missing.
After taking all this into consideration, this compact soundbar is perfect if you have hearing problems. It will clear and make conversations crisp to provide excellent surround sound performance. It is a 2.1 channel configuration, and it comes with two speakers, one to the left and one to the right side. It is assessed at 4.5 out of 5.0 stars review, and it is well suitable for smaller rooms and bedrooms.
Zvox AccuVoice is an amazing soundbar, but if you need a more advanced soundbar and you have the budget to buy a high-end one, you might want to check out this comprehensive sonos playbar review. The Sonos Playbar is well-designed to be integrated into your tv setup or home theatre, so it's easier to have a complete audio set that will elevate your watching and listening experience.