What do you get when you combine a mouse, the ASUS ROG, and a full 150 dollars in one package? Well, you get the Spatha Wireless MMO Gaming Mouse. It's by far the priciest mouse ASUS ROG has to offer, and it comes with tons of features to back it up – especially made for the MMO crowd.
Now 150 dollars or 6, 910 PHP is kinda huge sum of money to be invested on a gaming mouse. But, since the Spatha is geared towards the MMO crowd, we can see why it had such monetary value. First of, it has 12 buttons scattered around the shell together with a gaming oriented design suitable for the ROG moniker. To top it off, the Spatha features a magnesium alloy base which adds to the overall premium feel of the mice. It comes with a dash of replaceable Omron switches too along with RGB lighting. Customization is also a huge part of the mouse.
FEATURES & SPECIFICATIONS: CLICK HERE
Connectivity Technology
Wired/Wireless
Wireless Technology
RF 2.4GHz
Tracking
Laser
OS Support
Windows 10
Windows 8.1
Windows 8
Windows 7
Dimensions
89*137*45mm (mouse)
81*141*22mm (dock)
Weight
178.5 g without cable
Color
Titanium Black
Resolution
8200dpi
Interface available
Mouse : USB
Contents
1x wireless receiver/ charging dock
1x 2-meter braided USB cable
1x 1-meter rubber USB cable
2x Japanese-made Omron switches
1x carry case
1x star-head screwdriver
2x ROG logo stickers
1x ROG certificate
Compatible switch list for ROG switch socket:
Omron D2F Series switches: D2F, D2F-F, D2F-01, D2F-01F
Omron D2FC Series switches: D2FC-3M, D2FC-F-7N, D2FC-F-7N(10M), D2FC-F-7N(20M)
UNBOXING THE ASUS ROG SPATHA:
As usual, ASUS maintained the ROG status quo with a lavish packaging, built indeed for a 150 buck mice. It is stiff, it is hard, and is pleasing to the eyes with the Spatha's images all over its facade.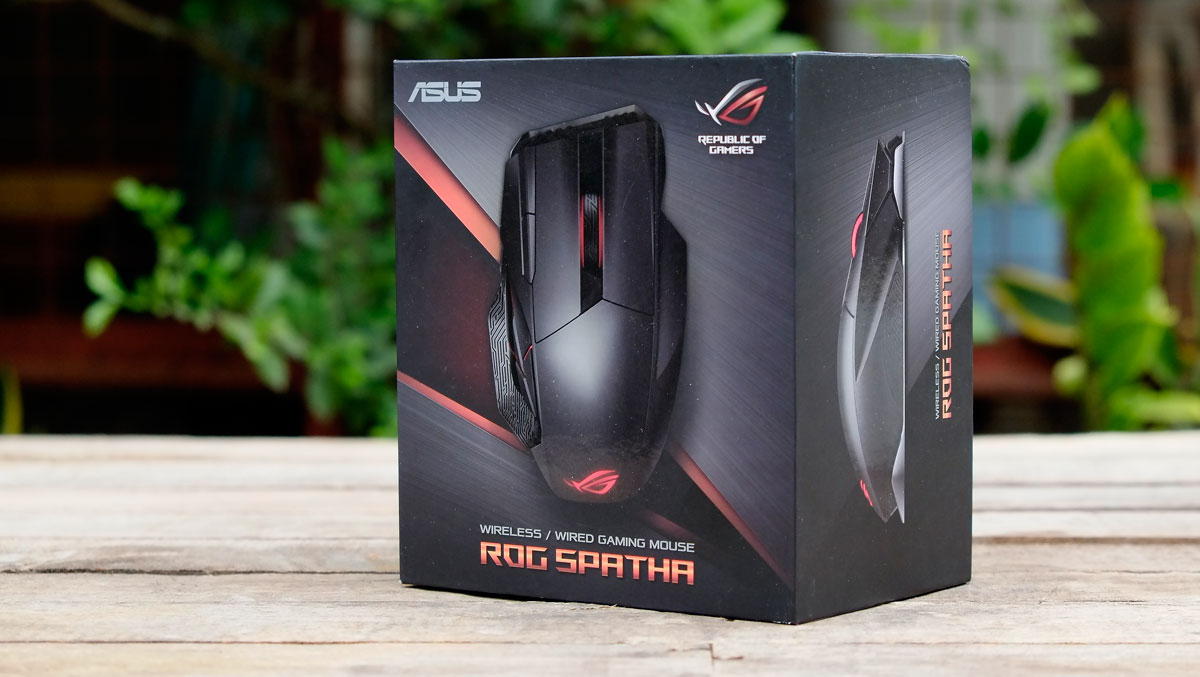 The back features more about the mouse's well, features. Nothing over the top here, just full of things that ASUS wants you to see.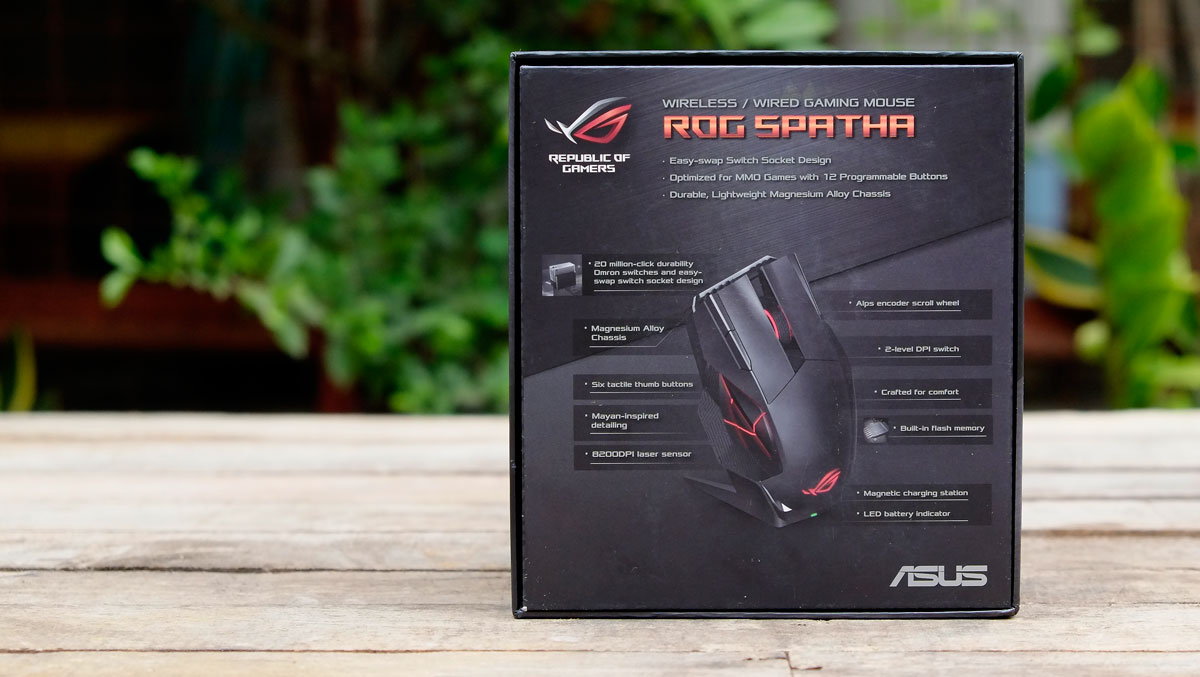 A quick start guide together with a hard case, and a welcome note from ASUS ROG are included in the setup. Nothing crazy, yet.
Once you open the hard pouch, which is cool by the way, you will be introduced to the many bundle the ASUS ROG Spatha has to offer. That includes the dual ASUS ROG sticker, the extra Omron switches, and the dual USB cables. The charging dock-slash RF receiver is also present here as well. Sweet baby GabeN.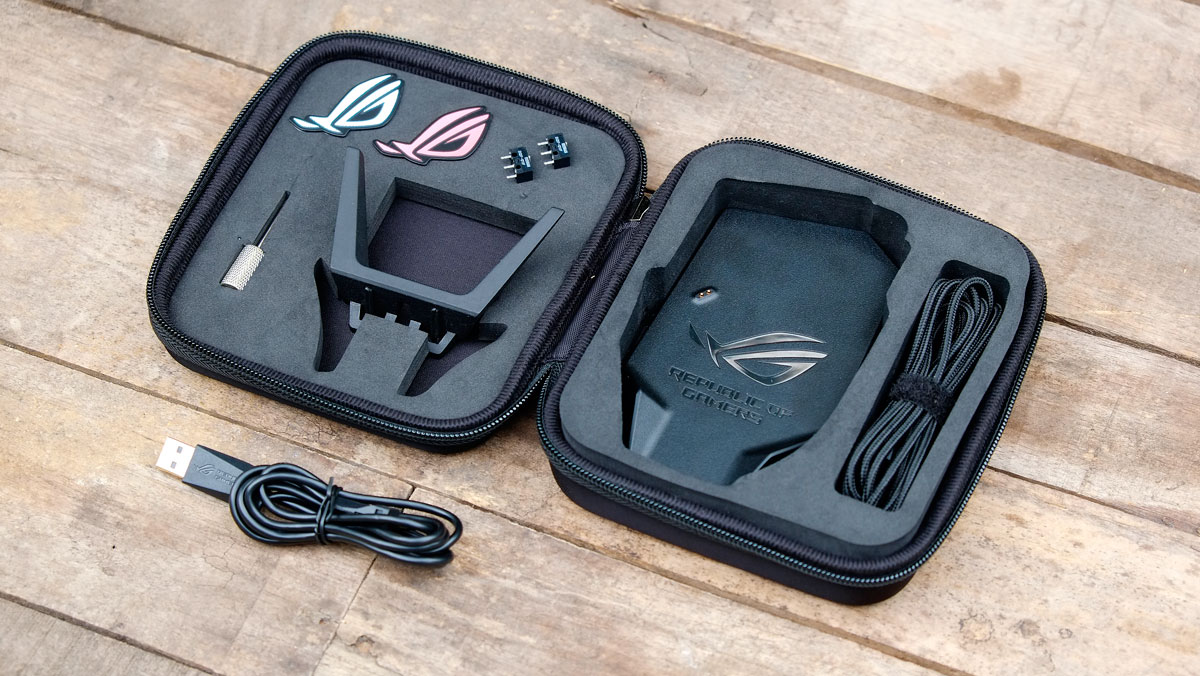 ASUS ROG SPATHA DESIGN & BUILD QUALITY:
The ASUS ROG Spatha maintained the ROG appeal with its menacing looks and sexiness. That said, the Spatha will definitely score a perfect point to those who are looking for a uniquely styled gaming mouse. The thumb buttons are definitely one of the highlights here.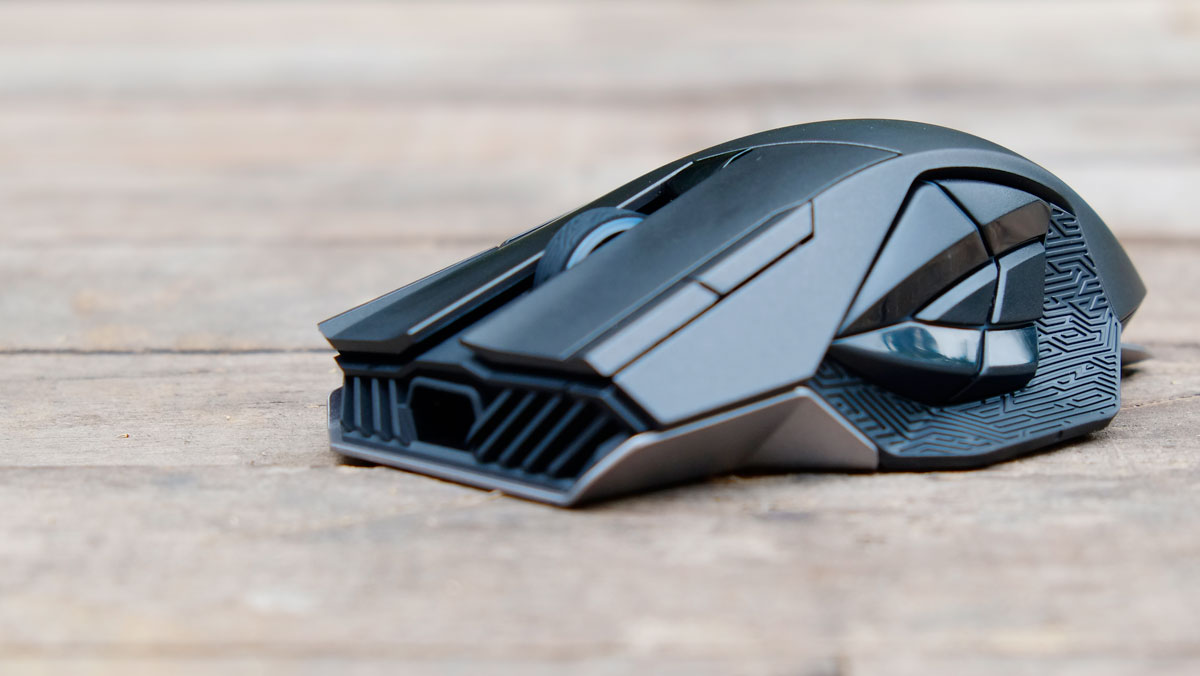 The Spatha is by no means an ambidextrous mice, as it features an asymmetrical design. With a length at around 5 inches, and a maximum width of 3.5 inches, this one is made for gamers with larger hands. The weight is also on the plus side at around 175 grams. This puts the Spatha on the list of the heaviest gaming mice that I tested so far and is definitely not geared for competitive gaming – where 100 grams and lighter gaming mice are required. Note that there is no way to lose that weight. Scroll wheel is definitely smooth with little resistance.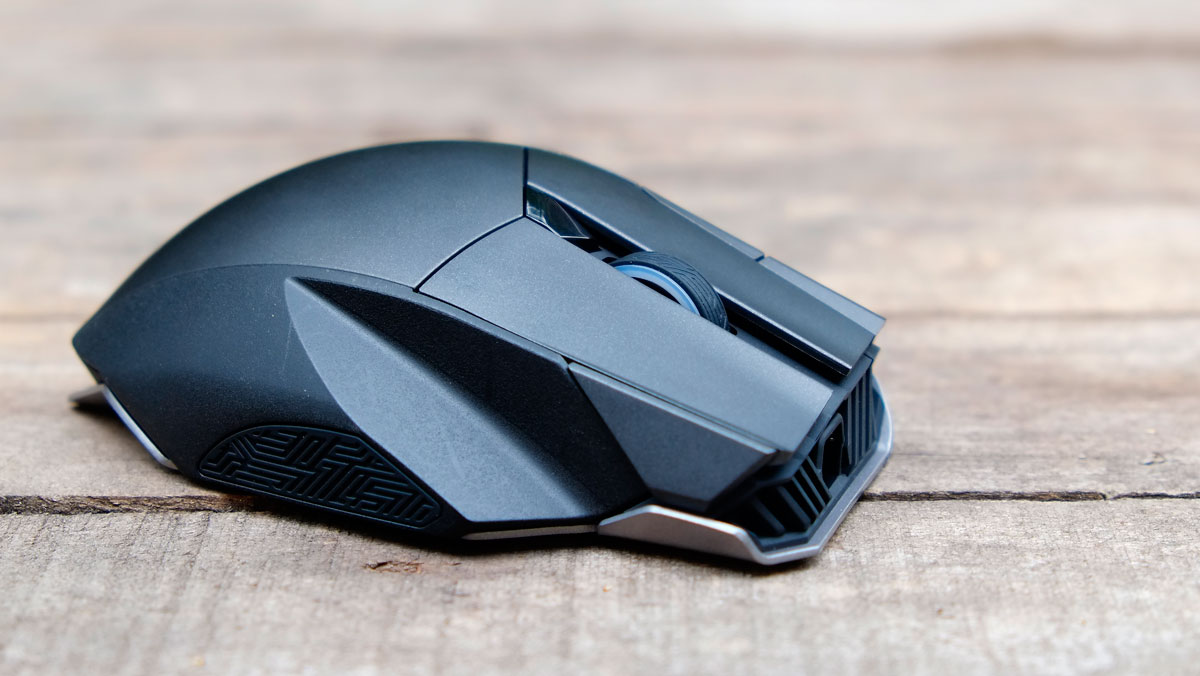 The mouse stands tall at around 1.75 inches on its highest point which is the height that you would normally expect for a mouse intended for palm grip gamers. ASUS of course stated that it could be used by claw grip gamers as well which is kinda true if you have larger hands. I tried it, kinda works for me, but could be better. My hands are 6.5 inches in length and 4 inches in width for reference.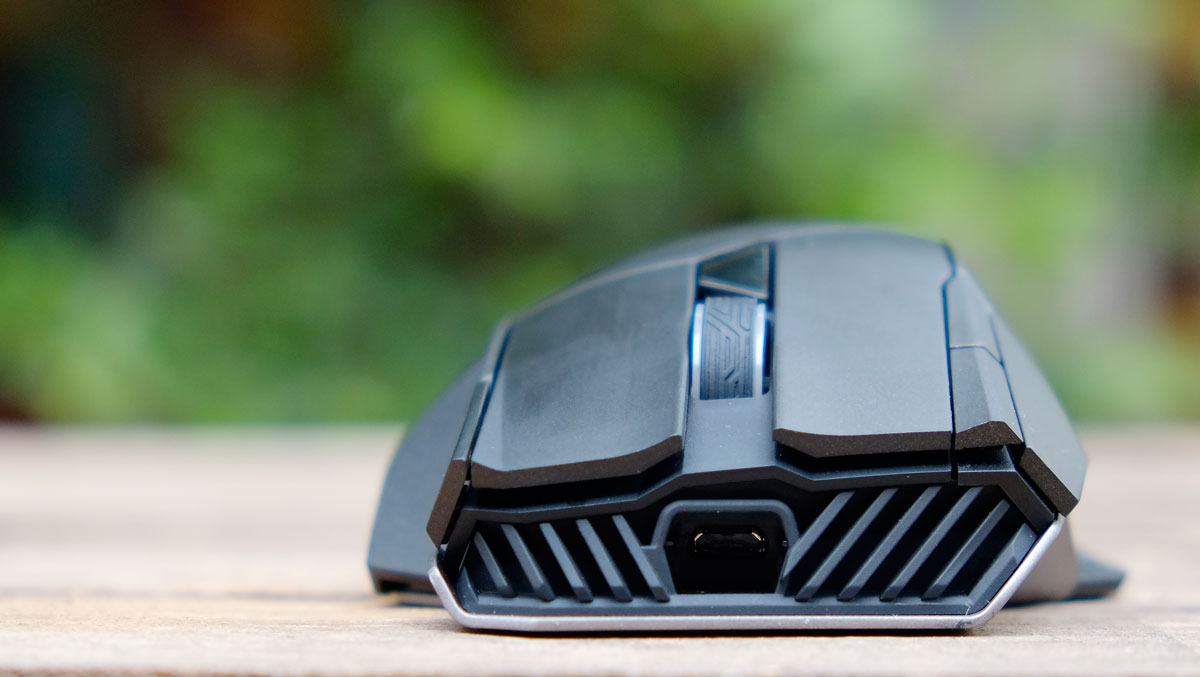 You can use the Spatha in both wired and wireless mode with a micro USB port that could be used to charge and connect the device. The port area has a proprietary design but you can use normal USB cables here if they are smaller than the said area. We are glad that ASUS bundled Two USB cables here, with the braided cable longer than the normal one included.
MORE ABOUT THE SPATHA:
The Spatha comes with four proprietary rubber padding. This makes it hard to look for replacements, but if you can't, the magnesium alloy will probably do its job as a secondary gliding material. Do not take my word for it 100% though. Now as for the sensor, ASUS slapped the Pixart ADNS 9800 to this mouse. It is a laser based sensor with loads of premium features suitable for wireless usage. Not the best sensor on my books though.
The Spatha can be easily disassembled by removing four Torx screws located around the sensor area. ASUS provided a screw driver so it should be easy enough for you. Once removed, you'll see the 1000 mAH battery, the guts, and the removable switches of the mouse. The right side grip of the mouse is removable as well so we might see thinner grip options in the near future. The default Omron switches are snappy, and has a good tactile feedback. Side buttons are nice to press as well.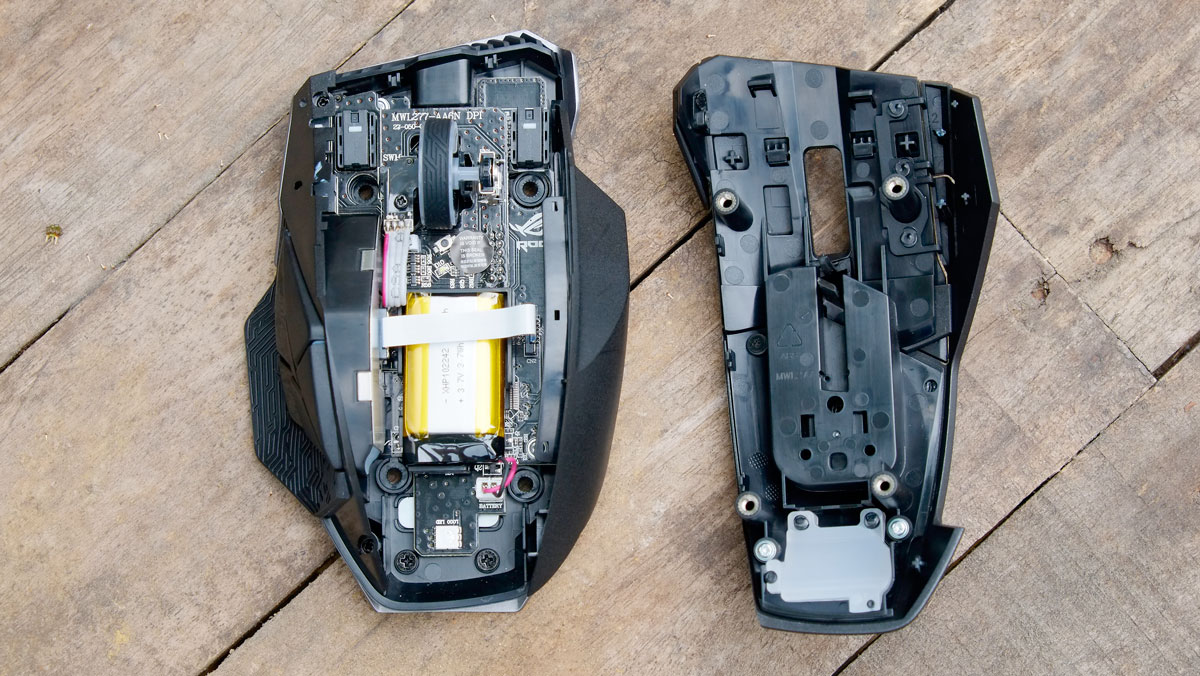 The mouse, together with its magnetic docking bay is absolutely gorgeous. There is no reason not to use it really.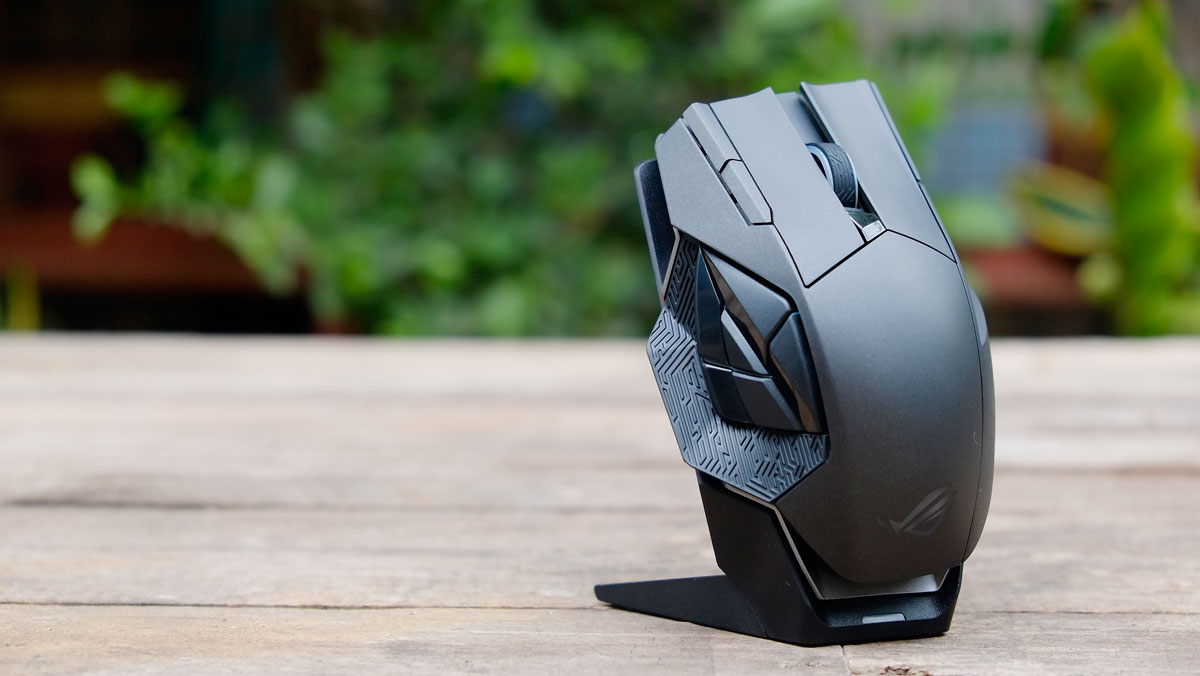 Overall, the ASUS ROG Spatha features all the bells and whistles that you would expect for an ASUS ROG mouse. Build quality, looks, and feature wise.
THE ASUS ROG ARMOURY:
The ASUS Armoury is an interesting software built specifically for the Spatha. It isn't the flashiest we've seen but it does the job well by allowing us to customize the mouse with 6 profiles to choose from.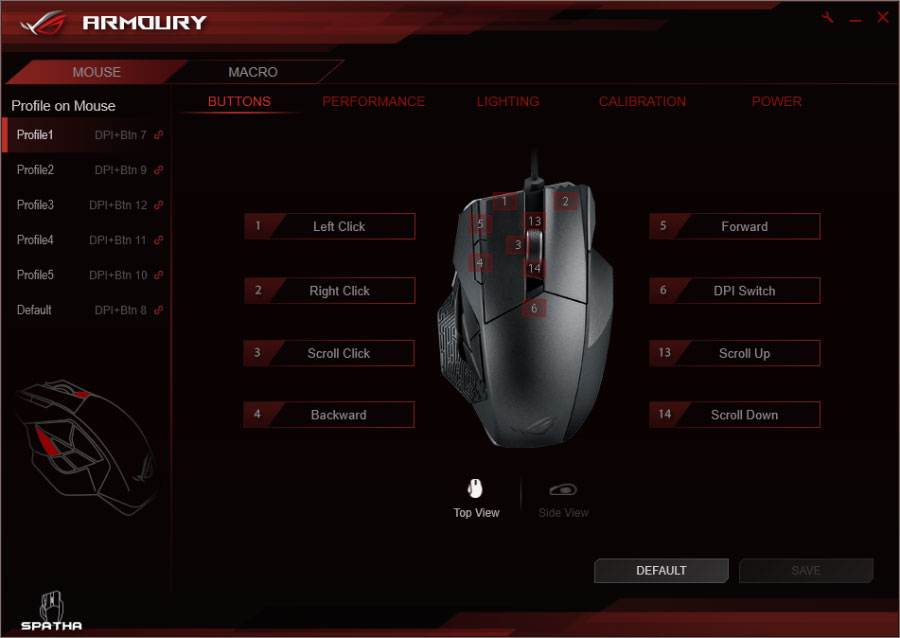 There are loads of settings that could be set per profile. That includes precise DPI/CPI control, polling rate, button response time, and even acceleration which is I doubt you require to play with. Per profile customization is good, but I do hope some of these could be adjusted without requiring to visit each and every profiles.
You can set custom RGB lighting combinations with the Spatha with 6 lighting effects. You can precisely choose the color you like via a color wheel or via an RGB color table.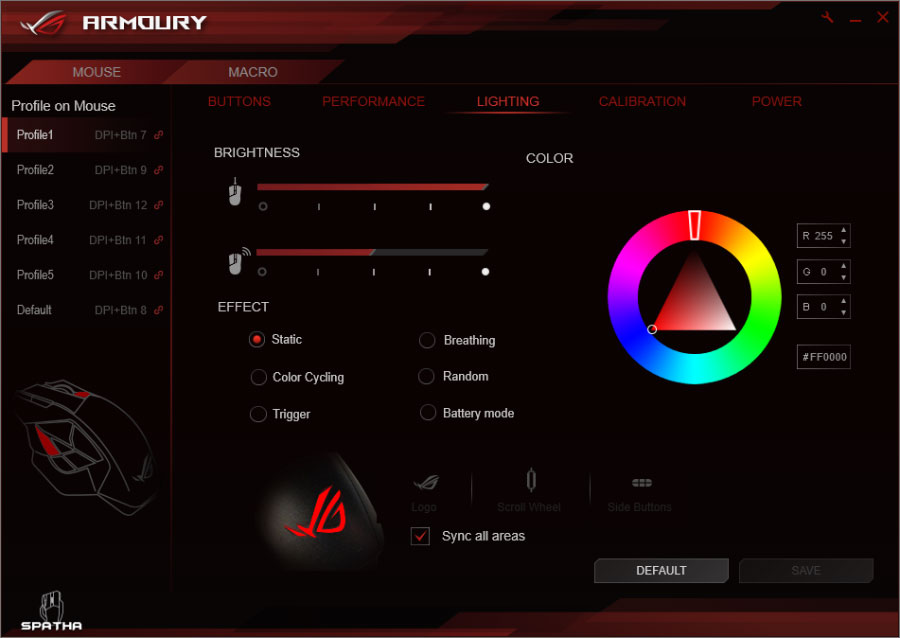 Power savings can be set for the wireless mode as well with a battery meter that works with Window's notifications.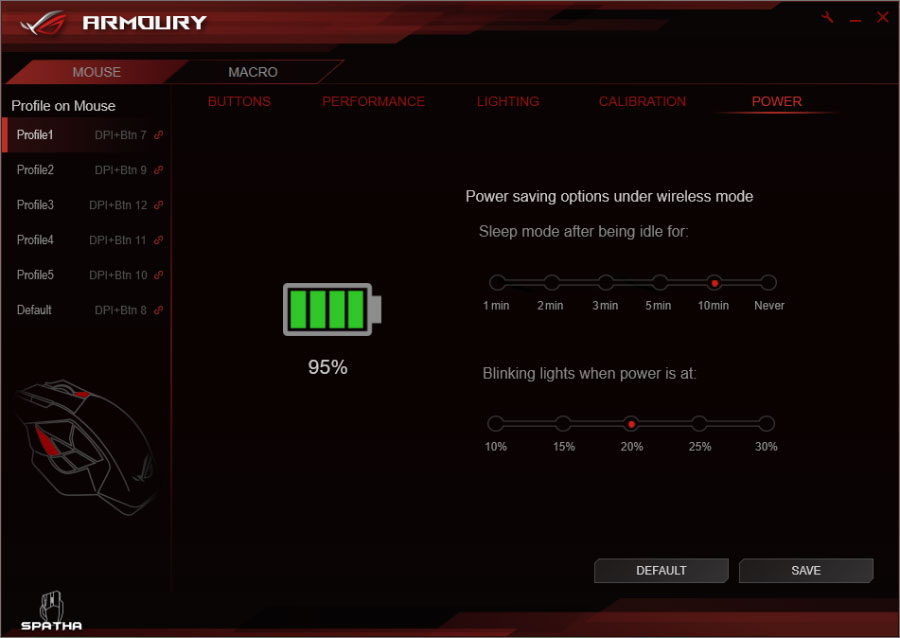 One of the main features of this mouse are the buttons that could be mapped or bind macro functionalities. The Spatha has an onboard memory so you can pretty much bind anything you want, save it, and still use the function without reinstalling the software.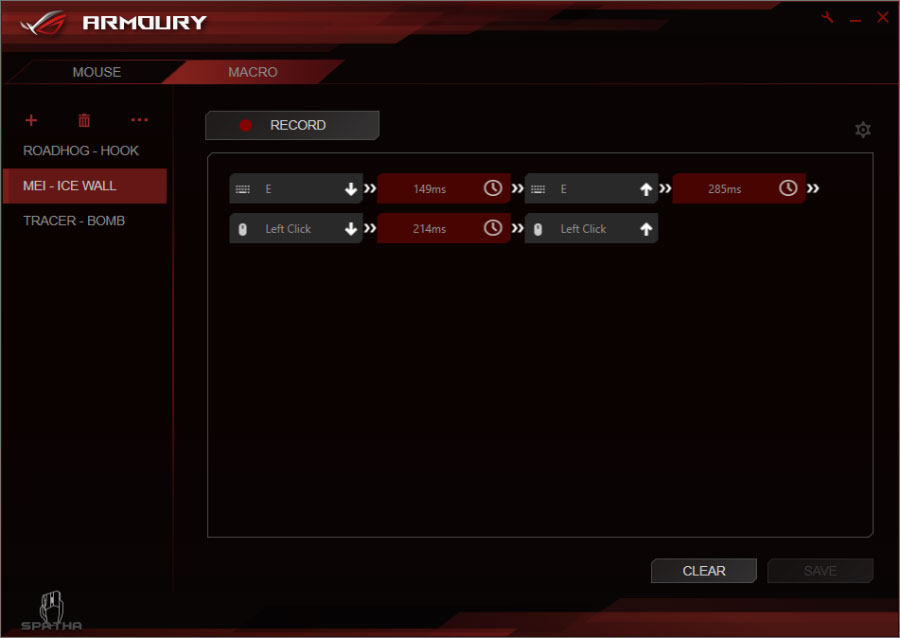 The ASUS Armoury is pretty neat but it definitely could use some tweaking. Firmware update is odd for an instance, requiring us to manually update both the dock and mouse, plus it saves settings and initializes the Spatha in a slow fashion.
A WORD ABOUT TESTING OPTICAL DEVICES:
Testing gaming a mouse or any other optical device is difficult. It is mostly subjective, and is similar to testing head gears in a sense. That said, no mouse is perfect and the verdict will always depend on personal preference. With that in mind we are overhauling our testing methodology by following key pointer that should matter the most.
FEATURES TO LOOK OUT FOR BASED ON YOUR NEEDS:
Do you play to win, requires MMO functionalities, or are you just looking for a comfortable mouse to play with on hours end? This small guide will help you look for the features you need the most. Do remember that this is based on our personal experience.
The ASUS ROG Spatha is definitely built for the MMO crowd, and they managed to tick everything around this area if we are going to follow the prioritization based on the table above. Now let us check out the comfort, grip, and the best hand sizes for this mouse.
SIZE, GRIP, AND COMFORT:
Your grip style, and hand size will heavily influence what mouse you should buy, so it is better to know both first hand. For an instance, my hand measures at 7 inches x 3.5 inches (LxW). This puts my hands on the small to medium size category. My style is fingertip grip, so I would generally look for a mouse with a small to medium foot print.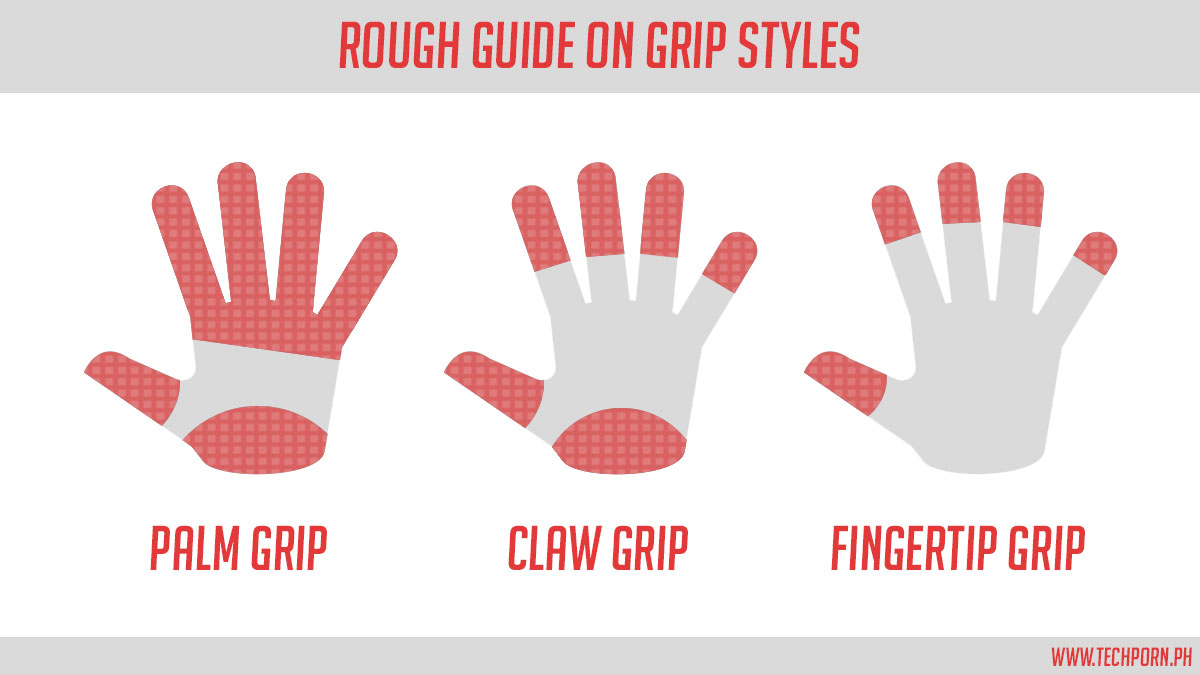 The ASUS ROG Spatha is made for gamers with medium to large hands. That said, gamers with similar hand size as mine can't really fingertip this one without touching the ROG logo area. In ASUS' defense, this is geared for palm grip and claw grip gamers so there's that. As for comfort, this is hands down one of the best mouse to work with, on hours end. Now grip is personally not the best on my book, with slippery thumb buttons combined with a odd ring and pinky finger grip area. This is not a problem for gamers with large hands but this is generally not the best for my size grip wise.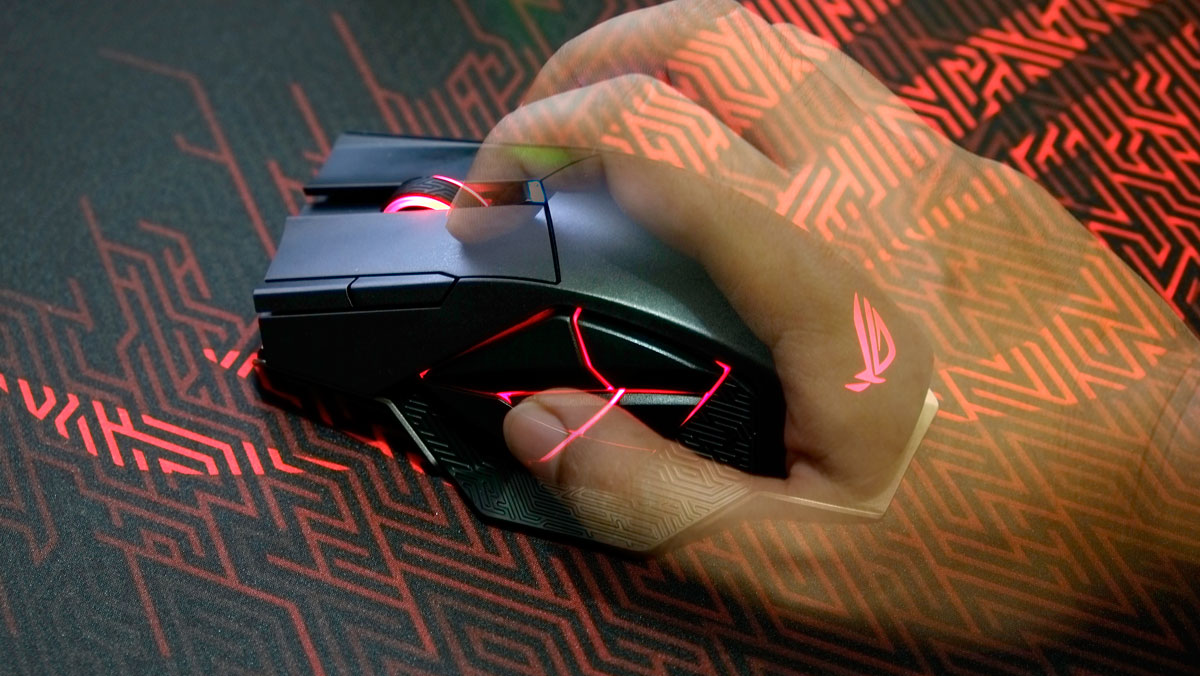 2:1 is considered the best L:W ratio you need to look out for when buying a mouse. Basically, if you want a generally comfortable mouse with good grip, you'd want something near those measurements. For example, the Zowie ZA13 features a roughly 4.5 inch length with a 2 inch grip width – which puts it near to the ratio. The ASUS ROG Spatha on the other hand features a 10:6 ratio, with a length at roughly 5 inches and a grip area at around 3 inches. That said, the shape isn't really near the 2:1 ratio, nor safe by design but works well for ASUS' intended demographic.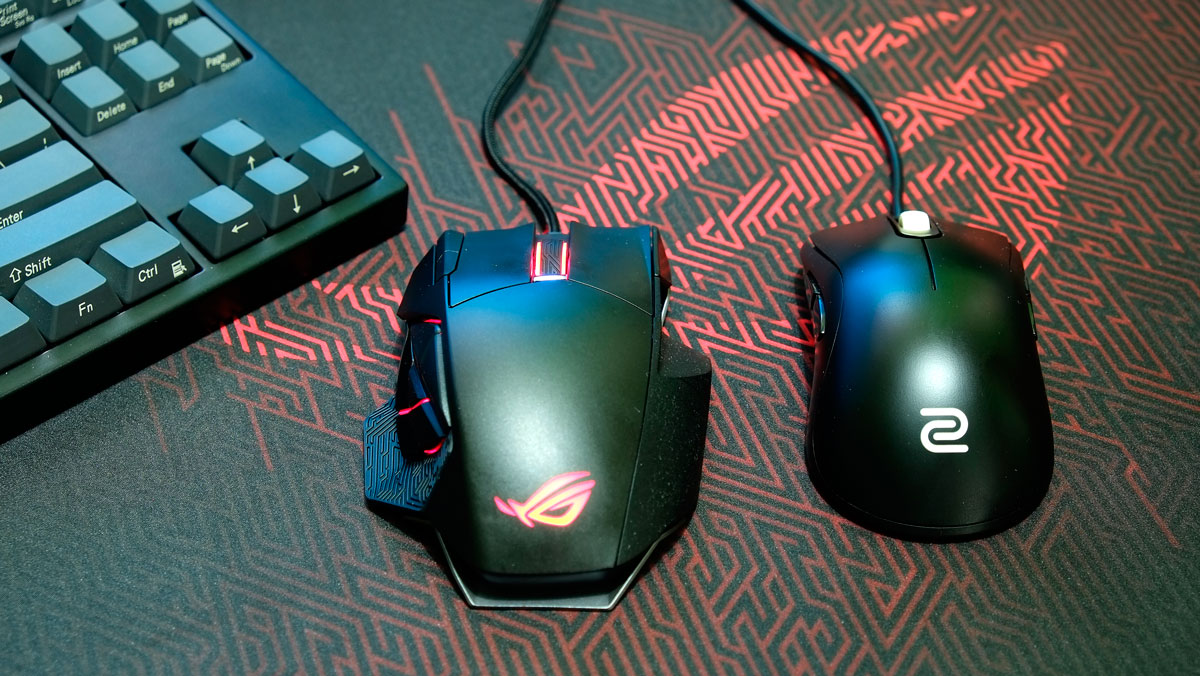 PERFORMANCE & CONCLUSION:
For our subjective tests, we should first ensure that every optical mouse in review uses a universal or a consistent setting for comparison. That said, mouse sensitivity is set at 800 CPI, with Windows pointer speed set at 6/11. We also make sure that software acceleration is disabled, and the games tested has raw input enabled. For the record, if the mouse is able to utilize a 500 Hz polling rate, we will go with that setting as well.
| | |
| --- | --- |
| TESTS | RESULTS |
| ANGLE SNAPPING | PASSED AND CAN BE ADJUSTED AT THE ARMOURY |
| GLIDING PERFORMANCE | GOOD BUT ON THE HEAVIER SIDE |
| SENSOR TRACKING | PASSED AND GREAT FOR TRACKING TARGETS |
| SENSOR PRECISION | ISSUE WITH MINIMAL MOUSE MOVEMENTS |
| ACCELERATION | PASSED NO PROBLEMS HERE |
| LIFT OFF DISTANCE | MINIMUM OF 1.5MM AND ADJUSTABLE AS WELL |
Angle snapping is not a problem with this mouse, but it's funny that ASUS included a way to enable it via the Armoury software. Gliding performance on the other hand much depends on the surface, the padding, and the weight of the mouse. That said, it's all good here with respectable resistance from the ASUS ROG Sheath and our personal mouse pad.
Sensor tracking is good, and we specially tested it with Overwatch. It isn't the best game to use the Spatha since it's an FPS shooter but there are heroes that could use a good tracking performance such as Zarya and her beam weapon. Sensor precision on the other hand could be better, as small increments in mouse movement provides jittery results regardless of CPI levels and polling rate. This is present in both wired and wireless mode. It isn't a deal breaking feature though.
Unwanted hardware acceleration is not a problem with this mouse. We tested it numerous times and there's basically zero game breaking acceleration present on the ASUS ROG Spatha. Lift off distance is good as well, with a minimum of 1.5mm based on our measurements. That's a single stack of a DVD disc for comparison. Wireless lag is definitely not an issue here since we can get an average of 250ms of reaction time using the humanbenchmark reaction test. Result is comparable to our Zowie ZA13 but don't take that 100% accurate because it isn't really a scientific way to measure latency.
Now as for battery life, we could get a full 3 day of gaming goodness with the ASUS ROG Spatha. That's with full RGB lighting enabled, and you can definitely get better mileage by turning the LED off. Charging time is just around 2 hours or so since the charging dock features a 500 mA power rating. Wireless RF range is also good with a tested 16 feet of range. Pretty sure the Spatha can go higher than that but who would do it anyway.
Of course there are issues that needs to be dealt with. That includes the weight, the software, and the grip which is not really suitable for fast paced titles. Granted, I won a few competitive matches with this mouse but I highly doubt I could do better as time goes by. The grip just wont cut it in dire situations. Note that this is not a competitive mouse but I really do hope ASUS will release a smaller and lighter variant with better grip for smaller hands. Not everyone plays MMO all the time anyway.
The ASUS ROG Spatha might not be the mouse for competitive gaming but it sure ticks every aspect of a premium MMO gaming mouse. Providing great features for its intended audiences. This one sure is not for me though and could use a little tweak here and there. But, for its intents and purposes, this one will do the job with style.
ASUS ROG Spatha
PERFORMANCE -

7/10

BUILD QUALITY -

9/10

AESTHETICS -

9/10

VALUE -

6/10
Summary
The ASUS ROG Spatha stays true to the ROG spirit with a great build quality, feature set and comfort combined. At 150 USD / 6, 910 this is one serious premium gaming mouse built for the MMO crowd.