Checking in for review is the much awaited 2023 update to the ROG Strix SCAR 17 gaming laptop, featuring the AMD Ryzen 9 7945HX CPU and the NVIDIA GeForce RTX 4090 GPU. It retails for $3,499 USD which is about ₱195,000 PHP – tax included.
There's a lot going on with this unit but perhaps what strikes me the most are its 17.3-inch QHD 240 Hz panel, the vapor chamber cooling solution and of course, the unapologetic CPU and GPU combination.
Disclosure: AMD in conjunction with ASUS, sent the ROG Strix SCAR 17 2023 for the purpose of this review. They did not ask me to say anything particular about it. Note that this is the G733PY-LL023X which is currently not available in the Philippines.
Technical Specifications
Processor
CPU
AMD Ryzen 9 7945HX
Chipset
N/A
Memory
Slot
2x SO-DIMM
SDRAM
DDR5-4800 (Installed), DDR5-5200 (Max)
Speed
4800 MT/s (Installed)
Capacity
32 GB (Installed), 64 GB (Max)
Graphics
GPU
NVIDIA GeForce RTX 4090 (Discrete), AMD Radeon 610M (Integrated)
Display
Size
17.3 inches
Resolution
2560 x 1440 (16:9)
Refresh Rate
240 Hz
Response Time
3 ms (GtG)
Storage
Slot
2x M.2 2280 (1x 1 TB PCIe 4.0 NVMe SSD Installed)
RAID
NA
Networking
LAN
2.5 GbE LAN
WLAN
Wi-Fi 6E
Bluetooth
Bluetooth 5.3
Audio
DAC
N/A
ADC
N/A
Speaker
Stereo
Connectivity
USB
USB 3.2 Gen 2×2, USB 3.2 Gen 2, 6x USB 3.2 Gen 1
LAN
RJ-45
Audio
3.5 mm TRRS (In/Out)
Display
DisplayPort, HDMI
Dimensions
Length
395 mm
Width
282 mm
Height
28.3 mm
Weight
3000 grams
Packaging and Accessories
Our ROG Strix SCAR 17 is a seeding unit so I cannot share my thoughts about its retail packaging.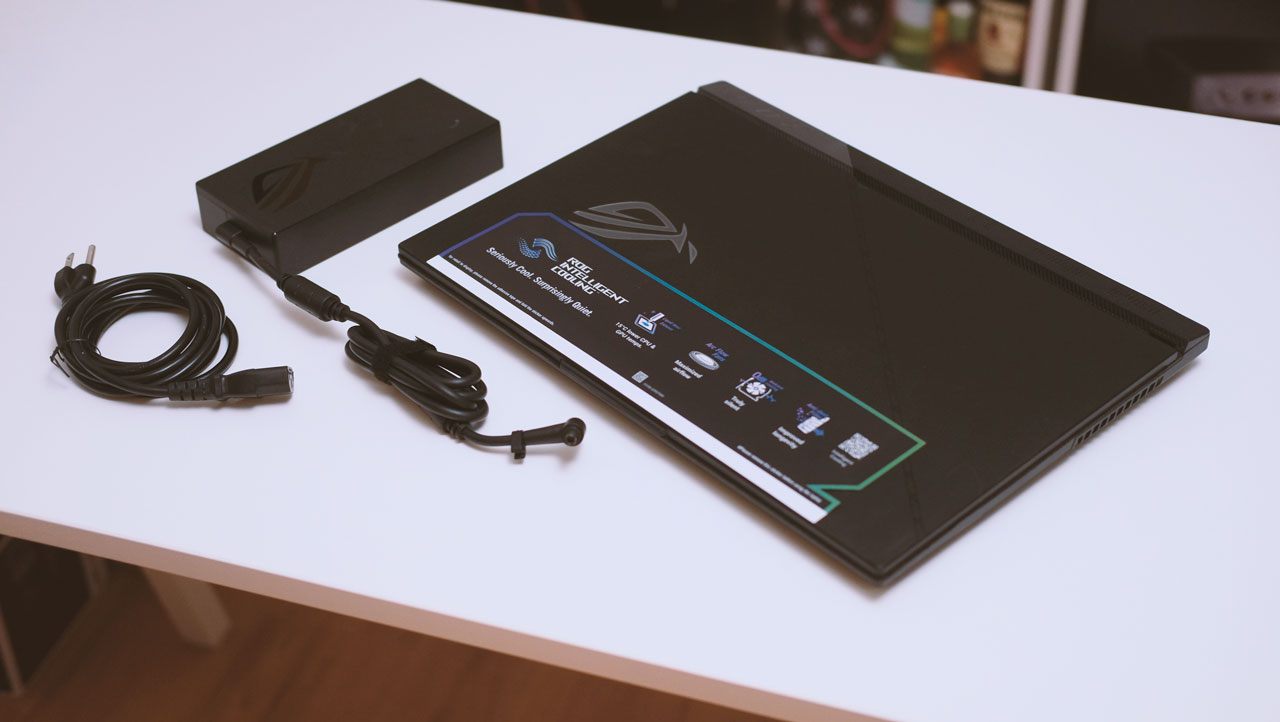 Scope of delivery (for retail) are as follows:
ROG Backpack
ROG Fusion II 300 Gaming Headset
ROG Gladius III Gaming Mouse
330W Power Adapter
Though I don't have the bundled accessories at hand, the headset, mouse and the ROG Bag should be enough to get any gamers started. I expected a bit more though at its price point so check your dealers for promos and bundles.
Design, Build and Connectivity
The ROG Strix SCAR 17 2023 is not that much different compared to the last year's model except for the added webcam and some design omissions. That includes the now non-removable ROG logo/badge, non-RGB LED lit logo and the removal of the ROG keystone. These are the most apparent of them all along with a more streamlined chassis.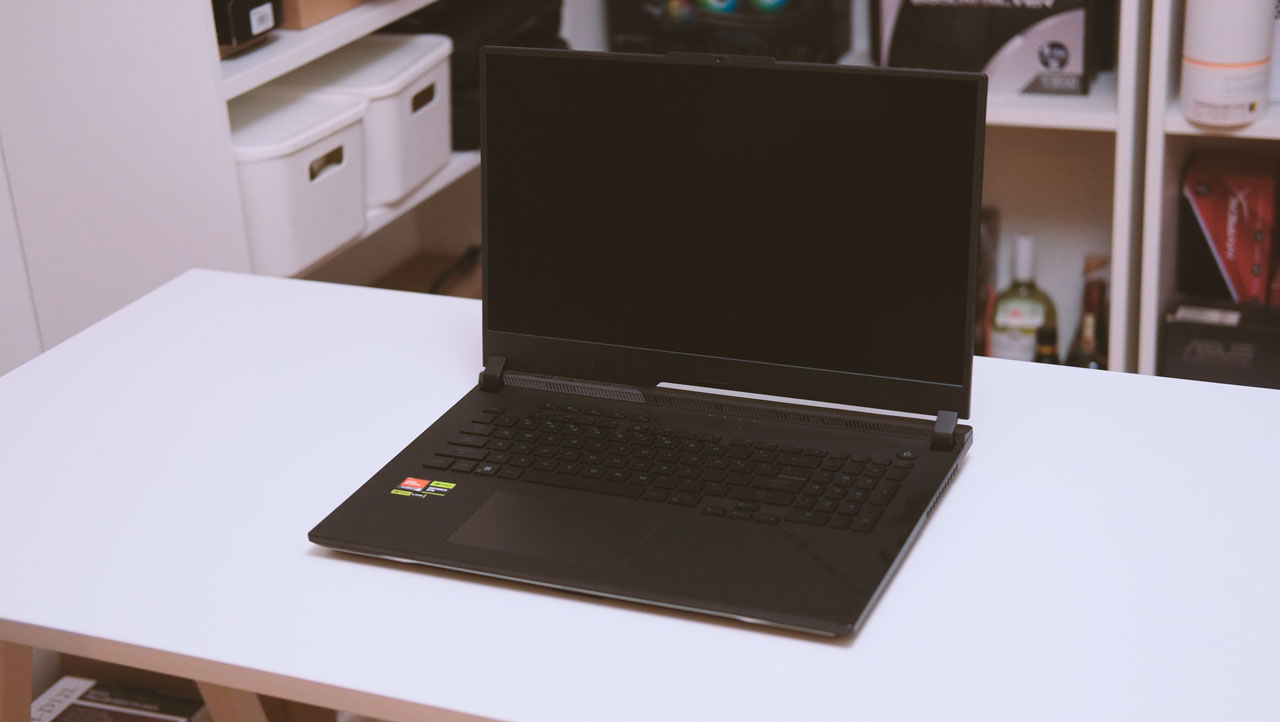 The back panel has an ample amount of perforations (and gap via the rubber padding) to keep the device from choking itself. There are also a lot of custom molded parts here down to the asymmetrical rubber padding.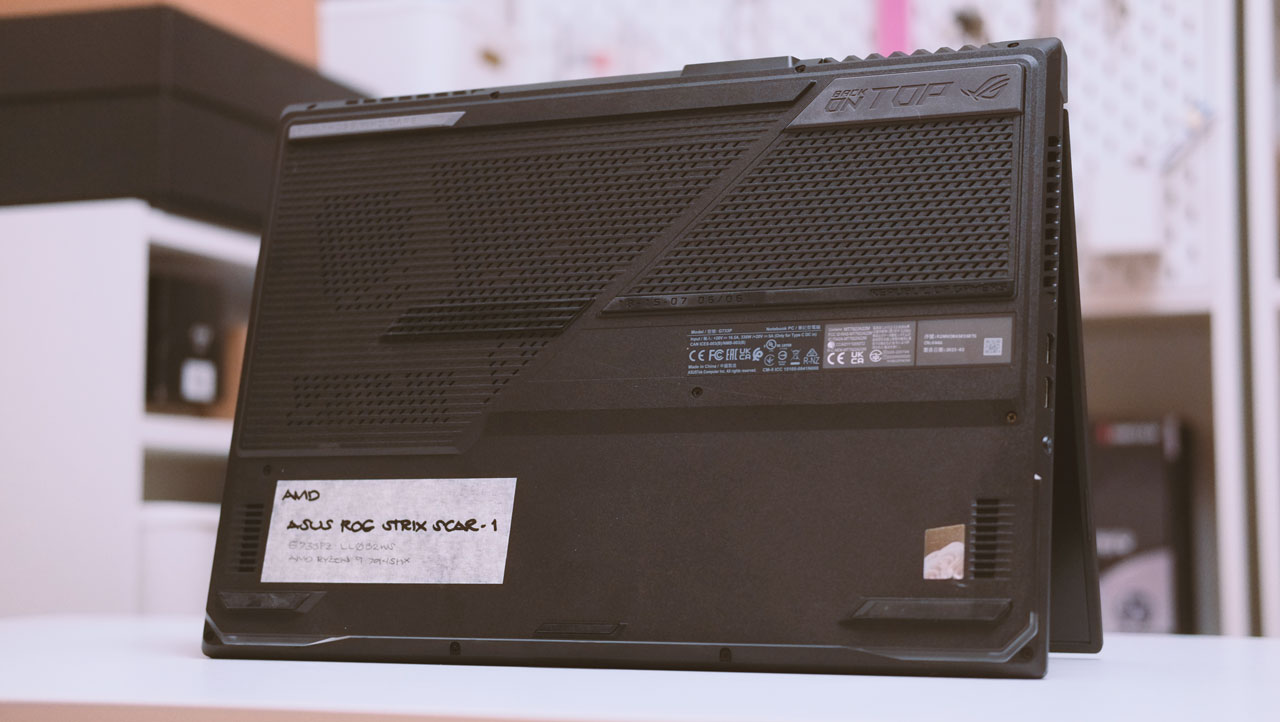 The left side of the laptop is devoid of any connectivity options but we have a few here from the right. There are two USB 3.2 Gen 1 Type-A ports on this area along with a 3.5 mm TRRS combo jack for your gaming headset.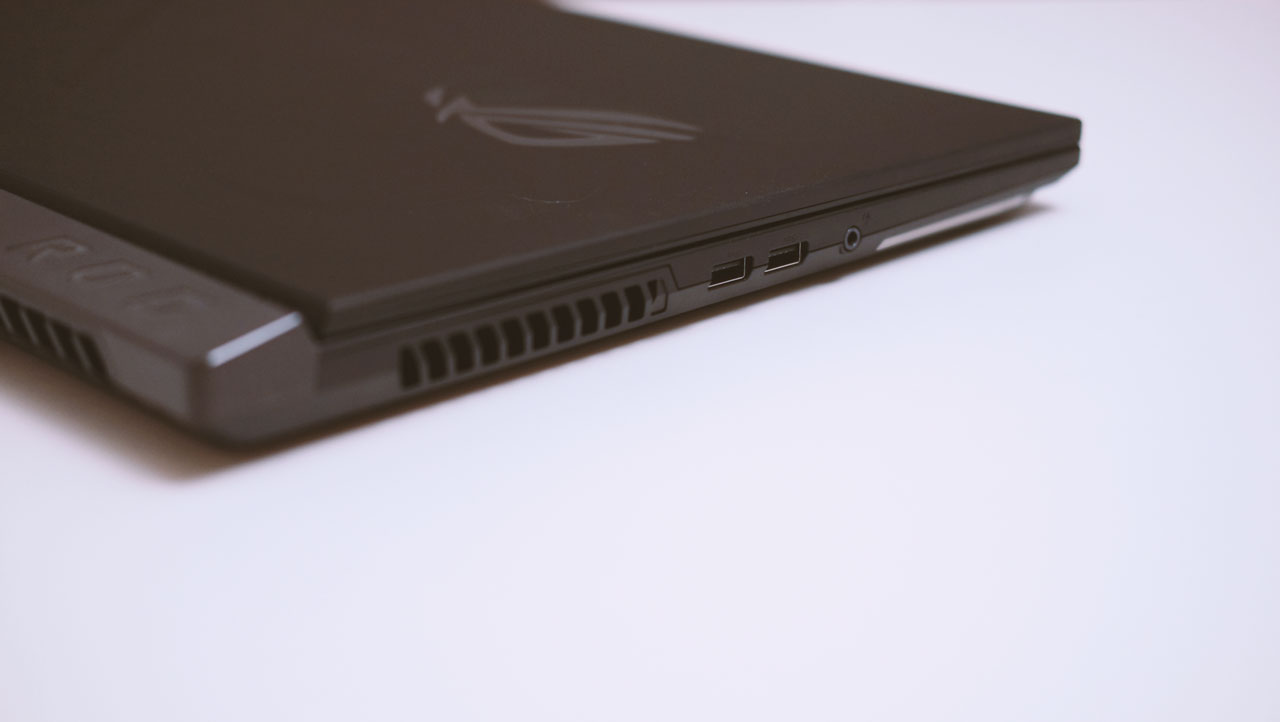 The bulk of I/O options are situated at the back. This includes two USB 3.2 Gen 2 Type-C ports, an HDMI port, 2.5 GbE LAN and the power adapter port.
Opening the ROG Strix SCAR 17 reveals the massive vapor chamber enhanced cooling solution – shrouding the mainboard's PCB. Our unit comes with 32 GB of DDR5-4800 memory (kit of two 16 GB) and a 1 TB PCIe 4.0 SSD. Both SO-DIMM are removable and ASUS is generous enough to add an extra slot for yet another M.2 device. It could be installed right next to the 90 wH battery.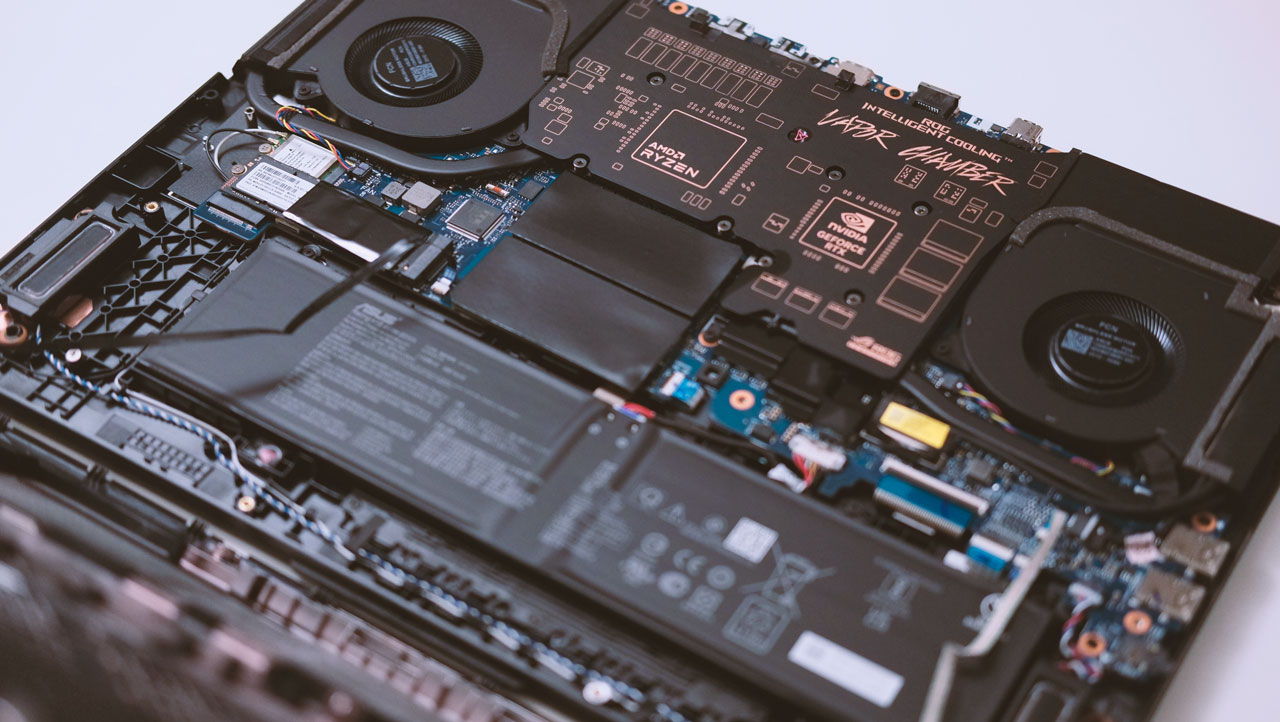 Maintenance and upgrades are easy, provided that you have the heart or means to pry it open. The only thing I was hoping here to see are captive screws so I think everything is still on point. Nothing major to complain I must say.
Ergonomics
The SCAR 17 is bulky, but it doesn't mean it is no good on a desk. The first thing you'll notice here is the pixel density, which is great due to its 2560 x 1440 resolution on a 17.3-inch panel.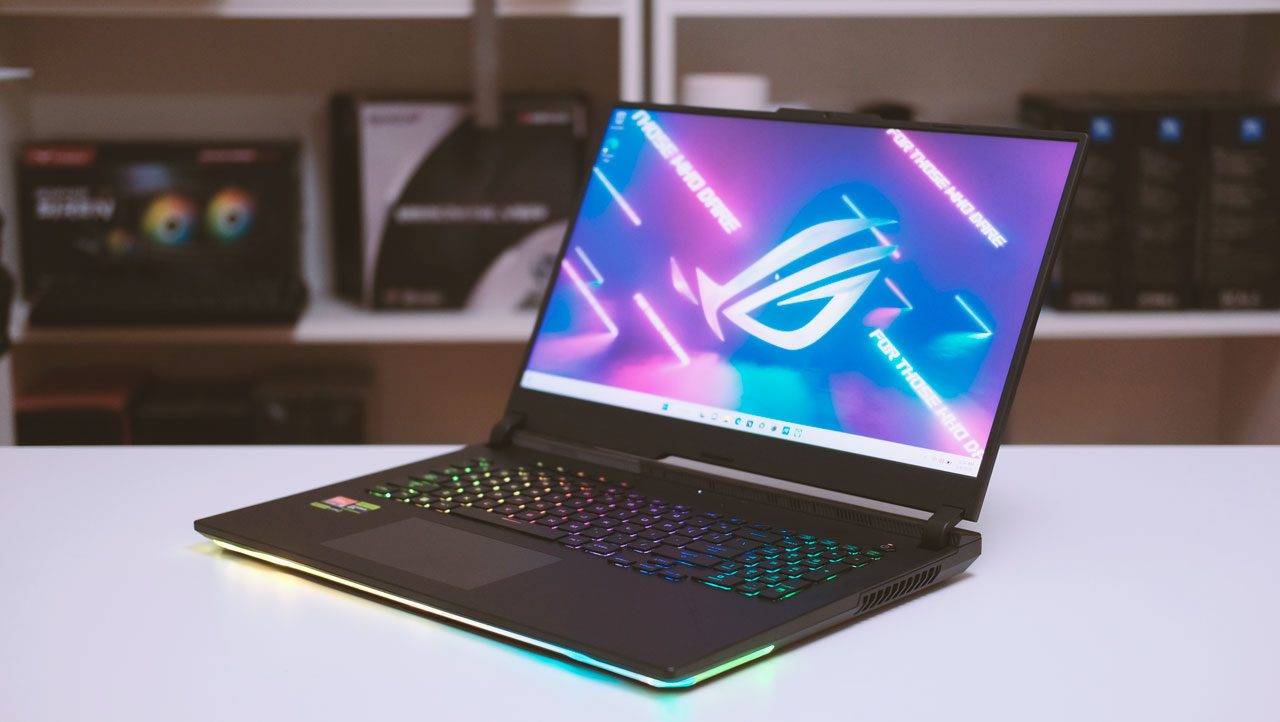 The laptop also comes with a chiclet keyboard. It felt decent enough, but its compacted numpad baffles me the most. The touchpad on the other hand is just okay. Display panel also maxes out at a shallow angle but that's acceptable for its intended use.
Essentials
Basic benchmarks suggests that the Strix SCAR 17 2023 is fast. Even faster compared to my AMD test system.
Productivity
Productivity benchmarks also checks out. This thing is really fast.
Digital Content Creation
Now digital content creation is a mixed bag of results. For an instance, everything checks out fine here with the exclusion of the photo editing benchmark (GIMP). This is attributed to the Radeon 610M which is not exactly the GPU I want to run on this exact test. I could say the same for the video editing benchmark based on HandBrake.
Gaming
CS:GO performance is great across the board which also means you are able to make use of its 240 Hz refresh rate panel at its fullest.
Cyberpunk performance is acceptable at its high settings.
GTA 5 is a piece of cake for the Scar 17.
Storage
Nothing seems out of place here.
Network
The wired 2.5 GbE network performance is actually pretty good but wireless performance is a bit middling.
Battery Life
Pretty middling results here but what else would you expect from a flagship gaming laptop? Better plug this in if you are going to play games all day long.
Display
Overall pretty good results we got here for the 240 Hz BOE panel. Contrast ratio and the brightness level (actually acceptable) are the weakest points here but everything else is mighty fine.
DataColor Spyder5 Elite
Gamut
100% sRGB, 91% AdobeRGB, 99% DCI-P3
Tone Response
2.2
Brightness
284 cd/m²
Contrast
790:1
Color Accuracy
1.44 ∆E
White Point
6400 K
Response Time
Now response time is pretty decent with an average visual response rating of 80.3. This nets an even better rating over the  27-incher Philips Gaming Monitor that we reviewed just last month.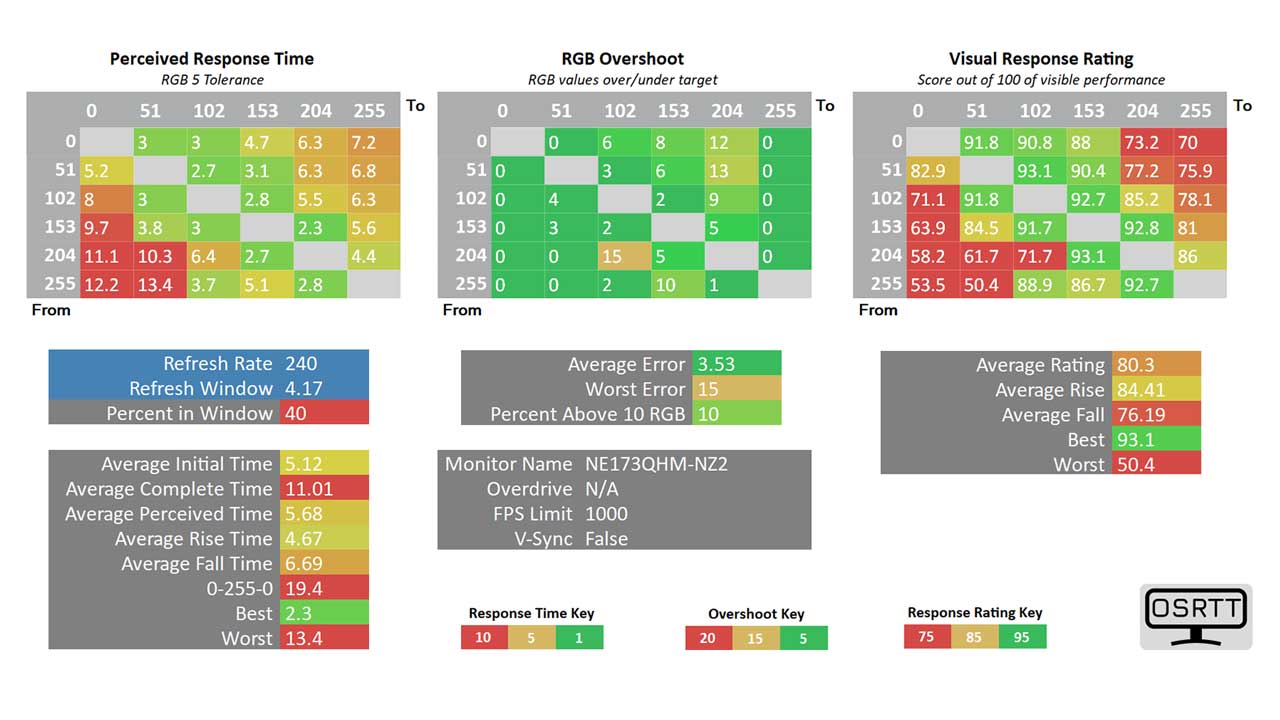 Input Lag
Average total input lag is just over 4 ms.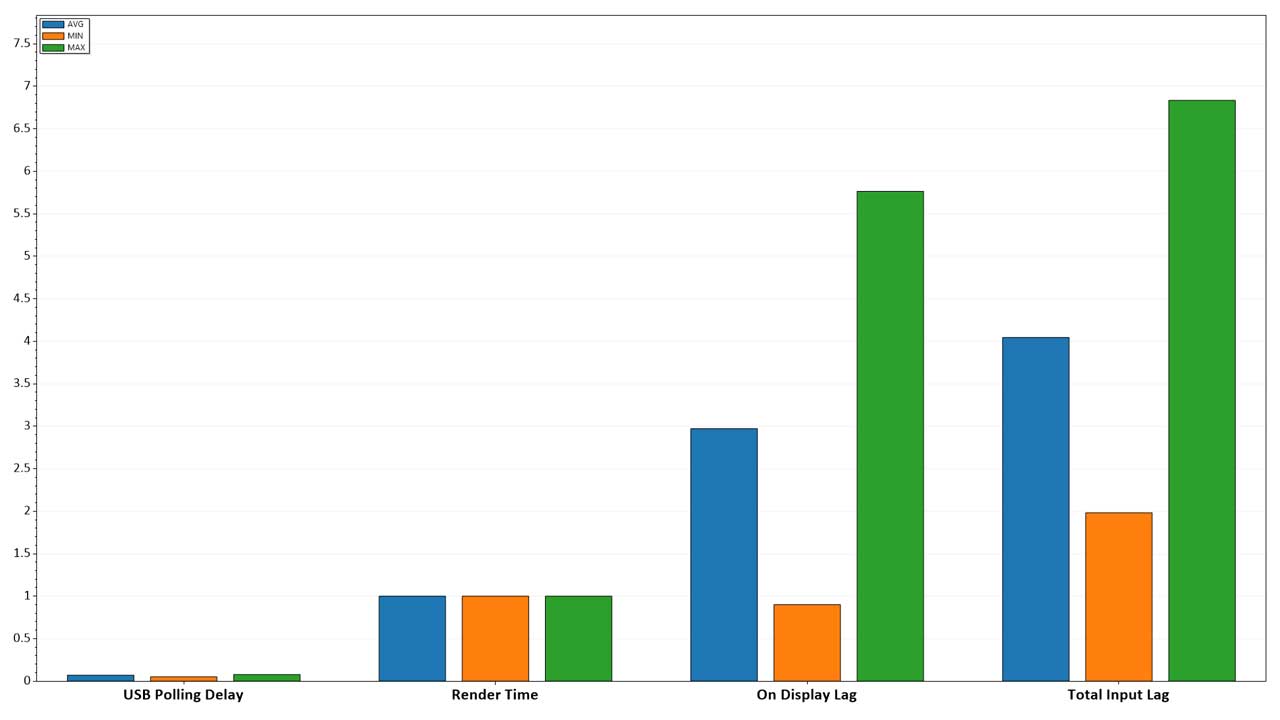 Audio
Alas, audio performance is somewhat middling. I don't find these results particularly good, especially if we are looking at the THD + Noise output for both input and output. The bottom firing speakers are also nothing to write home about. It maxes out at a generous 72 dBA yet its frequency response and distortion levels are just telling that everything audio related is just a checklist for ASUS. Oh you listen to music at 60 dBA? Thats cute, let me distort and resonate with the chassis at that level too.
Right Mark Audio Analyzer
Headphone Out
Microphone In
Noise Level
-79.9 dBA
-67.0 dBA
Dynamic Range
80.0 dBA
67.0 dBA
THD
0.043%
0.067%
THD + Noise
-63.0 dBA
-58.4 dBA
IMD + Noise
0.056%
0.143%
Stereo crosstalk
-75.6 dB
-63.4 dB
IMD at 10 kHz
0.040%
0.143%
Temperature
Thermal output is middling, but I expected such with its powerhouse components.
It doesn't throttle down both CPU and GPU though which is much more important for long gaming sessions.
Power
Power consumption is pretty high but then again, this is a gaming laptop with the AMD Ryzen 9 7945HX and the RTX 4090 Laptop GPU inside. It also goes to show how much work the vapor chamber cooler is doing for both the CPU and GPU.
Noise
Noise output is not the best but I have definitely seen worst.
Final Thoughts
There is a lot going on with the SCAR 17 2023 but perhaps we could summarize the experience as desktop like. The laptop is just a beast when it comes to sheer gaming performance output that has been made possible by the AMD Ryzen 9 7945HX and the NVIDIA GeForce RTX 4090 combined. Together with a capable 240 Hz panel and the native support for NVIDIA DLSS, you are certainly going to enjoy the latest games with fluidity in mind.
Now like many stuff, the SCAR 17 2023 is not a perfect machine. It runs hot which is acceptable for what it needs to tame inside, it is also pretty noisy at its performance and turbo profiles (again, acceptable) and it has little to no regard to its own battery life. These are somewhat fixable on your own by using a more silent profile but you will end up loosing some numbers by doing so. Audio performance though is where it really crumbled so I want ASUS to make some strides here.
In closing, the ASUS ROG Strix SCAR 17 2023 is one, if not the apex of mobile powerhouses this side of the year.
ASUS ROG Strix SCAR 17 (2023)
$3,499 USD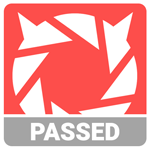 Product Name: ASUS ROG Strix SCAR 17 (2023)
Product Description: Reach the pinnacle of Windows 11 Pro gaming with the 2023 Strix SCAR 17, with up to an AMD Ryzen 9 7945HX CPU and up to an NVIDIA GeForce RTX 4090 Laptop GPU.
Brand: ASUS
Summary
If you have the cash to spare and the frames to chase, the ASUS ROG Strix SCAR 17 (2023) is the gaming laptop for you. It is far from perfect though so make sure it hits the right spot on your check list.