IPS panels are already taking away the stage from their TN panel counterparts mainly due to their rising advantages over the latter. They have a significantly better viewing angle, richer color reproduction, and are already catching up on response time performance as time goes by. Clearly, IPS is firmly becoming the norm when it comes to display devices.
IPS panels, though have tons of advantages, are significantly pricier compared to TN panels that is true, but it wont stop ASUS in their tracks to offer something quite surprising considering that they usually charge an extra when it comes to almost everything. The display that I am talking about is the ASUS VX239H. An inexpensive 23 Incher, "frameless" IPS panel based monitor coming from the guys at ASUS. Inexpensive is indeed the word for this panel, as it retails for only 7, 999 Pesos. Moreover, it is an AH-IPS and is specifically designed by LG.
FEATURES & SPECIFICATIONS:
UNBOXING & BUNDLED ACCESSORIES:
The ASUS VX239H came in a tall yet slim eco- friendly packaging with a carrying handle. It's easy to transport and it kept the display protected from bumps and bruises. Trust me I accidentally bumped this almost everywhere while lugging it back to home.
The packaging consists of 2 part polyester foams sandwiching the display between them. The accessories are well packed at the side of the foam and has their own protective covers. Nothing to dislike.
Paper works includes a quick start guide, and ASUS' VIP Member Notice pamphlet. Because you know, VIP stuffs.
The power adapter is rather small and boxy, compared to other manufacturer's implementations which is nice. It has a fairly long cable and has a 3 point port for the power cable that goes to the outlet.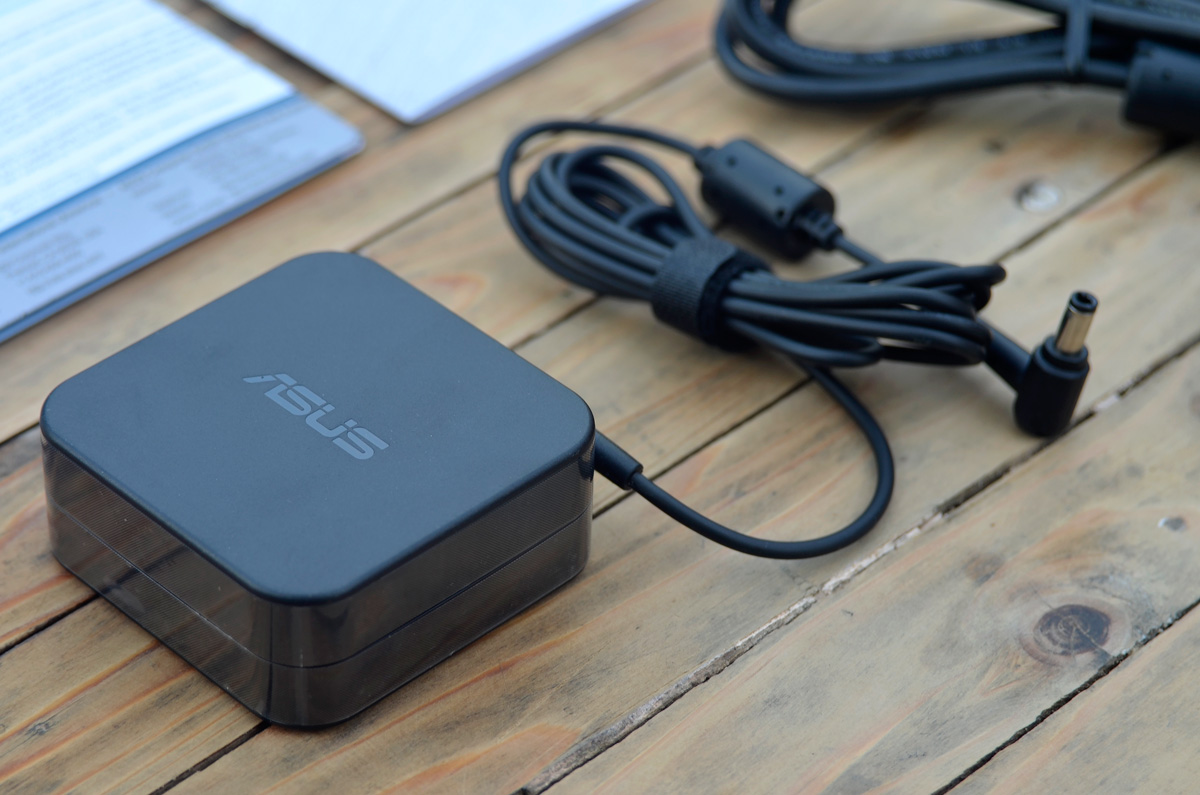 Display output cables consists of the VGA, and HDMI cables. This display is supposed to include an HDMI-DVI cable and an MHL cable but the region dictates the addition of those. There is also an included audio cable if you wish to use the on-board speakers even without an HDMI cable.
DESIGN & BUILD QUALITY:
Out of the box, the ASUS VX239H sure looks classy in Black. The VX239H's design actually reminds me of its pricier predecessor, the MX239H with a frame that is just  0.8mm thin; exposing most of the display's panel which is not really border-less. Speaking, the panel itself features a matte finish which should be great if there are multiple light sources behind you, eliminating reflections, and ultimately, distractions.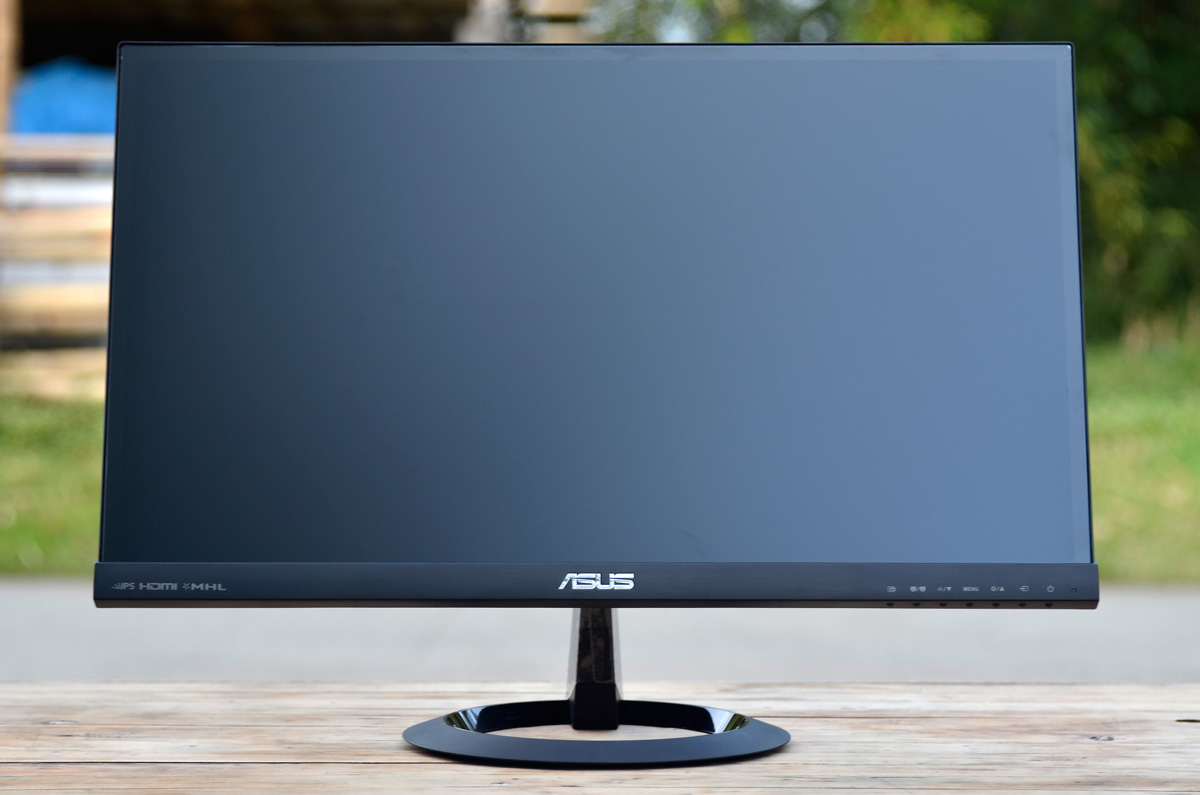 As opposed to the matte finish of the front, the back of the display features a glossy piano Black appearance along with the ASUS logo. There are no VESA mounting holes here so mounting this on a VESA platform is a no-no.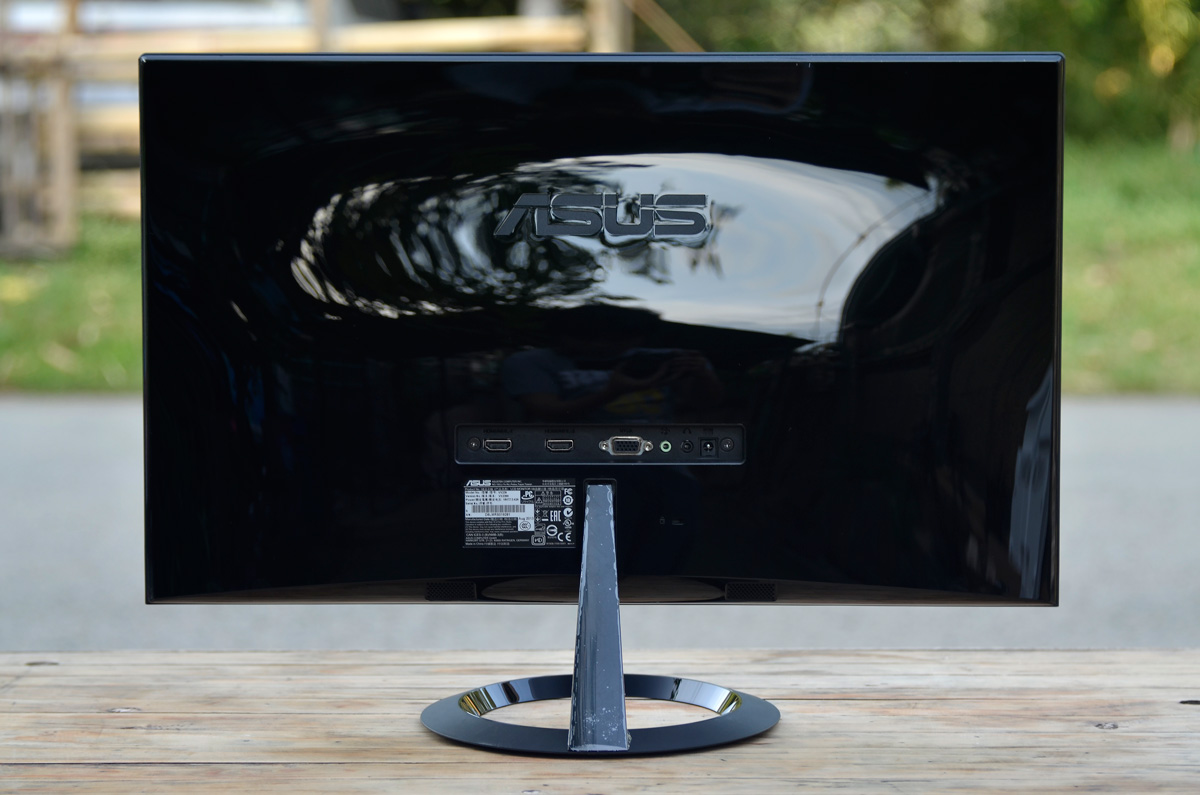 The ASUS VX239H is really thin at 14.5mm sideways, but I have seen thinner displays such as my LG E2290. Doesn't really matter actually, since I prefer the panel's performance over beauty. – By a small margin
The stand looks like a sundial and actually adds another point for the display's elegance. It is made out of plastic though.
A subtle amount of branding is located at the lower most part of the display. At this angle, we could also see the perforations for the stereo speakers.
The menu buttons are located at the right side of the display with oddly arranged navigational buttons. Speaking, the buttons weren't really "buttons" at all but are sensors built between protruding rings so you could get a feel that what you're touching is an input device. This could work well if implemented at the front of the display but our experience shows otherwise. More about it later.
The I/O ports are located at the back of the panel, along with a Kensington Lock and perforations for the onboard speakers below. The ports consists of 2x HDMI/MHL, a VGA port, 2x Audio Ports, and a port for the power adapter. Overall, connectivity is looking good.
With an elegant design, something must be given up, and that is the panel's limited amount of ergonomic adjustments. You can adjust the display's viewing angle horizontally, and vertically, but you cannot rotate the panel itself, nor tilt it sideways.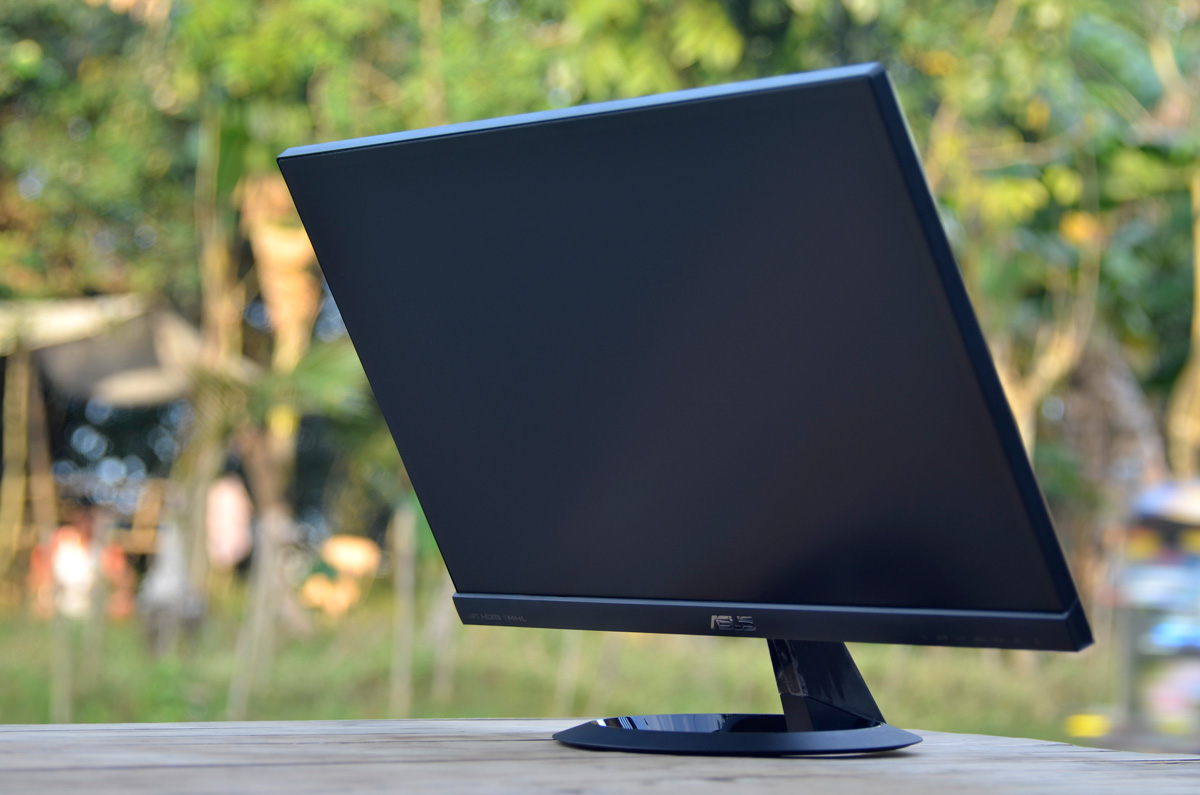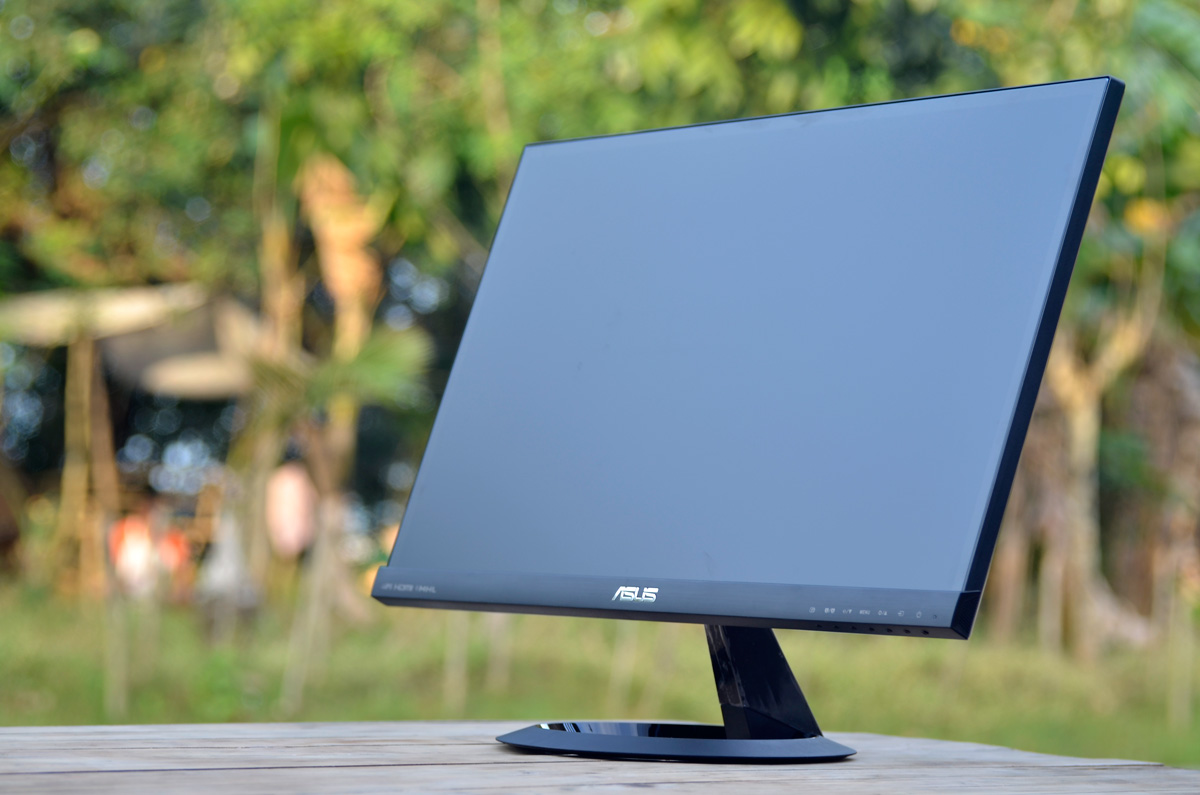 Overall, the design and build quality is what I have expected from ASUS. It is solidly built, and is oozing with design goodness. I can see that this display wont have any problem blending in well to your desk.
SOFTWARE & MENU NAVIGATION:
The display's menu has five default settings and it looks like it's not that hard to use or navigate (or is it?). First thing that will greet you here is the Splendid sub menu that should help you set the display's settings with minimal user intervention through presets. We find the Standard and sRGB mode suitable for our taste. Next up is the Color menu where you should be able to adjust the display's brightness, contrast, saturation, color temperature, and even the skin tone adjustments. The Image menu is where ASUS's VividPixel and ASCR (Dynamic Contrast Ratio) are found. Some of the settings here will be greyed out depending on the Splendid Profile that you have set. Lastly, we've got the Input mode and System Setup settings.
The menu houses some other nifty stuffs but we find the QuickFit Virtual Scale useful. It has its own button so enabling it is just a click away. What this feature does is that it basically shows a live scale preview of some of the most commonly used  paper and photo sizes. If you are heavily working with documents and image processing tools then this is a life saver.
Though the software offers some goodies, navigating through the VX239H's menu is more of a pain in the arse rather than an easy task. Sensor based inputs for displays wont really cut it I must say since it doesn't feel substantial to use. The labels wont help much either, since it's hard to read even with a good ambient lighting. The lack of substantial feel to the input just infuriates me. – Thing's too sensitive too. Arrrggg!
DISPLAY PERFORMANCE:
IPS panels do offer huge advantages over the standard TN panels and that is evident with the ASUS VX239H. Color reproduction with this display is great, and viewing angles are outstanding; meaning that almost everywhere you look at it, there will be no visible contrast shifting on the panel's wide area.
Testing out the VX239H with PassMark's Monitor Test should provide us more insight about this display's performance. We ran some sample tests and we found out that the grey-scale performance of the display is somewhat compressed. Meaning that there is little difference between the darkest of the Grays and all out Black. RGB test shows that the Green is a bit over-saturated which is thankfully, could be easily remedied by almost any software display calibration tool or via a display driver's control panel.
Gaming with this monitor is fluid enough with zero noticeable blurring and or ghosting. I am surprised at first but since this is an AH-IPS based panel, response time has been considerably improved compared to the first generation of IPS panels. However, as we continue our tests, we noticed quite a small amount of back-light bleeding around the lower left area of the panel. It is not a game, nor a movie corrupting experience though which is alright. Speaking of cons, the onboard speaker of the VX239H sounded like it's just an after thought. The audio performance is rather lacking and could use a little bit more punch in the lower end of the spectrum. However, we are not going to complain much about the speaker's performance since for the price, it is a welcome addition. Power consumption wise, the VX239H consumes a maximum of 22W at full load, and almost nothing at standby mode.
VALUE & CONCLUSION:
The VX239H is a sleek, AH-IPS based display panel from ASUS that showed great performance across the border. We fancy its design and build quality, along with its panel's performance that offering great color reproduction, good response time, and wide viewing angles. For an AH-IPS based 23″ display, this is already a solid deal.
Like any other products out there, the ASUS VX239H also has its own downsides. Back-light bleeding is unfortunately present, but good thing that it is minimal. Speaker/audio performance could be better but as I have said earlier, it's already a welcome addition for the price. Now what I really hate about this display is the menu navigation, specifically the touch sensitive buttons and its layout. Sometimes I just want to poke the damn sensors but alas, my patience still got the better of me.
Price wise, with an SRP of 9, 990 Pesos, the VX239H really surprised me. ASUS set an example with the VX239H that performance and quality could still be achieved without digging deeply into the pocket. I highly recommend this one to those who are still bound under the spell of TN panels. Great visual investment for the price, indeed. 
THE VERDICT
PROS:
Sleek minimalist design
Matte display panel
Wide viewing angle
Color reproduction
Great value for money
CONS:
Menu navigation is a chore
Minimal back-light bleeding issue
ASUS VX239H
PERFORMANCE -

7/10

BUILD QUALITY -

8/10

FEATURES -

7/10

AESTHETICS -

9/10

VALUE -

9/10
Summary
ASUS set an example with the VX239H that performance and quality could still be achieved without digging deeply into the pocket. I highly recommend this one to those who are still bound under the spell of TN panels. Great visual investment for the price, indeed.