Memory, or RAM plays a huge role in our systems. Usually, the bigger the better. But do you know that there is more into it just like our beloved graphic cards? Moreover, the brand AVEXIR? A company known for their bling'ey memory kits, and passion for providing gamers and power users a tangible difference between their products and the rest.
Now what we actually have here ladies and germs is a kit of AVEXIR's Core Series DIMMs, specifically the AVD3U26661104G-4CI. Roughly translating to 16GB of total memory with 2666MHz XMP frequency, this set of DIMMs sure is helluvah fast, and has tons of capacity even enough to fit your whole miserable life into it. We actually had this particular set of DIMMs for quite some time now, and today, we are going to review it, and see for ourselves what it brings to the table.
FEATURES / SPECIFICATIONS:
JEDEC Standard : DDR3-1600K CL11-11-11-28 1.5v
XMP : DDR3-2666 CL11-13-13-35 1.65v
Intel and AMD Chipset motherboards Optimized
Every Avexir Memory is 100% tested on PC motherboard environment
Dynamic LED light
High conductive light guide bar
High performance voltage stabilizing generator
AIST (every single IC examined by AVEXIR IC Sorting Technology)
Golden Finger Protector
8 layers PCB for maximum thermal conduction
Double Copper PCB to maximized overclocking ability
Support Z77/Z87
PACKAGING / BUNDLED ACCESSORIES:
AVEXIR had the Core Series wrapped inside a cute and tiny box shaded in Black, with striking Blues in case you can't see sh*t. Seriously though, this is a pretty straight forward packaging with no BS included. Simple and effective.
Inside, we'll find the set of memory sticks encased in a hard shell plastic packaging. There's also a warranty pamphlet included here in case reading them policies is your kind of thing.
CLOSER LOOK:
Out of the box, the AVEXIR Core Series still is well protected. And when I mean well protected, AVEXIR had the DIMM's heat spreader covered in a scratch resistant plastic, with rubber caps protecting the pins. These little details brought a smile to my face.
The AVEXIR Core Series, though not uber stylish, has a good amount of quality look and feel to them thanks to the slim yet durable head spreaders and the matte Black PCB. At the top of the DIMMs lies the bling'y LED light bar which basically lights up and breathe. Ours came with Red LEDs, but you could pretty much configure yours upon ordering directly at AVEXIR's Memory Customization Service.
This side of the sticks houses the labels with capacity, latency, voltage, and the kit info where the DIMMs belongs to. Nothing fancy here except for the thick 8 layers of PCB. Glorious!
Installing the AVEXIR Core Series kit is not a huge feat, though you have to press it down with more force because of its thicker PCB. Looking at the picture below, we could see that this particular set of DIMMs blends well with our MSI motherboard. Quite nice.
Pictures below shows that the AVEXIR Core Series DIMMs should blend well with most systems out there, due to its soothing light display that breathes calmly like an ocean breeze. Clearance is great too, even with our Phanteks HSF in place. I'm digging it!
TEST SYSTEM:
To provide precise test results, the test systems will run on an updated copy of Windows 7 Ultimate x64 SP1. The BIOS/UEFI, Chipset, and Video Card drivers of the test system will be updated too, as much as possible. No other silly forms of softwares should be running while the benchmarks are on going, unless it is stated. Below are the test system's specifications:
| | |
| --- | --- |
| CPU | Intel Core i5 4670K ES |
| MOTHERBOARD | GIGABYTE GA-Z87X-UD3H |
| CPU COOLER | Corsair H100i |
| MEMORY | AVEXIR Core Series @2666MHz 16GB |
| GRAPHICS CARD | PowerColor PCS+ HD7950 3GB |
| INT. STORAGE | Kingston SSDNow V+200 128GB |
| PSU | Cooler Master Silent PRO Gold 800W |
| DISPLAY | LG FLATRON E2290 22″ LED |
| OS | Microsoft Windows 7 Ultimate x64 SP1 (Updated) |
| SOUND CARD | CREATIVE Sound Blaster RECON3D |
| EXT. STORAGE | 2TB Western Digital My Passport |
PERFORMANCE (SYSTEM/SYNTHETIC):
AIDA64 is a streamlined Windows diagnostic and benchmarking software for home users. We'll use the built-in memory benchmark tools of the AIDA64 to determine the memory's performance.
MaxxMEM2 is a lightweight tool that allows us to estimate the performance of the computer's memory with minimum effort. We can use it to compare the performance of multiple computers or to test different configurations on our machine.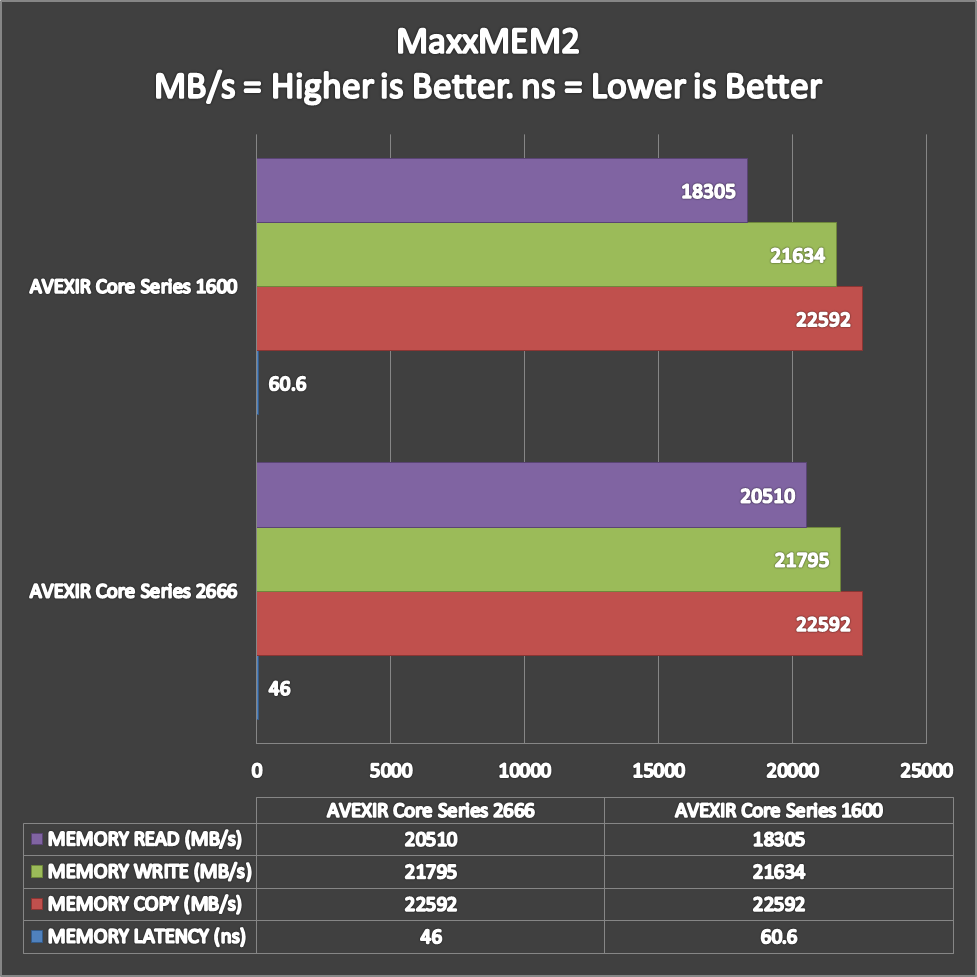 wPrime is a multi-threaded benchmarking application designed to measure the raw computational power of a CPU. It can be configured to run on a custom number of threads to accommodate multi-core CPUs.
RESULTS: Right off the bat, the AVEXIR Core Series DIMMs showed us some pretty awesome results compared to our non XMP baseline scores with the JEDEC 1600Mhz standard configuration. We saw great gains from wPrime, and MaxxMEM2, particularly with the consistency of the latency results across the benchmarks. The AIDA64 results on the other hand, shows that the JEDEC 1600Mhz config is faster.
PERFORMANCE (GAMING/3D):
CINEBENCH R11.5 is a real-world cross-platform test suite that evaluates the computer's performance capabilities. CINEBENCH is based on MAXON's award-winning animation software CINEMA 4D, which is used extensively by studios and production houses worldwide for 3D content creation.
Resident Evil 6, is a survival horror video game developed and published by CAPCOM. It's one of my favorite PC games, mainly because I'm a fan of the series. It also has a built-in benchmarking tool to measure your PC's performance.
Tomb Raider (2013) is the fifth game, and the reboot of the Tomb Raider series. It is developed by Crystal Dynamics, and published by Square-Enix. We disabled Tress FX for this benchmark.
RESULTS: 3D performance were pretty good, with exceptional results from the CINEBENCH R11.5. Now one may ask that 2 or 3 FPS gains wont give you much difference in gaming, but that's the reality with RAM performance with today's titles. Unless of course, the DIMMs were sharing memory with the APU, or an IGP. Great performance nonetheless from AVEXIR's 2666MHz kit.
PERFORMANCE (OVERCLOCKING):
AVEVIR prides their hand assembled DIMMs as overclocker friendly kits, so we decided to overclock them with our old fashioned method. That said, we tried to push the 2666Mhz kit to higher frequencies, ultimately attaining a maximum of 2800Mhz speeds with timings: 11-14-14-36 2T. Voltage were around the XMP standards of 1.65v initially, but we find it a bit unstable for 24/7 setups as we experienced frequent BSODs, so we bumped it up at 1.7v. Overall,  the 134Mhz bump isn't that bad considering the fact that we achieved this feat with all 4 DIMMs in place. Now lets see what it brought to the table.
RESULTS: Now that's a huge boost in performance compared to our 2666Mhz XMP profile! Just check the chart, folks. No need to explain things further. I'm really liking this kit so far.
VALUE / CONCLUSION:
The AVEXIR Core Series 2666Mhz 16GB kit is a fabulous set of DIMMs. It has to be said, since the kit performed exceptionally well throughout the tests, along with a fabulous overclocking performance that literally blew us away. Adding to that, the AVEXIR Core Series in general are available at different styling configurations, and could be directly ordered from AVEXIR.
With a street price at around $240, or roughly 10, 500 Pesos, I could honestly say that the asking price is already pretty good for a high frequency 16GB kit, considering that the competition are selling their kits with the same specs twice as much as these with little to no customization, and build quality that cannot match AVEXIR's own.
Perhaps the only downside of these kits are their availability throughout the retail stores. But other than that, this specific 2666Mhz kit is really an excellent performer for the price. Consider it if you ever spot one from the wild.
PROS:
Great XMP performance
Excellent overclocking performance
CPU heatsink compatibility
Top notch build quality
Customize your own
CONS:
AVEXIR Core Series
PERFORMANCE -

8/10

BUILD QUALITY -

8/10

FEATURES -

8/10

AESTHETICS -

8/10

VALUE -

7/10
Summary
The AVEXIR Core Series 2666Mhz 16GB kit is a fabulous set of DIMMs. It has to be said, since the kit performed exceptionally well throughout the tests, along with a fabulous overclocking performance that literally blew us away. Adding to that, the AVEXIR Core Series in general are available at different styling configurations, and could be directly ordered from AVEXIR.