It's not everyday that we review products from Crucial; One of the big guys in the storage industry. In fact, this is actually the first time that we are going to review a product from them, with hopes of checking out what Crucial products really  are all about. Seriously ladies and germs, you should all get stoked when you're trying something new right?
Now what we actually have here beautiful ladies and germs is Crucial's MX100 SSD; The shiny, the famous, and the well revered SSD from the Newegg town. Seriously, this SSD probably has more positive feedback than my parents if compared to me. The MX100 we have in particular comes in a 256GB flavor with the part number CT256MX100SSD1. The sweet spot between the 128GB and the 512GB version. Shall we test it? Oh yes we should!
FEATURES & SPECIFICATIONS: 
Crucial MX100 Specifications
Capacity
128GB
256GB
512GB
Controller
Marvell 88SS9189
NAND
Micron 16nm 128Gbit MLC
DRAM
Sequential Read
550MB/s
550MB/s
550MB/s
Sequential Write
150MB/s
330MB/s
500MB/s
4KB Random Read
80K IOPS
85K IOPS
90K IOPS
4KB Random Write
40K IOPS
70K IOPS
85K IOPS
Endurance
72TB (~65GB/day for 3 years)
Encryption
AES 256-bit, TCG Opal 2.0 & IEEE-1667
Warranty
Three years
UNBOXING & BUNDLED ACCESSORIES:
The Crucial MX100 came in a rather familiar packaging used by most SDD vendors. It's thin, classy, and doesn't feature mumbo jumbos at the front just to persuade consumers that it is a fine piece of technological advancement.
The back is simple, with all the things that you need to know about the SSD's bundled accessories. Kinda wished Crucial added some specification sheets here.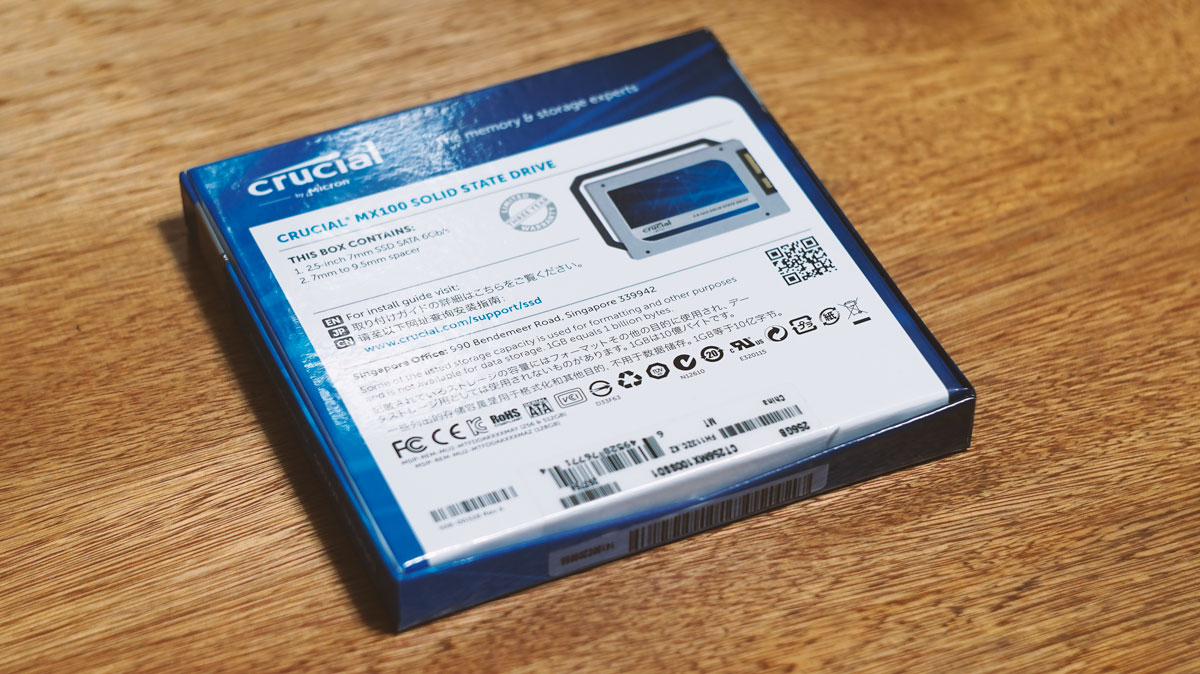 The Crucial MX100 is bundled with an Acronis True Image via a pamphlet should you wish to clone your system drive and then transfer it to the SSD in one swoop. There is also a bracket or should I say a spacer, if you want to use the drive on some older notebooks that only support a thicker 9mm 2.5″ HDD mount. As far as bundled accessories goes, theese are all that you are going to receive. No external USB adapter, no extra SATA port, no booth babes no nothing.
THE CRUCIAL MX100 256GB SSD:
Crucial is stayin' classy with a gritty aluminum finished metal case for the MX100 Series. There is little branding presented at the front and it's actually pretty pleasant to the eyes. The MX100, specification wise, weights at gawd knows what pounds, has a 2.5″ form factor with a height of 7mm so it's pretty thin; great for notebook storage upgrades. It has 8 threaded holes should you want to install it on a desktop PC so you're pretty covered.
The back, which is actually the front if compared to other SSDs features the drive's serials and part number along with certifications from major organizations. Underneath the drive lies the  16nm NAND flashes with the Marvell 88SS9189 controller with a combined theoretical performance rated at 550 MB/s Read and a decent 350 MB/s Write Speed.
The Crucial MX100 tops off the SSDs on our test bench when it comes to Price per GB. Not sure yet about the performance though since we still have yet to test it. It stands out from the rest though with its classy metallic look.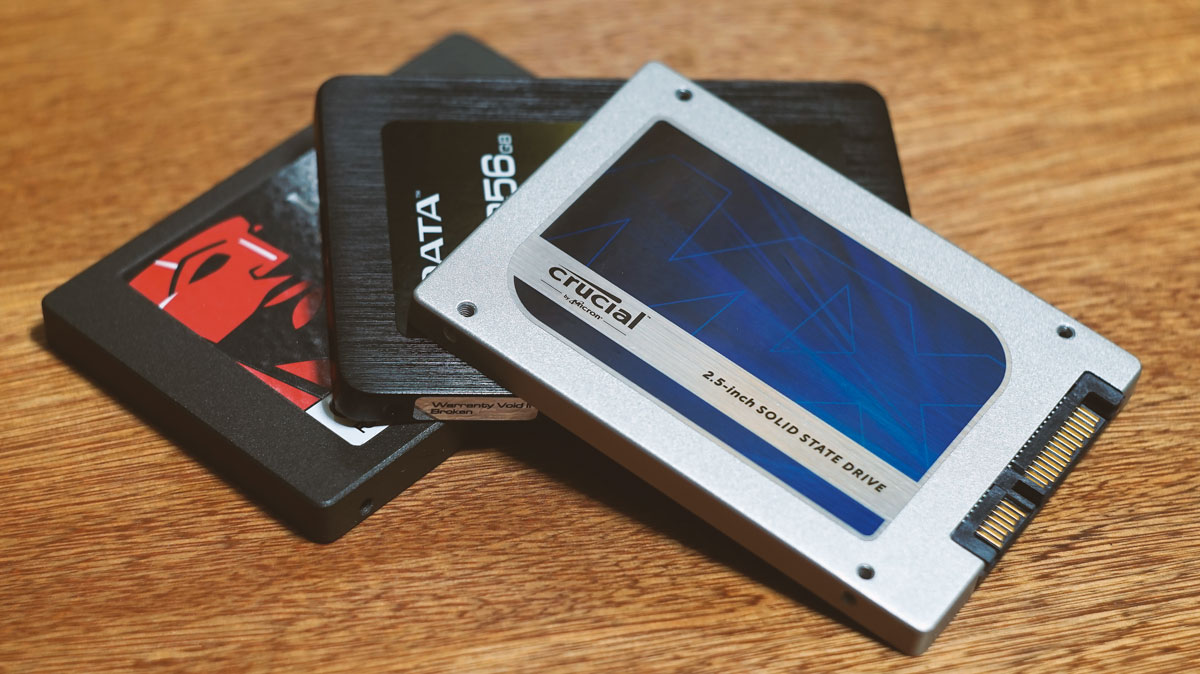 SLC, MLC & TLC: KNOW THE DIFFERENCE
Before we start pounding this thing with our tests, let us briefly discuss what is SLC, MLC, and TLC all about. You know, because you might need to know them in the near future. First thing's first. SSDs and most non mechanical storage devices operates at a certain level of element. We call it the Level Cell. There are Single, Multiple, and Triple Level Cells. Thus the acronyms SLC, MLC, and TLC. All of them have particular highs and lows depending on usage / scenarios. So, a certain level cell might be beneficial on some areas.
SLC – Stands for Single Level Cell. Stores in two possible states per cell. Advantage of SLC based storage products are the fast Write Speeds, data reliability, and power consumption. It costs more per GB compared to MLCs so they are better suited for users who needs exceptional performance regardless of the price. Think of it as a domino with two dots.
MLC – Stands for Multi Level Cell. Stores in four possible states per cell. Advantage of MLC based storage products are the improved data storage densities. It costs less than an SLC too, but at the expense of a bit higher error rate due to its nature. Think of it as a domino with four dots.
TLC – Stands for Triple Level Cell. Basically an MLC on steroids. It stores in eight possible states per cell. Twice that much compared to MLC so its denser and costs less per GB. Downside is an amplified error rate compared to MLC. Think of it as a domino with 8 dots. 8 freakin' dots.
The Crucial MX100 is an MLC based SSD. Meaning,  it's sandwiched between the theoretically faster SLC and the one with the best price per GB. In short, it's at the sweet spot. Probably the ham between the bread buns. But, is it really the thing here? Let us find out!
TEST SYSTEM & PROCEDURES:
Storage devices, unlike motherboards, revolves around the use of various storage benchmarking tools to test their performance. We've got loads of them in the past, but we toned down the synthetic benchmarking tools to ATTO, and Crystal Disk Mark. It is important to note that we have a pre-made Test OS for the storage benchmarks and we are always aiming to fill up the drive to 50% of its capacity. This is to ensure that we are testing the drive according to its real world usage along with a very small margin of error.
The Crucial MX100 SSD at 256GB has a total capacity of approximately 256 Billion bytes, translated roughly at 238GB of available space to play with. The test system's specifications are as follows:
| | |
| --- | --- |
| CPU | Intel Core i5 4670K |
| MOTHERBOARD | GIGABYTE Z87X-OC |
| CPU COOLER | Cooler Master Seidon 120XL |
| MEMORY | ADATA XPG V2 @2400MHz 16GB |
| GRAPHICS CARD | GIGABYTE GTX 750 |
| INT. STORAGE | 256GB Crucial MX100 SSD |
| PSU | Cooler Master Silent Pro Hybrid 1300W |
| DISPLAY | DELL S2340L 23″ IPS |
| OS | Microsoft Windows 7 Ultimate x64 SP1 (Updated) |
| SOUND CARD | On board |
| EXT. STORAGE | 2TB Western Digital My Passport |
SYNTHETIC PERFORMANCE:
First up in the benchies is ATTO Tech's Disk Benchmark. It basically measures the system's storage performance with various transfer sizes and test lengths for reads and writes. An industry standard.
---
Next up is the venerable Crystal Disk Mark. This storage benchmarking software aims to measure sequential, and random read/write speeds of storage devices. Check out the author's page HERE.
---
REAL WORLD PERFORMANCE:
First up in the list of the real world performance tests is the file copy test which involves copying of Images, Videos, PSD files, DOC, XML, PDFs, etc. you name it, to simulate a real world file copy scenario. Do note that the files are inside a folder, and they're randomly placed.
Next up is the boot speed of the storage drive where some consumers mostly based their SSD purchase. Boot speed is recorded right after the PC passed POST and figures will be recorded when we hit the desktop.
Another real world performance test, our newly added application launch speed test checks out how fast a storage device could open up a PSD file in Adobe Photoshop CC. Again, this is a simple yet effective way to gauge a storage device's performance.
PERFORMANCE ANALYSIS & CONCLUSION:
Summing up the performance of the drive, one can say that the Crucial MX100 in 256GB flavor is nothing short of amazing. Amazing, in a sense that the performance actually exceeded my expectations. For instance, the drive's  ATTO benchmark performance actually showed that the MX100's Read & Write speeds exceeded what Crucial stated on their white paper. Read speeds blew past 550 MB/s and is actually rated by ATTO at 555 MB/s max. Write speed on the other hand achieved a happy 348 MB/s max. A full 18 MB/s faster than the rated speed. ~ Although there is a performance hiccup between Transfer Sizes (blocks) 2 and 8.
At Crystal Disk Mark's Read speed performance tests, the Crucial MX100 delivers a solid 501 MB/s Sequential Performance. That's 49 MB/s shy to its rated performance. 512K Random  Performance were great at 443 MB/s along with a fantastic 4kQD32 Random Read performance at 272 MB/s. Again, we saw great Write performance across the benchmark with an above rated speed at 347 MB/s on the Sequential Write, and 512K Random Write speed tests. This SSD easily beats the ADATA XPG SX900 with the same capacity based on the same benchmark.
Real world performance tests are the areas where you will probably be interested the most, and I am happy to say that the Crucial MX100 could easily put up a great fight with the rest. Boot speeds are great with an average between 6-7 seconds. Application launch speed, as seen on Adobe Photoshop CC, though not the fastest, clocks in at 1.68 Seconds which is great. File Copy performance is on par with the fastest one we've clocked so I could safely say that on average, this very SSD really works like a charm.
BASED ON RECENT AMAZON & NEWEGG PRICE WATCH
Performance wise, I couldn't complain. The Crucial MX100 is just a well engineered drive. It's an MLC based SSD capable of delivering SLC like performance. It's fast, looks great, easy to work with, and has the necessary bundle to get you started without burning a hole in your precious wallet.
At 112.99 USD internationally, or around 5, 300 Pesos at your favorite local I.T. store, the 256GB Crucial MX100 is an SSD that you should never miss. Seriously, just check out the image above that we plotted when it comes to Price to Performance Ratio. The MX100 just got an unmatched value to back up its performance. Grab a nugget and a value award, Crucial. You deserved it.
THE VERDICT
PROS:
FANTASTIC OVERALL PERFORMANCE
WRITE SPEED EXCEEDS EXPECTATIONS
EXTRA CAPACITY IS A PLUS
ABSOLUTE VALUE FOR MONEY
3 YEAR WARRANTY
CONS:
Crucial MX100
PERFORMANCE -

8/10

BUILD QUALITY -

8/10

FEATURES -

8/10

AESTHETICS -

8/10

VALUE -

9/10
Summary
At 112.99 USD internationally, or around 5, 300 Pesos at your favorite local I.T. store, the 256GB Crucial MX100 is an SSD that you should never miss.