The Z490 chipset introduces a few but notable stuff from our friends at Intel. It comes with a new LGA 1200 socket, supporting the Comet Lake CPUs and allegedly, the future PCIe Gen 4 capable Rocket Lake. Along with a new socket also comes the integrated support for Intel Wi-Fi 6 and 2.5Gbps LAN – pushing networking performance a step over the outgoing chipset.

Now what we have here is the ASUS ProArt Z490-Creator 10G. A motherboard built for creators featuring 10Gbps capable PCIe expansion card, dual USB Type-C with Thunderbolt 3 support and a styling that doesn't reek gaming and RGB lighting. This motherboard doesn't come with Wi-Fi 6 though. A bit of a shame, since it could be a winning combo on paper considering the board's price at $299.99 USD.
Technical Specifications
Processor
CPU
10th Gen Intel Core, Pentium Gold and Celeron
Chipset
Intel Z490
Memory
SDRAM
DDR4 (Non-ECC)
Slot
4x LO-DIMM
Channel
Dual Channel
Frequency
2933MHz (4800MHz OC)
Capacity
128GB
Graphics
GPU
Integrated
Display Output
1x HDMI, 2x DisplayPort, 2x USB Type-C
Multi-GPU
3-Way AMD CrossFire
Expansion
PCI Express
1x PCIe 3.0 x16, 1x PCIe 3.0 x8,  1x PCIe 3.0 x4, 2x PCIe 3.0 x1
Storage
SATA
6x SATA
M.2
1x PCIe 3.0 x4, 1x SATA/PCIe 3.0 x4
RAID
RAID 0, RAID 1, RAID 5, RAID 10
Network
Wired
1x Intel I225-V 2.5Gbps
Wireless
N/A
Audio
Codec
Realtek ALC S1220A
Channel
7.1-Channel
USB
USB 2.0
4x Internal
USB 3.0
2x External, 3x Internal
USB 3.2
6x External
Dimensions
Length
305mm
Width
234mm
Height
N/A
Weight
N/A
Packaging and Accessories
ASUS had the ProArt Z490-Creator 10G packed inside their usual dual compartment motherboard packaging but with the ProArt colorway. It comes with the following accessories and documentations inside:
User Manual
I/O Shield
4x SATA 6Gbps Cable
1x M.2 Screw Package
1x Supporting DVD
1x DisplayPort Cable
1x CPU Fan Holder
1x 2-in-1 Rubber Pad
1x HYPER 10G LAN Card
Pretty much your standard motherboard bundle with the exception of the 10Gbps expansion card.
Design, Layout and Build Quality
ASUS designed the ProArt Z490-Creator with simplicity and functionality in mind – that works. This is by far one of my favorite ATX motherboards released this year by looks alone.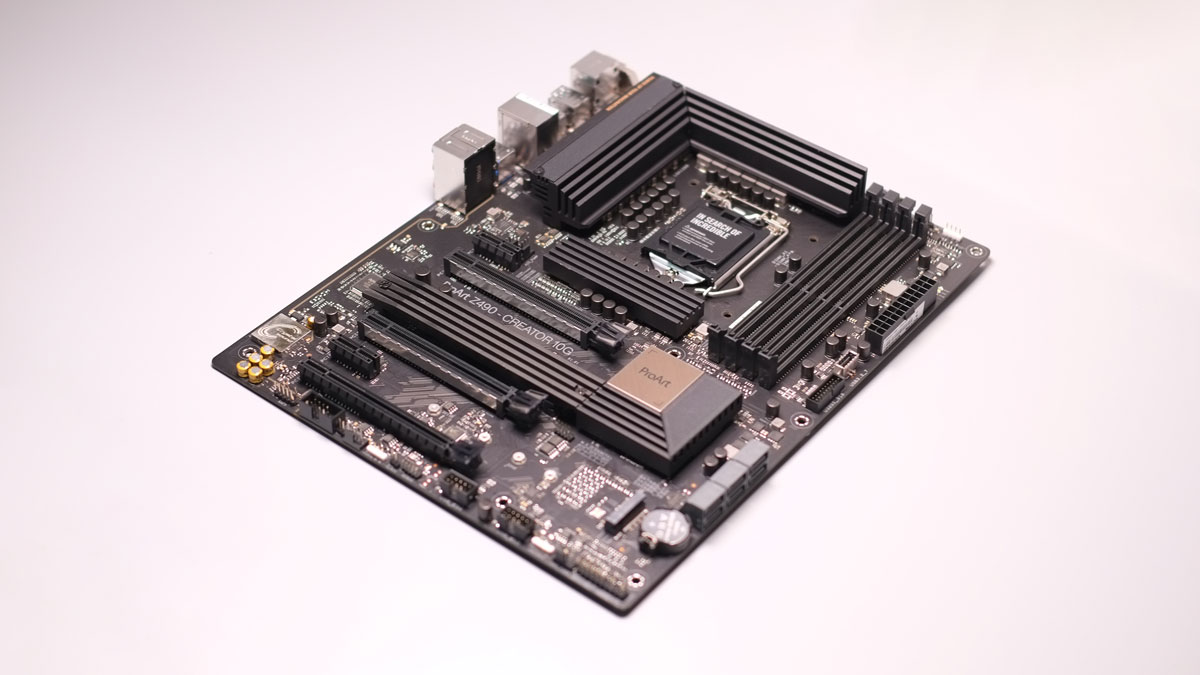 Motherboard layout is excellent. We have open ended PCIe slots and an unrestricted access to headers, plus with a very accessible CMOS battery as well. There are also dual M.2 slots supporting type 22110 drives – which is by the way, a really-really long drive. What's not to like?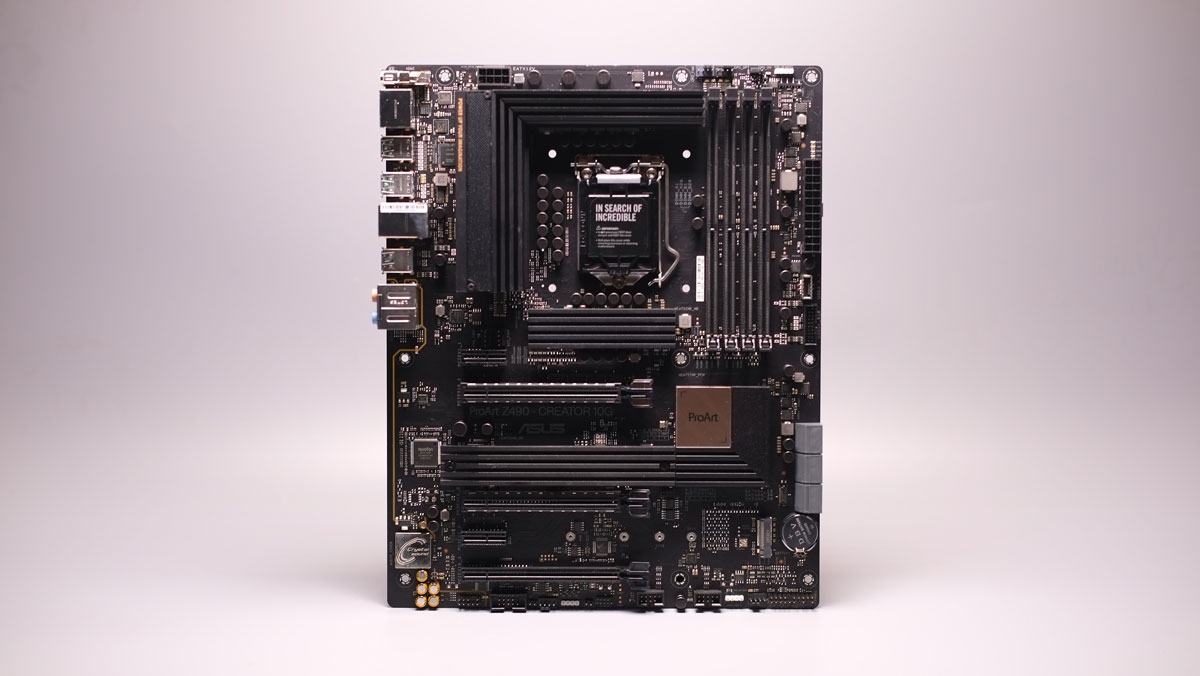 Impeccable solder job we got here from the Z490-Creator. Now as for the PCIe slots, we have a PCIe 3.0 x1, 3.0 x16, 3.0 x8, another 3.0 x1 and a 3.0 x4 slot. This board also supports 3-Way AMD CrossFire in a x4/x4/x4 configuration. But of course, the main purpose of these full sized slots is to support NVIDIA Quadro GPUs.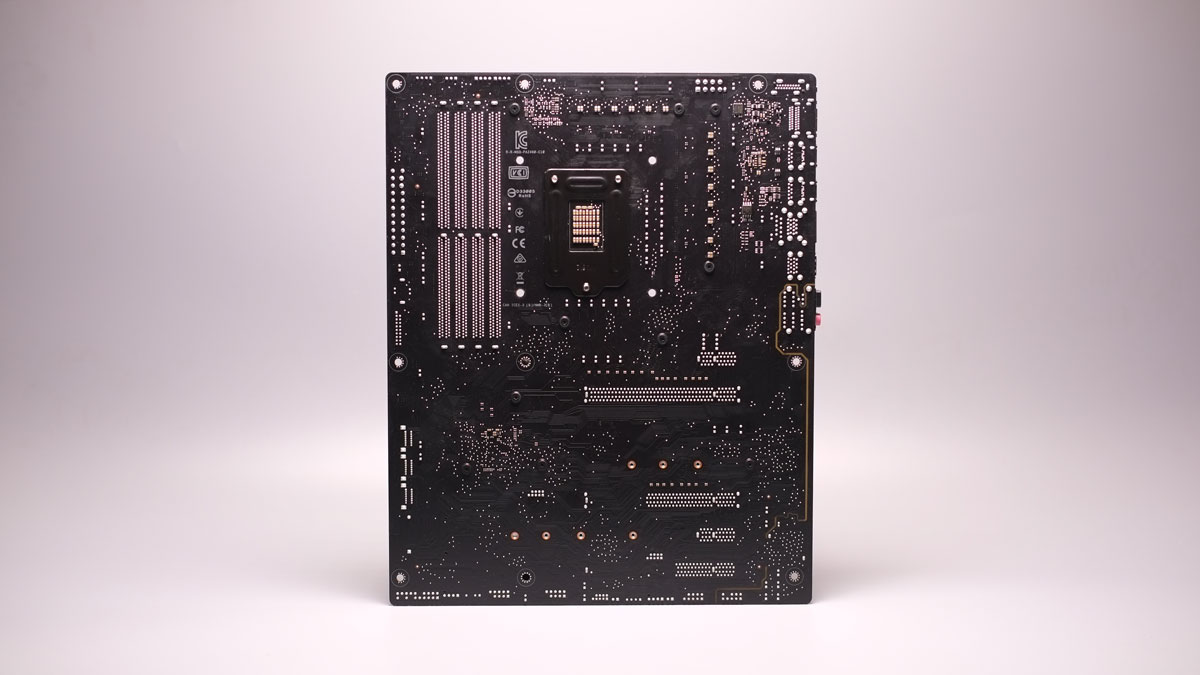 The ASUS ProArt Z490-Creator features a digital VRM design in a 12+2 configuration. It is cooled via a thick and rather hefty slab of aluminum. As for headers, we have a reinforced single 8-pin power connector here, an RGB header and three fan headers.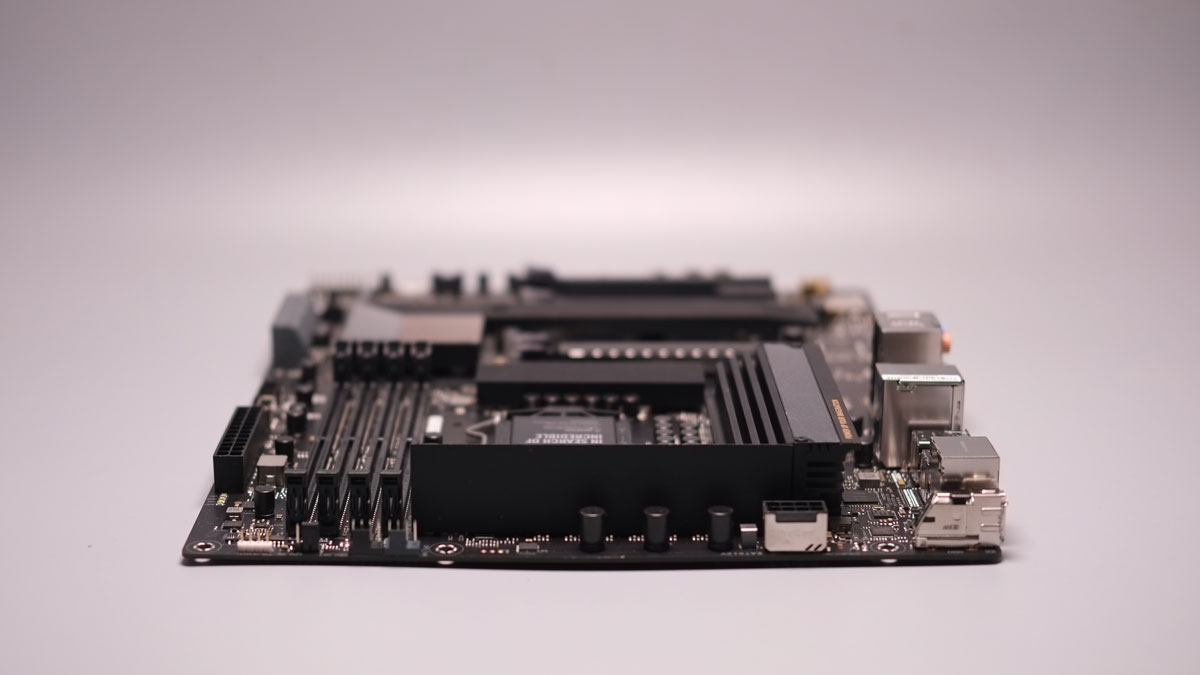 The right side of the board houses the 24-pin ATX power, CMOS battery, the six SATA ports, a USB 3.0 header and the USB 3.2 Type-C header.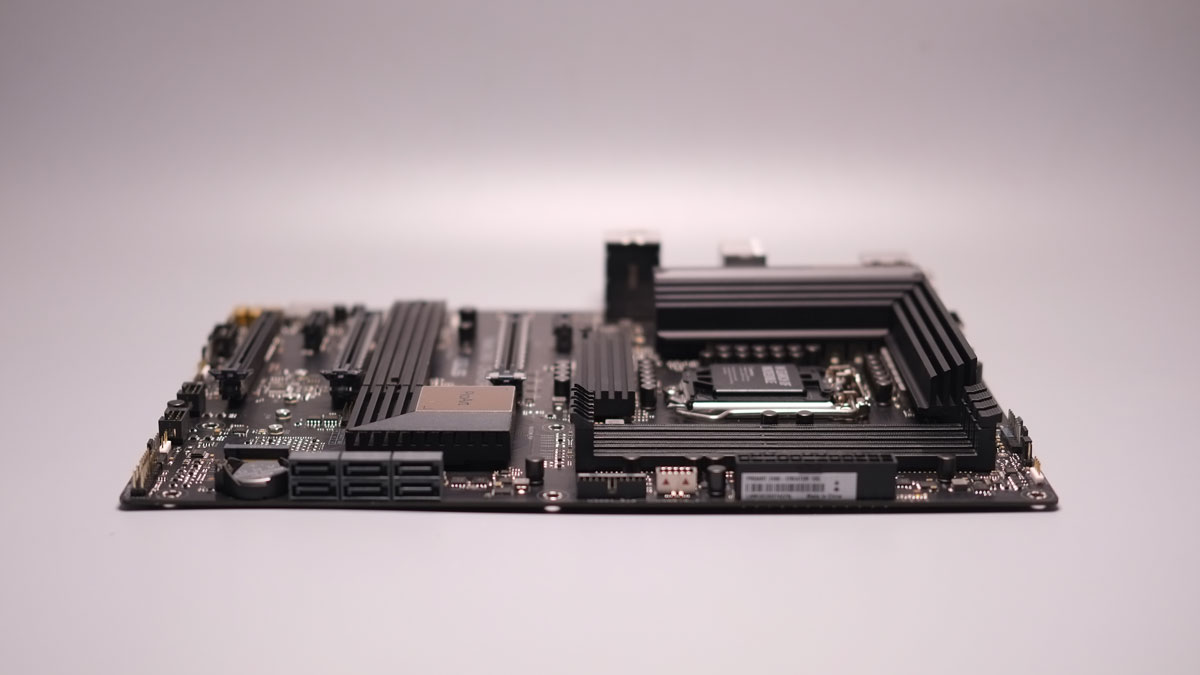 As usual, the bottom part is jam packed with the usual assortment of headers with the remaining fan headers and RGB headers. This board is the epitome of clean.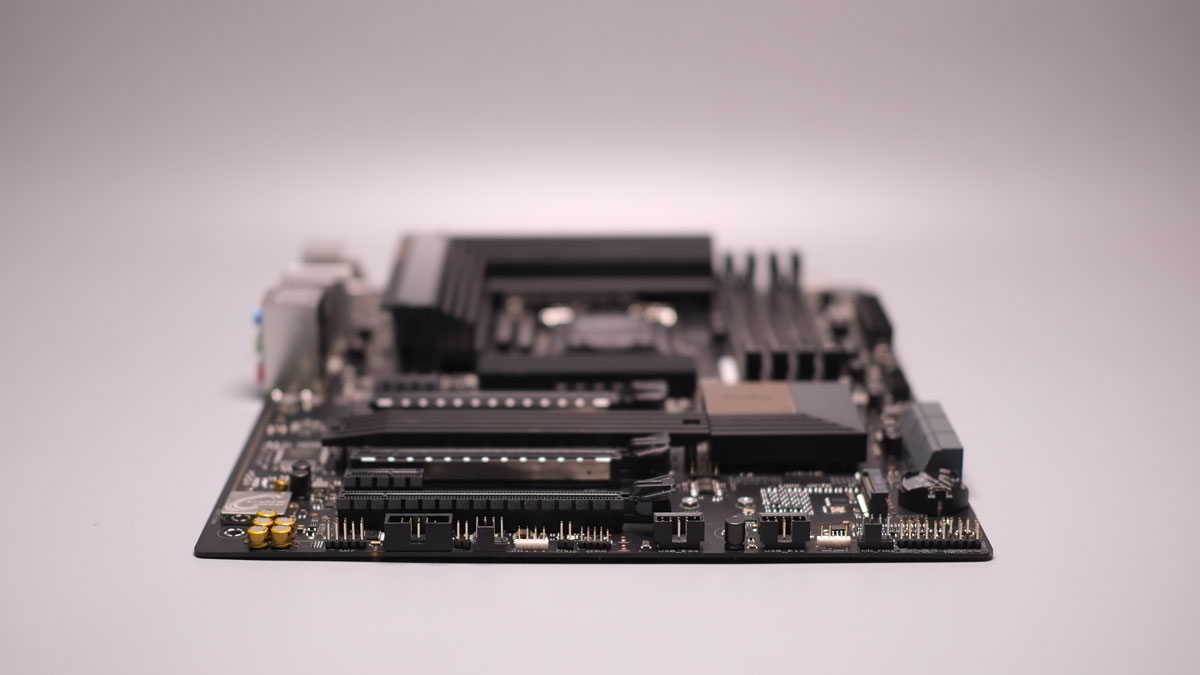 Back panel options are very good. We have the usual assortment here but with the much appreciated USB 3.2 Type-C ports that supports Thunderbolt 3. There are also 4x USB 3.2 Type-A ports here.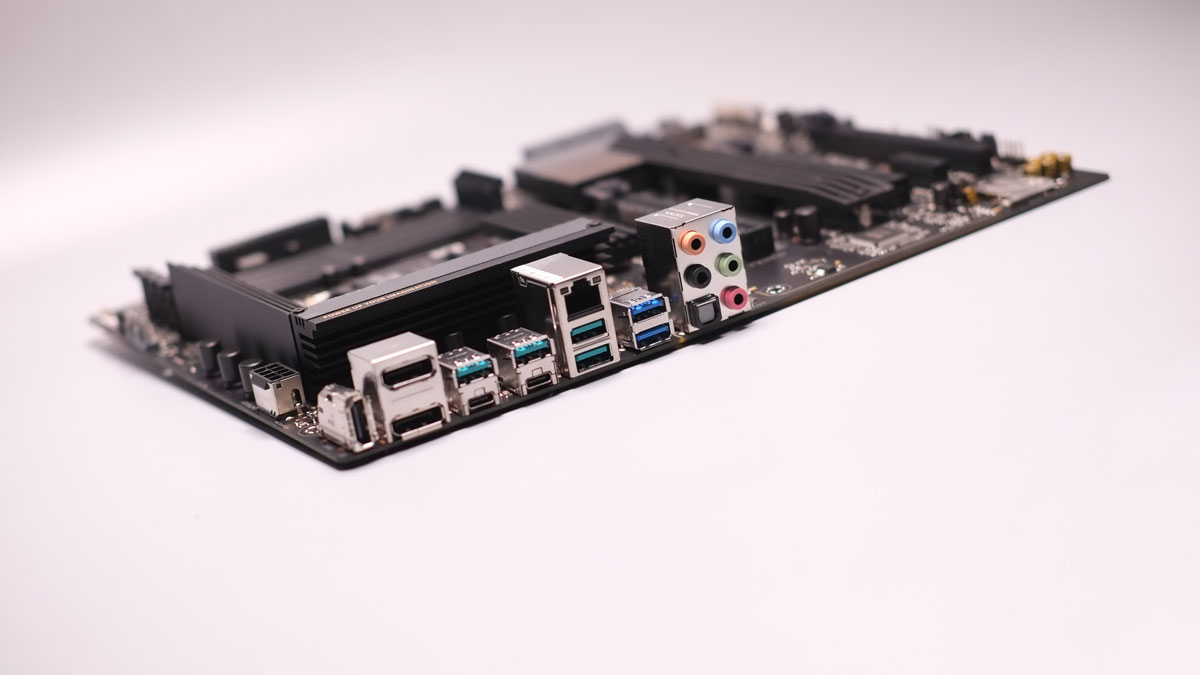 Firmware Interface
The ASUS ProArt Z490-Creator 10G comes equipped with a tried and tested UEFI design with a few improvements over the older iteration. Aspect ratio is locked at 4:3.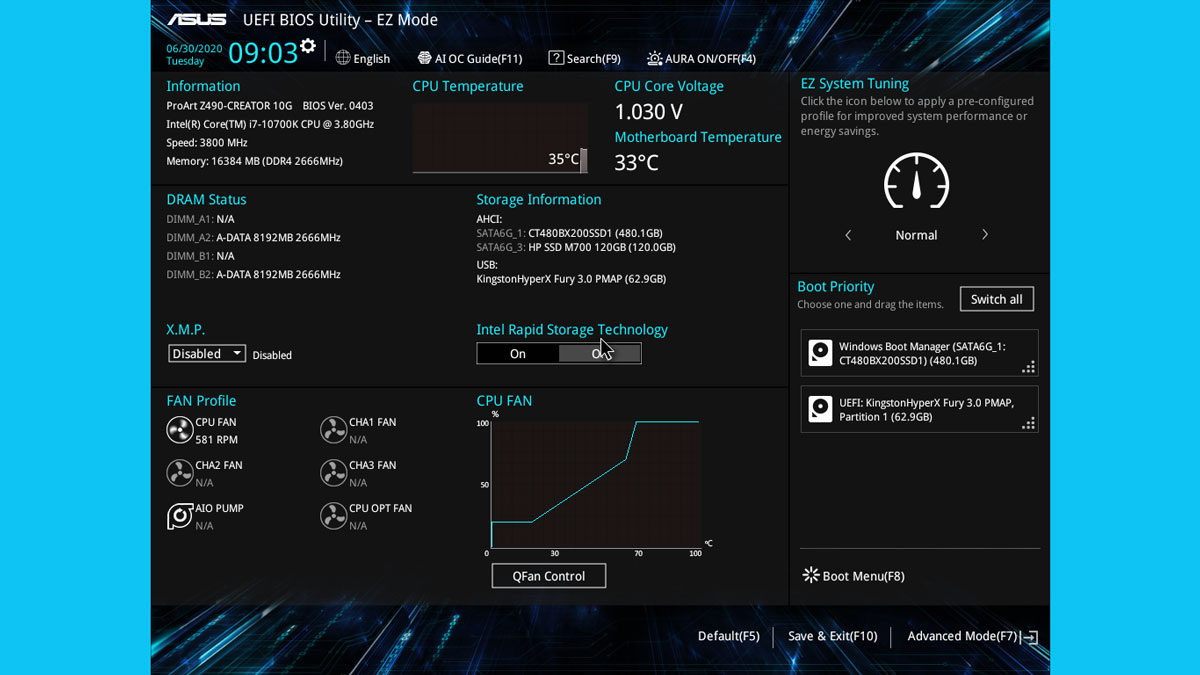 There are still 8 main menus on the UEFI to choose from if you're browsing from the Advanced mode. Seasoned overclockers and more advanced users will feel at home with the Ai Tweaker since it is a straight forward option.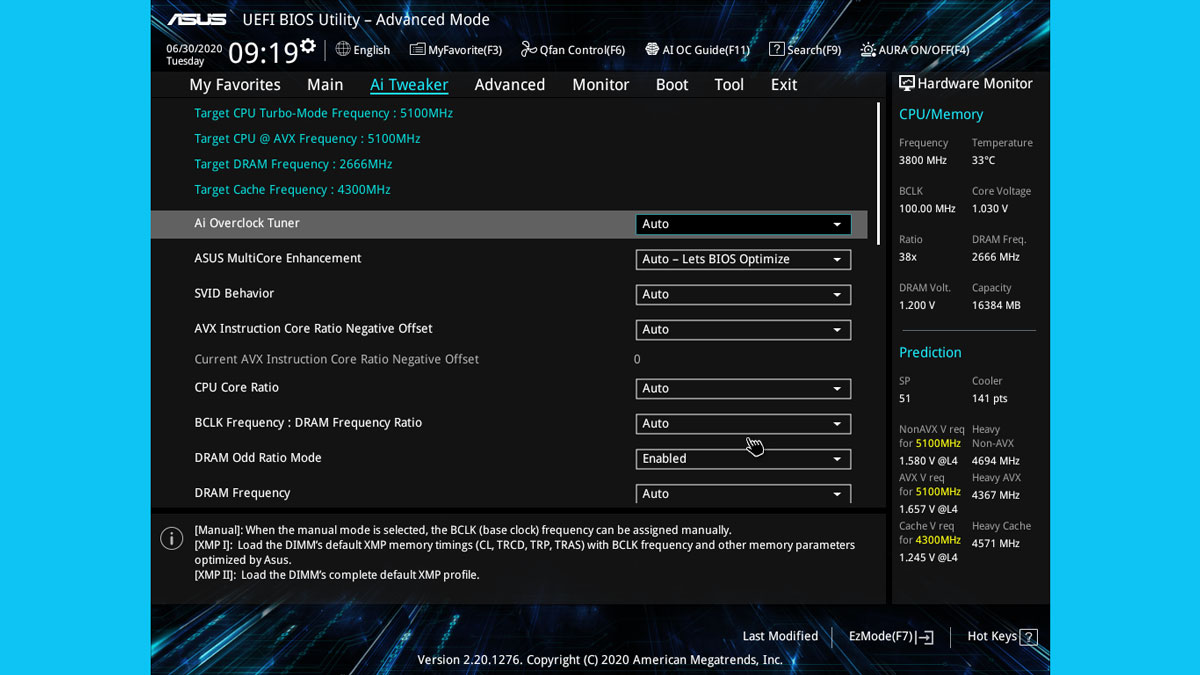 Other features includes the AI Cooling and AI Overclocking which we will check out a bit later on this review.
Test Setup and Methodology
System performance is evaluated by industry standard benchmark tools and applications. The system is tested with the following software configurations:
Windows Power Plan: Balanced
UEFI configuration: Default
Windows Game Mode: Disabled
Windows Game Bar: Disabled
Windows Security: Disabled
Outlined below are the test system specifications as well as the software and or applications used for the review:
Test System Specifications
CPU
Intel Core i7-10700K (ES)
Motherboard
ASUS ProArt Z490-Creator 10G
Cooler
Noctua NH-L12
Memory
ADATA Premier 2666MHz 16GB
GPU
ASUS ROG Strix RX 570 4GB
Storage
Crucial BX200 480GB
Case
Thermaltake Core P3
PSU
CORSAIR RM850X
Display
DELL U2715H
OS
Microsoft Windows 10 Pro
Synthetic Performance:
Super PI – 32M Calculation
wPrime – 1024M Calculation
AIDA64 Extreme Edition – Memory Benchmark
Productivity Performance:
GIMP – Image Processing
HandBrake – Video Encoding
WinRAR – Compression Speed
Gaming Performance:
CS:GO – Maximum Settings, V-SYNC off, Motion Blur off
DOTA 2 – Maximum Settings, V-SYNC off
Assetto Corsa – Maximum Settings, V-SYNC off
Miscellaneous:
AS SSD – Storage Performance
RightMark Audio Analyzer – Audio Performance
NetIO-GUI – Network Performance
Power Consumption:
Synthetic Performance
Super PI is a single-threaded program that calculates pi to a specified number of digits after the decimal point. It is a widely used benchmark to check a single-core performance of any system. Lower calculation time is better.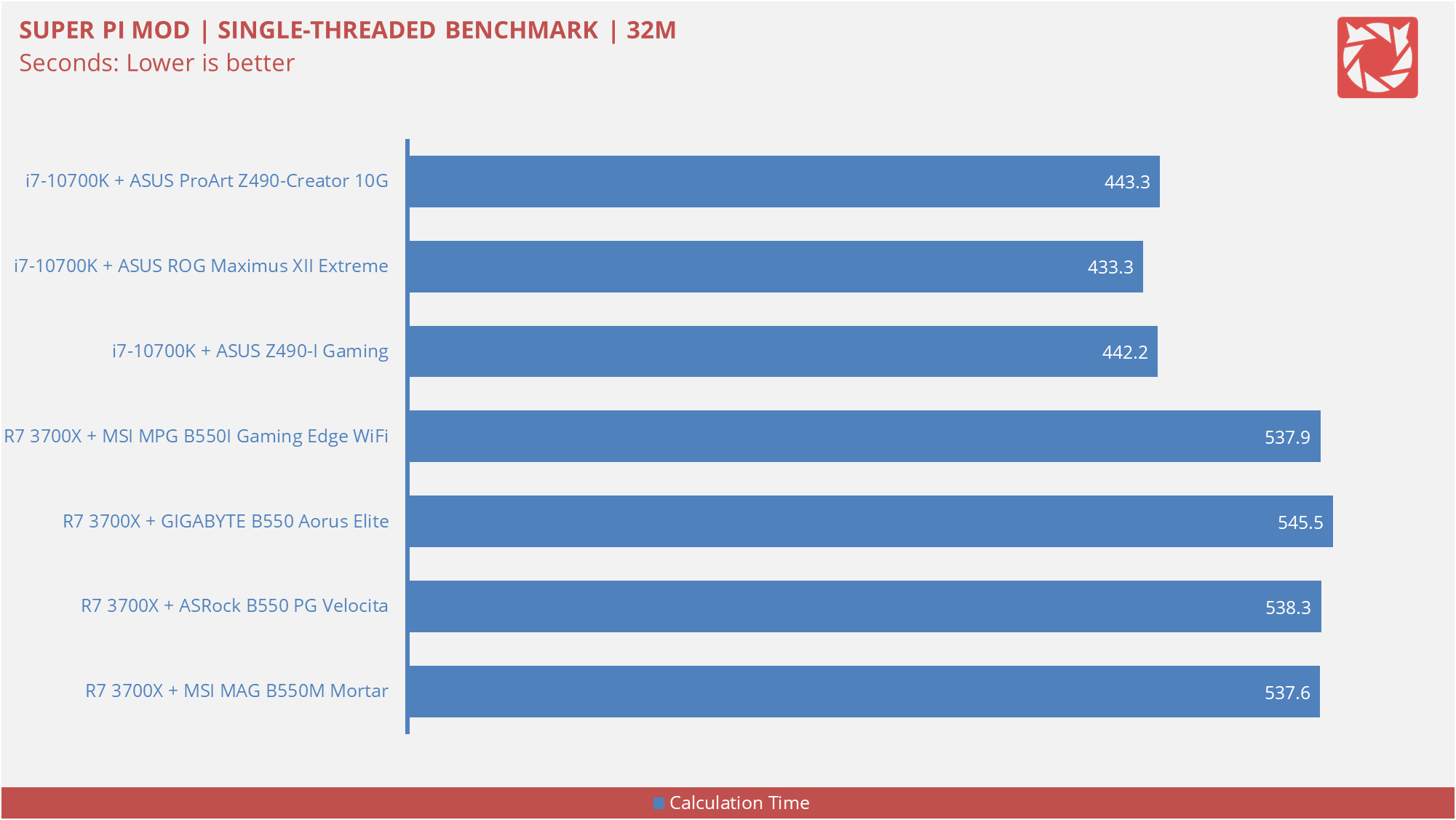 WPrime is a multi-threaded program that calculates a set number of square roots. A good application to check the multi-core performance of any system. Lower calculation time is better.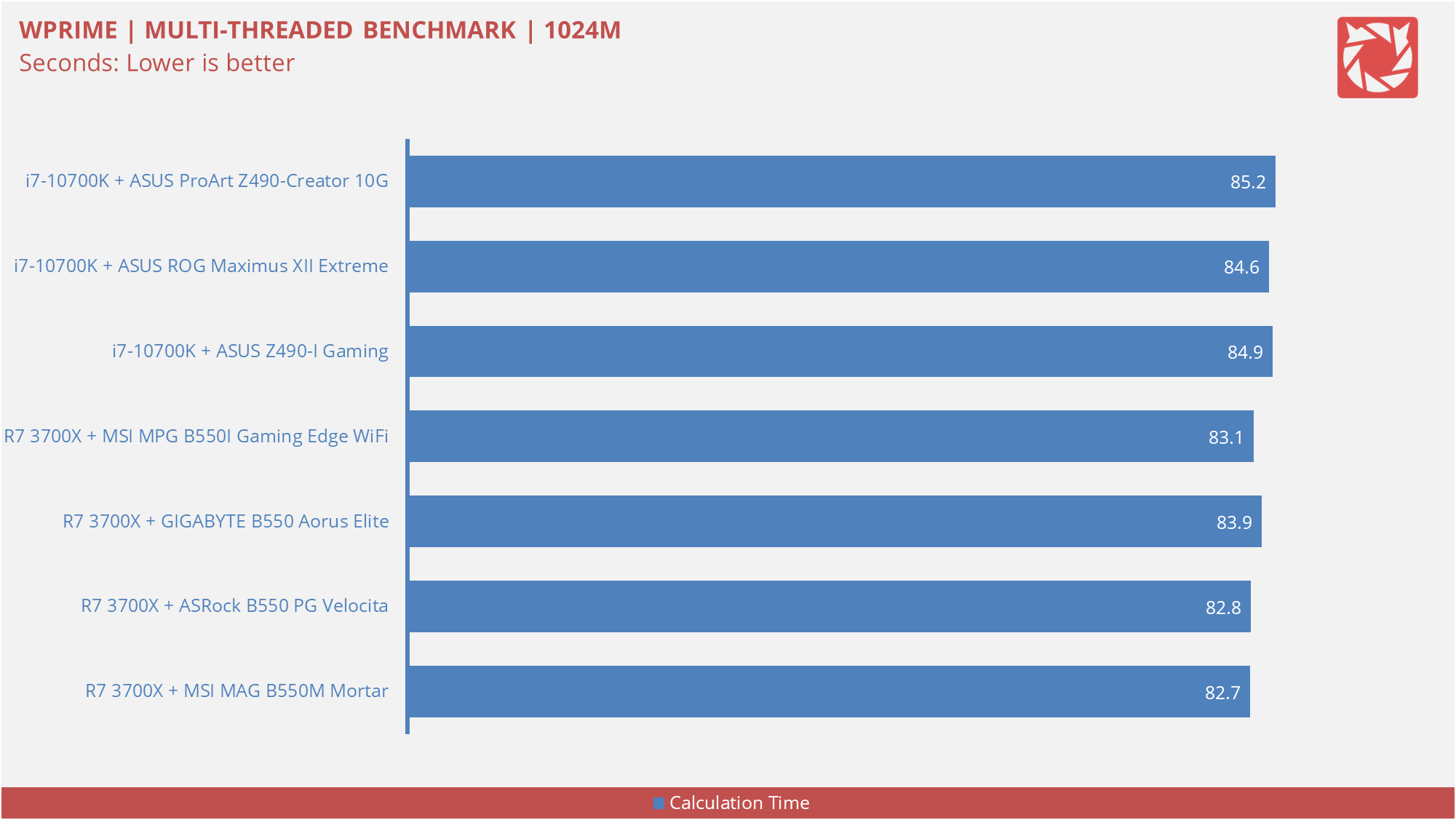 The AIDA64 Extreme Memory Benchmark measures the data transfer bandwidth and latency of the system memory. The latency is measured for this benchmark. Lower latency is better.
Synthetic performance wise, the ASUS ProArt Z490-Creator 10G really puts the Intel Core i7-10700K to good use. If you followed our recent motherboard review, this performance puts it ahead of the AMD Ryzen 7 3700X in terms of single core performance, memory write and latency.
Productivity Performance
GIMP is a free and open-source image editing tool. 7MB worth of images are processed and converted for the benchmark. Lower image processing time is better.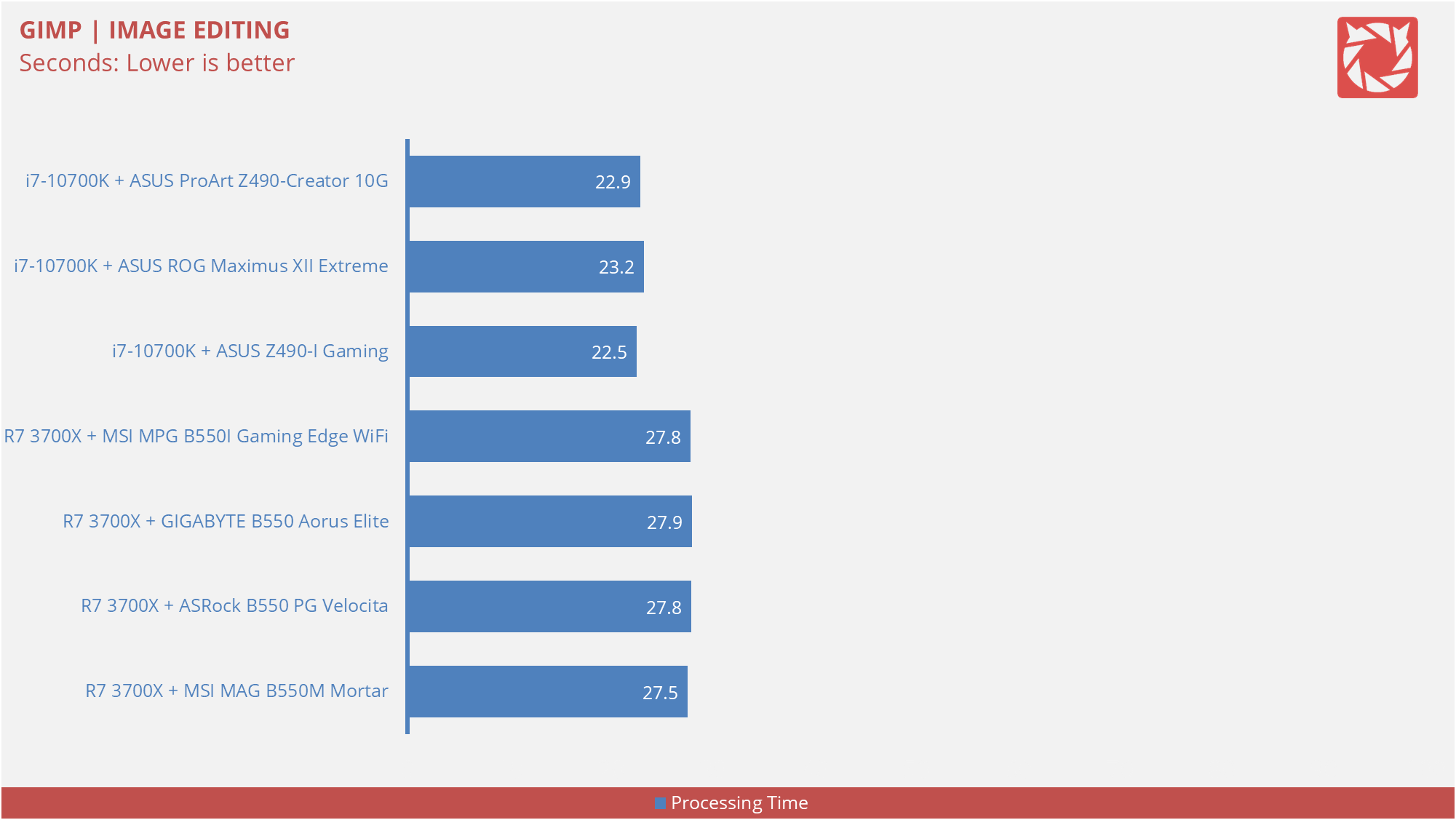 HandBrake is a free video encoding tool that supports a wide variety of media codecs. 150MB worth of MP4 video is converted using the H.264 codec for the benchmark. Lower encoding time is better.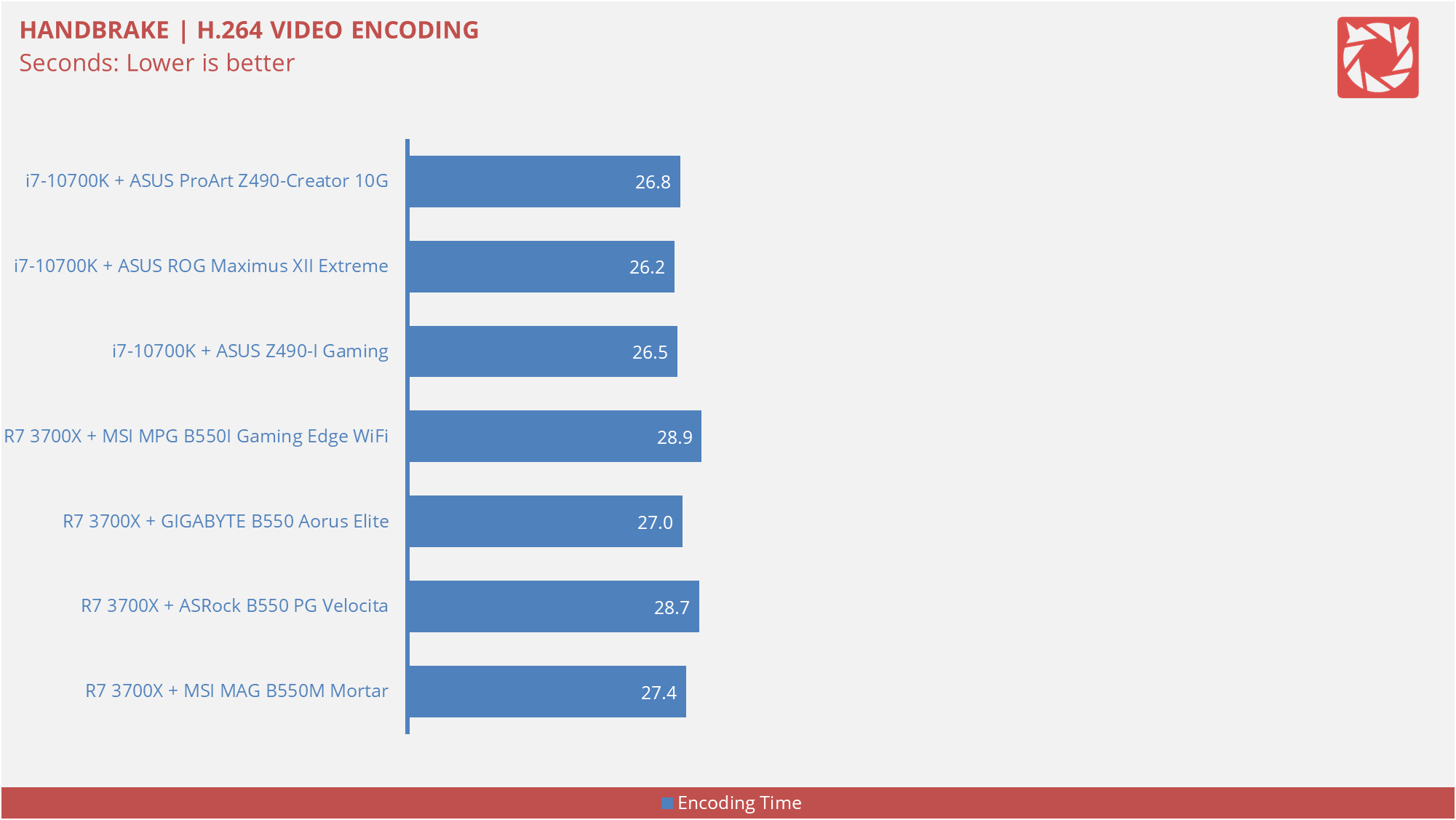 WinRAR is a file archive utility that creates, view and unpack numerous archive file formats. The built in benchmark tool is utilized to for the benchmark. Higher resulting throughput is better.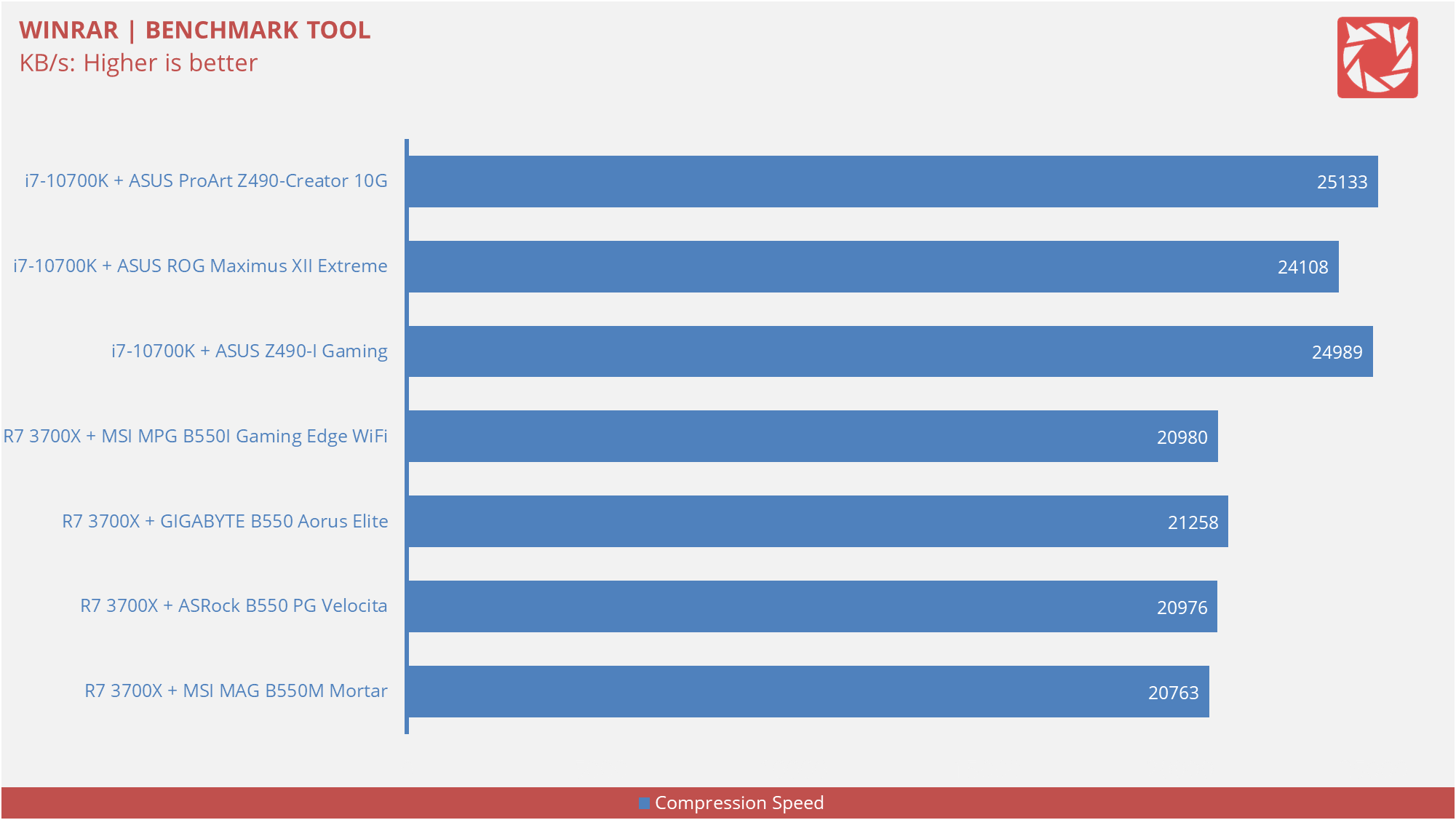 Nice real world performance results we got here from the Z490 chipset. The Core i7-10700K is undoubtedly faster than the Ryzen 5 3700X here.
Gaming Performance
Counter-Strike: Global Offensive or CS:GO is a multiplayer first-person shooter developed by Valve. Settings are set to their maximum with V-Sync and motion blur disabled.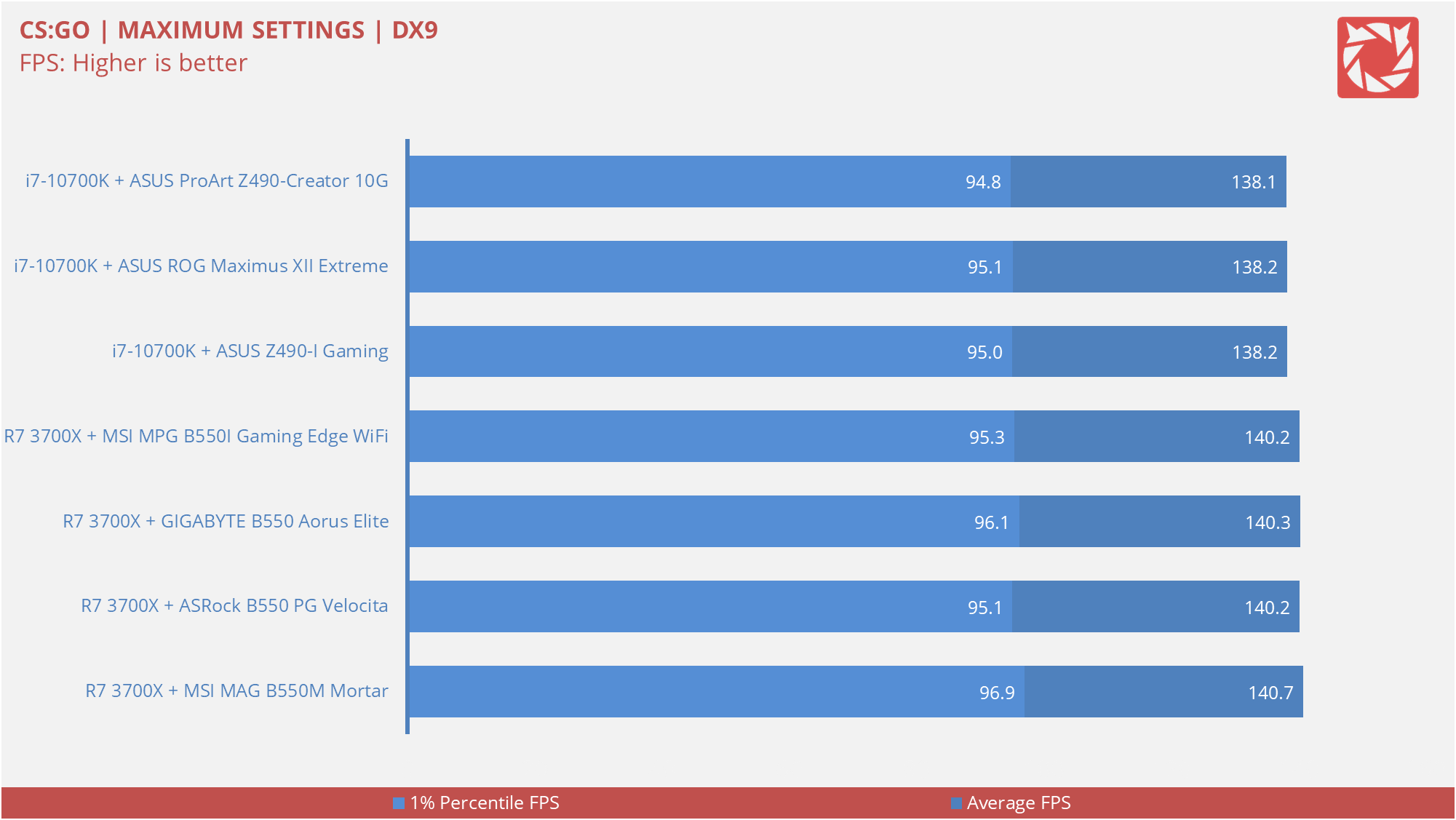 DOTA 2 is a multiplayer online battle arena game developed and published by Valve. Settings are set to their maximum with V-Sync disabled.
Assetto Corsa is a simulation racing game developed by the Italian video game developer Kunos Simulazioni. Settings are set to their maximum with V-Sync disabled.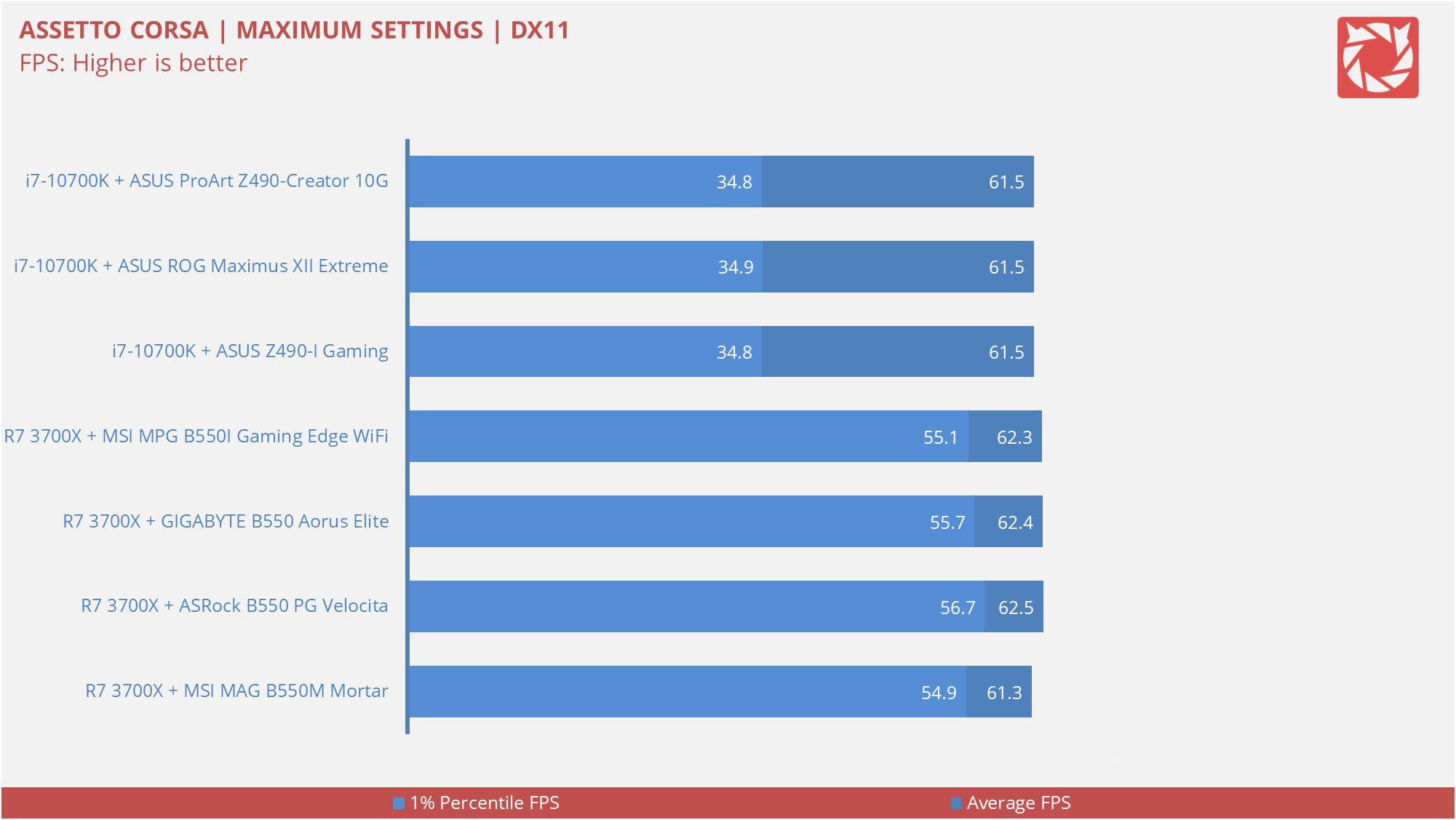 Gaming performance is pretty good. Nothing exceptional here – cuz yah know, RX 570 is so 2017 and so are our titles. Note that the Intel Z490 with the Core i7-10700K is less stable (1% percentile) than the AMD setup we got except for DOTA 2. RE: B550 review linked above.
Storage Performance
AS SSD is a storage benchmark widely used in the industry. The total score is taken to evaluate the storage performance. Higher score is better.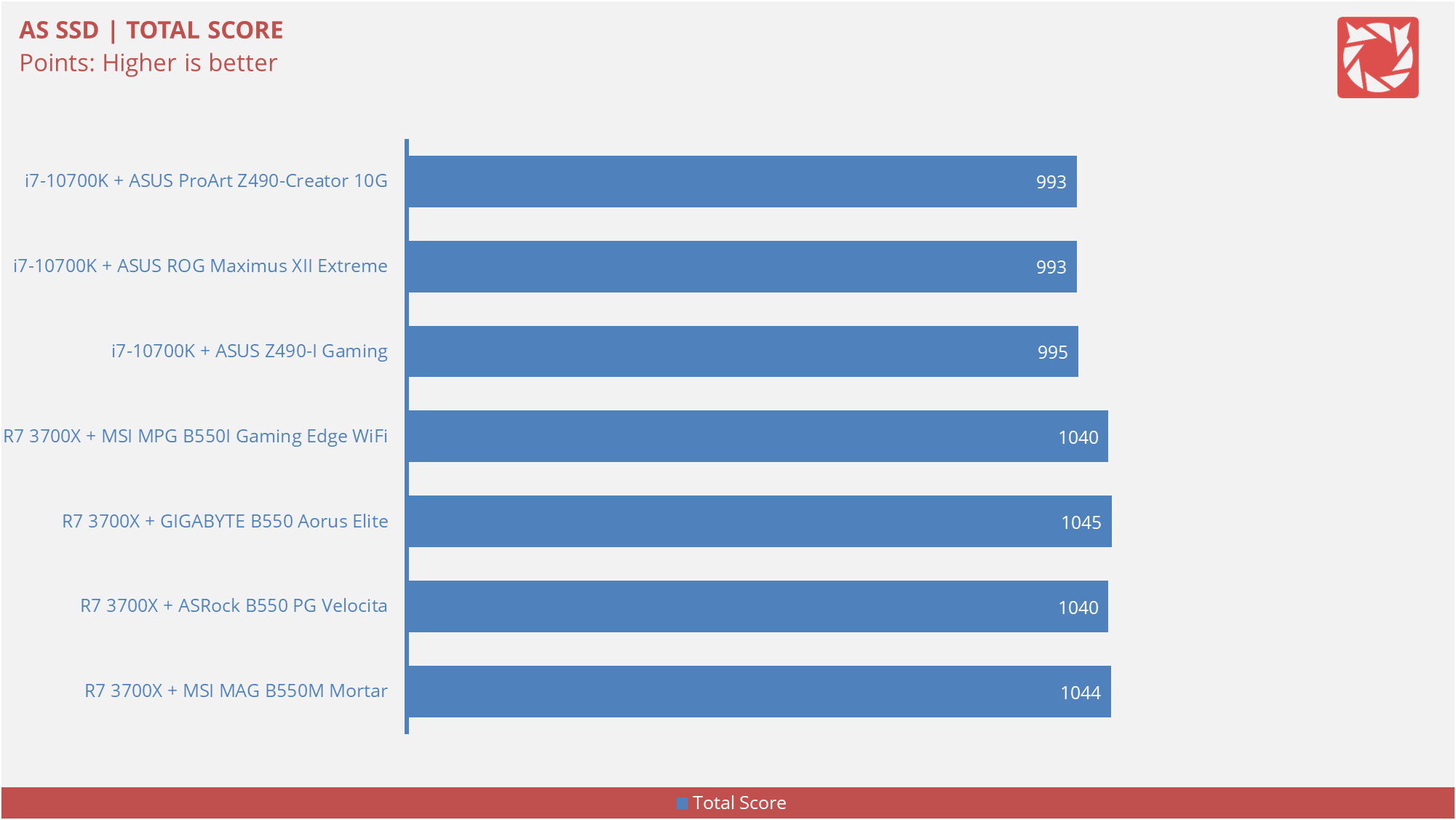 Apologies for the lack of M.2 and USB interface benchmarks here but as far as the SATA benchmark goes, the ASUS ProArt Z490-Creator 10G performed well. Not as fast as our AMD setup though – but still fast.
Audio Performance
RMAA is a tool designed to test the quality of audio devices. A loop-back is configured with a sampling rate of 24-bit at 48000Hz for the test. Our setup essentially tests the quality of the line-in and line-out of the audio solution. Lower noise level is better.
The Z490-Creator's Realtek audio solution scored -92.1 dBA of noise level at RMAA. Among the best we've tested with a matching FR, DR, THD, IMD + Noise and stereo crosstalk. Basically awesome as far as integrated audio goes.
Network Performance
NetIO-GUI is an application used to test the performance of a network. The LAN round trip time is our concern here, checking out latency anomalies if there are any. The client and server are connected on the home network via Cat 5e cables. Lower round trip time is better.
The motherboard has a wired network latency at 1ms on any packet sizes tested. No drops here, even with the 10Gbps Hyper card.
Power Consumption
AIDA64 Extreme System Stability Test features 64-bit multi-threaded stress testing module to drive the system to its limits. Power readings are recorded with a watt-meter.
The ASUS ProArt Z490-Creator 10G features a 63.1W idle and 279.2W of sustained load power consumption. It could go lower without the ASUS Hyper 10G LAN card.
Overclocking and Underclocking
There are two ways to overclock and underclock any compatible unlocked Intel Core series processors with the ASUS Z490-Creator. One way is to do it within the UEFI and the other is via the ASUS AI Dual Intelligent Processor 5.
The ASUS AI Overclocking feature is one method you could use to overclock your system via both options. It basically works in three simple steps:
Load, Save and Reboot – load the UEFI defaults, then press F10 to save and reboot. Boot into operating system.
Run a stress test – A stress test assesses system performance in order to estimate system potential as well as voltage needs for overclocking.
Apply AI Overclocking – Return to BIOS and navigate to the Extreme Tweaker section and set CPU Core Ratio to AI Optimized.
You may also do it manually once the AI Overclocking already got an approximate of the system's capabilities. You may check this out via the Prediction panel at the lower right of the Ai Tweaker's menu.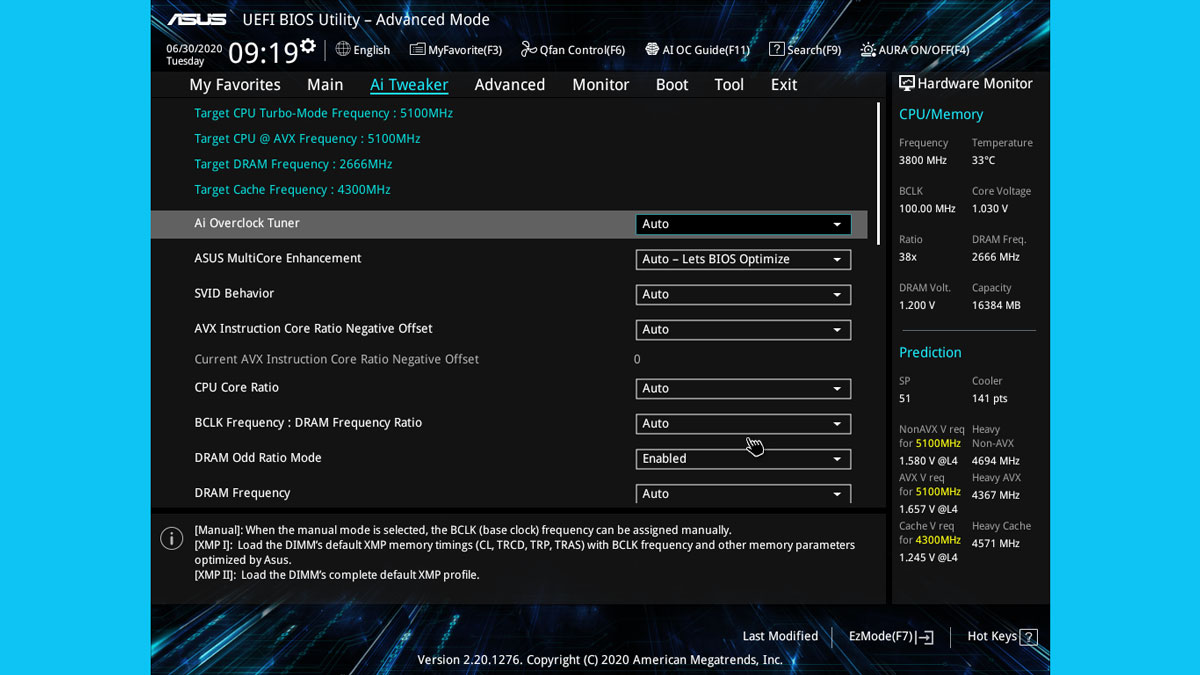 First step worked for us, but we still insisted going manual cuz that's how we do things. It is perfectly stable though and we honestly took the prediction into account. LLC has been applied to minimize vdrop though for that 100% no-ragrets stability.
Software, Lighting and Special Features
ASUS had the ProArt Z490-Creator 10G bundled with a number of applications that should help you optimize your system's performance. That should include the following software and or applications:
Armoury Crate
AI Suite 3
ProArt Creator Hub
AI Charger
Creation First
The ASUS ProArt Creation Hub is a Microsoft Store exclusive app for well, creators. It is basically a one stop solution for your needs when it comes to ASUS ProArt products. For an instance, if you hooked a ProArt display here, you'll have access to its calibration options.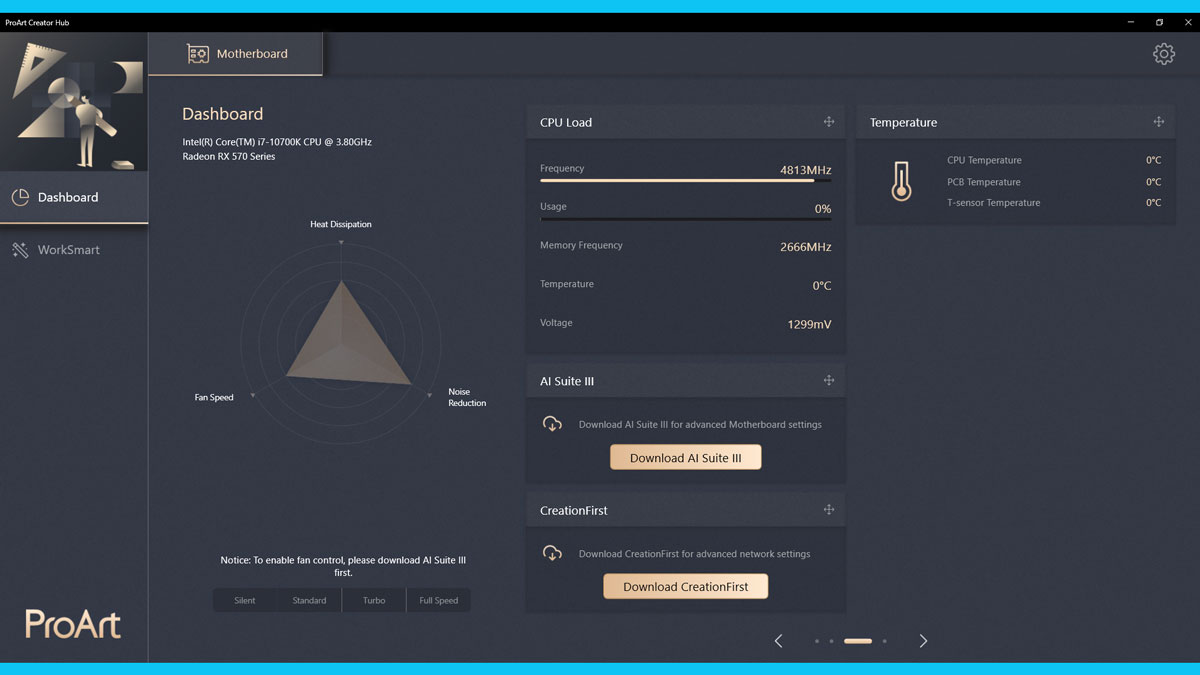 Finally, we get to see the 10Gbps capable ASUS Hyper 10G LAN card. I am really envious to the guys who could muster its performance. Like really, I had a glance of a 10G ethernet's performance at home once when I helped a friend configure his 10G network. It's like the SSD equivalent for the network, basically.
Final Thoughts
The ASUS ProArt Z490-Creator 10G is a very good motherboard both in the functionality and looks department. It is really hard to fault and with that said, for the price of $300 USD, this is almost a necessity to add on your list of Z490 boards to check out. Almost, since not that many users would prefer its networking and USB throughput capabilities over lets say, a Wi-Fi 6 module. If we have a non 10G variant but with Wi-Fi, then you wouldn't hear me spouting this nonsense here. Simply put, as its name suggest, the Z490-Creator is purpose built from the very start.
Technically speaking, the ProArt Z490-Creator is also the closes thing you'll ever compare to a workstation (WS) branded motherboard of the not so distant past. Perhaps it is the successor of the previous ASUS WS series of boards – but with a considerably lower price that couldn't be matched by the former at launch.
The ASUS ProArt Z490-Creator 10G is a gem of a motherboard for the Intel Z490 chipset. A really good motherboard with performance, functionality, reliability and aesthetics in mind.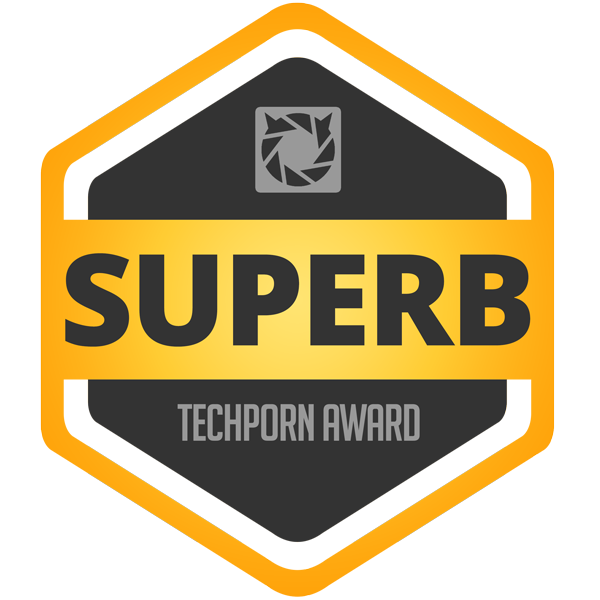 ASUS ProArt Z490-Creator 10G
Performance -

9.5/10

Build Quality -

9/10

Features -

9/10

Design -

9.5/10

Value -

8.5/10
Summary
The ASUS ProArt Z490-Creator 10G is a very good motherboard both in the functionality and looks department. It is really hard to fault and with that said, for the price of $300 USD, this is almost a necessity to add on your list of Z490 boards to check out.
Pros
Overall performance
Excellent build quality
Intel Thunderbolt 3 ready
Bundled 10Gbps LAN
AI OC/Prediction for the lazy
Competitive price-point
Excellent audio solution
Cons
Could use a Wi-Fi 6 variant
Non-integrated IO shield