The ROG RX Red is the first optical mechanical switch developed by ASUS. This is among the many "firsts" in ASUS' to-do-list this 2020 and they managed to put it on the Strix Scope before the year ends. Hence, the RX model for this review.

The Strix Scope RX is basically the improved regular scope with the RX Red optical switches – along with a few other updates. That includes an updated styling, a USB pass-through and and IP56 dust + water resistance certification.
Technical Specifications
Keyboard
Size
Full/100%
Layout
104-key, ANSI
Design
Frameless
Macro
Yes
Profile
Yes
Software
Armoury Crate
Interface
USB 2.0
Polling Rate
1000Hz
Lighting
RGB
Wrist Rest
—
Pass-through
USB 2.0
Cable Management
—
Multimedia Keys
Non-dedicated
Cable Length
1.8 meters
Switch
Type
RX Red
Actuation
1.5mm
Travel
4.0mm
Lifespan
100 Million
Dimensions
Length
440mm
Width
137mm
Height
39mm
Weight
1070 grams
Packaging and Accessories
ASUS had the Strix Scope RX packed inside the usual mechanical keyboard color box. The packaging comes with the following items inside:
1x ROG STRIX SCOPE RX Keyboard
1x Warranty card
1x Quick Start Guide
1x ROG logo ticker
Pretty standard bundle, I guess? Nothing much to inspect here.
Design, Layout and Build Quality
The ASUS ROG Strix Scope RX is a sleek looking full-sized Scope keyboard. Gone are the dual-finish aluminum housing, making this model a bit more cleaner compared to its predecessor.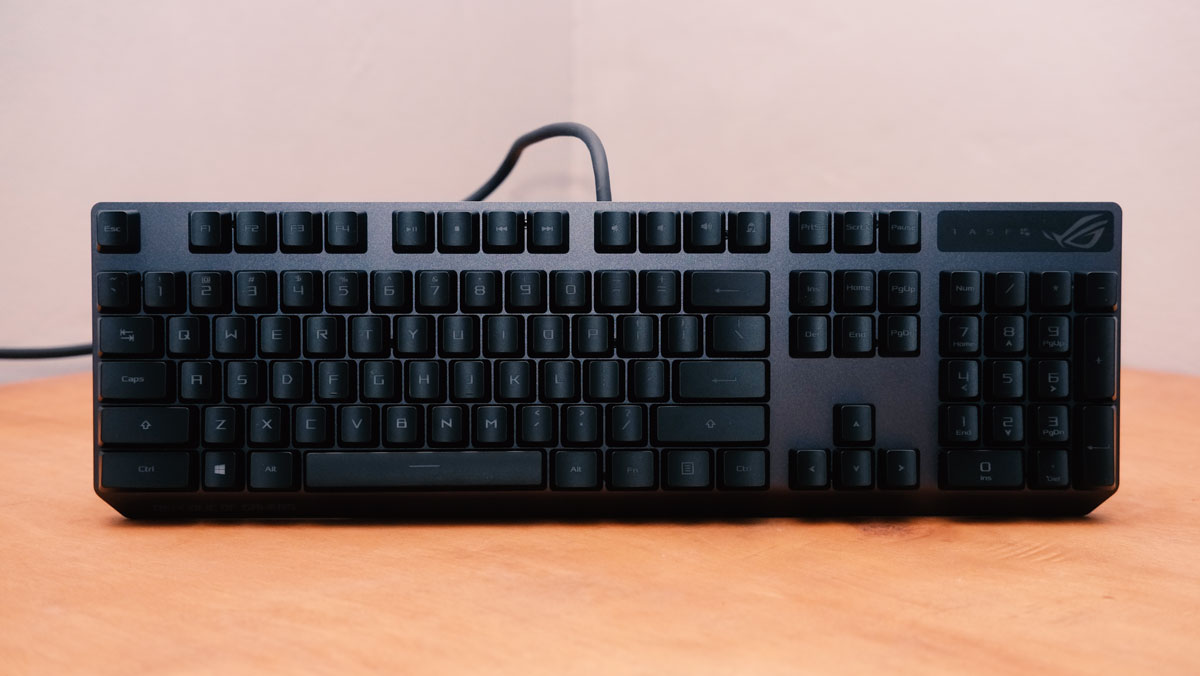 The rear is just as stylish as the older model but it lacks the cable router of the standard Strix Scope. The cable is thick due to the pass-through so the cable management option of the older model would be useless in this case. Glad it retained a relatively good footing and the option to raise the height for an extra inch. Single stage though.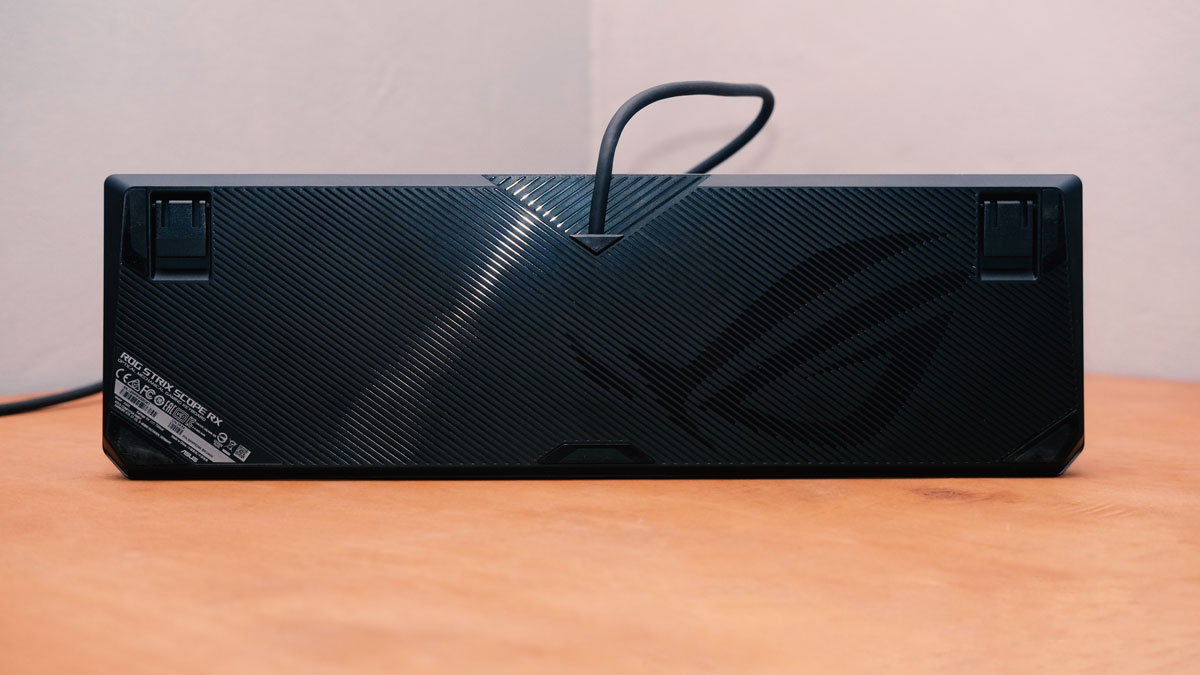 The Strix Scope RX follows the basic model's enlarged CTRL key which is excellent for shooters. Down side here is you cannot use 3rd party keycaps which is comprised mostly by standard size modifiers – more so with the RX Optical's custom stem and or mounts. This one will really require an ASUS made keycap set which is something ASUS might be thinking of already.
Now connectivity is courtesy of a thick 1.8 meter long USB cable. This is not braided so it is easy enough to route in spite of its girth. The cable terminates into two USB 2.0 ports for the keyboard itself an the USB 2.0 pass-through. Wish it's a USB 3.0 but I'll take this.
Test Setup and Methodology
Testing a keyboard is not that difficult, but it is mostly subjective; similar to testing head gears in a sense. That said, no keyboard is perfect and the verdict usually depends on personal preferences. With that in mind our methodology is overhauled to follow the key pointers that should matter the most. That includes how good the switches are, the quality of keycap and its profile plus the comfort.
Test Setup
Repeat Rate
Shortest
Repeat Delay
Fastest
Polling Rate
1000Hz, If possible
Software
EliteKeyboards Switch Hitter
Physical Layout, Functionality and Ergonomics
Keyboards are generally categorized in 4 standard sizes or layouts: Full Size, TKL, Compact 75% and 60% layouts. These standard layouts has drastic effects on the functionality and ergonomics of the keyboard. Generally, compact layouts allows for better ergonomics; whereas full layouts offers 100% functionality.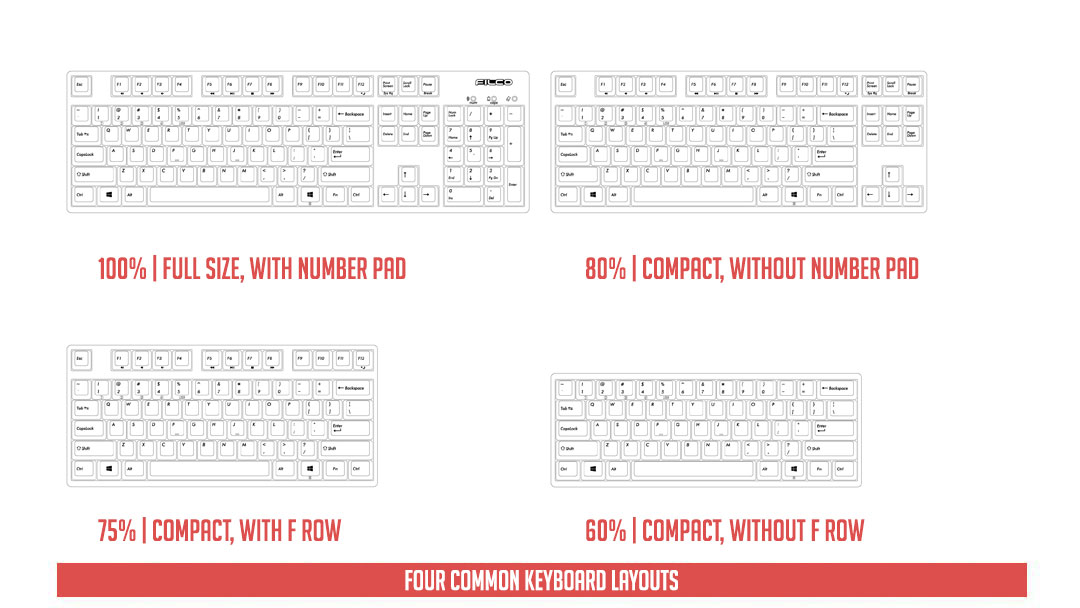 The ASUS ROG Strix Scope RX is a full sized mechanical keyboard. A bit narrower on the sides due to its frameless nature.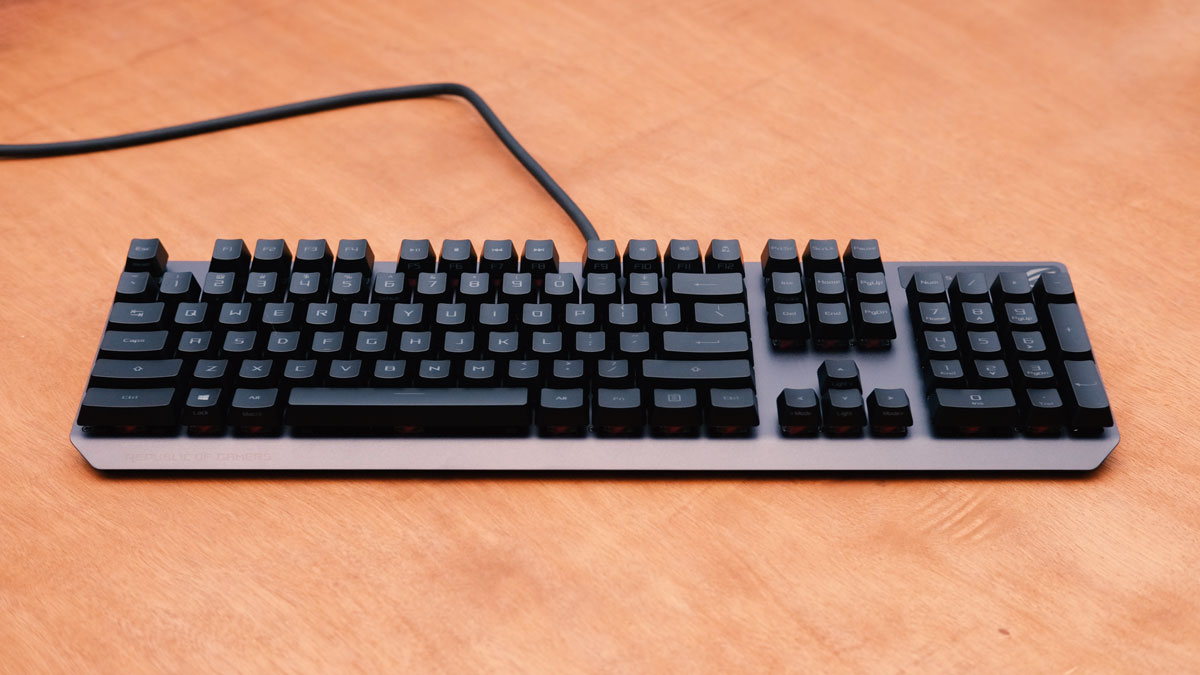 As for comfort, this one is pretty much standard for frameless full size models. A single stage lift, no wrist rest full size keyboard.
Listed below are the most common key combinations for the ROG Strix Scope RX:
Fn + Ins = Toggle between system function and media control for the F5 – F12 keys.
F12 = Minimize all active windows and mute the system, or maximize all minimized windows and unmute the system.
Fn + Left-ALT = To start macro recording.
Fn + Left-ALT = To end recording then assign macro key.
Fn + 1 / 2 / 3 / 4 / 5 / 6 = Profile switch
Fn + Right / Fn + Left = Lighting effect switch
Fn + Up = Brightness up
Fn + Down = Brightness down
Fn + Ins = FnLock
Fn + Esc = Hold these two buttons for over 10-15 seconds to reset to factory settings.
Fn + Windows key = Locks Windows key
Keycap Profile, Printing and Material
The keycap profile is often overlooked when it comes to keyboards. It shouldn't be, considering that the profile usually makes or breaks a portion of keyboard's ergonomic and feel. The DCS family is the most common one here, with Cherry and OEM profile slotted beneath it. On the other hand, profiles such as the DSA and SA profiles are mostly found on higher end mechanical keyboards.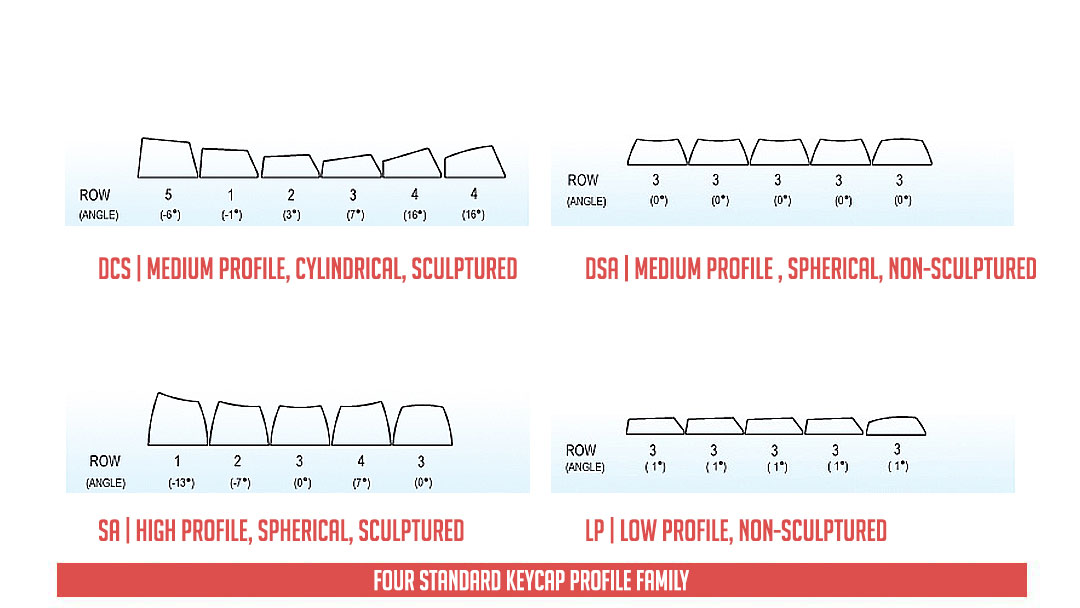 Keycap printing method is also an important aspect we should look into. Pad printing is the most common one here, while dye sublimation and double shot injection being the more premium ones due to their printing quality and durability.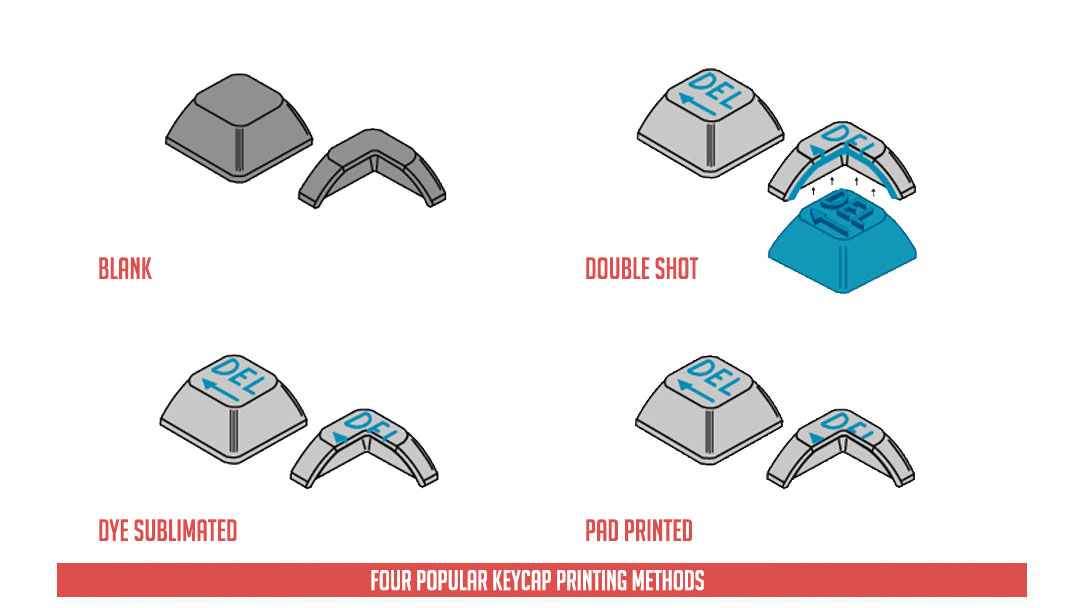 Keycap materials are important too in selecting a mechanical keyboard; though it is common to see keyboards shipped with either ABS and PVC keycaps. These materials do however shine faster than other materials and quality is generally not the best. PBT doesn't shine as fast compared to these keycaps and are highly regarded for their quality and distinct texture. POM on the other hand is also a durable material but they are rarely found as aftermarket options.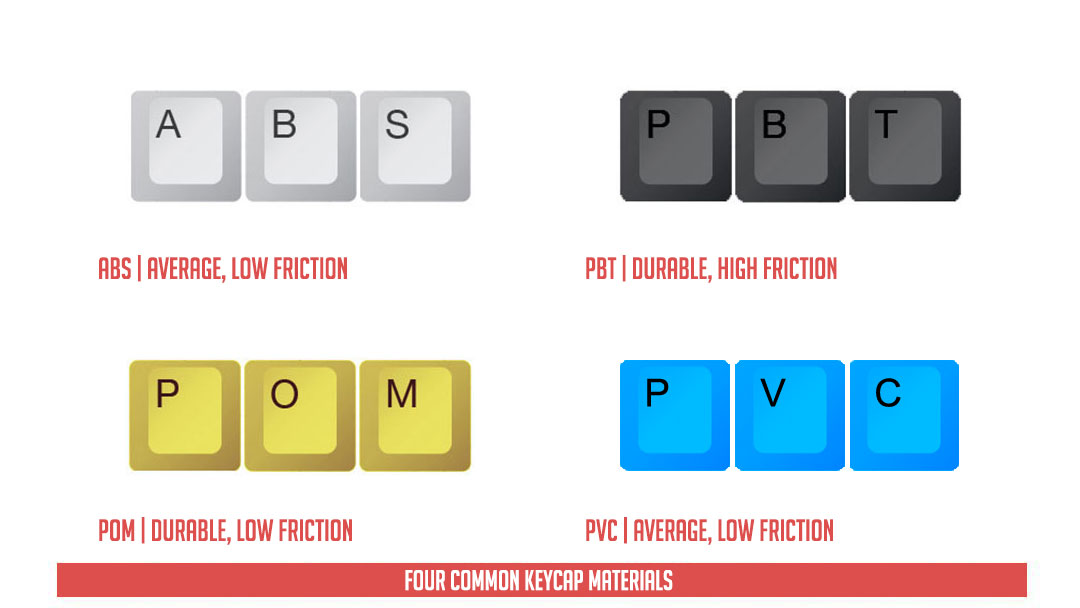 OEM is the profile of the Scope RX from the top to the bottom row. New switch and housing doesn't mean a new keycap profile is required.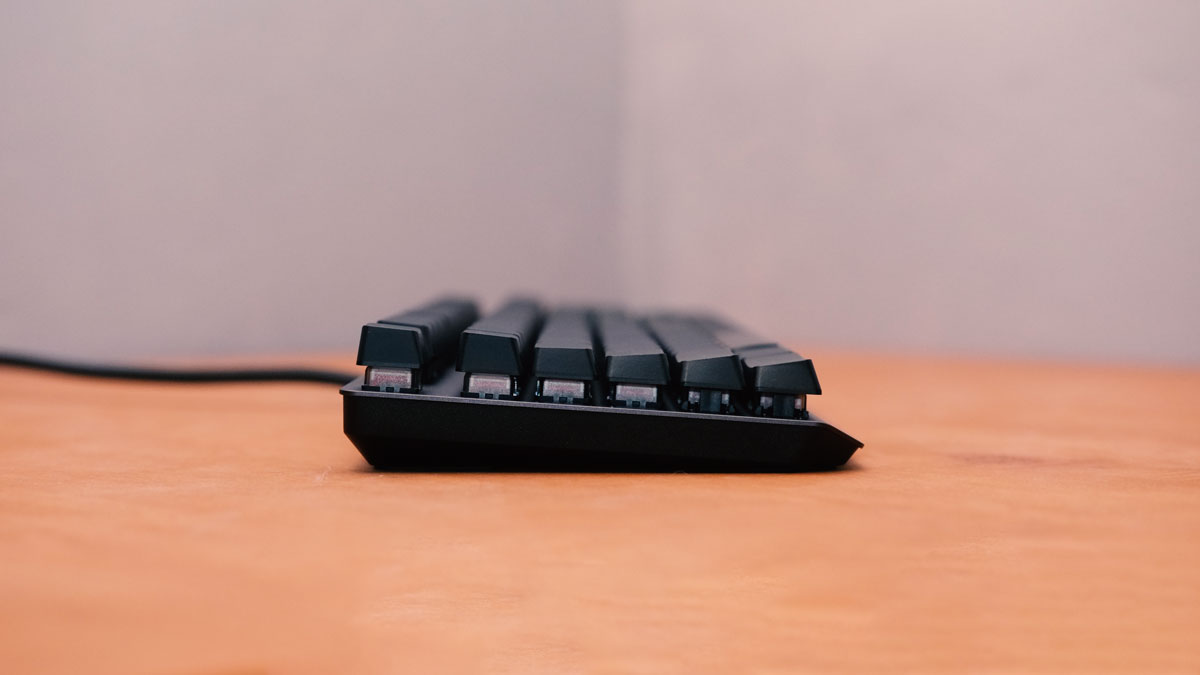 Keycap material used for the Strix Scope RX is ABS plastic which is a common thermoplastic used on keycaps. Print used is the usual "Spiderman inspired" ROG font which is clean and crisp.
Thickness is consistent across all the keycaps inspected and with a proper four-point stems as well. And yes, these are proprietary keycaps with their own stem design for the RX Optical family of switches. They also wobble less compared to the single stem approach of the Cherry MX switches. These are also double-shot caps with excellent finish.
Mechanical Switches and Stabilizers
The mechanical switches makes up the reason why mechanical keyboards are called "mechanical keyboards" in the first place. There are tons of switches out there but Cherry MX switches are the most popular of them all; setting a standard for the rest. They have clicky, linear and bumpy switches; all with their own mixture of actuation forces and actuation points.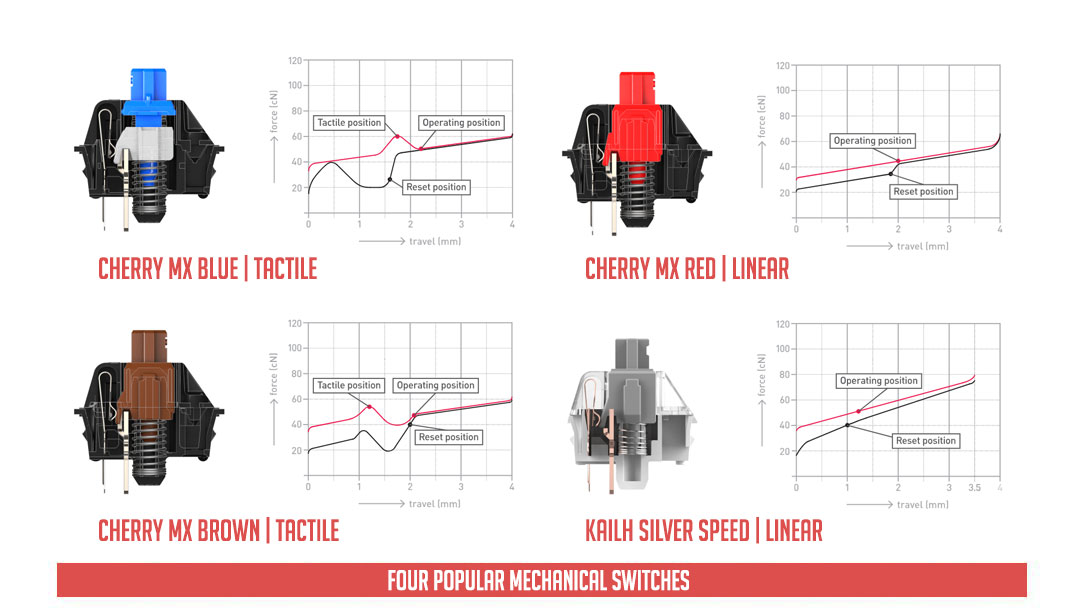 Now the RX Optical is simply put a scissor switch on steroids. Its basic function works just like one so we could say they are a distant cousin. These switches comes with a 1.5mm actuation point – with a total of 4mm travel. An initial force of 40gf prevents accidental keystrokes, and goes all the way up to 55gf for rebound feedback.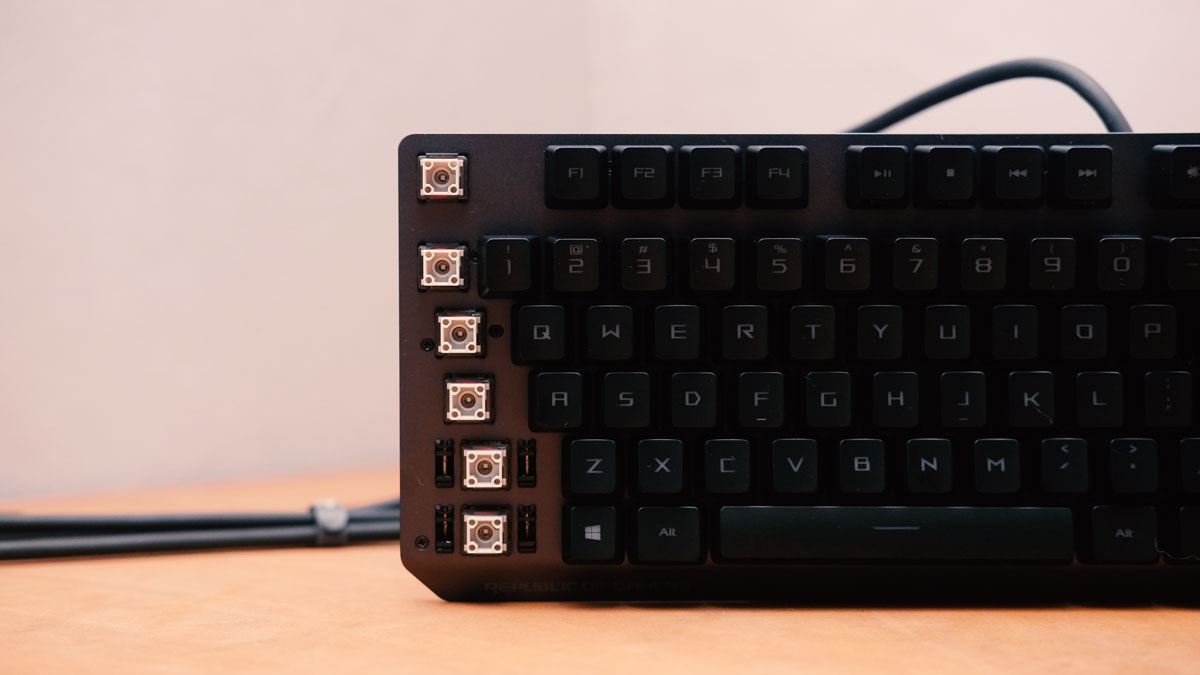 The ROG RX Red switches comes with a smooth and linear feel similar to Cherry MX Red. They just register faster – but felt a bit heavier when near maximum travel. These are also rated to feature 100 million keystroke as far as lifespan goes.
Now even though the expanded CTRL key wont accommodate 3rd party keycaps anytime soon, I felt like the RX Optical switch could still house a Cherry MX keycap with an adapter. The center of the "Hollow-Square Stem" could actually fit a standard MX stem upon inspection. Who knows? Maybe ASUS is already thinking about an RX to MX switch adapter.
Key Rollover, Chatter and Ghosting
EliteKeyboard's Switch Hitter is an excellent freeware to test key rollover, chatter and ghosting. Key rollover is basically the number of keys the keyboard could register, while chatter is multiple registered inputs with a single press of a key. Ghosting on the other hand is the unwanted input registration when several keys are pressed together.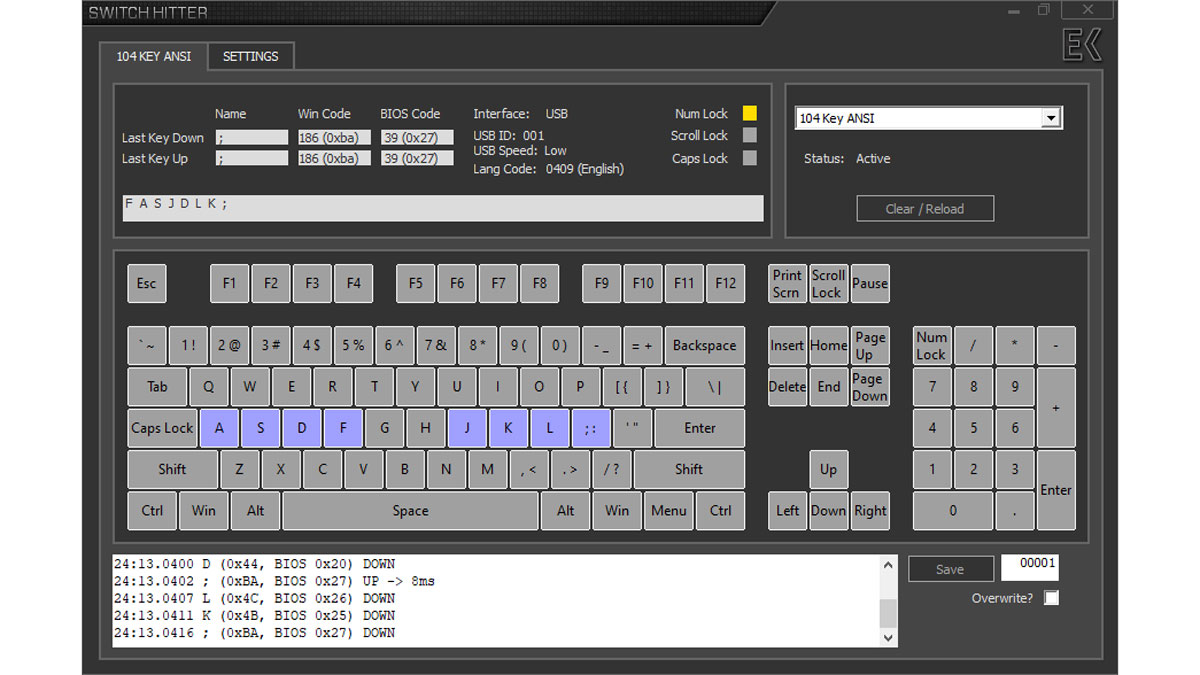 The ASUS ROG Strix Scope RX passed with flying colors on our rollover, chatter and ghosting tests like most of the mechanical keyboards tested.
Software, Lighting and Special Features
Like the many recent ASUS ROG products, the Strix Scope RX requires the Armoury Crate software to work at its 100%. You could use the keyboard on its own but I highly recommend downloading the Armoury Crate – in spite of its mixed reception.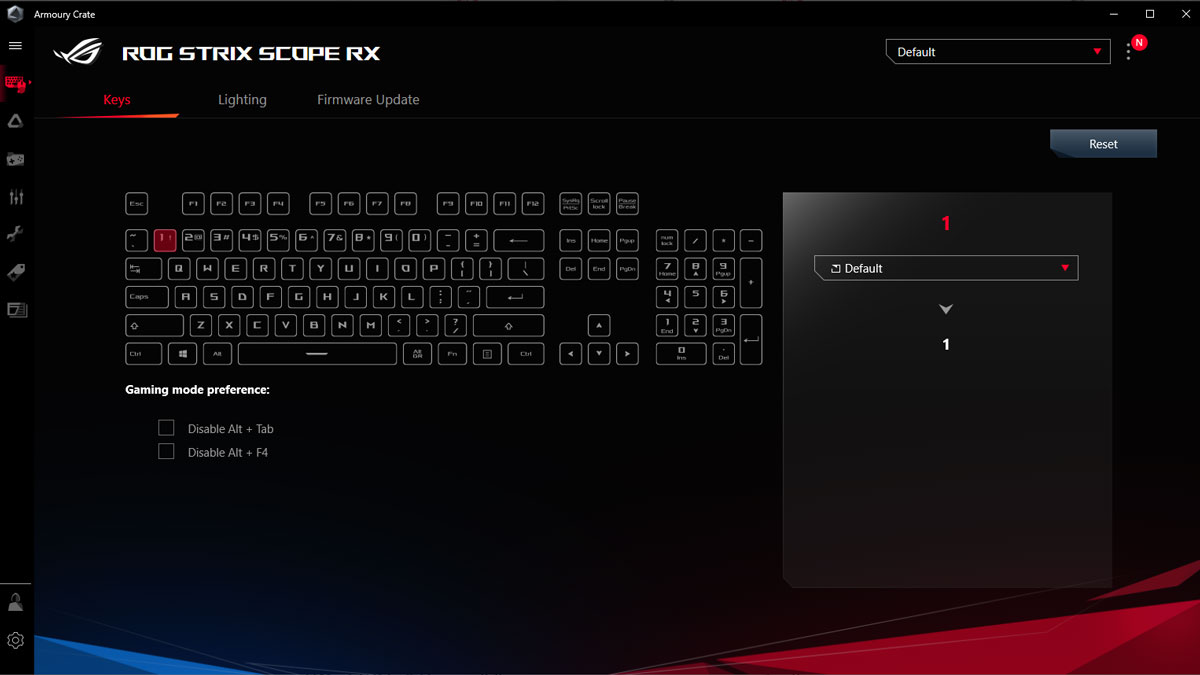 Lighting is adjustable on the fly as well as within the Armoury Crate. You may even fine tune the speed and brightness of each effects to your liking within this app or have it synced via the AURA Creator.
Macro could be recorded within the software too. You may even remove or add delays as you wish. Of course, you could also do it old school by pressing Fn + Left-ALT > the macro > Fn + Left-ALT > a key to save it.
Lighting effects are fancy and even made fancier by the centralized lighting provided by the RX Optical switch's design. We like that the switch housing is translucent too so you could see the scissors in action. Pretty satisfying to watch, really.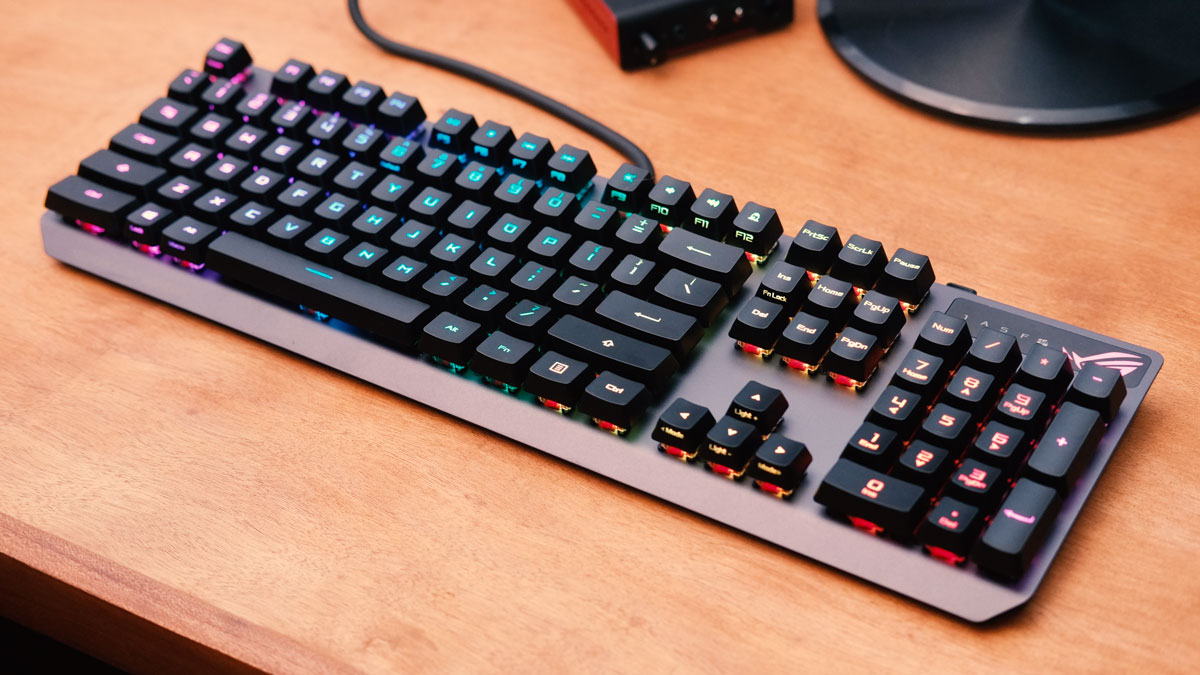 The USB pass-through is USB 2.0 only. It is situated in the middle of the numpad and arrow keys and is fit to house a mouse cable or a wireless dongle for your wireless gaming mouse. Anything that is compatible with a single USB 2.0 port really.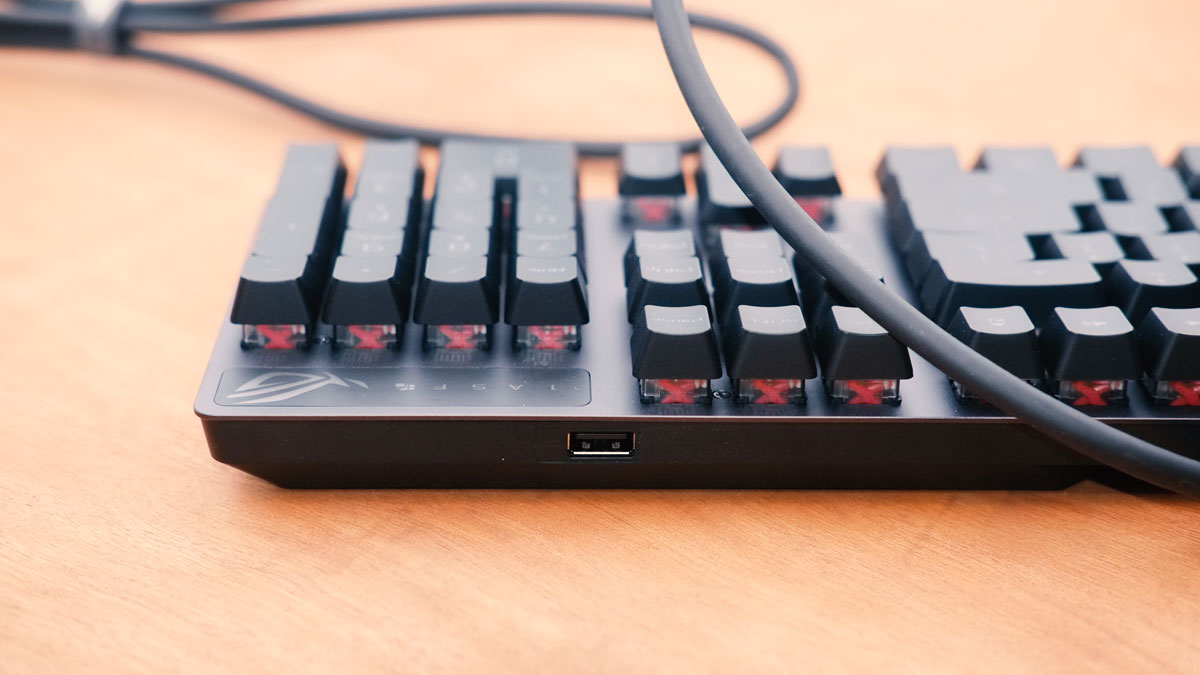 Final Thoughts
The ASUS ROG Strix Scope RX Optical is everything we love from the standard Scope but more. It has an in-house switch – an optical one at that, comes with a pass-through and a cleaner frameless design.
Lighting is of course still superb and even better due the centralized lighting offered by the RX switch – that is built with form and function in mind. It comes with a caveat though in the form of proprietary keycap stem inserts.
Performance is rather excellent and with a 100 million keystroke lifespan, you know that ASUS is not skimping on its quality either. This keyboard carries their first in-house switch after all and a good initial impression is important.
Now price is about 5,490 Pesos which translates to about 114 USD. Price elsewhere could be worse or maybe even better but at its current price point, the Scope RX is already a winner. I like this, maybe make more models based on the same switches, ASUS?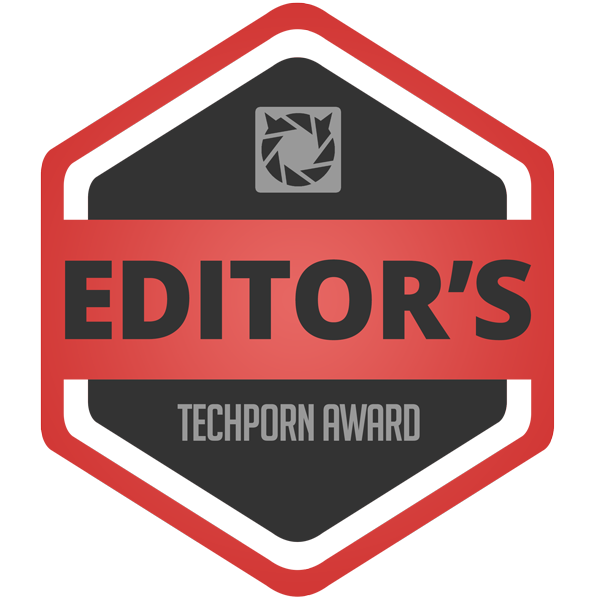 ASUS ROG Strix Scope RX Optical
Performance -

9/10

Build Quality -

9/10

Features -

9/10

Design -

9/10

Value -

9/10
Summary
The ASUS ROG Strix Scope RX is the first keyboard from the loved brand to receive an optical switch treatment. Suffice to say it works – and with an introductory price to match at 5,490 Pesos.
Pros
Stable and consistent RX Optical switches
Excellent build quality
Good Ergonomics
Frameless aluminum design
Centralized RGB lighting
USB pass-through
Competitive price point
Cons
Proprietary stem design
ABS Plastic keycaps
Bundle could be a bit better