A couple of months ago, Tomtop – one of the largest online retailers to date, asked us to choose a sub $100 gaming gear to check out. With a vast number of selection on their store, it's hard to pick any. That is, until I saw that they've got the HyperX PulseFire FPS in stock – and at a price of $55 to boot. Get it at $49 using our promo code! (VV4132)
As for the specifics, I've been looking for a retail unit of the HyperX PulseFire FPS ever since I experienced it at COMPUTEX 2017. It's just a good palm grip style gaming mouse – and that's coming from a finger-tip gamer. Coming in hot with a Pixart PMW-3310 sensor, the PulseFire FPS is loaded with 4 DPI levels, an enlarge skate and a familiar design. Learn more from the official product page and get it at Tomtop.
TECHNICAL SPECIFICATIONS:
| | |
| --- | --- |
| Size | Medium |
| Shape | Right-handed, hybrid |
| Buttons | 6 |
| Scroll | Non-tilt, 24-step |
| Macro | N/A |
| Profile | N/A |
| Cable length | 1.8m |
| Switches | Omron |
| Weight | 95g, non-adjustable |
| Software | N/A |
| Interface | USB 2.0 |
| Lighting | Red LED |
| Footing | Teflon |
The HyperX PulseFire FPS is again, based on the Pixart PMW-3310 sensor. Since it doesn't have a software, we are required to use the pre configured DPI levels.
| | |
| --- | --- |
| Sensor | Pixart PMW-3310 |
| Sensor Type | Optical |
| Resolution | 400, 800, 1600, 3200 DPI |
| Speed | 130 IPS |
| Acceleration | 30G |
| Polling Rate | 1000Hz |
PACKAGING AND ACCESSORIES:
The HyperX PulseFire FPS comes in a typical HyperX packaging featuring that same premium vibe felt across their offerings.
The mouse comes with a quick start guide and a piece of HyperX propaganda. HyperX should've added some more; like you know, another pair of skates.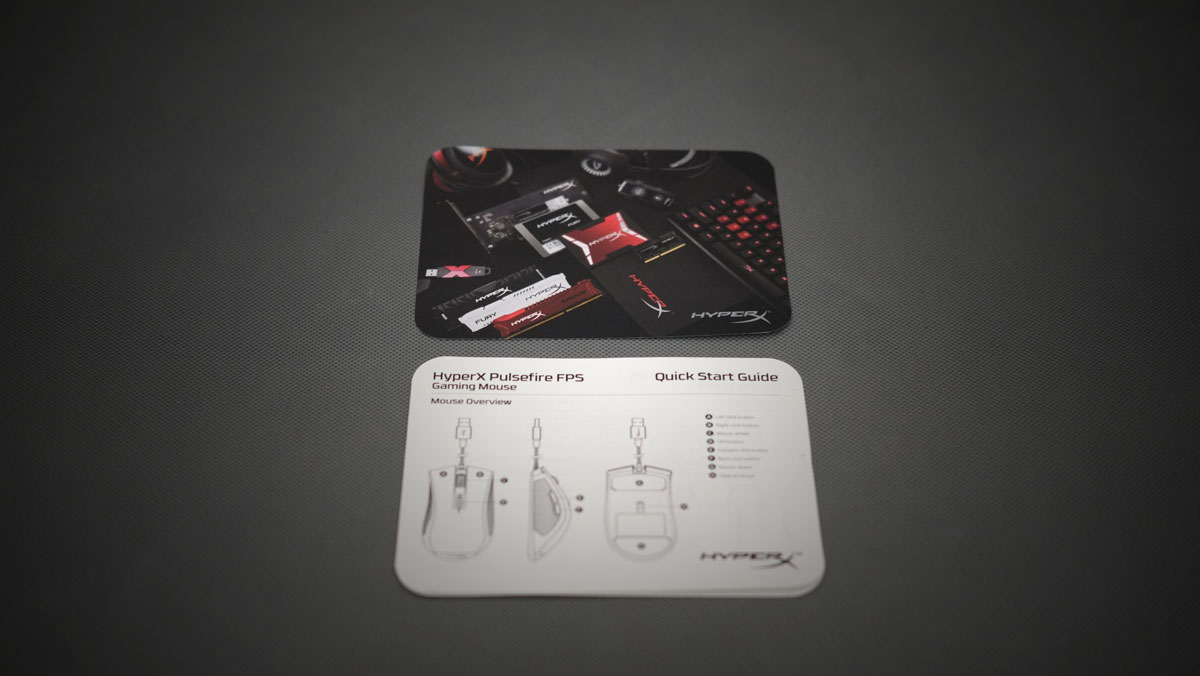 DESIGN, LAYOUT AND BUILD QUALITY:
The HyperX PulseFire FPS is a medium to large sized mouse featuring a right-handed design. The materials used from top to bottom are excellent, with no creaks or imperfections. HyperX is seriously not slacking on this area. Design is DeathAdder-ish though.
The mouse has a total of 6 buttons, with the DPI switch sitting flush near the summit. The side profile suggests that it is indeed made for palm grip gamers.
The top shell construct is a single piece of plastic. Texture is good and it blends well with the rubberized grips.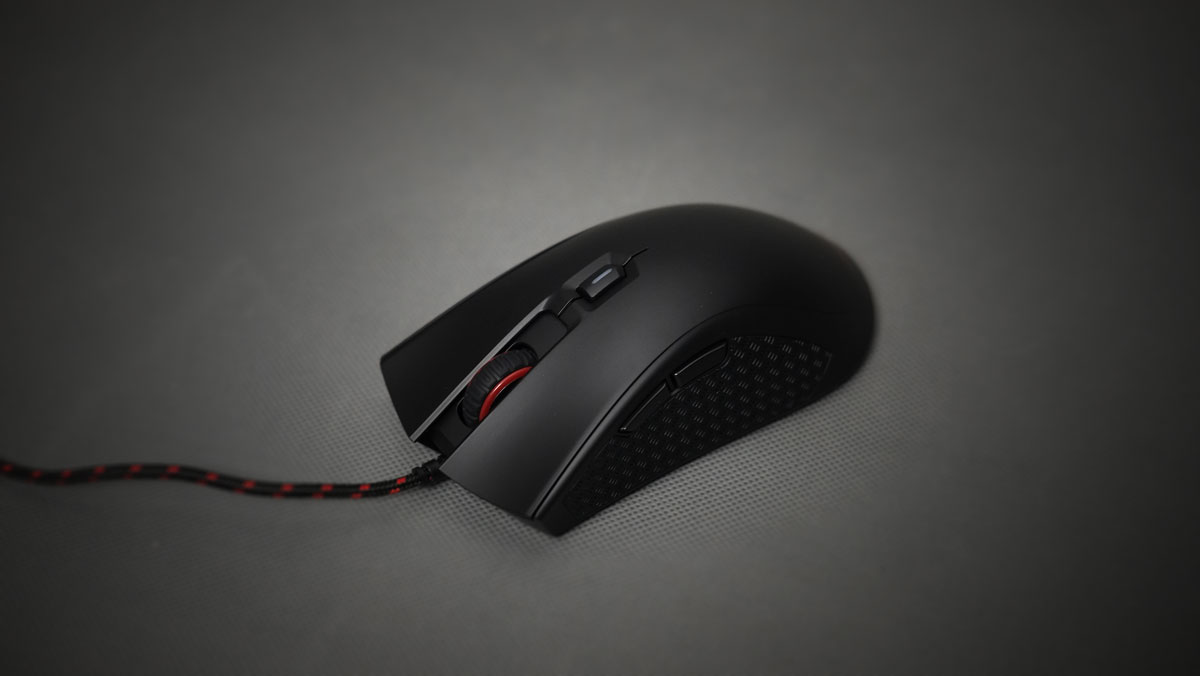 The 6 foot long cable is braided and appears to be smooth which is good when gliding against cloth pads. Cable tension is also excellent.
The skates are large two piece Teflons and they are perhaps my favorite feature of this mouse. The size just makes it easy enough to move like an 85 gram mouse. It's easy to replicate too due to the size and design.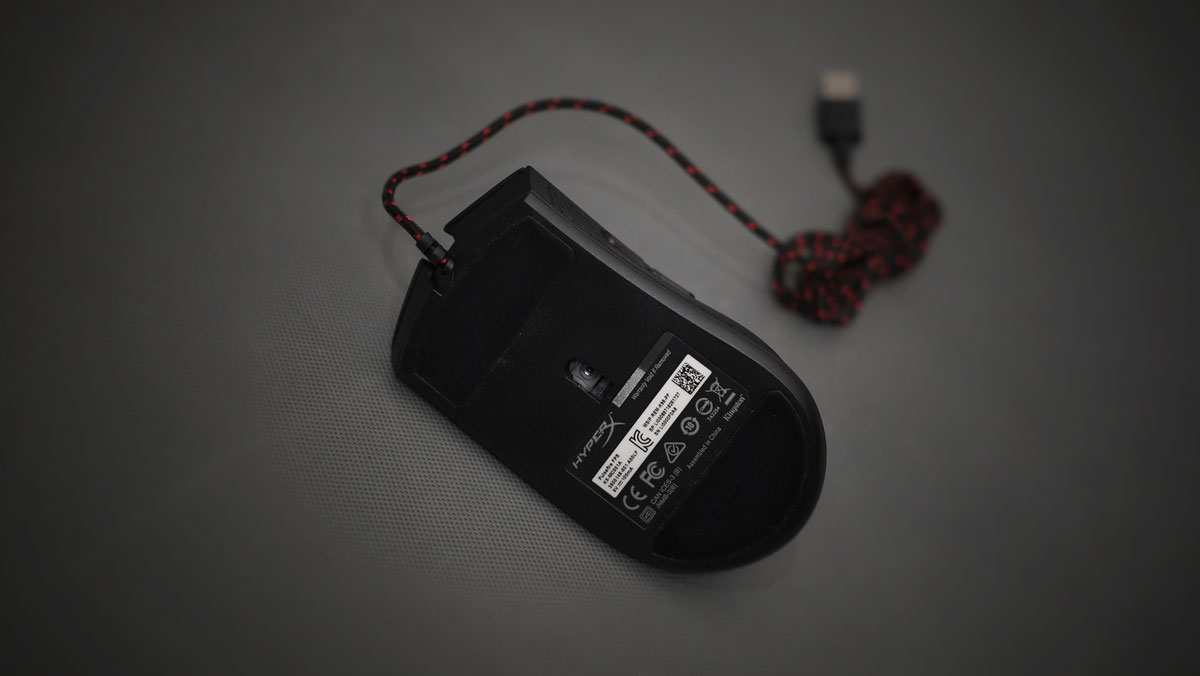 Overall, the HyperX PulseFire FPS is a well built gaming mouse with meticulous attention to details. I hope that HyperX will develop a new one with the same features and support for small to medium size claw grip gamers.
SOFTWARE:
The HyperX PulseFire FPS doesn't require any software to work. This is excellent for a true plug and play device, but gamers looking for specific DPI levels are required to get used to the standard values.
Key bindings will depend on your games and lift of distance is also fixed as a result. The same goes for the lighting if you do not want to see any. Nothing major to complain here really as far as my requirements are concerned.
TEST SETUP AND METHODOLOGY:
Testing a gaming mouse is not that difficult, but it is mostly subjective; similar to testing head gears in a sense. That said, no mouse is perfect and the verdict usually depends on personal preferences. With that in mind, we are overhauling our testing methodology by following key pointers that should matter the most; that includes the sensor performance, the size, grip and comfort. To keep our test methodology simple and free of extra variables, please note the following softwares and configurations used below.
| | |
| --- | --- |
| GAMES | Overwatch, Battlefield 4, DOTA 2 |
| MOUSE POINTER SPEED | 6/11 (EPP turned off) |
| REGISTRY HOTFIX | MarkC Windows Mouse Acceleration Fix (If required) |
| DPI/CPI LEVELS | 800/1600/3200  (If possible) |
| POLLING RATE | 1000 Hz (If possible) |
| SURFACE | SteelSeries QcK Mini |
| SOFTWARES | MouseTester V1.5 (dobragab) + Key Response Time |
DPI ACCURACY:
The accuracy of DPI levels are tested with the CPI measurement tool built within the MouseTester V1.5. We rigged the mouse on a camera slider to check the sensor's accuracy at 800, 1600 and 3200 DPI.
Excellent DPI accuracy reports we got here from the HyperX PulseFire FPS. The most accurate mouse that we've tested to date when it comes to DPI levels.
TRACKING PERFORMANCE:
Mouse tracking performance is evaluated with the MouseTester V1.5 with a DPI level of 800 DPI. Our aim is to check out the sensor's performance; and to look for reporting inconsistencies. That includes inconsistencies from sensor ripple or jitter.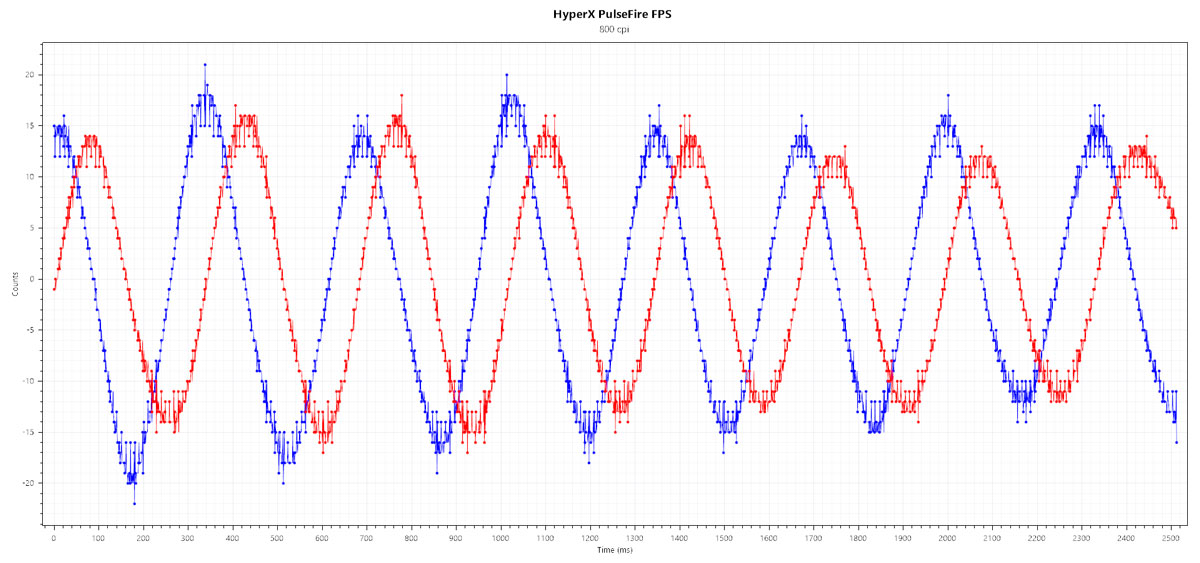 Tracking performance is generally good at the tested DPI level, though the reports could still be better. The PMW-3360 is still the best when it comes to this area, shadowing the 3360 and the 3310. I'm used to the 3310 with my Zowie ZA13 and that one provided an identical output.
POLLING RATE CONSISTENCY:
The Polling Rate of the device is evaluated with the MouseTester V1.5 at the 800 DPI level. This is to check the consistency of the device's update rate at 1000Hz.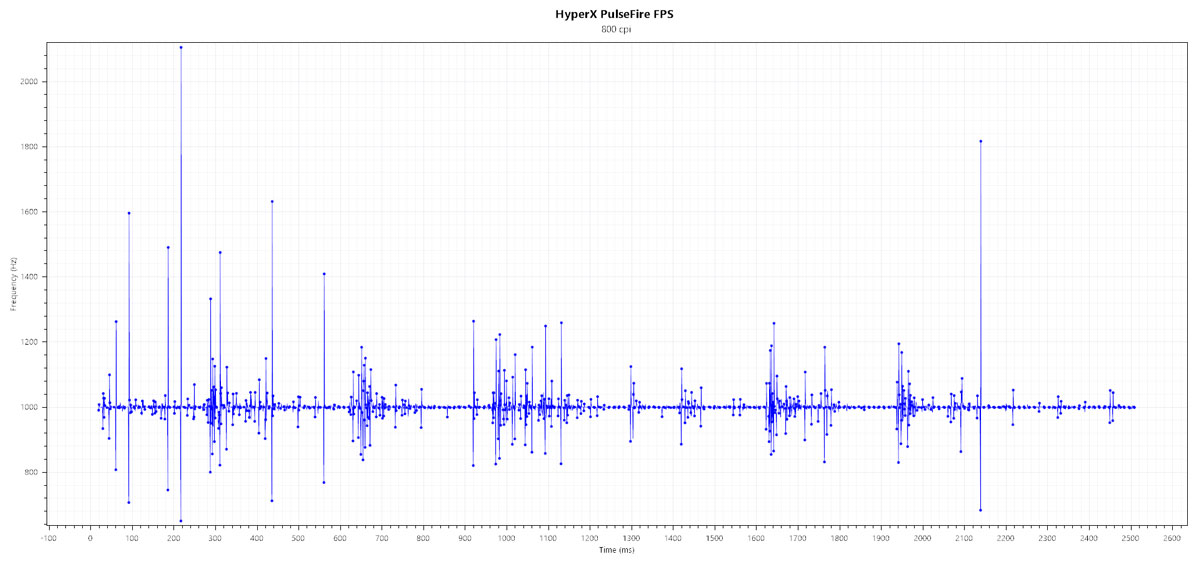 Polling rate is on average, better than the ASUS ROG Strix Evolve. There are less consistencies especially at flicks. Pretty good output, nonetheless.
PREDICTION, LOD, RATTLE AND ACCELERATION:
Angle snapping, lift off distance, sensor rattle and acceleration are also evaluated. The angle snapping is checked with MS Paint, while lift off distance levels are checked with ~1.2mm optical discs. Acceleration on the other hand is tested with Overwatch at 800 DPI. Sensor rattle is then checked with an electrical tape.
| | |
| --- | --- |
| ANGLE SNAPPING | Zero angle snapping |
| LIFT OFF DISTANCE | Around ~1mm |
| SENSOR RATTLE | None |
| ACCELERATION | None |
Lift off distance is locked at around ~1mm, which is good enough for my requirements. There are no angle snapping, sensor rattle and acceleration.
SOUND PROFILE:
No two or three mice sounds the same, even if they feature the same switches. This is due to factors including the switch itself, the housing and the overall construct of the mouse. Listen to the profile below to get an idea of the mouse's sound signature.
SIZE, GRIP AND COMFORT:
Your grip style and hand size will heavily influence what mouse you should buy. So it's better to know both first hand. For an instance, my hands measures at 7 inches x 3.5 inches (length x width). This puts my hands on the small to medium size category. My style is finger-tip grip, so I would generally look for a mouse with a small to medium foot print.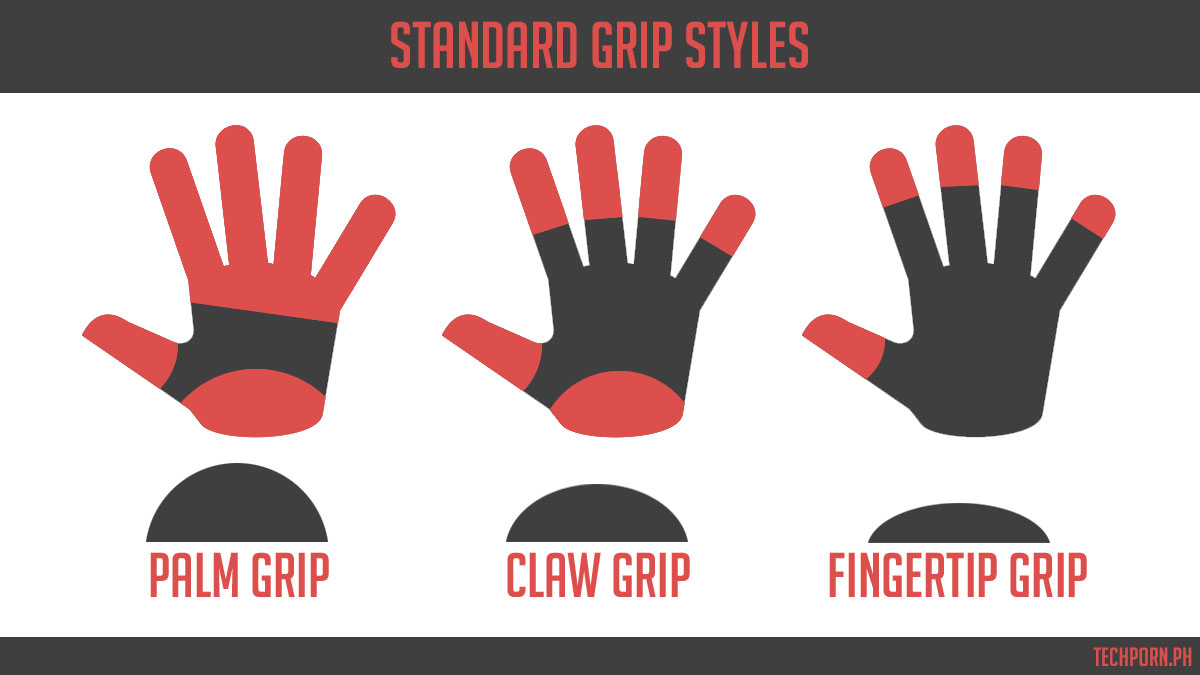 2:1 is considered the best length:width ratio you need to look out for when buying a mouse. Basically, if you want a generally comfortable mouse with a good grip, you'd want something near those measurements.
The HyperX PulseFire features a 1.88:1.04 ratio, with a length at roughly 4.7 inches and a grip area at around 2.6 inches base-to-base. The shape is perfect for right-handed palm grip gamers with medium to large hands. Though, it is not really well suited for claw grip and finger-tip grip gamers.
Gliding performance is excellent with our cloth pad, while the grip is kinda so-so with a quirky curvature around the top ledges. Don't get me wrong, the grip is good but I think it could be better with a profound upward curvature.
WRAPPING IT UP:
The HyperX PulseFire FPS is an excellent mouse with emphasis on simplicity and functionality. It is made for medium to large hand sizes with palm grip as its intended grip style. Gamers looking to finger and claw grip this mouse should look elsewhere so don't go complaining if you accidentally bought this one without actually checking your own requirements.
Sensor performance is typically around the Pixart PMW-3310's status. It's a versatile sensor used on most competitive gaming mouse and we're fond of its performance. That aside, we felt that this mouse could still be better, especially around the grip area. I guess nothing's perfect and that saying bodes well even with this HyperX product.
Over all, the HyperX PulseFire FPS is one excellent gaming mouse. It is not perfect like anything else in the market, but for its intents and purposes, the PulseFire is 100% on point.
GREAT TRACKING PERFORMANCE
EXCELLENT BUILD QUALITY
ASTOUNDING COMFORT
GOOD VALUE FOR MONEY
ENLARGED SKATES

GRIP COULD BE A LITTLE BETTER
COULD BE SMALLER FOR EXTRA VERSATILITY
HyperX PulseFire FPS Gaming Mouse
PERFORMANCE -

8/10

BUILD QUALITY -

9/10

FEATURES -

8/10

AESTHETICS -

9/10

VALUE -

8/10
Summary
Over all, the HyperX PulseFire FPS is one excellent gaming mouse. It is not perfect like anything else in the market, but for its intents and purposes, the PulseFire is 100% on point.