TEAMGROUP is not the first brand to come into mind when it comes to CPU coolers. They are after all, known by many as a brand specializing on high performance memory and storage solutions.
Now what we have here is the T-FORCE SIREN GD240E. This is a 240 mm all-in-one CPU liquid cooler, featuring ARGB support for the price of $109.99 USD – via Amazon. It comes in black and or white – with a radiator mounted pump to boot.
Disclosure: TEAMGROUP sent the SIREN GD240E for the purpose of this review. The company did not ask me to say anything particular about it. Like many stuff I receive, I get to keep it.
Price: $109.99 (Amazon)
Release Date: Q4 2022
Technical Specifications
Cooler
Socket
 LGA 115X, 1200, 1366, 2011-3, 2066, 1700; AMX, FMX
Type
AIO Liquid Cooler
Material
Cooper (plate), aluminum (block, radiator)
TDP
—
Pump
Speed
4000±10% RPM
Noise
22 dB(A)
Flow
850 ml/min
Fan
Speed
600-2200 RPM
Noise
14.3-35.6 dB(A)
Airflow
25.62-93.97 CFM
Pressure
0.26-3.53 mm-H2O
Dimensions
Length
276 mm
Width
120 mm
Height
27 mm
Weight
—
Packaging and Accessories
TEAMGROUP had the T-FORCE SIREN GD240E packed inside a compact color box. The brand appears to use some recycled materials too.
The packaging should come with the following items inside:
TEAMGROUP T-FORCE SIREN GD240E
2x 120 mm fans

Thermal paste

Intel mounting kits

AMD mounting kits

Power cables
LED cables

Documentation
Pretty good bundle of parts and accessories we got here. No extras but we'll take these over the extravagant non-essentials.
Design, Layout and Build Quality:
The T-FORCE SIREN GD240E looks immaculate in white, keeping up with the now tradition of providing color options other than black. Build quality seems proper too, with really thick powder coated parts that appears to be impervious from scratch.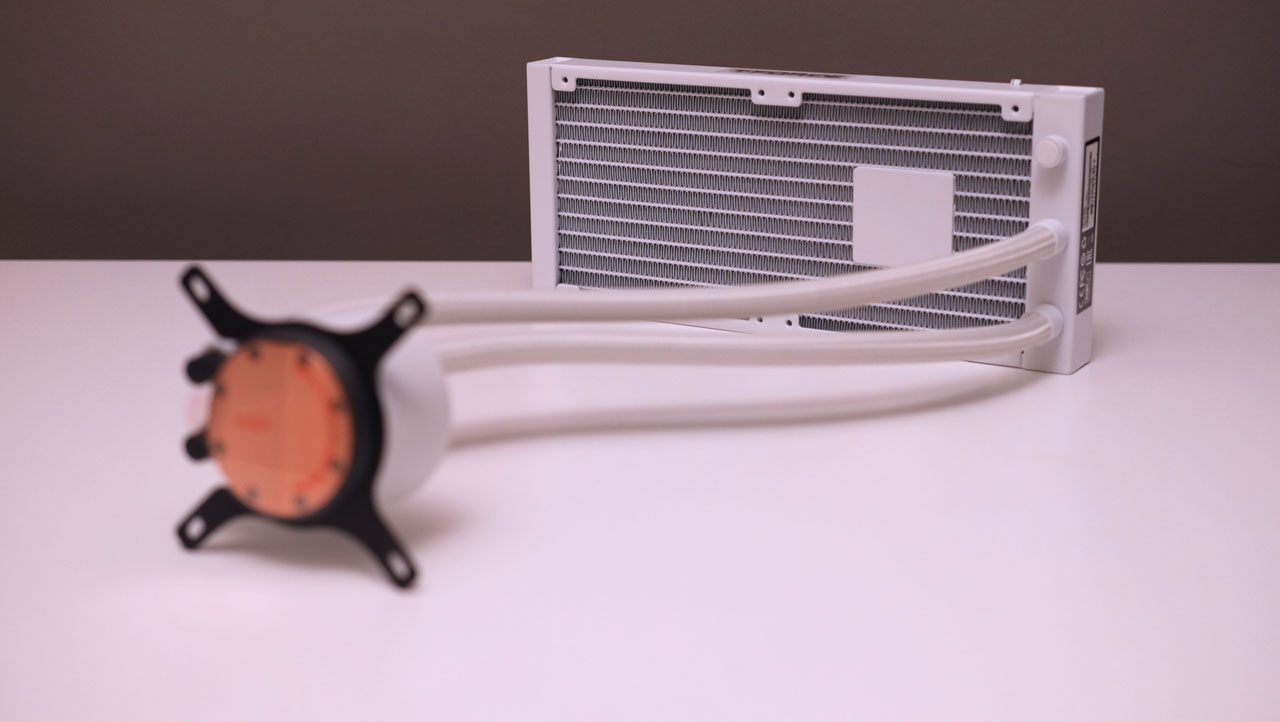 This is a nice looking AIO cooler, featuring radiator mounted pump to lessen vibrations to the CPU socket. I say this is a  much appreciated design choice considering its rated speed at 4000 RPM. It does eat a decent amount of surface area though so I am interested to see how this will fair against other normal liquid coolers of its class.
The base plate is copper in material and comes with a cover that supports 5V ARGB lighting. It is connected to the radiator via braided rubber hoses. These are not the most flexible tubes but they do pivot smoothly at the joints.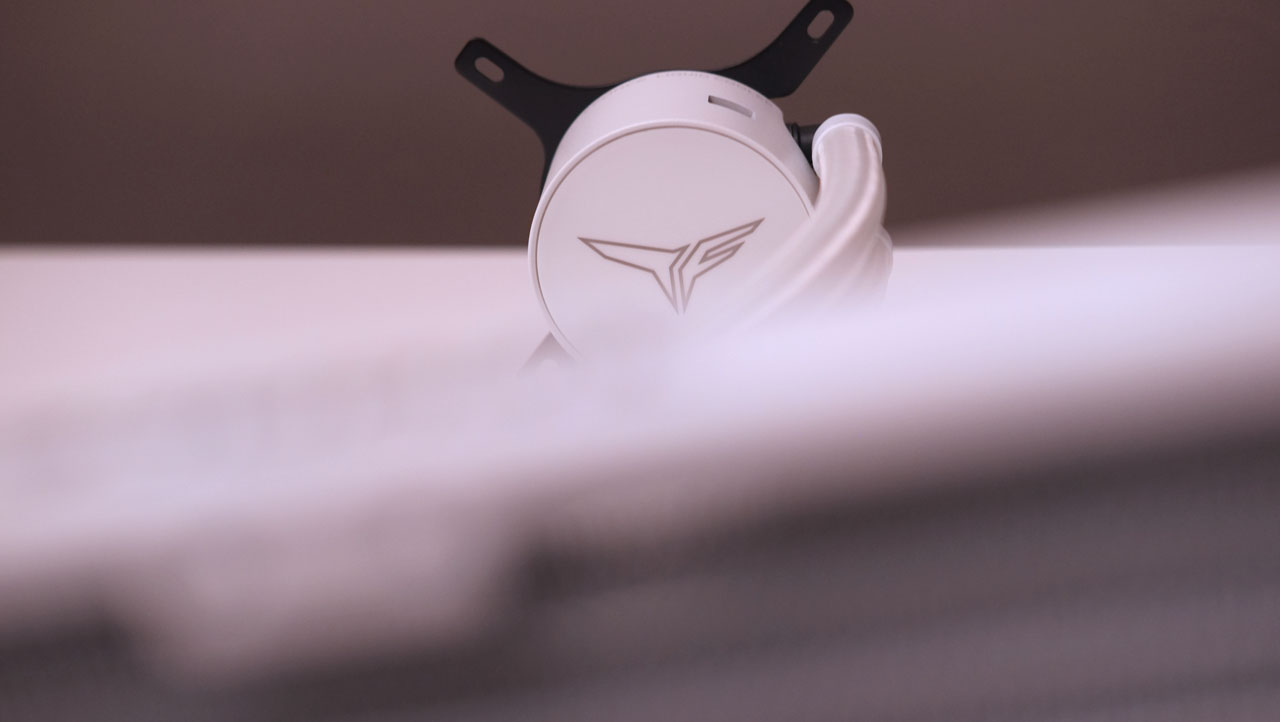 TEAMGROUP supplied the SIREN GD240E with dual 120 mm fans that also supports ARGB lighting. I really hate to say this but cable management is such a boor with these power cables and 5V headers combined. I wish we could get a new standard soon – maybe something similar to the LIAN LI modular fans.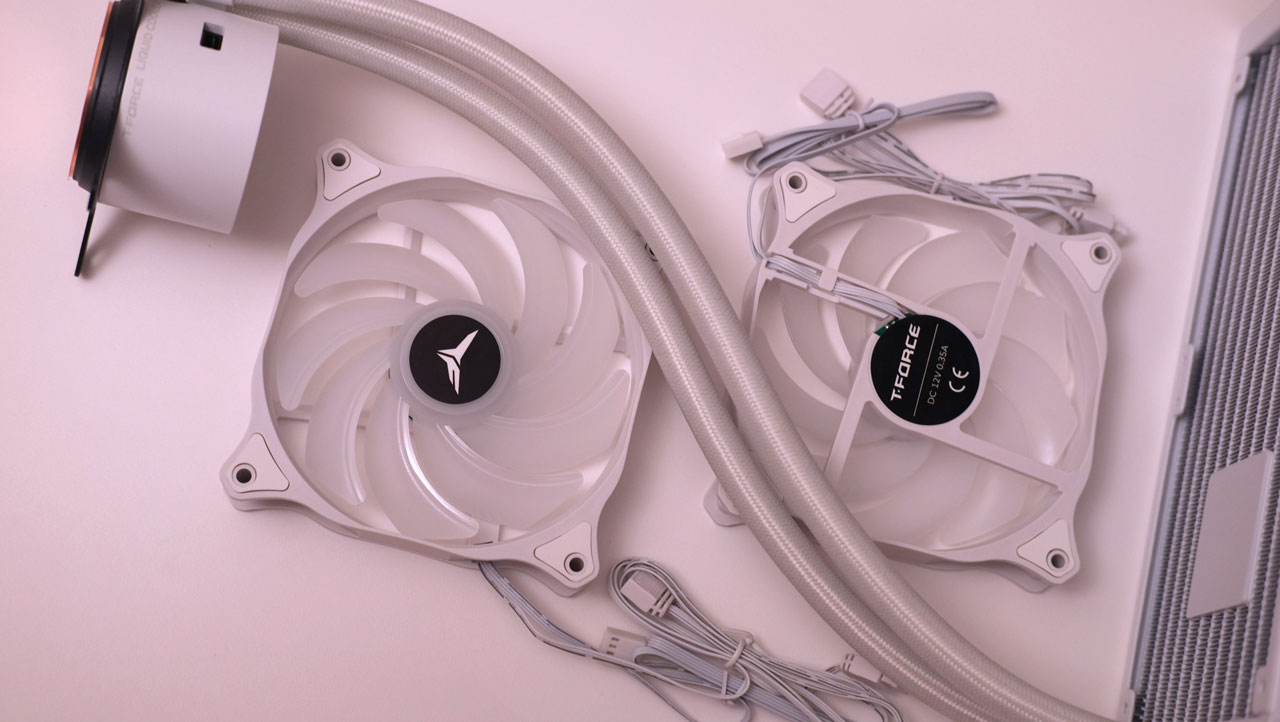 Overall, the SIREN GD240E appears to be a nicely made cooler with both form and function made into consideration.
Installation and Clearance
Installation is pretty straight forward, as with most coolers. It is even easier with AMD's AM4 platform due to the already included back plate and mounting kit, requiring less parts to fiddle with.
If there is anything to nitpick, that would be the thick powder coating at the screw mounts. Makes installation a bit harder to install with heightened anxiety. If you stripped threads before you would know the feeling.
The cooler looks really good with matching components. My setup would look even better with the TEAMGROUP T-FORCE XTREEM ARGB White. Not gonna lie, I should've installed that here considering I did this for pictures alone as we do benchmarks on an open air test bench.
Test Setup and Methodology
Our test setup relies on the measurements taken from AIDA64 Extreme. It is important to note that we are testing the review sample after burn-in, with at least 24-hours of uptime. This is done so to negate the FOTB (fresh out the box) state of the DUT (device under test), yielding better benchmarking consistency.
Test System Specifications
CPU
AMD Ryzen 5 3600
Motherboard
BIOSTAR B550M-Silver
Cooler
TEAMGROUP T-FORCE SIREN GD240E
Memory
ADATA Premier 2666MHz 16GB
GPU
GALAX RTX 2060 EX White 6GB
Storage
Kingston FURY Renegade 2TB PCIe 4.0
Case
Mechanical Library JXK-K2
PSU
Thermaltake Toughpower GF1 850W
Display
LG UF680T
OS
Microsoft Windows 10 Pro 64-bit
The DUT is tested with the following configuration from our test system:
UEFI configuration: Default
Windows Power Plan: Balanced
Temperature
Temperature is measured in degree Celcius (ºC) at system idle and load. This is done via AIDA64 Extreme and its built-in System Stability Test. Readings are taken directly from the CPU Tdie sensor via HWiNFO.
At 25% PWM duty cycle, the SIREN GD240E is expectedly performing better compared to our air cooling solutions.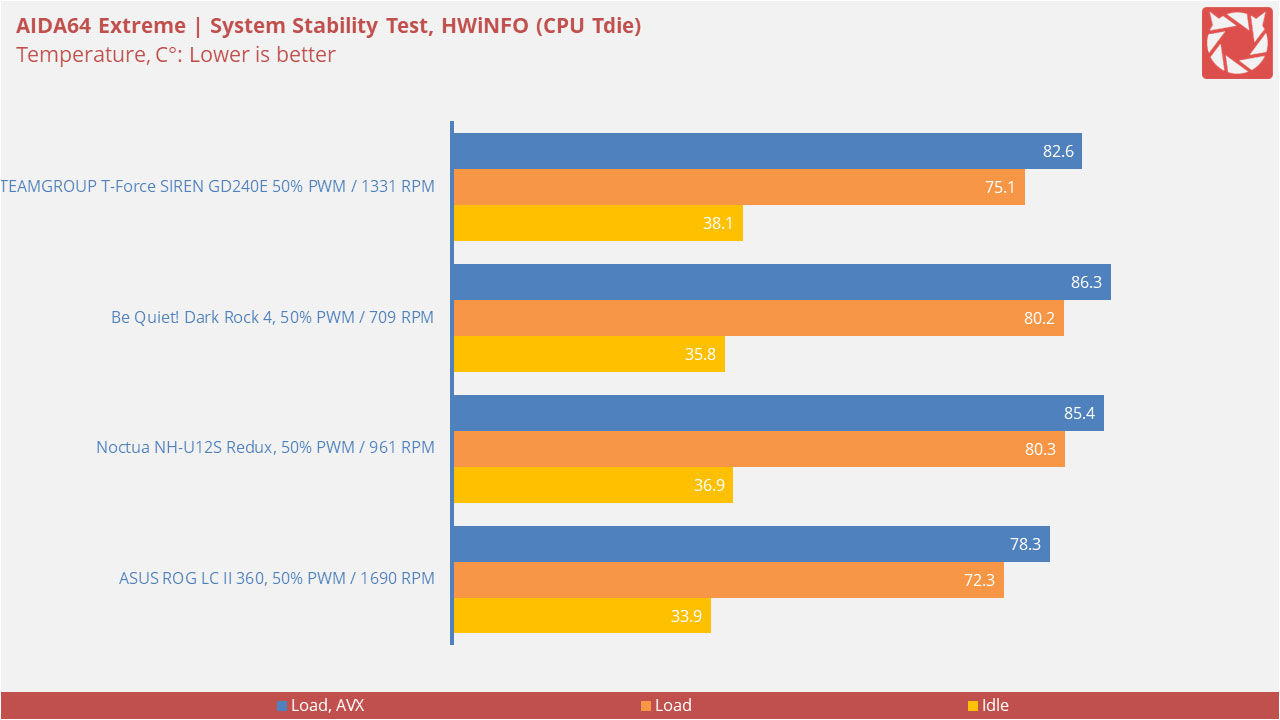 The same thing could be said at 50% PWM duty cycle – except for the idle temperature.
We now see a trend where the SIREN GD240E has higher idle temperature over the other coolers but ramps up its performance at load.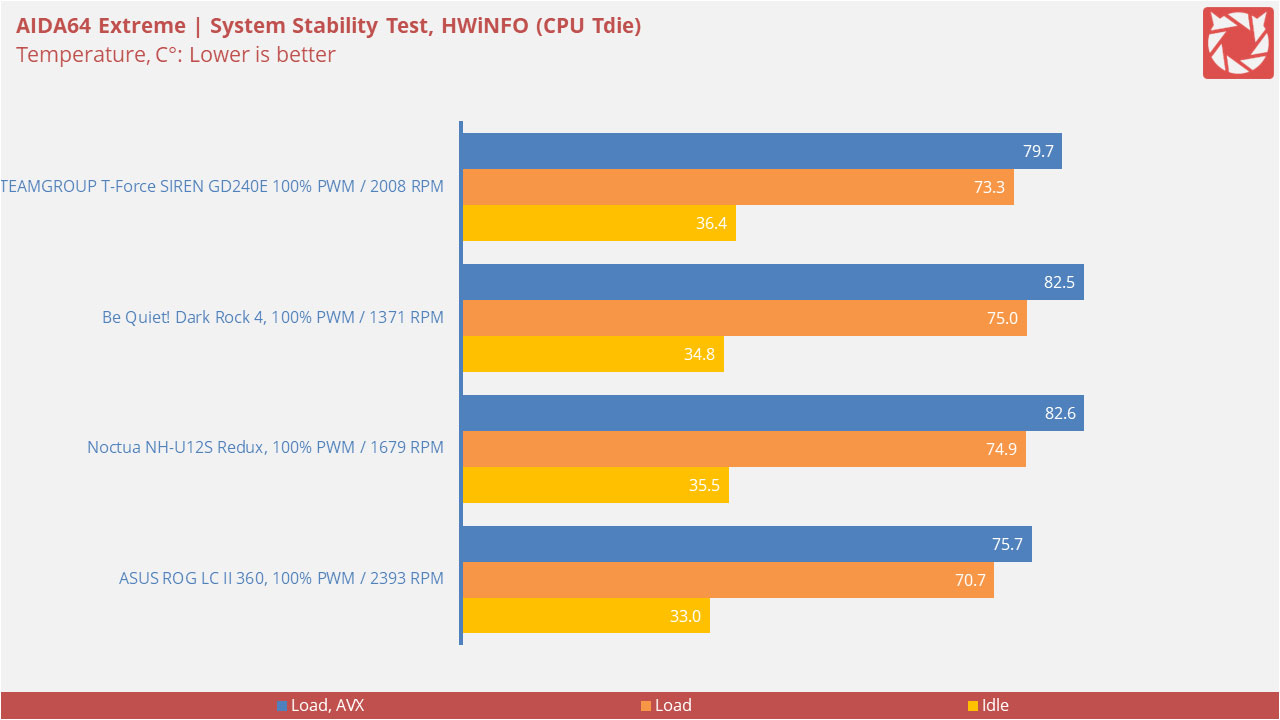 Performance at 100% PWM duty cycle is of course no slouch either – only bested by the ASUS ROG LC II 360 as far as thermals are concerned.
Noise
Sound Pressure Level is measured in Decibels (dBA) at various fan duty cycles. This is done via AIDA64 Extreme and its built-in System Stability Test. Readings are taken directly from a sound level meter.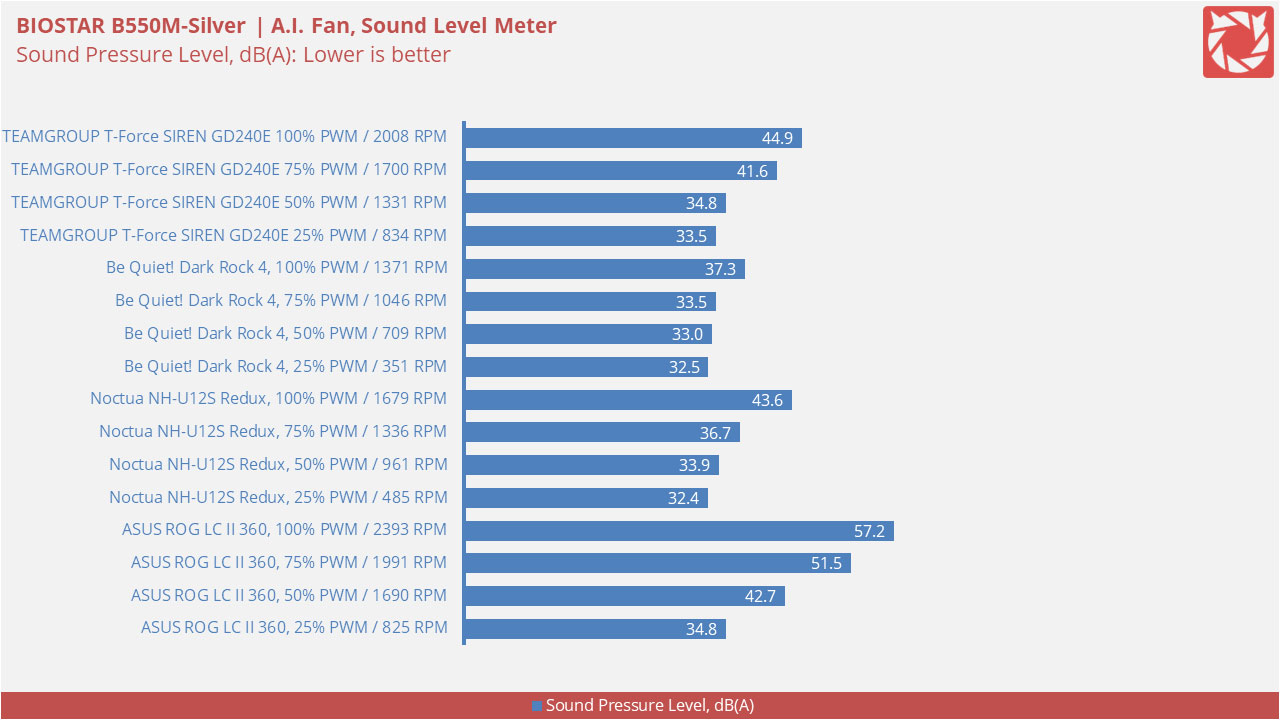 The T-FORCE SIREN GD240E is pretty silent if you could maintain the fans to spin under 1700 RPM. Past that its pretty audible but not as obnoxious as the ASUS cooler when it comes to SPL.
Features
The SIREN GD240E comes with support for ARGB lighting via the included 5 v headers for both fans and the dummy pump or the base plate cover. That means it supports controllers from ASUS, Gigabyte, MSI, ASRock and other motherboard vendors featuring the same header.
Not gonna lie, I like the white variant over the black GD240E. I am not sure why they called the lighting effect "Mirror ARGB" though since it does not resemble a mirror at all.
Final Thoughts
The T-FORCE SIREN GD240E is a proper all-in-one liquid cooling solution for around $100 USD. It is a high performance 240 mm cooler, featuring a near silent radiator mounted 4000 RPM pump.
It is not as silent as the tower coolers we've got here however but it does come with a good balance between cooling performance and noise – especially if you could maintain its fans running below 75% of its PWM duty cycle. Most motherboards supports custom fan curves so this should be an easy feat to do.
In my book, the T-FORCE SIREN GD240E is an easy recommendation. Sure it does not come with chart topping thermals but it is such a well balance cooler that demands your attention.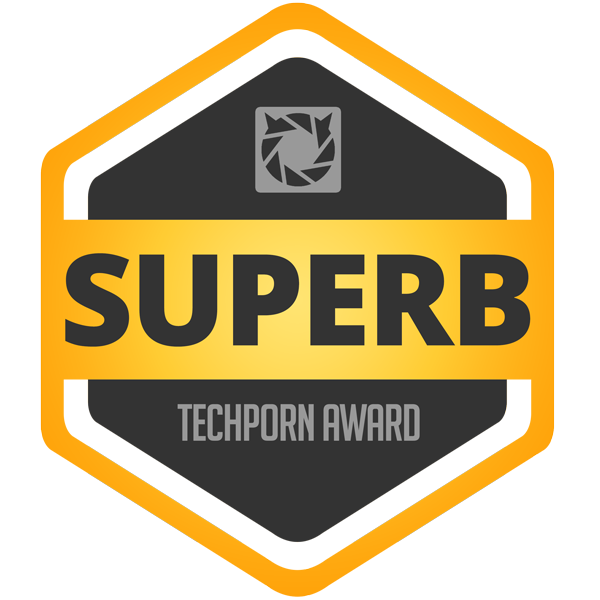 TEAMGROUP T-Force SIREN GD240E AIO ARGB CPU Liquid Cooler
Summary
At $100 USD, the TEAMGROUP T-Force SIREN GD240E is a cooler you do not want to miss. A good all-rounder at that budget class if you ask me.