Tesoro Technology USA is a relatively new company, coming from the US of A that specifically caters the needs of gamers. Not to be mistaken from a Fortune 100 company, Tesoro have been steadily producing quite a good amount of hardwares for the past few months, and has gained a lot of attention from the media and gamers due to their product's immense sex appeal. Yes, their products are so sexy, you wouldn't notice right away that you just wet yourself by just browsing their product catalog.
Now what we actually have here is Tesoro's one of a kind gaming gear: The Tesoro Durandal Ultimate G1NL LED Backlit Mechanical Gaming Keyboard. The name is so long and awesome, you will wonder if this product really exist; The description is so majestic, you will feel holy, and unholy at the same time; This product is so cool, we have to break the cheesiness of our introduction or someone will slap us in the face if we continue to do so.
The Durandal Ultimate is among Tesoro's growing arsenal of gaming keyboards, and is currently the top gun of the Durandal Series. That said, this particular keyboard features a damn good amount of styling, together with a good selection of mechanical switches to choose from, along with features that gamers will surely love. These includes adjustable Backlit LEDs built right into the switch, full USB N-Key Rollover, and 5 programmable profiles with up to 50 macro freakin' key combinations. Let us see if this gaming keyboard is worthy of its historical name. Read on to find out!
FEATURES & SPECIFICATIONS:
USB Full N-Key Rollover.
Cherry MX Key Switch. (MX Brown, Red, Blue)
Gaming grade 50 million key actuations.
Game Mode for Windows key disable.
Instant 5 profiles shift keys.
128KB onboard memory.
User friendly UI for macro setup.
5 profiles,50 programmable macro keys.
4 levels LED backlight & dimming control.
F/W and application on-line update.
Gold-plated USB connector.
Embedded multimedia keys.
2 High speed USB 2.0 ports.
Audio headphone and microphone jacks.
Comfortable palm rest.
Anti-slip design rubberized bottom stand.
Compatible with Windows XP / Vista / 7/8
UNBOXING & BUNDLED ACCESSORIES:
Tesoro's products are said to be unique, and perhaps they are right as the Durandal's packaging deviates from the usual boxy ones. Up front, there is an image of the Durandal Sword itself, along with a Tesoro logo inspired cutout so you could see the keyboard's premium glory. There is also a carrying handle as well which is a plus.
The back is busier as usual with multilingual features laid out in an old fashioned way far below. There is also an image of the keyboard here showcasing its own features graphically. Nothing to dislike.
Opening the packaging reveals the well protected Durandal Ultimate with its own cover, and molded foam inserts. All of them are reusable, along with the main cover so if you're not using the gear, you could put the hard plastic at the top to keep it safe from foreign objects.
Included with the Durandal Ultimate is the salivating product catalog, a quick installation guide, a software DVD, and a flared up palm rest. Tesoro didn't go overboard when it comes to the bundled accessories which is good.
The included palm rest conforms to the design principles of the Durandal Ultimate, has a good amount of quality look and feel, along with 3 circular rubber pads beneath it for extra grip.
MEET THE TESORO DURANDAL ULTIMATE:
The Tesoro Durandal Ultimate at first glance, is one heck of a looker. I mean look at it for Gabe's sake, just look at its glorious not so standard keyboard form!  Kidding aside, this keyboard sure do looks great with its industrial like metallic themed surface coated in Black. Clearly, the Durandal Ultimate is a unique looking gear this side of the industry.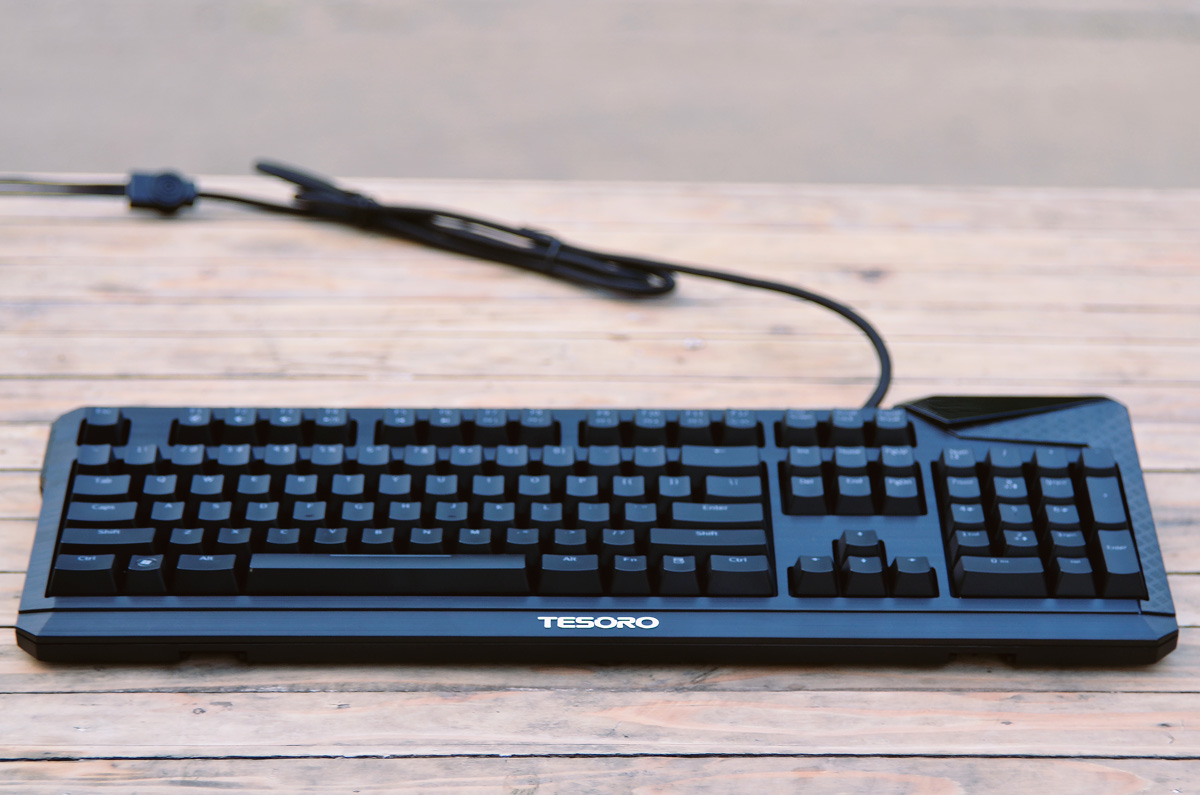 Build quality? This keyboard weighs a ton (1.4 Kilograms realistically). As if it doesn't need any rubber padding at all since you'll have to use the strength of your arm to relocate or move it. Surface material is made of great quality too, and wont freakin' bend even if you put a good amount of pressure to it. TLDR: This keyboard is built like a tank.
Left most side of the keyboard shows the Durandal's edgy stature. Some well known manufacturers goes overboard when designing their gears and we're glad that Tesoro remained faithful to the edgy but not so super edgy looks. This side of the keyboard still features the Windows/start menu key but it could be disabled with a flick of a switch. – Two switches actually.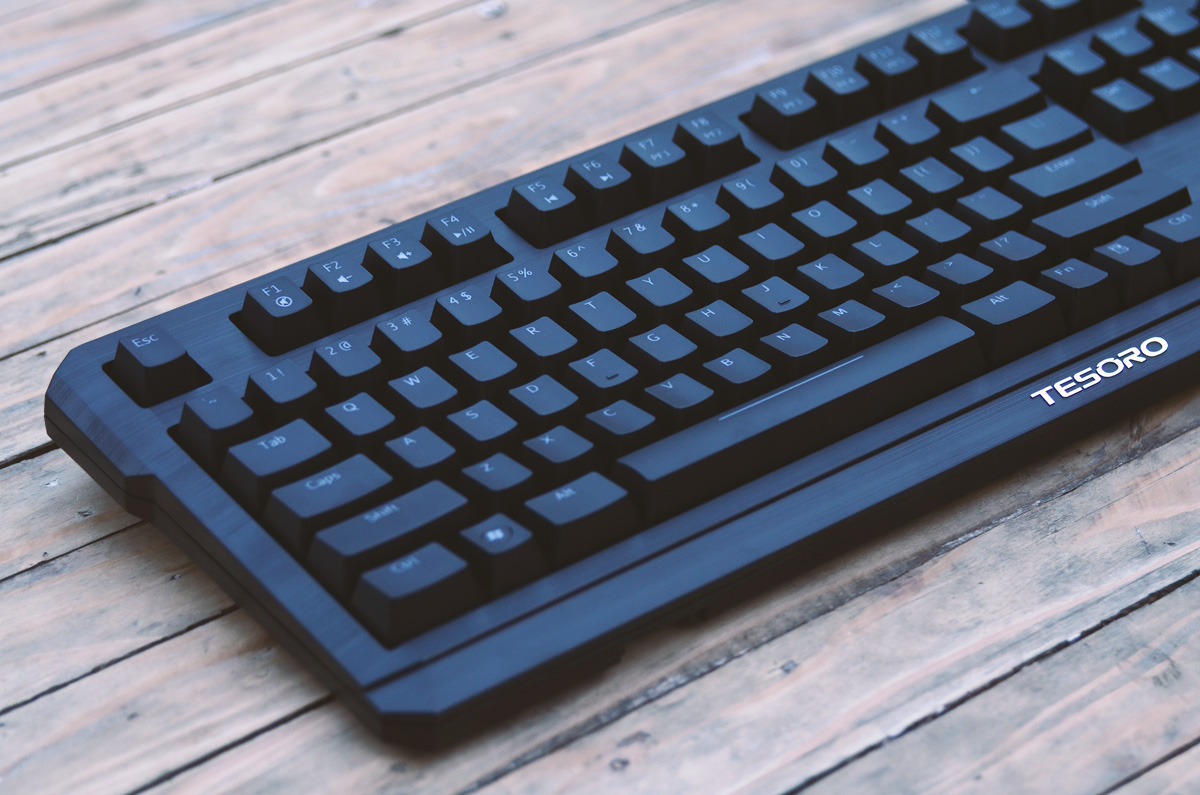 The right side of the keyboard features the full numpad along with navigational buttons. The function key is situated over here too which is essential when changing profiles, enabling/disabling the said Windows key when gaming, and when changing the intensity of the backlit LEDs. The status LEDs received some Tesoro love too as they are shrouded by a mirror finished housing which is cool and futuristic like. Awesome showmanship and craftmanship.
The keyboard's height is something you need to be accustomed to if you're coming from the likes of slim membrane keyboards. Tesoro included a stylish palm rest just in case the height is too much for your liking. We do not find it hard to be accustomed to though.
The Durandal Ultimate, like any other premium products, features auxiliary ports for your extra devices. We have 2x USB2.0 ports here, along with 2x Audio ports. These, from my own opinion, is a must have for cable management freaks. The USB ports are only capable of sustaining devices with a max of 100mA power draw so no charging please. Just don't.
The cable of the the Durandal Ultimate is around 1.55 Meters long. It is also braided, and shielded for your consideration. The ports are also gold plated which is a plus. The single USB header confirms the 100mA current output. Nothing to dislike though since the cable is easy to bend and route.
The keyboard's function keys doubles up as the media and profile keys. By pressing the function button, you could control your PC's volume, play/stop media, and cycle through various profiles (5 max).
The keycaps are laser etched, has this matte like feel to them, and conforms to the cylindrical standard which is perfect for typists. This, being a mechanical keyboard, features Cherry MX Blue Switches which is undeniably one of the best mechanical switches for typing since they feature tactile feedback, a rather good 2mm key travel to actuation (4mm to bottom out), and a 50g of actuation force. More about this later.
With the palm rest in place, the Tesoro Durandal just doubled up its awesomeness factor. Goodness me, this keyboard looks just so great.
There is a substantial difference when the Durandal Ultimate is being used with a palm rest compared without it. Do note however that the footprint of the keyboard will be dramatically larger too with the palm rest in place.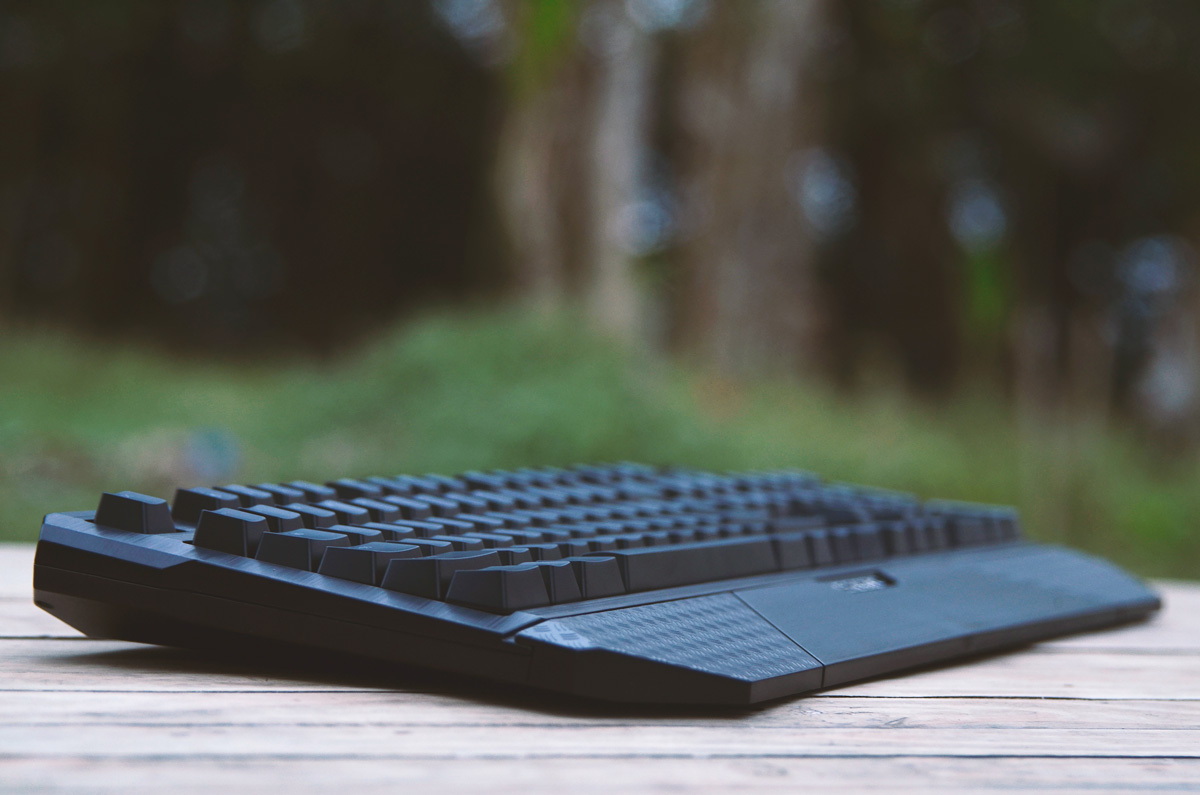 The back of the Durandal Ultimate features a flat base, with edgy side profiles that not only adds up to the looks of the keyboard, but also helps users to move it around, and eliminate cables from getting squashed. This side of the keyboard also features 4 rubber feet, along with an extra adjustable rubber feet if you wish to use the Durandal Ultimate with a higher angle.
INSTALLATION & BUNDLED SOFTWARE:
Installing the Tesoro Durandal is an easy task. You just have to find a suitable place for the keyboard, and plug everything in the right place. The keyboard doesn't pose any fitting issues on our sliding bay, and that's good. We had our headset, and another Tesoro product, the Shrike Gaming Mouse, connected through it to test the connectivity options. There are no electrical noises coming from the ports and that's awesome.
The keyboard's Status LEDs received some Tesoro love with a custom illuminated logo for each status. When the Gaming key is pressed, the Gaming mode status denoted by a "G" will also lit up. It replaced the Scroll Lock status though.
The keyboard only supports a single color backlit illumination, but you could adjust its intensity via the numpads with 5 modes to choose from including the breathing mode. The glow is somewhat easy to the eyes even when maxed out. Small detail that needs to be appreciated.
Ah yes, the NKRO feature. The Tesoro Durandal supports it via USB, so you don't have to worry about the keyboard's capability to handle simultaneous keystrokes. We also tried double tapping with the Cherry MX Blues and we got a maximum of 2ms of lag time. Aww yiss.
In order to maximize the keyboard, Tesoro included a macro software so that you could input and manage your own macro commands. Installing it is an easy feat, though you have to restart your PC for it to take effect.
The software is err… a tad showy for my liking but it does work. It will load whenever Windows starts-up but memory usage is low so it's all good. Here you could set a maximum of 10 macro commands, with some predefined macros for the usual productivity tasks including launching an application via a push of a button. The Tesoro Durandal Ultimate supports a maximum of 5 profiles, so that's a grand total of 50 macros crammed inside the 128KB of onboard memory. You could also import and export your own config which is okay.
Setting up macros is easy with the included software. You just have to press the record button, type whatever you want, then stop. You could also adjust the lag time (delay: ms) for the command.
Below is a sample of our "meticulous" macro command.
Overall, the software works, even though the design looks like an after thought. As long as it wont pester me, it's good to have around whenever I need it.
USER EXPERIENCE & CONCLUSION:
Gaming peripherals are no stranger here, as we reviewed quite a number of them in the past few months. Some had us surprised with their performance, and some are just… well, there for the looks and price alone. With the Tesoro Durandal G1NL, you will actually get what you payed for. Lemme tell you why. *Dramatic music plays at the background*
First off the switches. The Tesoro Durandal Ultimate, at the moment, is available with 3 popular switches to choose from: These are Browns, Reds, and Blues. Our sample came with the Blues, so it'll definitely be the basis of our experience. As said earlier, the Cherry MX Blue Switches features tactile feedback, with 2 fold actuation force compared to its siblings. That said, the Blues are definitely the switch to go for if you're more of a typist since they are less prone to accidental key presses due to the tactile nature and the force needed before actuation occurs. We have been using this keyboard for almost a month now; playing games, typing articles, and the experience of using the Durandal Ultimate with the Cherry MX Blue Switches is much more enjoyable compared to the other switches that I am used to type and game on.
Build quality is second to none. I have said it earlier: The Durandal Ultimate is built like a tank. It's so heavy, you'll think for a moment if you bought Two keyboards instead of one. Adding to that, putting pressure on any part of the keyboard's shell wont make it budge. Ever. It's that sturdy.
Comfort is something we also love, as the Cherry MX Blues provided us a satisfying amount of force that is just right for our fingers, together with good amount of key spacing, and feel of the cylindrical matte finish keycaps. The clicky nature of the switch also adds up to the satisfaction of using the Durandal Ultimate. A huge plus for me.
Of course there are caveats. That includes the high level of angle, which is some of you might need to be aware off if you do not want to use the palm rest. Availability is also region dependent too, which is something that Tesoro is improving.
Value wise, with an SRP of 150 USD, or roughly around 6, 600 Pesos, the Tesoro Durandal Ultimate is hard to resist. The price might be high, but you will absolutely get what you payed for. That includes the oh-so awesome styling, the tank like build quality, the gaming oriented features, and the satisfaction of owning a premium gaming x typing keyboard. Still, if you're saving as much as you could, and want to experience the Durandal without spending much, there is the Durandal G1N with the same construct albeit missing some of the Ultimate's features.
PROS:
Beautifully crafted
Tank like build quality
Illumination is easy to the eyes
Multiple switches to choose from
Finger lovin' comfort level
USB & Audio hub
Easy to setup macro commands
Sleeved & shielded cables
CONS:
High level of angle w/out the palm rest
Availability (Region dependent)
Tesoro Durandal Ultimate G1NL
PERFORMANCE -

8/10

BUILD QUALITY -

8/10

FEATURES -

7/10

AESTHETICS -

8/10

VALUE -

7/10
Summary
The Tesoro Durandal Ultimate G1NL backlit LED Mechanical Gaming Keyboard is hard to find, a bit pricey perhaps, but its features and premium qualities makes up for its disadvantages. The Tesoro Durandal is now available through famous North American e-tailers with a 1 year manufacturer warranty.