The GT 730has been around for years, and truth be told that when someone asked about this card's performance on any well known forums or groups, you'll usually receive an answer that it is unworthy of your time and effort. For years, it has been the case, especially with the initial SKUs of the Gt 730 featuring the Fermi GPUs inside which, on most benchmarks and games just do not justify the cash spend on them – reflecting the good ol' saying that no ultra budget GFX card is any good for gaming purposes.
Today ASUS has a proposal, in the form of yet another GT 730 – but this time around it has the "GK208" Kepler part inside which should be more efficient, and features a generally better performance compared to its "GF108" based siblings even with a smaller bus width at 64-bit. The one we got here is the passively cooled GT 730 dubbed as the "GT730-SL-2GD3-BRK" from ASUS which features a silent cooling solution in a low profile small form factor format. With a 2 GB frame buffer, this card is just begging to be tested. Will this sub 70 USD card beat the odds? Is it even worth it? Let us check it out on our review.
FEATURES & SPECIFICATIONS: CLICK HERE
The GT 730 we got here from ASUS boasts a passive cooling unit which is perfect for HTPCs. Frame buffer is 2GB, yet the VRAM uses a slower GDDR3 standard, as opposed to the GDDR5 which is found on some GT 730s with active cooling units. The 64-bit interface looks lacking, but it's actually faster than the 128-bit Fermi GT 730.
BEHOLD THE GT 730 FROM ASUS:
By far, the cutest card we have tested, the GT 730 is such a small unit – weighing in at around 200 grams, with a 5.4 inches length and 2.7 inch in width. It's still a dual slot graphics card, mainly due to its passive cooler's size.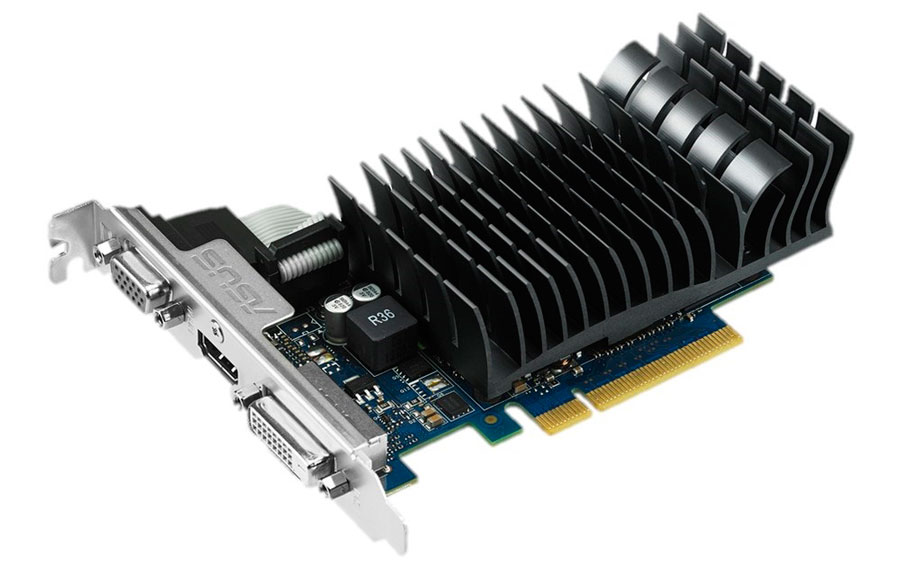 The card conforms to the LPPCI or Low-Profile PCI card standards. Meaning, it supports cases that could only support half-height cards with an additional bracket that reduces the height – which is on this position, the width of the card. You'll sacrifice the VGA adapter though, but that doesn't mean anything to HTPCs of today.
Outputs are simple. You get one VGA, one DVI-D (2560 x 1600), and one HDMI port which is able to output a maximum of 2560 x 1600 resolution. No fancy stuffs here.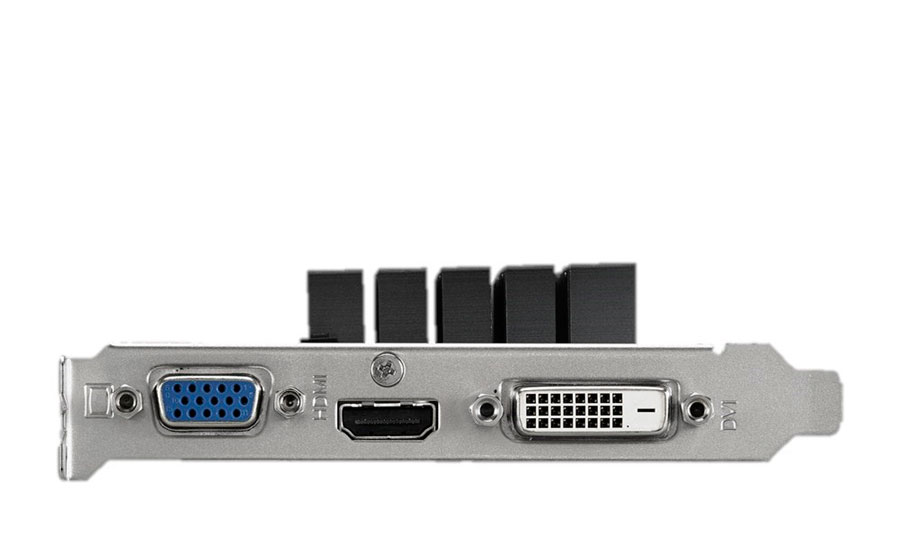 TEST SYSTEM & SPECIFICATIONS:
Graphics cards are no strangers in our labs, but providing a precise result usually needs a lot of time and effort on our end. Helping us to do those things is an updated copy of Windows 7 Ultimate x64 SP1 and wide selection of the popular games that most probably, will sate your appetite. The BIOS/UEFI, Chipset, and Video Card drivers of the test system will be updated too, as much as possible.
No other softwares should be running while the benchmarks are on going, unless it is needed, or stated. As for the gaming benchmarks alone, our test should include benchmarks with 1920 x 1080 resolution but with different presets. Games without benchmarking tools of their own will have the results recorded with FRAPS. Below are the test system's specifications:
| | |
| --- | --- |
| CPU | Intel Core i5 4670K |
| MOTHERBOARD | ASUS Z97-PRO WiFi AC |
| CPU COOLER | Cooler Master Seidon 120XL |
| MEMORY | ADATA XPG V2 @2400MHz 16GB |
| GRAPHICS CARD | ASUS GT 730 2GB GDDR3 |
| INT. STORAGE | Kingston HyperX Fury SSD 240GB |
| PSU | Cooler Master Silent Pro Hybrid 1300W |
| DISPLAY | 27″ DELL U2715H WQHD IPS Panel |
| OS | Microsoft Windows 7 Ultimate x64 SP1 (Updated) |
| SOUND CARD | Realtek ALC1150 |
| EXT. STORAGE | 2TB Western Digital My Passport |
WHAT IS FPS ANYWAY?
For refreshment purposes, let us talk for a moment about FPS or Frames Per Second. Also known as Frame Rate, FPS is the general unit of which we measure a graphics card's capabilities. Generally, the higher value, the smoother the gameplay should be, since higher FPS means higher frames are rendered each second. Higher FPS doesn't just improve your gaming experience, as it also helps you to react faster especially in First Person Shooter & Racing Games. Please do note that Resolution and in-game settings has a huge effect too in any system's frame rate.
SYNTHETIC/GPU COMPUTE PERFORMANCE:
3DMARK (2013) is a multi-platform benchmarking tool from FUTUREMARK, consisting of comprehensive tests that aims to gauge your gaming hardware; be it a smartphone, a tablet, a laptop, or a desktop PC.
CINEBENCH R11.5 is a real-world cross-platform test suite that evaluates the computer's performance capabilities. CINEBENCH is based on MAXON's award-winning animation software CINEMA 4D, which is used extensively by studios and production houses worldwide for 3D content creation.
Kishonti's CompuBench is an easy to use, no frills high performance suite of benchmarks. It compares the strengths and weaknesses of different hardware architectures such as CPUs, GPUs and APUs using a series of tests.
GAMING PERFORMANCE:
Dragon Age: Inquisition an action role-playing video game developed by BioWare and published by Electronic Arts. It is the third major game in the Dragon Age franchise, and utilizes the Frosbite 3 Engine with the SpeedTree technology.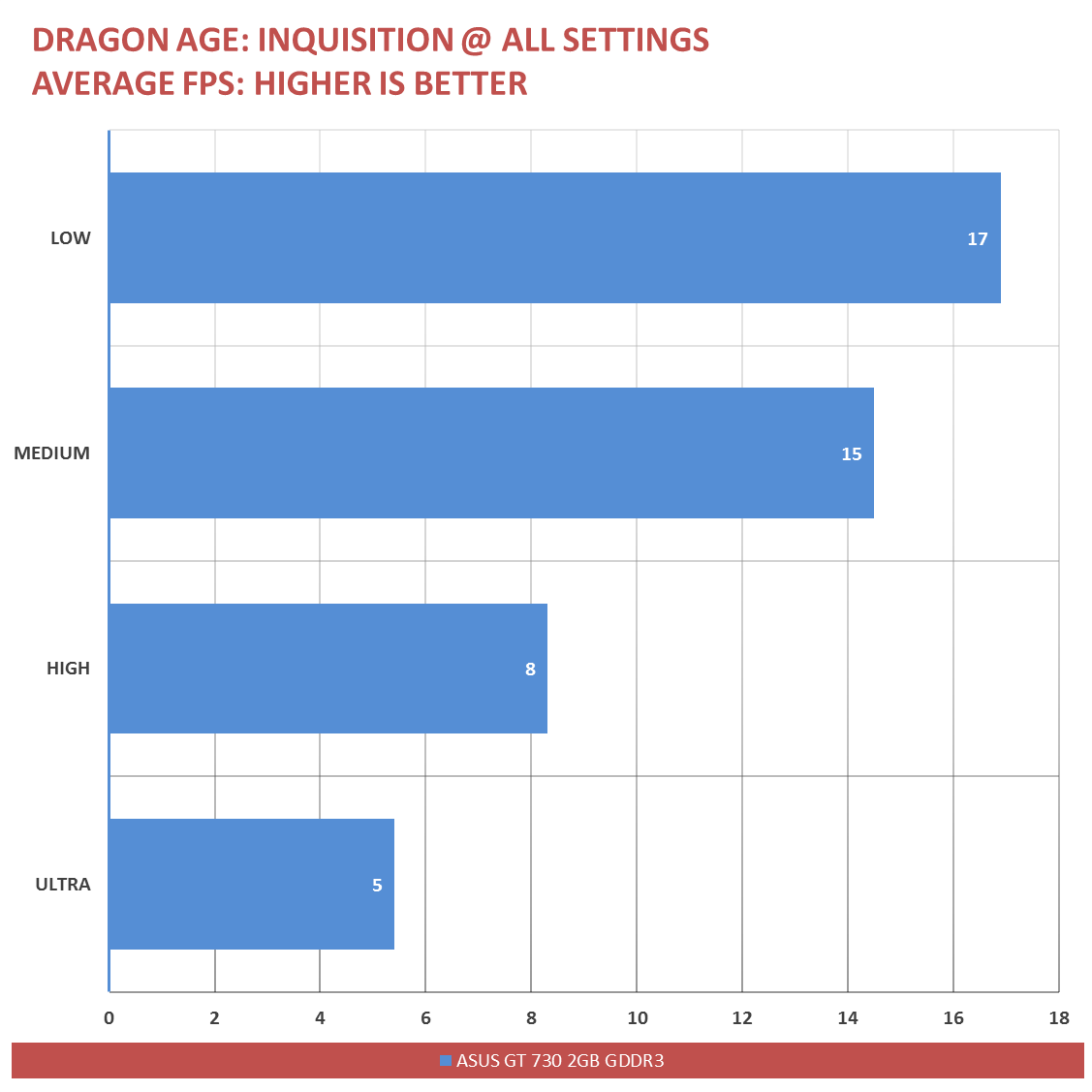 The Witcher 3: Wild Hunt is an action role-playing video game set in an open world environment, developed by Polish video game developer CD Projekt RED. It utilizes the REDengine 3.
Battlefield 4 is one of EA and DICE's most recent first person shooters utilizing the all new Frostbite 3 game engine featuring better tessellation effects and destruction compared to its predecessor.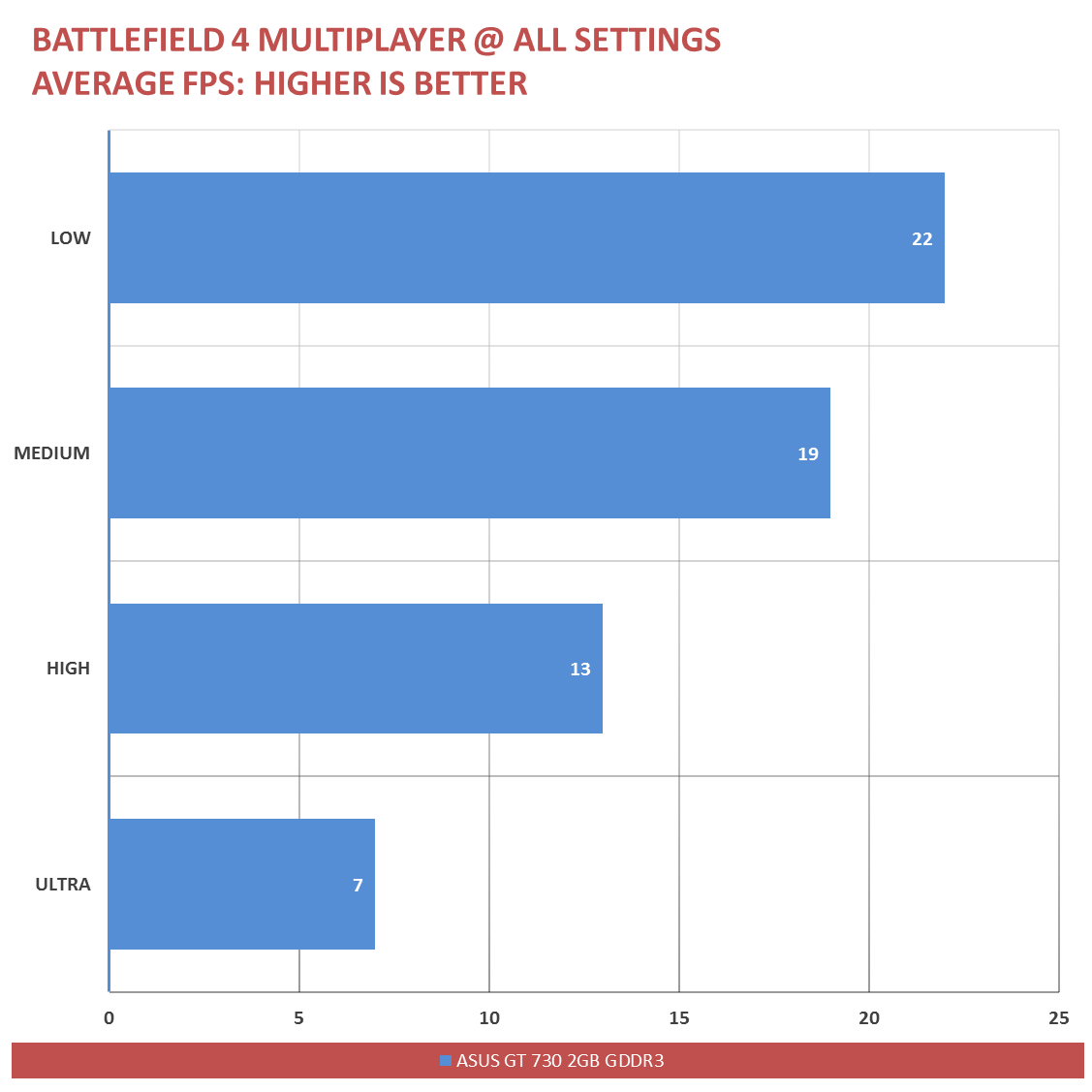 Dota 2 is a Multiplayer Online Battle Arena (MOBA) video game developed by Valve and is the stand-alone sequel to the Warcraft III based Defense of the Ancients (DotA) mod.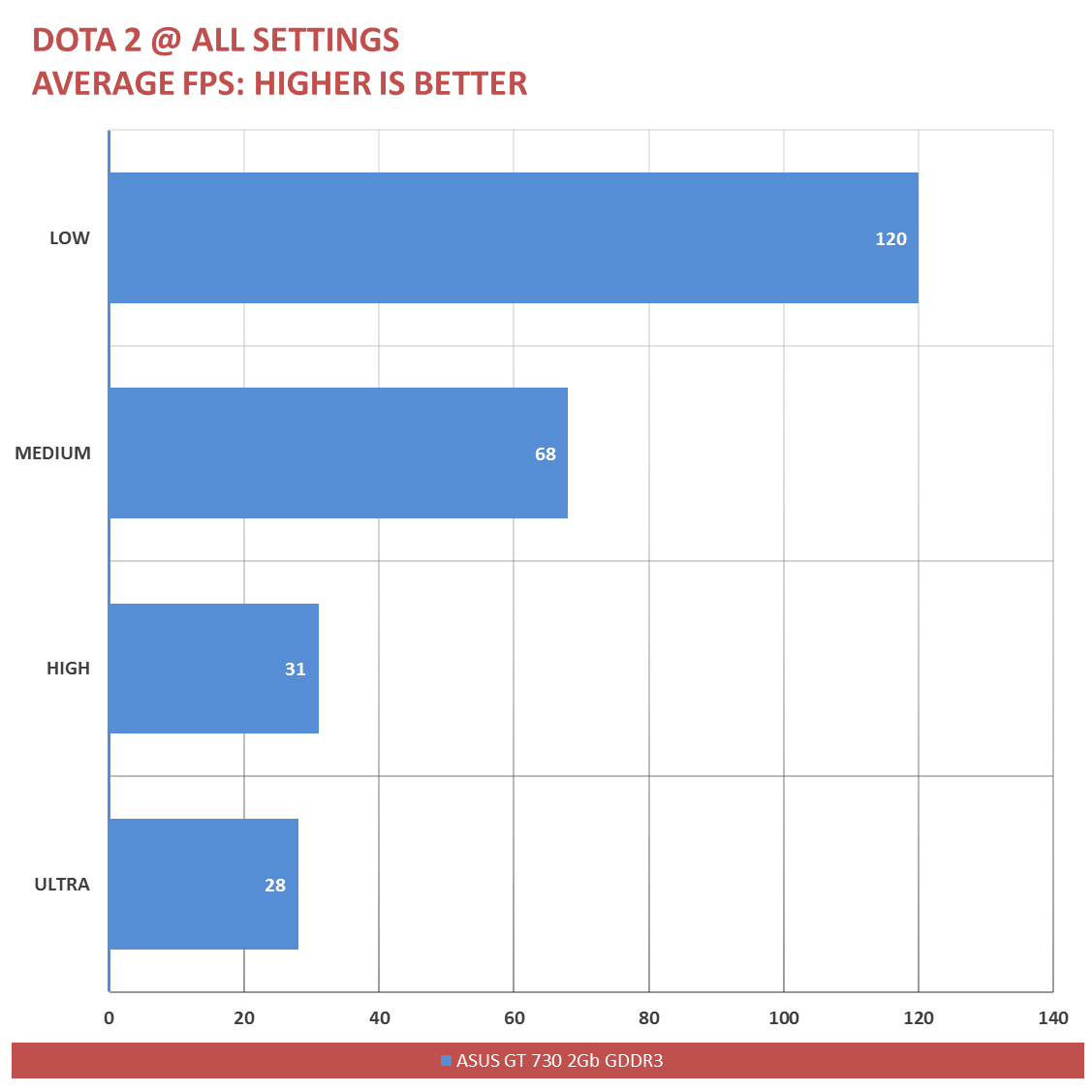 League of Legends is a multiplayer online battle arena similar to, and exactly as popular as Dota 2. It is developed and published by Riot Games for Microsoft Windows and Mac OS X.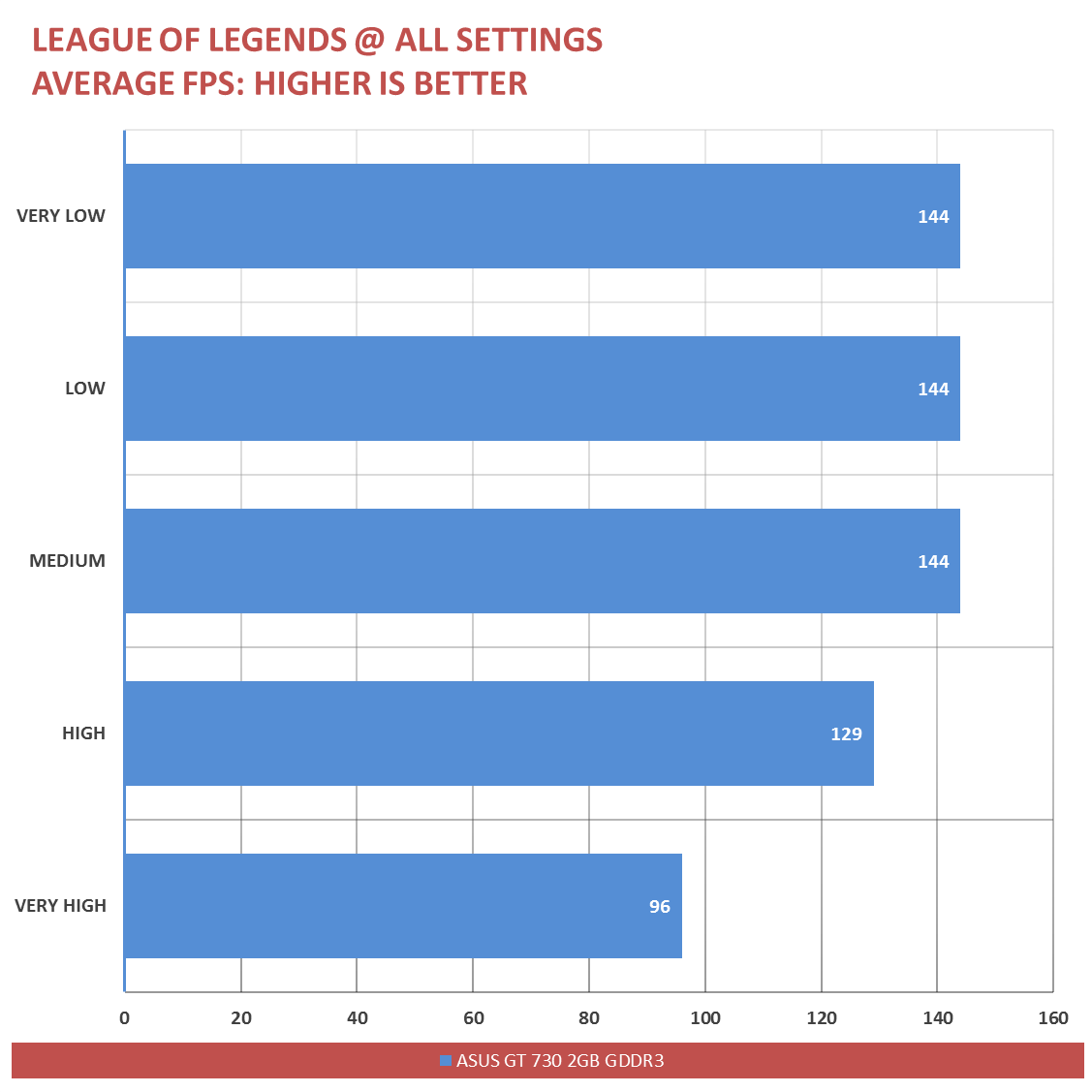 Counter-Strike: Global Offensive is a popular online tactical first-person shooter developed by Hidden Path Entertainment and Valve Corporation, utilizing the Source Engine.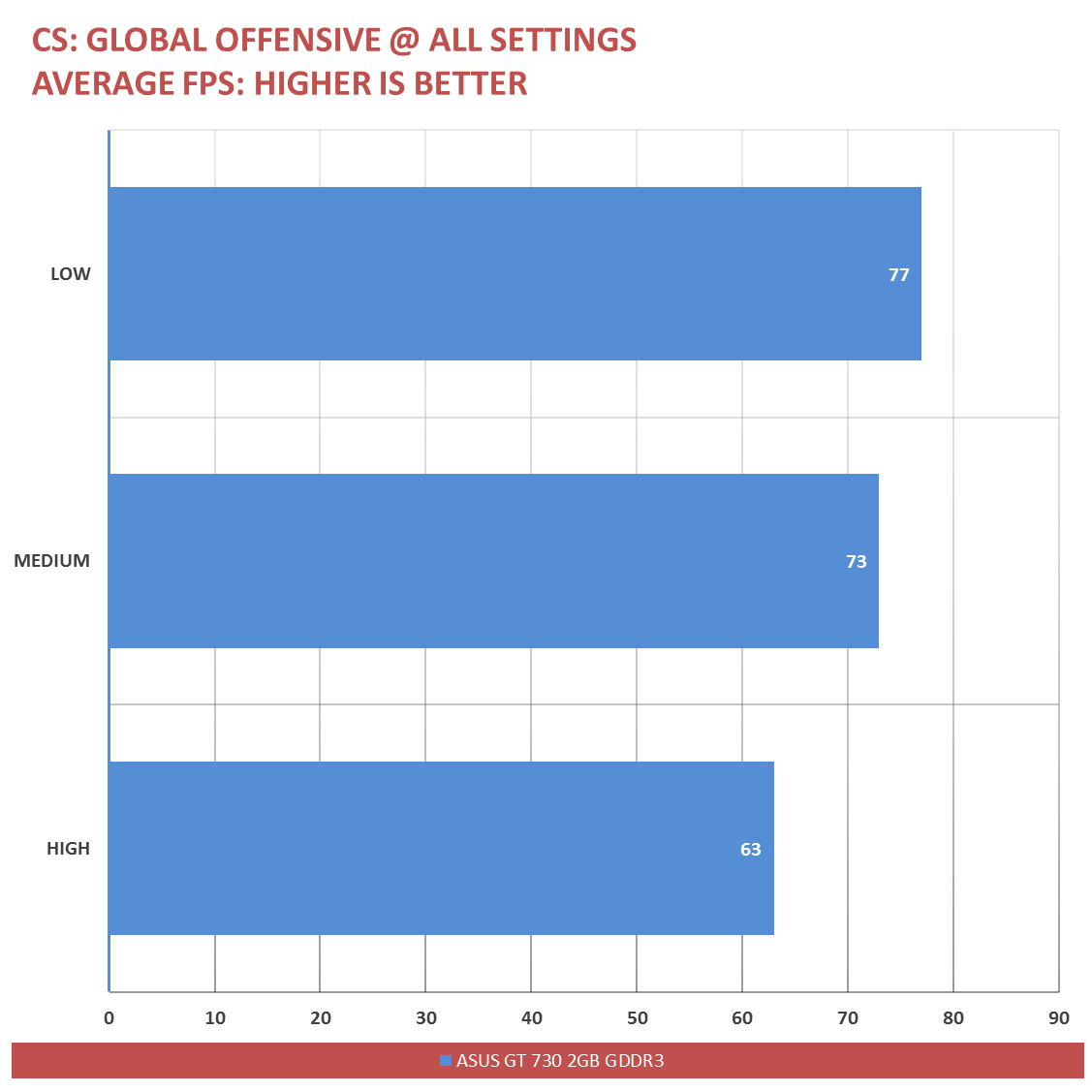 Grand Theft Auto V is an open world, action-adventure video game developed by Rockstar North and published by Rockstar Games. It was released for the PlayStation 4, Xbox One, and Microsoft Windows.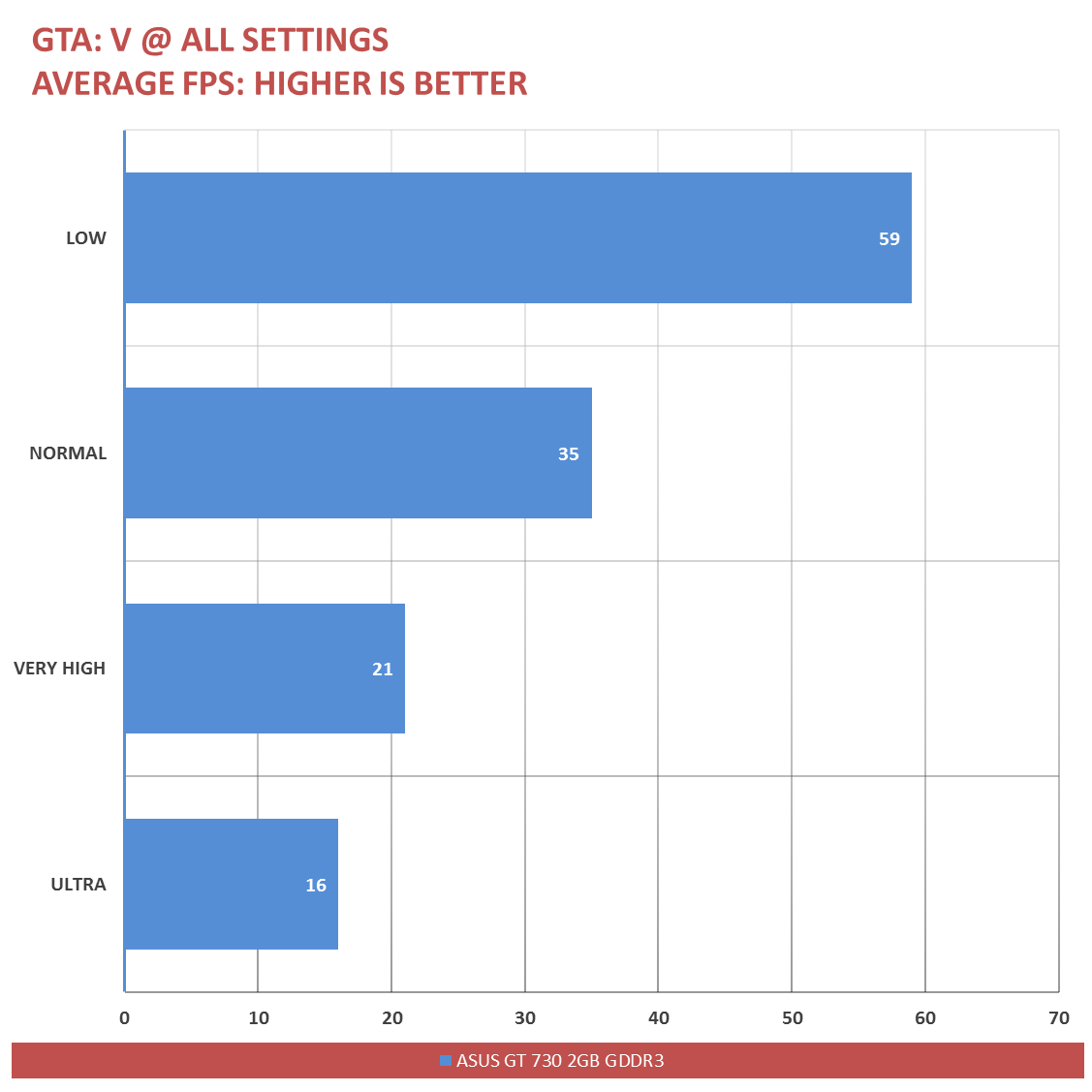 TEMPERATURE & POWER CONSUMPTION:
FurMark is a very intensive OpenGL benchmark that uses fur rendering algorithms to measure the performance of the graphics card. To record the GPU's maximum temperatures, I will run Furmark's Fur Rendering Burn-in Test, and let it run for 30 Minutes. As always, we try to keep the results consistent by keeping the ambient temperature checked at 27ºC.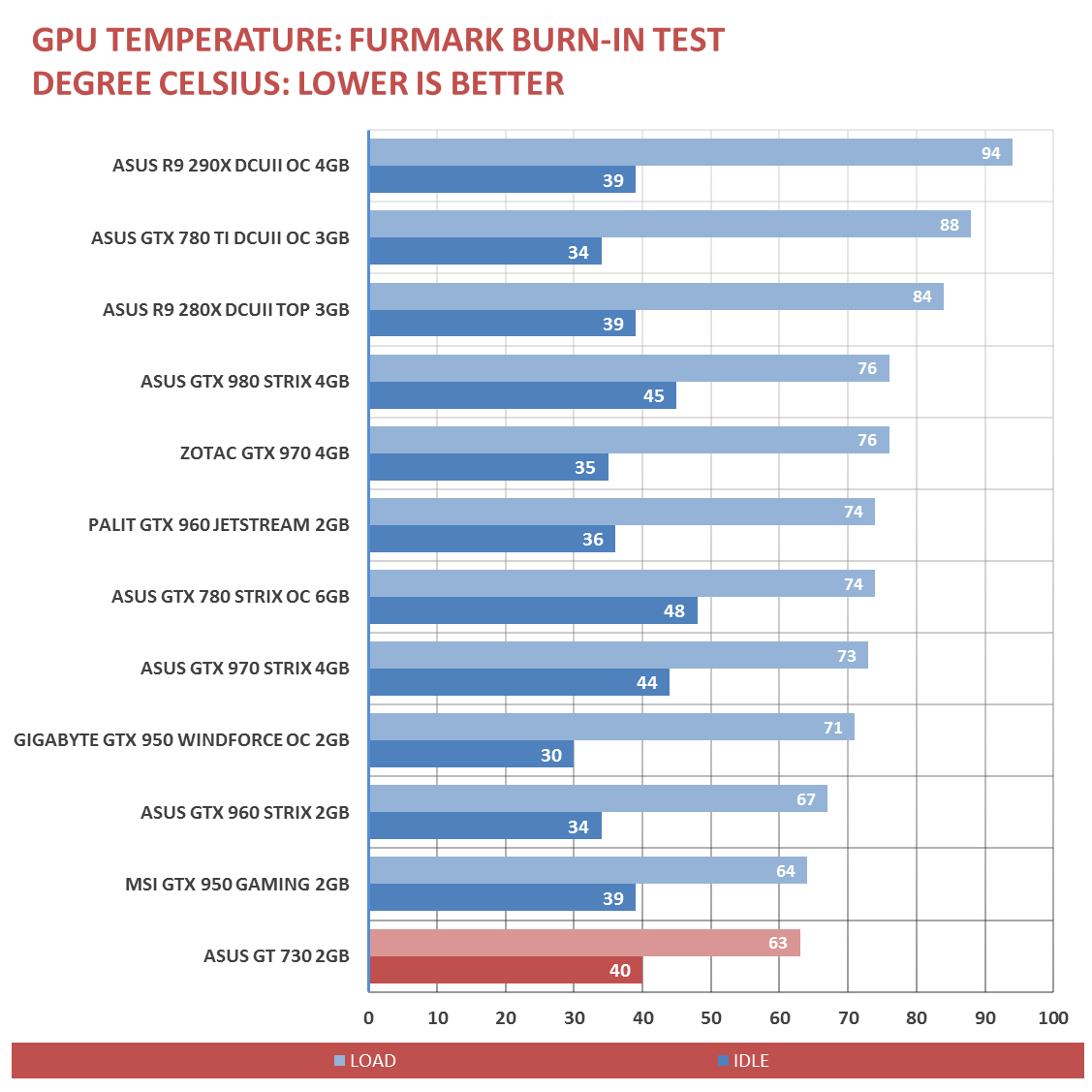 We also check to see how the GPU impacts power consumption. The system is left to idle for 30 minutes before readings are taken, and load data is taken 30 minutes while FurMark is running. Power readings are taken for the entire system from the socket.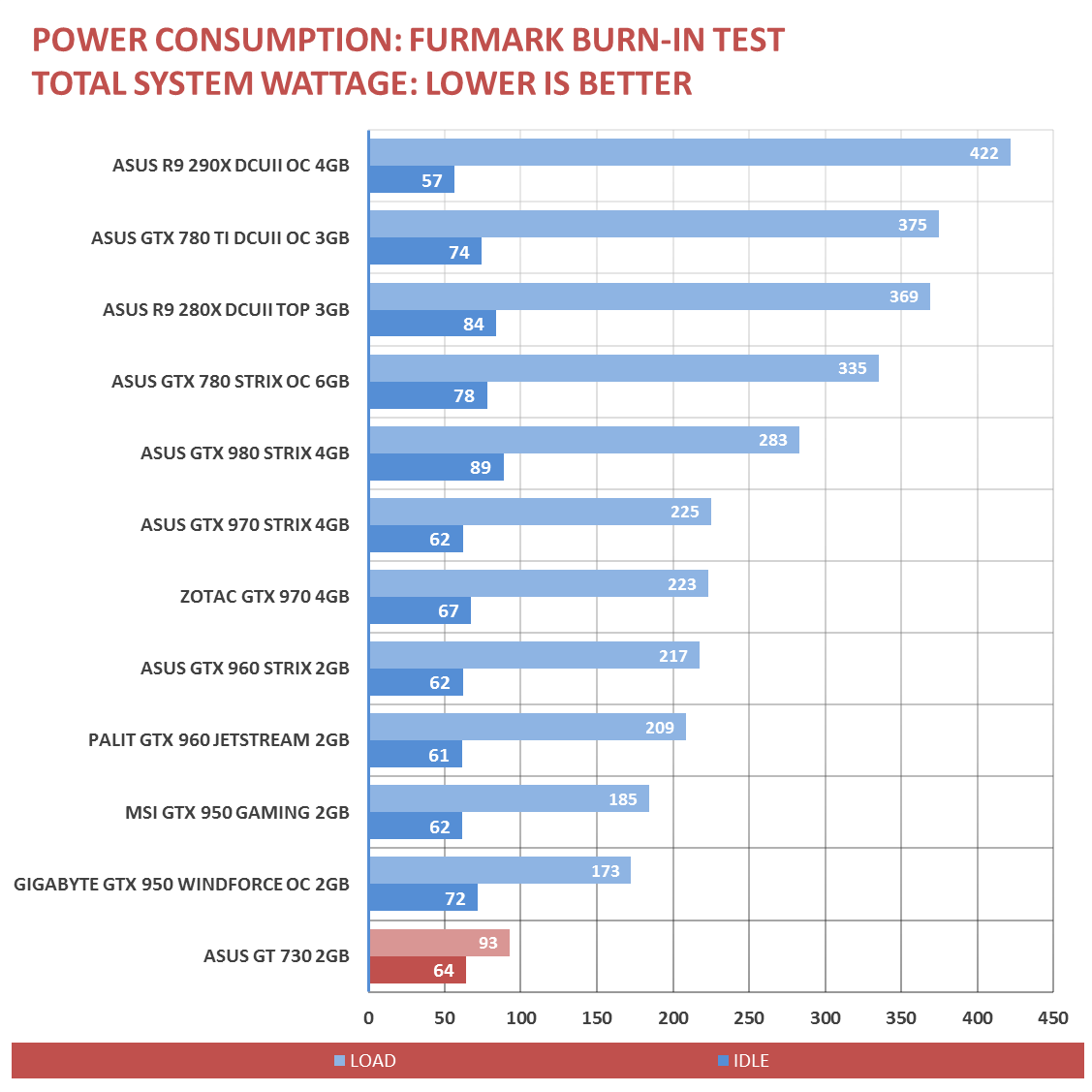 VALUE & CONCLUSION:
The ASUS GT 730 2GB GDDR3 is a card that unsurprisingly delivered my expectations. And with expectations, I mean good performance on MOBA games, and the hottest First Person Shooter at 720P & 1080P. Other than those genres or games, the card sucks big time except if you wanted to play the hottest games at their lowest settings and at 720P & below. Such games requires not only the graphics core's horse power, but also the capability of the card to deliver enough frame buffer for these game's textures at higher settings. So, the GDDR3 interface is one factor here. Had we gotten our hands on the GDDR5 model, things might be a little different.
Truly, the card isn't made for intense gaming, and one might think that we should be thankful enough that we could even play MOBA games on it, even at 2560 x 1440 by a stretch at League of Legends. What this card is good at – despite the daunting results from our benchmarking tools, is its silent operation coupled up with a good passive cooling solution and its power efficiency which is perfect for HTPCs. With its half-height form factor, this card will fit easy enough inside almost any HTPC cases, and you might just have found that LoL capable graphics card you've been looking for ages, for your next HTPC build. Just don't forget to feed it with a good airflow.
For its intents and purposes, the ASUS GT 730 2G with GDDR3 memory and passive cooling clicks in with a price to match at 2,640. Surely, you could buy a decent used graphics card for better gaming capabilities, but they can't match this tiny GT 730 from ASUS if the HTPC situation calls for its use.
THE VERDICT
PROS:
UTTERLY SILENT
POWER EFFICIENT
LOW PROFILE
GOOD BUILD QUALITY
3 YEAR WARRANTY
GOOD FOR MOBA GAMING
CONS:
BARE PRESENTATION
GDDR3 INTERFACE
ASUS GT 730 2GB
PERFORMANCE -

7/10

BUILD QUALITY -

8/10

FEATURES -

7/10

AESTHETICS -

7/10

VALUE -

8/10
Summary
For its intents and purposes, the ASUS GT 730 2G with GDDR3 memory and passive cooling clicks in with a price to match at 2,640. Surely, you could buy a decent used graphics card for better gaming capabilities, but they can't match this tiny GT 730 from ASUS if the HTPC situation calls for its use.