Choosing your motherboard has a huge impact on your overall system build, which is why most users are just picking the cheapest one especially if they are not overclocking. There are caveats with budget or entry level boards, since they have to keep cost at a minimum so expect some native barebone features here and there with the said motherboards under the budget price point.
And then there's BIOSTAR, with the Hi-Fi A70U3P FM2+ motherboard. This board is based on the already proven AMD Hudson-M3 Fusion Control Hub some years ago, with an updated features here and there. The most prominent one is the support for FM2+ CPUs, along with PCI-E 3.0 support if paired with the said CPU that conforms to the standard of the socket. 2133 MHz DIMMs are also supported "natively" and could be overclocked up to 2600 MHz. Now that it talked the talk, let us see if it could walk the walk.
FEATURES & SPECIFICATIONS: CLICK HERE
Chipset
AMD A70M
CPU SUPPORT
AMD A10 Processor
AMD A8 Processor
AMD A6 Processor
AMD A4 Processor
AMD E2 Processor
AMD Athlon™ II X4 Processor
Maximum CPU TDP (Thermal Design Power) : 100Watt
MEMORY
Support Dual Channel DDR3 2600(OC)/2400(OC)/2133/1866/1600/1333/1066/800 MHz
2 x DDR3 DIMM Memory Slot
Max. Supports up to 32GB Memory
EXPANSION SLOT
1 x PCI-E x16 3.0 Slot (supported by FM2+ CPU)
1 x PCI-E x1 2.0 Slot
1 x PCI Slot
STORAGE
4 x SATA3 Connector
Support SATA RAID: 0,1,10
USB
2 x USB 3.0 Port 1 x USB 3.0 Header 2 x USB 2.0 Port 2 x USB 2.0 Header
LAN
Realtek RTL8111G – 10/100/1000 Controller
CODEC
Realtek ALC662 6-Channel HD Audio
DIMENSION
Micro ATX Form Factor Dimension: 23.5cm x 17.8cm ( W x L )
FEATURES
Supports PURO Hi-Fi
Supports 100% Solid capacitor
Supports BIOS-Flasher
Supports Charger Booster
Supports BIOS Online Update
UNBOXING THE MOTHERBOARD:
The board's packaging doesn't look all too different from the BIOSTAR boards of the past. Up front, there is a huge model name of the board, with features along with it laid in a graphical fashion.
The back is full of information about the features,  which highlights the PURO Hi-Fi  technology along with media generated awards and certifications.
As expected, the board comes light with a user's manual, a driver DVD, 2x SATAIII ports, and an I/O plate. Nothing extravagant here.
THE BIOSTAR Hi-Fi A70U3P:
The Hi-Fi A70u3P isn't the best looking board out there, but it is gorgeous on its own sporting a semi black glossy PCB that looks blacker than its competitors in a standard mATX form factor.  There are no fancy heatsinks, as all we've got is a single passive chipset cooler. Fan power adapters are only two though, in 4-pin at the top, and a single 3-pin at the bottom as a configuration. Overall layout is good, with the all the headers below, and CMOS battery reachable, but we prefer the legacy PCI slot to be replaced with a PCI-E variant for maximum usability, or have it swapped places with the PCI-E x1 2.0 Slot.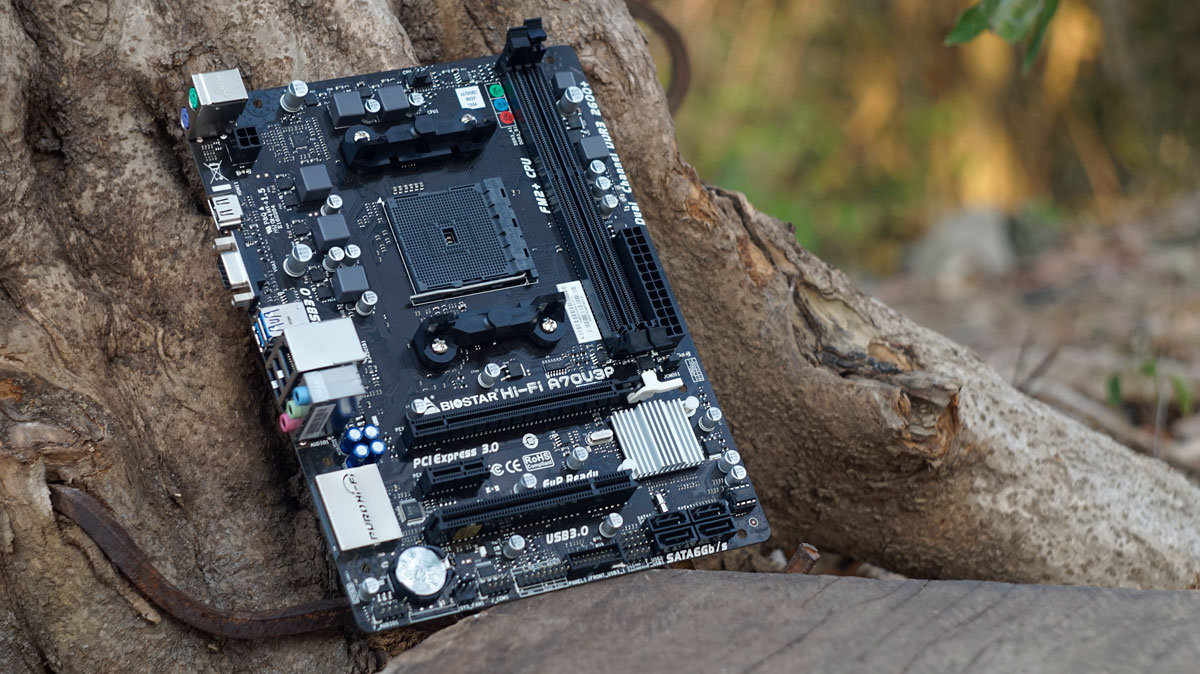 The back of the motherboard is clean, with a reinforced backplate for the cooler to add rigidity. There's also a trace on the PCB as seen on the picture below which should isolate the audio chip from interference, as well as to add some sort of a LED pass through (only the codec is illuminated) to keep things bling-ey one the board is powered up.
The top half of the board houses the FM2+ socket, which is a first to the A70M chipset. That said, expect this board to feature compatibility with the most recent FM2+ compatible APUs, that requires the said socket. Power delivery to the north is provided by a 5+1 Power Phase with 5 for the CPU and 1 for the memory. Speaking, the memory slot or the controller rather, supports dual DDR3 DIMMs in dual channel configuration, and memories up to 2600 MHz are supported (OC), which is quite nice for the APUs with good on-chip Radeon graphics.
The VRM isn't that flashy, and so does the power requirement for the board's CPU with a single 4-pin power configuration. The 4-pin PWM fan header is also situated at the top which is good.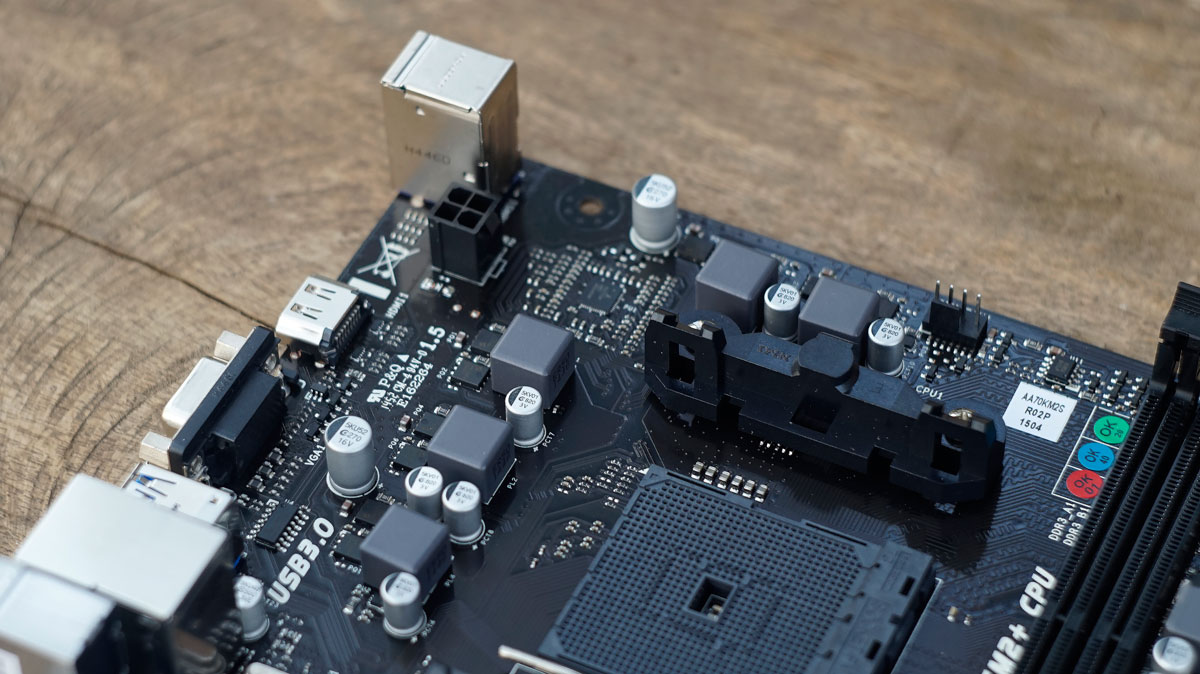 The PURO Hi-Fi is one of the board's star of the show, which is explained by BIOSTAR as a "combination of exclusive hardware & software design" which essentially a combination of isolated circuitry, separate power for the audio, and built-in amplifier for the Realtek ALC662 6-Channel HD Audio codec. At the picture below, you could see the well placed CMOS battery, along with the front panel audio header which is also isolated by design. The aluminum PURO Hi-Fi housing is LED illuminated in Red.
Looking at the other side reveals the Hudson M3 chipset, which is responsible for many things especially the SATAIII 6Gbp/s in fours. They are not angled, but good layout nonetheless. Headers were also nicely laid-out too, consisting of the 3-pin system fan, a legacy J-COM1 header, front panel I/O next to a USB 3.0 header, and 2x USB 2.0 headers. Plenty.
I/O at the rear are adequate. We have 2x PS/2 ports here, 4x USB (3.0/2.0) ports, a LAN port, 3x audio ports, and Two ports for the display via a VGA & HDMI port.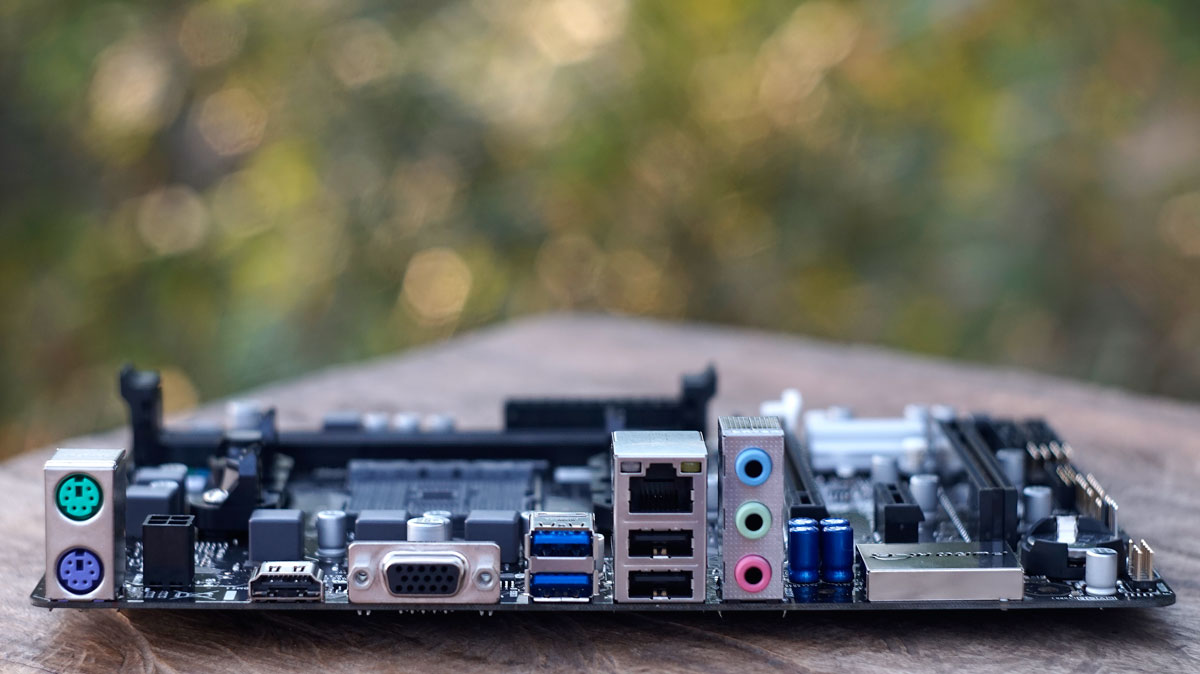 UEFI / BIOS WALK THROUGH:
The Biostar Hi-Fi A70U3P's UEFI is a basic, yet easy to use interface. There are 7 menus present, which could be easily accessed by the icons below. Initially, the Main menu will greet you with bits of information about the board, the CPU, Memory, Fan RPM, and CPU temperature.
The Advanced menu takes us to the many advanced options available to the end user, which includes the CPU configuration for power management. You could even set a desired TDP of the CPU / APU if permitted, although we are not sure if it will aid overclocking even if set manually at the highest which is 65W.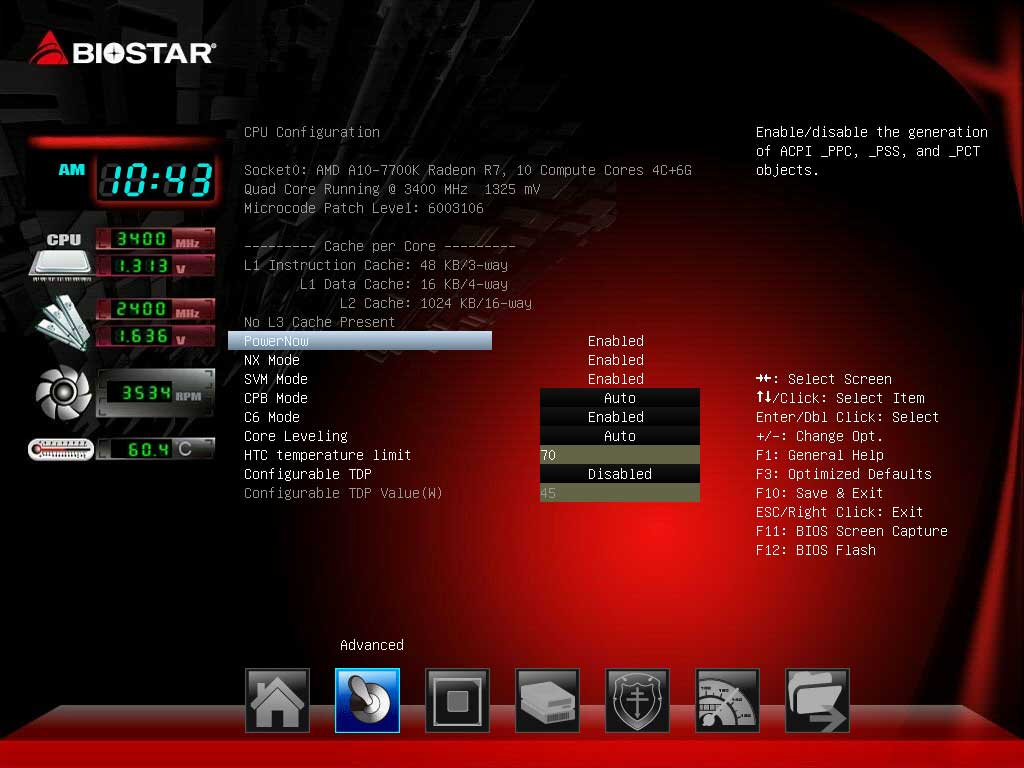 The Chipset menu is where you'll find the north bridge and south bridge chipset's settings, which also houses the GFX card configuration.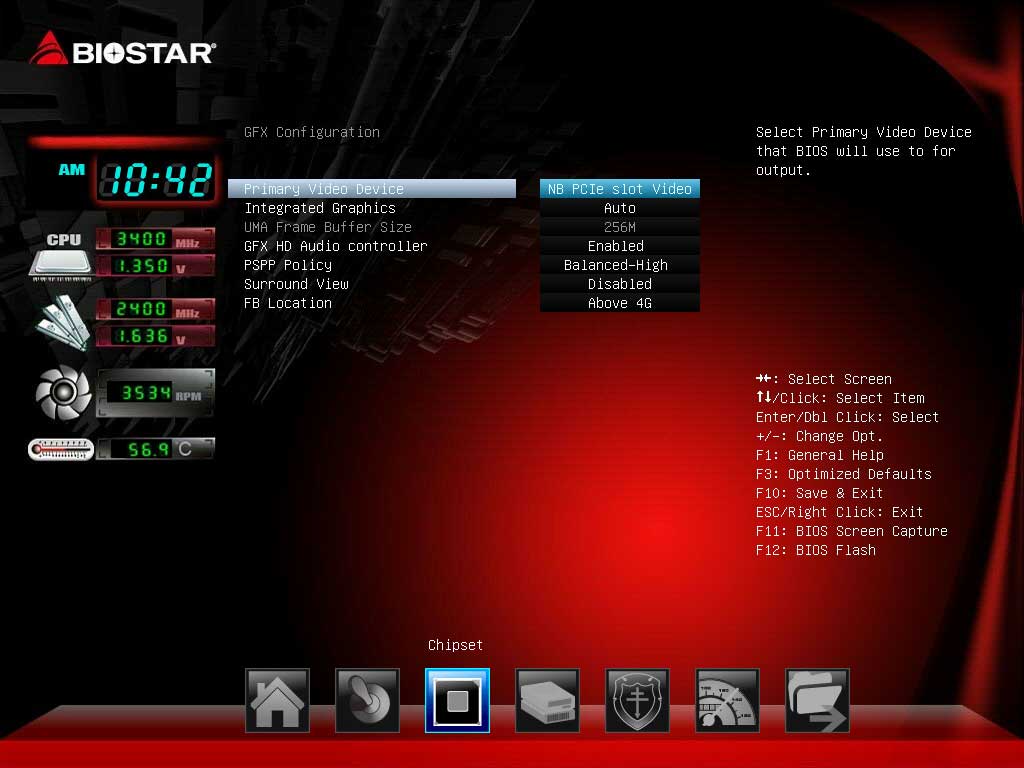 Boot configuration is full of options. You could disable the screen logo display, enable fast boot, and set HDD BBS priorities.
Last but not the least, the Performance menu houses the DRAM timings, and frequency controls. We had no problem booting the system with the 2400 MHz XMP settings, which is pretty nice. You could also set the frequency of the APU's graphics here to gain more performance. Although we could play with the memory, and the AMD Radeon R7 graphics from our APU, there's no overclocking options for the CPU displayed except for the CPU Reference Clock settings and the PWM load line calibration which should aid stability.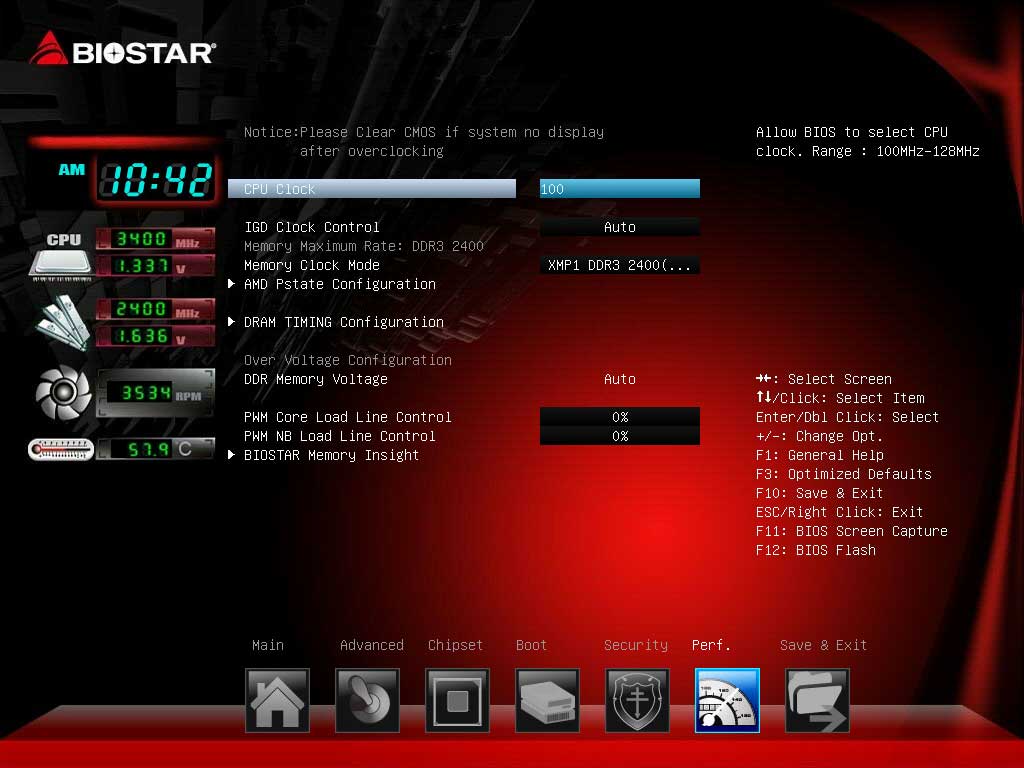 Or is it? Turns out that we could overclock the APU using the Custom P-States found within the AMD P-State Configuration sub menu. It's literally the Multiplier settings, and once you enabled it, vCore options, and the multiplier with their discerning multiplier settings /slash/ frequency equivalent will be visible.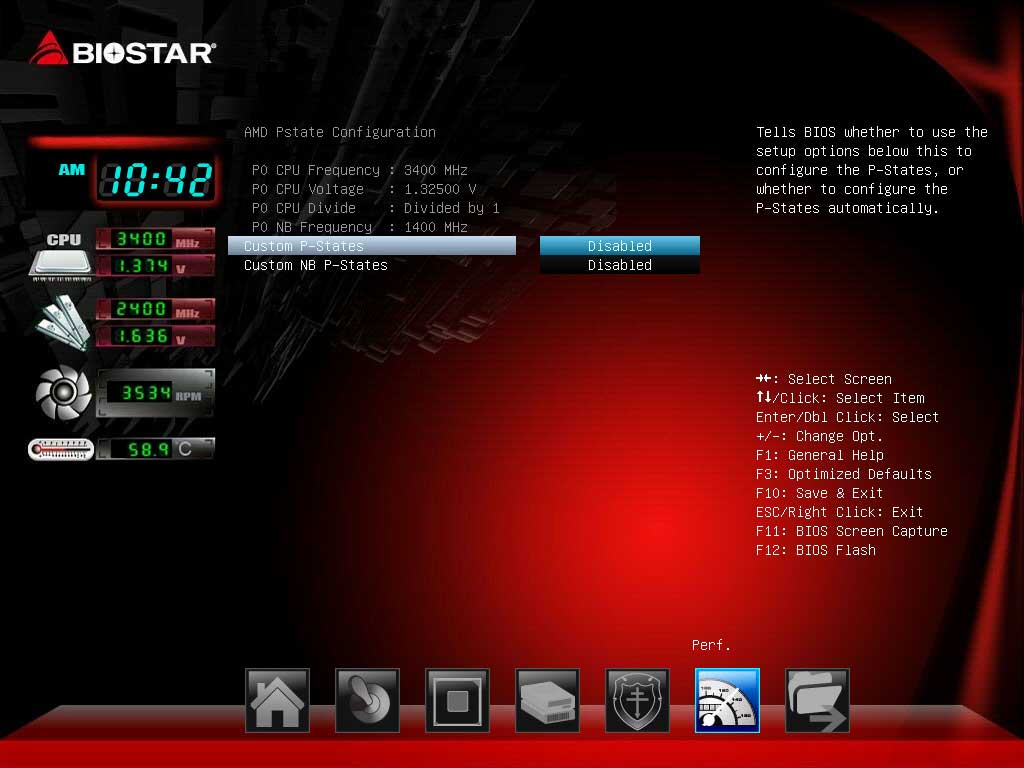 Overall I like this board's UEFI as it's functional, mouse input works, and there's hardly any issues to be found except for an unresponsive keyboard whenever we enter S3 or sleep mode with a Ducky ZERO DK1087 TKL keyboard using the old A70K0A29 BIOS. Updating to the latest A70KO317 neither resolves the issue.
HOW WE TEST MOTHERBOARDS:
Motherboards are one of most unforgiving components to test due to their sheer complexity. It's like testing a whole system just to properly test a motherboard of any shape & size. To provide precise test results, it is important to install a fresh copy of the Operating System, have it updated along with the BIOS and drivers for it and the other components. Benchmark(s) should be executed every after a 5 minute cool down from start-up upon a system cold boot. This is to ensure a uniform scoring.
Our usual test system utilizes an Intel Core i5 4670K, but since this board is an FM2+ based motherboard, we used an AMD A10-7700K APU with 4+6 compute cores and a Radeon R7 GPU, along with a 2400MHz memory kit in 4x4GB configuration.
CPU & OVERALL SYSTEM PERFORMANCE:
AIDA64 is a streamlined Windows diagnostic and benchmarking software for home users. We'll use the built-in CPU benchmarking tools of the AIDA64 to determine the system's CPU performance.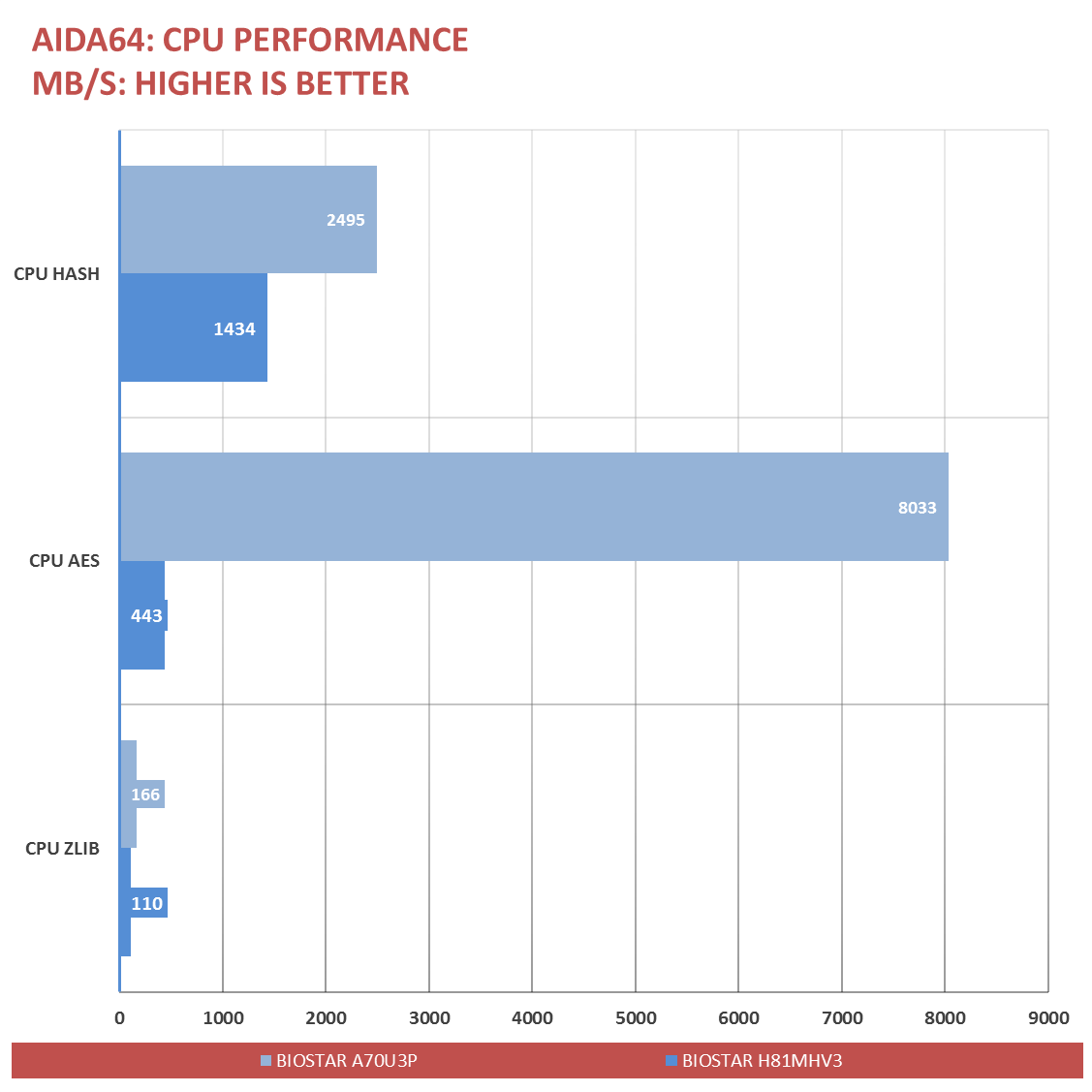 CINEBENCH R11.5 is a real-world cross-platform test suite that evaluates the computer's performance capabilities. CINEBENCH is based on MAXON's award-winning animation software CINEMA 4D, which is used extensively by studios and production houses worldwide for 3D content creation.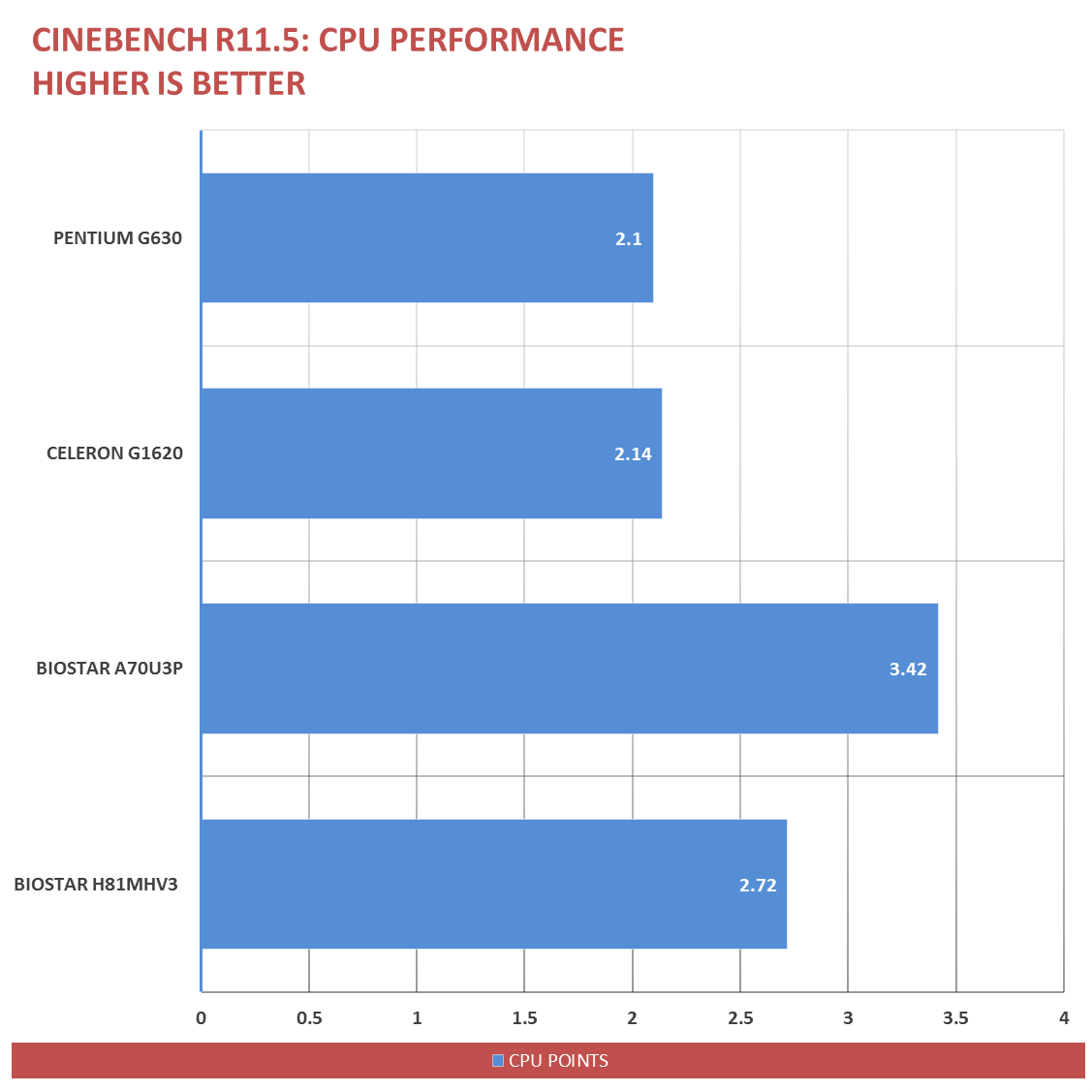 wPrime is a multi-threaded benchmarking application designed to measure the raw computational power of a CPU. It can be configured to run on a custom number of threads to accommodate multi-core CPUs.
MEMORY PERFORMANCE:
AIDA64 is a streamlined Windows diagnostic and benchmarking software for home users. We'll use the built-in memory benchmark tools of the AIDA64 to determine the memory's performance.
SATAIII STORAGE PERFORMANCE:
Crystal Disk Mark measures the sequential reads/writes speed of your storage devices. It also measures random 512KB, 4KB, 4KB (Queue Depth=32) reads/writes speed.
USB 3.0 STORAGE PERFORMANCE:
Crystal Disk Mark measures the sequential reads/writes speed of your storage devices. It also measures random 512KB, 4KB, 4KB (Queue Depth=32) reads/writes speed.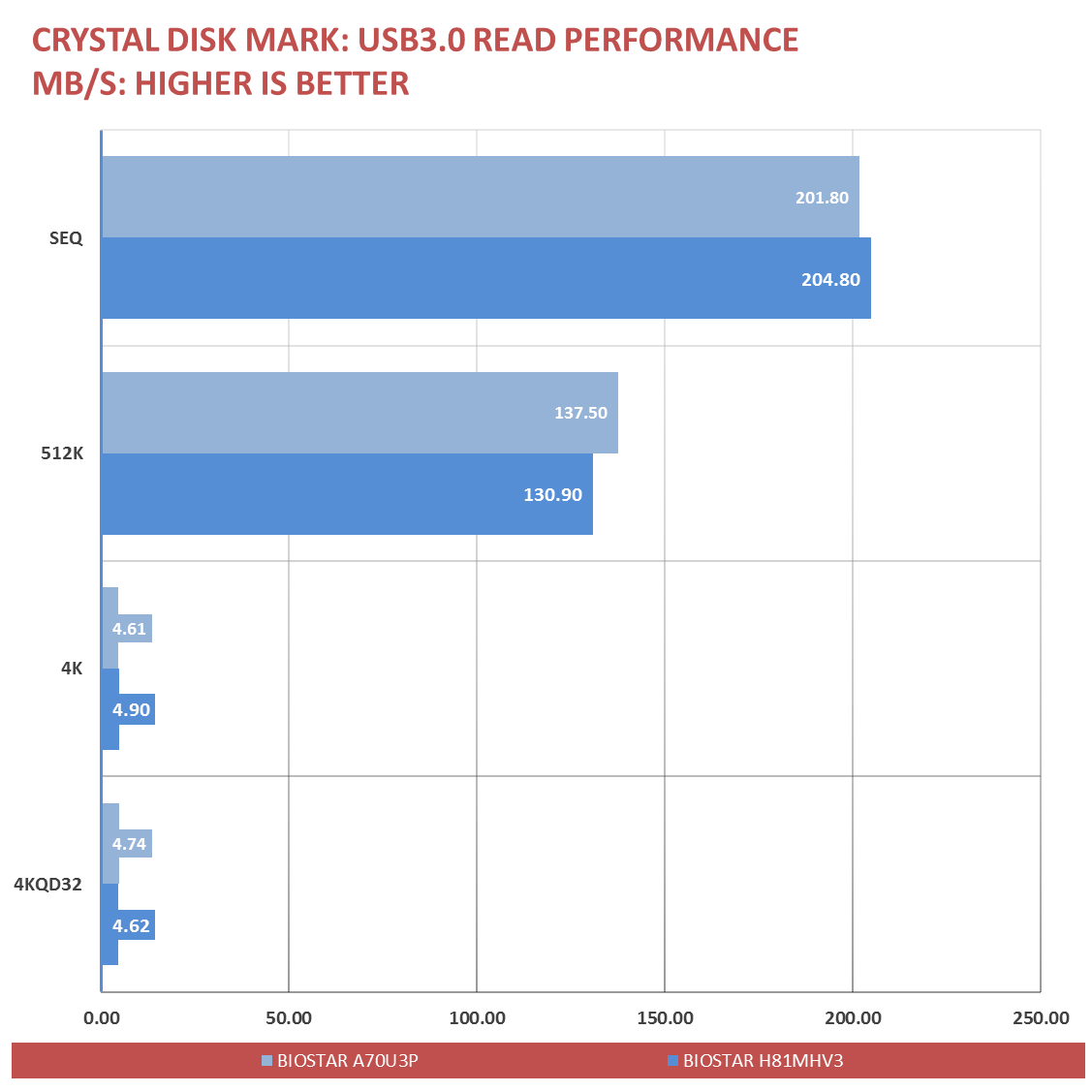 POWER CONSUMPTION:
We check to see how motherboard makers tune their default BIOS settings and see how it impacts power consumption. The system is left to idle for 30 minutes before readings are taken, and load data is taken 30 minutes while AIDA64 Stress Test is running. Power readings are taken for the entire system from the socket. Note: The H81 setup has a GTX 970 installed.
PURO Hi-Fi ANY GOOD?
RightMark Audio Analyzer (RMAA) is a suite designed for testing quality of analog and digital paths of any audio devices. The results are obtained by playing and recording test signals passed through the tested audio path by means of frequency analysis algorithms. A more common mark is also provided for those unfamiliar with measured technical parameters. – https://audio.rightmark.org
| | | |
| --- | --- | --- |
| Frequency response (from 40 Hz to 15 kHz), dB | +0.26, -0.39 | Good |
| Noise level, dB (A) | -81.0 | Good |
| Dynamic range, dB (A) | 81.0 | Good |
| THD, % | 0.131 | Average |
| THD + Noise, dB (A) | | |
| IMD + Noise, % | 0.257 | Average |
| Stereo crosstalk, dB | -78.1 | Very good |
| IMD at 10 kHz, % | 0.328 | Average |
| General performance | | Good |
PERFORMANCE ANALYSIS & CONCLUSION:
The Biostar A70U3P is a motherboard under 50 bucks, but make no mistake as it performed really well throughout the benchmarks, especially with the A10-7700K around where it featured great CPU performance and is almost twice as powerful compared to the Pentium G3258 Anniversary Edition on some cases. – Which is not surprising, really.
Aesthetics and build quality looks and feels on par compared to the giants of the motherboard industry which is always a good thing. Layout is good, components are well within their designated PCB legend printings, and I cannot seriously complain anything with regards to this section.
A motherboard's computing performance actually depends on the performance of the individual parts you'll put into it, but SATA, USB, and Audio performance plus, other expandability options are the main aspects when choosing a motherboard. In this case, the A70U3P from BIOSTAR passed with flying colors. A budget chipset is still a budget chipset I suppose. I'm glad that overclocking is an option though, and might be the sub 50 USD overclocking friendly board for the AMP APU aficionados. We did try to overclock if you're asking, but we just managed to pull a small 4.0 GHz OC which is just 200 MHz faster than the stock settings. Not really a benchmark friendly figure but I guess you should know. Memory kit support is something I should praise though, as it managed to run my 2400MHz DIMMs without an issue. Clearly, that should help boost gaming performance of any APUs.
Now as for the PURO Hi-Fi audio, it seems plausible but further testing shows that THD + Noise could be improved. A general rule of thumb in the audio department is that your device should feature -80 dB or lower in the THD+N department for optimal sonic response. Meaning, the amplification should be as close to the source if it features -80 dB below. Otherwise, it should sound colored. I might be just nitpicking here though. It's not a dedicated source anyway but is still a better choice than non-amplified, straight out of the box solutions.
At around 2, 195 Pesos, the A70U3P is a solid budget oriented motherboard from BIOSTAR. It is not the fastest, but given its full support to the current standards of the industry, and well rounded features, it is hard to miss.
BIOSTAR Hi-Fi A70U3P
PERFORMANCE -

8/10

BUILD QUALITY -

7/10

FEATURES -

8/10

AESTHETICS -

7/10

VALUE -

9/10
Summary
At around 2, 195 Pesos, the A70U3P is a solid budget oriented motherboard from BIOSTAR. It is not the fastest, but given its full support to the current standards of the industry, and well rounded features, it is hard to miss.