If you ask anyone within the hobby right now, buying a brand spanking new gaming PC is the last thing you'll hear. The most obvious reason here is that we're in a pandemic, so saving up for a possible rainy day is the best course of action. The shortage of components making up most electronics is also a huge factor here, driving up prices to previously unheard of levels. It is discouraging, but not to the point where you couldn't buy anything rational.
With that in mind, we partner up with ASUS Philippines to share what possible combination of components would really make up for a rock solid 1080P gaming build should you have a set budget of around ₱70,000 PHP. This of course has been spoiled a bit by the title, specifically featuring the ASUS TUF Gaming B560M PLUS (Wi-Fi) and the TUF GTX 1660 Super OC 6GB as one of the many components of choice. That said, we are going to test their performance and how these components impacts the build based on their features and specifications.
Disclosure: ASUS Philippines sent a full build for this assessment. The company asked me to share the key features and specification of the motherboard and graphics card. Other than those things said, all thoughts and opinion are of my own.
ASUS TUF Gaming Alliance PC Build
ASUS Philippines sent a fully built Gaming PC based on our components of choice so we could simulate what a full-blown ASUS inspired system could provide in terms of performance and features. This of course also allowed us to check what the build would look and feel like in real life – as opposed to pen and paper style build guides.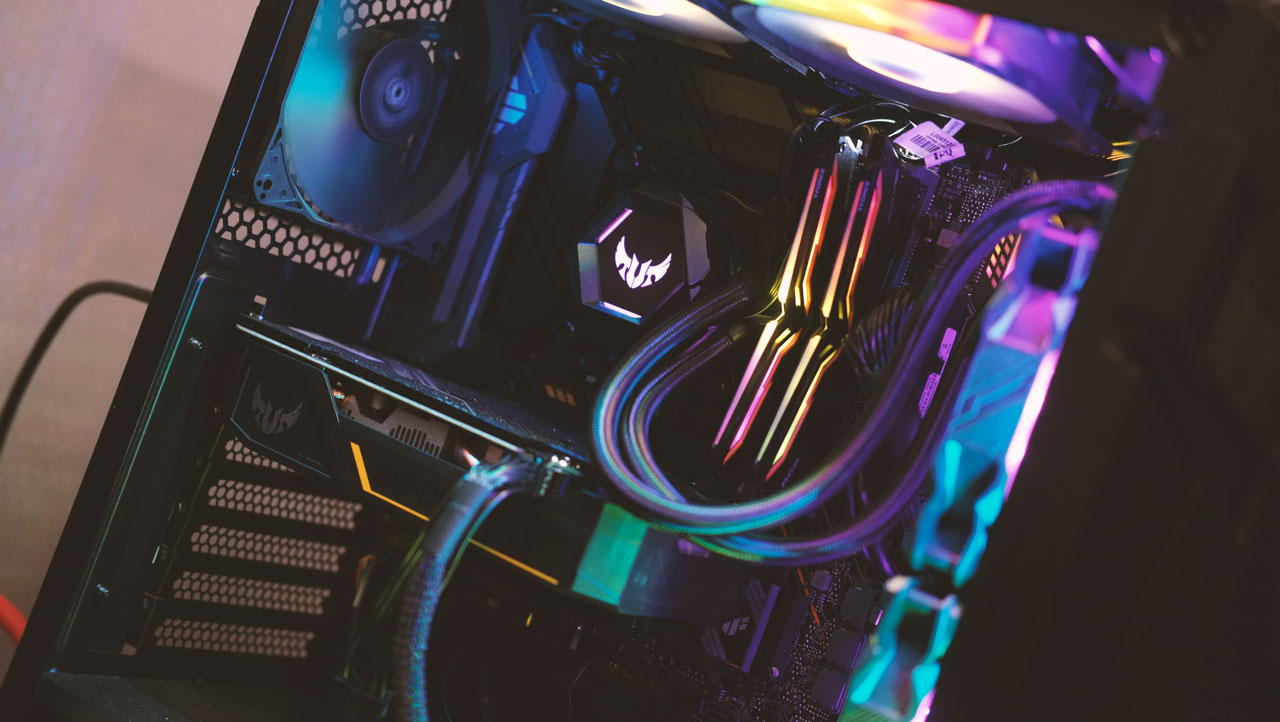 I initially thought it would look ugly, maybe bland at best. Turns out that it's not a hot mess after all since there's an actual synergy made here all thanks to the TUF Gaming Alliance. This initiative is a massive collaboration between ASUS and other major-brands within the industry to provide seamless integration with each other based on the qualities set by the TUF sub-brand. That includes guaranteed compatibility – both hardware and software wise, along with laboratory tested reliability. These are the driving factors for the extra cost involved with the TUF branded products.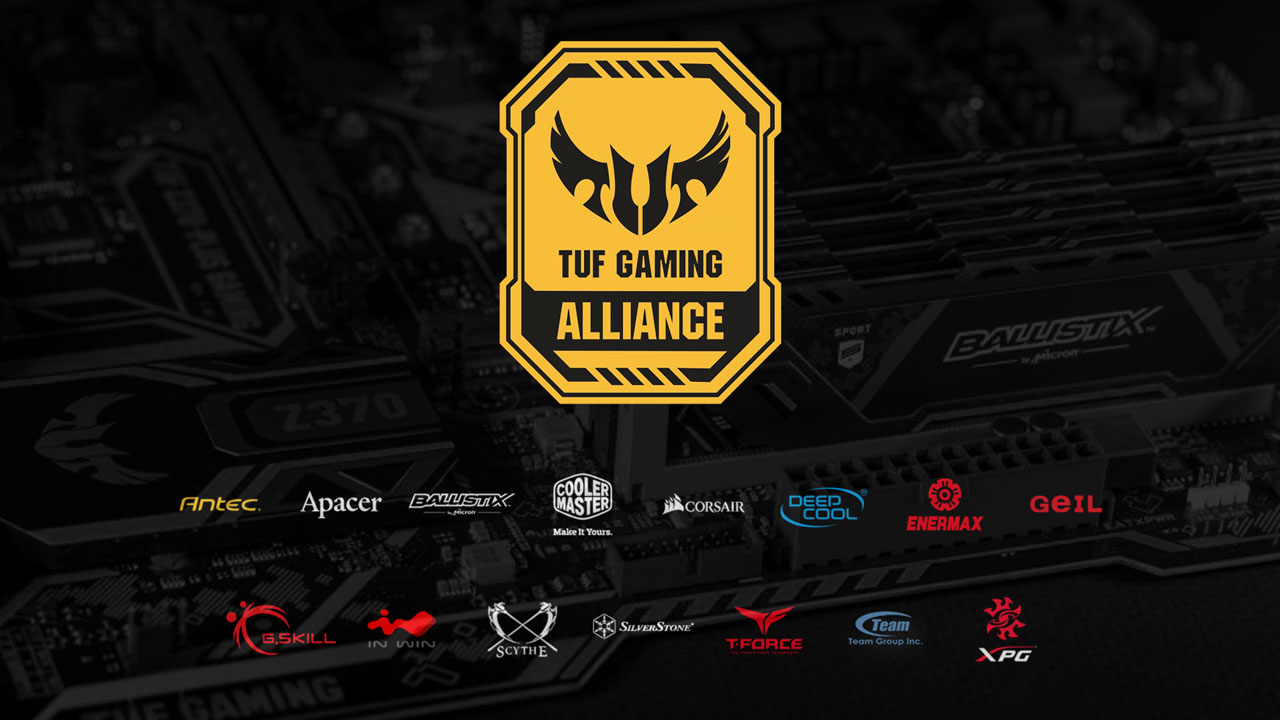 If you are interested on this kind of build, I have provided the full specifications along with the lowest local retail price of each components as of October 15th, 2021. Total cost of the build is about ₱64, 348 PHP. Price is erratic this time of the year especially with the pandemic and the shortage considered. This impacts all components but the graphics card prices swings the most. That said, if you can't find the graphics card at its reported price, you may check out the ASUS Phoenix GTX 1660 OC and the TUF Gaming GTX 1660 Ti at ₱21,999 and ₱26,750 PHP respectively.
ASUS TUF Gaming Alliance PC Build, Total: ₱64,348 PHP
Components
Model
Price, PHP
CPU
Intel Core i5-10400
9,999
Motherboard
ASUS TUF Gaming B560M-Plus (Wi-Fi)
7,320
Cooler
ASUS TUF Gaming LC 240 RGB
5, 550
Memory
T-Force Nighthawk RGB DDR4-3200 16GB
5,570
GPU
ASUS TUF GTX 1660 Super OC 6GB
23,950
Storage
Seagate Barracuda 510 SSD 500GB
4,100
Case
ASUS TUF Gaming GT301
3,999
PSU
ASUS TUF Gaming 650B 650W
3,860
In light of this, we could shave thousands of Pesos by going a bit more frugal on the memory kit, cooler, case, power supply and the storage options. The adjusted selection below should be more in line with the intention.
Adjusted 50K Gaming PC Build
With the adjustments made, we now have a build worth ₱52,469 PHP. This exactly saved us ₱11,879 PHP by sacrificing aesthetically appealing components along with a bit of performance headroom. Note that most of the prices shown here were taken from PCHub's Online Price List.
Adjusted 50K Gaming PC Build, Total: ₱52,469 PHP
Components
Model
Price, PHP
CPU
Intel Core i5-10400
9,999
Motherboard
ASUS TUF Gaming B560M-Plus (Wi-Fi)
7,320
Cooler
Intel Boxed Cooler
—
Memory
Patriot Viper Elite 2 DDR4-3200 16GB
3,960
GPU
ASUS TUF GTX 1660 Super OC 6GB
23,950
Storage
Kingston NV1 SSD 500GB
3,260
Case
Tecware Forge M TG
1,620
PSU
FSP Hyper K 600W
2,360
The adjusted build also allows us to choose between a set of capable gaming peripherals to complete the gaming PC's set price of ₱70,000 PHP. With this budget, you could get a Full HD 144Hz IPS gaming monitor with enough leeway for a mechanical keyboard, a gaming mouse and a headset.
With the build out of the way, let us dive a bit onto the specifications and features of the core components.
Intel Core i5-10400
Featuring a 6-core, 12-thread configuration with a maximum turbo clock of 4.30GHz, the, the Intel Core-i5 10400 processor is an easy recommendation. It could handle both single-threaded and multi-threaded loads with ease while still featuring a menial 65W TDP. The more recent Core i5-11400 is also a great choice here if you are seriously considering PCIe 4.0 devices in the near future. It's a bit pricey at the moment though.
ASUS TUF Gaming B560M PLUS (Wi-Fi)
The motherboard is the nervous system of any build; interconnecting each components like a complicated breadboard – a reason why it's important to choose a capable one, really. We have chosen the B560 chipset for a variety of reasons. First, the H510 chipset though cheap, doesn't have enough I/O for this build's caliber. The B460 chipset on the other hand only supports DDR4-2666 at maximum, severely limiting the memory bandwidth of our build. On the other hand, the H570 chipset is basically the B560 but with extra PCIe lanes, I/O and RAID support – at a higher starting price point.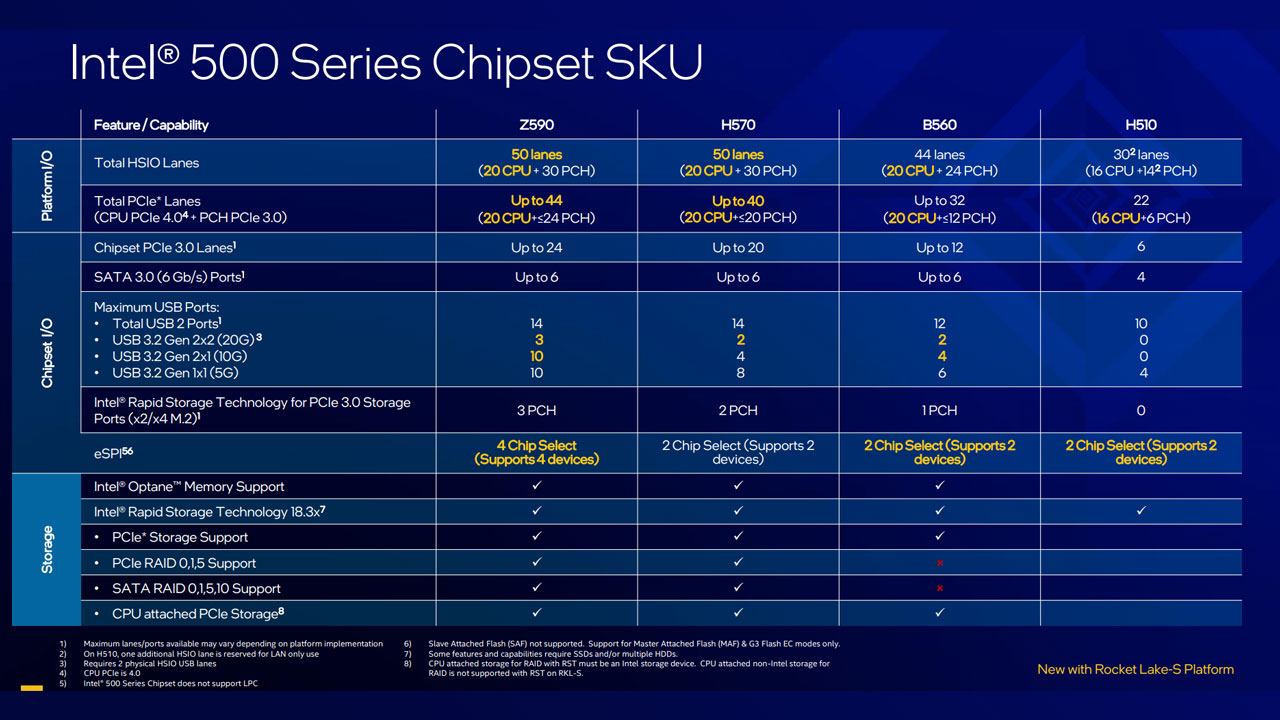 Out of all the B560 selection, we have obviously chosen the ASUS TUF Gaming B560M PLUS (Wi-Fi). This is has been made easy with its major selling points that we will expand further.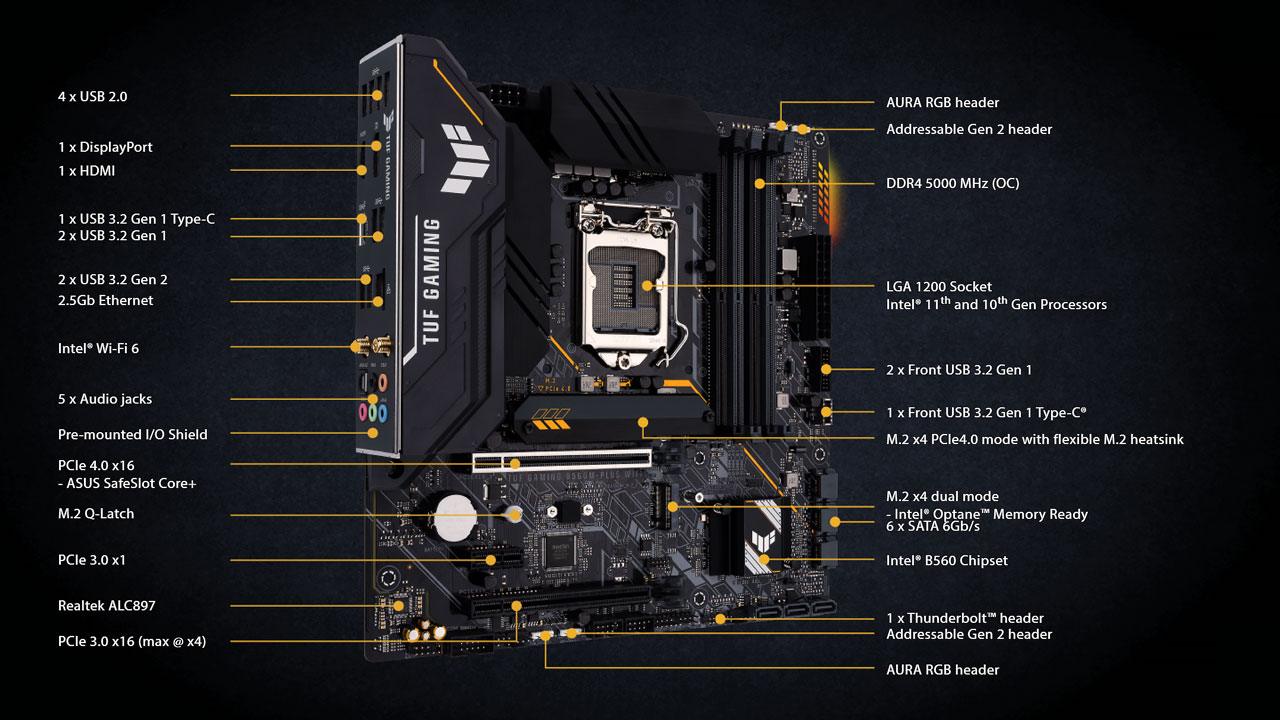 The B560M PLUS, like many TUF motherboards, comes with enhanced VRM design via its 8+1 power stage. ASUS also revamped the 12V 8-pin power connector to tight specifications, ensuring flush contact with the PSU. They call this feature ProCool due to its ability to prevent hotspots and connector failure. This board is also rather thick, featuring 6 layers of PCB.
Now as for actual cooling, the motherboard comes with enlarged VRM heatsinks along with an integrated one for either the main or secondary M.2 slot. These are carryover upgrades from the TUF B460 motherboards.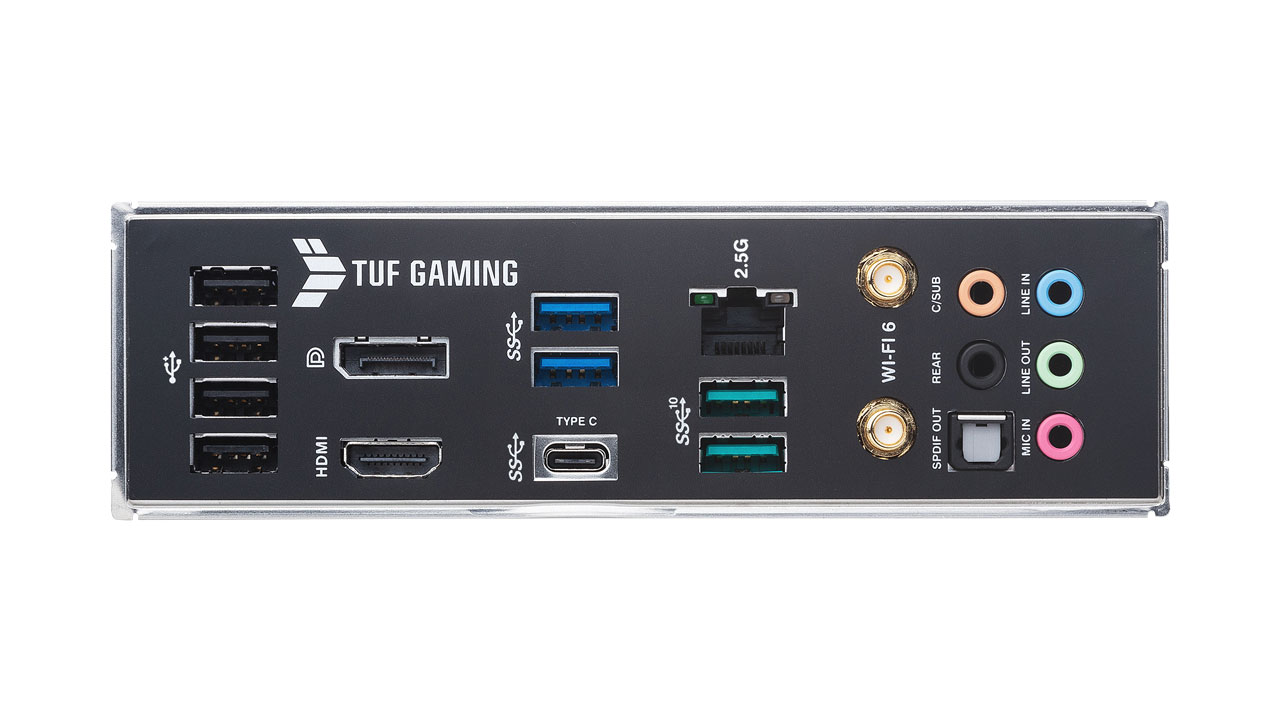 What I also like the most with this board is its inclusion of Wi-Fi 6 and 2.5GbE connectivity on top of the available I/O options. We actually have  Thunderbolt 4 support here along with USB 3.2 in both Type-A and Type-C configurations.
Last but not the least, the motherboard supports Two-Way AI Noise Cancelation. If that doesn't excite you, let me tell you it's a ₱1,800 PHP valued solution that you get for free. All these considered, the B560M-PLUS is almost dirt cheap.
ASUS TUF GTX 1660 Super OC 6GB
This is the center stage of the build and is the most expensive component on the list. Now taking into consideration that the prices of graphics cards swings the most, the ASUS TUF GTX 1660 Super OC 6GB is not really all that controversial of a pick; sitting comfortably below the more expensive GeForce RTX 2060.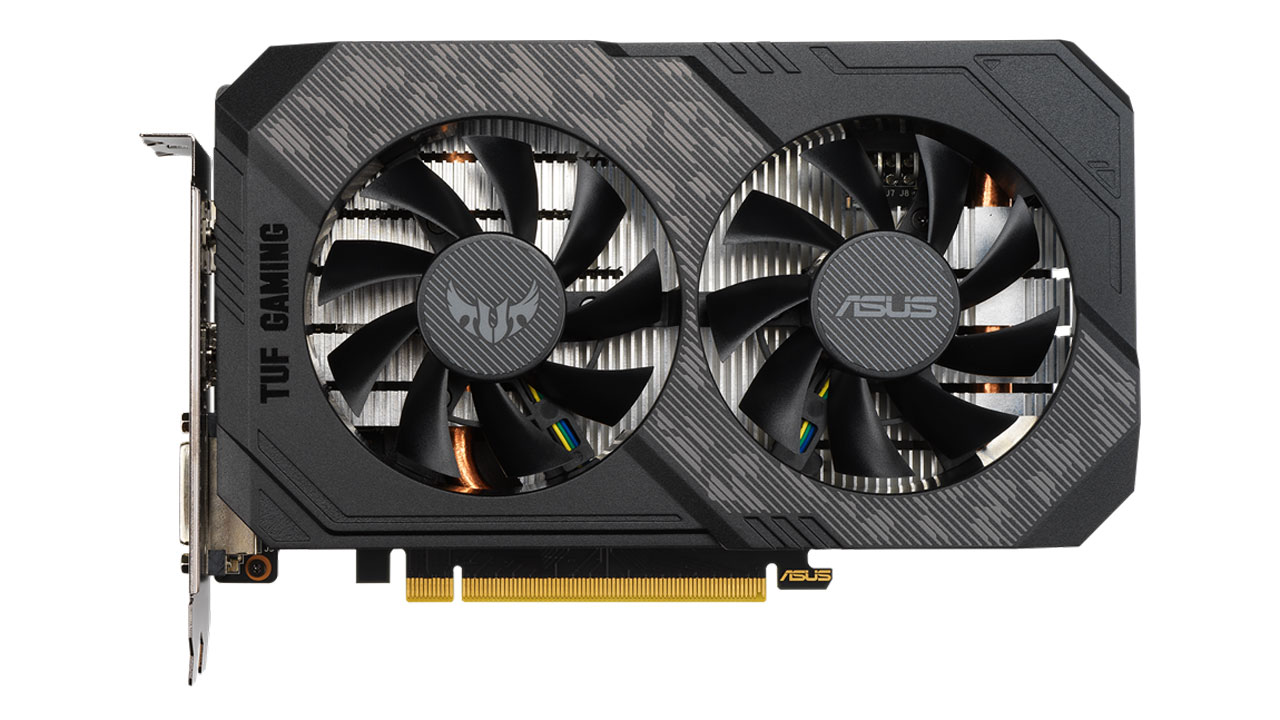 Bearing the part number TUF-GTX1660S-O6G-GAMING, this particular model is the factory overclocked NVIDIA GeForce GTX 1660 Super. We did a review here of the non Super variant ages ago so expect higher level of performance for this particular graphics card. Now if Ray-Tracing and DLSS is important to you, the RTX 2060 is your next best bet. Personally, DLSS is hard to pass but this card still got support for the NVIDIA Studio, DirectX 12, Ansel, and of course GeForce Experience at a more attainable price point.
As for its core features, the TUF GTX 1660 Super OC comes with a dual fan cooling solution along with IP5X dust resistant materials. Bearing the TUF brand name, the card has been subjected to a rigorous number of validation tests on top of its innate synergy with other TUF components such as our motherboard of choice.
Test Setup and Methodology
A gaming PC must be tested with games and that's what we're going to do with this build. Graphics option of choice is the high preset with a few changes. That said, regardless on how the preset handles these settings, vertical sync, anti-aliasing, motion blur, depth of field and other brand exclusive features are disabled. Anisotropic filtering on the other hand remains at x16. This should be a good balance between performance and visual fidelity. This is also how I play my games.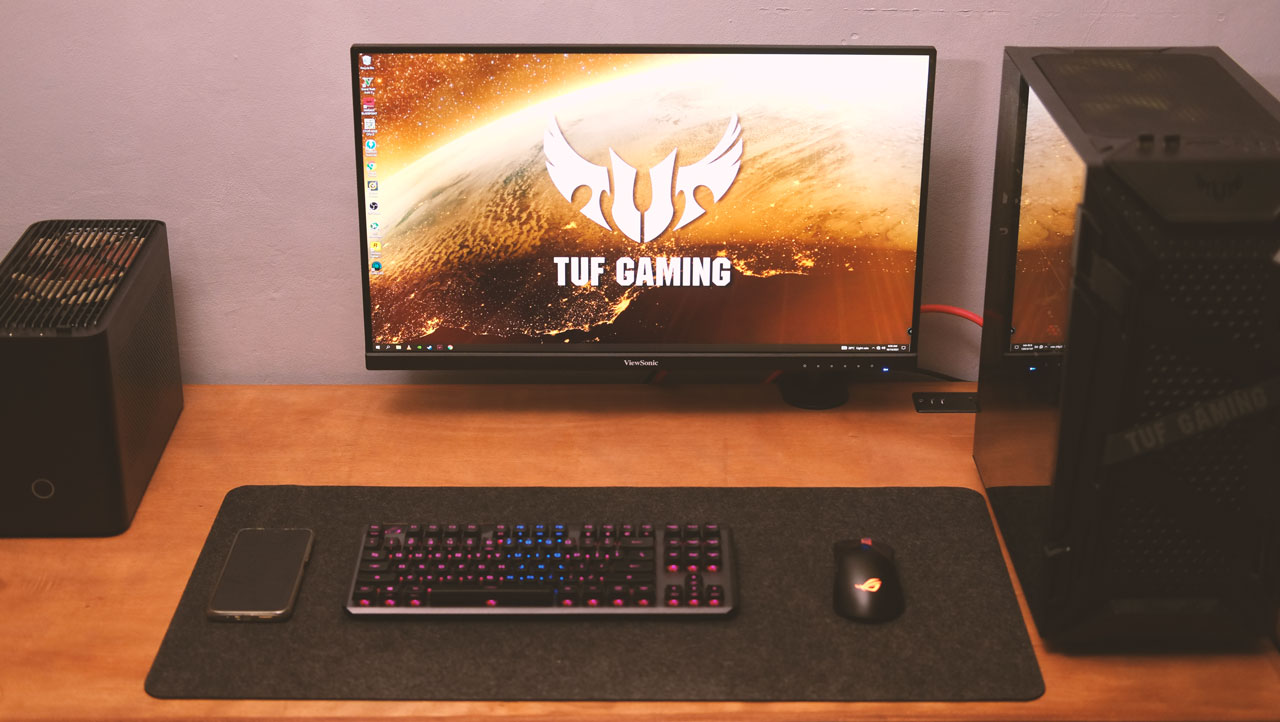 Pictured above is the configuration of our test system. We got the recently launched ASUS ROG Claymore II wireless gaming keyboard here along with the ASUS ROG Gladius III wireless gaming mouse. Not pictured is the ASUS ROG Delta S gaming headset. A full build with this exact setup will cost you about 100K – with a QHD 144Hz gaming monitor considered. A different kind of competitive advantage comes at a price.
Temperature, Power and Noise
Since this is no official review, I took simple measurements of the GPU and CPU temperature along with the total power consumption and the noise output of the system unit.
| | | | | |
| --- | --- | --- | --- | --- |
| Power State | CPU Temp | GPU Temp | Power Draw | Noise Level |
| Idle | 31ºC | 48ºC | 78W | 32dBA |
| Load | 65ºC | 75ºC | 267W | 41.3dBA |
Temperature output is excellent – way below the Tj. Max of both the CPU and GPU while still maintaining a really low noise level of 41.3dBA at load – a courtesy of the ASUS TUF Gaming LC 240 RGB. Power on the other hand also looks good at 267W maximum.
Synthetics
PCMark 10 is a benchmark tool developed by UL. It features a comprehensive set of tests covering wide variety of tasks.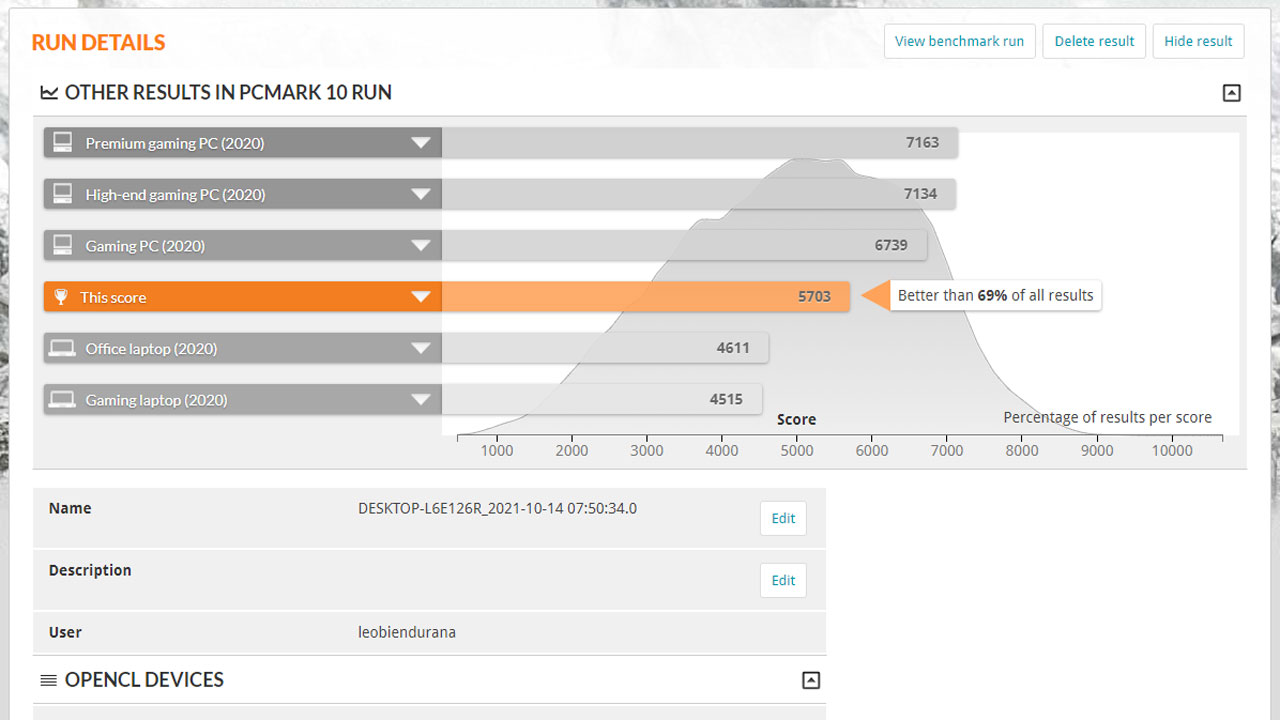 3DMark: Time Spy is an API benchmark developed by UL. It runs on an in-house engine, utilizing the DirectX 12 API.
The PCMark score seems fine, sitting at better than 69% than most PCs tested with the same software. That puts it at the top 31% when it comes to its overall performance – which is not bad at all. The ASUS TUF Alliance build also measured well with the 3DMark: Time Spy benchmark, featuring a score of 5,993. According to the benchmark, this will net us 75+ FPS at Battlefield V at ultra settings using the 1080P resolution.
Gaming
Tom Clancy's Rainbow Six Siege is a multi-player FPS developed by Ubisoft. It runs on the AnvilNext 2.0 engine, utilizing the DirectX 11 and the Vulkan API. The built-in benchmark tool is used for this run.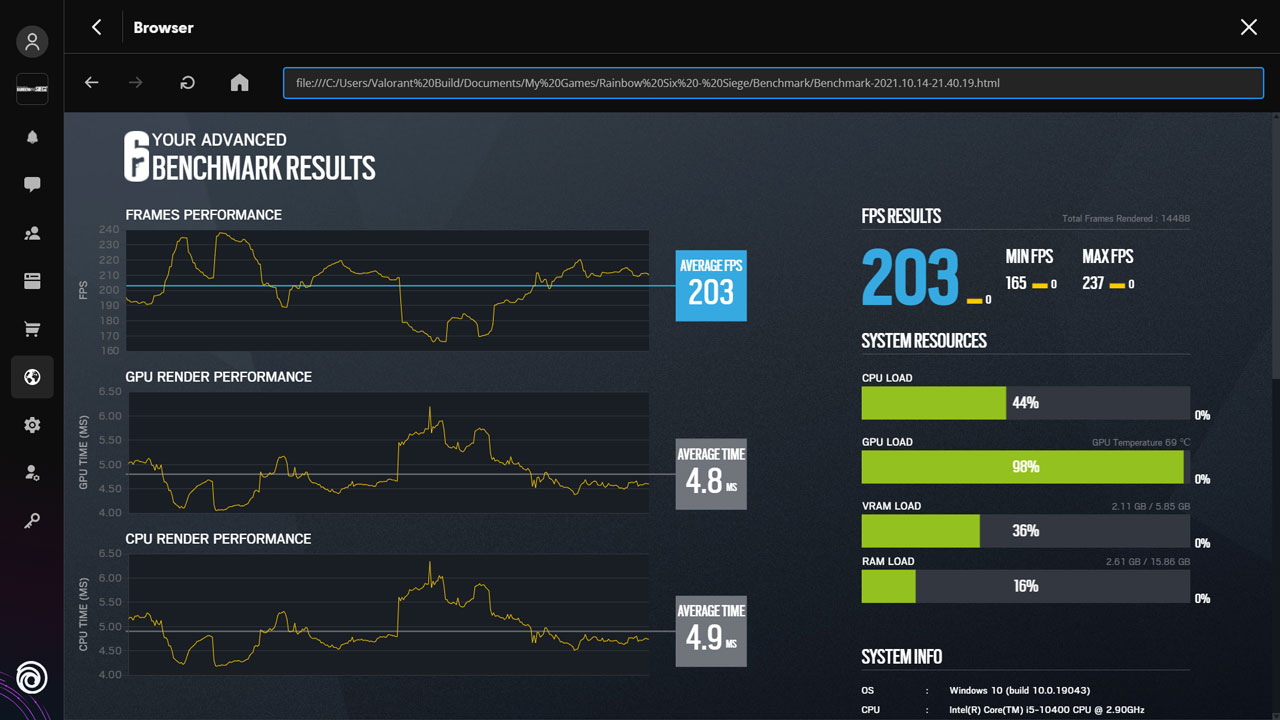 F1 2020 is a multi-player racing game developed by Codemasters. It runs on the Ego Engine 3.0, utilizing the DirectX 11 and DirectX 12 API. The built-in benchmark tool is used for this run.
Shadow of the Tomb Raider is a single-player adventure developed by Eidos-Montréal. It runs on the Foundation engine, utilizing the DirectX 11 and DirectX 12 API. The built-in benchmark tool is used for this run.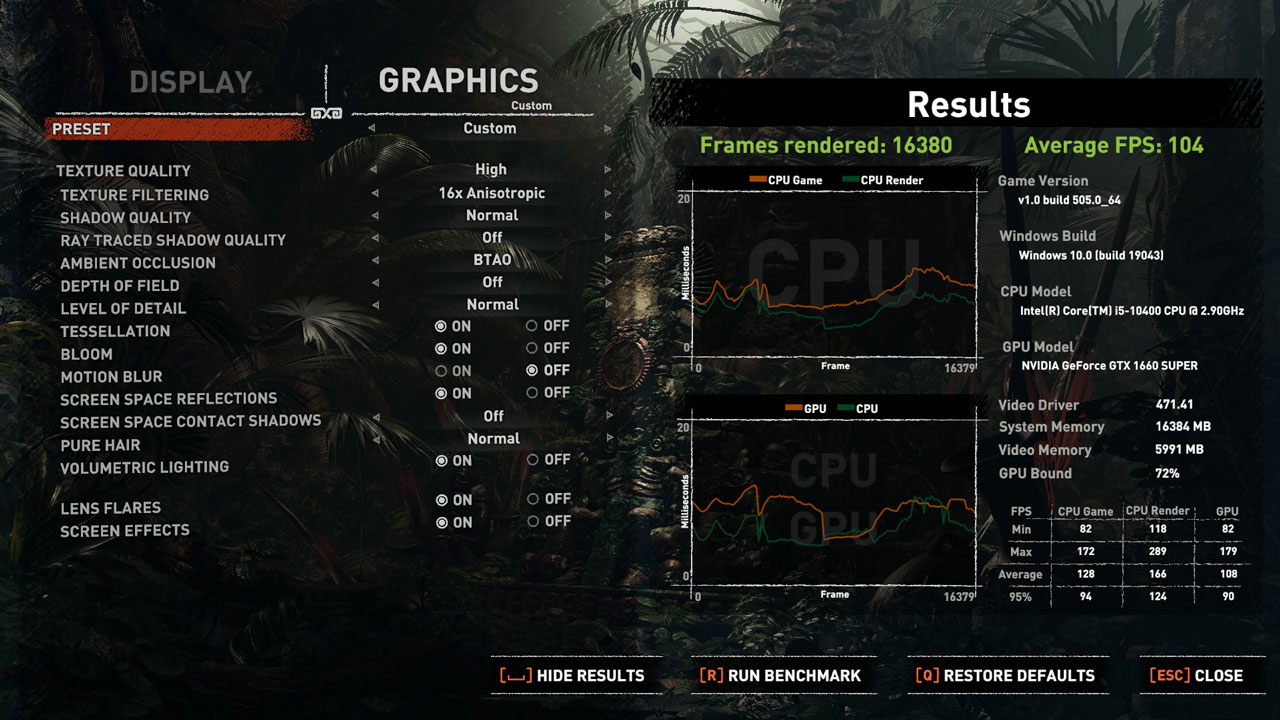 Total War: Warhammer II is a strategy game developed by Creative Assembly. It runs one the WarScape engine, utilizing the DX11 and DX12 API. The built-in benchmark tool is used for this run.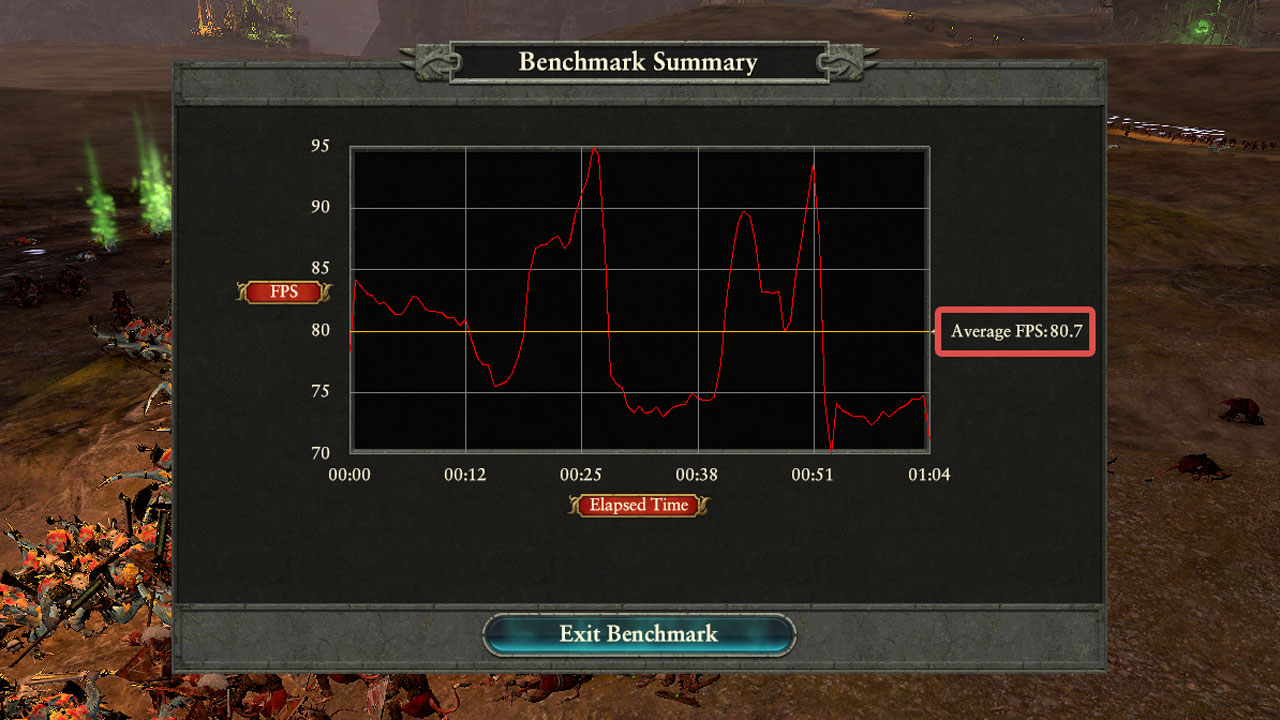 For our gaming benchmarks, the unit comes with an average performance of 135+ FPS. That's averaged based on the four results above. This is a good overall gaming performance output relative to the current price of boutique gaming builds available in the market right now.
Final Thoughts
The ASUS TUF Gaming Alliance is a fun build to explore. It comes with excellent main components and showcased what an almost 100% ASUS based gaming PC is all about: component synergy via design, compatibility and features wrapped around the main idea of utmost reliability.
With everything out of the way, I hope that this small feature about the ASUS TUF Alliance helped you to decide what components you should choose or focus on when building a gaming PC. Ultimately, this should also help you realize that there's more to a good component over the cheapest one that you could find. Some PC Builder also prefer to configure gaming PCs this way. I also like to build setups considering the main components first hand.
Warranty and the RMA process are also some of the things that you have to consider in this hobby. With ASUS though, you'd get a minimum of 3 year warranty for motherboards and graphics cards. That's on top of the excellent community driven customer support.