ASUS wants to appeal to the Hi-Fi audience with the ASUS ROG Delta S. This is basically the ROG Delta with an MQA renderer built-in. That said, it is still powered by an ESS DAC – albeit not the 9218 but the ESS 9281. These are commonly found on higher end phones and USB DACs.
For the uninitiated, MQA stands for Master Quality Authenticated. It is an audio codec made for digital streaming and is a pretty controversial one at that. I aint touching it on this review so that's a disclosure from dear me right from the get go.
Disclosure: ASUS sent this unit as a return sample for the purpose of this review. The company did not ask me to say anything particular about it. All thoughts and opinion are of course my own.
Product Page: ASUS ROG Delta S
Price: ₱10,199 PHP (Retail)
Release Date: Q4 2020
Technical Specifications
Headphone
Design
Circumaural, Closed
Transducer
Dynamic, 55mm
Frequency Response
20-40000Hz
Impedance
32Ω
Sensitivity
—
Connectivity
USB Type-C
Microphone
Transducer
Dynamic
Polar Pattern
Uni-directional
Frequency Response
100-10000Hz
Sensitivity
-40dB
Dimensions
Length
—
Width
—
Height
—
Weight
300g
Packaging and Accessories
The Delta S is packed inside the usual ROG packaging. Not quite as extravagant as the ROG Theta's but it is still a fine addition to the shelf.
The product should come with the following items inside:
Main unit
Detachable microphone
User guide
ROG Hybrid pads
USB-C to USB 2.0 (Type-A) adapter
Design, Build and Connectivity
The ROG Delta S looks no different compared to the higher end ROG Theta. It comes with the same unorthodox "delta shaped" earcup design. Build is mostly plastic though and it creaks at the swivel joints. Not exactly the initial impression I'm asking for but for something with a DAC inside, this is pretty much one of the lightest headsets you could find.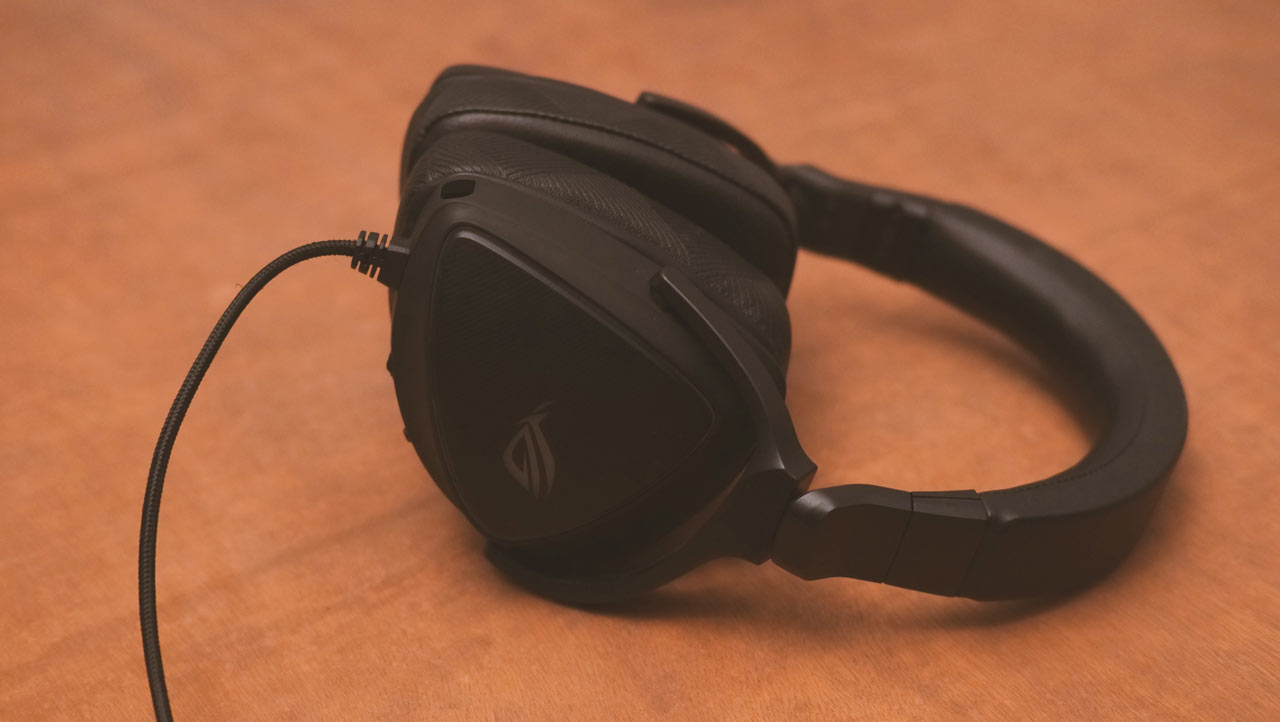 Now the Delta S comes with two pads: A PU leather by default and another pair made out of a breathable material. Depth and width for both pads are decent. These are attached like most pads though, similar to how you attach Sony MDR-7506 and HyperX Cloud pads. Depending on your patience on a given time of the day, swapping pads could be hard.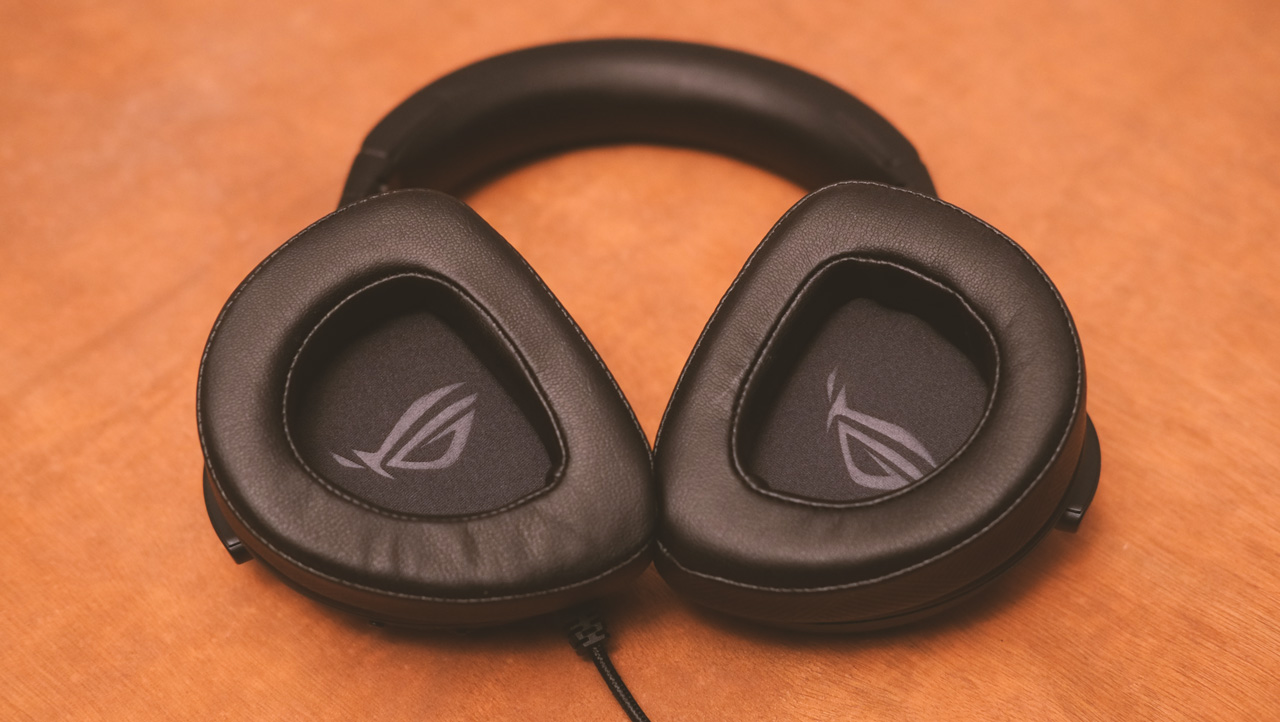 This headset comes with controls built into the left earcup. Lighting, mute and volume could be adjusted here. Of course with a DAC built-in, there's no reason for ASUS to create a headset with removable cables. A design decision that comes with its own issues. More on that later.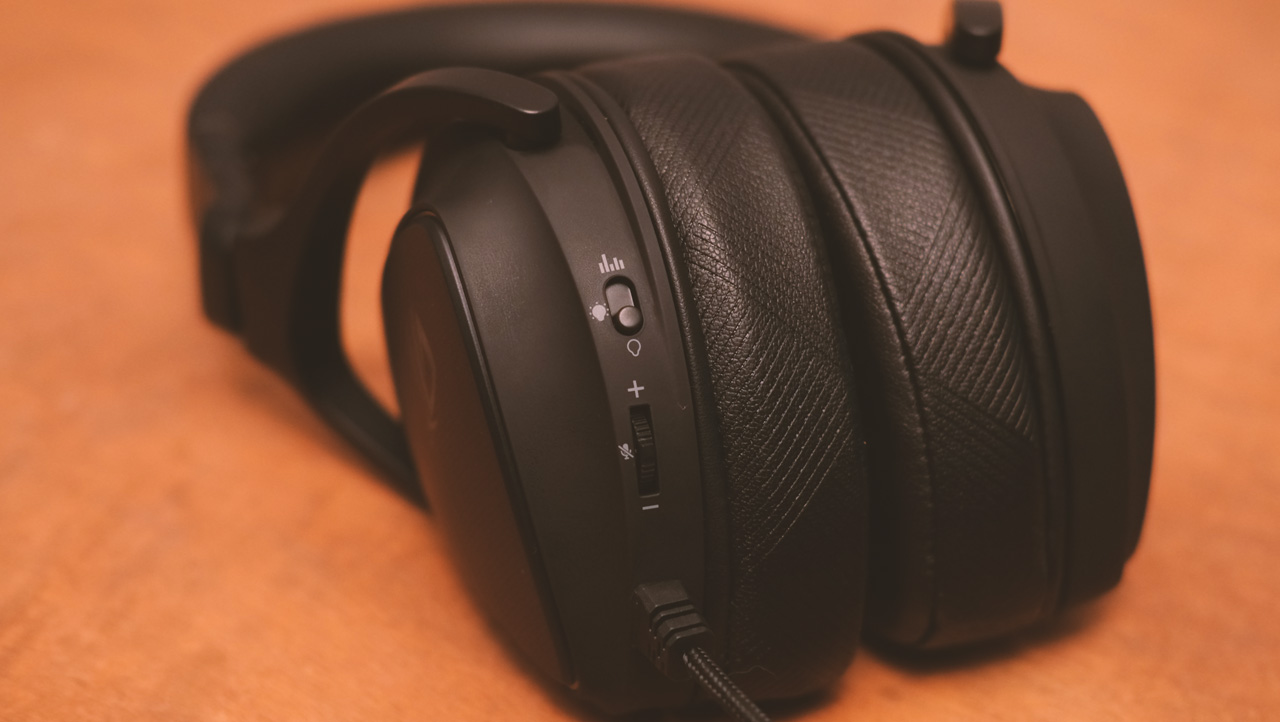 Since the ASUS ROG Delta S comes with its own DAC, USB power is definitely required to drive everything up. We have a 2 meter braided cable here terminating on a Type-C header so you could use this on devices with the such interface. ASUS also included a Type-C to Type-A adapter for the more obvious reason.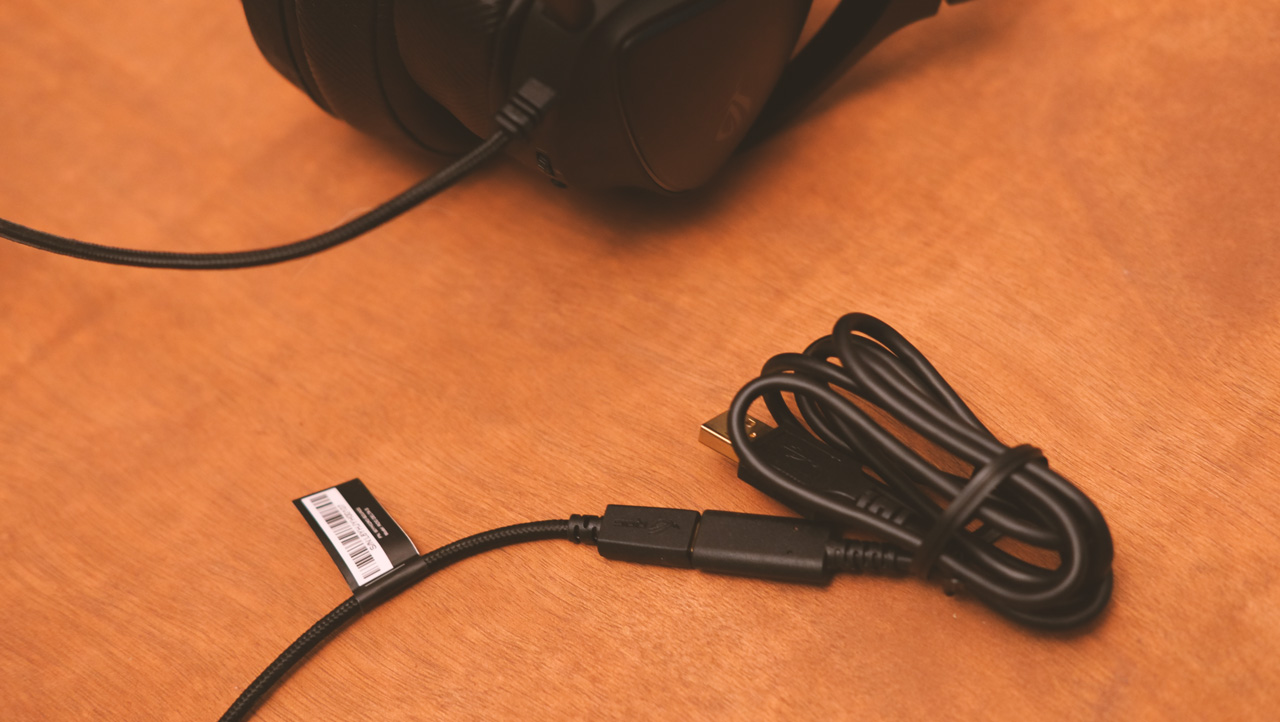 Overall build quality is somewhat just okay, even if compared to the similarly priced Sennheiser HD58X Jubilee – a headphone that I hold dearly as a reference under $200 USD. This thing has better looking plastics for sure but the creaking noise is just annoying.
Ergonomics
The ROG Delta S mounts just like your typical headband style circumaural headphone. It is a bit fat though with the massive cups and the thick pads in place. Clamp force is barely there at all (>300 gram-force), with bias at the top of the pads. That makes it uneven or unsettling and could lead to sealing issues. Weight is about 293.5 grams without the cable though so this headset is pretty light for how it looks. For your reference, my head's circumference measures at around 54cm so your comfort may vary.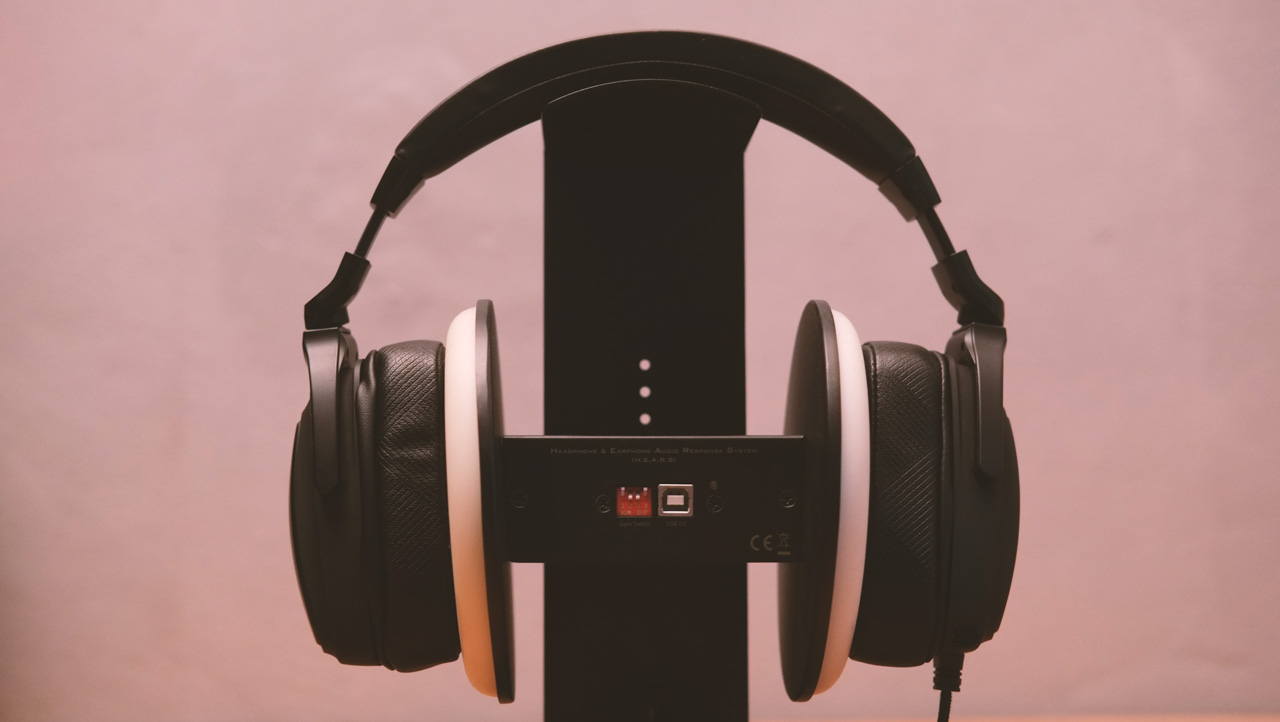 Now where ASUS actually failed here is the insulation between the electronics and the driver. A quick shot from our thermal camera after 15 minutes on the rig shows that the left side does indeed run hot – way hotter compared to your usual closed-back headset. External temperature reaches 35.2°C, while internal temperature rose by about 2.5°C over ambient which is 25°C at the time of this measurement.

Test Setup and Methodology
Our test setup relies on the measurements taken from Room EQ Wizard paired with MiniDSP EARS headphone test fixture. Audio chain has been made simple with the Topping DX7 Pro and Topping A90 for balanced and single-ended devices. It is important to note that we are testing the review sample after burn-in, with at least 24-hours of uptime. This is done so to negate the FOTB (fresh out the box) state of the DUT (device under test), yielding better benchmarking consistency.
Test Setup
Audio Chain
Topping DX7 Pro -> Topping A90 -> DUT
Test Fixture
MiniDSP EARS
Sampling Rate
24-bit, 48 kHz (PCM)
Software
Room EQ Wizard
Due to a number of factors – including the test fixture and its limitations, the measurements obtained here are not meant to be compared from various results you may find online.
Frequency Response vs Target
Sound Pressure Level is measured in Decibels (dB SPL). The test aims to check the frequency response and its adherence to the Harman inspired target curve from MiniDSP.
Overall, the ASUS ROG Delta S is a mostly pleasant sounding gaming headset with an obvious emphasis around the bass to the midrange area. There's this shelf between 50Hz and 1.3KHz that made it sound unnatural followed by a recess towards the upper midranges. This plays well with the peaks at the at upper mids and the treble region though – providing a more laidback listening experience. Notice the channel balance – or lack there of. This indicates a weak spatial performance.
Bass: Has good sub bass extension but goes into a shelf that gave it extra warmth. Possibly the best range this headset got – despite the sever lack of punch.
Mids: The shelf overpowered this area with the dip around 1-2KHz giving it a more laidback listening experience. I wouldn't mind this had ASUS decided to tune the headset without the shelf extending to the midrange proper. Hurts clarity and timbre by a good bit. This could be nasal depending on some vocalists.
Treble: Smooth, with the slightest hint of brightness and sibilance with those peaks around 3KHz and 4.5KHz – latter could be EARS related. The dip between 5-6KHz showed weakness on the treble though, missing the details I used to hear from higher end gears – a bit dark, yet still engaging. Acceptable performance still especially with that added energy around 9KHz. Not as bad as the mid range and is possibly my favorite range of the headset next to the bass.
Total Harmonic Distortion
Distortion is measured in Percentage (%). The test aims to check the difference between the fundamental signal and the harmonic distortion.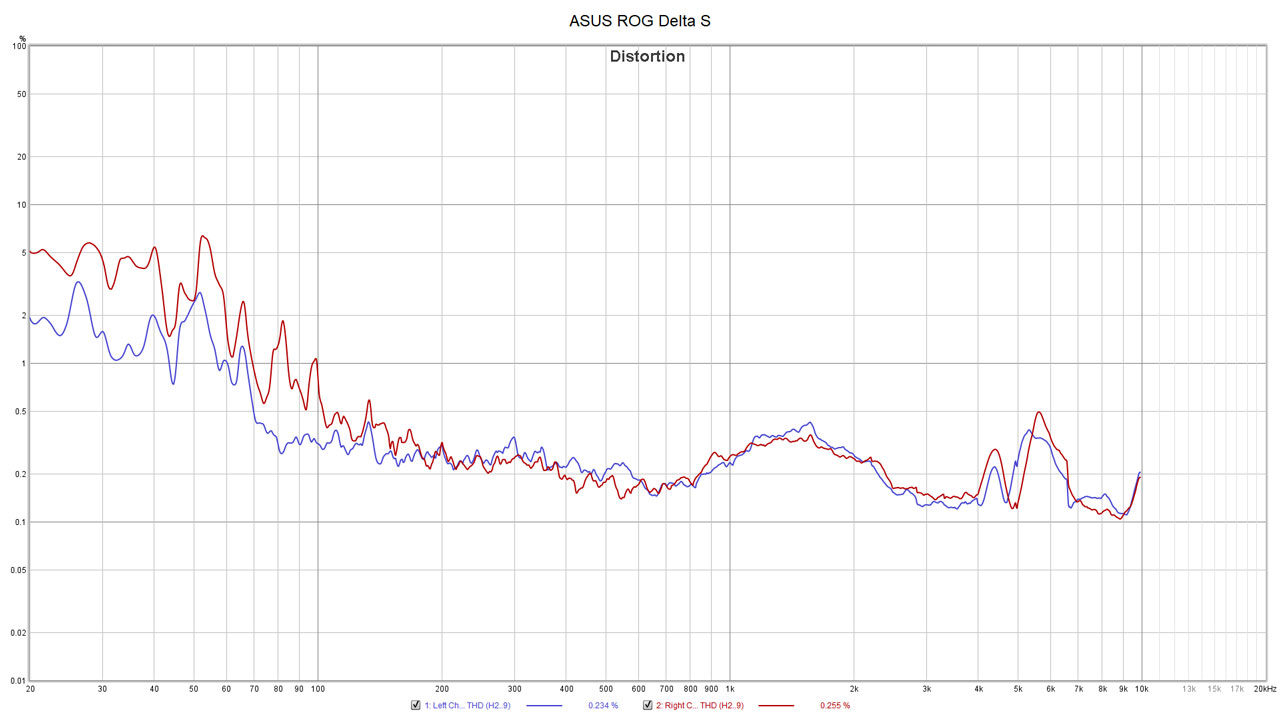 Compared to the left channel, the right channel has higher THD at the sub bass region. Nothing to worry about here though.
Group Delay
Delay is measured in Milliseconds (ms). The test aims to check the amplitude over time across the frequency range.
Group delay performance is mediocre – least for the right channel where it took a considerable amount of time for it to reach the maximum amplitude at the bass region. This could explain the lack of control here.
Cumulative Spectral Decay
Decay is measured in Milliseconds (ms). The test aims to check the energy content over time across the frequency range.
There are a lot of resonance at the bass region. The CSD also suggested the transducer doesn't adhere to the frequency response as far as decay is concerned.
Noise
Sound Pressure Level is measured in Decibels (dBA). The test aims to check the noise isolation and leakage of the headphone.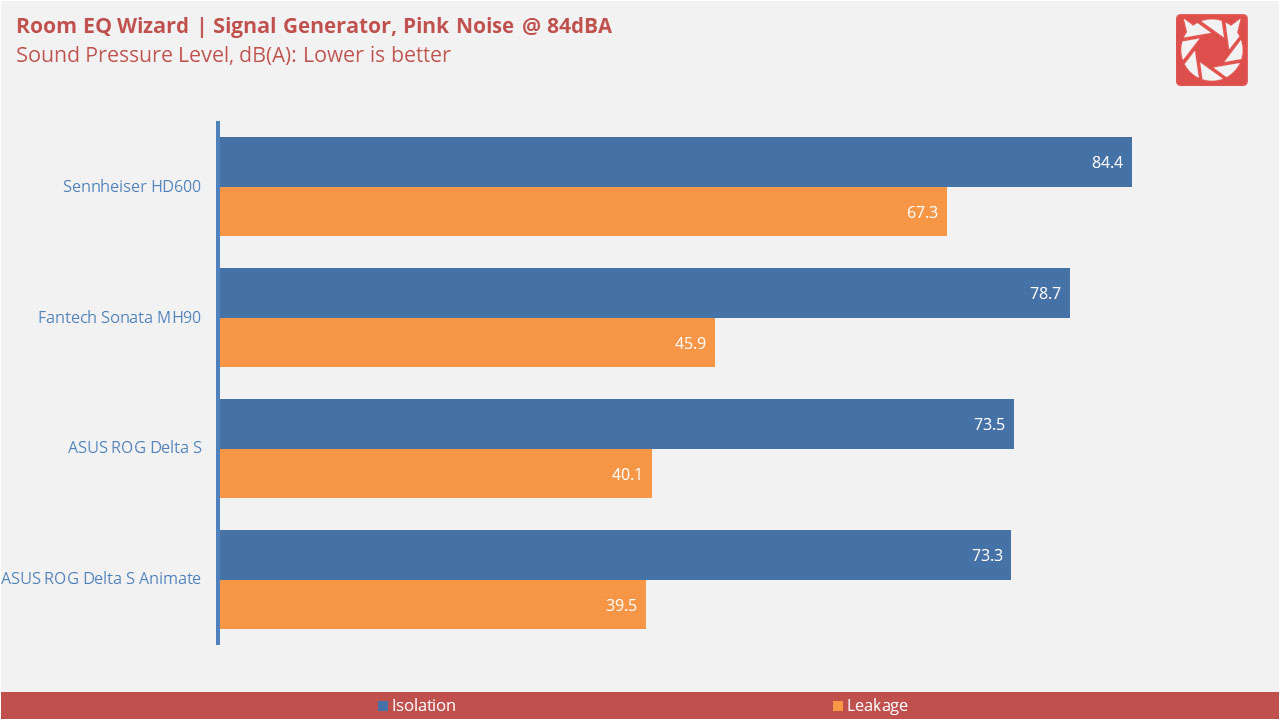 Isolation and leakage performance are excellent.
Features
The ASUS ROG Delta S supports the once hailed Armoury Crate software. I find this software tedious to work with for a variety of reasons but if personalized utilization of the Delta S is what you are after, it's a requirement.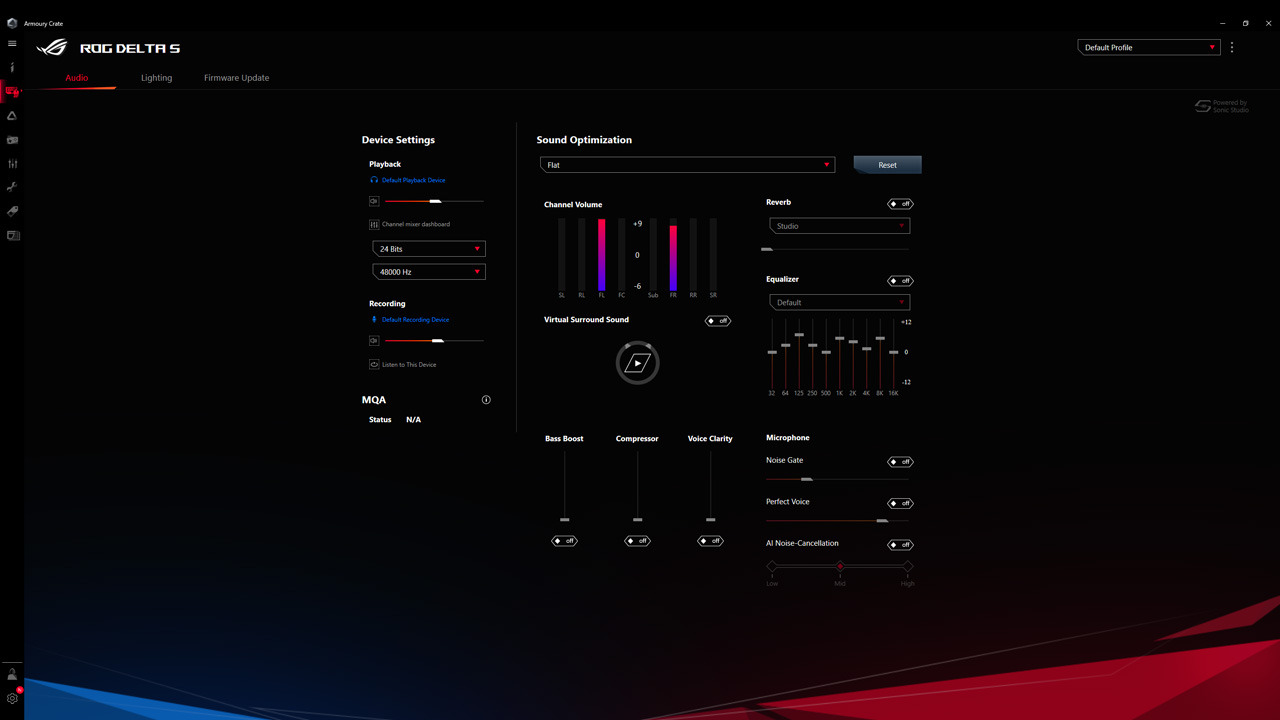 Equalization via the bundled software works but I'd rather go with parametric EQ software for better accuracy and stability. I had troubles measuring the EQ profiles provided by the software due to the instability, I just decided to throw the towel and call it quits without testing them. Now lighting is of course also configured here. Lotsa effects here that you could use for the RGB LEDs located on the cups – as seen on the thumbnail.
Since this is a headset, we've also tested the AI noise cancellation capable microphone. If you are interested on the actual recording made, you may check it out here.
Final Thoughts
So, what we have here is a generally decent sounding gaming headset that could be improved upon with minor EQ around the bass and mid regions. What bothers me are the following: The hot spot at the left and the channel imbalance. Both of these issues are located at the left channel or coupling but are totally unrelated to each other. We could say it's just a coincidence but it amounts to a different kind of trouble for the Delta S. I cannot simply recommend it with confidence featuring these compounding issues. And don't forget the creaking noise too.
In closing, the ASUS ROG Delta S is a pleasant sounding gaming headset but sadly, it is not worthy of your attention. Maybe get this once on sale. Make sure it's at least half the price to get even.
ASUS ROG Delta S Gaming Headset
Performance -

7/10

Build Quality -

5/10

Connectivity -

7/10

Ergonomics -

6/10

Features -

9/10
Summary
ASUS is onto something here but the issues with the headset far outweighs its positive aspects.