PC Gaming isn't that all too inexpensive, contrary to what most of us believes especially if you're on a budget for a mobile yet capable notebook to game with. This has been a problem for quite a while personally, ever since my sister asked me to canvass a notebook for her studies – and gaming needs. Without exceeding the allotted budget of 30, 000 Pesos.
Long story short, and since I love my sister's enthusiasm for PC Gaming, your dear author decided to opt with the first solution that came into my mind – The ACER Aspire E5-551G. There are many variants of this AMD powered notebook, and we got the 812L version with a decent specification for the price. It is by no means a "real" gaming notebook since it lacks many gaming oriented features such as an SSD, bloated RAM, and a display with fast response time, but it makes up for its core technical specifications with a quad core AMD APU coupled with a capable Mobile Radeon GPU.
Initially, we actually bought an older unit, known already as a discontinued product, the ACER Aspire V5-452G. It is a slim AMD powered notebook, almost comparable to the one we got here gaming spec-wise, comes in many colors and we simply love the elegant looks of it. And because that said model goes ape sh!t on us for the very first week (temperature problems), we decided to have it replaced by the bigger brother, with a more decent cooling solution and horse-power when it comes to features. Hence, the E5-551G. I tell you, I almost entirely ate sachets of Pancit Canton for a month for this.
WHY THE ASPIRE E5-551G SERIES EXACTLY:
We can actually choose any notebooks from the retail store to replace the V5. But, we are looking for a laptop with the exactly specifications. Why? Because AMD APUs and the mobility AMD Radeon GPUs are the real deal when it comes to budget oriented gaming.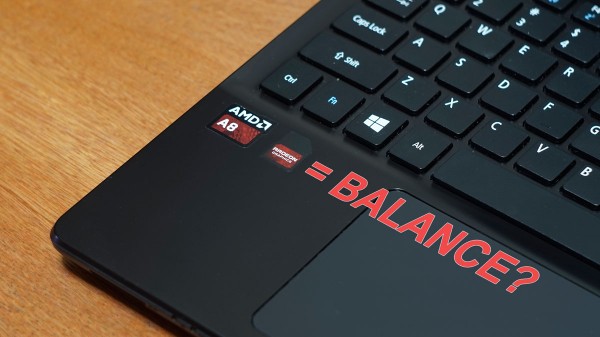 Lemme get this to you straight. You don't have to buy the best equipment to play your favorite games on the PC, nor to play the most recent ones. There is no need for an SSD, tons of RAMs, a backlit keyboard, gaming mouse, nor a "Killer" network card to game on properly. You simply need a good ol' trinity of these basics: a decent CPU, decent amount of RAM, and a capable GPU to run your games with good visual fidelity. All of these could be achieved with just that. A proper balance. With this notebook, we are hoping to achieve that feat, all thanks to AMD's latest Kaveri APUs, and Radeon GPUs.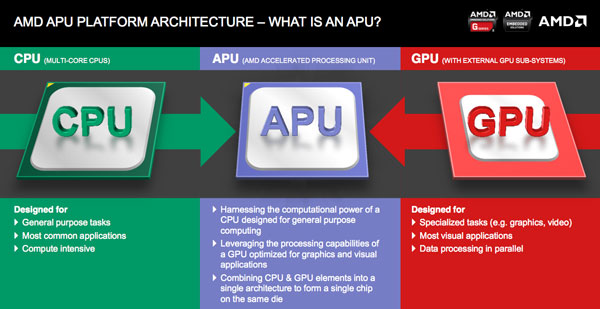 FEATURES & SPECIFICATIONS RUNDOWN:
The Acer Aspire E5-551G we got here features AMD's latest, and recently announced APU, the A8-7100. It's a quad core APU, bearing a base clock of 1.8GHz and a boost clock of 3.0GHz. That said, it'll go as far as 3.0GHz whenever thermals and power permitted the APU. It is flagged under AMD's UVL CPUs, meaning it has a low amount of needed power to run, hence the 19W TDP which is great for mobiles really.
This is the Kaveri part, manufactured using 28nm waffles and has its own integrated GPU, a Radeon R5 with 256 GPU cores running at 450 – 514 MHz. Although the GPU part sounds not so amazing, it supports AMD's latest GPU features such as the support for Mantle API, TrueAudio, and Eyefinity. A shame really because it isn't that great for immersive gaming.
But hold yer horses, as this notebook comes with a dedicated Radeon R7 M265 to the rescue. Meaning it actually has 2 GPU parts inside working with each other seamlessly. That said, the Radeon R5 could be used for graphically non-intensive games such as Blizzard's Heartstone, while the Radeon R7 M265 could be utilized for games such as Battlefield 4.
The Radeon R7 M265 supports all the latest AMD features said above, while taking gaming grade specifications seriously with its maximum 2GB GDDR3 VRAM config. Bus speed is a plenty at 128-bit so there yah go nut heads about buswidth and VRAM ratio. In addition, the R7 M265 features 384 shader cores, with a core clock operating at 300 – 825 MHz. This, being an R7 card, features AMD's latest GCN architecture.
Based on the specifications, it should be faster than the HD 8750M, and a hairline slower than the Nvidia GT 740M – A mobile GPU from the Green Team found on pricier notebooks and is actually a GPU "should-be" on my list had it just been priced a tad lower.
To be honest, those are the only things that mattered to me the most initially, but we were dumbfounded when we actually learned that this notebook has a larger display at 15.6 Inches, compared to the V5 with 14″ of screen space. Keyboard looks like full size too, with numerical pad and a good spacing between the chiclet keys. Slightly annoyed that it came with a damn optical drive though.
| | |
| --- | --- |
| Operating System | Windows 8.1 64-bit |
| Processor Type | AMD A-Series A8-7100 |
| Processor Speed | 1.8 GHz |
| Processor Core | Quad-core (4 Core) |
| Memory Technology | 4GB DDR3L SDRAM 1/2 Slot |
| Memory Card Reader | Yes |
| Hard Drive Capacity | 500 GB |
| Optical Drive Type | Yes |
| Screen Size | 15.6″ 1366 x 768 |
| Display Screen Type | Active Matrix TFT Color LCD LED Backlit |
| Graphics Controller Model | AMD Radeon R7 M265 2GB |
| Graphics Memory Accessibility | Integrated + Dedicated |
| Wireless Standards | IEEE 802.11b/g/n + Bluetooth 4.0 |
| Ethernet Technology | Gigabit Ethernet |
| Bluetooth Standard | Bluetooth 4.0 |
| Communications | Webcam, Microphone |
| Number of Cells | 6-cell |
| Battery Chemistry | Lithium Ion (Li-Ion) |
| Battery Capacity | 2500 mAh |
BUNDLED ACCESSORIES:
No pictures here amigos. Just the plain table for what you will actually receive when you bought your very own E5-551G. We were fortunate to receive a free Carry Bag, and a damn A4tech mouse though via haggling, so bundle might vary. Just bring a cutie with you and let her handle the staffs when shopping. Thanks to Skyrim, we learned some merchant perks applicable to the real world.
Package Contents

Aspire E5-551G-T0JN Notebook
Lithium Ion Battery
AC Adapter
THE ACER ASPIRE E5-551G-812L:
The E5-551G is by no means a gaming notebook if we are going to base on the aesthetic department alone. It is just a plain, almost generic looking Two piece contraption that slaps onto each other when not in used. Although simplistic, the E5-551G actually is a pleasant sight to see, with good curves, and metallic finish.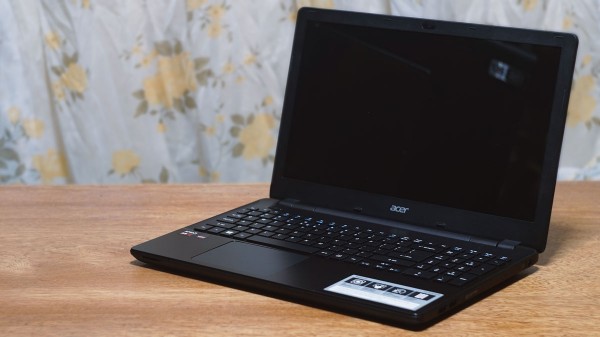 With a 15.6″ screen, the E5-551G surely is not your typical notebook. It is medium sized, weights at around 2.5 Kilograms, and features a full sized keyboard and a a wide surfaced touch pad.
The keyboard used by ACER on this particular notebook is of the chiclet type, meaning the keys are square with rounded edges. The switch used here are low travel scissor switches which is enough for most gamers. Perhaps what I like the most about the E5's keyboard is the distance between keys considering the extra rows from the numpad. No finger cramming with FPS games using this one. Additionally, the trackpad is huge and has this tactile feedback which is annoying to use for the very first week since I heavily touch it whenever I do multi-point gestures.
The 15.6″ screen is no way fancy, just your average TFT LCD with LED Backlit with a native resolution of 1366 x 768 at 16:9 configuration. It's somewhat leaning on the blue tone side of things, which could be easily adjusted via settings for better color reproduction. Though there are no futher info given as to what the response time is, it is decent for gaming even for FPS games. Do not bother using this outdoors  though where the sun shines before you since it has a gloss panel.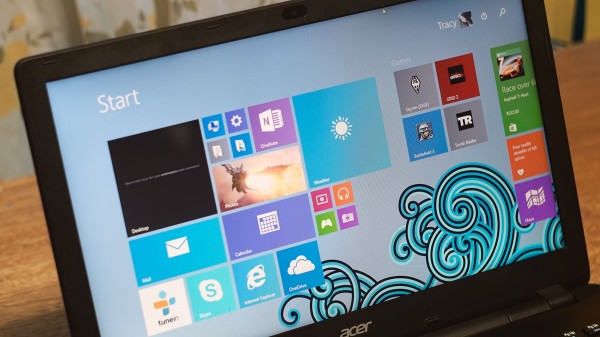 When fully closed, the E5-551G is just about an inch and a quarter tall. It has little to no external branding and actually speaks of great build quality all over courtesy of its aluminum finish housing. I still like the V5's sublime aesthetics and build quality though.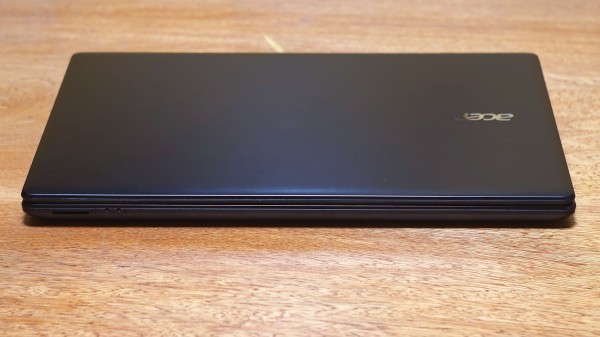 The underside of the notebook is made out of a single molded hard ABS plastic which is good for rigidity, but is a pain in the arse if you're looking forward to upgrade the notebook without removing the warranty sticker.  I was initially looking forward to dismantle this thing to see what's inside, but since ACER did just that, we dunno the specific, nor where the HDD, the SO-DIMMs, and chipset are placed.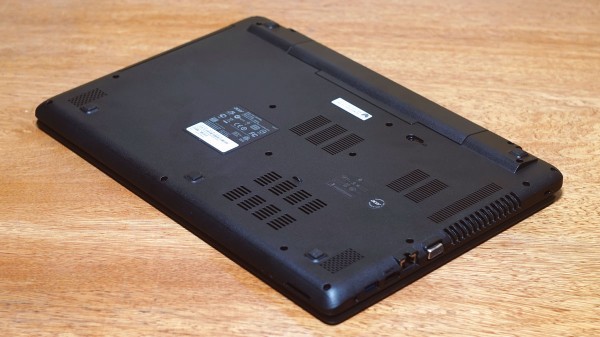 The e5-551G appears to feature a decent cooling solution via a down draft blower fan and flat copper heat-pipes to transfer heat from the APU, and GPU. It runs silent, without any audible noise even at full load. We just wished ACER included a software to control it so we could maximize the adaptive boost clock of the APU and GPU.
The battery pack is removable, and is a Lithium Ion pack with a 2500 mAh capacity. It should be enough for 4 hours of mobility, and is a better choice compared to the V5 we had with non removable battery pack.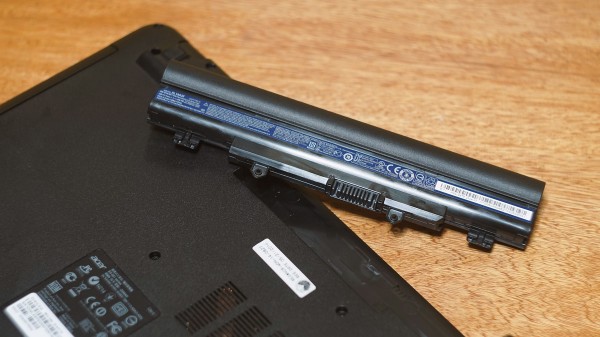 The right side of the E5-551G features a power port, 2x USB 2.0 ports, and an optical drive. Other variants of the 551 family features an empty optical dock which is actually a better option should you want to expand the storage capacity of the drive. Initial cost should be lower too with just an empty dock inside.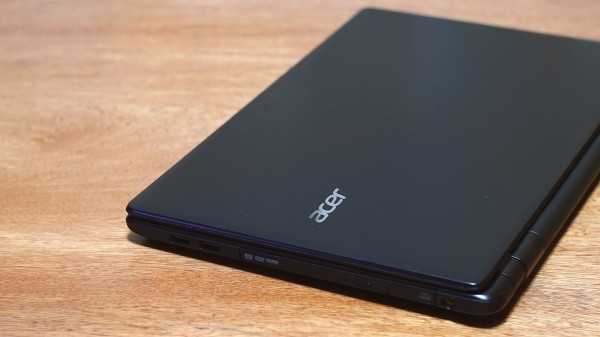 The left side of the notebook features a Kensington lock, an old school VGA port, LAN port, HDMI with HDCP support, a single USB 3.0 (Thank gawd!), and a dual purpose 3.5mm jack for audio input and output. There is also an SD card port at the front that supports hi-speed SDHC cards.
Usually, gaming oriented notebooks and or laptops features a massive power adapter to make up for their sheer performance. Luckily, since the E5-551G is no gaming notebook in reality, and just happen to use a clever assortment of AMD technologies, it only need a handful of voltages to run, hence, the standard mouse sized power brick is used.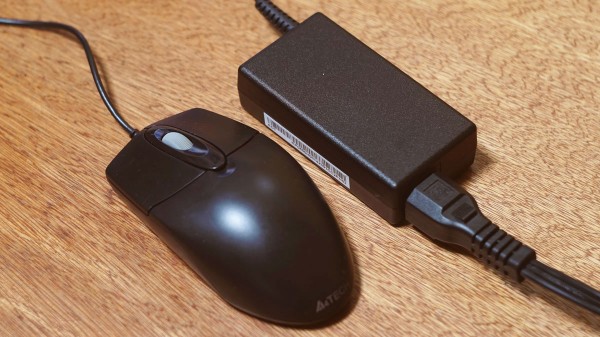 BUNDLED SOFTWARES:
If there is something I hate about this laptop, other than coming pre-installed with the Windows 8.1 as the only OS, it's the gawd darn bloatwares. Basically, upon booting it up, you will be initially greeted by the apps below. Don't hate me for this ACER, but a majority of your apps are just a waste of time excluding the recovery management, Quick Access, and the CyberLink Power Director. Adobe Reader? SRSLY??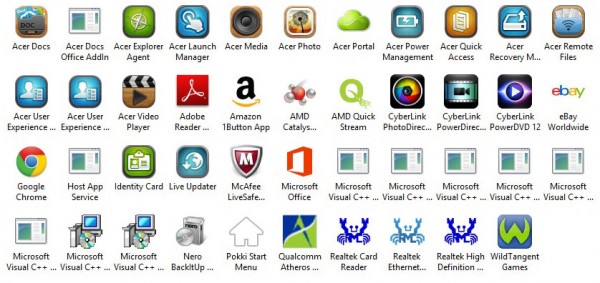 HOW WE TEST:
First and foremost, testing notebooks requires a lot of time – patience actually, in order to precisely gather results, more so notebooks actually differs from each other spec-wise.  Rest assured, we will run our tests / benchmarks with an updated operating system of the notebook, along with updated drivers for its hardware. To actually receive the results that we wanted, bloatwares are removed, along with other softwares that could hamper the results. There goes your free copy of Norton and McAfee.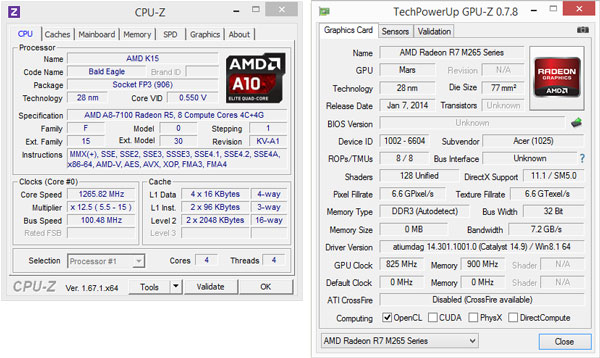 The R7 M265 and its latest drivers aren't fully compatible with the GPU-Z yet, thus GPU-Z is displaying some weird specifications. The displayed 32-bit Bus Width is a good example, along with an unknown memory size. We do know the exact specifications which is 128-bit, with a 2048 MB DDR3 memory interface.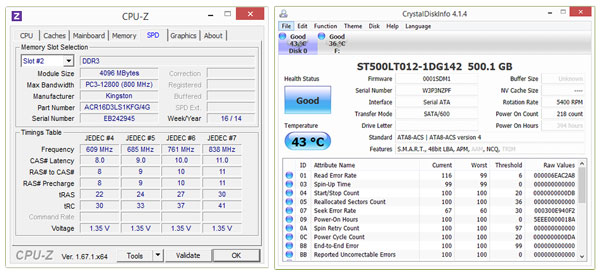 Since we're focusing on gaming, you'll see more games than synthetics here. Also, we haven't tested notebooks for quite sometime now, so we don't have a comparable notebook to compare the results. Instead, we are going to test this notebook's gaming capabilities with the different graphical presets found in the games themselves. Do note that the FPS results shown are the averages taken from FRAPs and in-game benchmarking tools.
GENERAL IN-GAME SETTINGS

RESOLUTION
1366 X 768
ANTI-ALIASING
Game Default (2XMSAA-FXAA)
V-SYNC
OFF
WHAT IS FPS ANYWAY?
For refreshment purposes, let us talk for a moment about FPS or Frames Per Second. Also known as Frame Rate, FPS is the general unit of which we measure a graphics card's capabilities. Generally, the higher value, the smoother the gameplay should be, since higher FPS means higher frames are rendered each second. Higher FPS doesn't just improve your gaming experience, as it also helps you to react faster especially in First Person Shooter & Racing Games. Please do note that Resolution and in-game settings has a huge effect too in any system's frame rate.
CPU PERFORMANCE:
Since we're focusing on the gaming aspects of this notebook, we only tested the E5-551G's CPU performance with the CINEBENCH R11.5 benchmarking tool from MAXON, the creators of Cinema 4D. We added the results from the AMD A88X motherboard review to get a perspective about the performance of the mobile APU. Do note that the said board is using a much more powerful AMD A10-6800K APU with a beefier RAM capacity too running at dual channel configuration.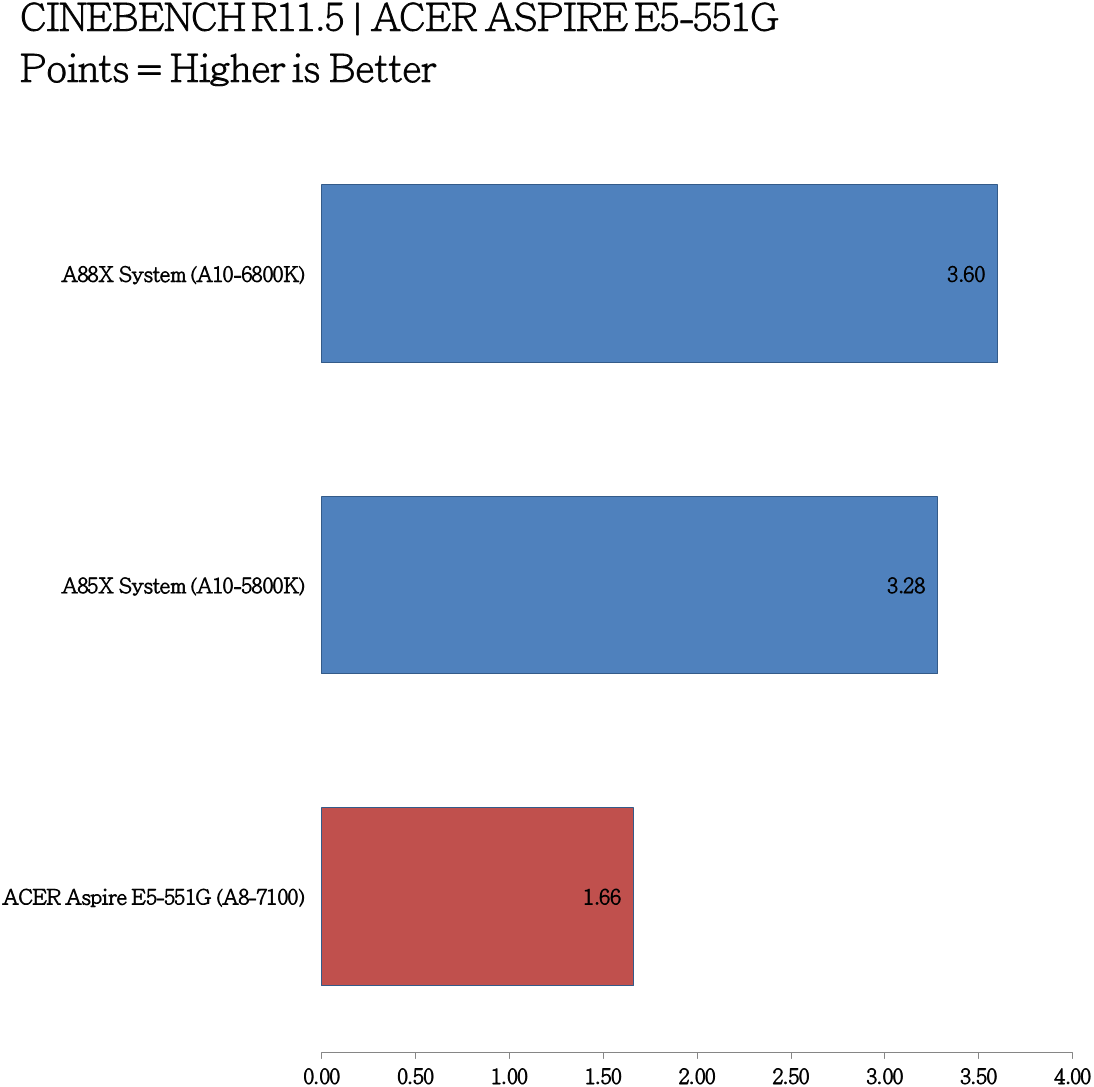 The notebook's CPU performance seems to be leaning on the okay side of things, thanks to the 4 core CPU side of the APU running at 3.0 GHz when boosted. Nothing to complain here but I think it could be better with a dual channel memory which we will check out later.
MEMORY PERFORMANCE:
Memory performance figures are a courtesy of AIDA64's Cache & Memory Benchmark. It should allow use to check out how the memory works with the APU.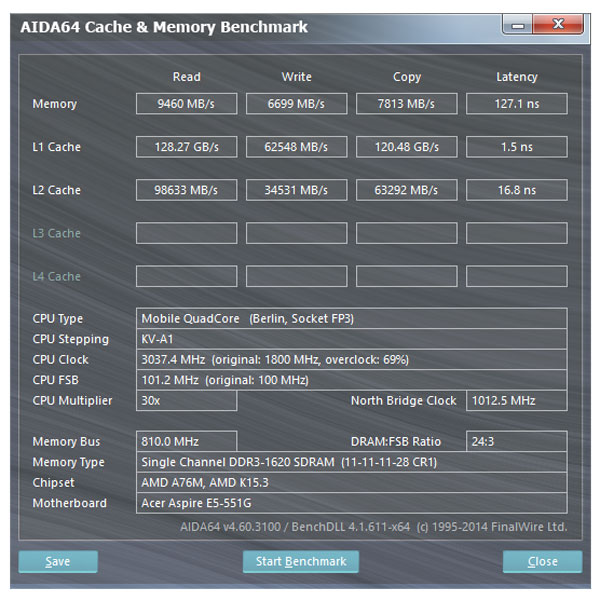 I wasn't expecting this result, but it turns out that the memory performance of the notebook seems to be abysmal for my preference. For an instance, and if compared to its older yet more powerful sibling; The A88X with the same memory frequency, this is 3x slower, and has far more latency – also thrice slower. Do note that the Aspire E5-551G is running a single stick of 1600MHz DDR3 SO-DIMM in 4GB configuration from Kingston. Two of this stick will undoubtedly provide a better performance.
STORAGE PERFORMANCE:
Crystal Disk Mark is our benchmark of choice for the storage benchmarks as it is easy to use and could be configured to suit our needs. Download it HERE to check out your drive's performance.
As expected, the storage performance from the 5400 RPM drive is not particularly the best. Kinda frustrated to see these figures but on an average this is what you should expect from a drive with a slow RPM. Had this been an SSD in the first place then I'll be a happy chap. By the way, boot speed is around 35 seconds. Could be slower had we retained the stock applications.
GAMING PERFORMANCE:
Resident Evil 6, is a survival horror video game developed and published by CAPCOM. It also has a built-in benchmarking tool to measure your PC's graphic performance.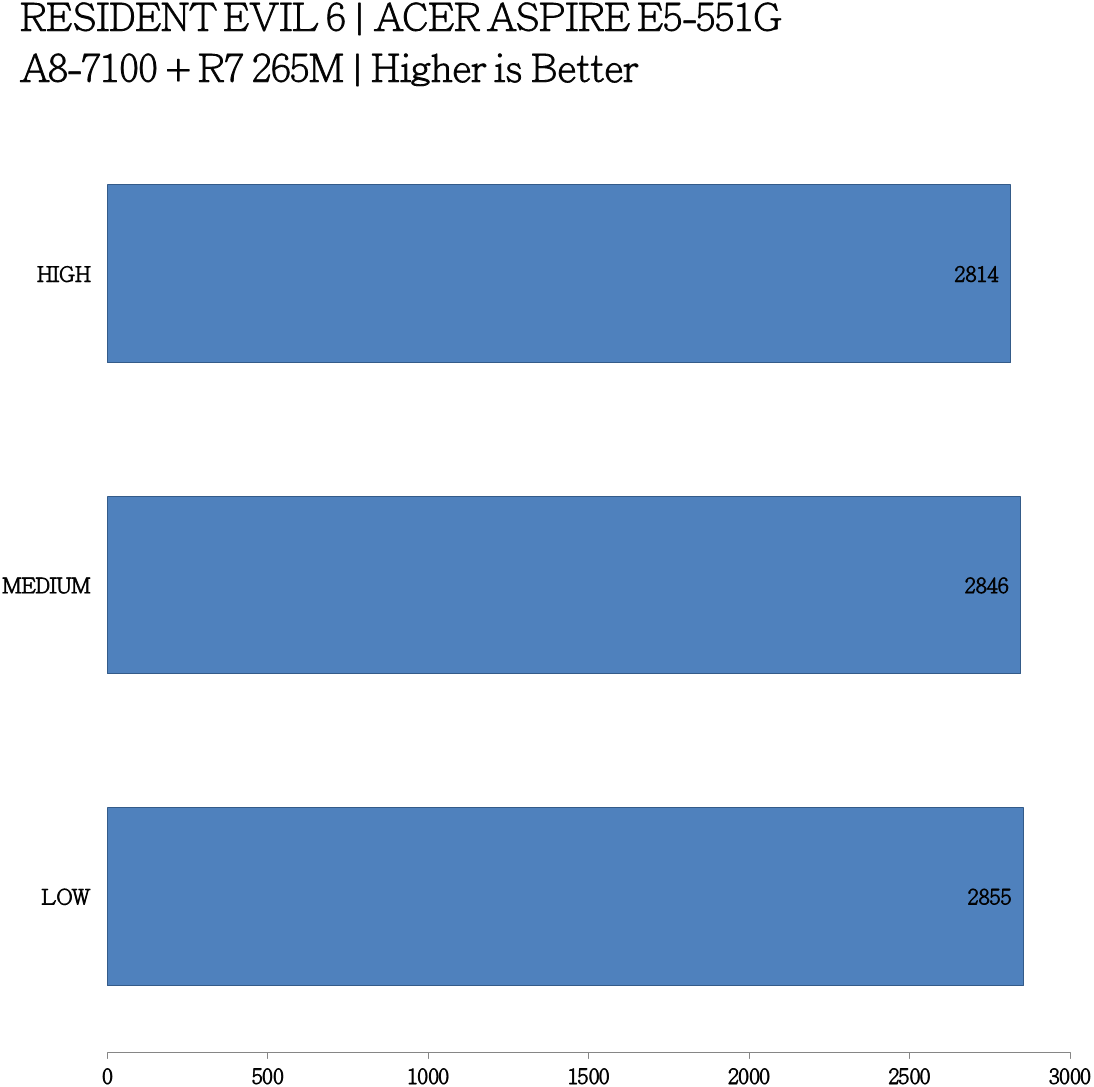 Tomb Raider (2013) is the fifth game, and the reboot of the Tomb Raider series. It is developed by Crystal Dynamics, and published by Square-Enix.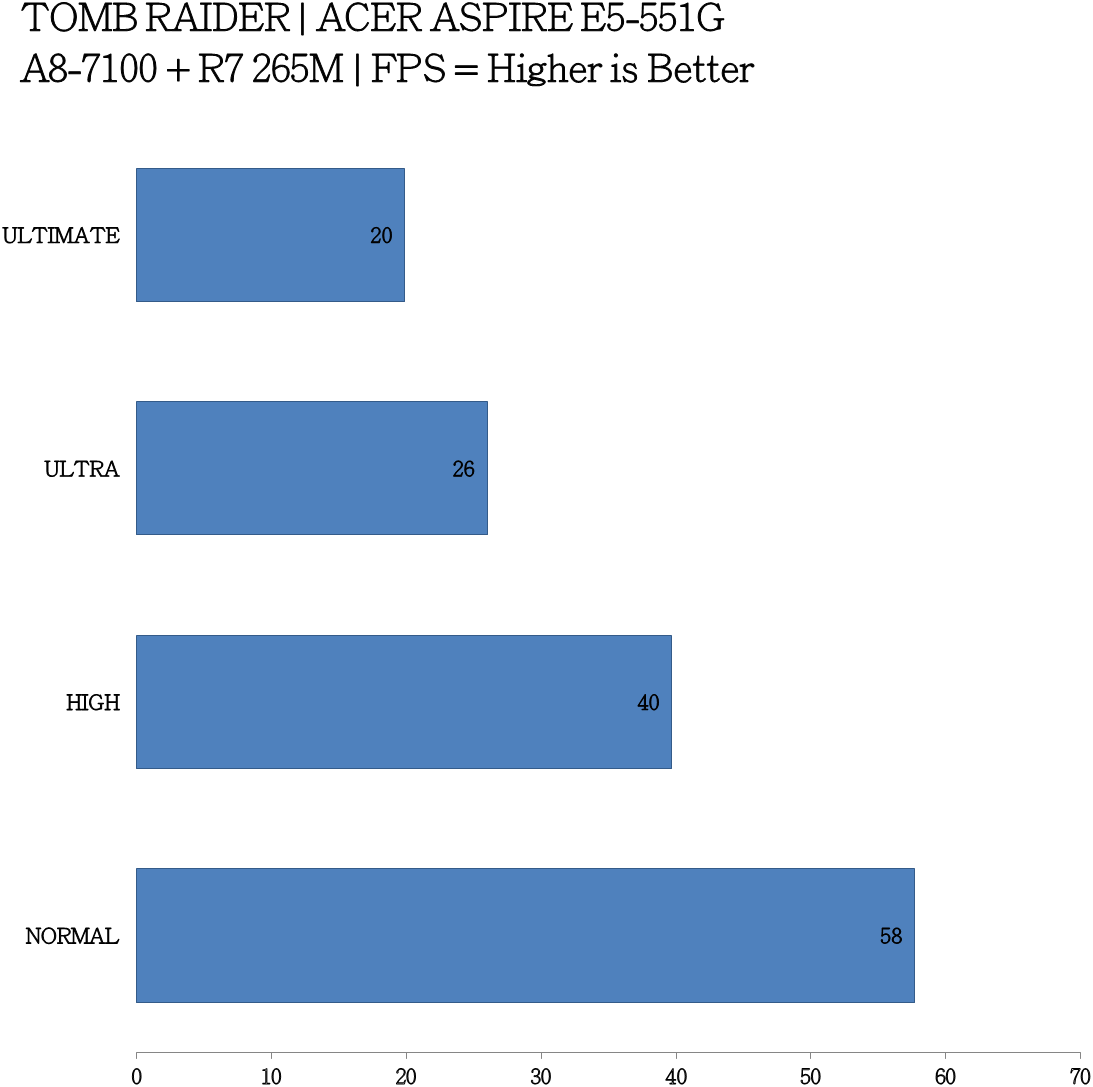 Company of Heroes 2 is a WWII based real-time strategy video game developed by Relic Entertainment and published by Sega for the Microsoft Windows platform. We disabled AA on this setup.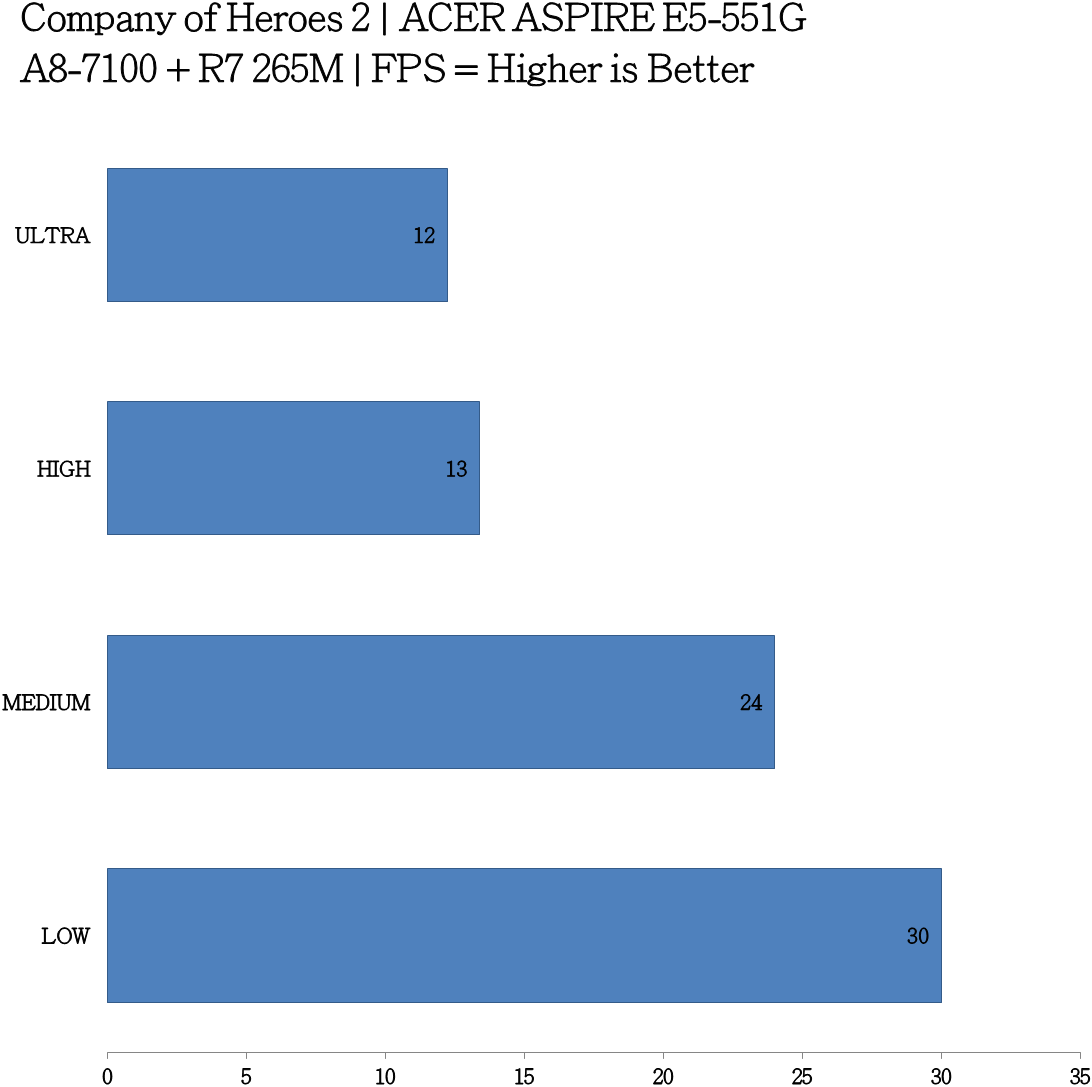 GRiD 2 is a racing video game developed and published by Codemasters and is the sequel to the award winning Race Driver: GRiD. The game was released for Microsoft Windows, PlayStation 3 and Xbox 360 on May 2013.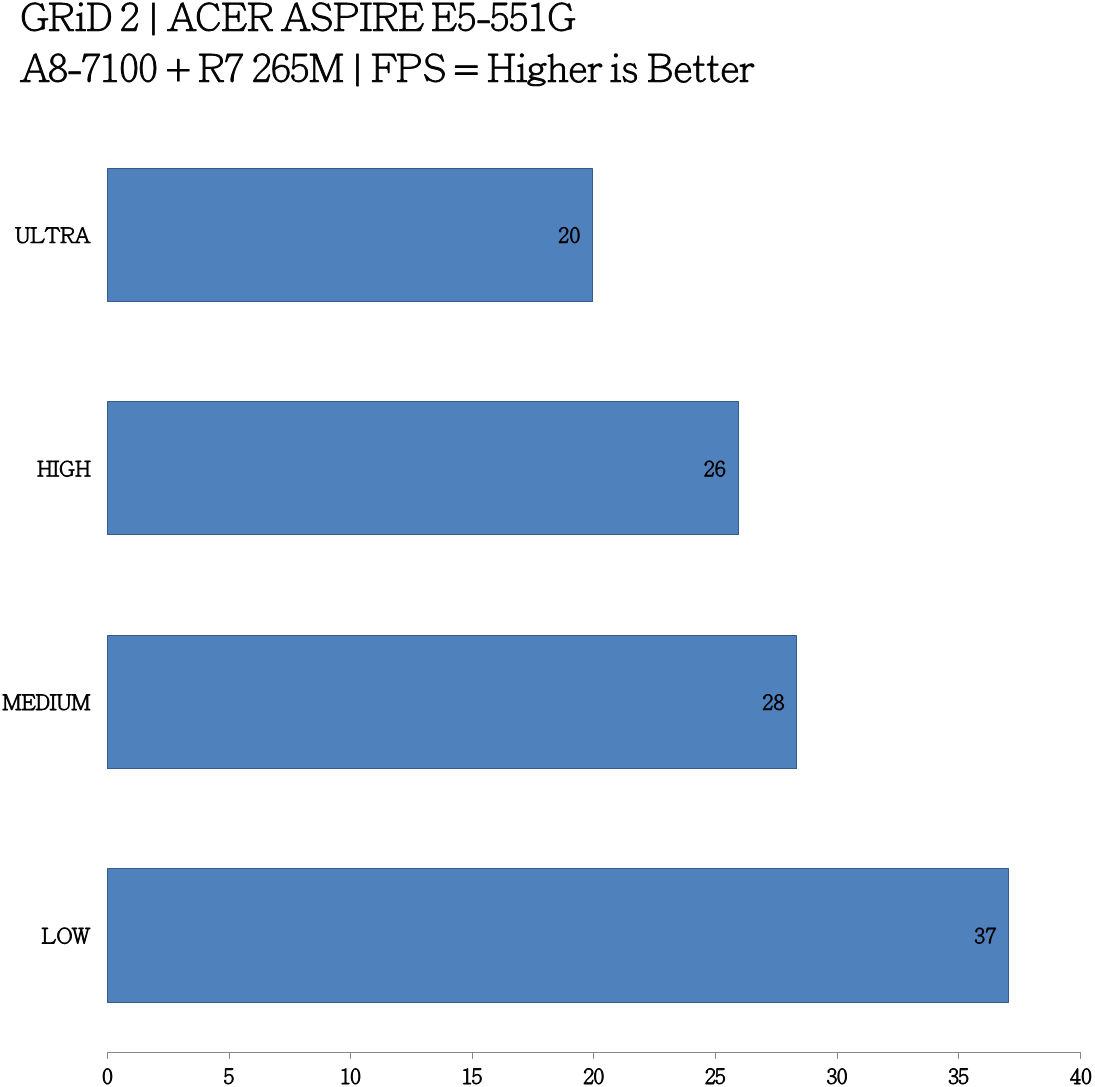 Battlefield 4 is EA and DICE's latest first person shooter utilizing the all new Frostbite 3 game engine featuring better tessellation effects and destruction compared to its predecessor.

Dota 2 is a Multiplayer Online Battle Arena (MOBA) video game developed by Valve and is the stand-alone sequel to the Warcraft III based Defense of the Ancients (DotA) mod.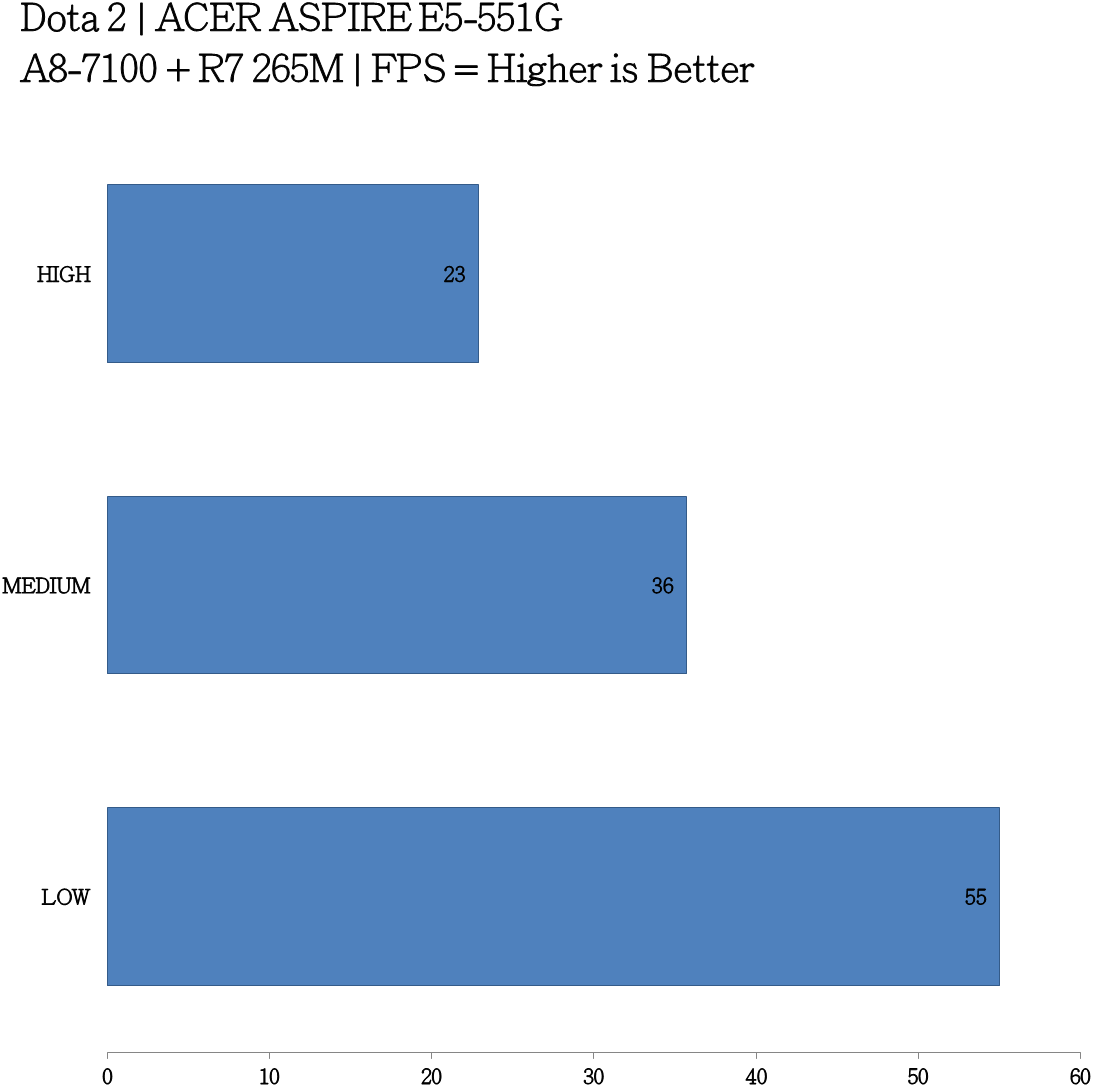 Metal Gear Rising: Revengeance is a spin-off of the Metal gear series featuring Raiden as the protagonist. It is a hack and slash game from Platinum Games.

Gaming performance wise, the ACER Aspire E5-551G never fell short when it comes to my expectations providing a generally good gaming performance across the benchmarks. We could play the latest games with acceptable frame rates at low to medium presets without even tweaking the settings. That said, you could play with the settings yourself to get more out of the notebook. I suggest disabling anti-aliasing or toning down the texture quality since those Two alone eats a huge chunk of frame rate.
AUDIO OUTPUT, WEBCAM, & MIC PERFORMANCE:
For years, ACER is known to provide a measly audio solution when it comes to their notebooks, but it seems not the case with the E5-551G; At least on our model's case. It provided a capable stereo solution be it for movies, or for casual gaming, albeit it is still better to use a gaming headset when it comes to serious gaming needs.
As for the audio input, the mic itself is enough for calls, but don't expect miracles since it could also pick up the audio from the speakers. It's only good when paired with a headphone if you don't have a headset. As for the webcam, it's fairly decent, a huge upgrade from ACER notebooks from the past if you'll ask me.
TEMPERATURE & POWER CONSUMPTION:
Laptops and or notebooks are notorious when it comes to temperature, even though they have considerably less power output compared to desktops. This is due to their size and compact nature.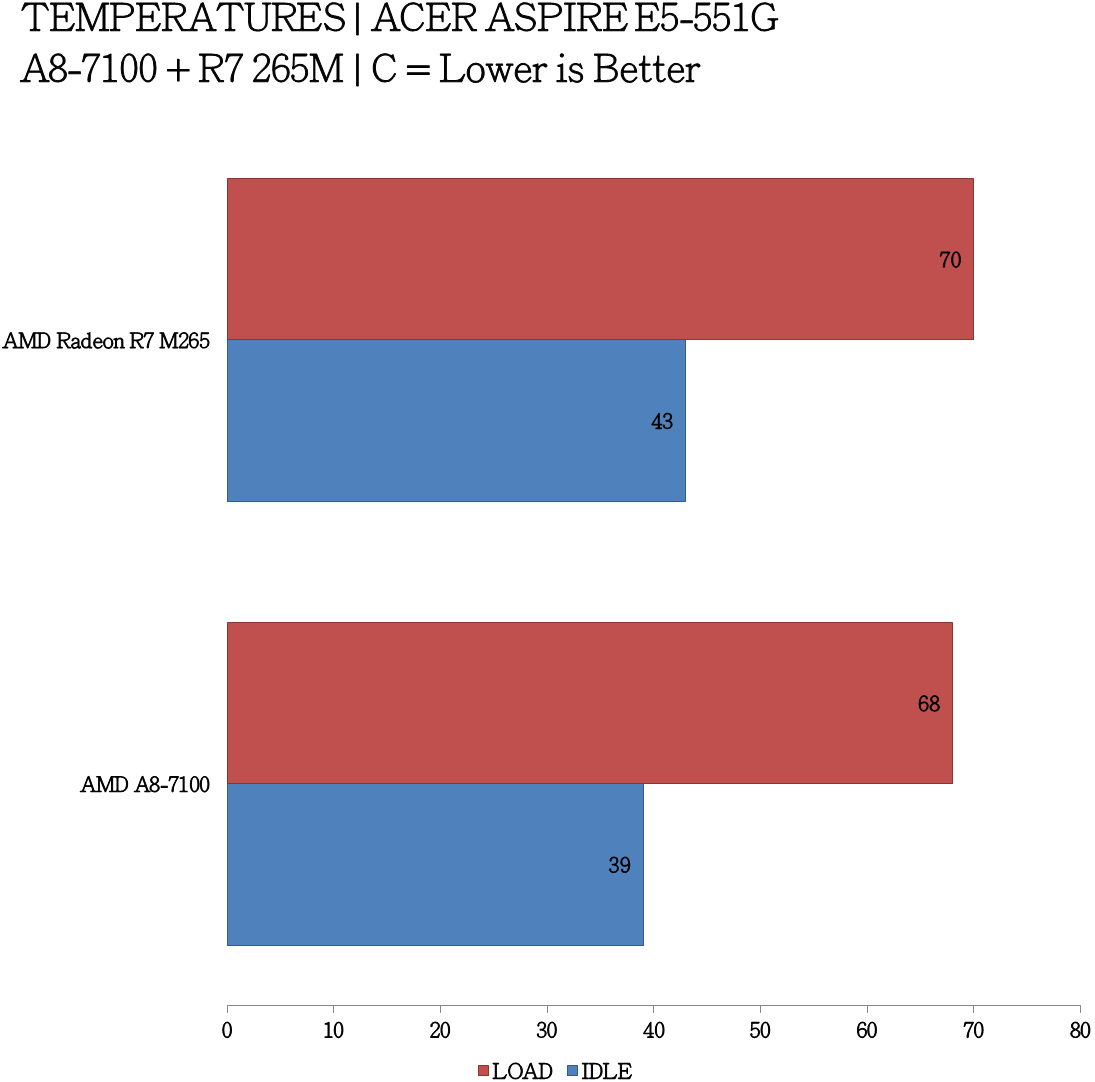 The ACER Aspire E5-551G runs pretty cool and quiet through the stress testing. It never even throttled down to keep temperatures at bay which is an indication that its cooling unit is working properly.
Power consumption seems to be pretty good across the power options tested. Balanced and High Performance power outputs seems to be the same which is mainly due to the AMD Power Play option we configured.
VALUE & CONCLUSION:
So back to the question; Is this the best budget gaming notebook the money could buy? Perhaps it is, and perhaps it is not technically. It is if we're talking about the stock gaming performance alone, as we could literally enjoy playing the most recent games with modest settings. And when tweaked, lets say dumb down the resolution to 720P, disable or tone down AA and lessen the texture quality on certain games, then you'll certainly get more out of it. At the moment, we are using it to play Naruto Shippuden: Ninja Storm 3 with a fluid frame rate out of the box, while Battlefield 4 multiplayer needs to be tweaked to achieve a healthy 40+ FPS without loosing much of the desired graphics fidelity.
Now for the nope part, I don't see the reason why ACER decided to go with an optical drive instead of opting for a dual channel DDR3 configuration. With two sticks instead of one, this notebook will surely perform better. I mean the performance of the memory seems to be low enough to raise an eye brow. I see that ACER never intended this notebook to become a budget gaming machine in the first place but come-on, voiding the warranty just because you want to upgrade the RAM and storage drive yourself is just a recipe for a headache. ACER Philippines assured us that we could upgrade the said parts without voiding the warranty if done at one of their service centers.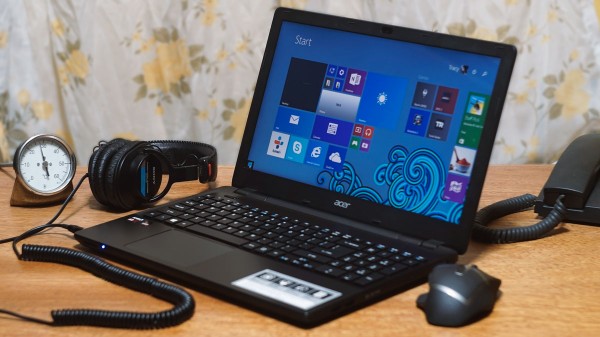 There is a fair balance of what to like and what's not to like with the ACER Aspire E5-551G. But, since it tingled my senses for mobile gaming, it's all good to me. I mean for a notebook 29, 995 (25, 995 current market value), this is the real deal. I could easily recommend it for its sheer value but you have to take the stock memory configuration into account. You could get a DDR3L SO-DIMM with the same specifications at around 1, 500 pesos easily though.
There are notebook manufacturers who pretends that their machines are good enough for mobile gaming, and then there are manufacturers that does not even spend a dime to flaunt their gaming capable devices. The ACER Aspire E5-551G-812L is a good example of the latter by offering a decent mid-range mobile gaming performance without breaking the 30K Peso mark.
THE VERDICT
PROS:
DECENT MOBILE GAMING PERFORMANCE
COMFORTABLE FULL SIZE KEYBOARD
LARGE 15.6 INCHER DISPLAY
RUNS REALLY COOL & QUIET
GOOD VALUE FOR MONEY
CONS:
MEMORY PERFORMANCE COULD BE BETTER
BLOATWARE GALORE
ACER Aspire E5-551G
PERFORMANCE -

8/10

BUILD QUALITY -

8/10

FEATURES -

8/10

AESTHETICS -

8/10

VALUE -

9/10
Summary
There is a fair balance of what to like and what's not to like with the ACER Aspire E5-551G. But, since it tingled my senses for mobile gaming, it's all good to me. I mean for a notebook 29, 995 (25, 995 current market value), this is the real deal.